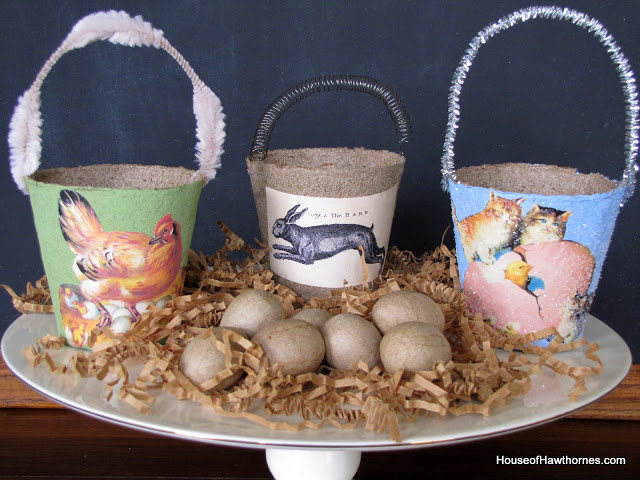 For years, I've seen cute little mini "paper mache" baskets in gift shops in the spring. But what I didn't know is that they are not paper mache at all, but made with peat pots. Yes, the same peat pots gardeners start their seeds in.
This epiphany started one day at the grocery store when I picked up some peat pots for my son to start some tomato plants seeds with (DO NOT go looking for a post on how to grow tomatoes from seeds, because THAT whole experiment was a complete and utter failure).
All of a sudden a light bulb came on in my head. These were the the little basket things I had seen at gift shops and antique stores.
This spring peat pot craft is so darn easy you are going to hit yourself over the head with a gardening trowel for not having made these yourself before now.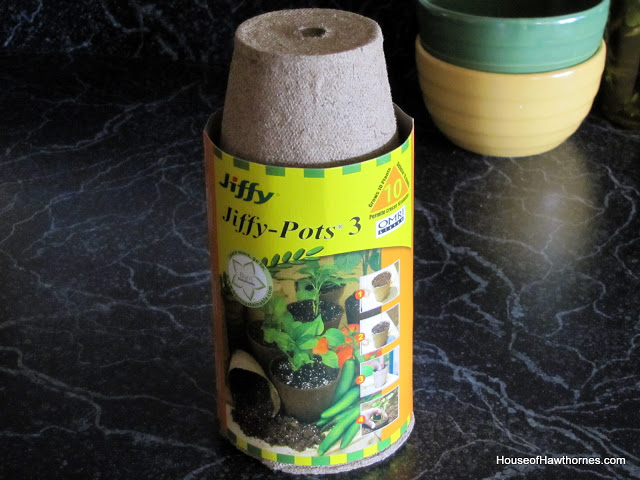 (This post contains some affiliate links for your convenience. You can read my full disclosure policy here.)
I found my peat pots at the local grocery store, but I have seen them at Home Depot, Lowes and Big Lots too. Just about anywhere that sells gardening goods. I used the 3" Jiffy Peat Pots, but any brand will do.
And I will be super simple with the instructions here:
Easy Spring Peat Pot Baskets
Buy peat pots in the gardening section
Paint them with craft paint if you wish
Mod Podge a graphic onto them
Add a handle
Go back to figuring out why your tomato plants are drooping
I did a couple versions of the little baskets just to show the versatility of what you can do with them.
A little bit country (image used was from Vintage Holiday Crafts)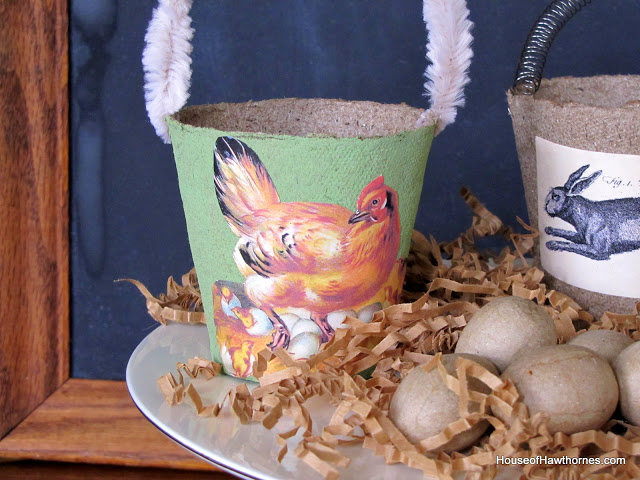 a little bit rock 'n roll Pottery Barn-ish (image used was from The Graphics Fairy)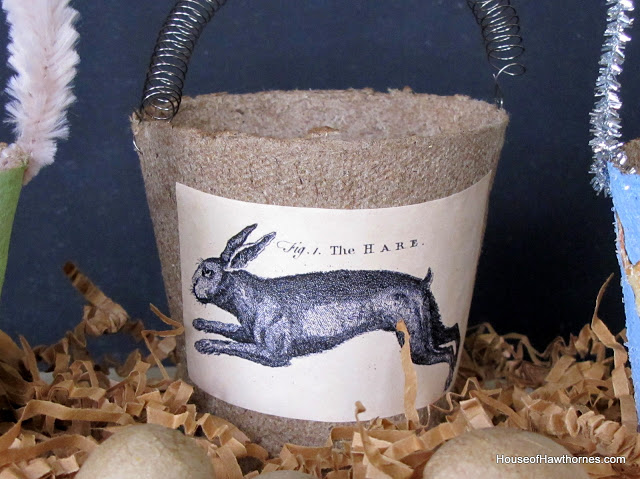 and a little bit cottage-esque (image used was from who knows where - I've had it for years saved on my computer)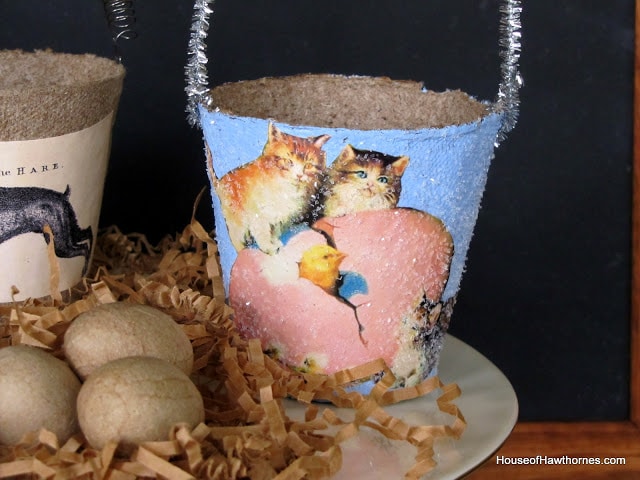 I'm sure I could have been a little more creative on these, using buttons, flowers or lace to bling them up a bit, but I thought it better to stop when I was ahead on these.
Do you ever do that?
Make a craft that is OK, then you start messing with it and before you know it it is in the trashcan.
Then I won't show you the Mod Podged sheet music one that is currently buried beneath coffee grounds and banana peels.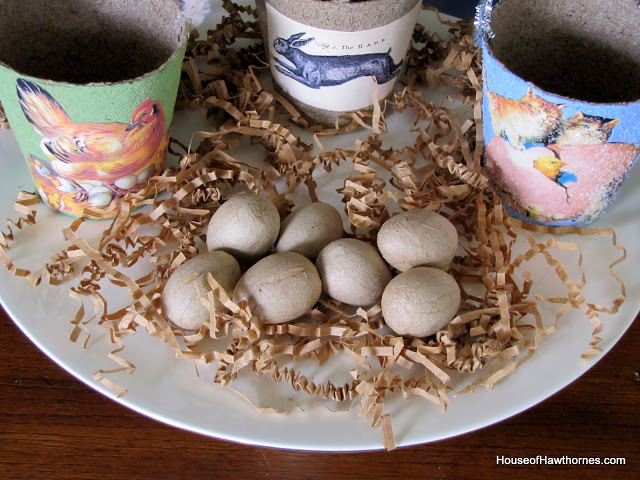 I thought I'd get a little wild on the handles though, so for this one I used wire that I had wrapped about a pencil to make a springy handle.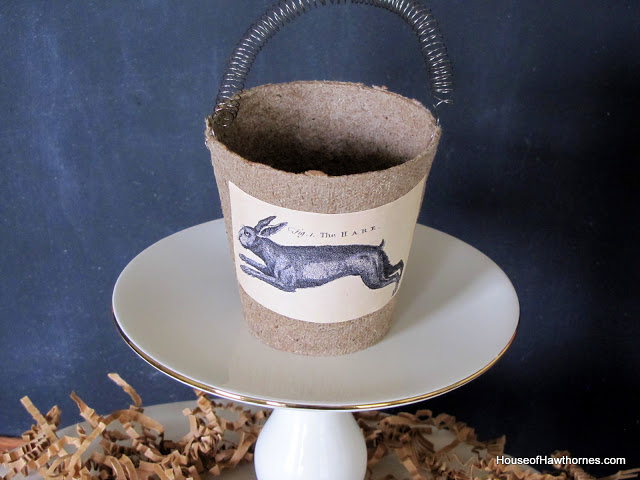 This handle is a tea dyed bumpy chenille stem.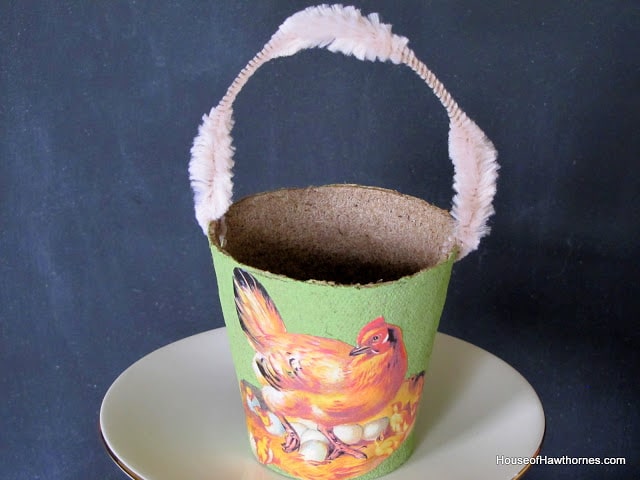 And on this one I thought a tinsel stem that I had left over from Christmas was a good fit (matches well with the snowy glitter).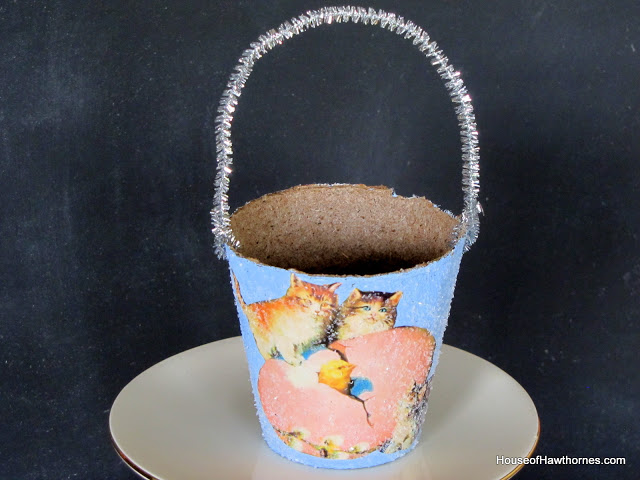 Now I just have to buy some Cadbury eggs to fill them up.