I hope you all have been having a wonderful Easter holiday today. We have been having a pretty laid backed Sunday so far. My Easters have tended to be this way for the last twenty years or so. I find it a nice day to sit back, relax and enjoy.
This got me to thinking of Easters when I was a kid and brought back memories of Spring Break 1968 when I was 6 years old.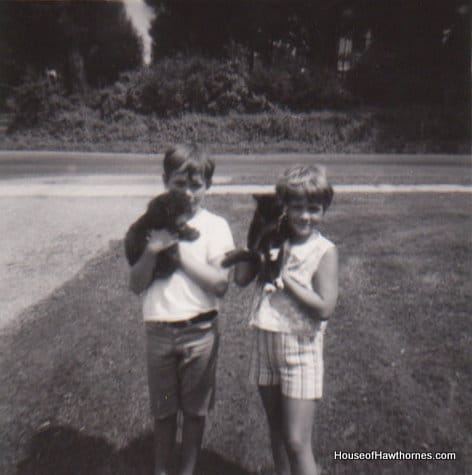 My parents, brothers and sisters picked me up after Elementary School one day, shoved me in the car and announced that we were going to Florida on vacation.
What? Florida? Just on the spur of the moment?
Only spur of the moment for me! Everyone else knew about the trip in advance.
I guess I was a little bit of a neurotic child. I had ruined many a vacation plan for my family by getting hives the size of Texas or becoming deathly ill just as we were to go on a trip. Many a trip cancelled or postponed because of little old me.
My parents had learned that it might be best to not tell me about a trip until it happened. So off to Florida we went.
We stayed at a motel on the beach. One of those really cool teeny tiny Mom and Pop type motels. I don't think I ever stayed in a name brand hotel until I started working in hotels in college. Up until that time we never wasted money on anything fancy when traveling.
In the wee hours of the morning on Saturday, April 13th, 1968 at 4:48 am there was a total lunar eclipse. I remember sitting on the hood of my Dad's car in that motel parking lot staring up at the moon in total amazement.
Seeing a lunar eclipse was a big thing. Being allowed to be up at that hour of the morning was equally as big. Being allowed to sit on the hood of my Dad's car was HUGE.
Sunday, April 14th was Easter that year. Since we spent it in a motel and had traveled all the way from Ohio in a station wagon, the Easter bunny brought us store bought baskets. You know the kind, the ones with cellophane wrapped around them and filled with inexpensive toys and candy. Mine had a faux Barbie doll in it. And I was ecstatic!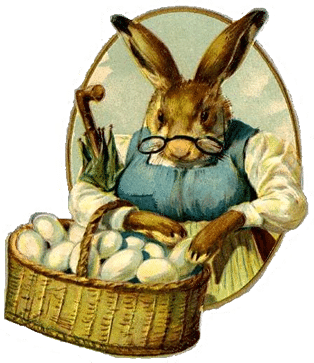 Now, prior to that and every year after that, my Mom always made our Easter baskets. In my little 6 year old mind, it was such a treat to get the store bought one rather than the fuddy duddy old handmade one. I feel sort of bad now for thinking that way back then, because I am sure a lot of love and thought went into her handmade Easter baskets. But come on, this had a Barbie in it!
On the way back to Ohio we stopped at my Grandfather's house in Alabama. It is the only time in my life that I remember having met my Grandfather. I am sure there were probably other times previous to that that I just don't remember, but my Grandfather died shortly after that.
What I remember about his house is that it was an iconic Alabama cottage. And that it has spiders. Climbing up the walls right next to my bed. I didn't sleep a lot while we stayed there.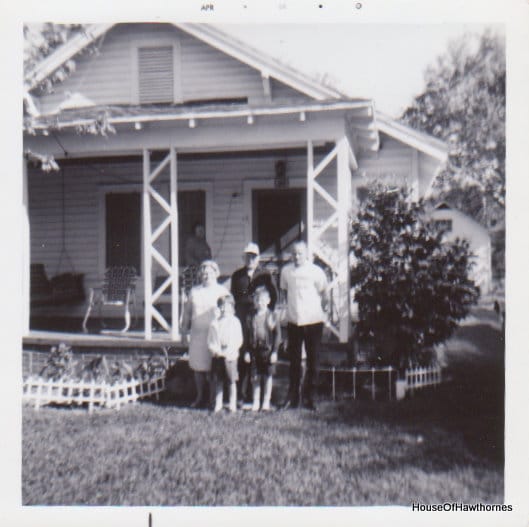 We also visited the Holy Land. Made out of stone. It was the Ave Maria Grotto in Cullman, Alabama.
This is a 1968 postcard from there. I was totally fascinated by the miniature town. I'm not sure I understood at the time that it was supposed to be Jerusalem, but I was aware that someone had spent a long time building the whole thing.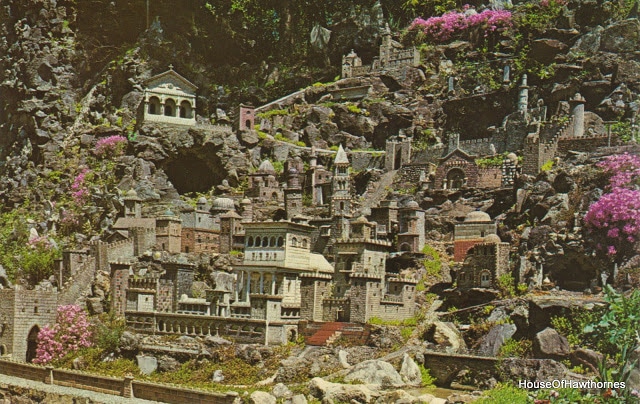 So, surprise trip to the sunshine state, lunar eclipse, store bought Easter basket, visiting my Grandfather, a stone village. What a year 1968 was!
Maybe I'll tell you about Spring Break 1980 sometime. The PG version of course!