With the holidays just around the corner (they're coming whether you're ready or not, you know), it's time. Time for the annual Paperwhite Bulb Forcing Frenzy!
Yes, Christmas will be here in a few short weeks. Eeek!
I love how Paperwhites give a nice pop of snowy white color to the holiday decor. We can't be all ho ho ho and Shiny Brites dangling from the chandelier all the time.
Plus, Paperwhite Narcissus is so easy to grow!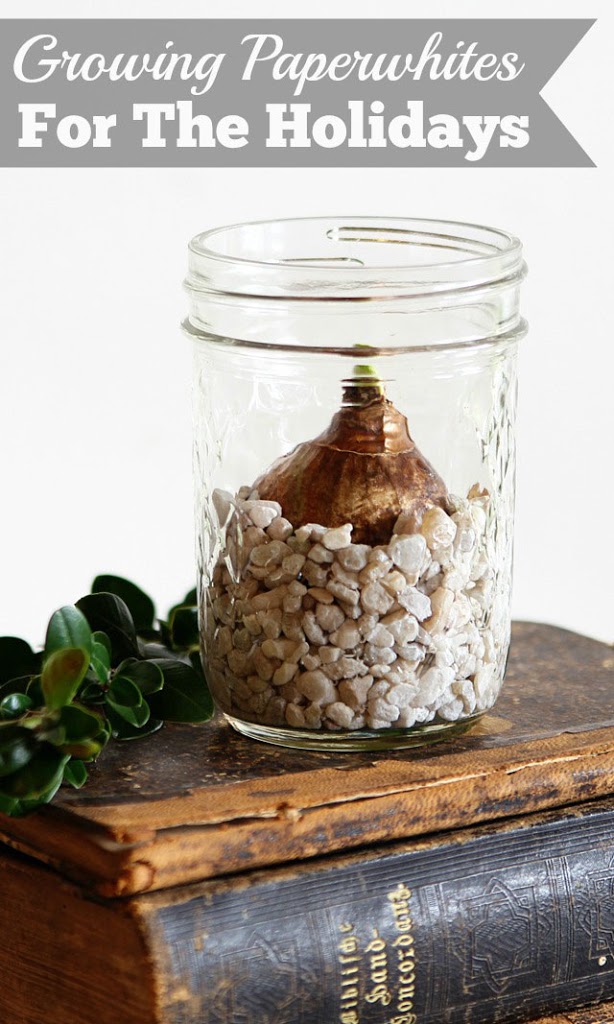 Tips for forcing paperwhites (forcing just means growing inside the house)
Paperwhites do not need to be chilled like other bulbs, so no need for that added step. If you do not know what I mean by "chilled", just know that some bulbs need to be tricked to go into a dormant phase by placing them in the refrigerator for a period of time as if they were over-wintering outside. But that is not needed in our case.
Pick out a container to place them in. I am using a mason jar for this tutorial, but there are other suggestions down below a little bit.

Put a small layer of stones on the bottom of your container 1-2" deep. I use either aquarium gravel or a bag of stones from the dollar store.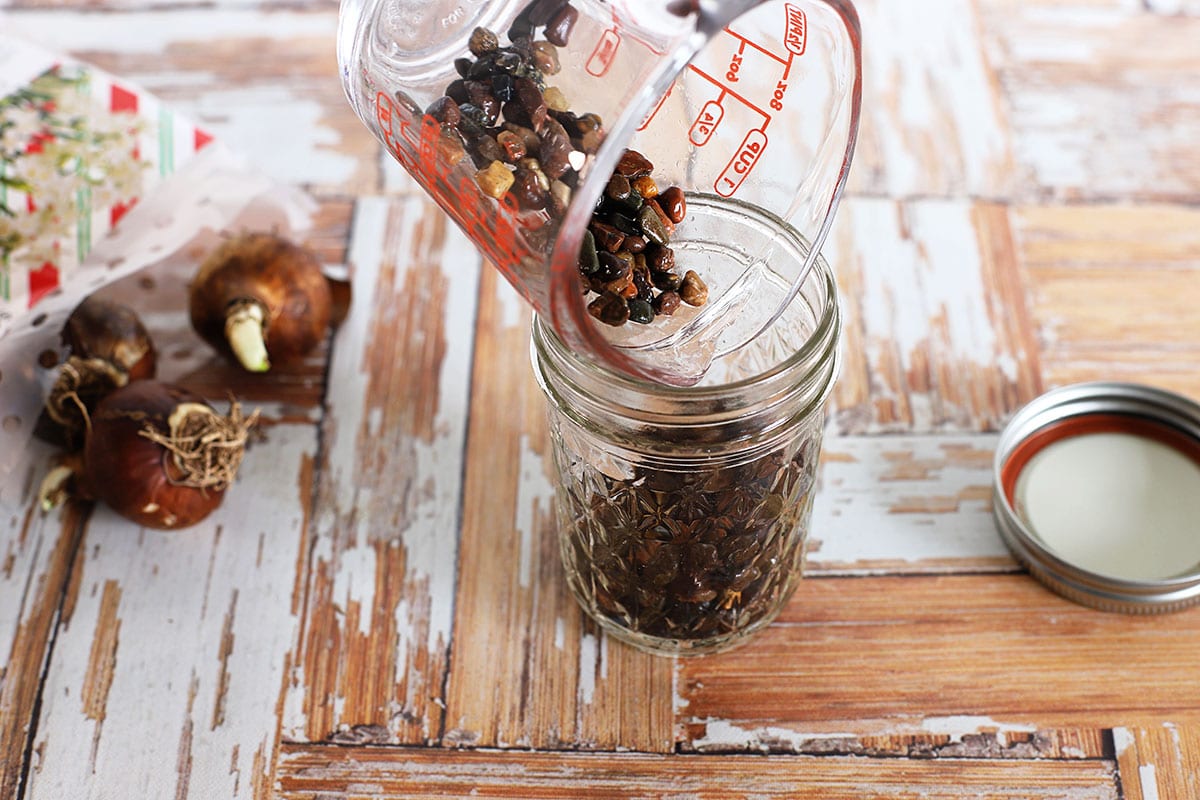 Place your bulbs on top of the rocks, root side down and pointy side up.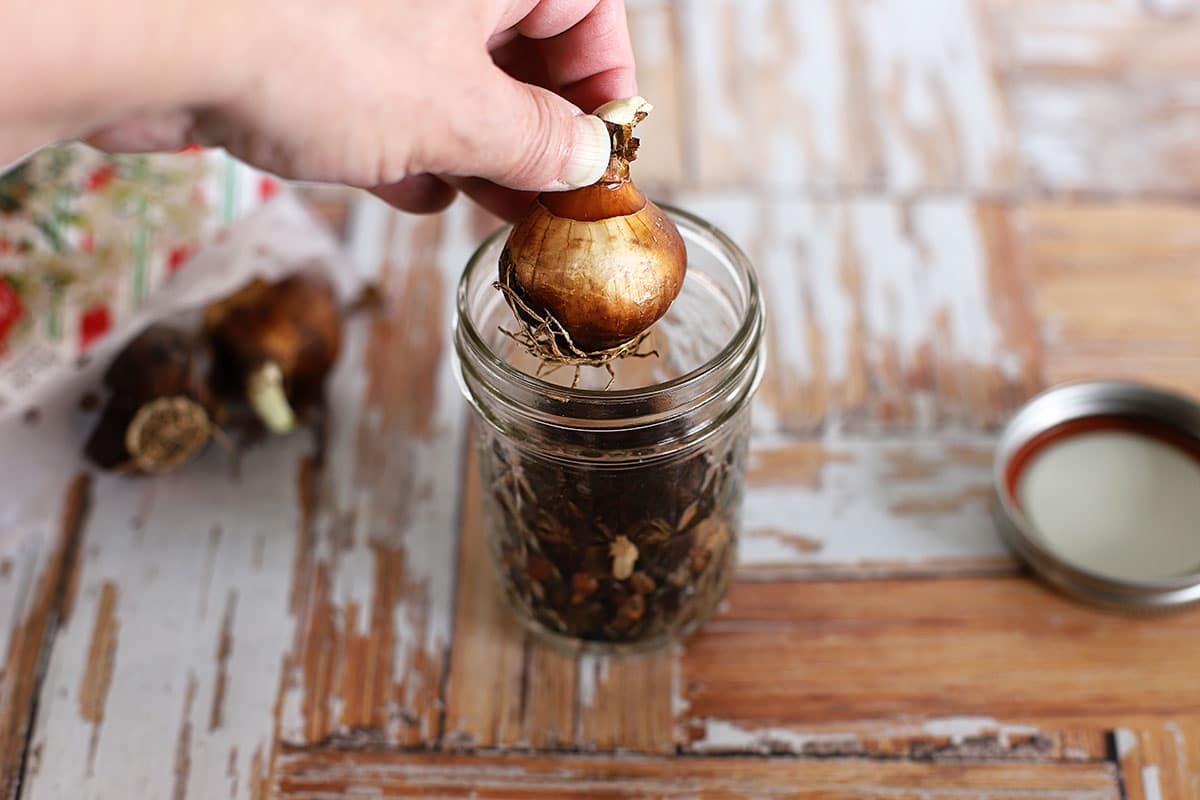 Put a few more stones around the bulbs for support. ½ to ¾ of the bulb should be showing above the stones.
Add water until the water is just below the bottom of the bulbs. The base of the bulbs don't like to sit in the water themselves and they can rot.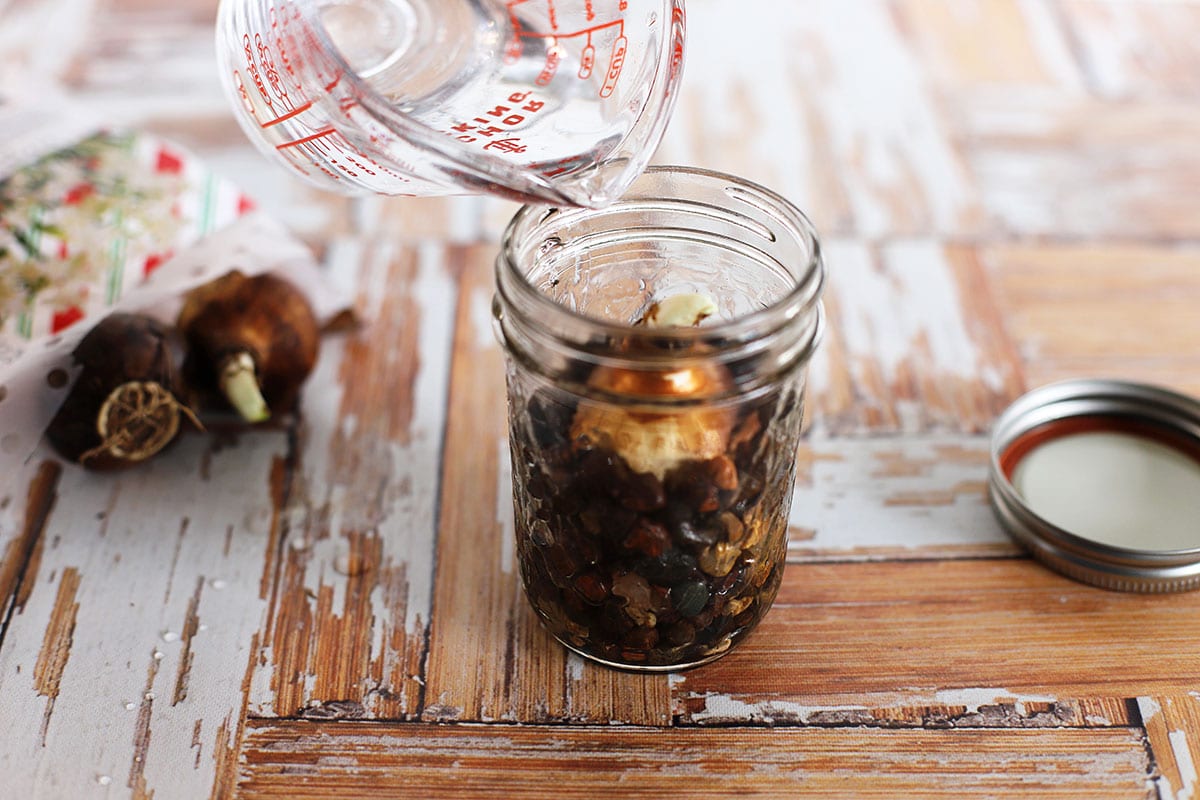 Put the container in a well-lit area and keep it watered. Just remember to not let the base of the bulbs sit in standing water.
In 4-6 weeks you should have a super spectacular white flower show just in time for the holidays.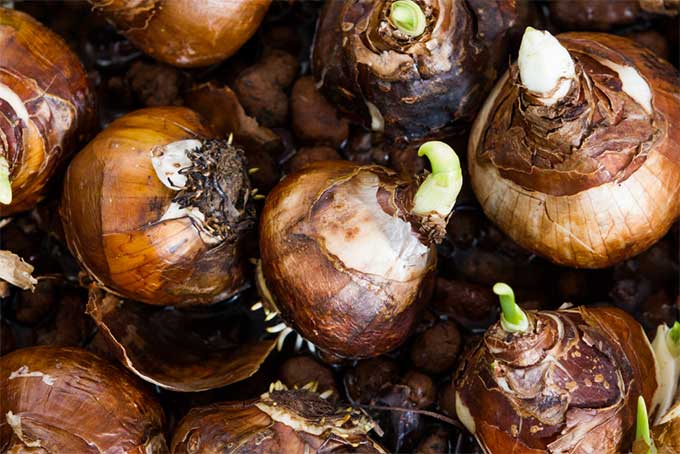 Why Your Paperwhites Might Like A Stiff Drink Of Alcohol
Paperwhites grown on pebbles in shallow bowls have the tendency to grow very tall and then flop over from the weight of the flowers. Then you have to tie the stems together or use stakes to hold them upright. Personally that does not bother me, but if you want to try to get them to bloom without additional hardware to keep them upright, you can try to the alcohol trick.
According to The Flower Bulb Research Program at Cornell University paperwhite bulbs can be grown with shorter, sturdier stems by stunting their growth with alcohol, yet flower size will not be reduced.
Start off by watering the bulbs as you would normally do for the first week until the roots start growing and the green shoot is growing 1-2" above the bulb. Then water with 1 part alcohol mixed with 7 parts water from then on. An inexpensive vodka or really any spirit would do.
And again, this stunts the tallness of the stems, not the actual size of the flowers!
Where To Grow Paperwhites
There are just so many great places to plant these guys!!!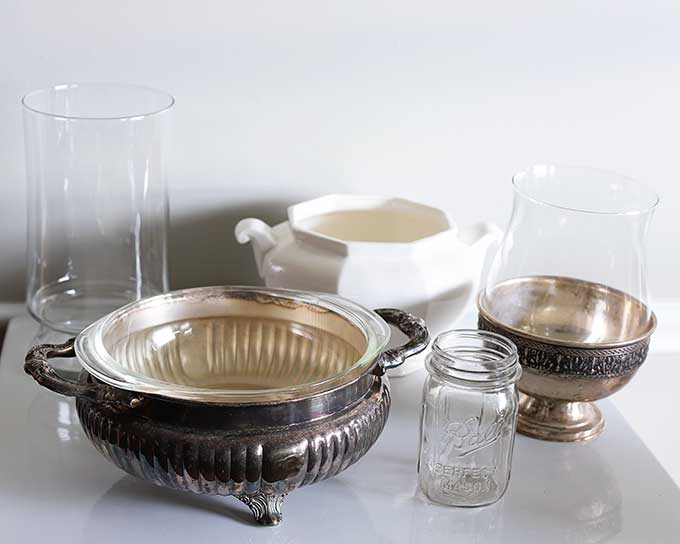 Some of my favorite planters for paperwhites are:
Tall glass vases
Soup Tureens
Silverplated casserole dishes (you can find these at the thrift stores ALL THE TIME).
Mason jars
Crocks
Any shallow ceramic bowl
Tall Container vs Shallow Container?
It really is a personal preference, a shallow planter bursting with paperwhites is a beautiful thing. But keep in mind any shallow dish may require staking eventually or they might topple over.
Taller vessels will use the sides to hold them together, but make sure your tall vessel is glass so the light can get through to the growing bulbs. You wouldn't want to use a tall stoneware vase for example.
Last year I chose to plant them in some quilted jelly jars. They're just the perfect size for one bulb and would make fantastic teacher or hostess gifts (picture some baker's twine wrapped around the top with instructions on how to take care of them tied to it).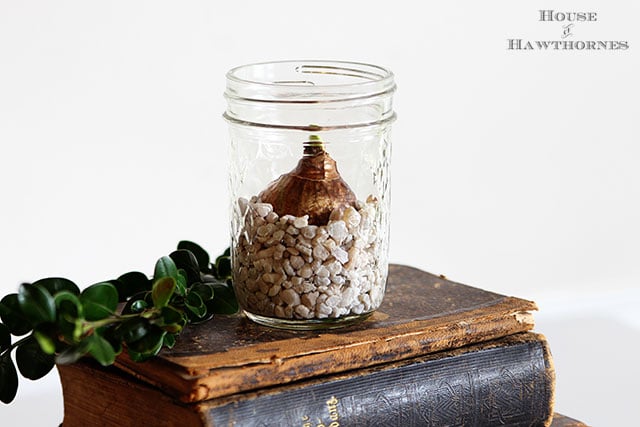 I think the small glass jars are perfect to just place around the house.
They're easily movable.
They can be grouped any which way you want without being super permanent.
AND they like to ride around in the back of toy trucks.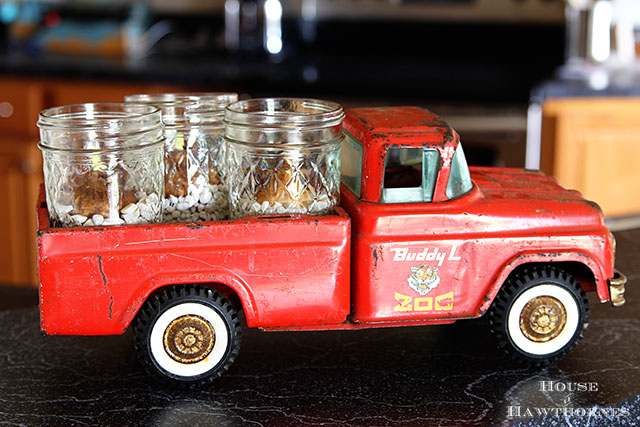 And whenever I can work my red toy truck into a vignette, it's a good day!
Fast forward a few weeks - this is what they looked like when they bloomed closer to Christmas.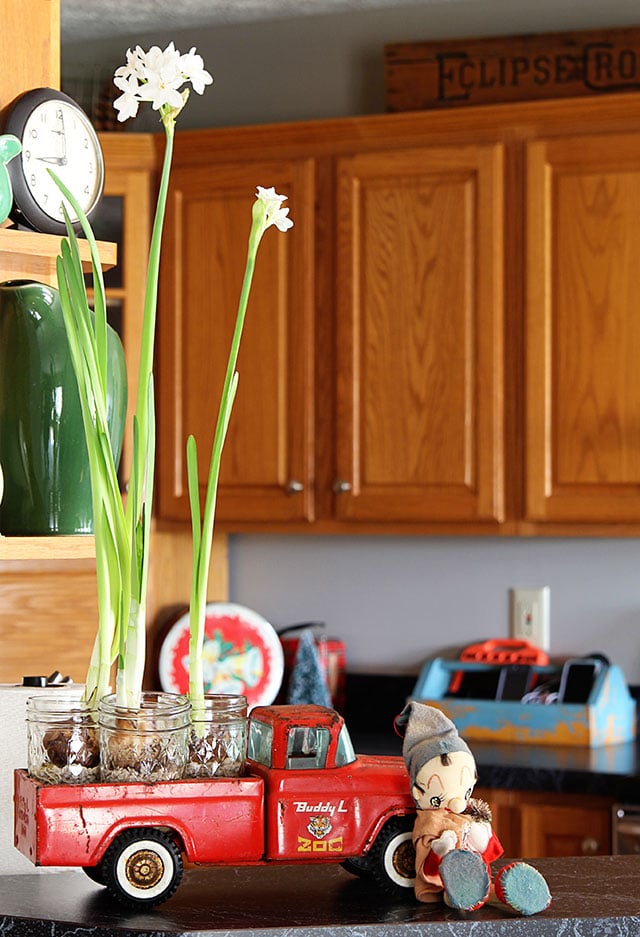 When to plant paperwhites for Christmas blooms
The best time to plant your paperwhites for Christmas blooms would be 4-6 weeks before you want them at their best.
If you want them blooming in early December for the start of the Christmas party season, plant in mid to late October.
If you want them blooming closer to the actual Christmas day, then plant them anywhere from November 1st through November 15th. November 25th at the absolute latest.
I actually like to start different sets of them every two weeks from late October through late December, so I always have some fresh paperwhite blooms throughout the gloomy days of winter.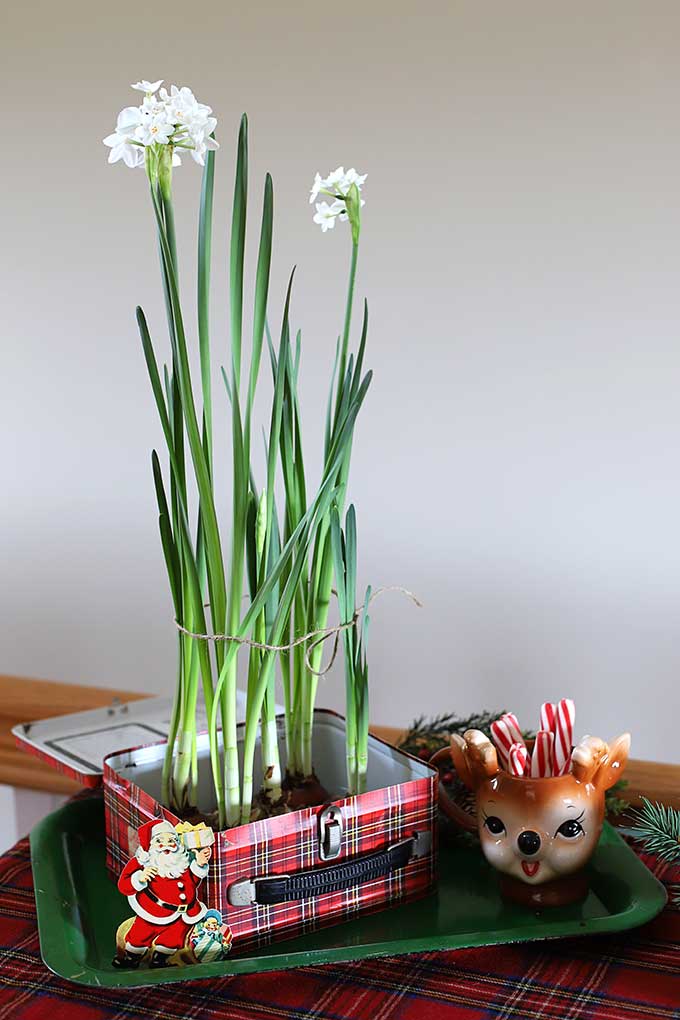 What to do with paperwhites after blooming
That's simple. Throw them away!
Seriously though, they rarely bloom again indoors and if they do it's after a couple of years of intense babying. It takes a lot of the bulb's energy to go through a "forcing" situation in the first place, so they just don't have the stored energy reserves to do it again very soon.
This article from SFGate/HomeGuides goes into it in a little more depth, but as much as I hate to say it, it's best to just throw them away and buy new bulbs next year.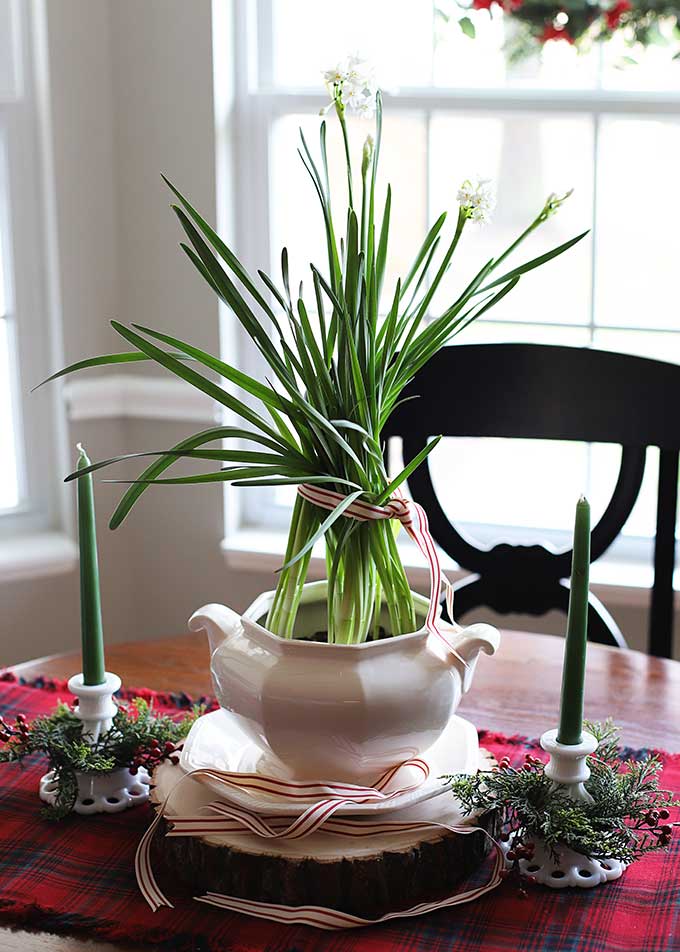 Where To Buy Paperwhites
I've had numerous people ask where they can buy paperwhites online, so I located some sources for you. These are affiliate links for your convenience. You can read my full disclosure policy here.):
If you prefer to pick them out in person, they are carried by most local nurseries along with the big box stores. I've even seen them in the grocery stores already planted and starting to bloom (but what's the fun in that)!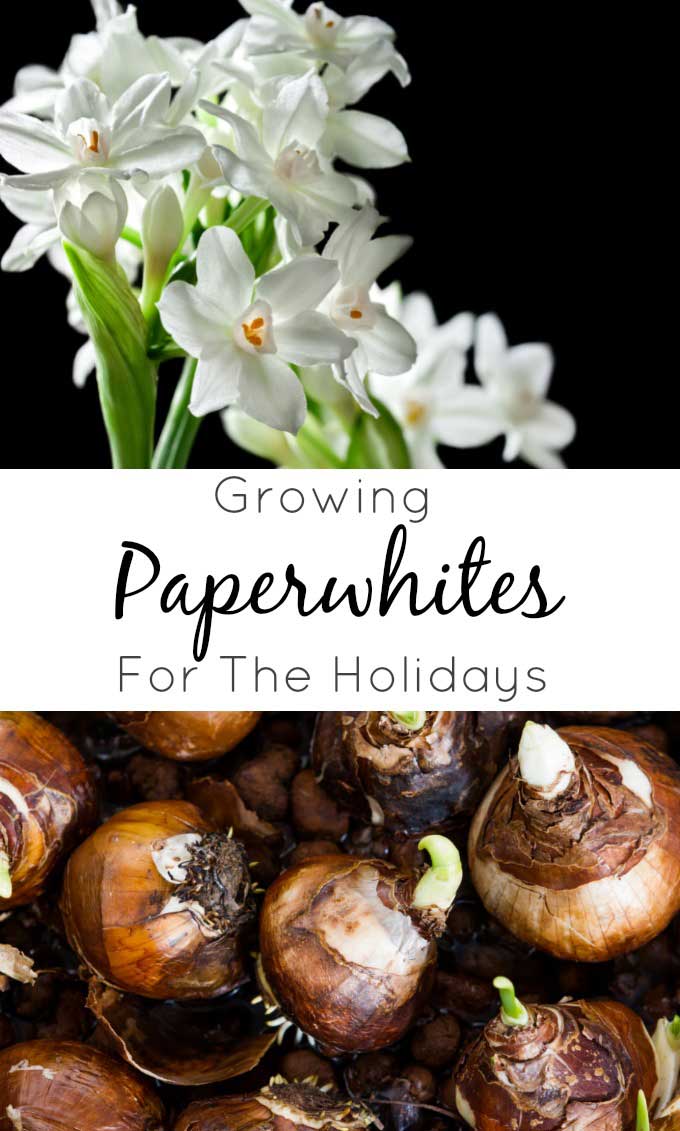 Check out the web story version of this article HERE.
Are Paperwhite Narcissus Safe For Cats And Dogs
No!
If you have a pet that likes to eat your plants, do not let them near your paperwhites. I'm sorry, but you'll have to find a silk version of this beautiful holiday plant!
Paperwhites are very toxic to both dogs and cats due to phenanthridine alkaloids found in the leaves, stem, and bulbs. These alkaloids can cause severe gastrointestinal distress, very low blood pressure, kidney damage and much more.
So, no. Keep these away from pets that like to chew on your plants and flowers.
Other posts you may enjoy:
Cyclamen Care: How To Grow Indoor Cyclamen