This free printable calendar for 2021, using beautiful vintage botanical illustrations, is an inexpensive and CUTE way to keep track of the year.
I hope you had a GREAT holiday season. We had a wonderful, relaxing couple of weeks here ourselves.
Lots of cheese eating and lots of Hallmark movie watching.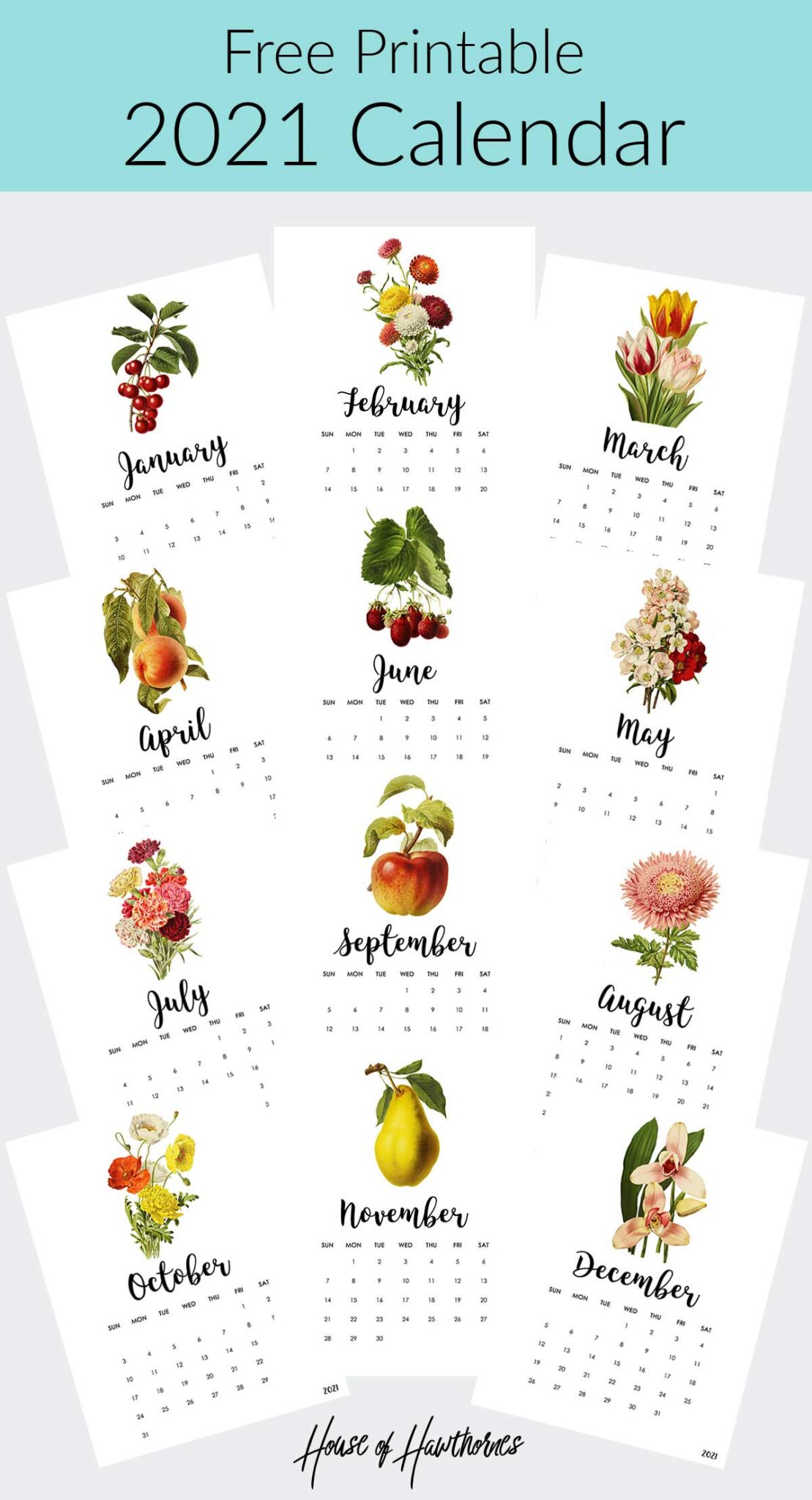 Oh, and my beloved Ohio State Buckeyes won the 2021 Sugar Bowl, DECISIVELY if I may say so, and are off to the National Championship game next week!
And my long-suffering Cleveland Browns made it into the playoffs! 1st time in 18 million years!
But now it's back to the real world.
To start off the new year I have created a free printable 2021 calendar for you.
Vintage Botanicals Calendar For 2021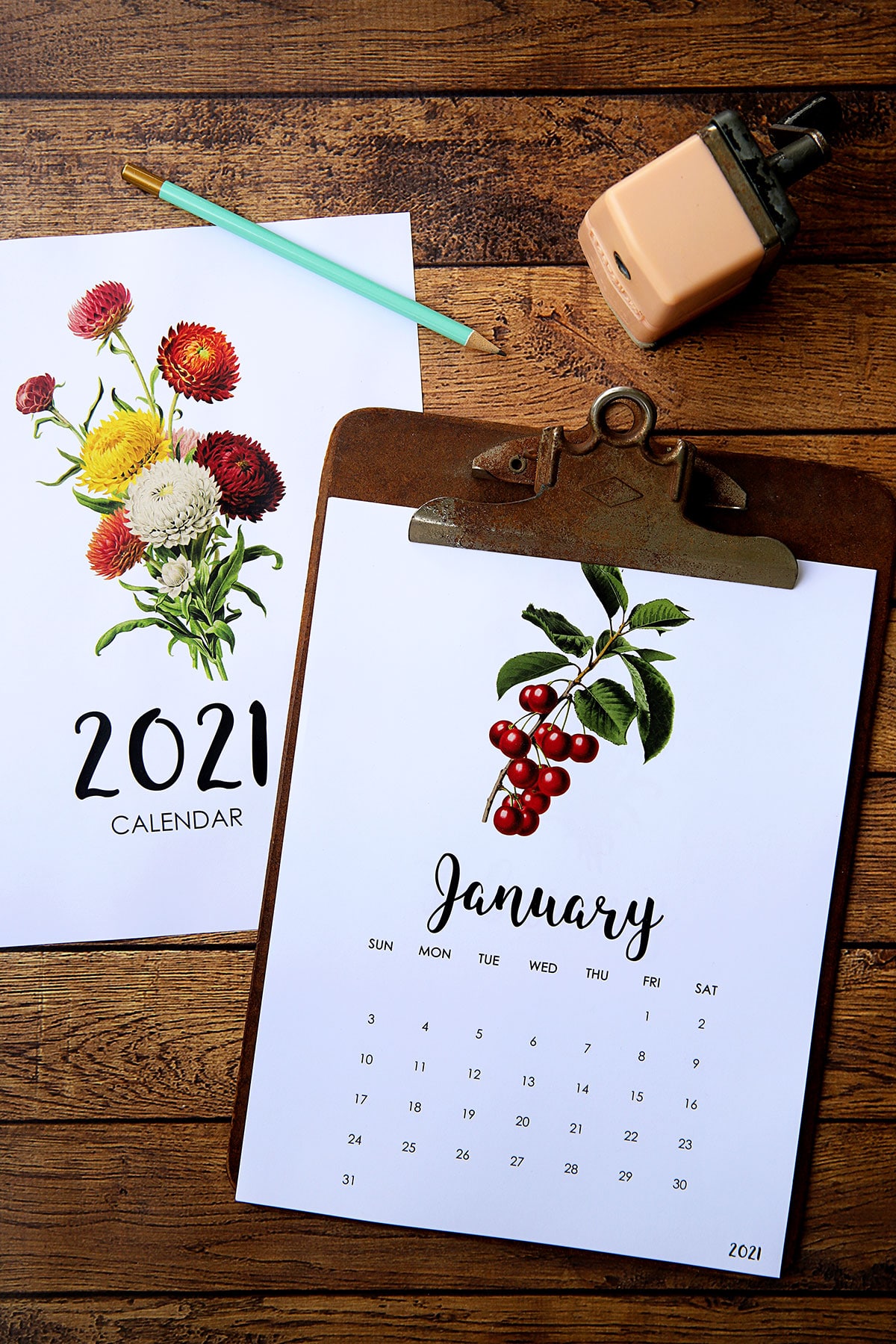 I absolutely adore vintage botanical illustrations and was so happy I found these beauties to adorn my calendar this year.
It is a mixture of both floral and vegetable illustrations.
All cute as a button.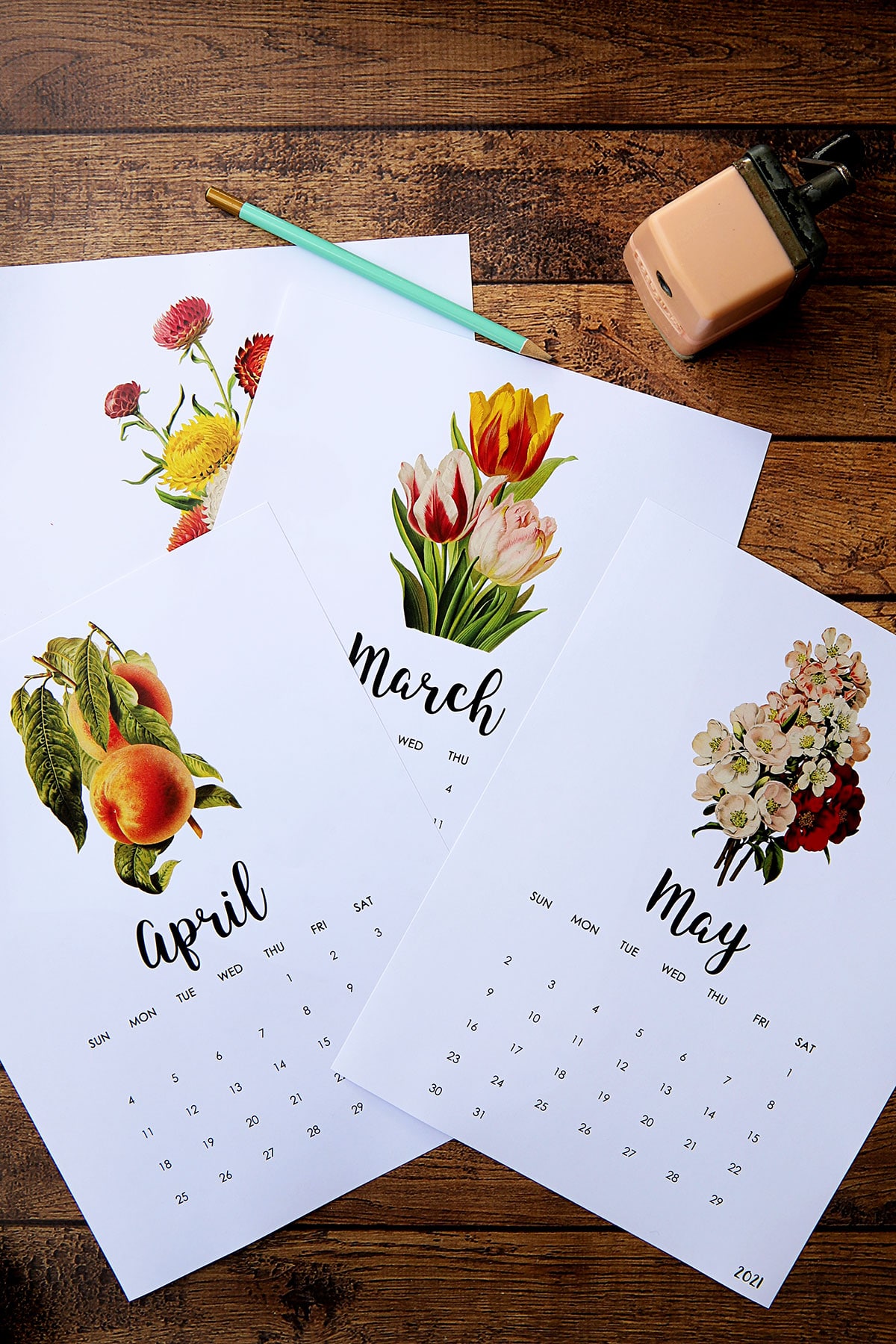 How To Print Your Calendar
First of all, you can print the whole thing at once or you can print them out individually each month as the year goes by. Totally up to you.
It's easiest and quickest to print them out at home if you have a color printer. You can use any type of copy paper or you can use cardstock if you want a weightier feel.
Or you can go online at Staples and have them print it out for you. Which is what I did, then I just popped on by the store later that day and had them bring it out to the car. Very easy.
It cost roughly $7.50 + tax if I remember correctly and I had them printed on the 28 lb copy paper (just a tad heavier than typical copy paper).
How To Use Your Printable Calendar:
Put them on a clipboard.
Frame them.
Use a 3-hole punch to make holes on the side and put in a 3-ring binder.
Have your local office supply company bind it for you.
Affix it to your fridge using one of those cute refrigerator magnets from that time in 2001 you visited Sea World.
Or just simply thumbtack them to your bulletin board.
Tips For Copying It
The files are stored on Box, an online file storage system.
When you click on the above link it will open a new screen and take you to the Box site.
If there is a green bar across the top X out of that (it's just an ad asking you to sign up which you do not have to do).
You should see a square box on the top right of the screen (will be under the green bar if you haven't X'd out of that yet).
If you copy it from that square box, it will copy all the calendar pages as a zip file* onto your computer and will be stored wherever your online copies are stored on your computer (normally a folder called Downlo*ds).
Or if you prefer to get each month individually you can click on the three dots (. . .) that come up if you hover to the far right of each month and click to copy it from there.
*If you use the big square box method and aren't familiar with zip files, it's just a way to quickly compress the files into one smaller file so it faster and easier to send to you. You'll click on that zip file (looks like it has a zipper running down the file) and then you can see each individual month.