This year I had visions of going all out with Christmas decor around the house and had plans of starting to put up my Christmas decor right after Halloween.
Abnormally early in my house.
My thought was, since 2020 was sucking, I might as well pour myself into my happy place of vintage Shiny Brites, Santa mugs and plastic blowmolds.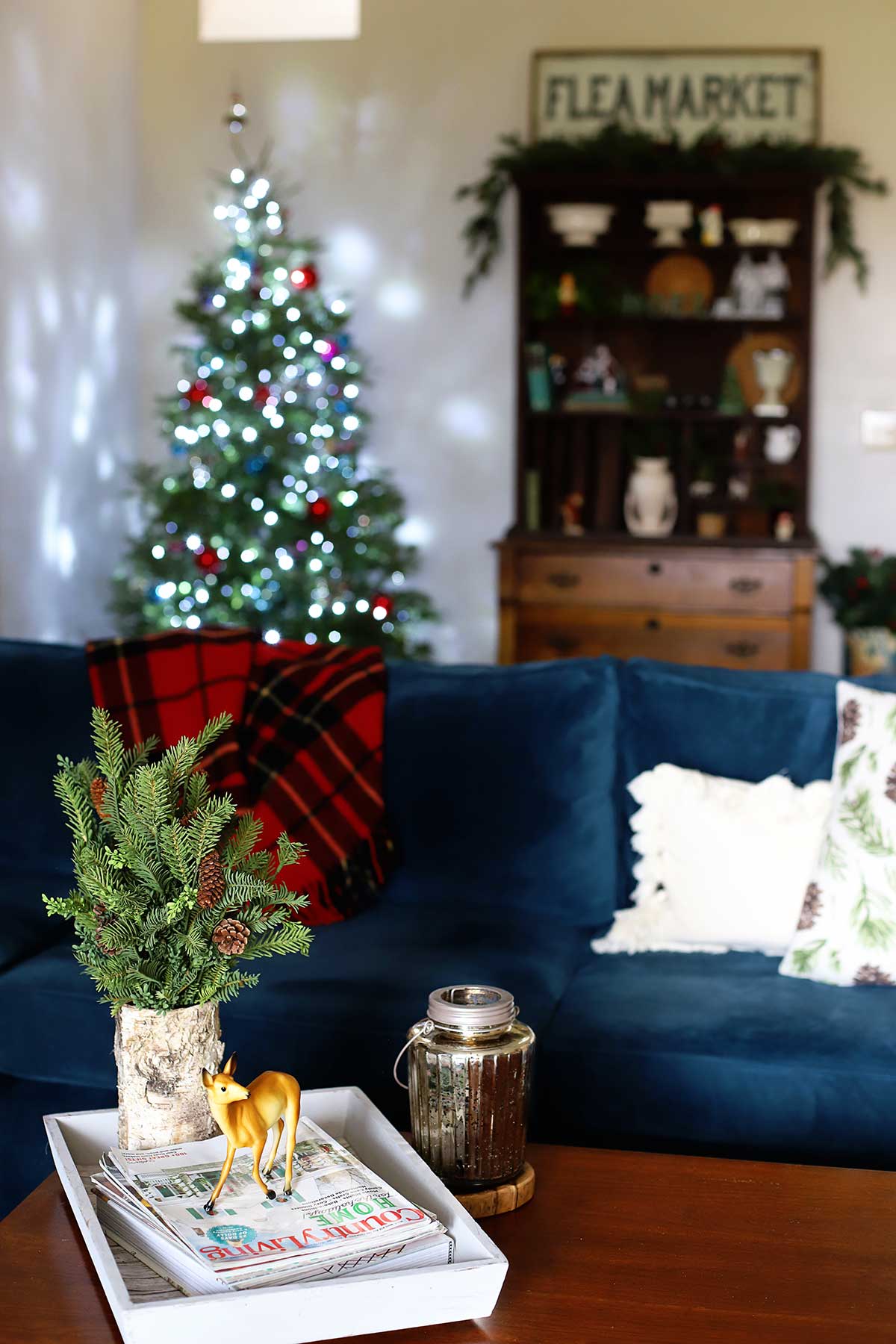 And then life got in the way, as it's so apt to do this year, and my decorating mojo slowed down.
Way down.
In the meantime, I was watching everyone on Instagram deck their halls in a style worthy of a 10 page spread in House Beautiful. All the gorgeousness was not making me feel inspired, it was making me feel "less than".
I got anxious scrolling through all the highly-decorated Christmas homes with not a candy cane out of place or a surface left unadorned.
And it started to make me feel bad.
And sad.
And Christmas decor should never ever make you feel that way!
So I took a step back and decided to just decorate my home with things I adored and made me happy and warm and fuzzy inside. And to step off Instagram.
Because decorating for the holidays is about celebrating the holiday and making your home comfortable and warm for your family. It's definitely not something to stress over.
So welcome to my 2020 Holiday Home Tour That's Really More Of A Few Vignettes That Make Me Very Happy Tour:
This is the first year with my blue sofa/sectional so I wasn't sure how I was going to make it work for Christmas.
But it turns out a dash of red plaid goes very well with bright blue. Who knew!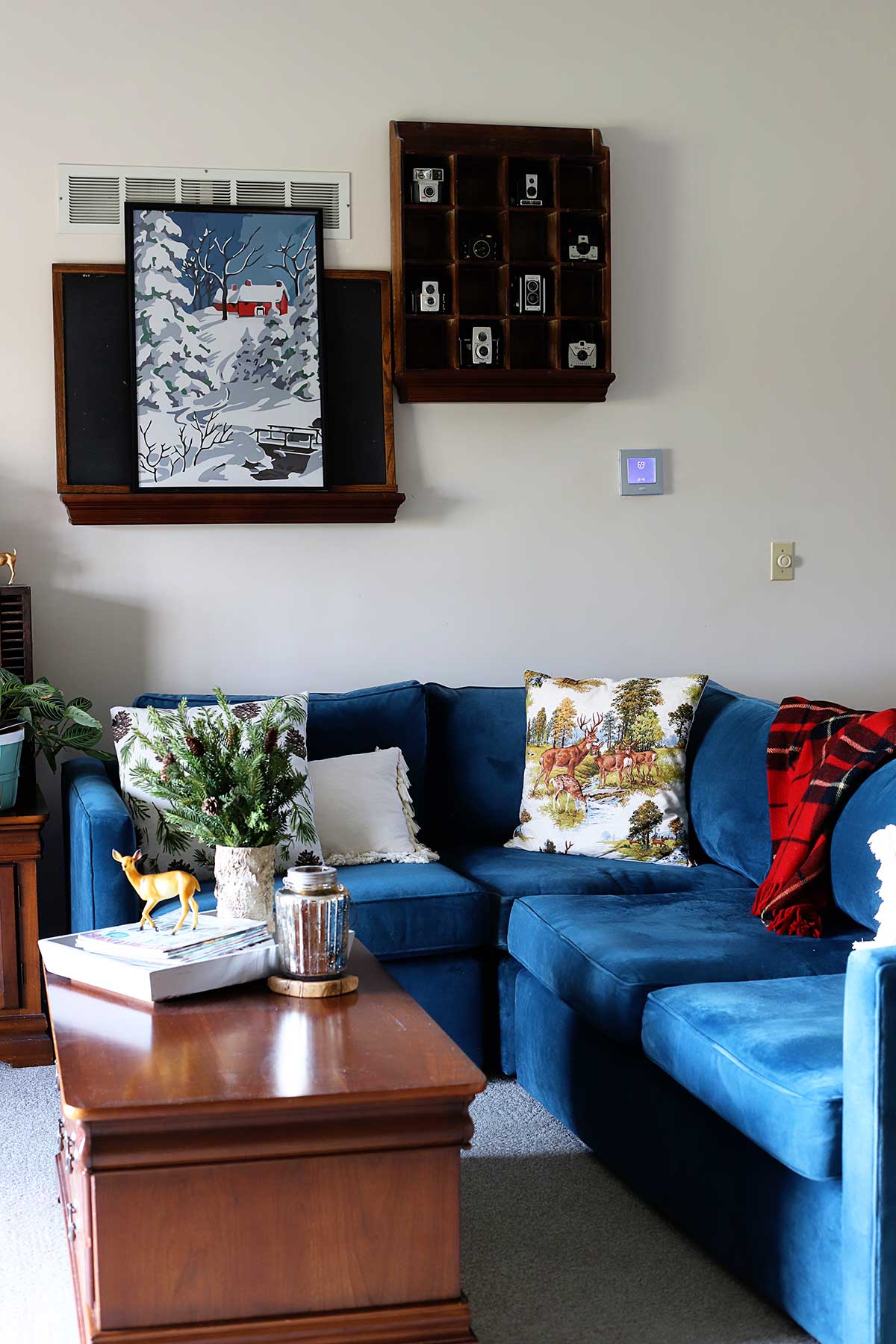 On the coffee table (which I probably should have dusted before taking photos) I simply replaced my fall flowers in my rustic birch bark vase with some faux greenery and added a vintage plastic deer.
If you ever run across these vintage plastic deer while out garage sale-ing or thrifting, grab them. I don't think I've ever paid over $1 a deer and they come in handy to tuck in different places at Christmastime.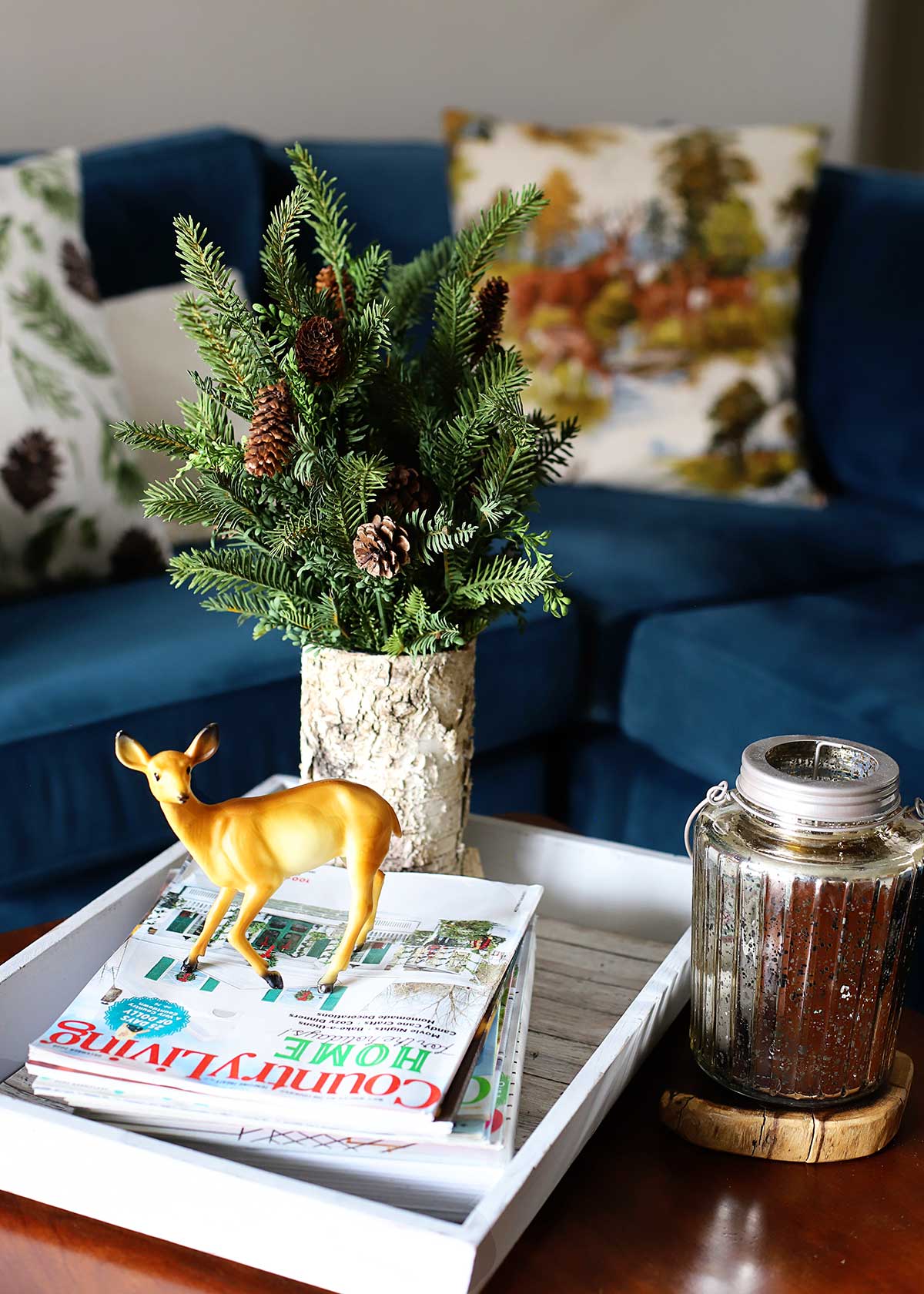 The paint by number over the couch is actually a digital print of a vintage paint by number I purchased on Etsy from Elaine at To The Woodside.
She has a number of scanned versions of paint by numbers that you purchase and then can have printed at your local Staples or, in my case, Walgreens. And it's not just winter ones, she has a nice selection that can be used year round.
Maybe not as fun as collecting authentic vintage paint by numbers at the thrift stores, but it's a great way to get the look without traipsing all over in a pandemic.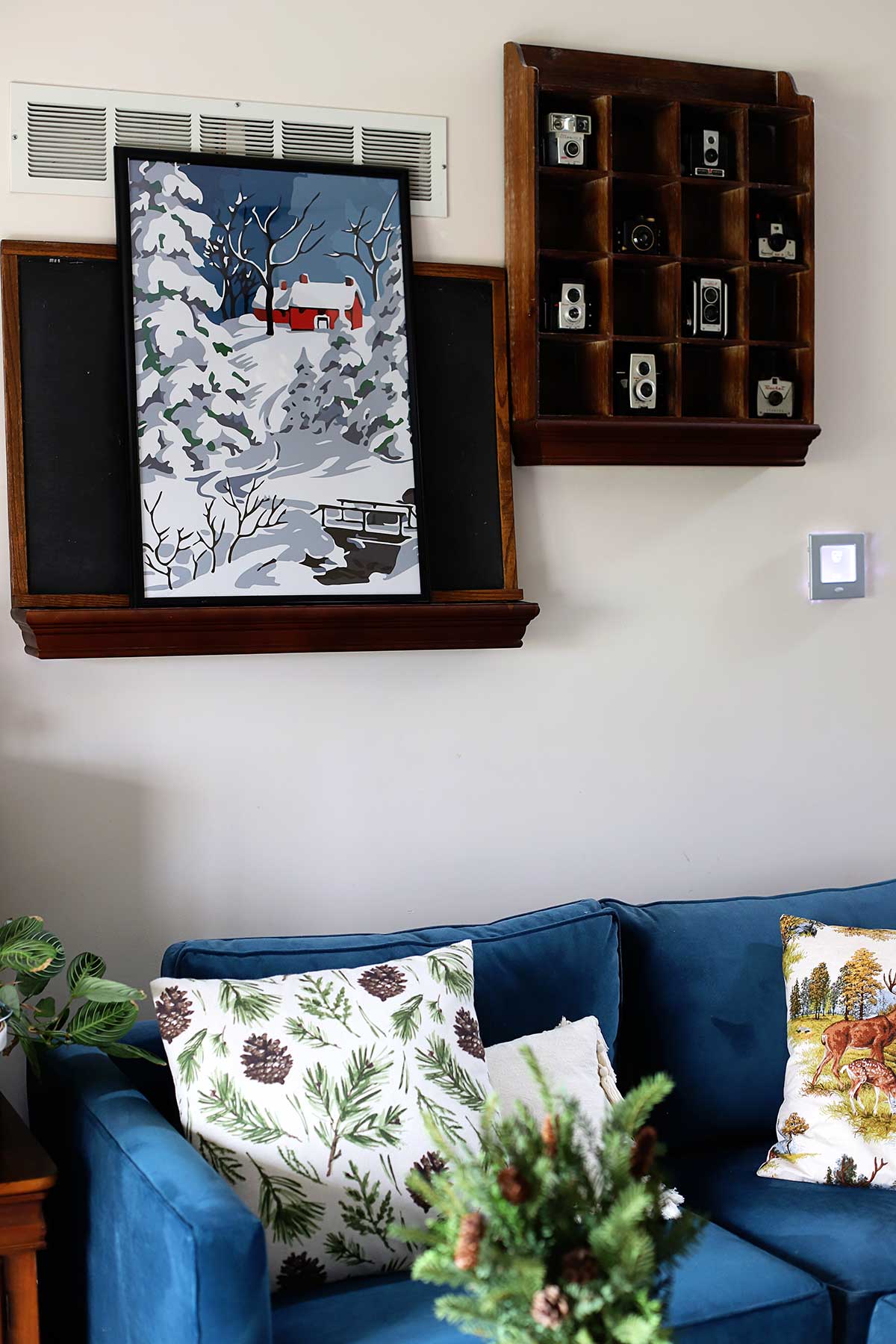 OK, let's talk trees.
I've had a 9 ½ foot tree in the living room since we moved into this house 15 years ago. I felt the cathedral ceiling pretty much dictated a tall tree.
I was wrong.
It all started when neither my husband nor myself felt like lugging the huge tree out of the basement this year and then lugging out enough ornaments to decorate that beast.
So we decided to just pick up a 6 ½ foot live tree and be done with it. But in the end, I think I prefer the baby live one over the monstrous, labor intensive fake one anyhow.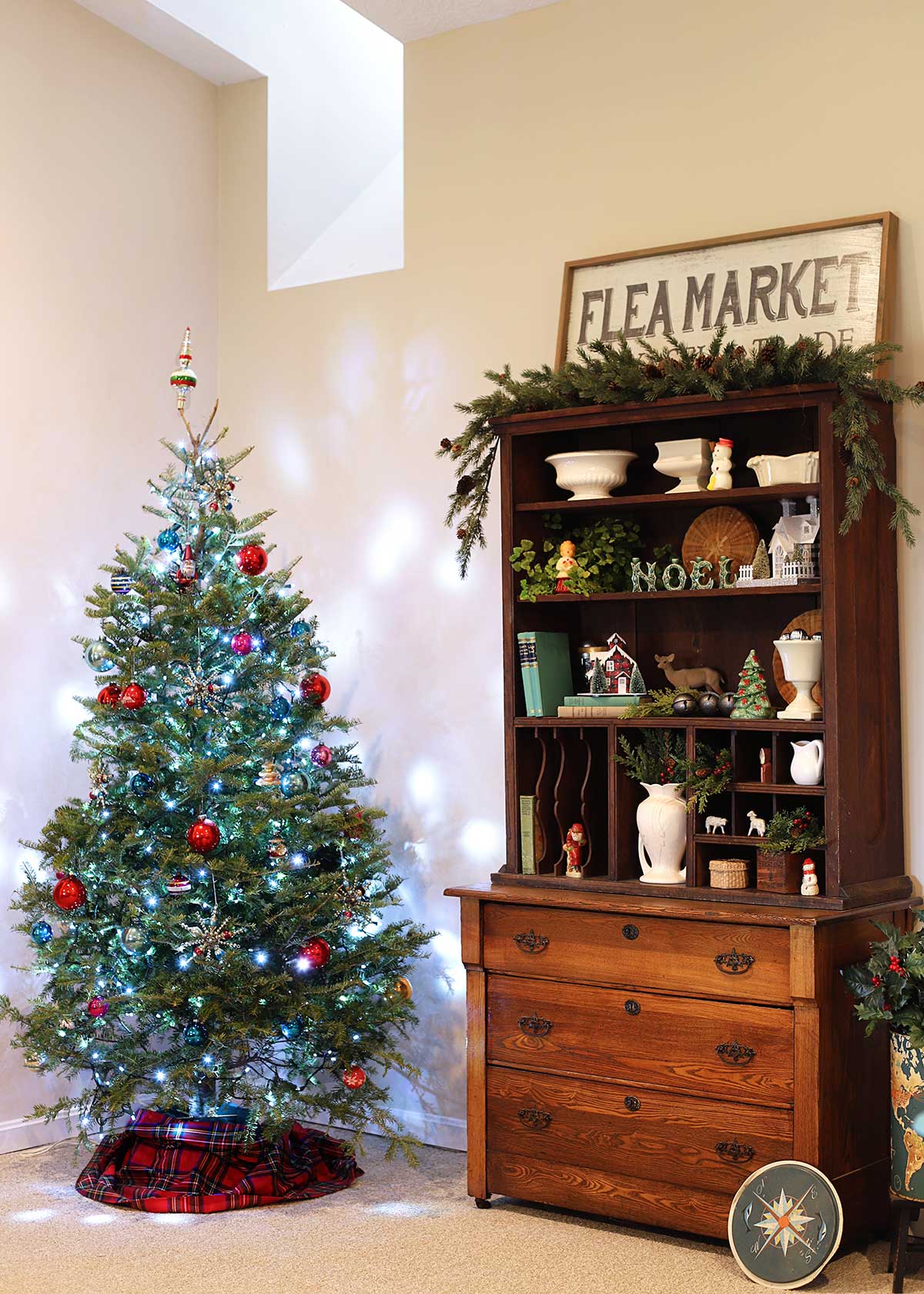 It may not have a ton of ornaments and the tree topper sits a little wonky, but it's a tree. And it smells wonderful!
Next to the tree, I added some of my vintage Christmas decor to the hutch.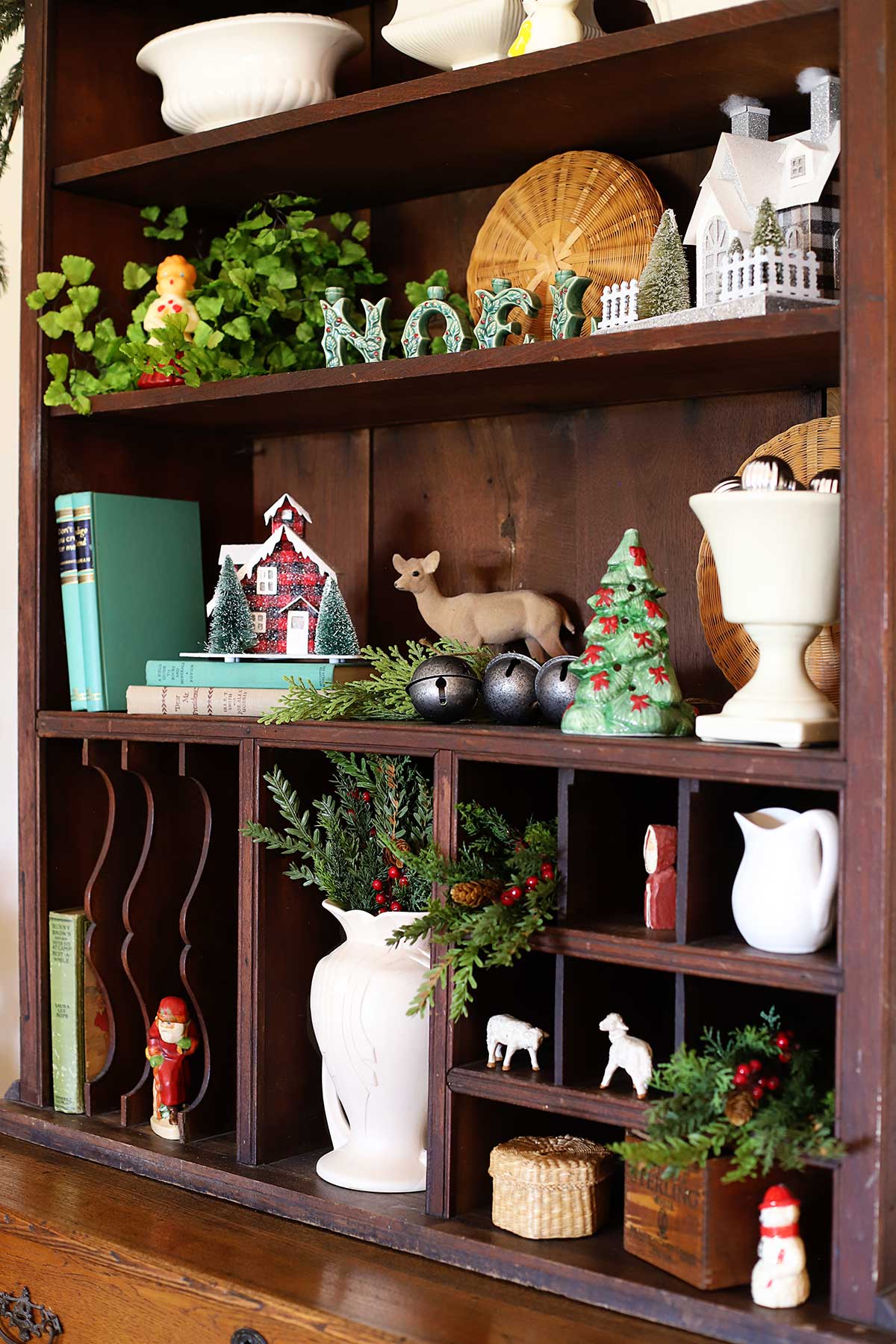 I just swapped out some of the year-round items with some of my most loved Christmas pieces.
Like the N-O-E-L candle holders my mother used every year.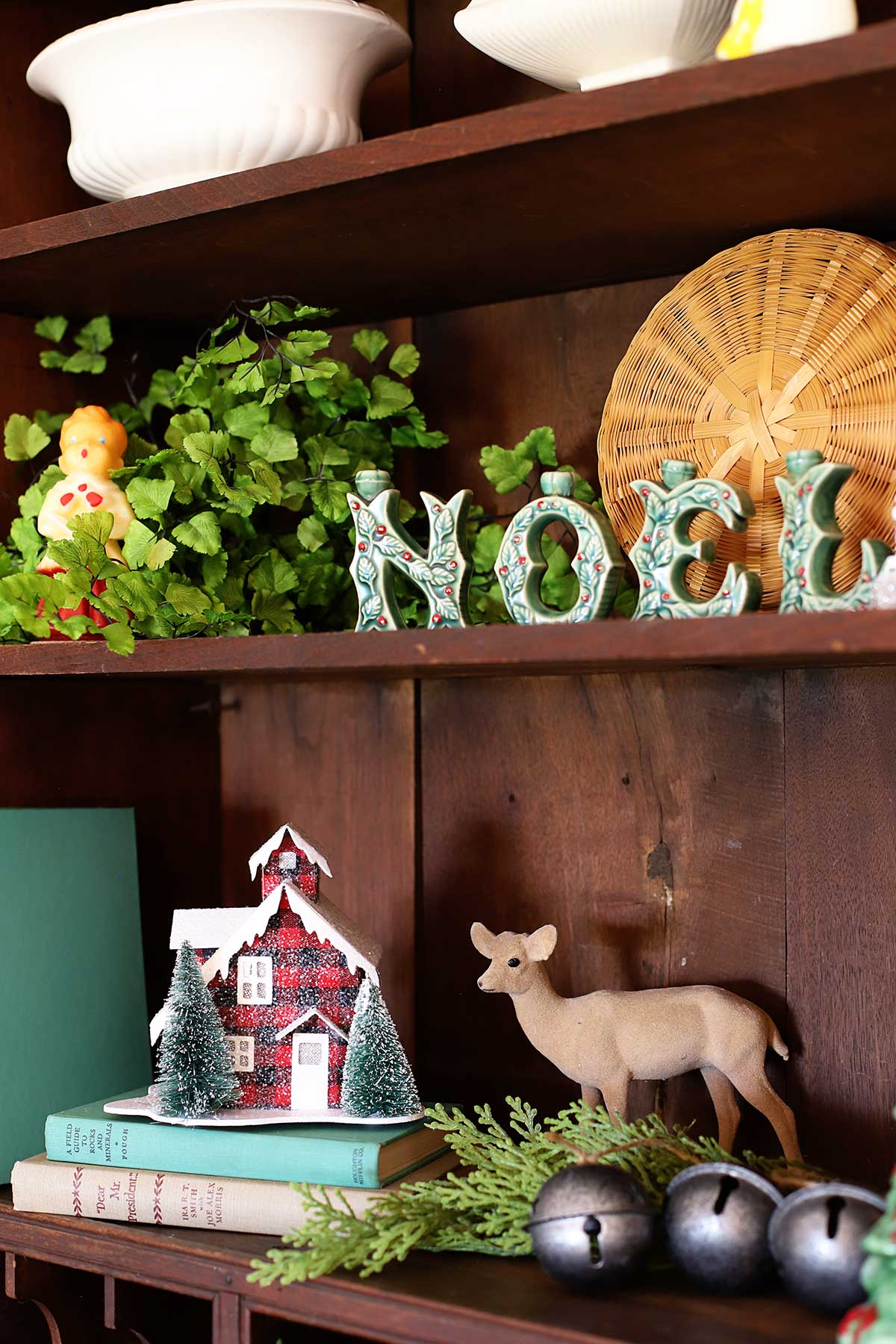 And the little hand carved wooden Santa my sister made me probably 25 years ago.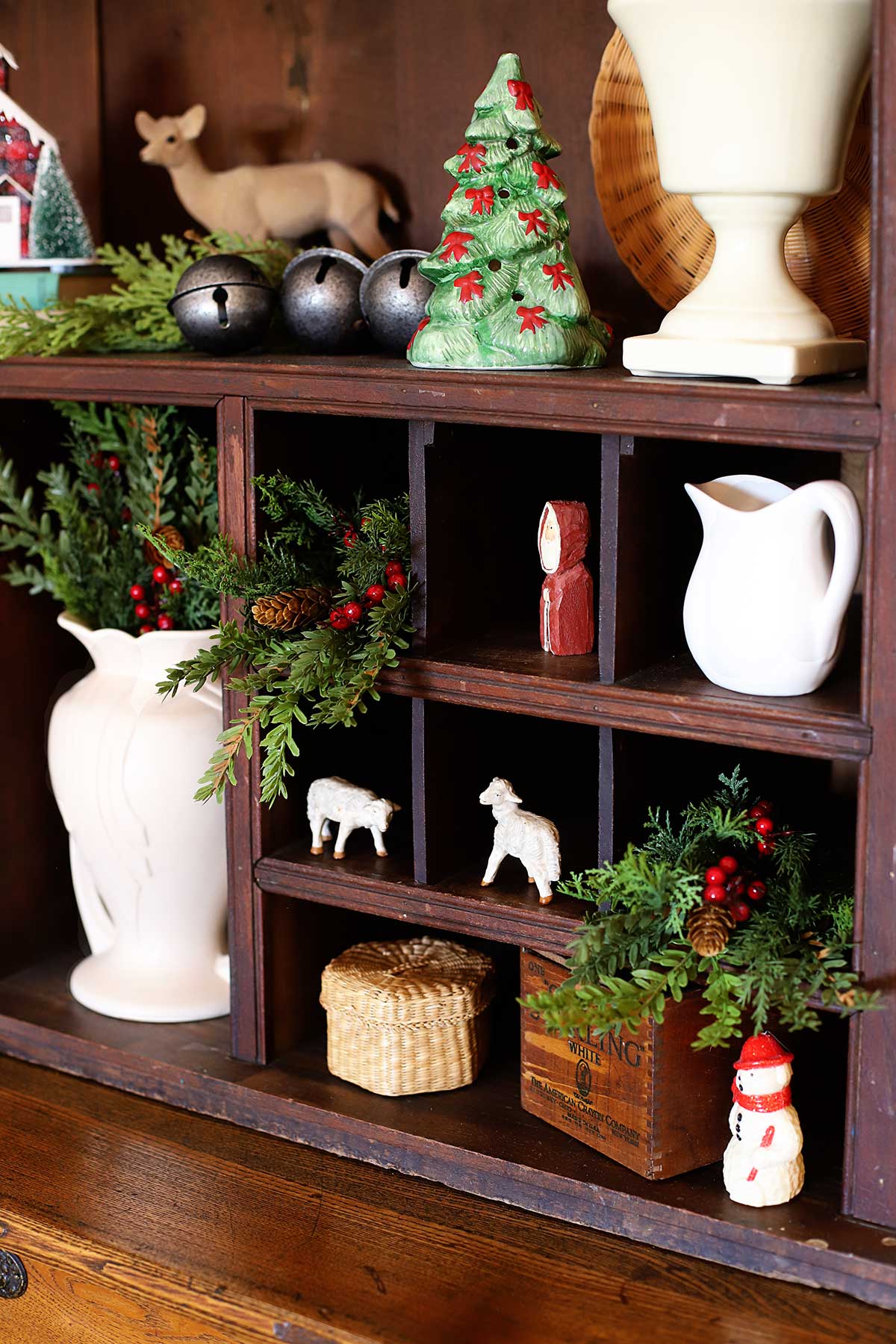 I added one of my Vaillancourt chalkware Santas at the last minute.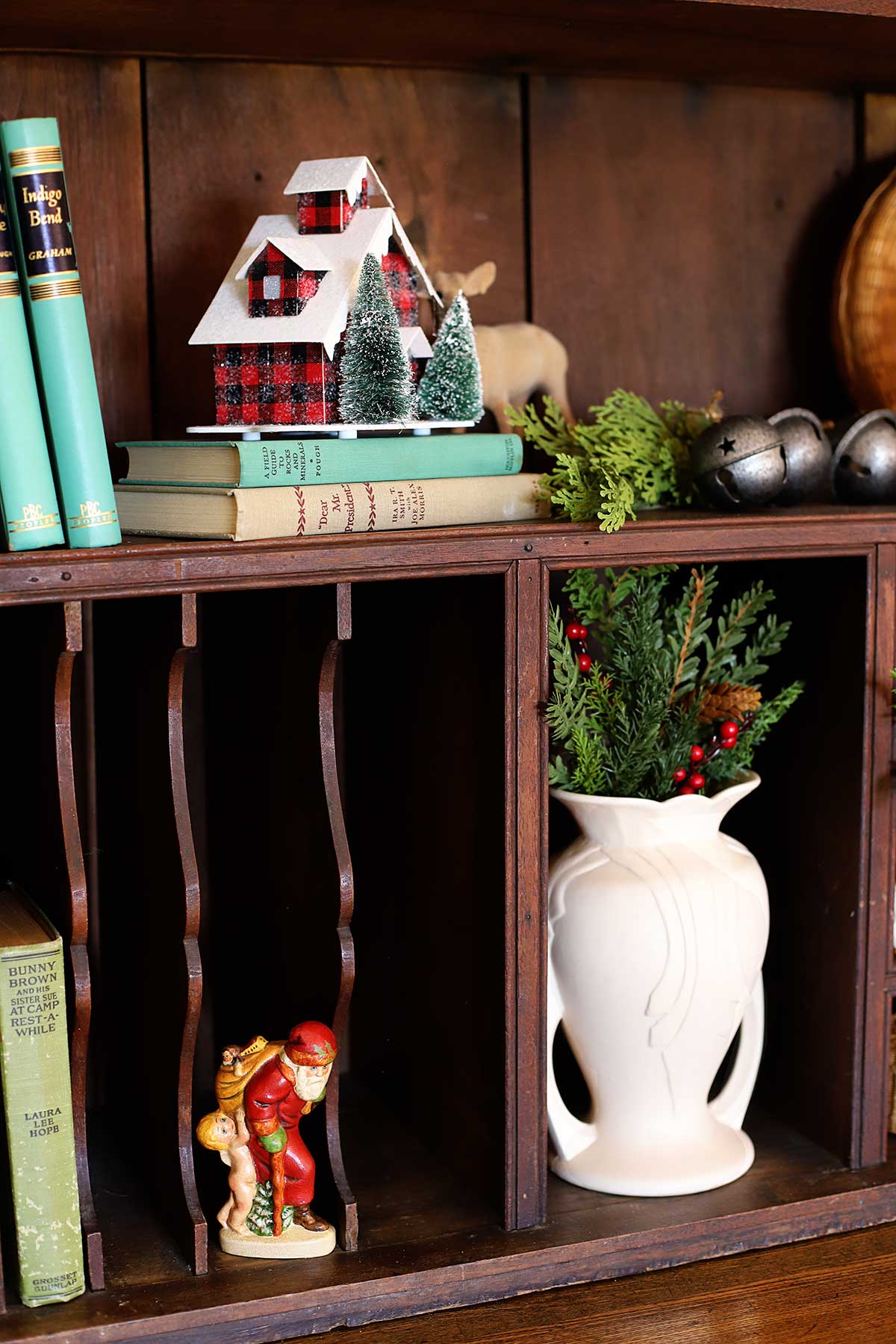 No special story about this house, since I bought it last year at the grocery store.
But it's plaid and plaid makes me happy!
Oh look, there's another deer.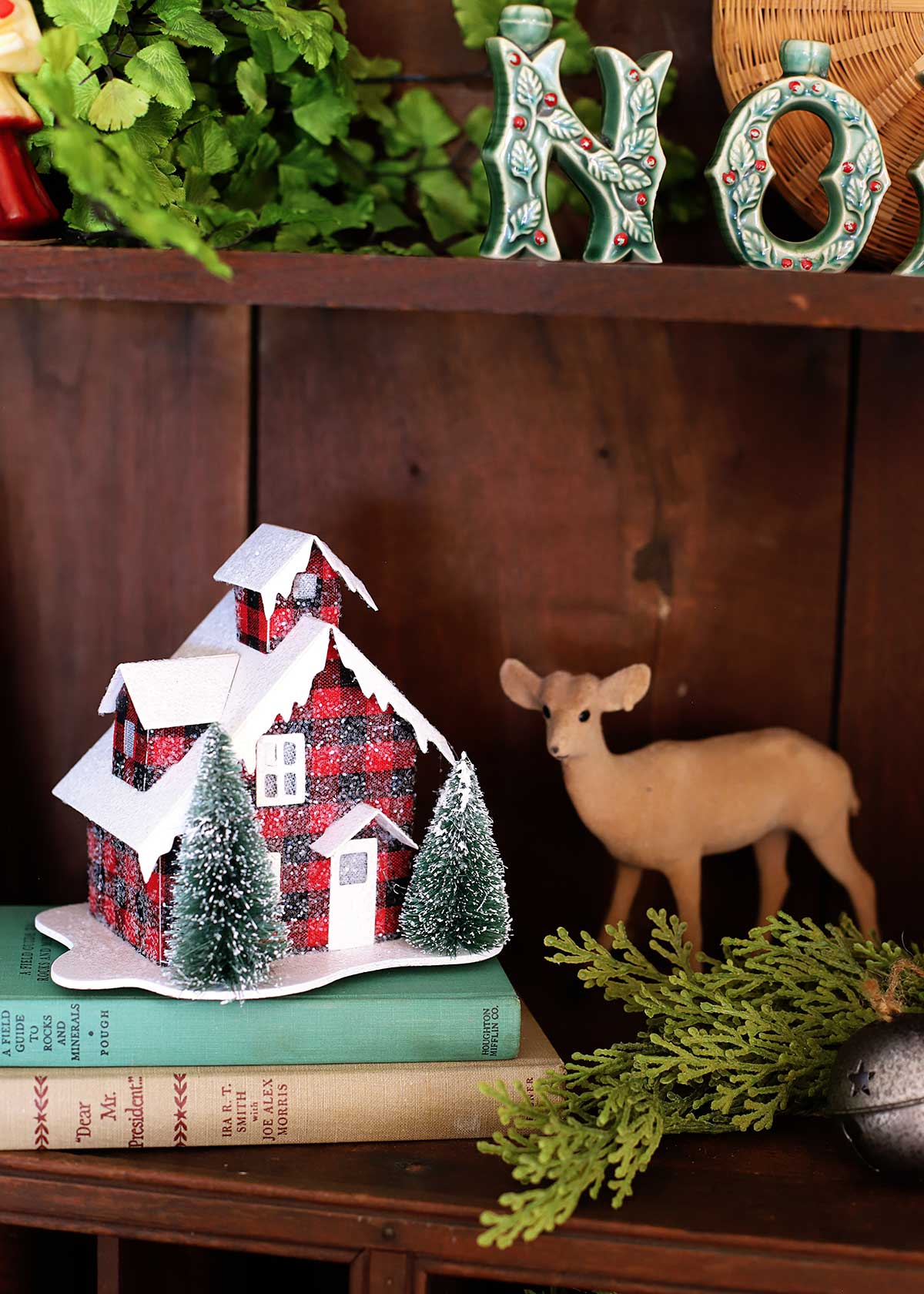 Lacey wanted to make an appearance this year, but she didn't want to look like she put too much effort into it, so she agreed to lay around in the entryway.
And trip anyone who wants to walk in the house.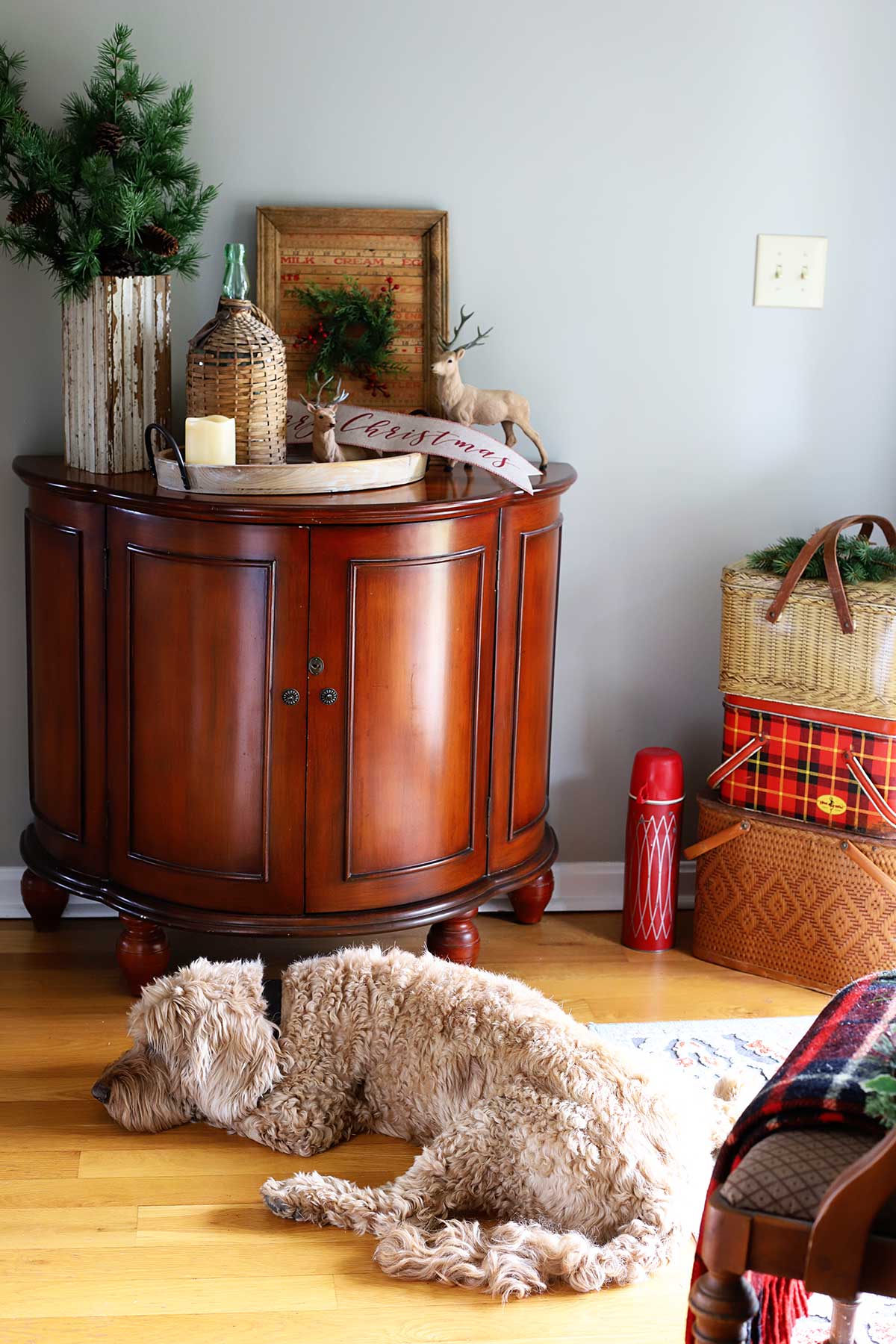 More deer (I told you they came in handy), this time flocked ones.
The wreath holder is the repurposed yardstick frame I made this fall with the wreath/candle ring swapped out to a holiday one.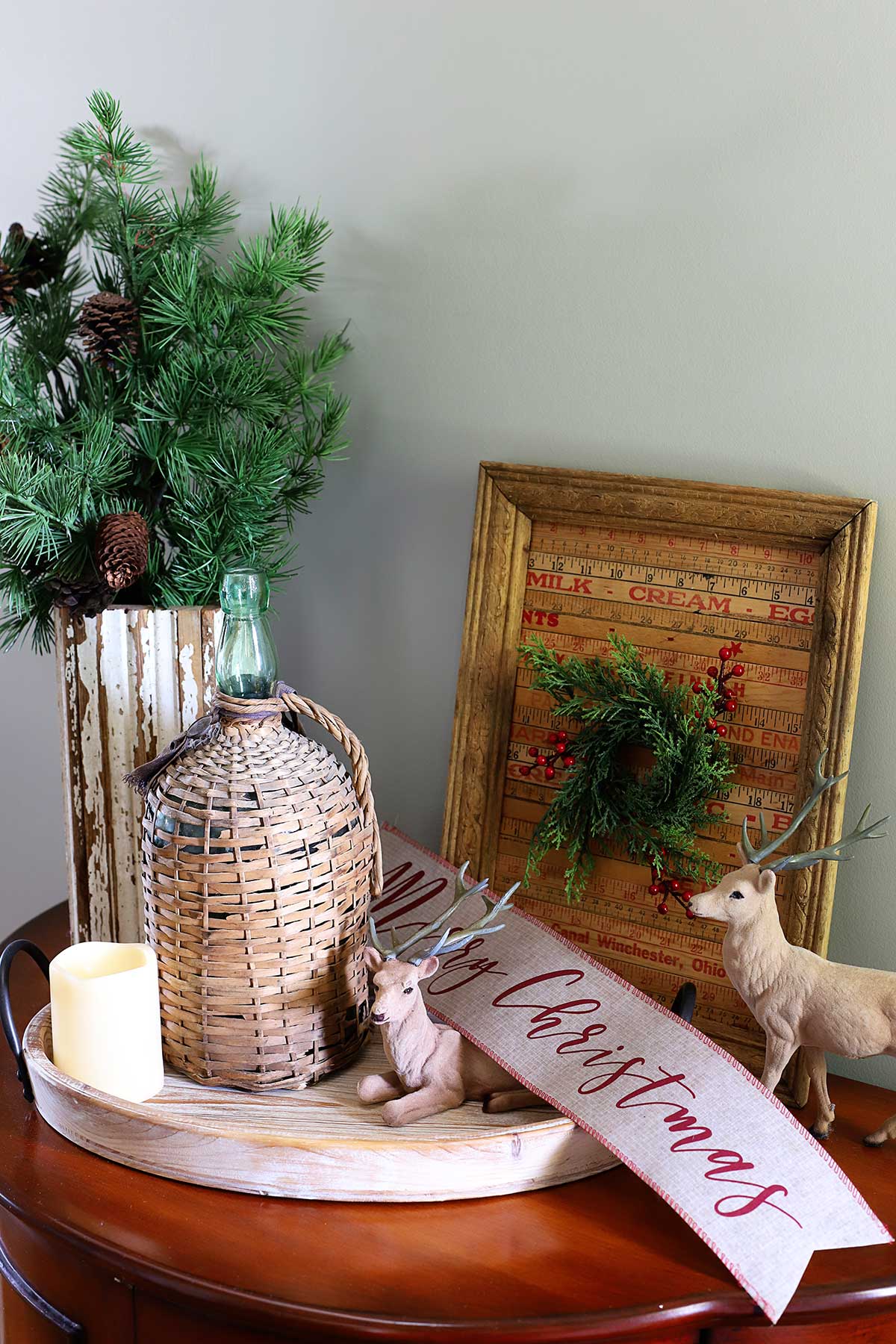 I found this mottled red poinsettia at the grocery store and simply plopped it in a green basket for a quick and easy pop of color.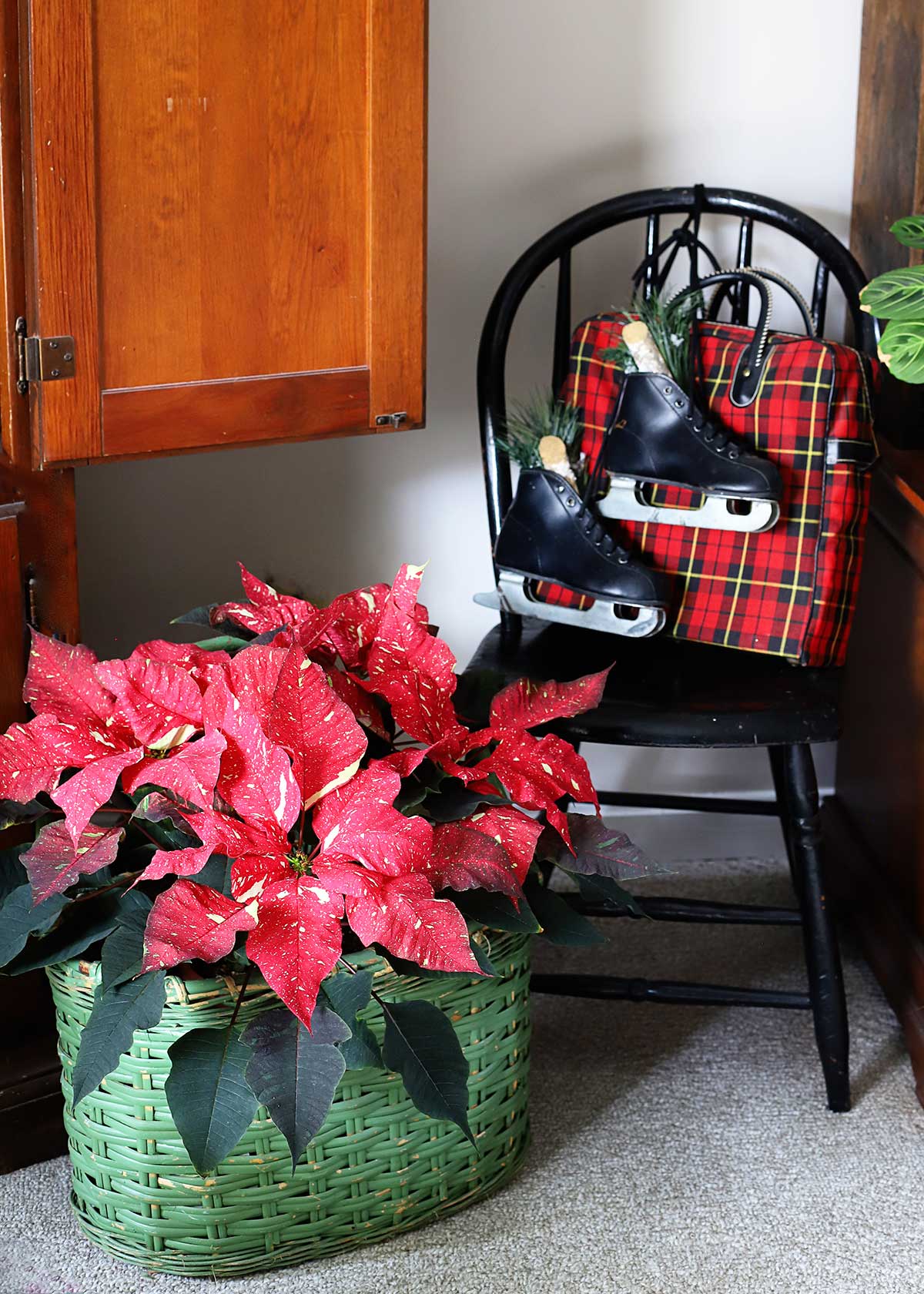 Remember the paint by number print from the living room? This is just a smaller version for the kitchen dining area.
I had actually printed this one first and then realized I have no concept of scale and it was much too small for the living room. So I then had the larger one made for the living room and put this one here.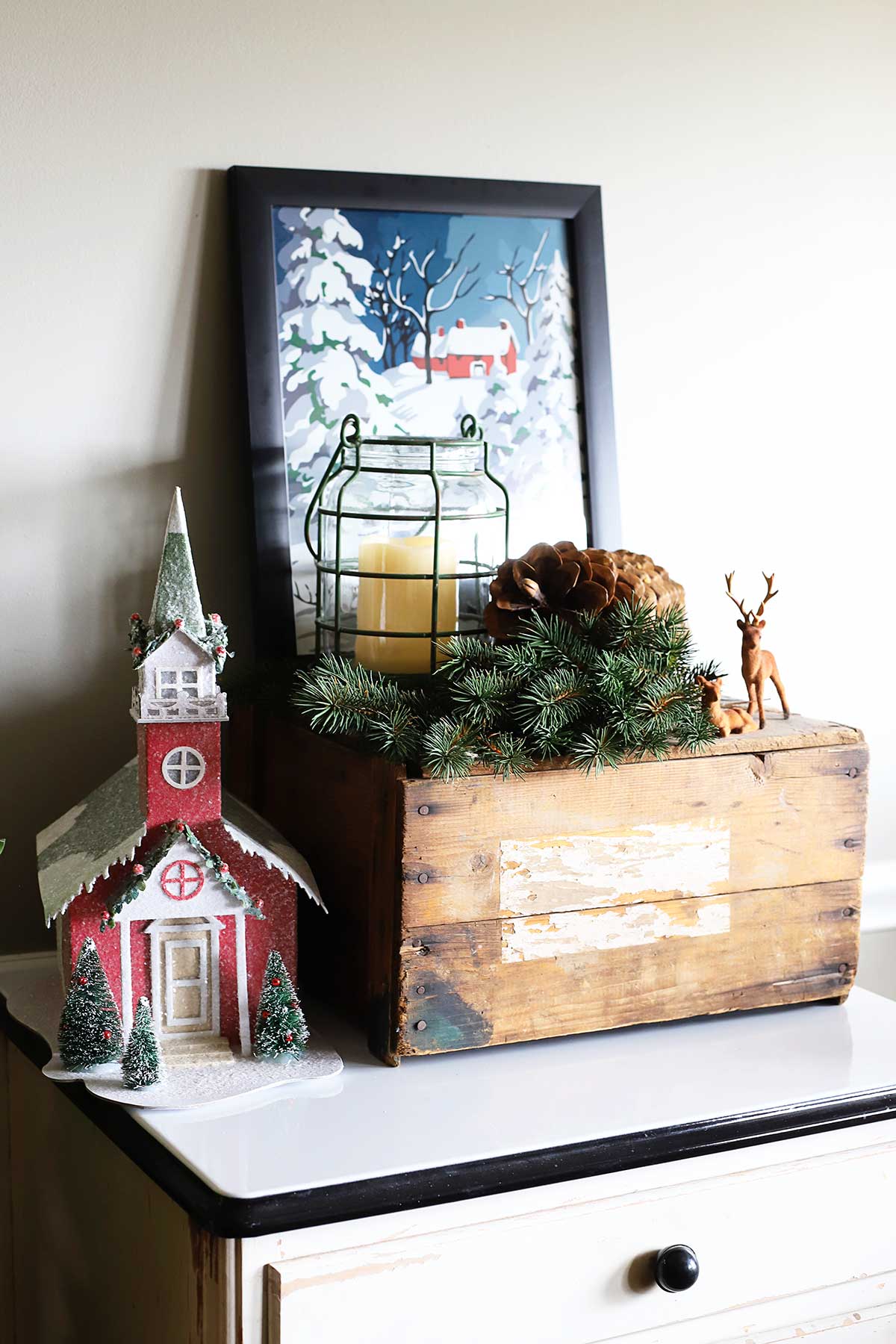 I felt the need to explain that, because I probably should have just bought another digital print and had something different here, but I had already driven to Walgreens twice that day.
My hot chocolate bar is still set up on the kitchen table. The only difference is I put the loose cookies away, so Lacey would stop trying to eat them.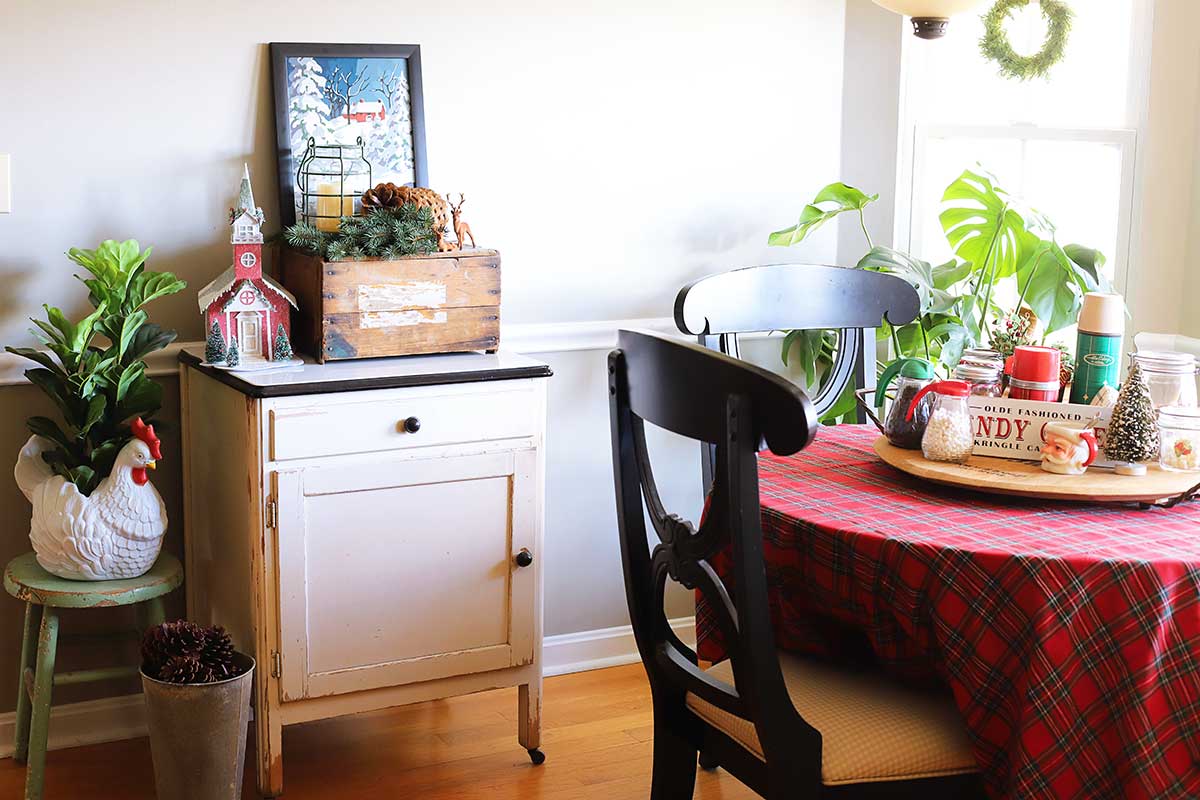 And a home tour would not be complete without my dear deer friend.
This year I decided to string together some plastic ornaments with some twine and throw them over his antlers. Sort of looks like he was running though the house and got tangled up in the tree decorations.
If it were not for the fact that he doesn't have legs.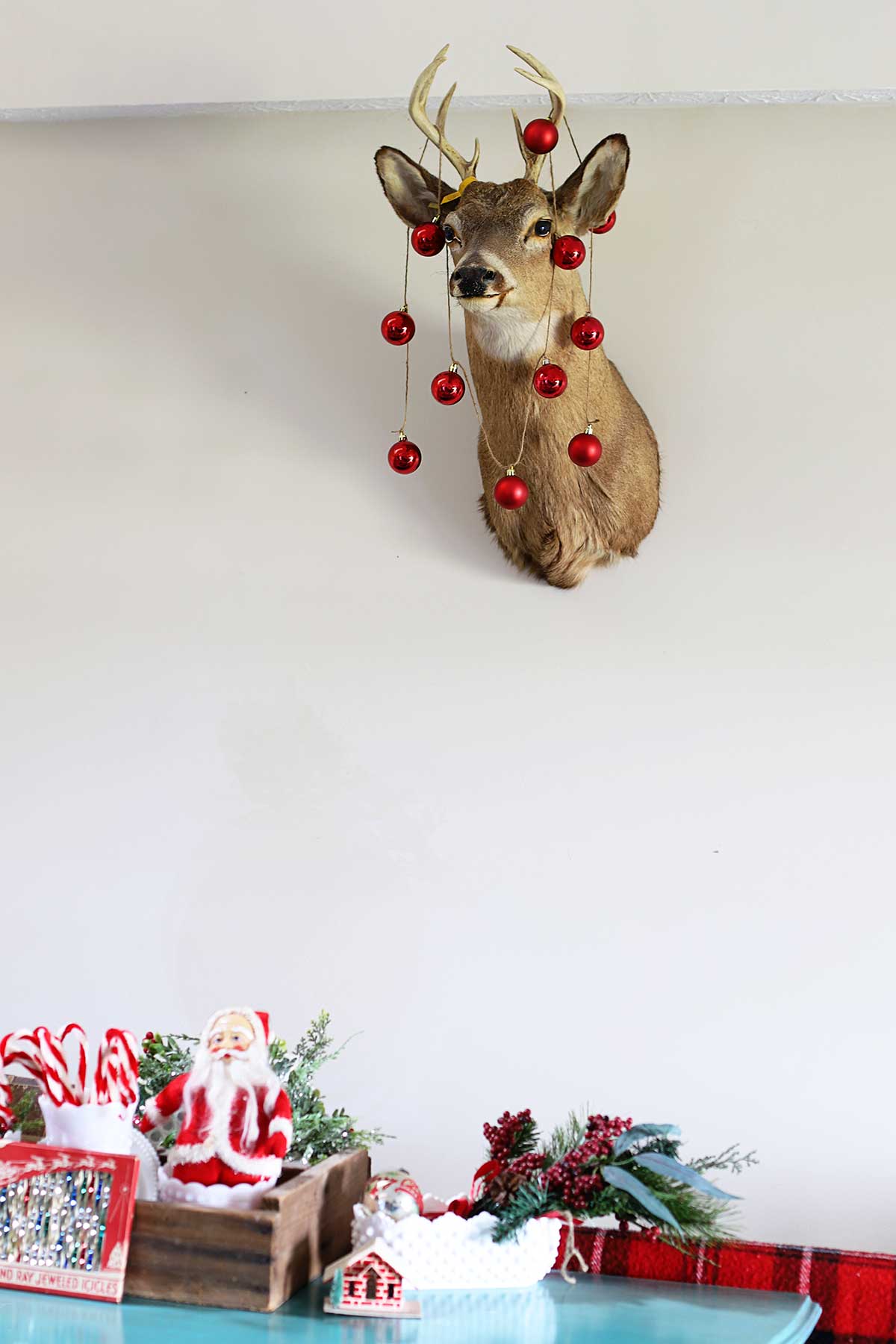 Below him on the turquoise buffet is just a bunch of random Santa and red items mixed in with some of my milk glass collection.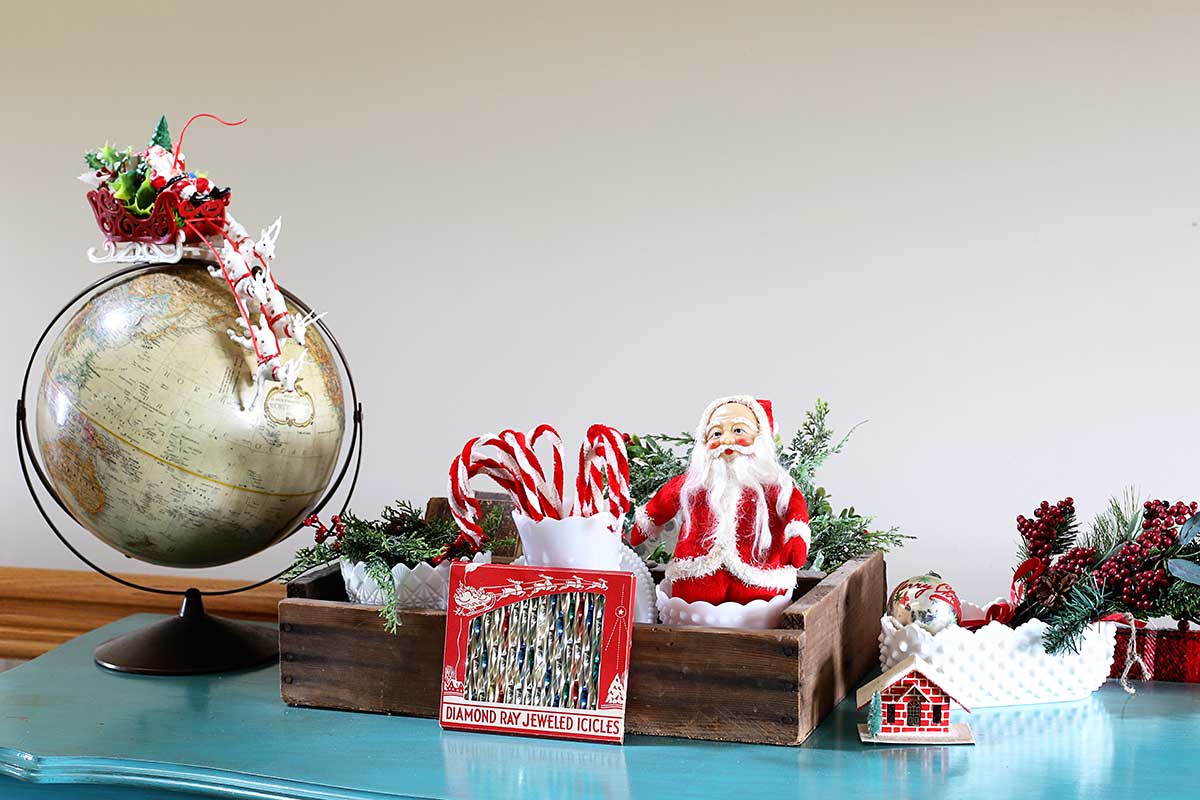 The pure white of the milk glass really makes the red POP!
So that's a wrap.
Thanks for visiting my "2020 Holiday Home Tour That's Really More Of A Few Vignettes That Make Me Very Happy Tour".
May your holidays be joyful and relaxing and a time to reflect on this year that hasn't been entirely a dumpster fire.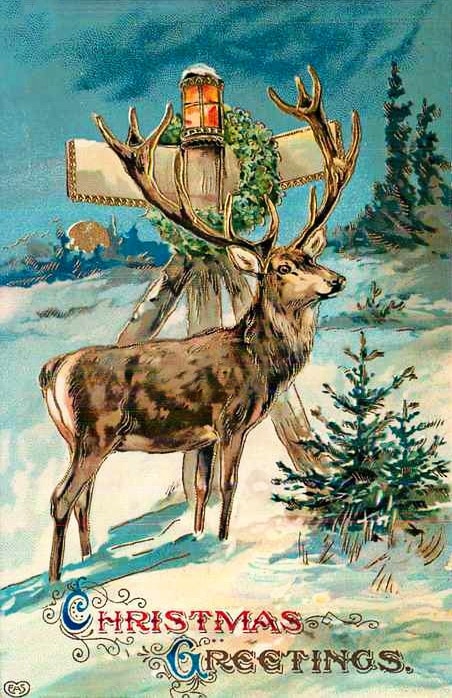 Other Posts You May Enjoy:
Christmas Home Tour: Thrift Store Decor Style
Decorating The China Cabinet For Christmas
Vintage Lodge Inspired Christmas Porch Decorations