Summertime is here and it's time to spend some lazy days on the porch sipping lemonade and playing badminton.
I wish!
I think those lazy, hazy, crazy days of summer are over for me. Probably for all of us. Now it's all about running around, driving kids to baseball games and trying to be 1st in line at the yard sales. Summer goes by in one big WHOOSH!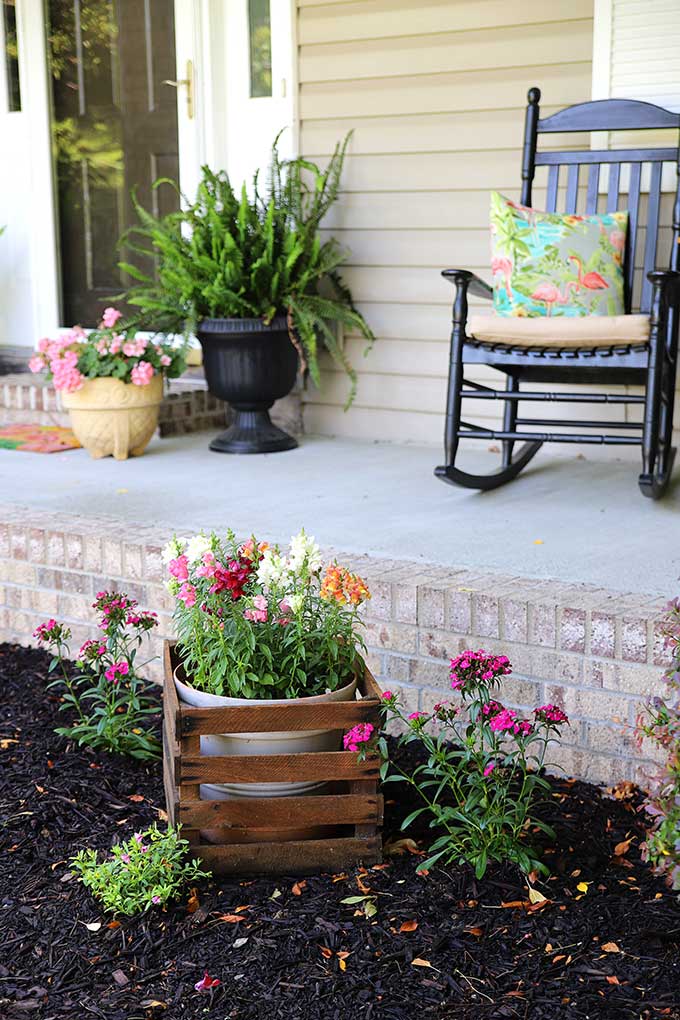 But at least with my porch, I can act like I'm still living the summer dream.
Front Porch Decor For Summer
This year when I was decorating my front porch for the UPS man and me, I decided to go with a pink, flamingo, badminton, snapdragon theme.
I thought he might enjoy the casual somewhat eclectic look I was going for.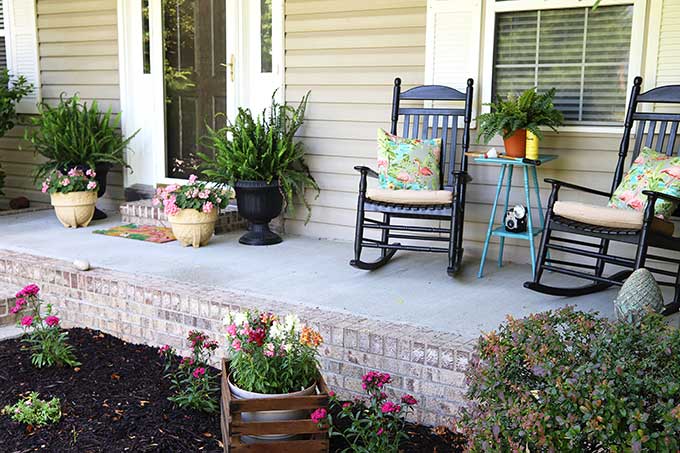 OK, I'm going to be real here. I started out having NO IDEA idea what it was going to end up as.
But I knew I wanted to do something other than farmhouse since I've done that before. And something that did not involve putting a thermos or picnic basket of any kind on the porch, because again, been there done that (although I almost caved on that one more than once).
So I started with some ferns in urns (hey, that rhymes) and added in some peachy pink geraniums in my vintage pots and built it out from that.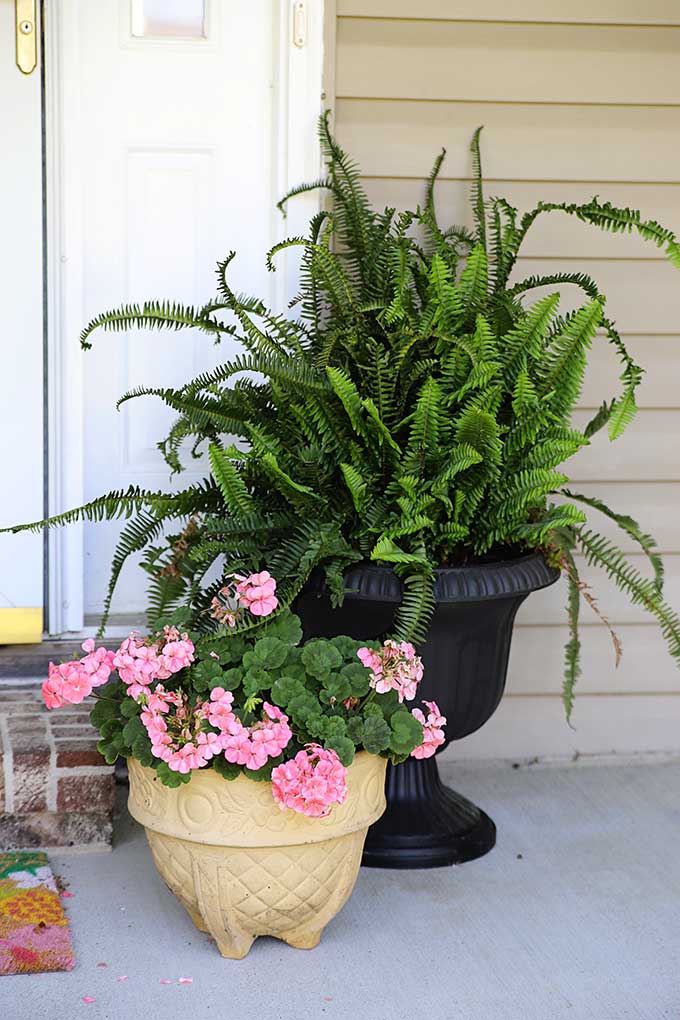 I bought those stoneware pots at a church rummage sale a few years ago and LOVE them. They're heavier than you would think, but aren't we all.
Then I put my black porch rockers out here and chose my flamingo pillows I made from fabric found at JoAnn's last year.
You just cannot go wrong with black rockers on a porch.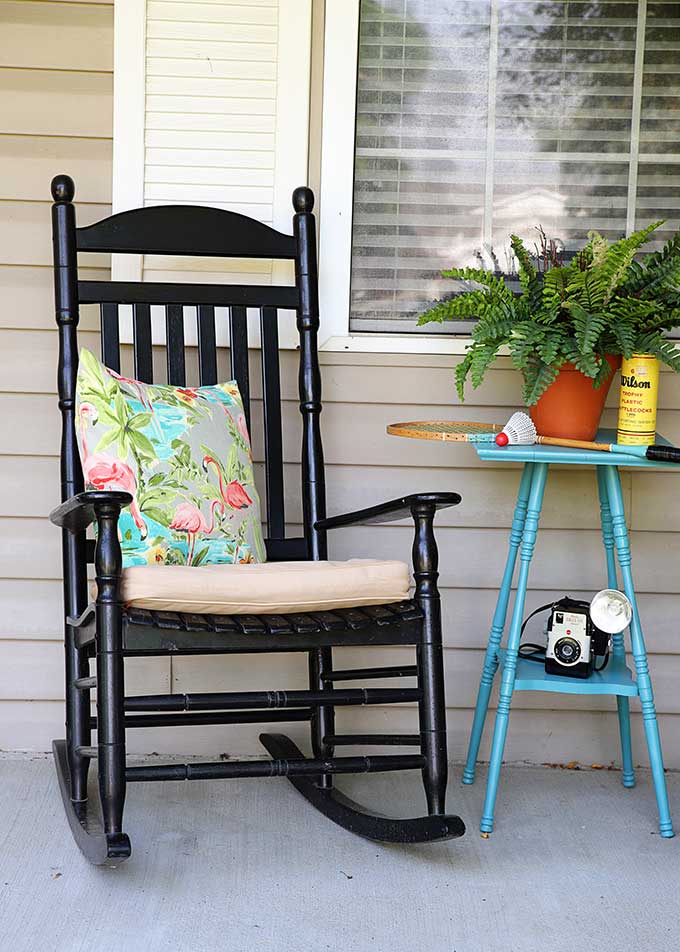 The turquoise blue table was originally a weird color when I found it at a yard sale. It had originally been oak and then someone had painted it a much darker wood color, but painting something a wood color instead of staining it is always a bad choice. Always.
So I spray painted it with Rustoleum's Vintage Teal spray paint to cover the ugly.
And to that I added a potted faux fern (I have enough plants to water out here this summer), a badminton racket and a vintage camera.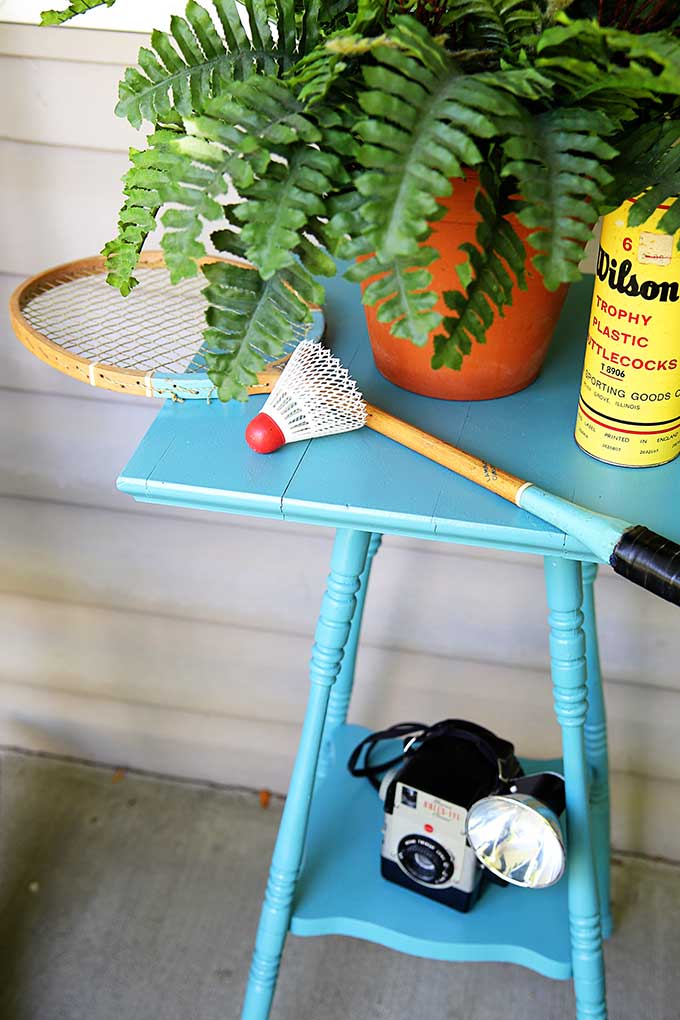 Because if you're fancy enough to be drinking lemonade on the porch and to be playing badminton in your front yard, you're fancy enough to be taking photos of yourself with a vintage camera.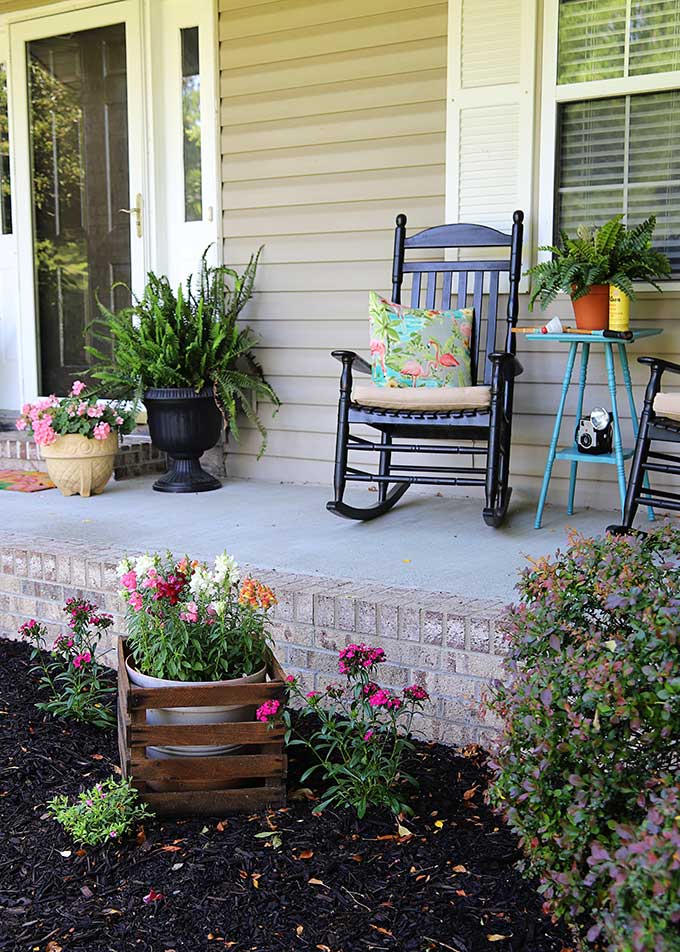 And then I rounded it out with planting some dianthus Jolt cherry in my flowerbed.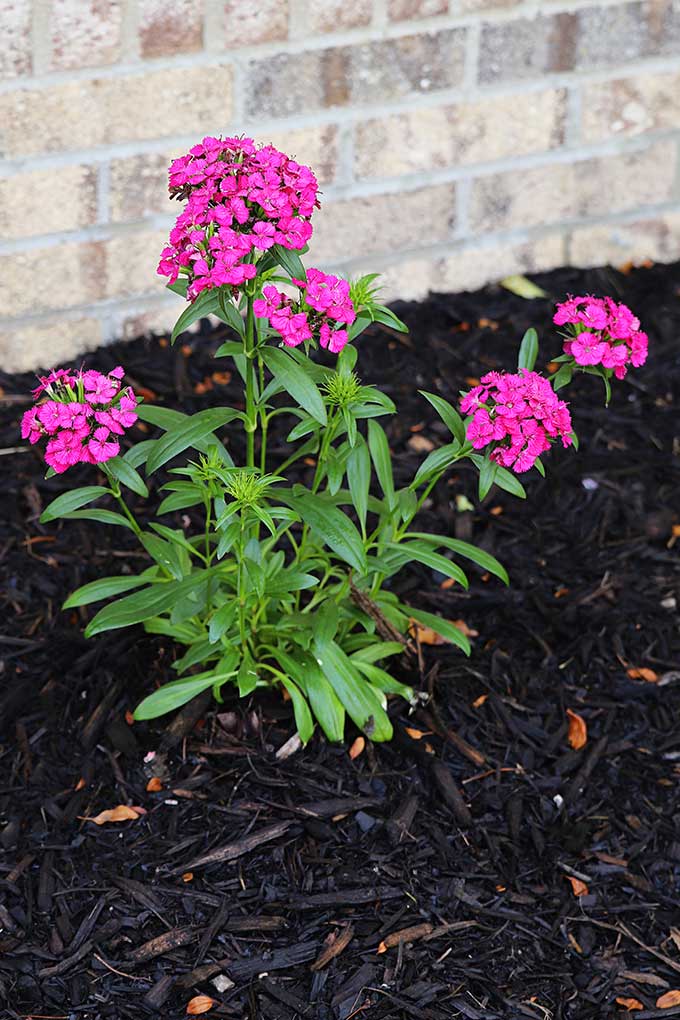 I have never grown this variety of dianthus before, so I'm anxious to see what they look like after a few weeks. Hopefully full and lush and not wilted and dead.
And topped it off with a crate of multi-colored snapdragon.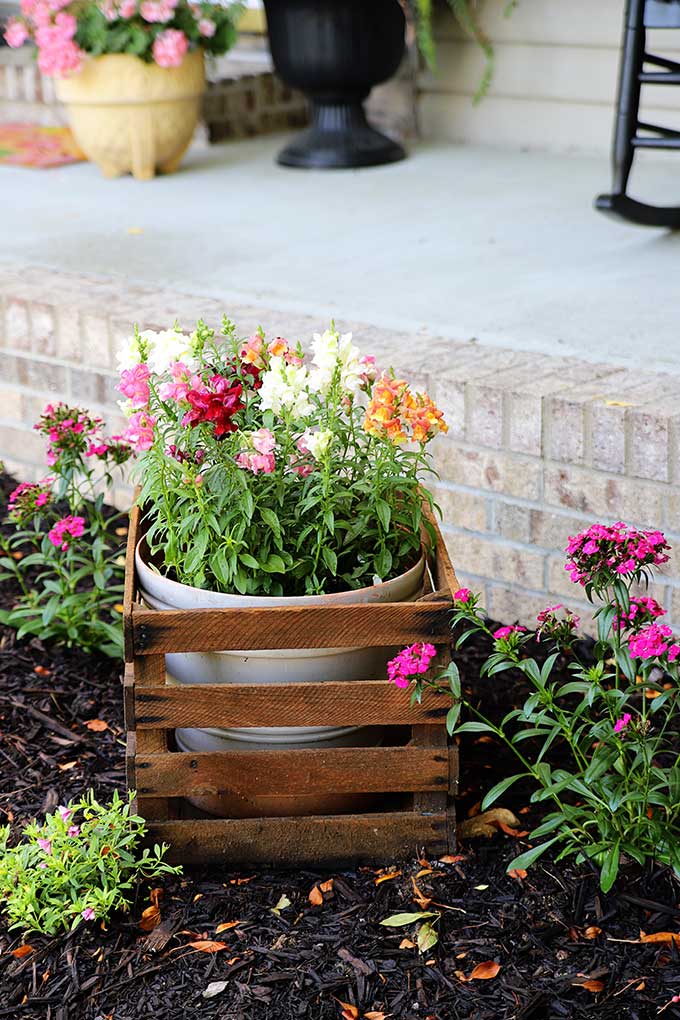 I found the simple wooden crate last summer at a barn sale and knew I wanted to put it in the flower beds somewhere. And since we had dug out some overgrown bushes from in front of the porch last year and haven't replaced them yet, I thought this would be the perfect place to use it.
These snapdragon are probably way too cramped in this planter, but I'll just move a few of them if they start fighting among themselves.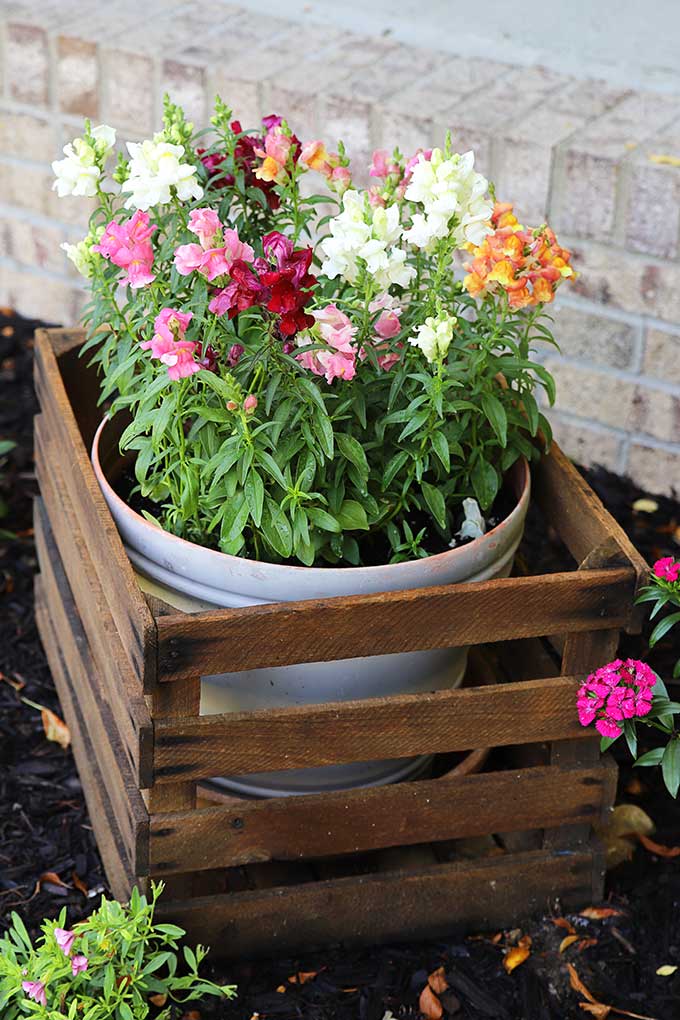 I tend to over plant my containers so they look full at the start of the summer.
And before I knew it, my pink, flamingo, badminton, snapdragon themed porch was complete!
If you'd like more information on how to grow snapdragon I found a nice video about it from Donna Emery from Glover Nursery you can see HERE and a great tutorial all about How To Grow Snapdragon from Gardener's Path HERE.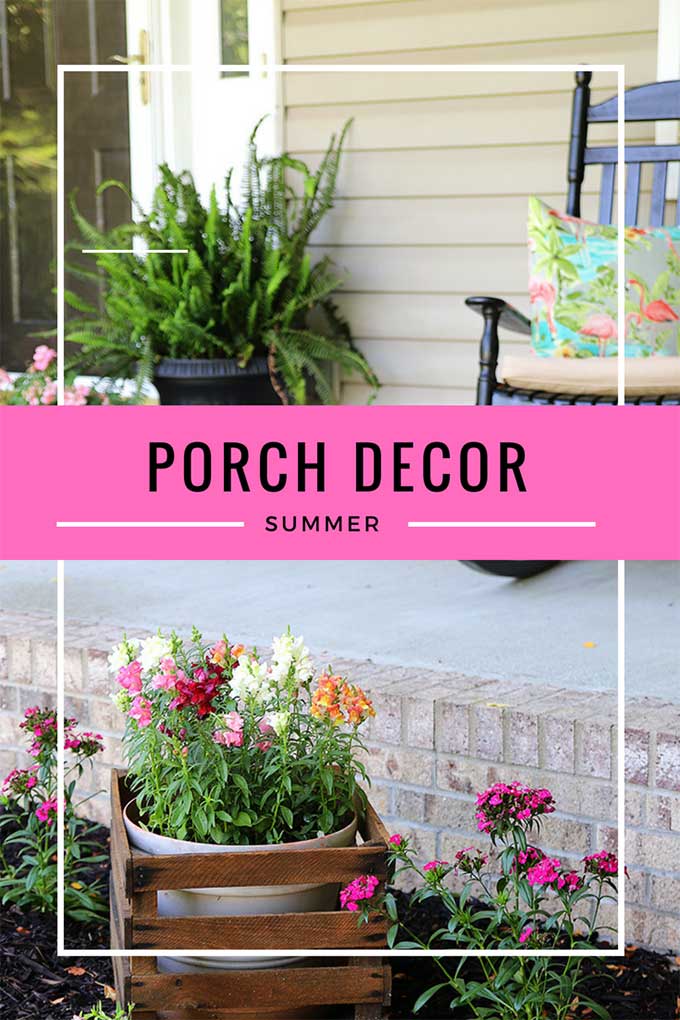 Have you gotten your porch decorated yet? Or am I the only later bloomer this year?
Other porch decor inspiration can be found on my Porch Decor And Inspiration Category Page HERE.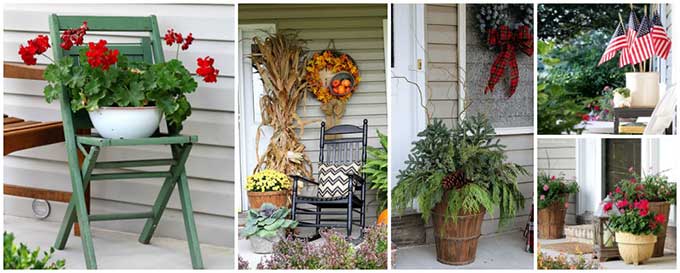 Other posts you may enjoy:
Old Fashioned Flowers For Your Garden
Ditch The Urns: Creative Garden Containers For Your Porch