Inside: Creative garden containers beyond the traditional urn
Believe me, I have my fair share of garden urns. Tall ones, short ones, metal ones, concrete ones. They're a staple on every front porch in America.
But sometimes it's nice to go in another direction.
A direction that takes you down a junkin' path, past some garbage setting on the curb or into a favorite thrift store.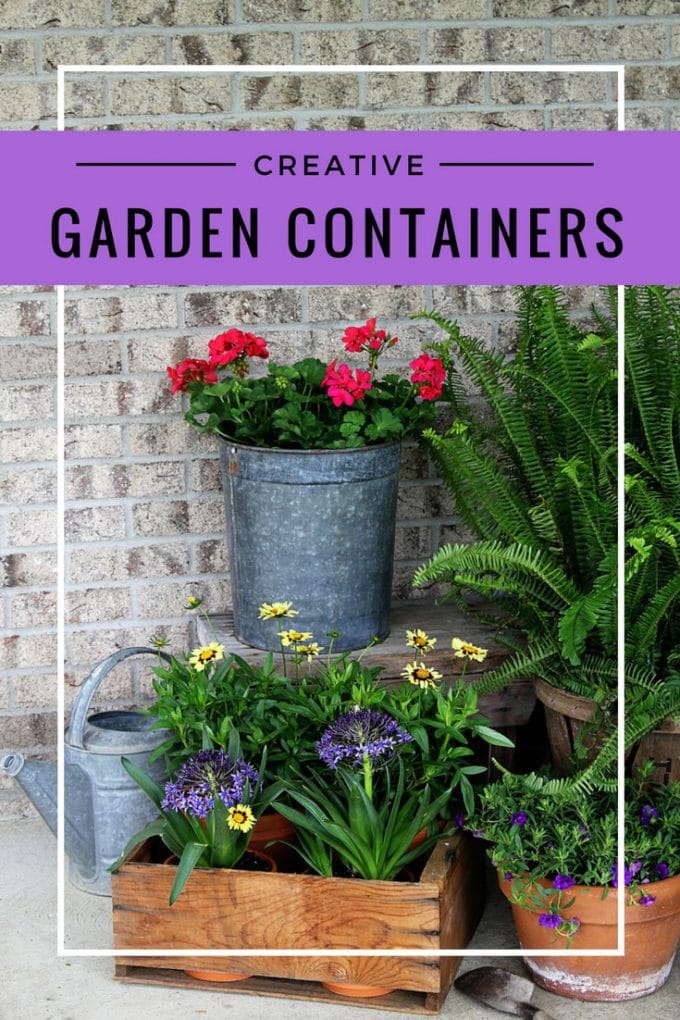 I say, let's ditch the urns and use some creative garden containers instead!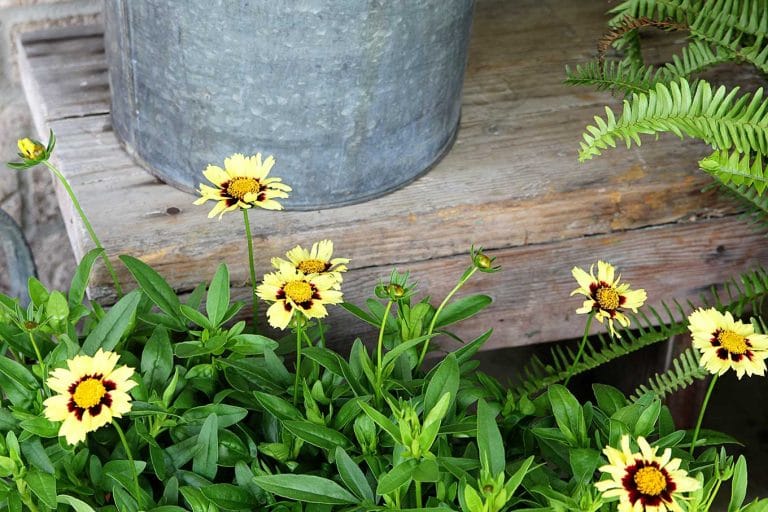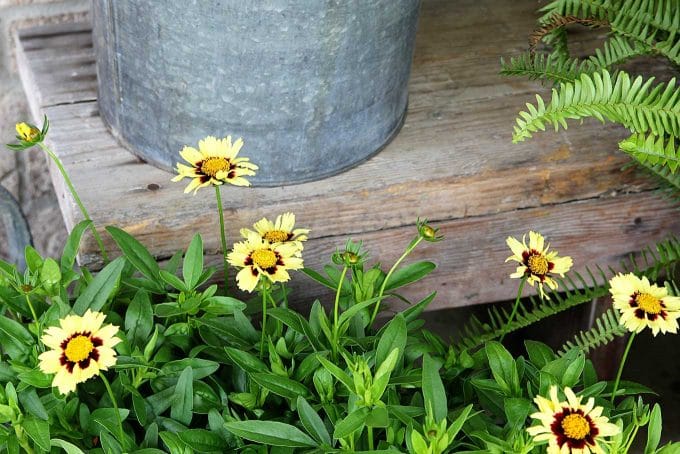 And in those funky creative garden containers, I find that planting a few well chosen BRIGHT, BOLD & BEAUTIFUL plants is a super quick & inexpensive way to add an instant pop of color to my porches.
Like this one. It's a porch that comes off the garage.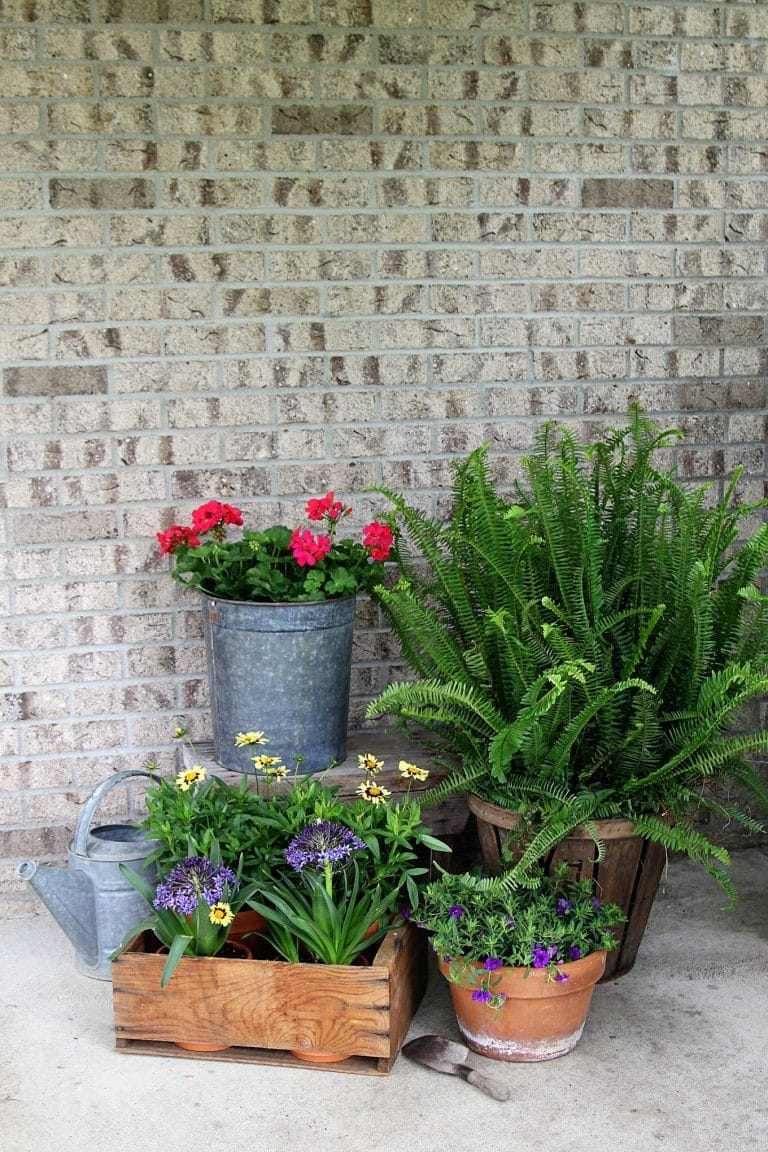 Not quite big enough to entertain on (and who likes to smell gasoline and motor oil when you're eating anyhow), but it's just big enough to put some container planters on to liven up the space.
I started out by dragging my supplies to the porch and then set about arranging them.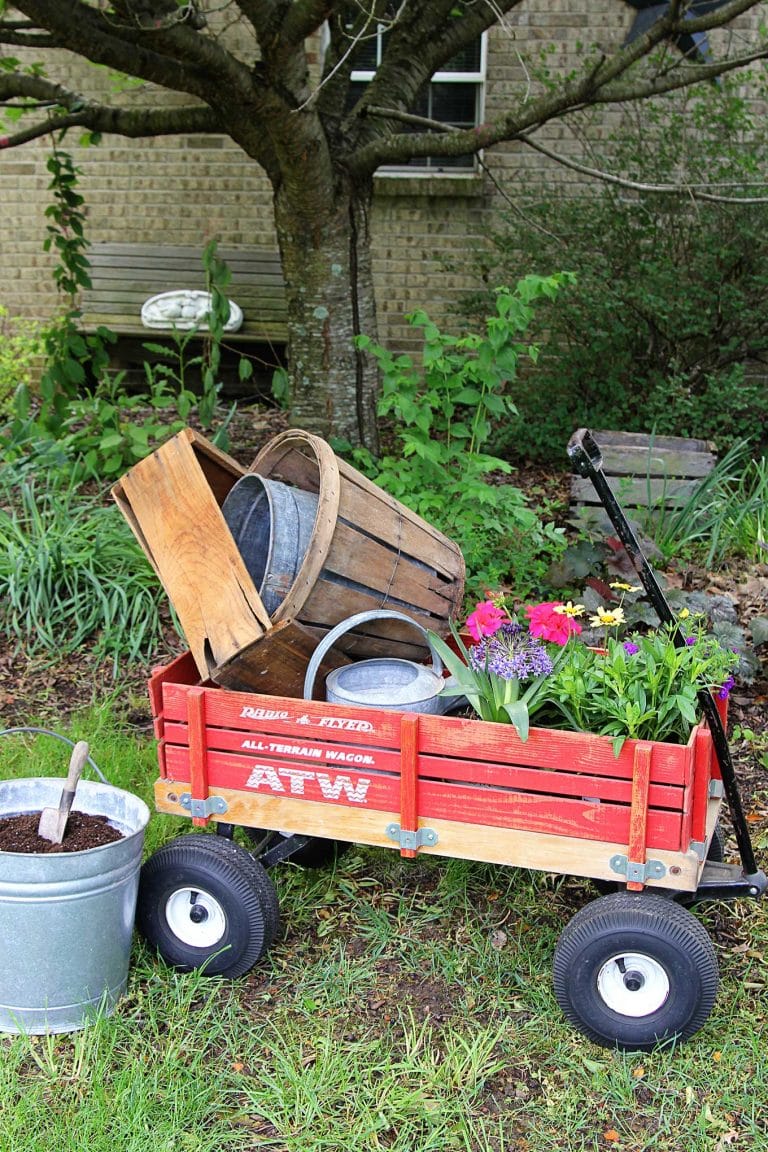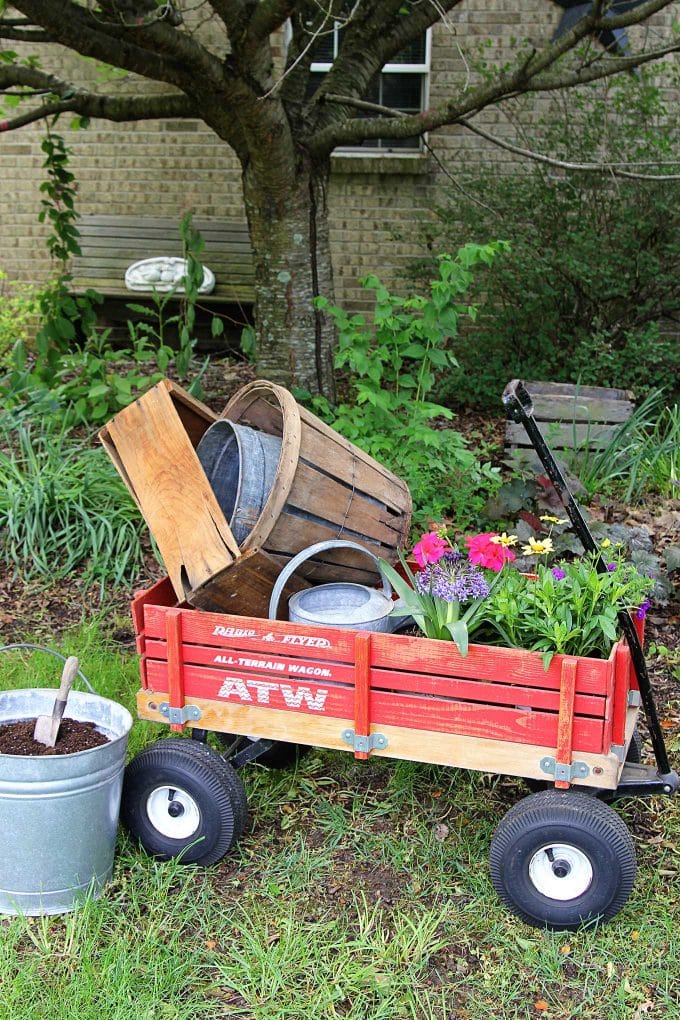 I used an old wooden stool for height and added a galvanized bucket full of geraniums on top.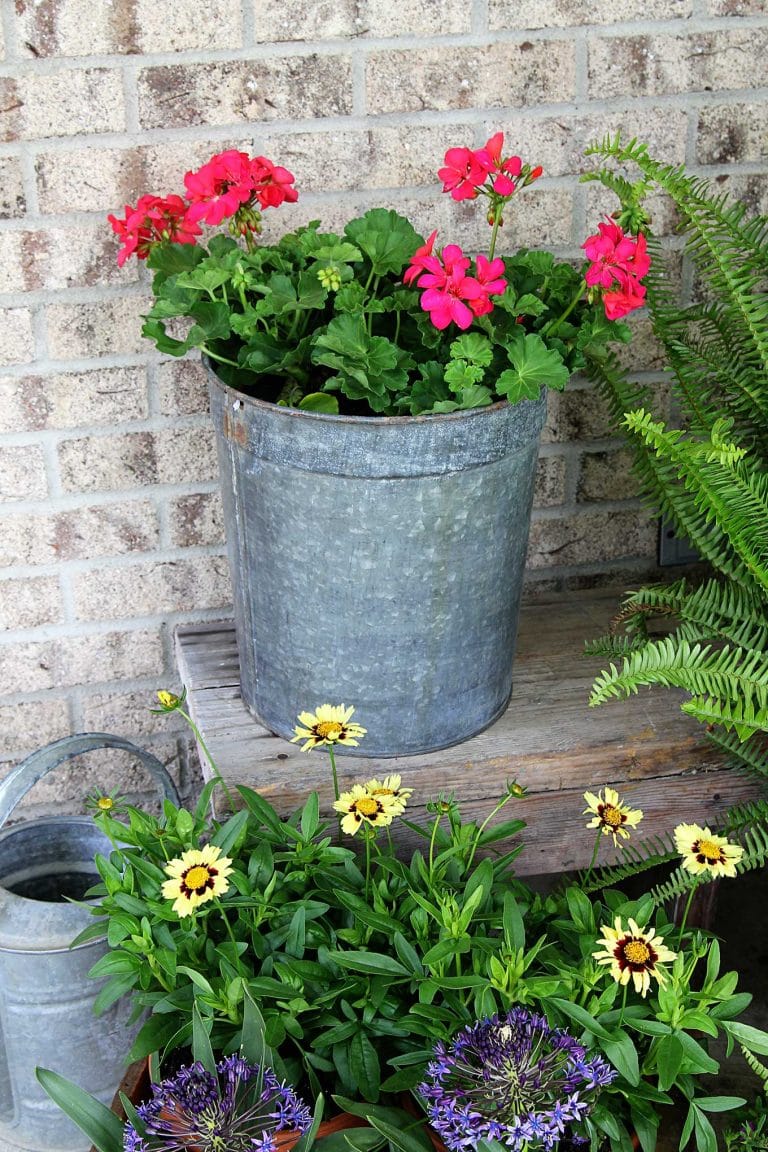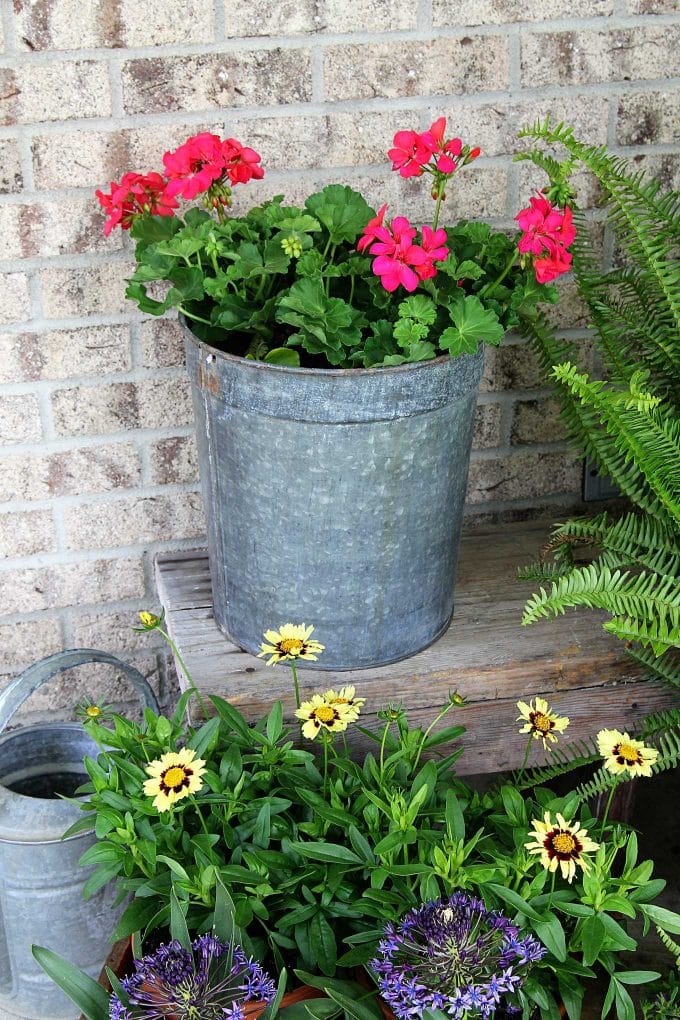 BOOM, instant wow factor and we just got started!
Then put some plants in simple (and cheap) clay pots and placed them in an old crate I found for a buck the other day.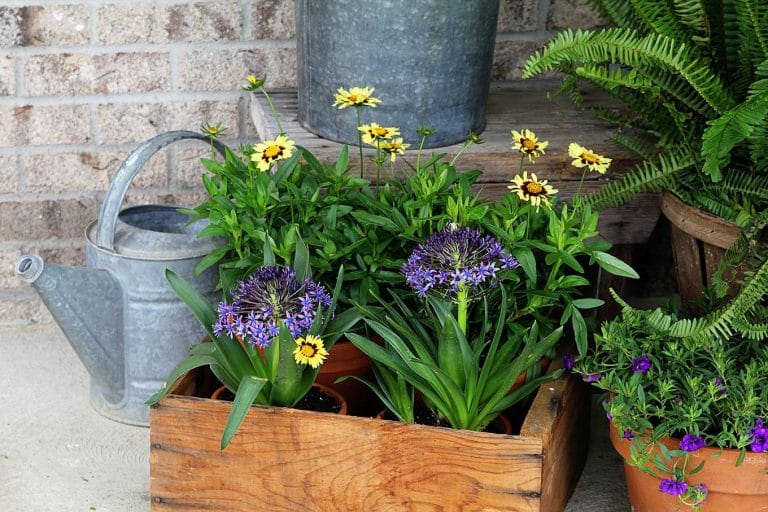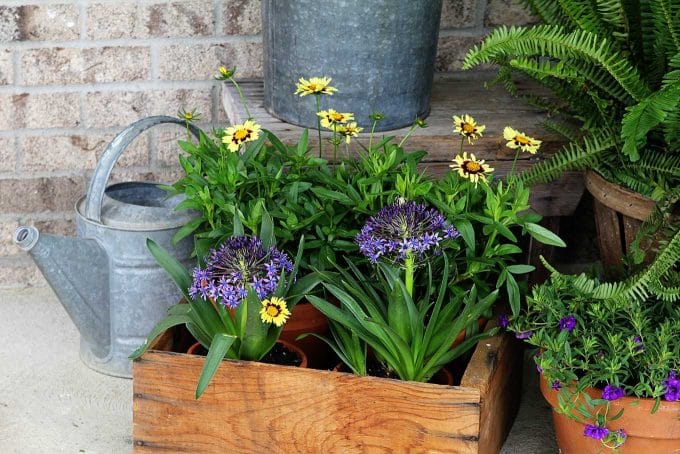 Add a fern in an old Heinz tomato basket and some other plants in a old crusty clay pot and we're good to go.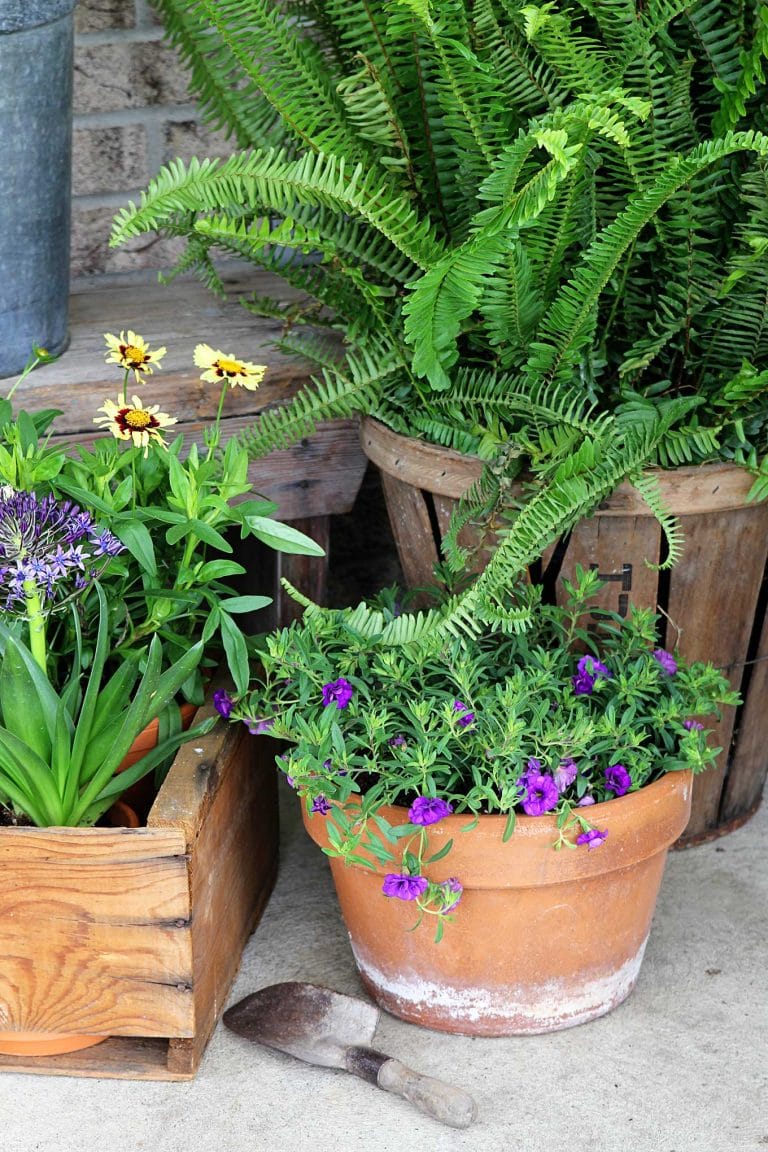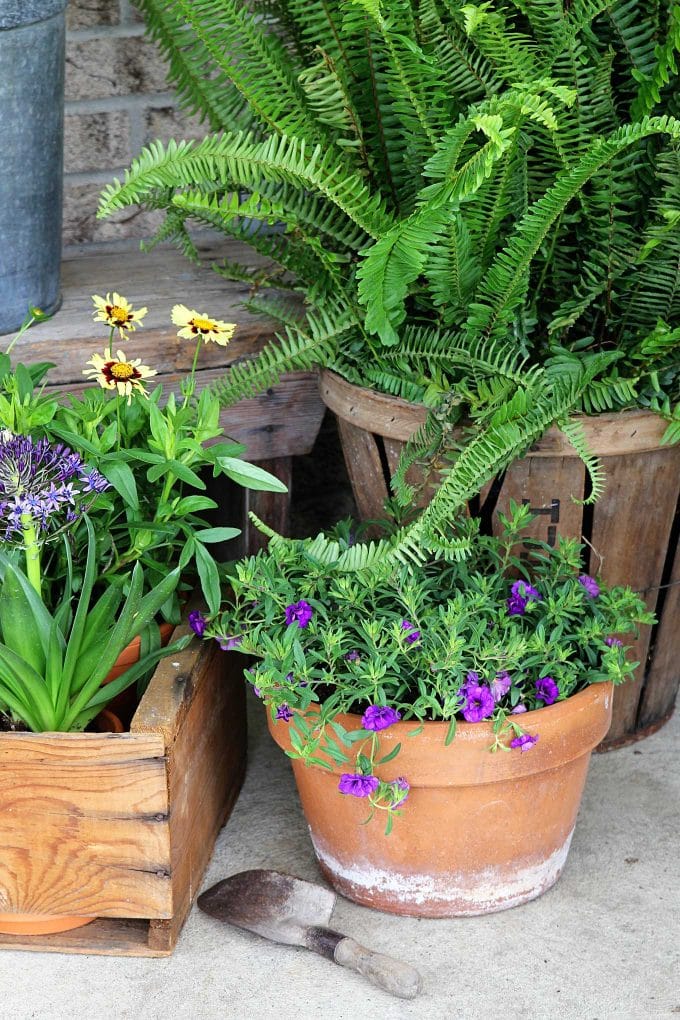 Creative Garden Containers For Your Porch
Wooden boxes or crates
Tool boxes
Crocks
Baskets
Wooden or metal stools
How To Plant In Metal Containers
I've had some people ask about planting in metal buckets. I rarely actually plant directly in my vintage buckets. I do have a few that are old and rusty on the bottom, so I will plant directly in those, but generally I just set the pots down inside of the metal buckets.
I would suggest replanting your store bought pots in larger pots so they have room to spread their roots a bit. And then put a cheap plastic saucer in the bottom of the bucket to catch water runoff and then plunk your pots of flowers on top of the saucer in the bucket and they're good to go. Just dump any excess water that fills up the saucer or bottom of the bucket every few days if needed, so it doesn't attract mosquitoes or get stagnant.
If you want to plant DIRECTLY into your metal container you should make sure there is adequate drainage. If your bucket is not rusty and holey to begin with, you should drill holes in the bottom. In my article titled Container Gardening Made Easy I walk you through how to do that.
The Plants I Used
I purchased all my plants at Lowes. They're Monrovia plants so you know they're going to be fresh and healthy (and knock your neighbor's socks off colorful).
And don't forget, last month when I showed you my 5 Easy Steps To Beautiful Garden Planters, I mentioned that Monrovia let's you buy plants online from them and have them shipped to your local Lowes!!!
So if the crazy lady in the plaid shorts is buying up all the peonies in site at Lowes, you can just pop on the Monrovia site, buy your own peonies and have them delivered.
BTW, my plaid shorts are not tacky in the least.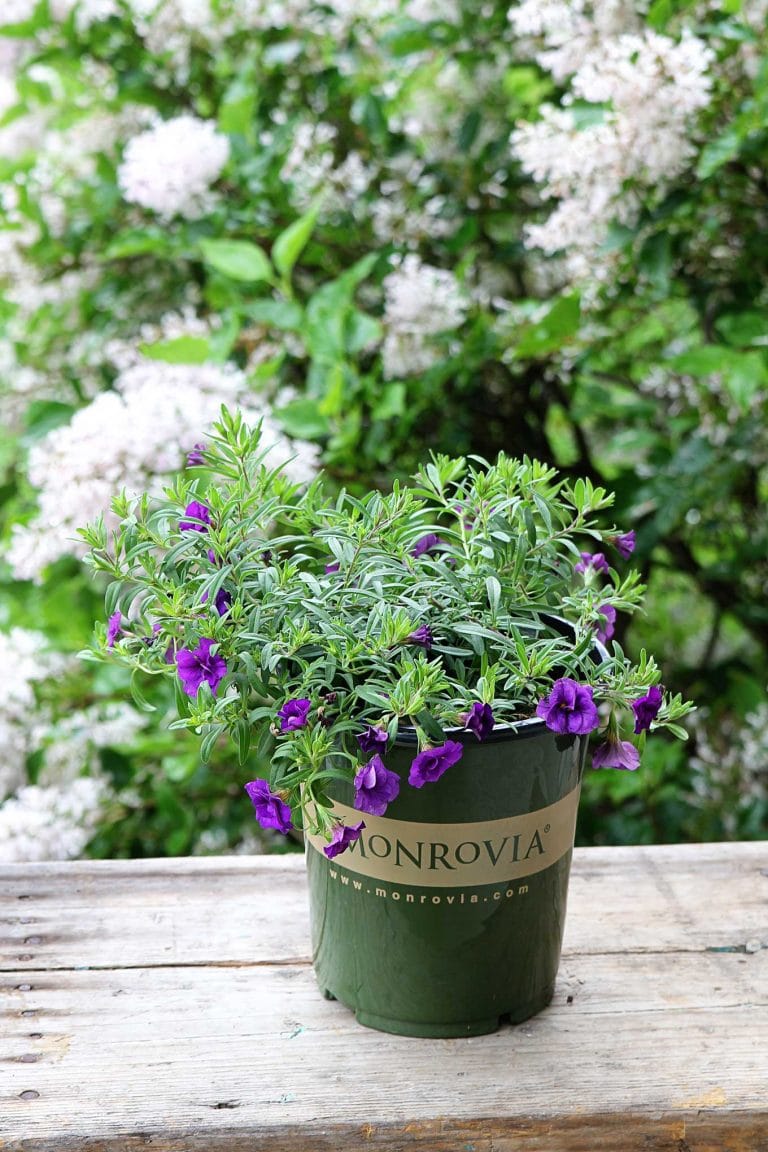 Minifamous™ Double Calibrachoa (Calibrachoa Minifamous™ Double Series)
Tips For Growing Calibrachoa
Full sun
Blooms spring through fall
Grows 10-15" high
Likes semi-moist soil (moist, not soggy)
Big, double blooms for bold color.
May be lightly trimmed in mid-season to rejuvenate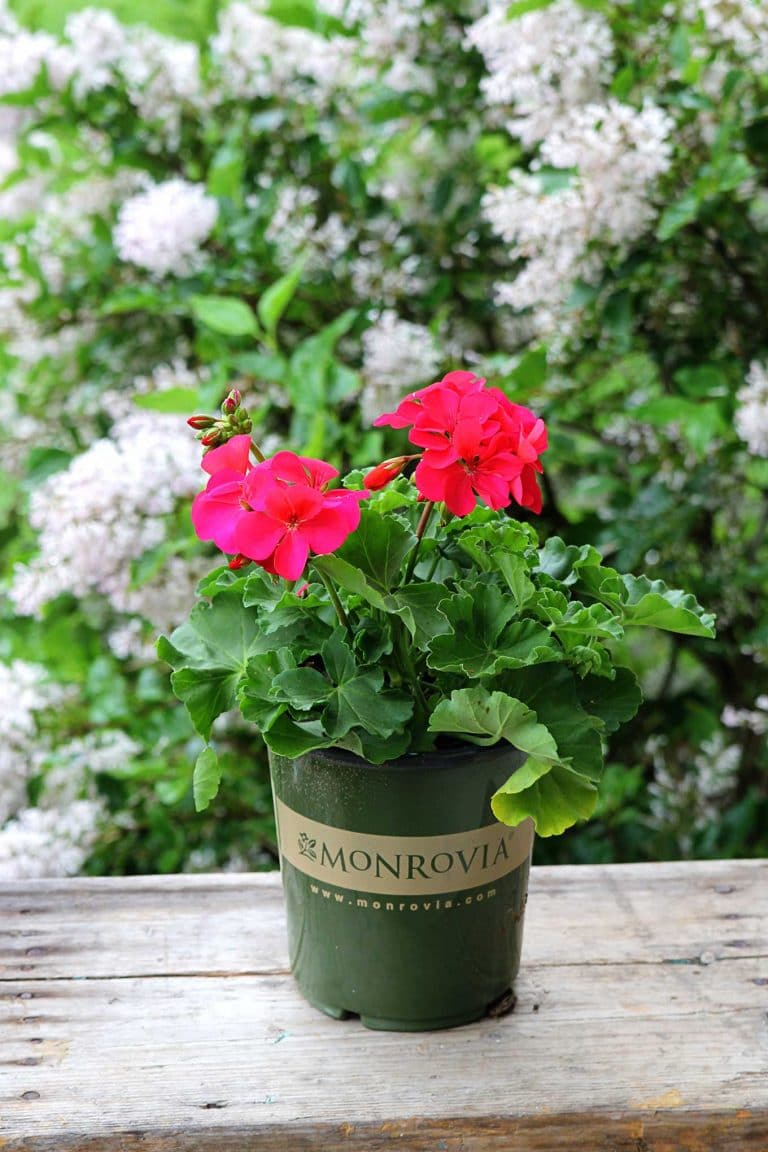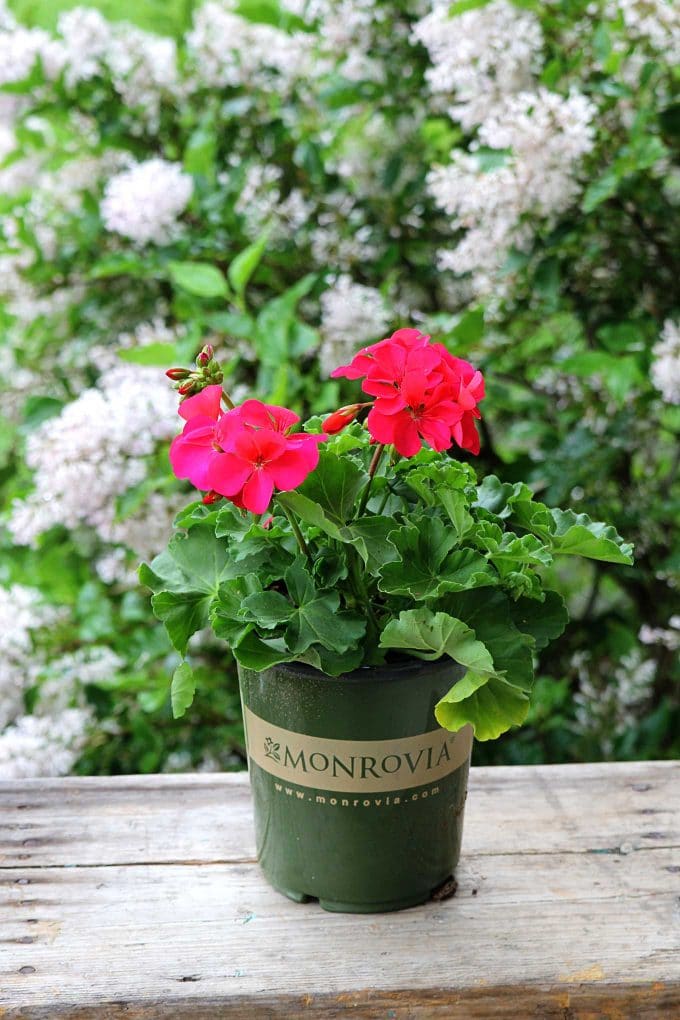 Cumbanita Deep Rose Geranium (Pelargonium 'Cumbanita Deep Rose')
Tips For Growing Geranium
Full sun to partial sun
Blooms spring through fall
Grows 12-18" high
Low watering needs
Mounding plants with large, double flowers are a staple in the garden
Pinch off faded flower stems to promote continued blooms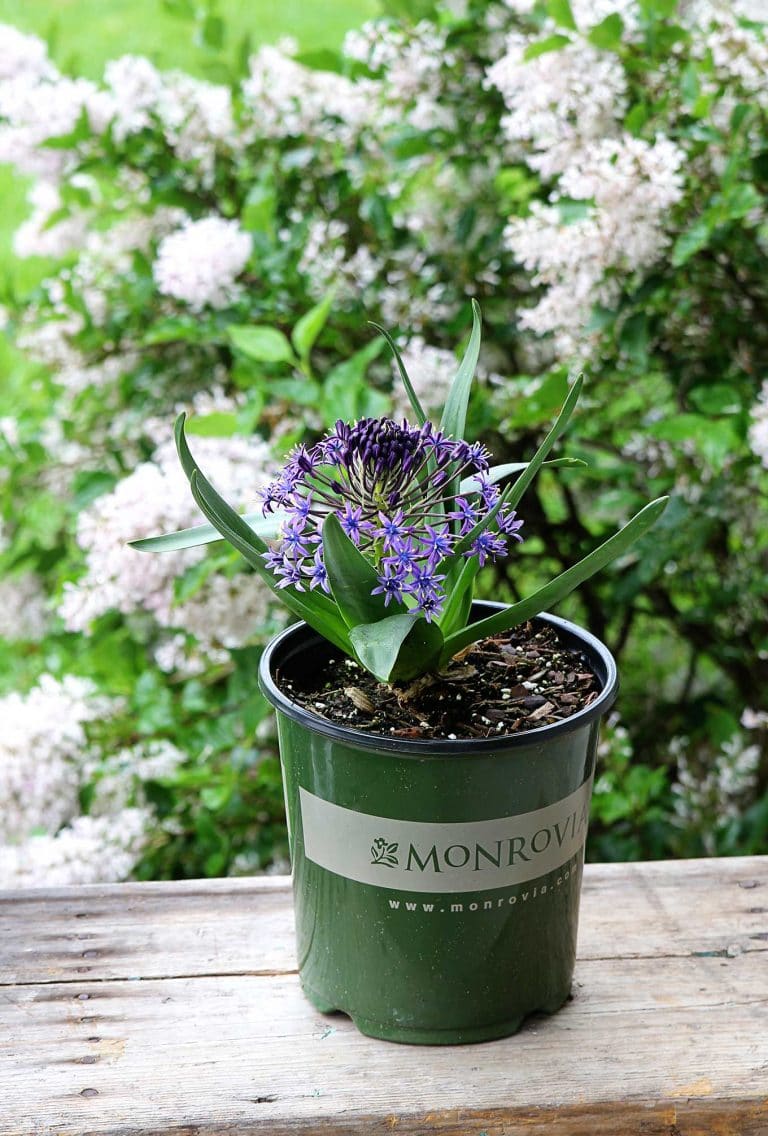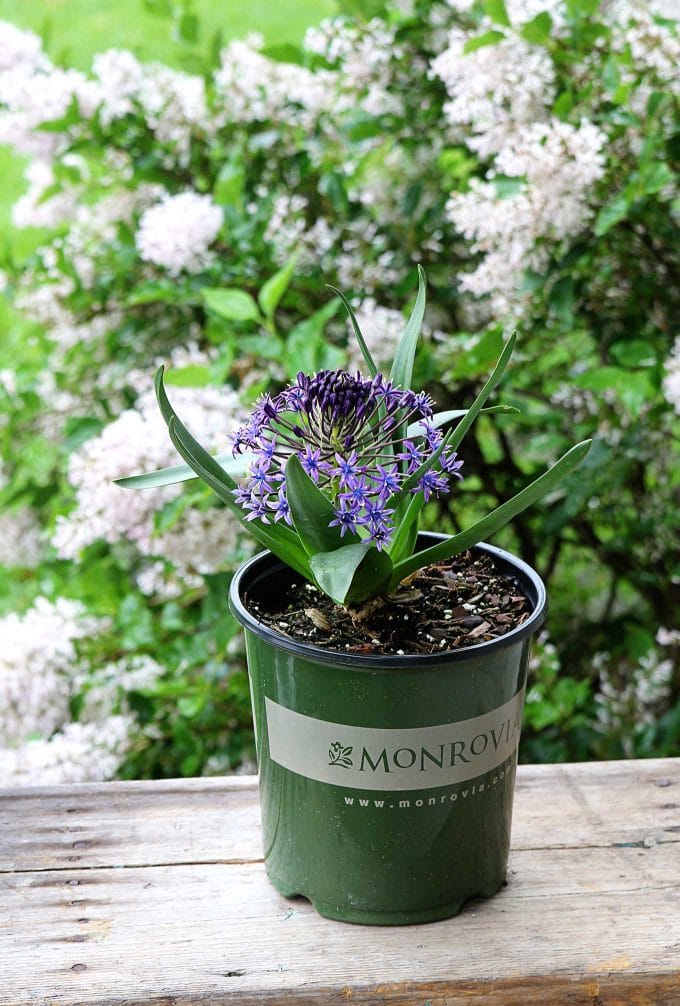 Caribbean Jewels™ Scilla (Scilla Peruviana Caribbean Jewels™)
Tips For Growing Scilla
Full sun
Blooms spring
Grows 12-24" high
Likes semi-moist soil (moist, not soggy)
Stunning sapphire blue flowers
Great for planting in containers, borders and flower beds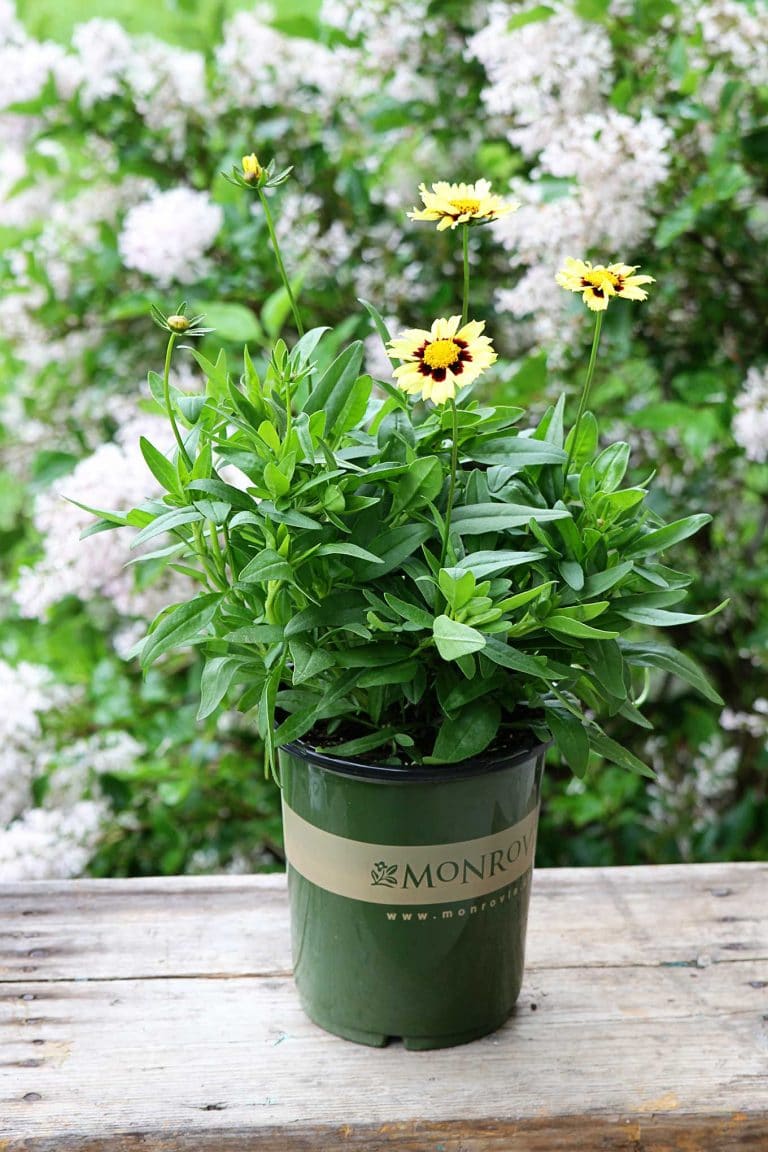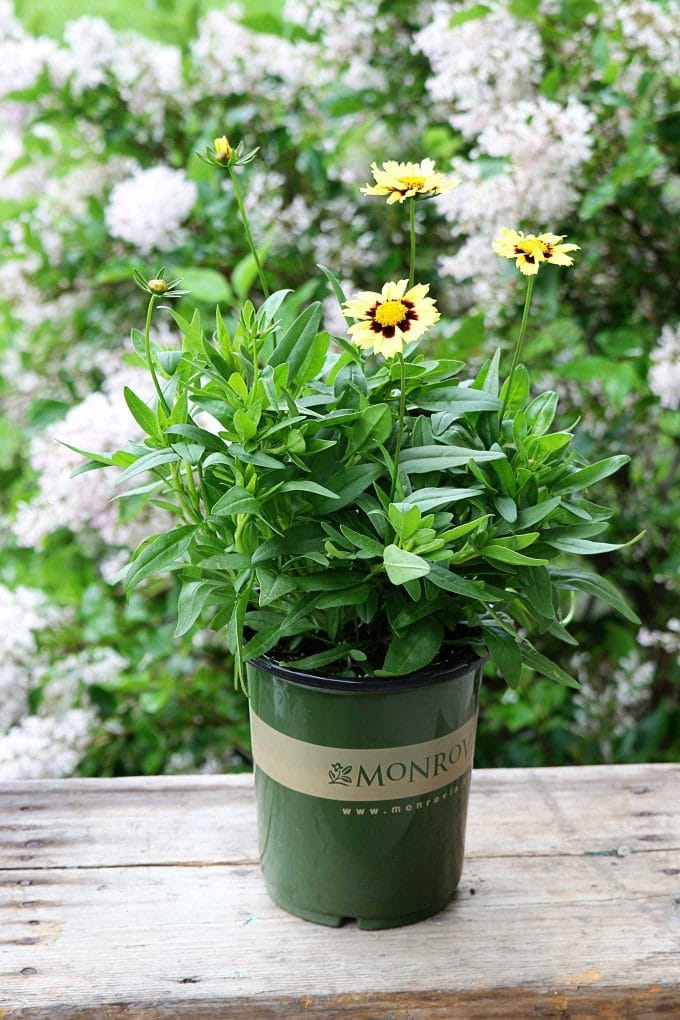 UpTick Cream & Red Coreopsis (Coreopsis 'Balupteamed' PPAF)
Tips For Growing Coreopsis
Full sun
Blooms summer & fall
Grows 12-14" high
Low watering needs
Compact, mounding plant with large red and cream flowers
Cut off dead blooms for a neater appearance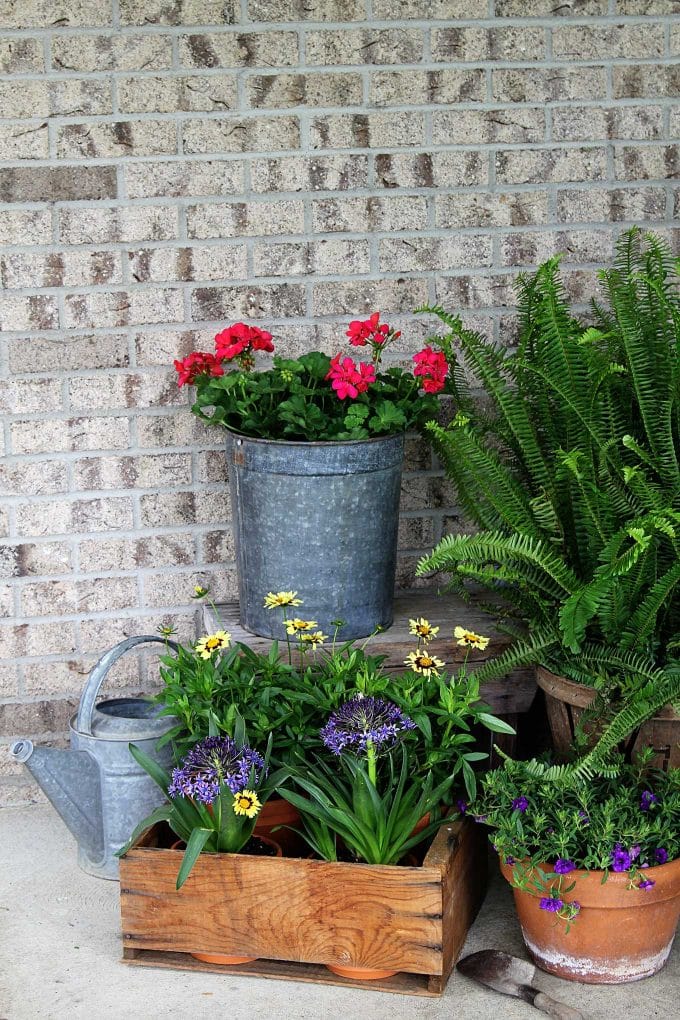 So let's recap:
Don't even begin to think that you need to buy urns or fancy pots for your flowers. Not for one second.
With a little thought just about anything can be a "planter". Hello, old bucket.
Buy BRIGHT, BEAUTIFUL and BOLD plants for your containers for a wow factor that will knock your neighbor's socks off! If you can't see it from the street, why bother.
Now run on over to Monrovia's site to shop Monrovia online, find a garden center near you or sign up for their gardening newsletter.
Other gardening posts you may enjoy:
How To Make Planters Out Of Baskets
How To Grow Limelight Hydrangea
5 Favorite Late Summer Flowers
Container Gardening Made Easy (this one has a fancy video with it)