Before I tell you about my awesome garage salen day on Friday, I wanted to show you this wooden pulley that I forgot to post a photo of last week. I bought it at the same garage sale that I bought the Jarts at and with all the excitement over the Jarts, I totally forgot about it.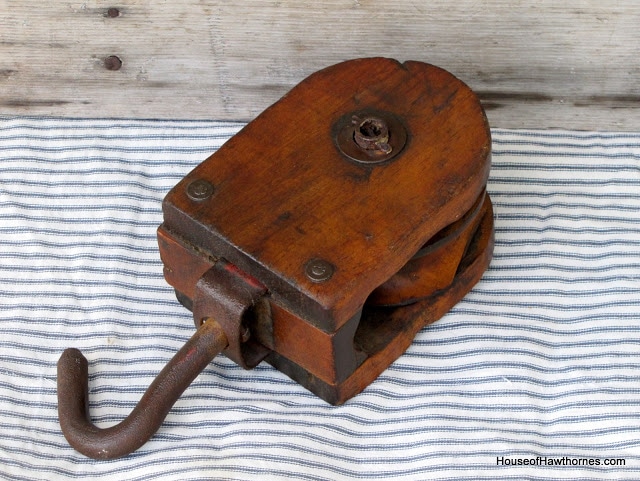 It has the greatest patina and was only $5.00. It's big too. 11" from the top to the bottom of the hook and about 4 ½" wide.
OK, on to this week.
I found this picnic basket at a neighborhood garage sale for $3.00. They had two other picnic baskets there that I was looking at, but didn't buy. Sometimes you have to leave things for other people to have the thrill of discovering. And save yourself some cash.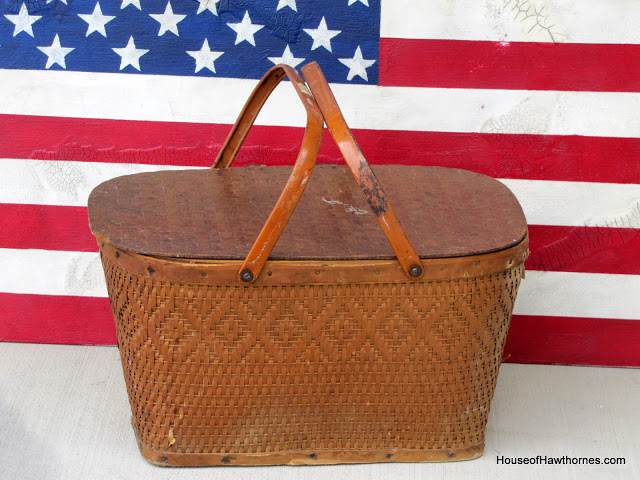 I had bought a similar square picnic basket last year, so, stacked one on top of the other, they should make a nice arrangement for my 4th of July decor.
I fell in love with this extremely rusty old scale as soon as I laid eyes on it. It's a Perfection Slanting Dial Scale for only $5.00.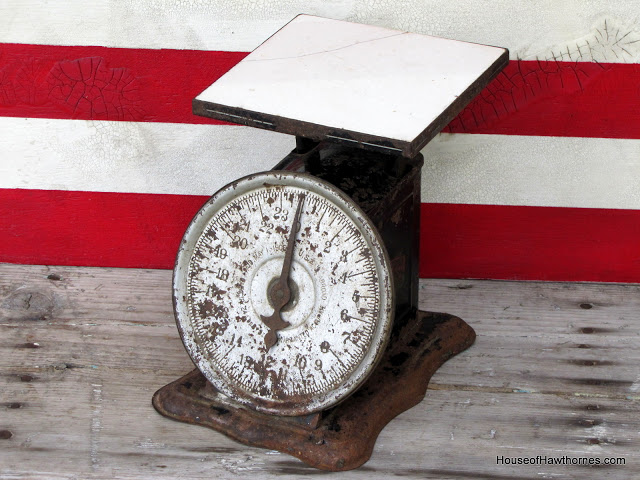 Did you think I was kidding about the rust? Nope, it has rust on top of rust.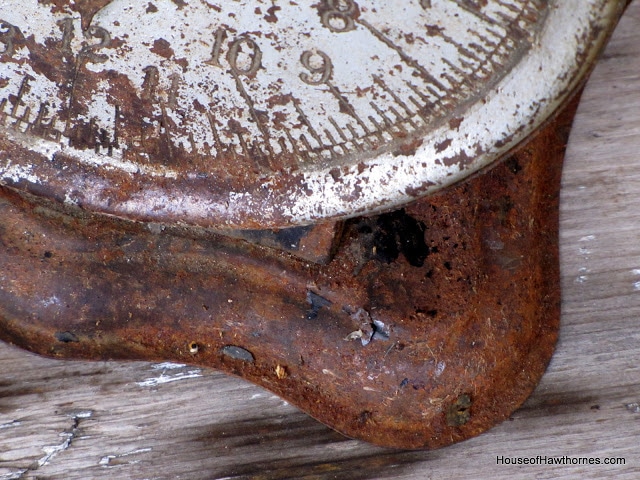 I'm going to use this 12" wide enamelware bowl for 4th of July. I was thinking for potato salad.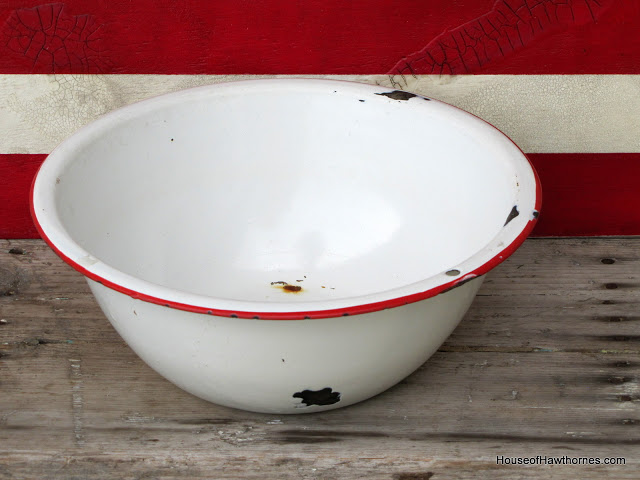 OK, maybe a bit too rusty and chipped for that, but it would look good with a bright red geranium and flag in it. And it was only $2.00.
Did you ever buy something and then have no idea why you bought it? Meet my $3.00 yellow Pyrex 2 ½ Quart mixing bowl. I really have no need for another mixing bowl and although I like Pyrex I don't really collect it. It is sort of cheery though and could actually be used for potato salad!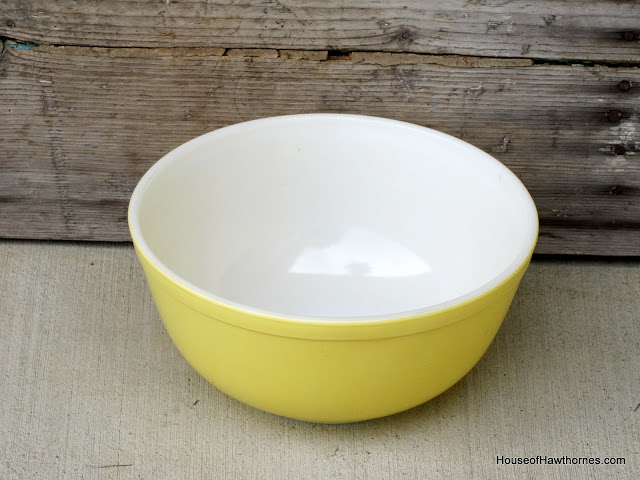 One thing I can't bypass is a blue canning jar. Four are Ball and one is an Atlas. $1.00 each.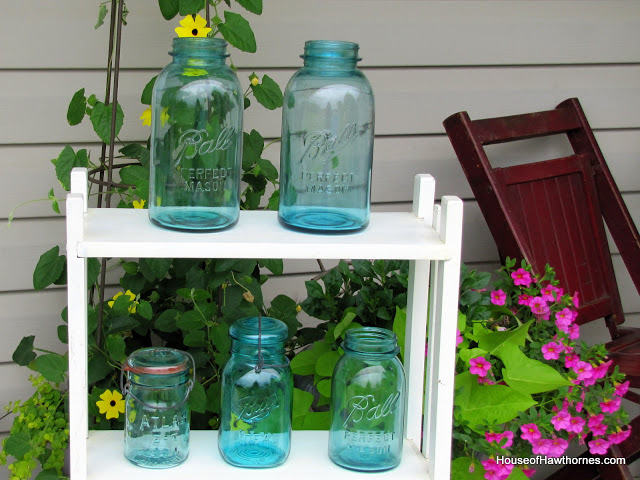 I love these ones with the glass tops.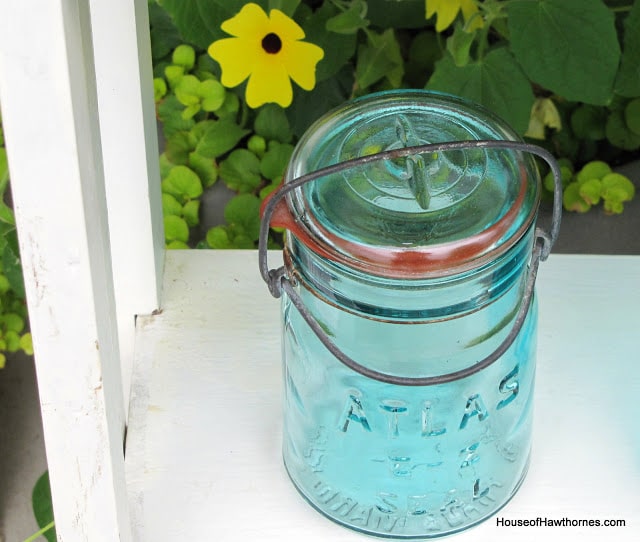 And the $3.00 shelf they are sitting on is another one of my garage sale finds.
Yuck. If you think removing wallpaper from a wall is a pain in the butt, prying it off a wooden shelf ranks right up there.
I am planning on painting it at some point in the next week or so. Green possibly. Probably won't be applying any 1980's wallpaper to it though.