On Friday, I went to an estate sale I had seen advertised on Mr. Craig's List. I didn't really see anything in the ad that was jumping out at me, but all the stuff they showed in the pictures was in the same era of things I tend to collect. So I was hoping there would be a box or two of vintage Christmas hidden away in some dark corner of the basement just waiting to be saved.
Sigh. After navigating the ridiculously steep and shaky basement steps, not one tiny piece of vintage Christmas could be found in the basement.
But I did find this ironstone veggie dish.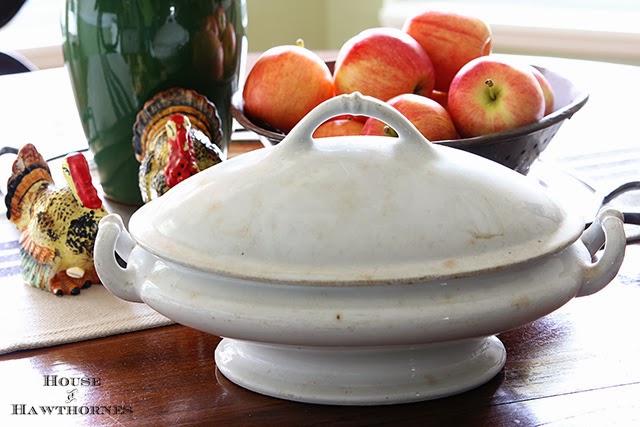 It was super filthy when I found it, but when I licked my finger and wiped it on the dish, the dirt seemed to come off.
Everything was 25% off that day, so it cost me $6.00. To do some backward math, that would be originally priced at $8.00.
And then I found this 24" round mirror with the coolest etching design around the rim.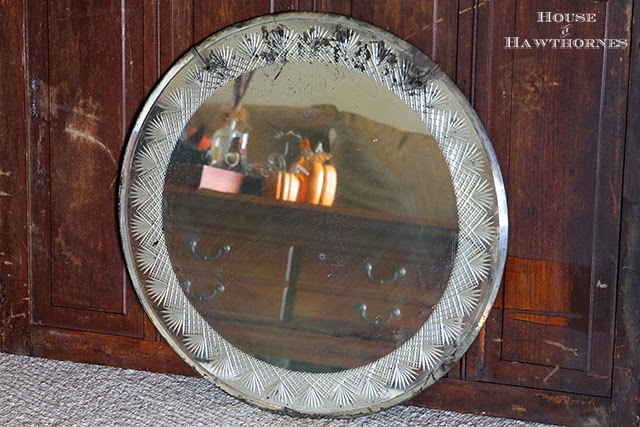 (Yes, I angled the mirror to reflect something other than the laundry on the floor)
True, the silvering is messed up on the back. Mostly just a little pin hole here, a little scratch there, but there is a larger spot by each of the hanging holes that is pretty warn through.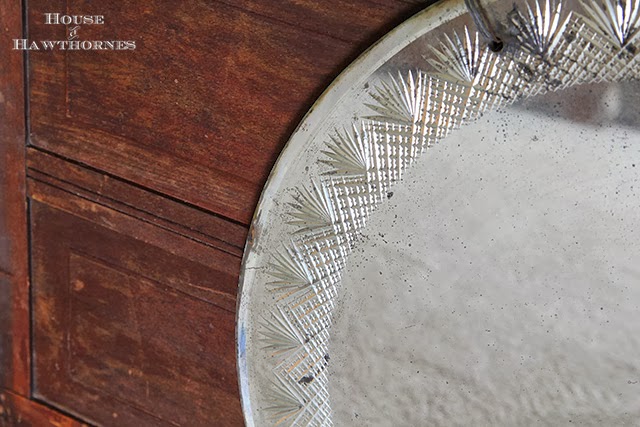 The mirror looked a little cloudy, but I suspected most of it was from the ton of basement grime on it, so I did the old finger lick test on the mirror too.
Note to self: Don't use the same finger to do the wipe off test two times in a row, because 50 year old grime isn't tasty and you will spend the next hour trying not to freak out that you may or may not have just ingested rat poo.
The mirror was priced at $3.00, so it actually only cost the price of a large soda at McDonalds - $2.25
Eek!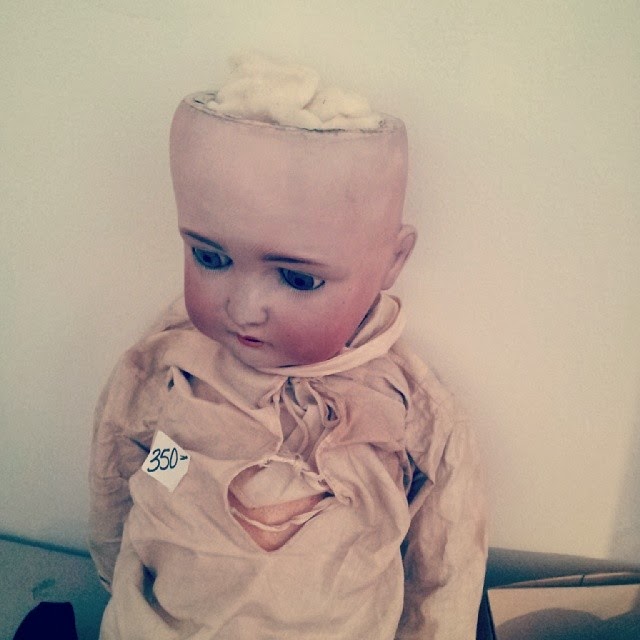 Not sure why part of this girl's skull is missing. No way on God's green earth was she was coming home with me though. I am not that brave.
Why yes, that 350 on her boob is her price tag. Since it was 25% off day, she would have ONLY been $262.50 (had to use my calculator for that one). I have no idea what makes Miss Half A Head worth that amount.
Lastly, just because it was THE ONLY thing I found at the thrift store this week I'll throw it in this estate sale post, I found this vintage Christmas cookie tin for 99 cents.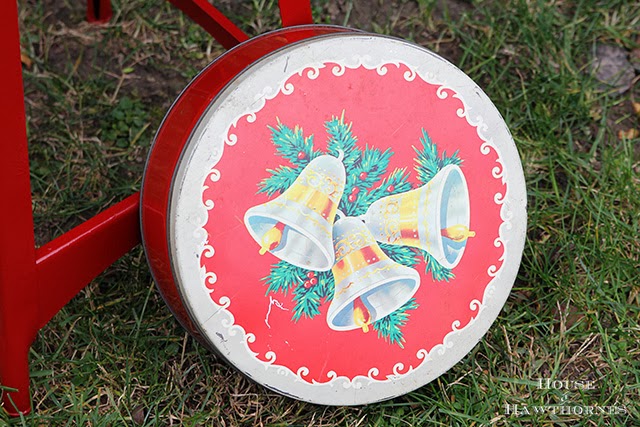 I must have missed the day when all the good Christmas stuff gets put on the shelves, because it's been slim pickings for vintage Christmas finds around here (insert image of Pam throwing a tantrum in the aisles of Goodwill).
Did you have a good thrifting weekend?
*House of Hawthornes will not be held responsible for any nightmares caused by the above pictured doll. You're on your own with that one 🙂