I was so excited when my niece recently gave me some Easter postcards that my sister had collected over the years. Since my sister died last year, I have enjoyed having things around me that she cherished. I had almost forgotten about this particular Easter postcard that she had bought on ebay a few years ago.
She was fascinated with it, because it's a little quirky. We shared the quirkiness gene, I guess.
But it is a little gruesome for an Easter postcard though, don't you think?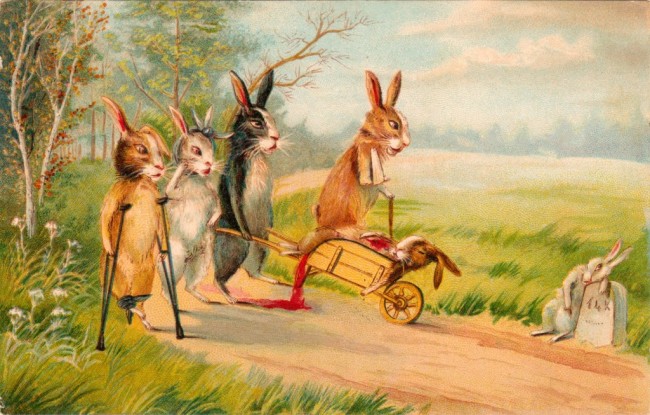 You have a bunny on crutches with a mangled leg, another bunny with a bandage on his head (is he missing an ear?), a bunny pushing a wheelbarrow (hurray, he appears not to be hurt!) filled with his bunny friend that is profusely gushing blood from a wound in his chest, a bunny with his arm in a sling and walking with a cane (behind the wheelbarrow) and then you have a very tired bunny leaning his head on what appears to be a tombstone.
What the heck?
I know it can't be easy to deliver eggs to all the kids of the world, but seriously, who knew it would leave the bunnies fighting for their lives.
The card is postmarked March 20, 1910 (Easter was March 27th that year) and it says "Hope the bunny is good to you" on the back, so I'm pretty darn sure it's an Easter card. You might think it was a reference to soldiers returning from war, but WWI was from 1914-1918, so this card is prior to that. So I can't figure out what the wounded bunny theme is all about. Any thoughts?
BTW, you're welcome to use this postcard in your Easter crafts. You know, if you want to really scare the kiddies on Easter morning. It will give a whole new meaning to biting the ears off the chocolate bunnies.
Other Easter postcards can be found:
Vintage Easter Images: Adorable Free Printables