My favorite way to decorate for the various holidays is printing off some vintage postcard images and sprinkling them throughout my home.
It's a simple, quick and easy way to get a lot of color and vintage Easter goodness without a lot of work.
You can just tuck them different places here and there.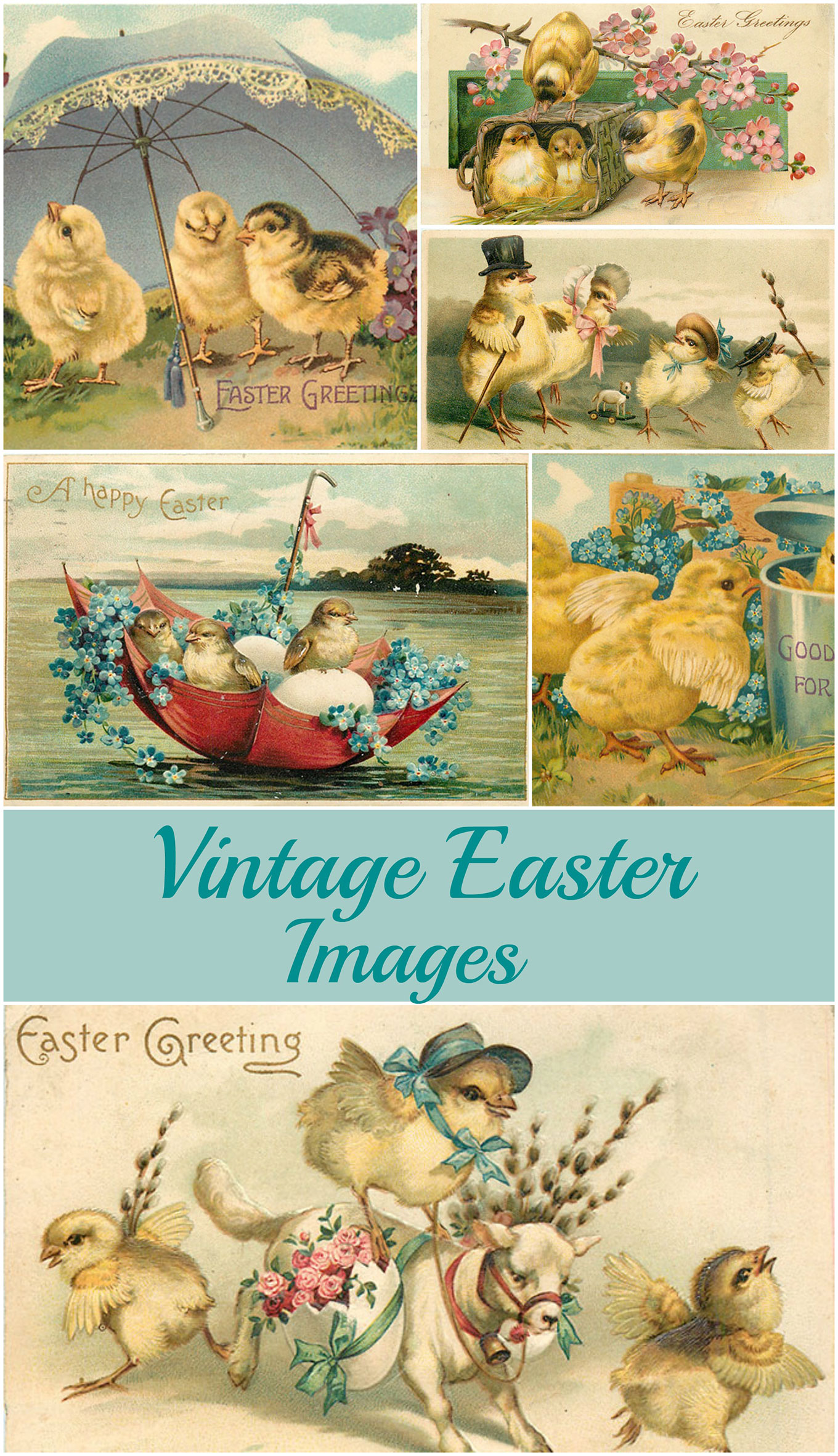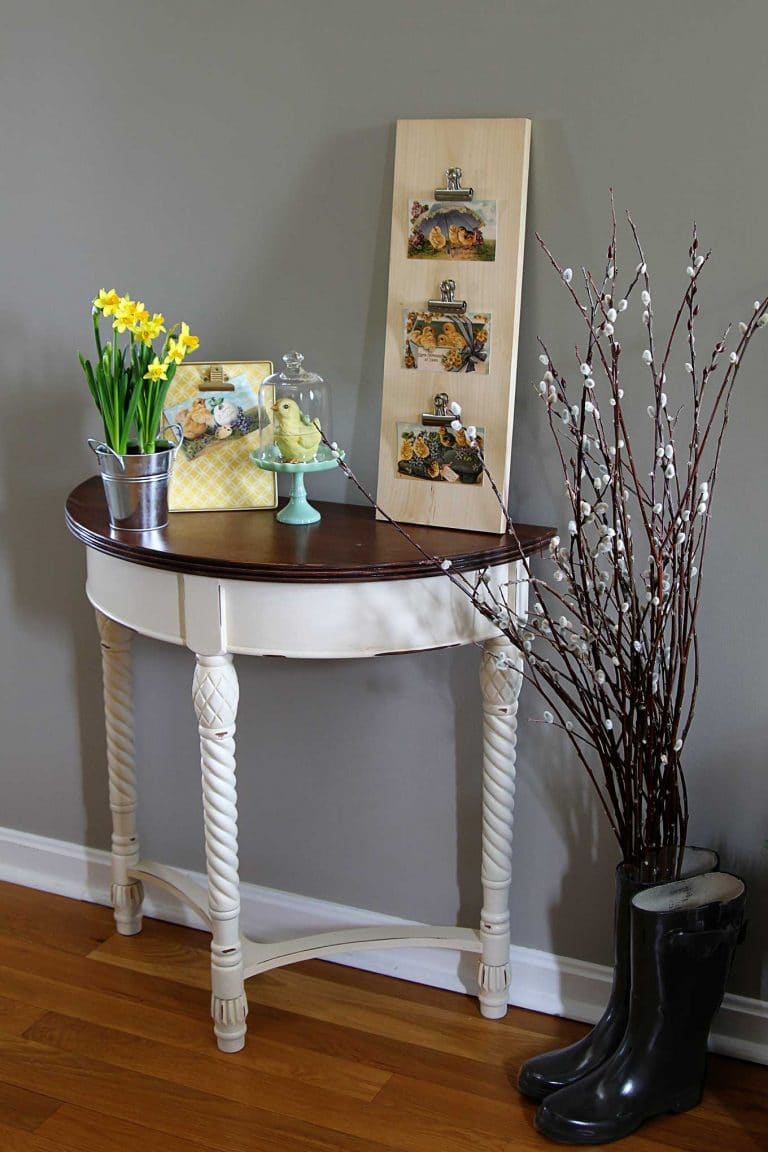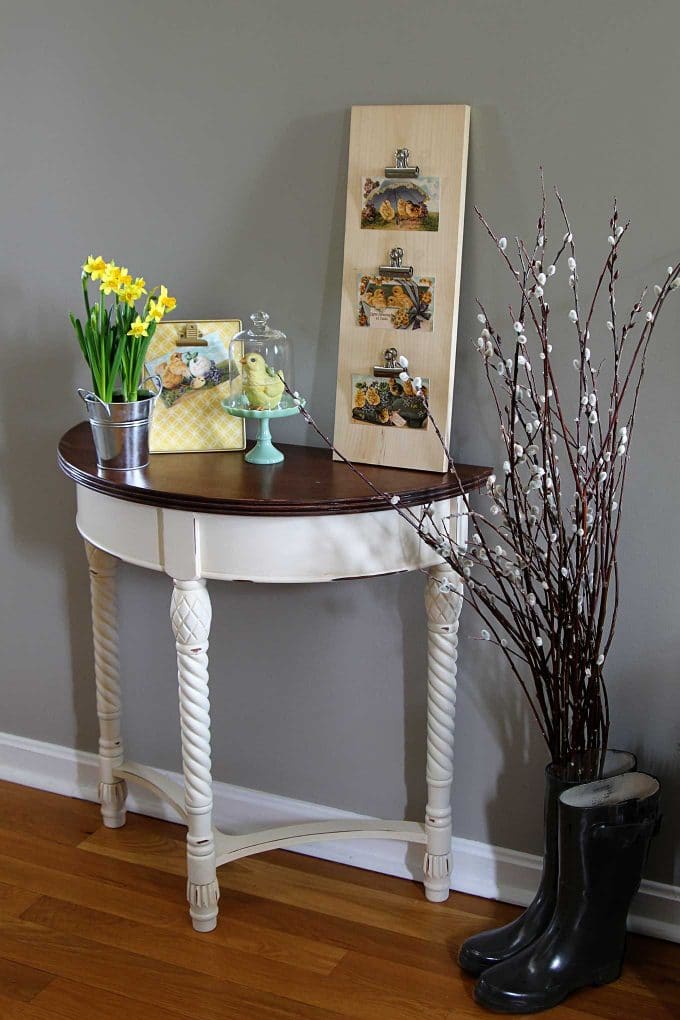 I found this little clipboard frame at Michael's in bright springy colors and clipped a postcard to it.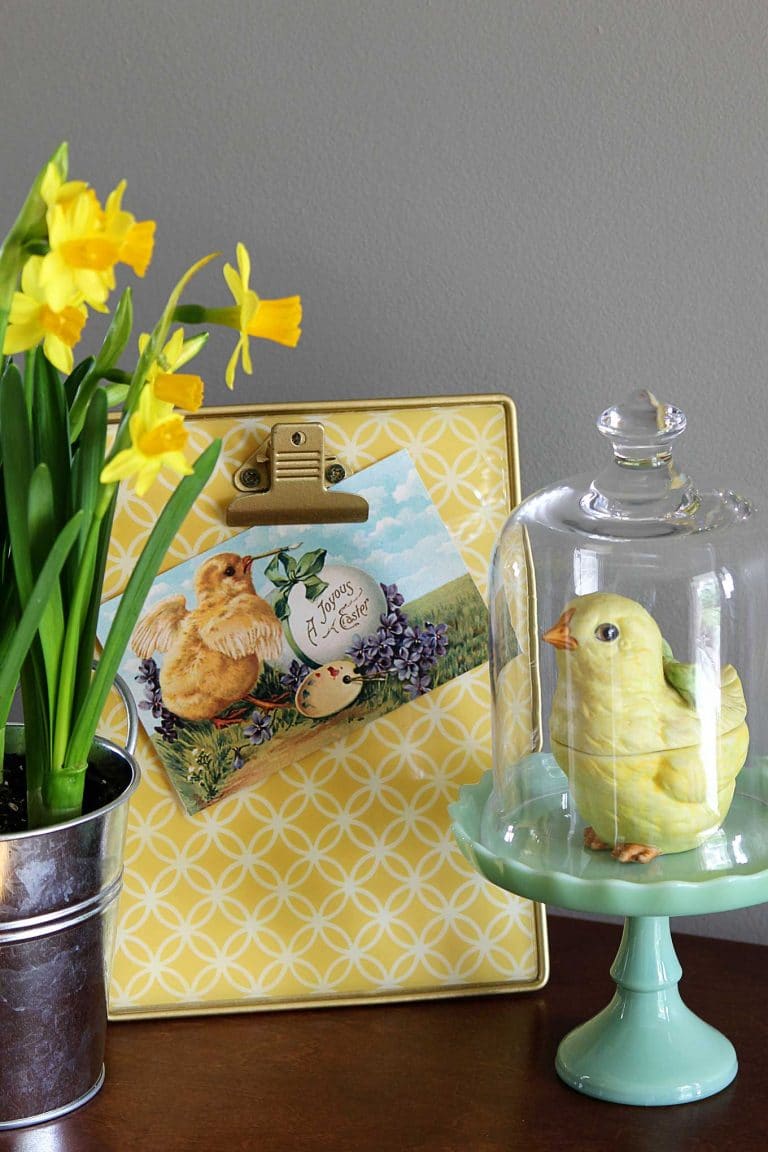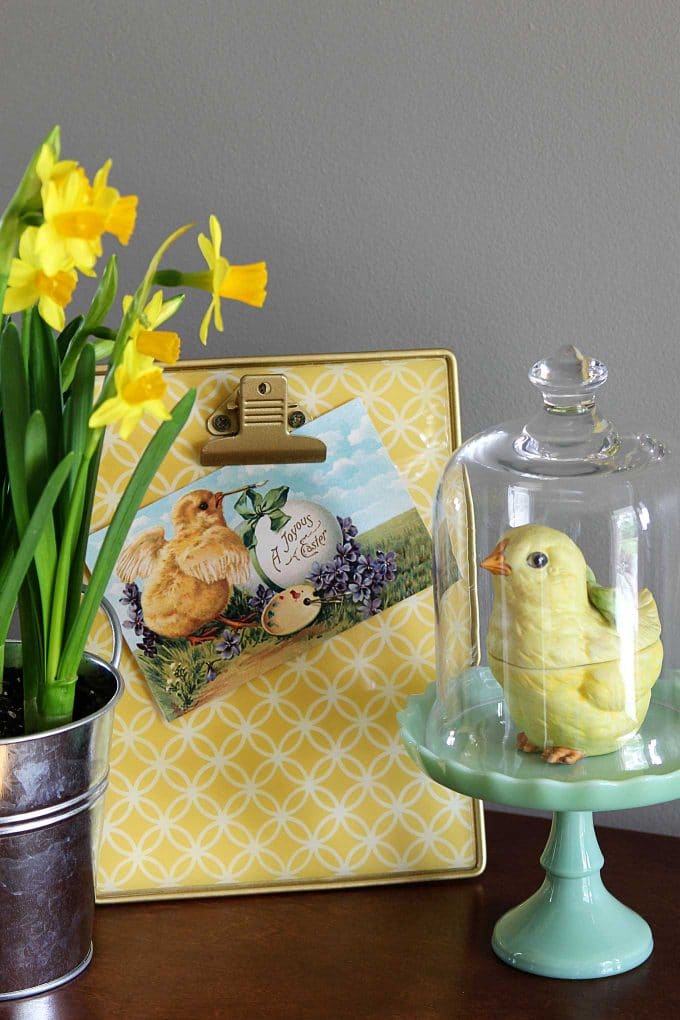 The chick under glass is a Lefton chick I used in my vintage farmhouse spring centerpiece a few years ago. That chick sure does get around!
I made this super-duper simple postcard display "frame" in about 4 minutes. 24 if you count the time it took me to find and plug in the miter saw.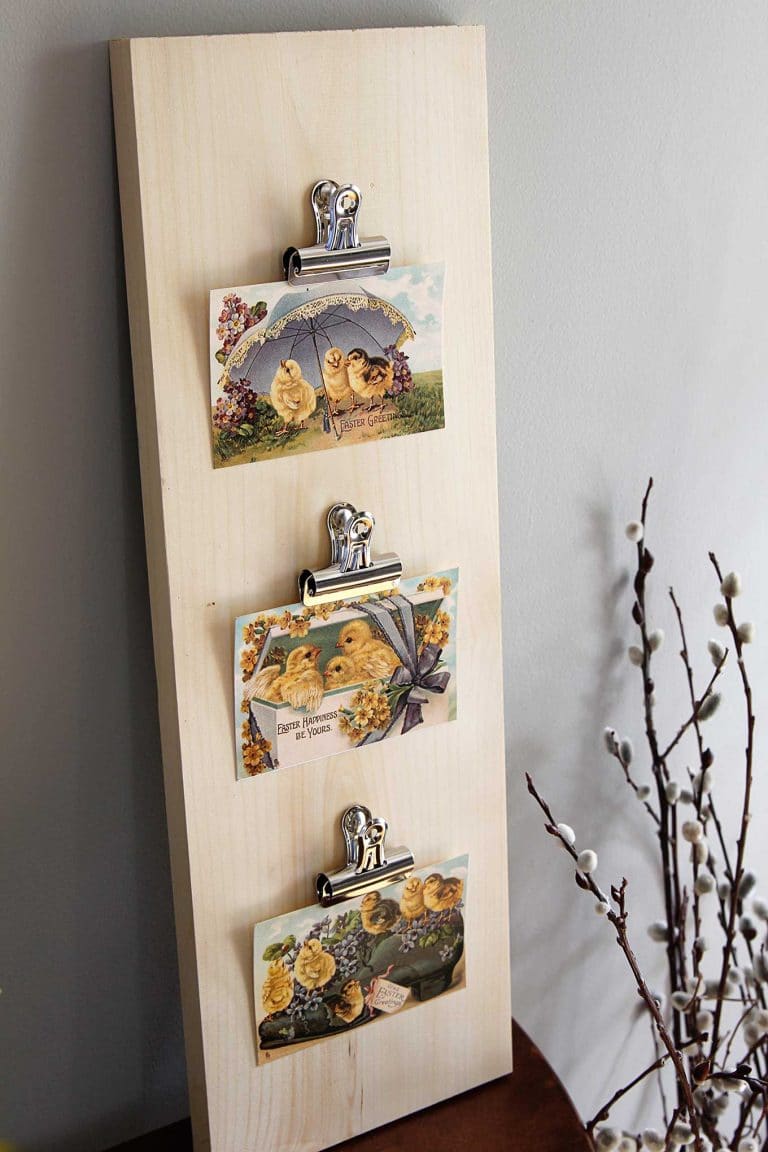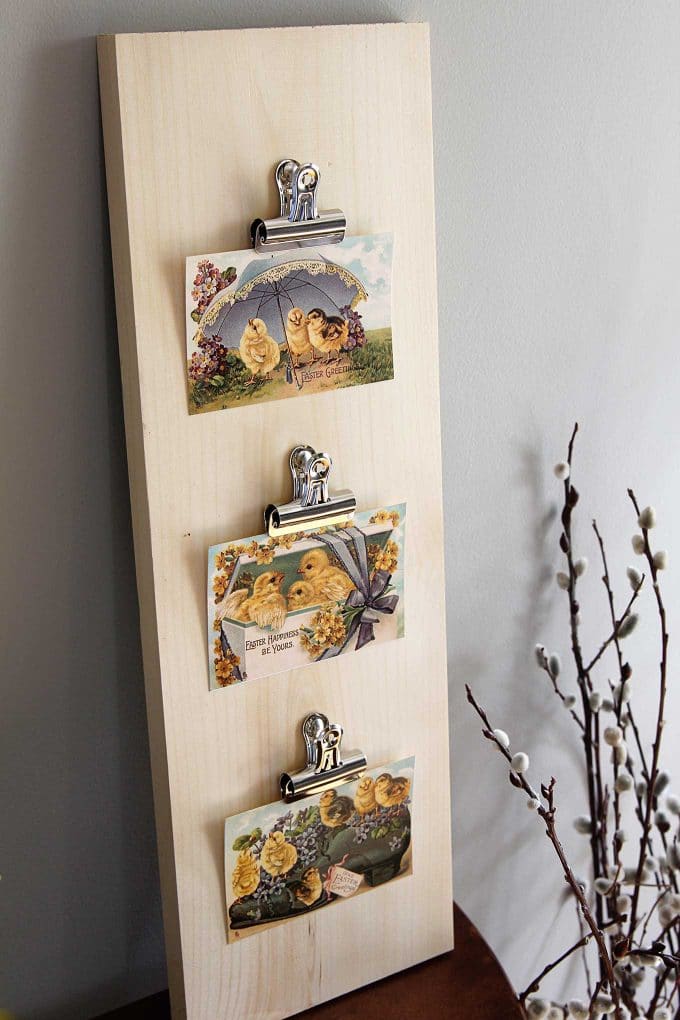 I won't bore you with a full-blown tutorial on it, but I took a piece of 1x8x6 pine board that I bought at Home Depot (in reality the board is 7 ¼" wide due to silly Carpenter math) and cut it down to 21" long. Then I stuck three bulldog clips on it with thumbtacks and clipped the postcards on it.
Sure, you could paint the wood with milk paint or stain it or get all fancy schmancy with it. But I sort of like the raw, rustic look of the wood mixed with the industrial look of the bulldog clips.
And there was the whole 4 minutes thing.
You could also make a banner with the postcard images by simply hot gluing them to ribbon. Maybe adding a few pompoms or something to cute it up a bit.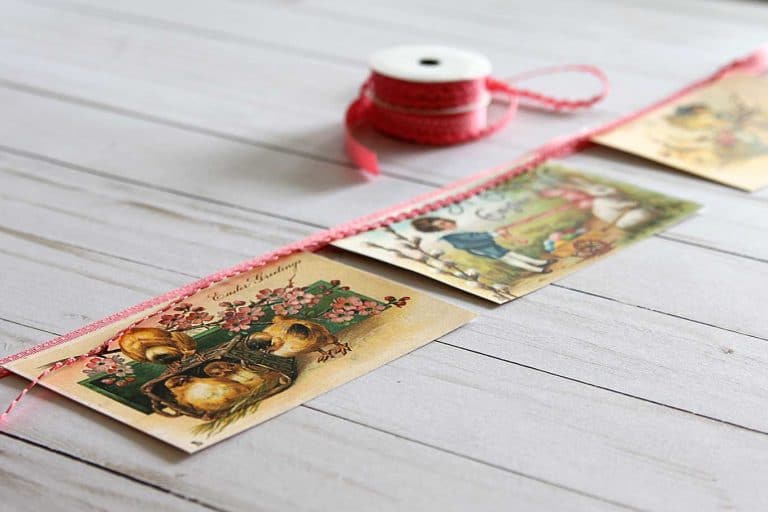 And I'm saying you "could", because I didn't. My hot glue gun ran out of glue while I was trying to make it, so I thought a photo of me mid-way through the project was close enough.
Or really, like I said in the beginning, my favorite way to display vintage postcards is the simple, just place them around the house method.
Here is one simply plopped in a planter of tulips.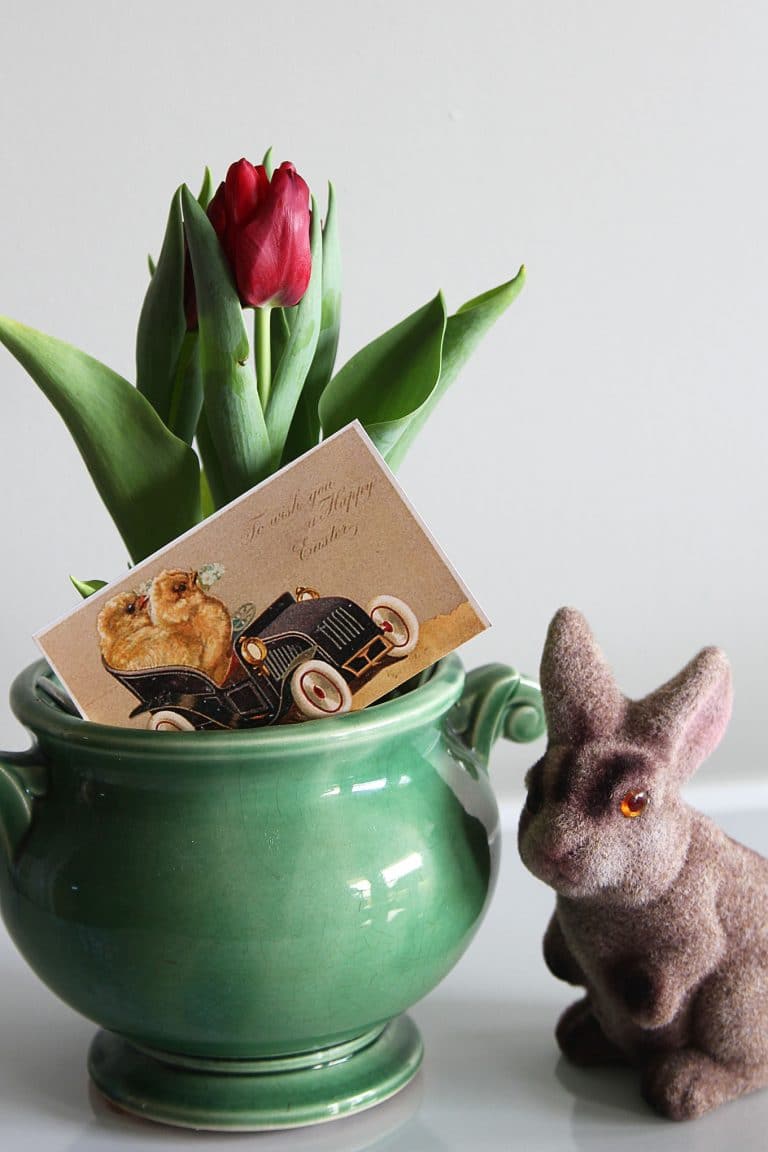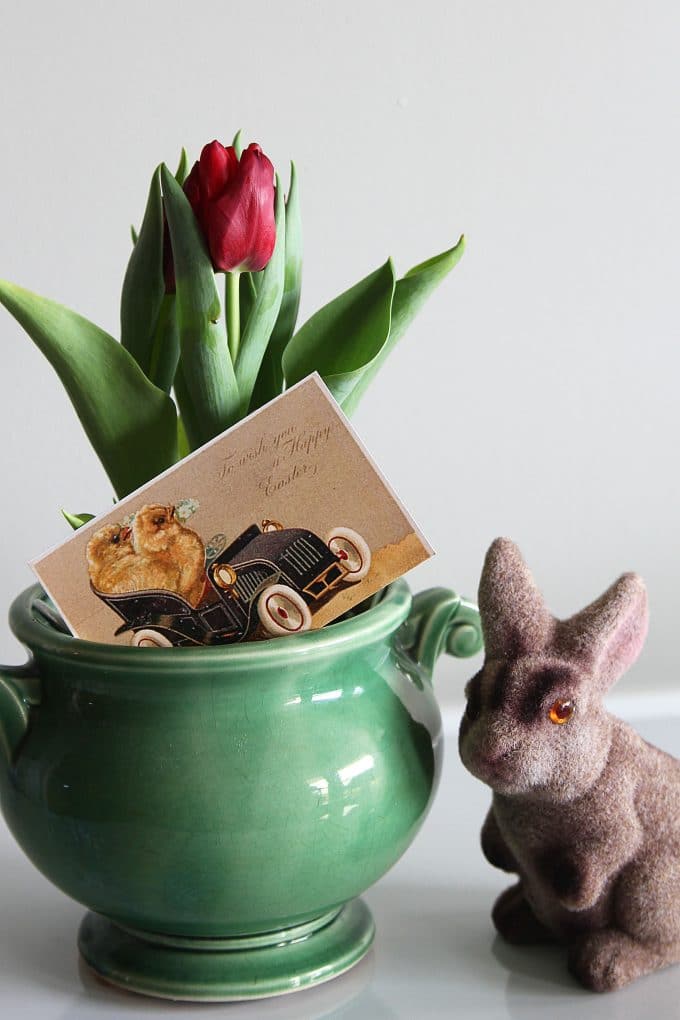 And here is one clothespinned to my bedspring memo board.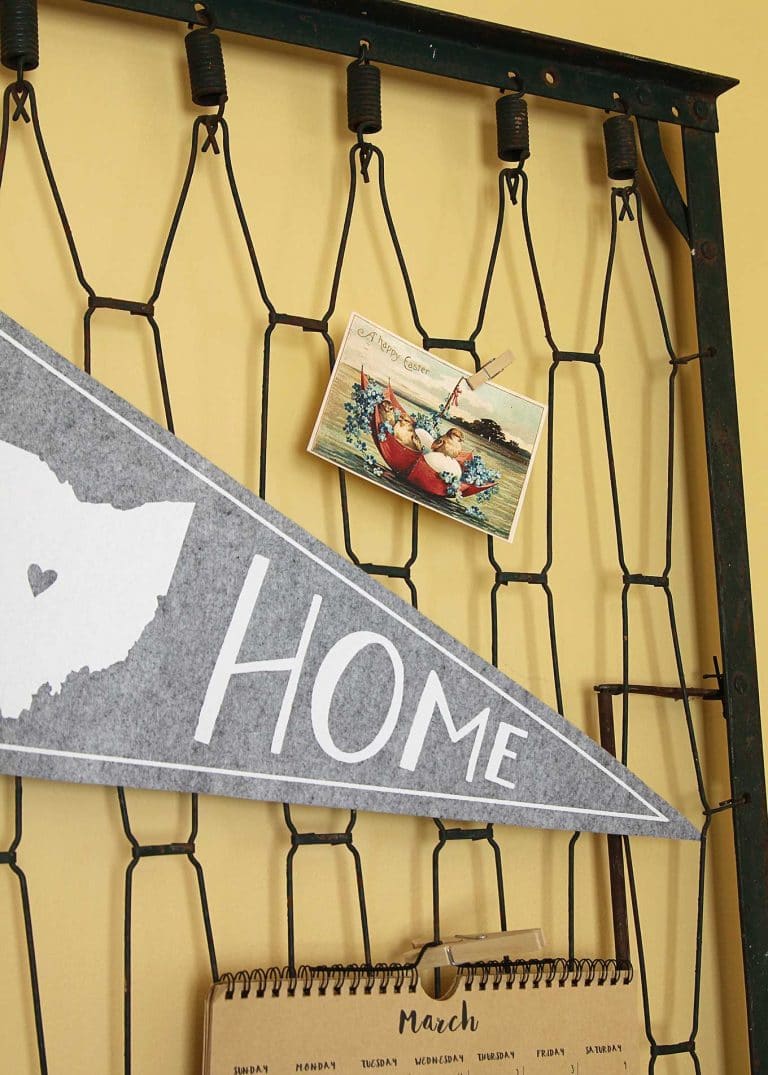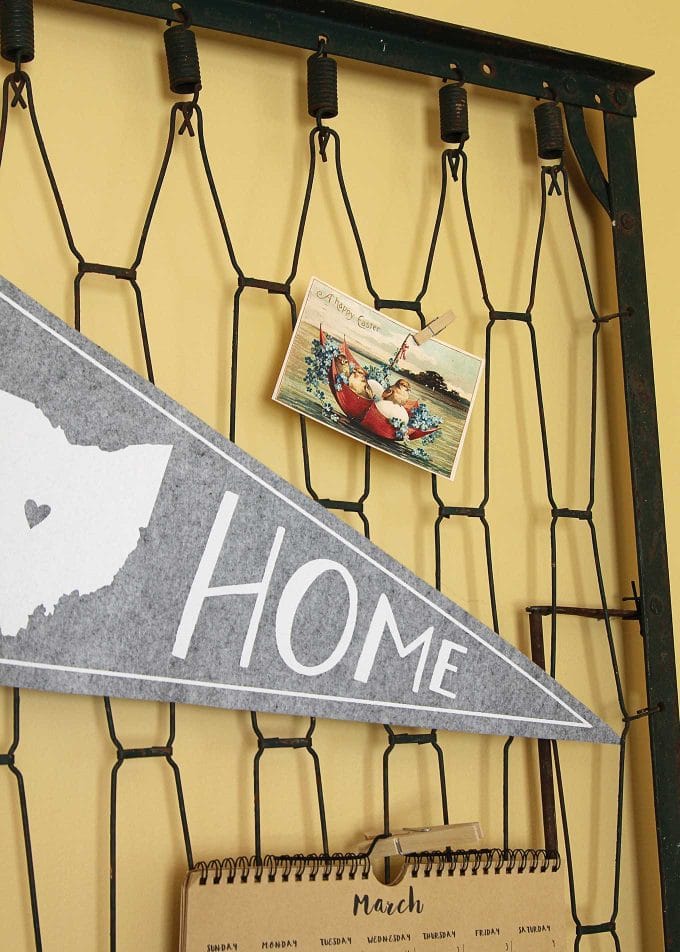 Simple. Quick. Easy.
If you'd like to print out your own images to use in craft projects, here are 12 vintage Easter images for you.
Vintage Easter Images
Since postcards easily fit 4 to a page, I've broken them down 4 to a page (crazy how that works). You'll see larger versions of the images followed by the link to print those 4 images out. Just click where it says "Get Printable PDF file here" to get that group of images and off you go.
Group 1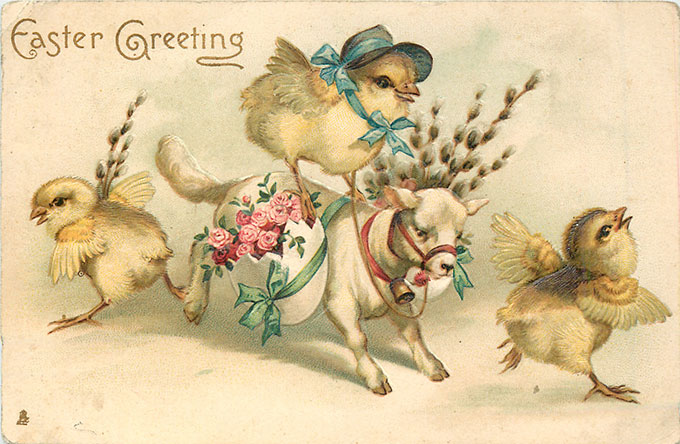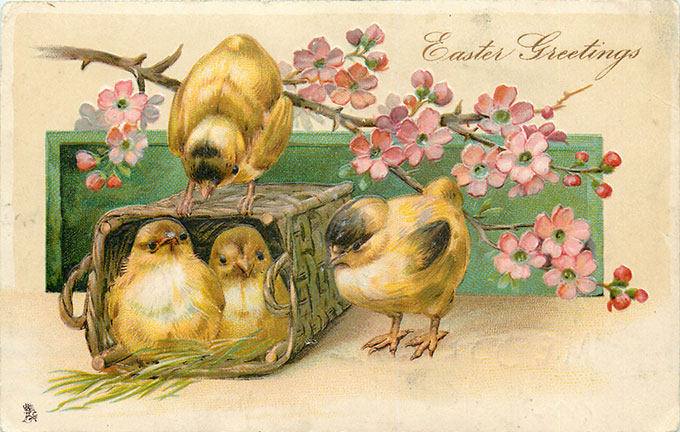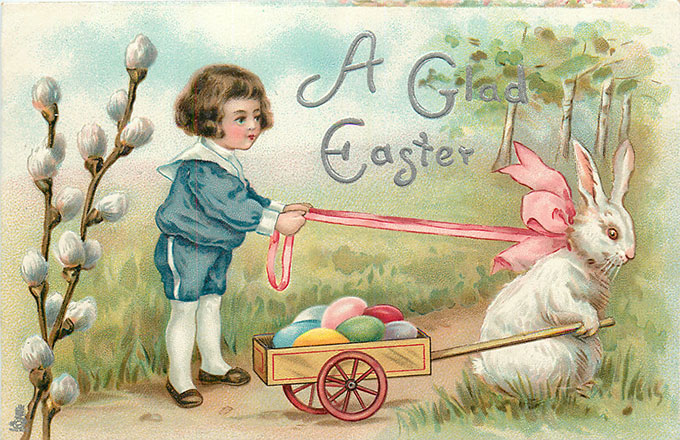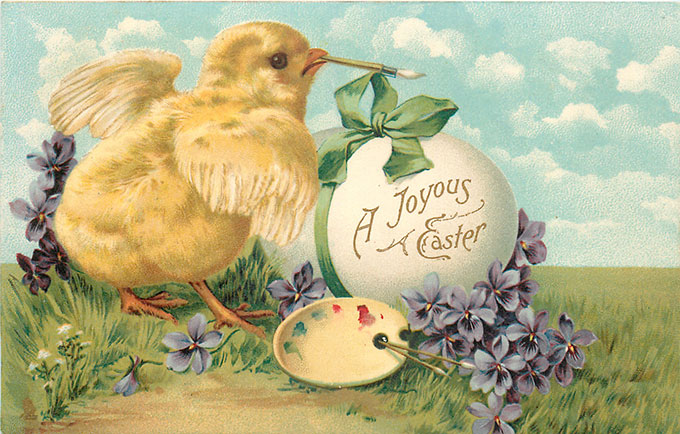 Get Group 1 Printable PDF File HERE
Group 2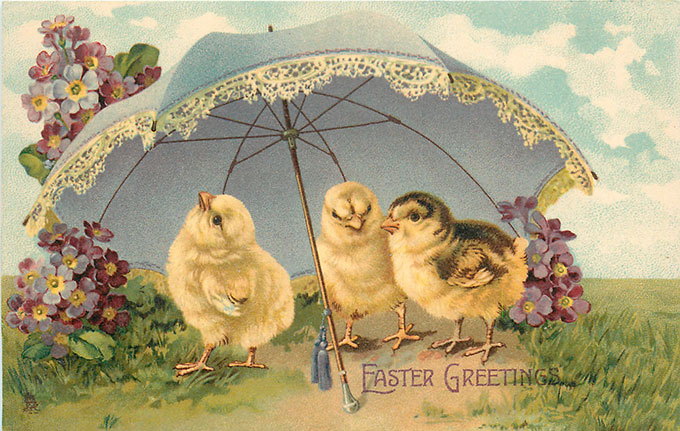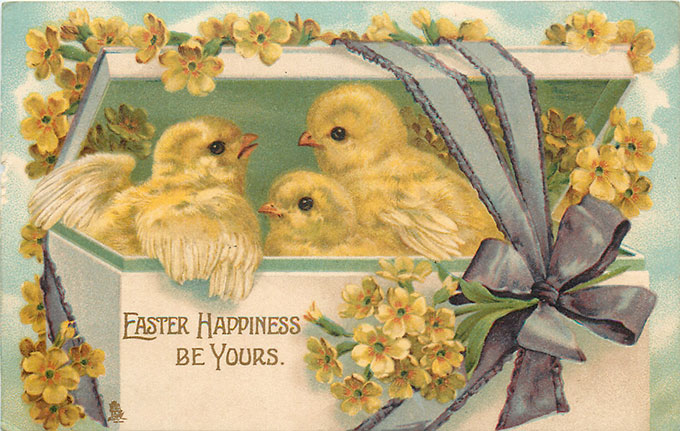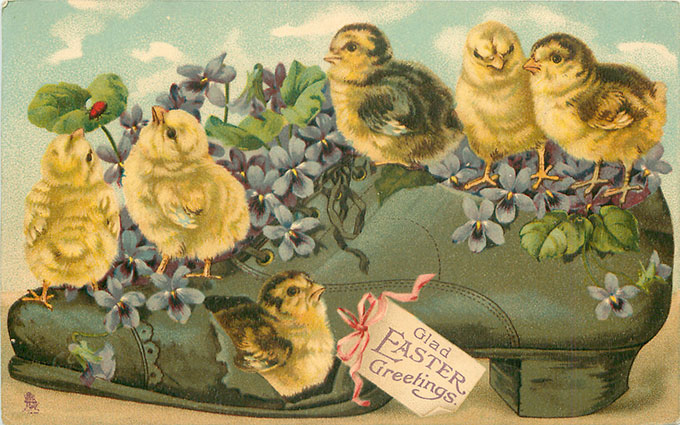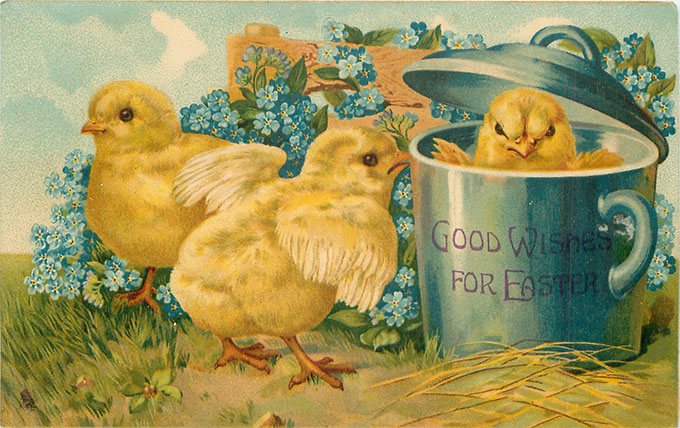 Get Group 2 Printable PDF File HERE
Group 3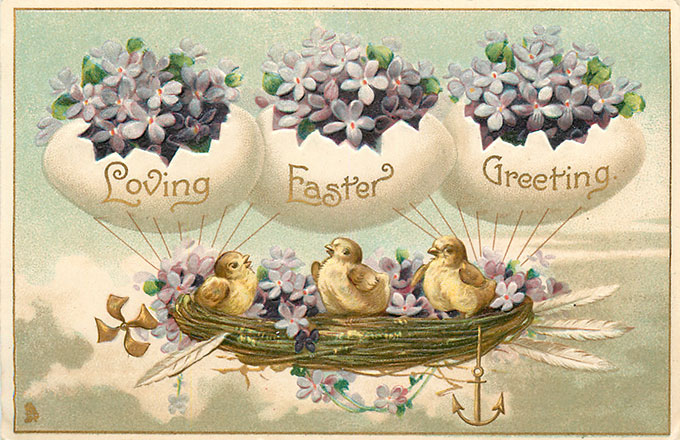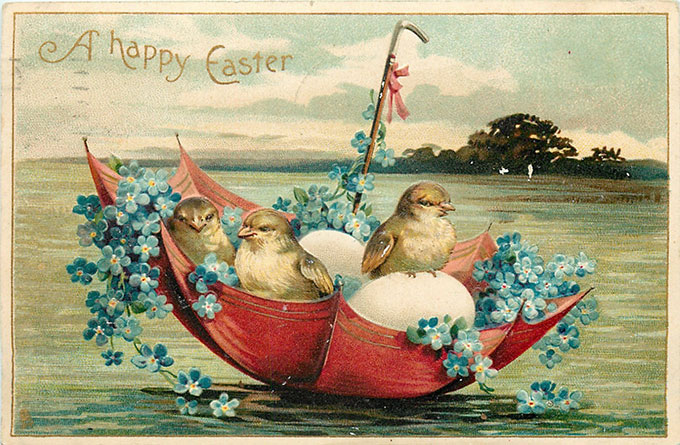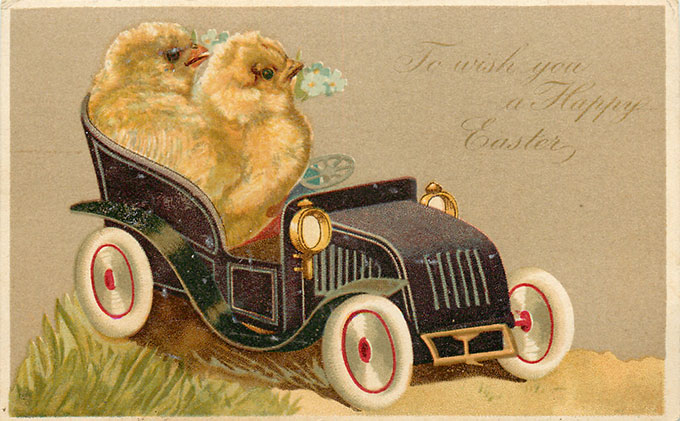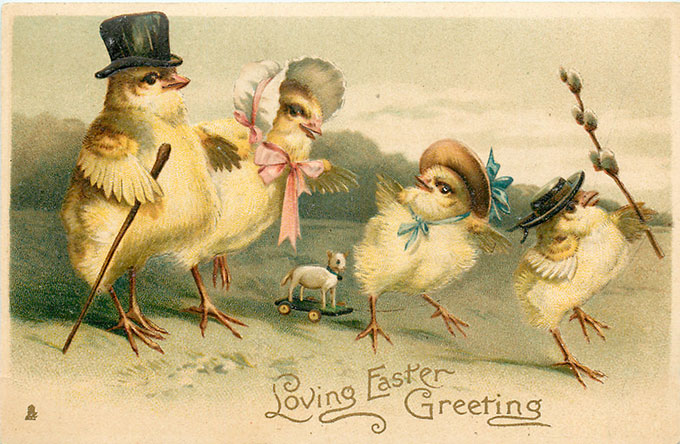 Get Group 3 Printable PDF File HERE
Other postcard posts you may enjoy:
Mutilated Bunnies & Other Easter Whimsey - a very odd (disturbing? historically accurate?) Easter postcard
Vintage Easter Postcards - these vintage Easter images have a little cross-species romance going on (bow chicka wow wow)
4th Of July Vintage Postcard Printables - because 4th of July is prime time to send postcards?
Vintage Christmas Cards - in case you missed sending Aunt Margaret a 4th of July postcard