Back in January I braved a snowstorm to pick up this buffet/dresser at
Goodwill
.

It is a substantial piece of furniture. Really heavy.
But it was pretty dinged up

and had scratches and water marks on the top.

But I knew of its defects when I bought it and I had plans of painting it from the get go.
So I thoroughly cleaned it out,

got rid of the yucky, sticky shelf paper in it

and let it sit for two months. Waiting for me to be inspired.
Almost everything in this room is brown, black, tan or white, so I had thoughts of maybe painting it black. That would be safe. That would be an easy choice. That would be boring.
I had turquoise in the back of my mind, since that would be a statement color. Not safe. Not an easy choice. Definately not boring.

I decided to go for it.
It went from this pecan color

to this high octane, laying on the beach in Cancun, where are my sunglasses? turquoise color.

Now, you know I love my turquoise.

And I have always really wanted an accent piece against this wall for a punch of color.

Just not sure I wanted this much of a punch.
(BTW, as many photos as I took of this piece, I could not capture the actual color. It is a little darker and more of a true turquoise rather than the lighter blue you are seeing in some of these photos.)
I glazed it quite a bit to give it some depth

and I do like that effect.

I kept the original hardware since it was sort of funky.

So anyhow, I could be a good blogger and lie and say that I am madly in love with this color and jumping up and down. But the truth is that I am still seeing if it will grow on me.
We'll see. It may end up being my favorite piece of furniture.

I am really liking the little vignette I put on the top of it though!
You can't go wrong with tarnished silver and vintage dogs.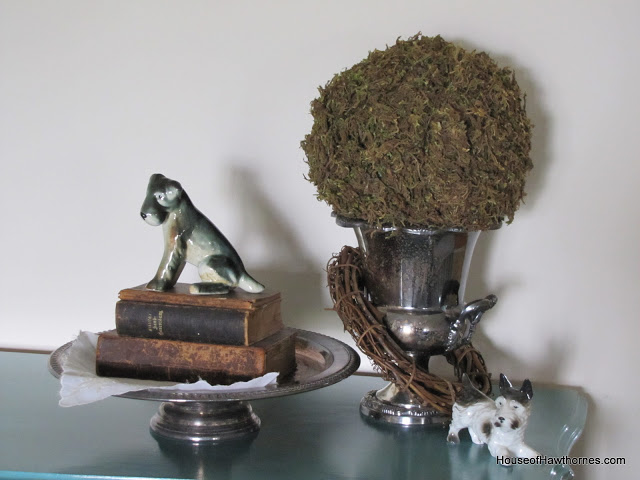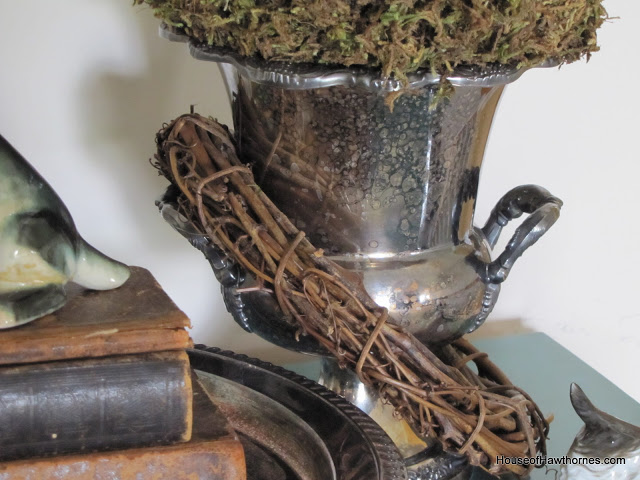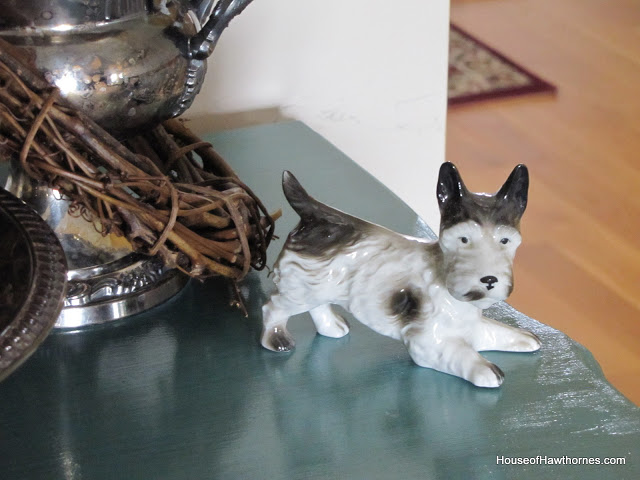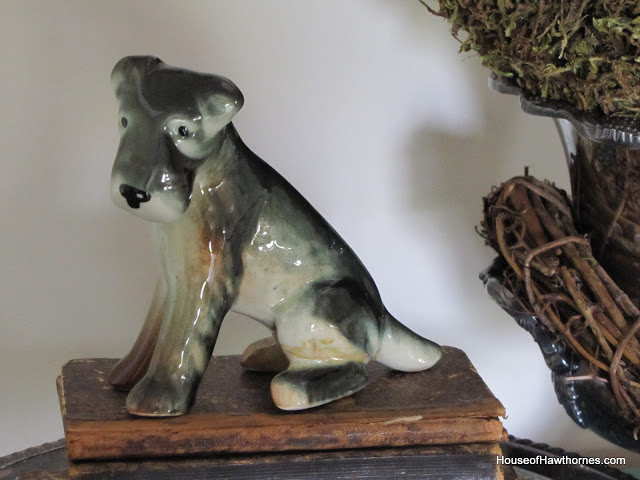 Paint – Inlet Blue by Laura Ahsley Home LA1215 – mixed at Home Depot in Behr Premium Plus Ultra Semi-Gloss
Glaze – Valspar Translucent Glaze in Mocha
Top Coat – Minwax Polycrylic in Gloss finish