This morning I was planting my asters along the side of my house and I popped the flower heads off the plants, so they will bush out and put on a better show later.
My mom always did this when I was a kid and I used to get so upset with her that she was "ruining" the flowers.
There may have been a few tears shed. On my part.
Now I do the exact same thing.
This time around, I grabbed their decapitated heads up and, in true blogger fashion, said "Hey, won't these make a pretty photo!".
Then spent 20 minutes arranging them in a "natural" looking pile.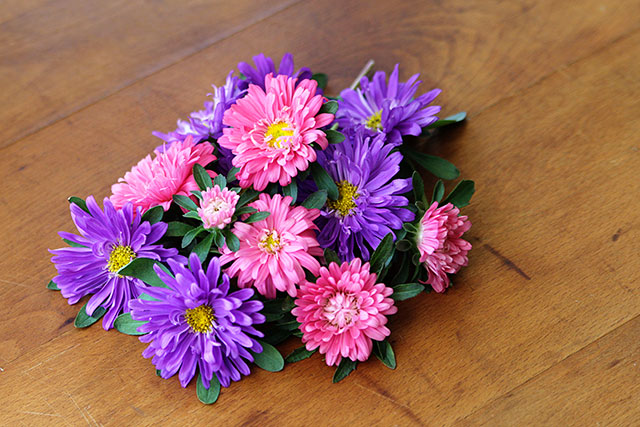 How To Pinch Annuals To Promote Growth:
pinch or cut off the flowers right above the node (where the leaves attach to the stem)
this will help your plant to branch out below that point and create a fuller plant with more blooms
it's really that simple, but makes all the difference in the world
Additional Tips For Planting Annuals:
when taking the plants out of the nursery packs, loosen the roots - I normally stick my thumb in the bottom of the plant and splay out the roots a bit
when digging your hole, dig it larger than needed and loosen the soil around the hole, so the roots will have a easier time growing outward
plant your annual at the same depth as they were growing in container
BTW, I pop the heads off marigolds, pansies and geraniums also. It's not just asters that I abuse.
Off with their heads!
So what are you doing this wonderful SUMMER weekend? Popping the heads off anything?