If you want to make a different kind of potato salad this weekend I have a couple great potato salad recipes for you.
Sure you can make the same old same old potato salad you've brought to the family get-together for the last 15 years (yawn). Or you can vary it up a bit and get the relatives talking!
Four of these recipes are very unique potato salad recipes and one is a classic recipe with a tiny twist to it.
So let's talk potato salads!
5 Unique Potato Salad Recipes:
Lemony Roasted Potato Salad
Greek yogurt and lemons are keys to this recipe. Oh, and ROASTED potatoes!!!
You read that right. I never knew how much I was craving a little roasted-ness in my potato salad until I tried this. It makes a difference . . . in an awesome sort of way!
Plus, you'll love this girl's writing style. She's sort of me. If I could cook.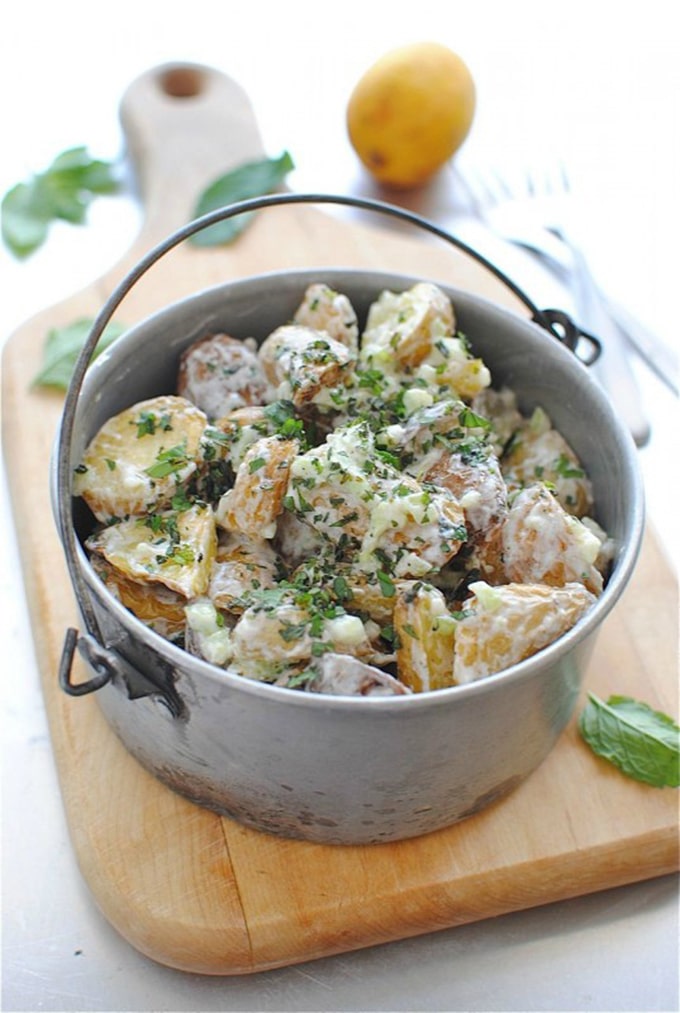 Texas Ranch Potato Salad
What about some ranch dressing for something a little different? This one is made with a packet of Hidden Valley Ranch Salad Dressing & Seasoning Mix, so it's quick and easy to make.
When I made this I loaded it up on bacon. Because . . . bacon! One can never have too much bacon!
The name of her blog is Cake And Allie. Wonder if that's a take on the 80's tv show Kate And Allie? Am I showing my age?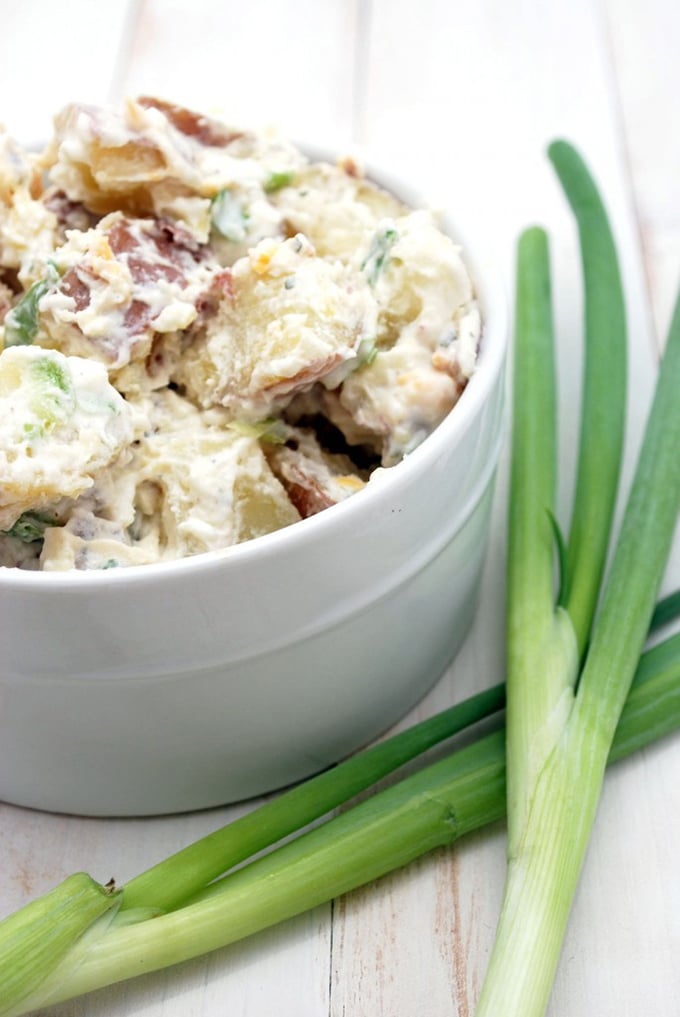 Texas Ranch Potato Salad from Cake And Allie
Deli Style Potato Salad (w/ Radishes)
This deli potato salad recipe includes radishes as a little surprise. I myself am a radish lover through and through, so I absolutely LOVED this recipe. The radishes give it the crunchiness you want without using just your basic, been used in potato salads for centuries, celery.
It does use Miracle Whip though.
If you're one of those people who doesn't love the tangy taste of Miracle Whip (although I don't know why in the world you would not!), you could substitute mayonnaise without a huge potato salad crisis going on.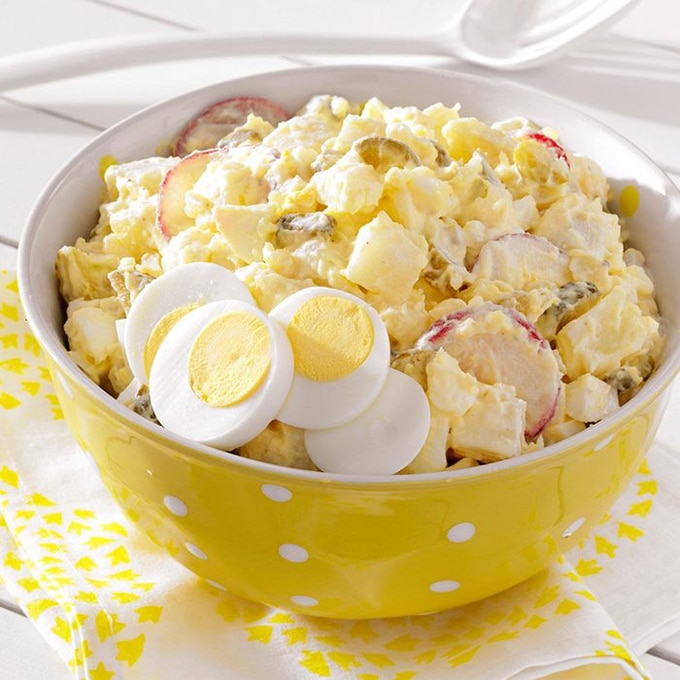 Loaded Potato Salad
Bacon, cheddar, sour cream and green onions. All the goodies you would put on a baked potato. But slapped on potato salad!!!
This was my husband's favorite as it was a dense and filling potato salad. Almost a meal all by itself.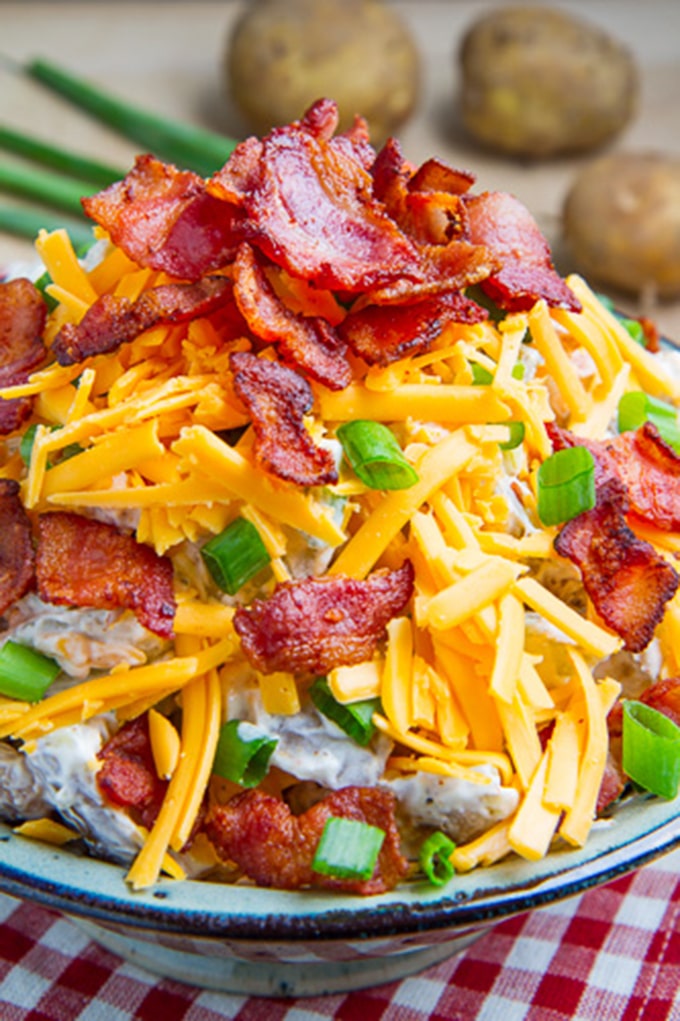 Southern Red Potato Salad
And just to cause a little controversy, here is a traditional Southern recipe.
All you people south of the Mason Dixon Line can go ahead and start fighting about how it's not as good as your mama's recipe.
Actually, there are so many "Southern" potato salad recipes floating around out there that I don't know if there really is a "traditional" one?
But whichever you favorite is, using redskin potatoes makes it a little more festive in my book!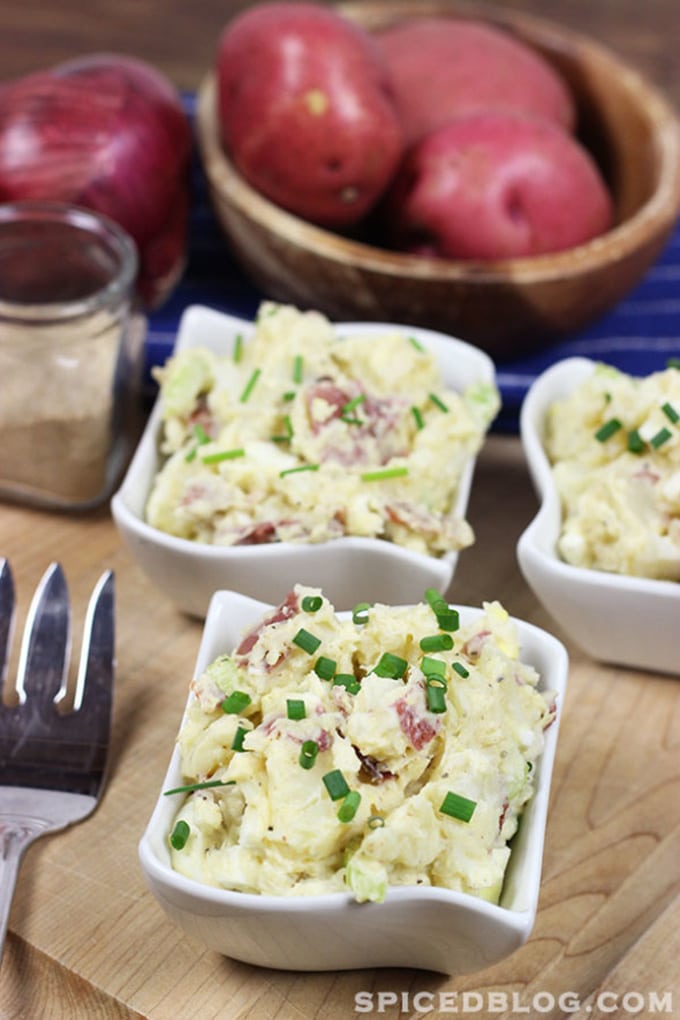 So do you make your own potato salad? Or are you a store bought kind of girl?

If you are looking for more fun and festive 4th Of July recipes:
Quick And Easy 4th Of July Desserts - most can be made in 15 minutes or less
Summer Mixed Berry Salad with Honey Citrus Dressing - red, white and blue (and yummy too)
Blueberry Crostata Recipe - a super easy rustic slab pie (that can be made with a store bought pie crust!)