10+ inexpensive and inspiring DIY potting bench ideas to get you in the mood for spring gardening. They can do double duty as a serving station on your porch, deck or patio.
I started out this spring wanting to make my own potting bench. As in going out to the garage, grabbing one of the power tools, cutting some wood (hopefully no fingers) and nailing it all together.
And then setting a pot on it and the whole thing come crashing to the ground.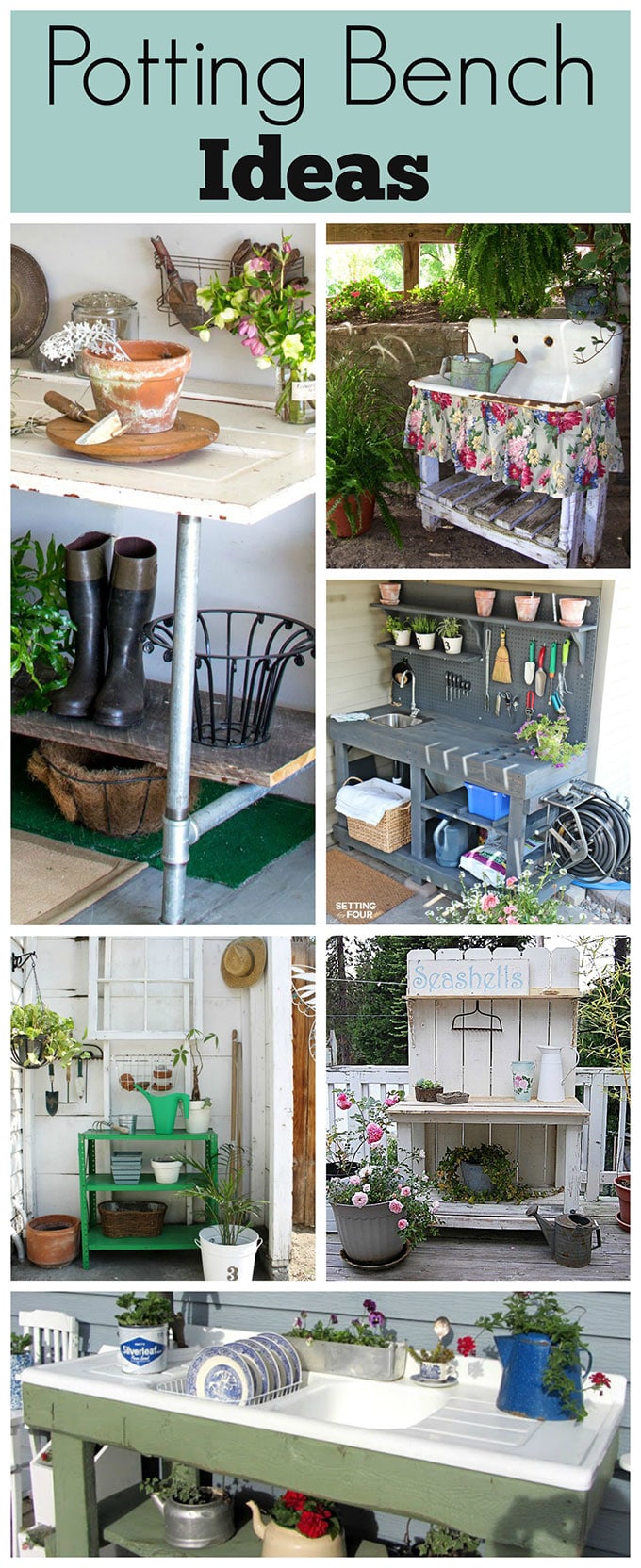 Seriously though, I feel like spring is flying right by and I'm not sure I'm going to have time to make my own, so let's use these ladies' potting benches (which look quite sturdy BTW) as inspiration for what I'm looking for.
I could go the old wooden door and plumbing pipe industrial look, which is a super cute idea.
Creating A Garden Workspace by Homeology Modern Vintage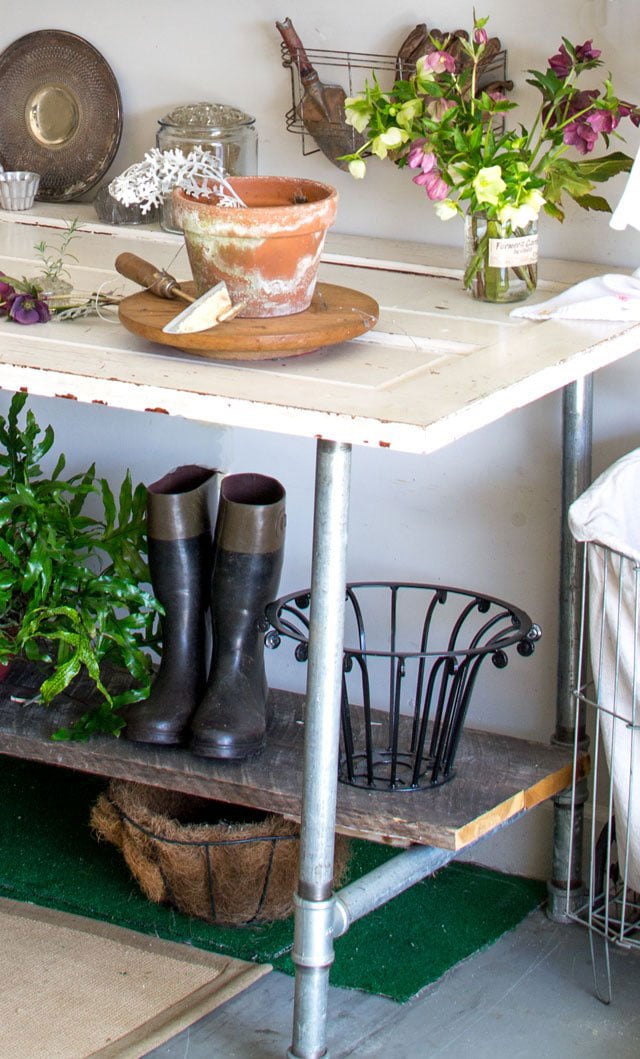 Or vintage sink with yummy barkcloth skirting. Sigh.
Sweet Vintage Of Mine's Potting Sink Complete With Barkcloth Skirt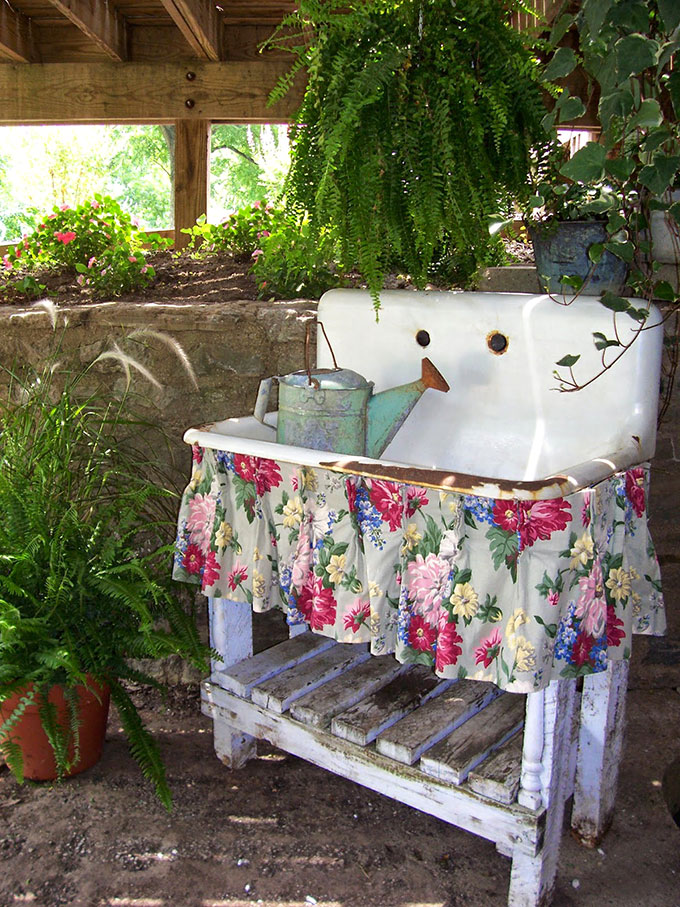 Carlene's longer vintage sink with double drainboards is a great option. She always does such a great job of accessorizing her potting bench for the seasons.
Organized Clutter's Potting Area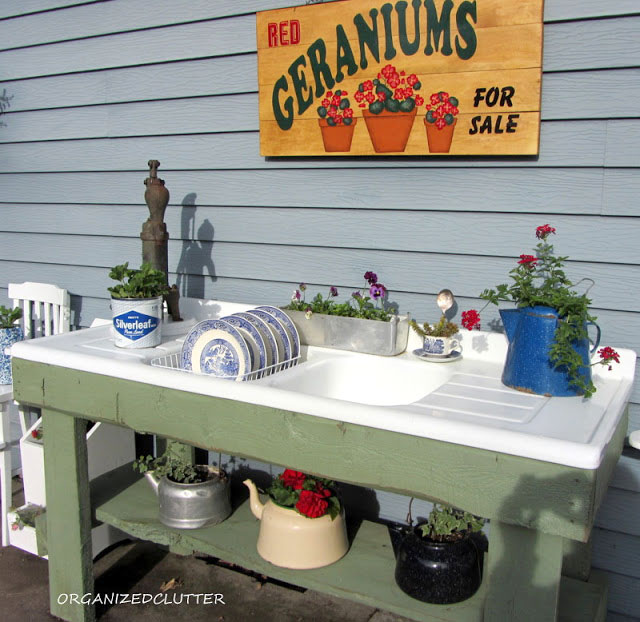 Sarah from Sarah Joy has a wonderful farmhouse style potting bench.
Farmhouse Style Potting Bench from Sarah Joy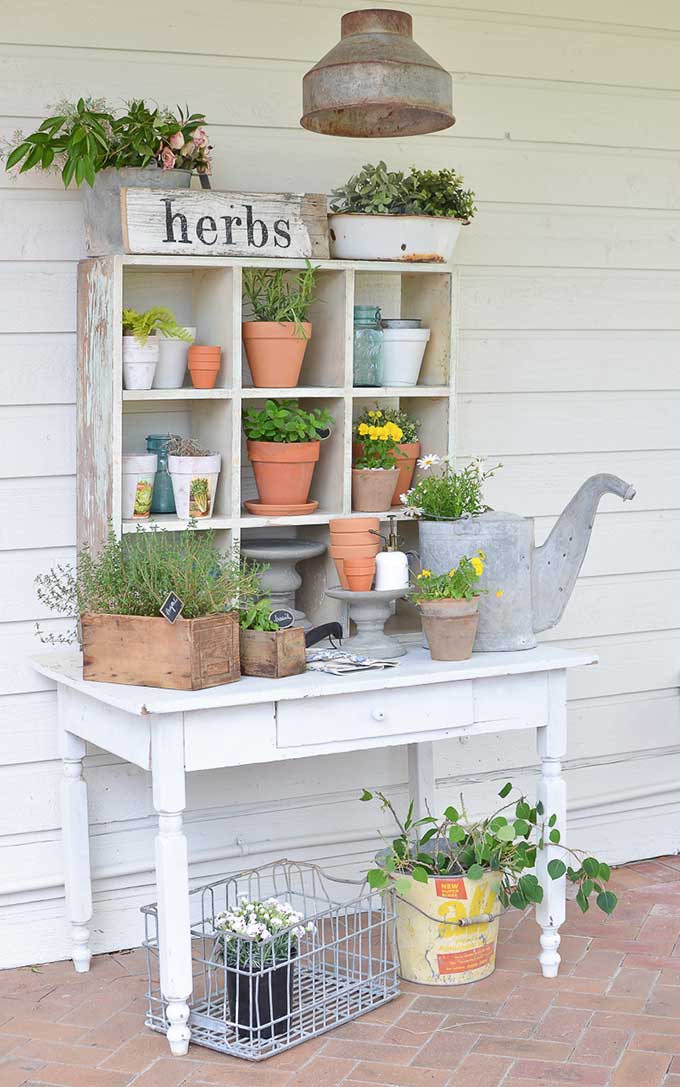 This upcycled potting bench from Marianne at Songbird started out life as an outdoor dining table. After reconfiguring it to the perfect size and adding a galvanized sheet metal top it is not only very functional but pretty darn cute!
Songbird's Upcycled Potting Bench (from a garden table)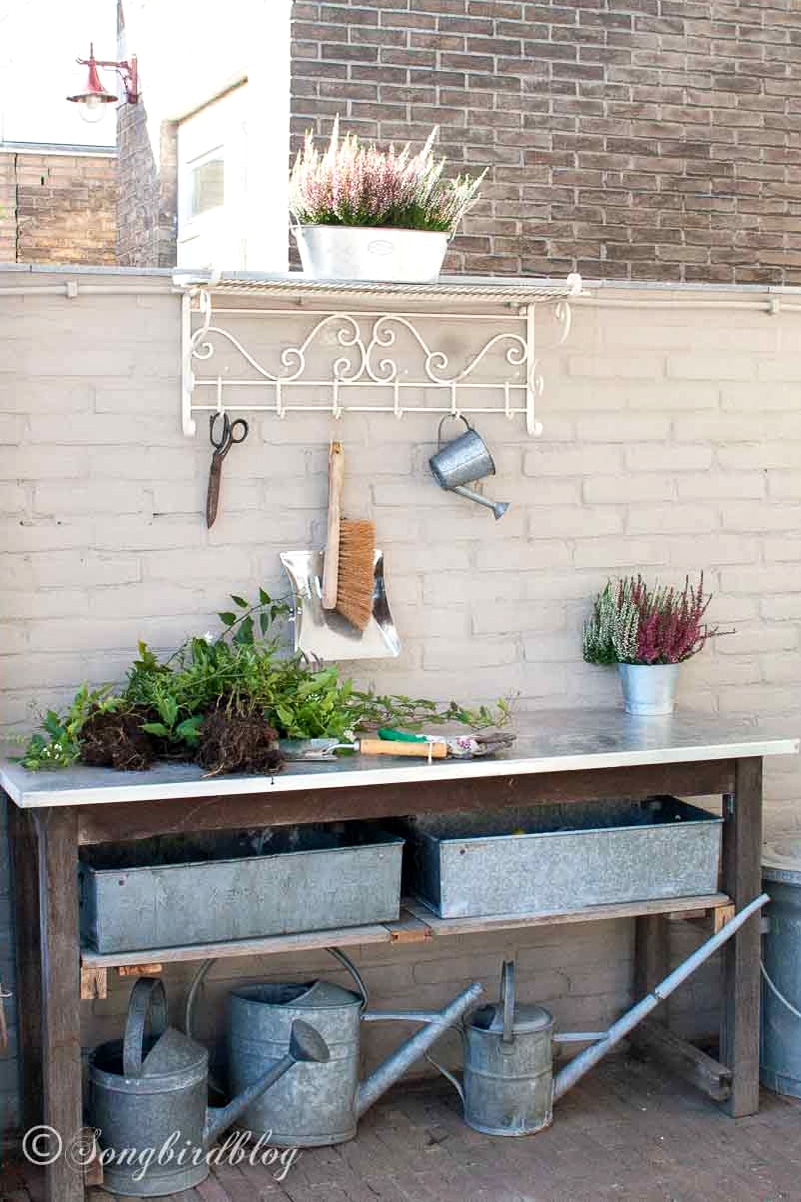 Oh, look! Here's my old potting bench/table from a few years ago.
It didn't have enough storage for me and since I bothered to restore the vintage enamel top table in the first place, I didn't want to leave it outside all year long. But it is a good example of how a simple table and a few accessories can be used for potting.
House Of Hawthorne's Vintage Enamel Table Turned Potting Bench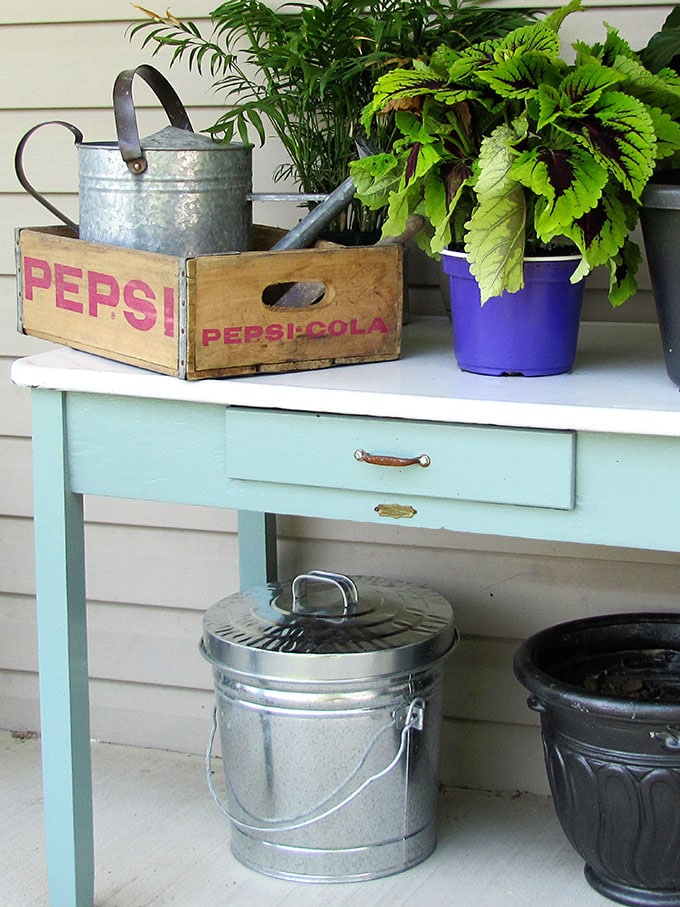 Pamela from Flowerpatch Farmhouse shows how she made this potting bench on her sister blog Back Woods Cottage.
Back Woods Cottage's instructions for Building Your Own Potting Bench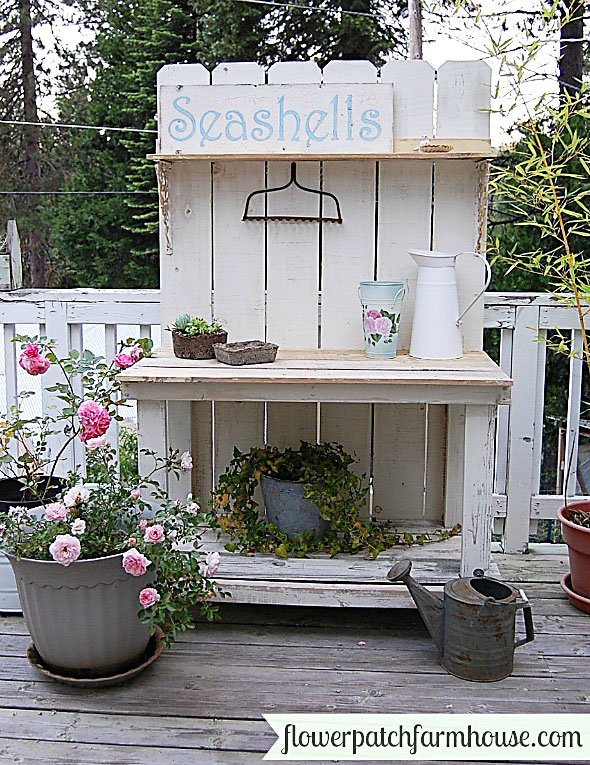 Liz from Loves Grows Wild DIY'd this gorgeous potting bench for her back patio and she has a full blown tutorial on her site showing you how she did it.
Love Grows Wild's Covered Potting Bench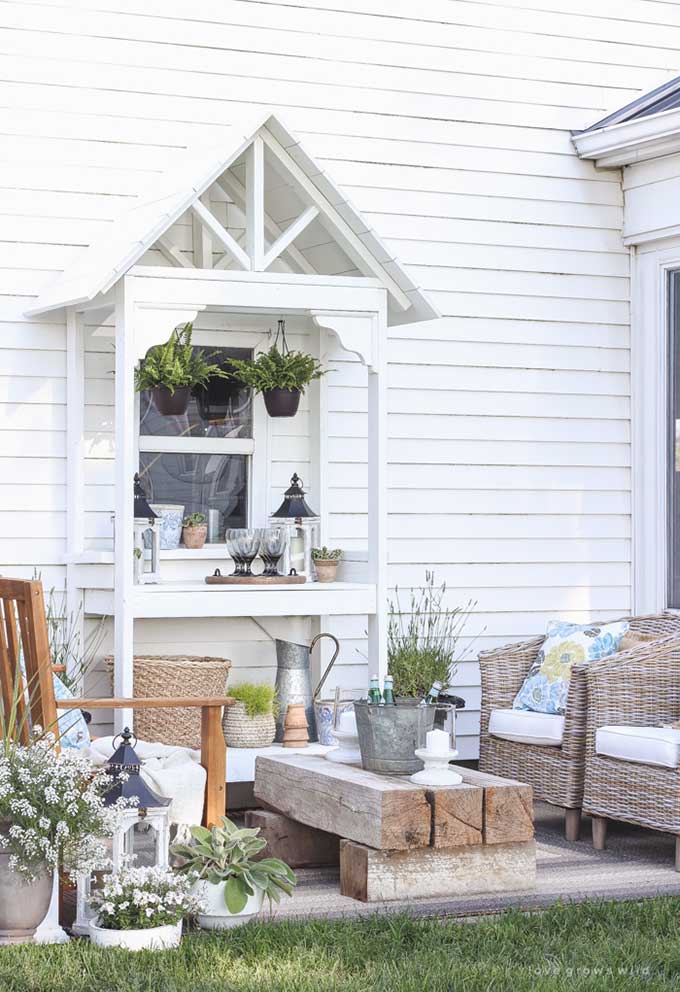 Heather shows how to make this one from scratch. Sort of what I had in mind before spring swept right past me.
Love that little sink and hose reel!
Setting For Four's DIY Potting Bench With Sink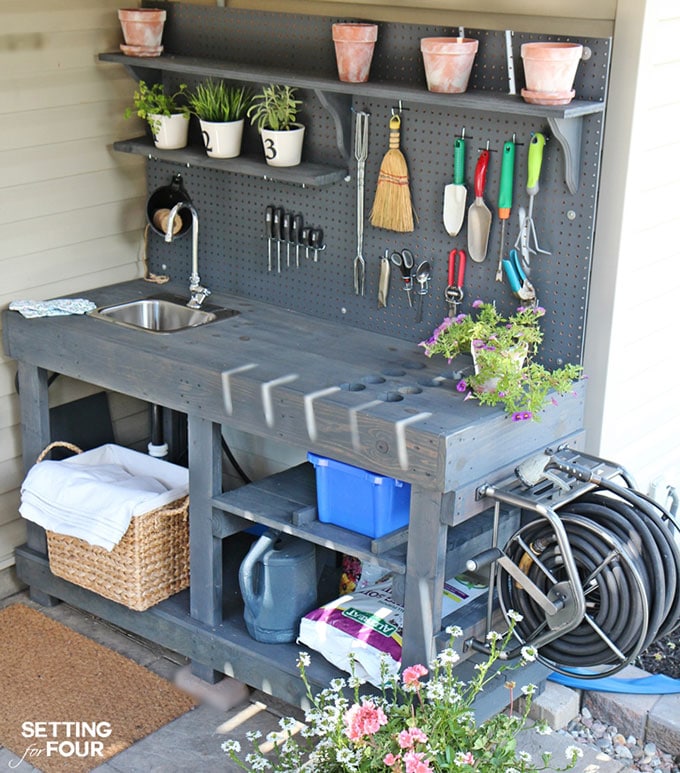 Great idea of using the potting table for a serving table on the patio also. And Debbie made this in one afternoon!
I probably watched 2 episodes of Fixer Upper on the couch while eating Cheetos in the time it took to make this!
Refresh Restyle's Easy 2x4 Potting Bench Plans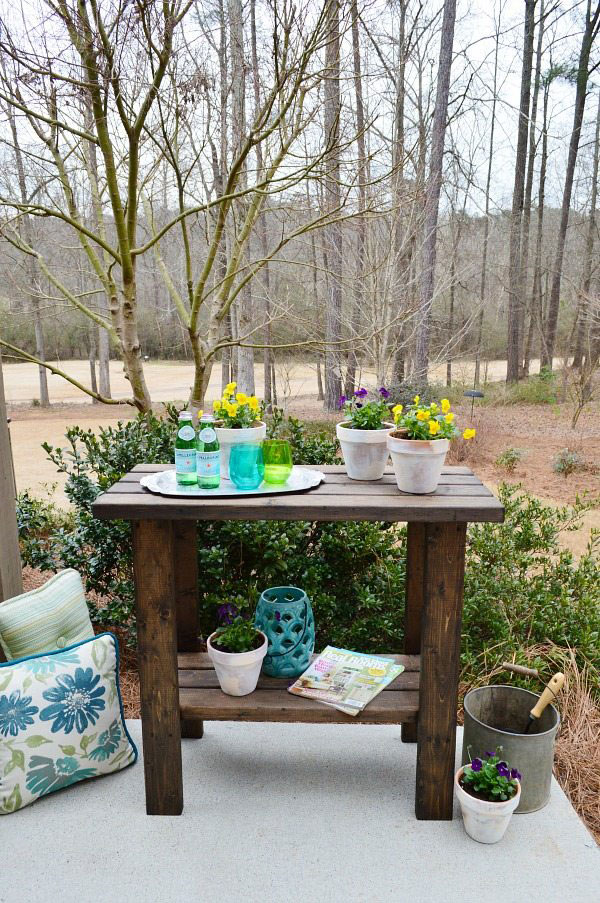 You could do something as simple as turning an old washtub into a potting area. The tub is just simply filled with potting soil and tiny shovels and the mess stays inside the tub.
Old Washtub Turned Potting Area by Minnie's Milestone's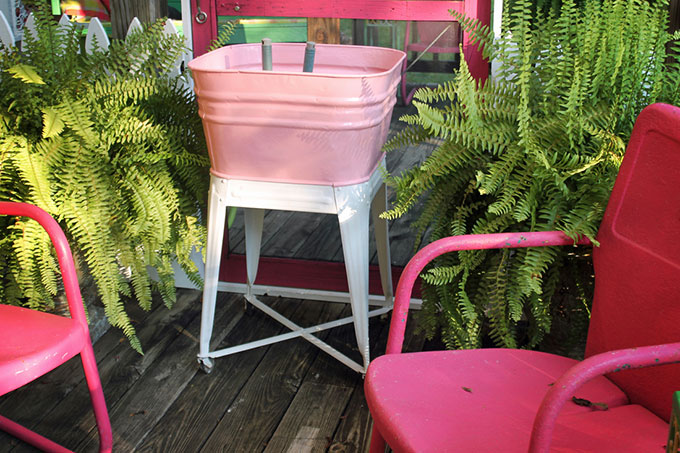 Gail took some shutters and an old unused desk to make a cute repurposed one. And it's blue . . . who doesn't love blue!
My Repurposed Life's Potting Bench Made From Repurposed Shutters And Desk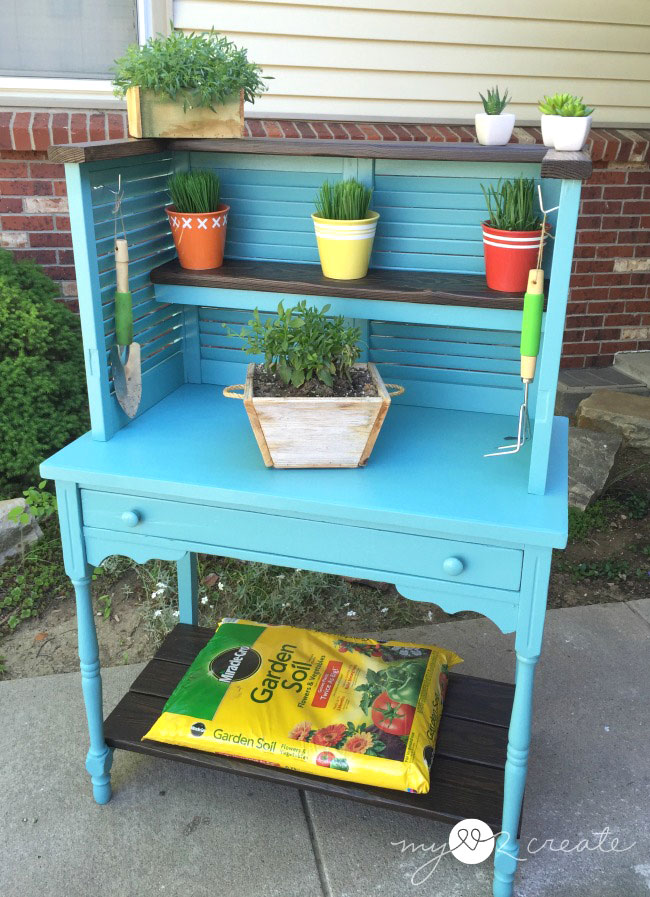 Jeanette at Snazzy Little Things has free plans for this cool looking DIY Potting Bench for the deck.
Snazzy Little Things' DIY Potting Bench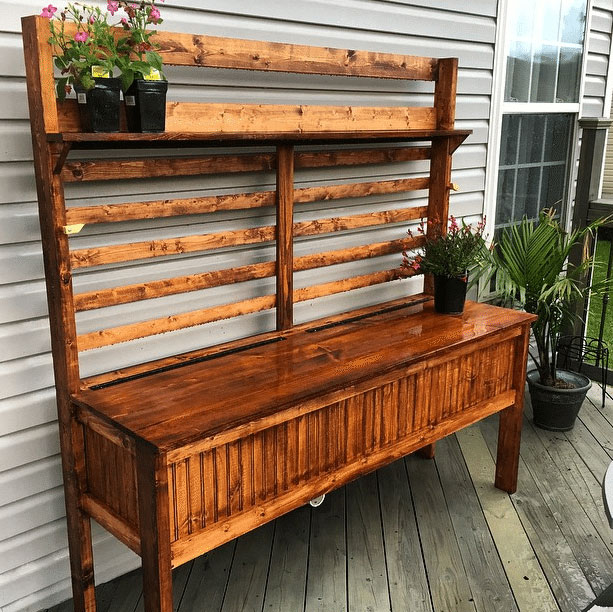 And finally we have Kristen's potting area made from a yard sale find!!! You gotta love a girl who isn't afraid to redo a $1 yard sale treasure.
Ella Claire's Simple yet utterly adorable Repurposed Potting Bench Area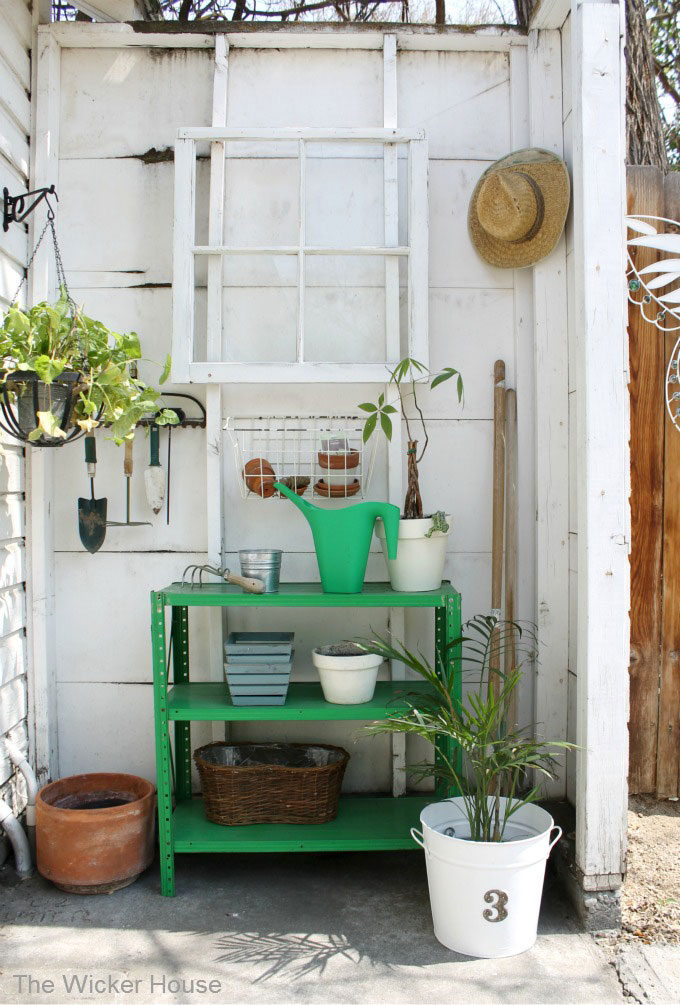 Are you making a potting bench this year? If so, I'd love to see it!