It's the most wonderful time of the year . . .
No, it's not Christmas, it's planting time!
I realize that if you're reading this from Alabama, you're all like "You're late to the game, girl!".
And if you're reading this from Minnesota, you're all like "There's still 2 feet of snow on the ground, eh!".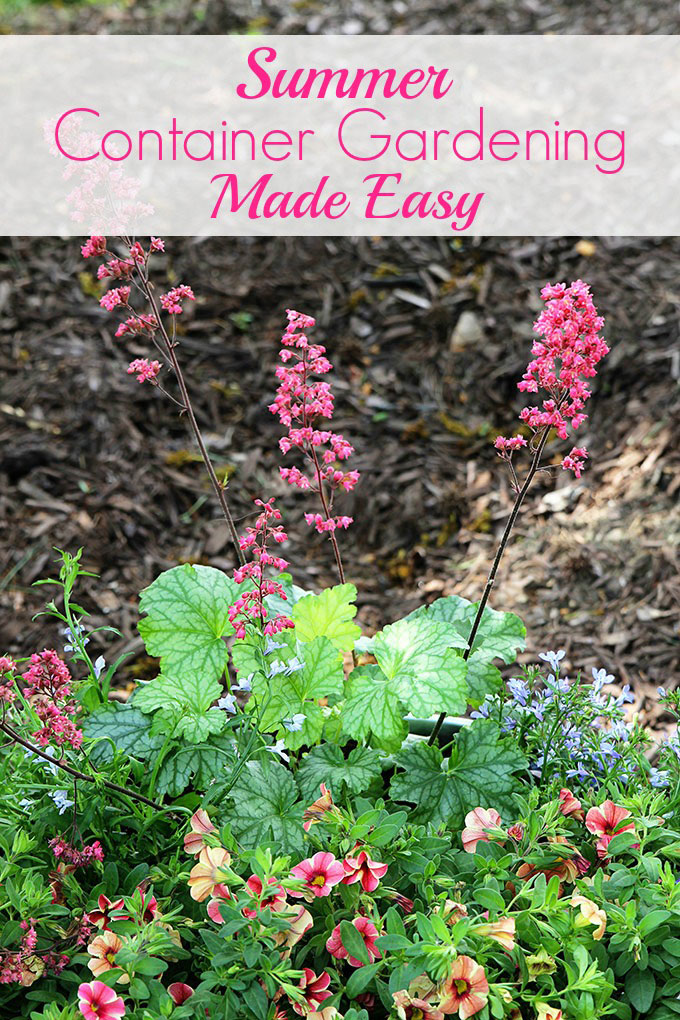 But here in the Midwest, it's GO time!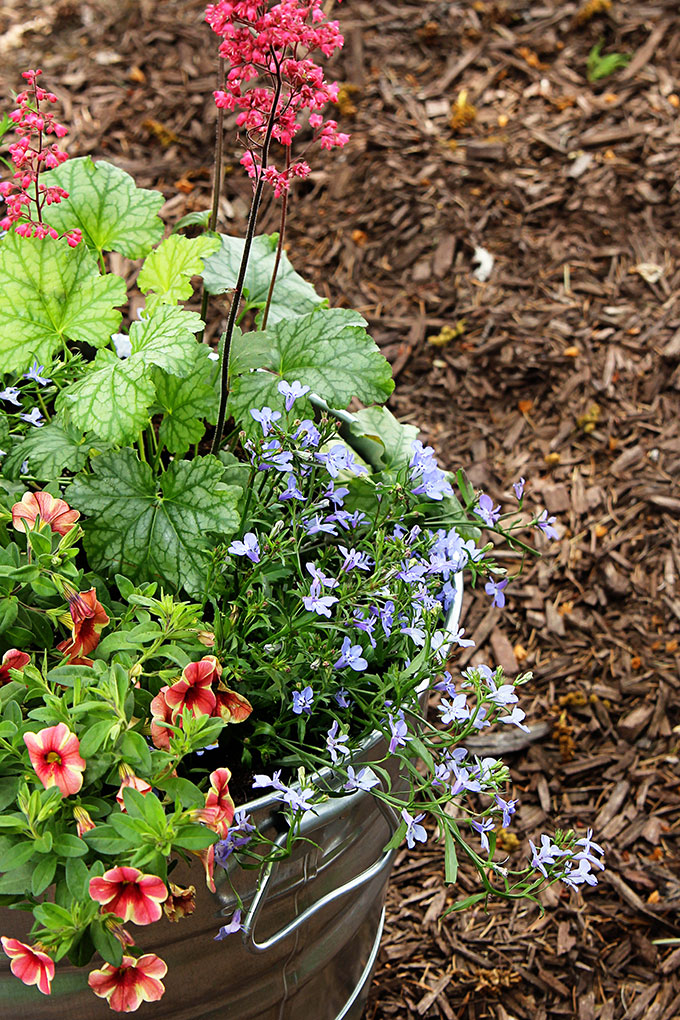 When I was a kid my mom used to buy her flowers from the local grocery store, except it wasn't a grocery store as much as it was something out of the Walton's. Ike Godsey's had nothing on this place.
You could buy meat and cheese right alongside your overalls and barn mucking boots. But they also sold some annuals.
On one hand, they were inexpensive. On the other hand, they were dinky and sickly looking.
My mom would buy those spindly, yellowed geraniums and petunias and baby them along.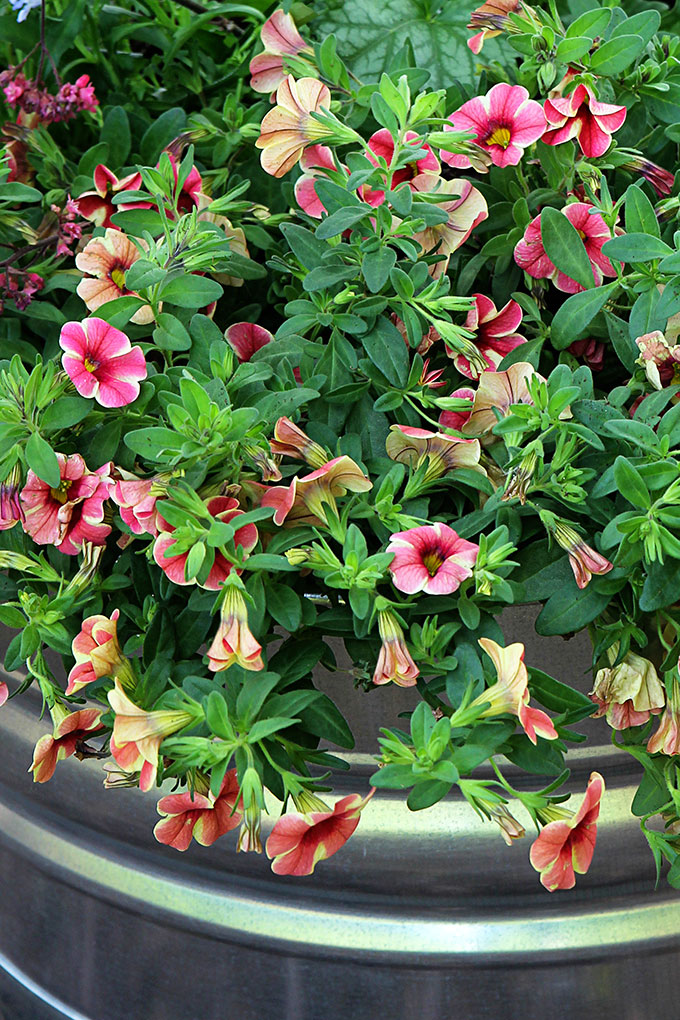 All summer long.
Until finally around September they would FINALLY start looking like something. I admire her gumption, but I like a little more instant gratification in my flowers.
Today you can just walk into your local Lowe's and the plants are already putting on a good show. Lowe's carries Monrovia plants which are always pretty darn healthy looking too.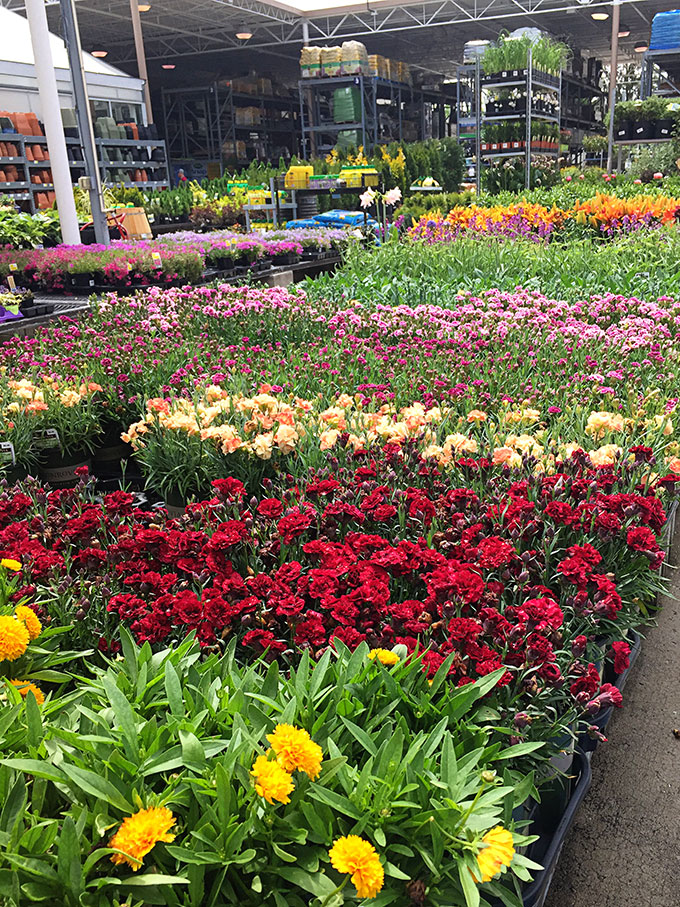 I try to grow some things from seed myself, but for my perennials and "anchor" plants, I prefer to buy hardier plants.
I think it's a throwback to my mom's small town grocery store plant buying days.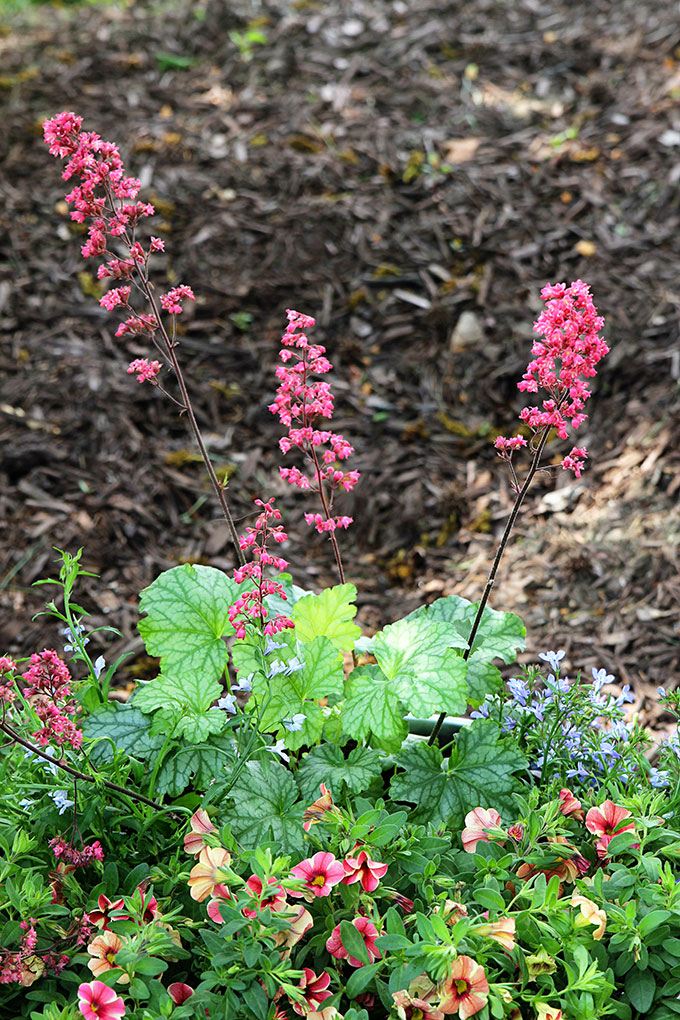 For my planter, I decided on a coral bells, lobelia and calibrachoa. Coral bells is a perennial and my anchor plant for the container and the bonus is that in the fall I will plant it in the ground, so I'll have it to enjoy again next year.
It's like a 2 for 1 deal!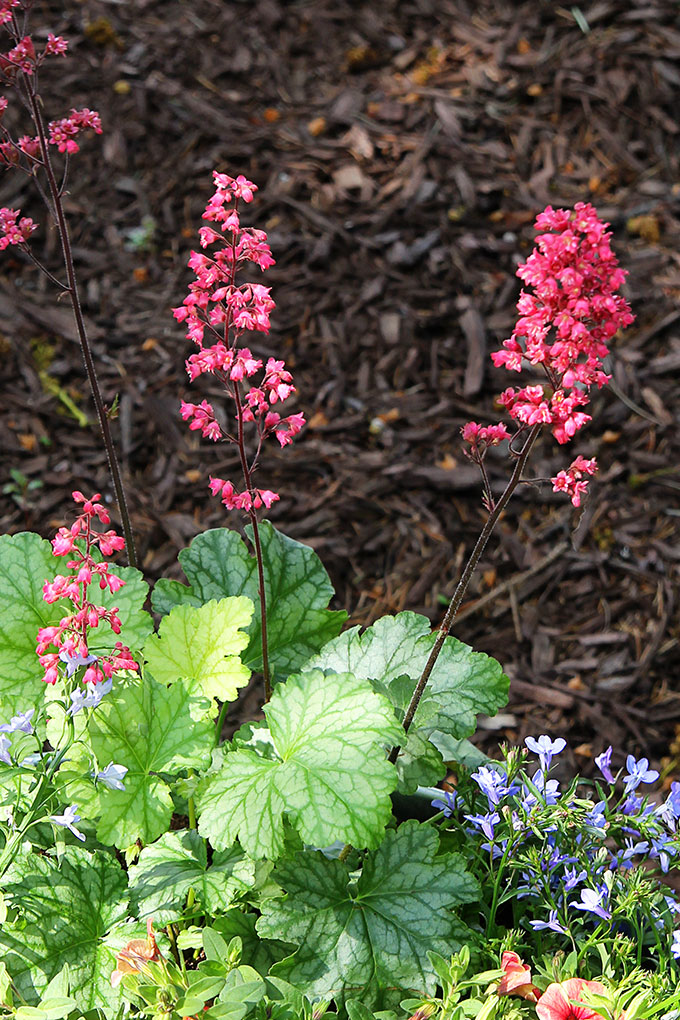 Preparing Your Container For Planting
I got all Steven Spielberg on you and made a movie! When do they vote for the Oscars?
If you prefer, you can watch an
ad-free version of this tutorial on my YouTube Channel HERE
.
Container Gardening Tips And Ideas
Think outside the box/urn for planter ideas. Almost anything can be made into a planter as long as it can hold dirt. Remember my chicken feeder planter from a few days ago?
Planning is key. When I'm going to the garden center I bring a diagram of my flower pots and ideas of what I might want to plant in them. It is way too easy to get caught up in the prettiness at the garden center and buy one of everything, so I find it best to have a game plan in place to keep buying under control.
If your container is huge, you can use styrofoam or plastic pots in the bottom to take up some room. This way you use less potting soil (that stuff can get expensive) and your pot won't weigh a ton.
Make sure your container has a way for the water to drain out. Nobody likes to have wet feet.
Gently loosen the roots when taking the plants out of their plastic pots. I normally stick my thumbs up there and gently split the bottom of the plant a bit.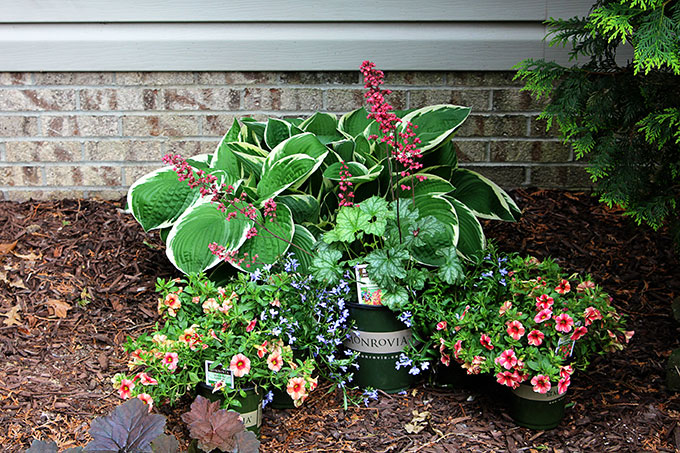 (Disregard the hosta that photobombed this picture)
Plant Selection
Depending on the size of my container, I like to use at least three different plants.
You should ideally have one plant that is taller (my coral bells), at least one plant to spill over the edges a bit (my lobelia) and one plant to fill in the empty space (my calibrachoa).
I like to have at least one plant with interesting foliage.
Plants should have similar light and watering needs.
You will be placing the plants much closer than if you were planting them in the ground, so buy enough plants to FILL the pot.
And my biggest tip is to step out of your comfort zone and go a little wild! If you normally plant petunias, pick up a clematis! The worst that can happen is it dies, but at least you tried something new!
The plants I used in my container are:
Techno Heat Lobelia (Lobelia erinus Techno™ Heat)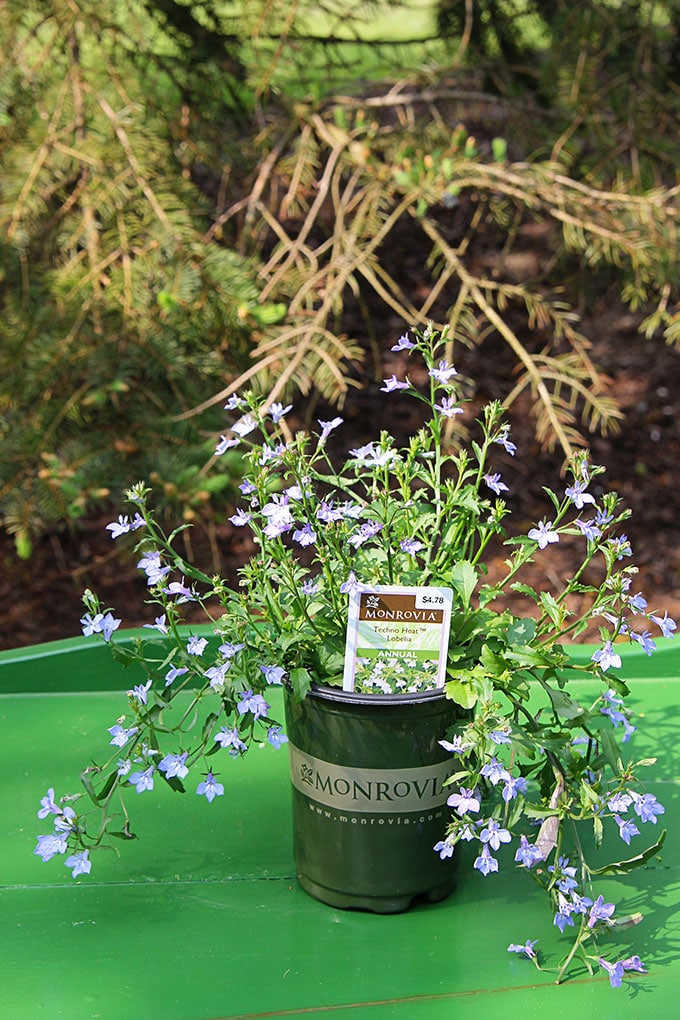 Tips For Growing Lobelia
full sun to partial shade
blooms spring through summer
grows 8"- 12" high
likes semi-moist soil (moist, not soggy)
this form of lobelia is bred to stand up to intense summer heat unlike previous varieties which sort of petered out in the hot summer
BTW, one of my most popular posts this time of year is my lobelia plant from a few years ago. It was the old fashioned kind and put on a great show, but did get a little parched later in the summer.
Aloha Kona Calibrachoa (Calibrachoa 'Aloha Kona')

Tips For Growing Calibrachoa
full sun
blooms spring through fall
grows 6"- 10" high
likes semi-moist soil (moist, not soggy)
gorgeous abundant flowers, no need to deadhead as the spent flowers drop off naturally (yay!)
you can pinch them back slightly in mid-season to rejuvenate them if they're getting leggy
Paris Coral Bells (Heuchera 'Paris')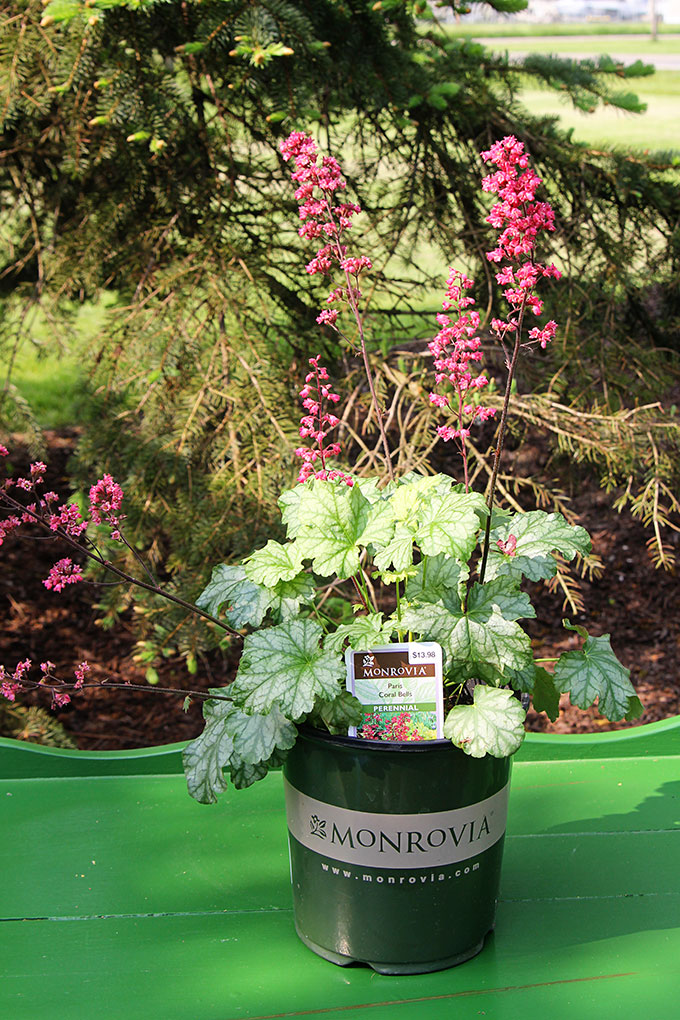 Tips For Growing Coral Bells
full shade to partial sun (some varieties can even take full sun)
blooms spring through summer
hardy in zones 3 - 9
grows 16"- 18" high
likes moist, well drained soil
the color of the flower spikes and the color of the foliage varies by variety. I have at least five varieties in my flower beds so far and plans for more (they're my favorite, I tell you!)
And all together they put on a show that would put my hometown local grocery store to shame.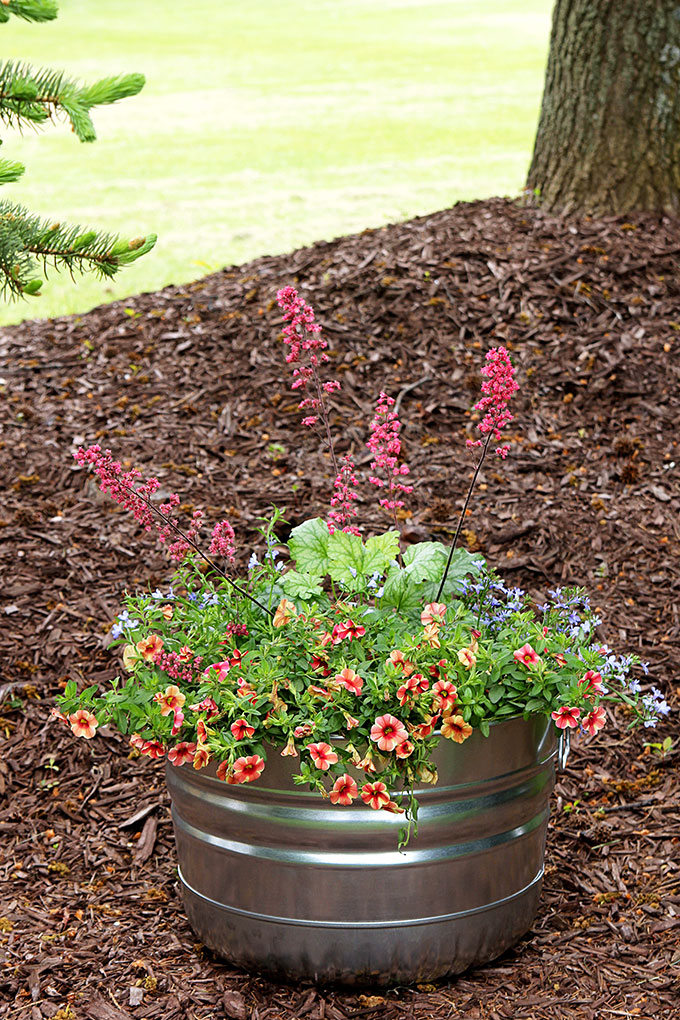 If galvanized containers aren't your thing, I also have a project on how to make planters out of baskets (without all the dirt and water just running all over the place).
Have you planted your containers yet this year?

Hey, if you liked that, you should check out these posts:
Ditch The Urns: Creative Garden Containers For Your Porch
5 Easy Steps To Beautiful Garden Planters
5 Favorite Flowers For The Garden
10 Outstanding Gardening Books: The Best Of The Bunch