Today is Thrift Store Decor Team Wednesday and for my project I'm going to makeover some Ball jelly jars I found at the thrift store.
They're called jelly jars because they're sized perfectly for canning small quantities of jams and jellies (you don't normally can huge pint or quart sizes of jelly, because no one can eat that much jelly before it goes bad).
Not sure why they're quilted other than they're cute. And the quilting is perfect for this votive holder craft idea, since the design makes the candle light bounce around nicely.
Of course you can buy these online, at the local crafts store or grocery store also. But when I saw a box full of them at the thrift store FOR TWO DOLLARS I grabbed them.
Ball Jelly Jar Votive Holders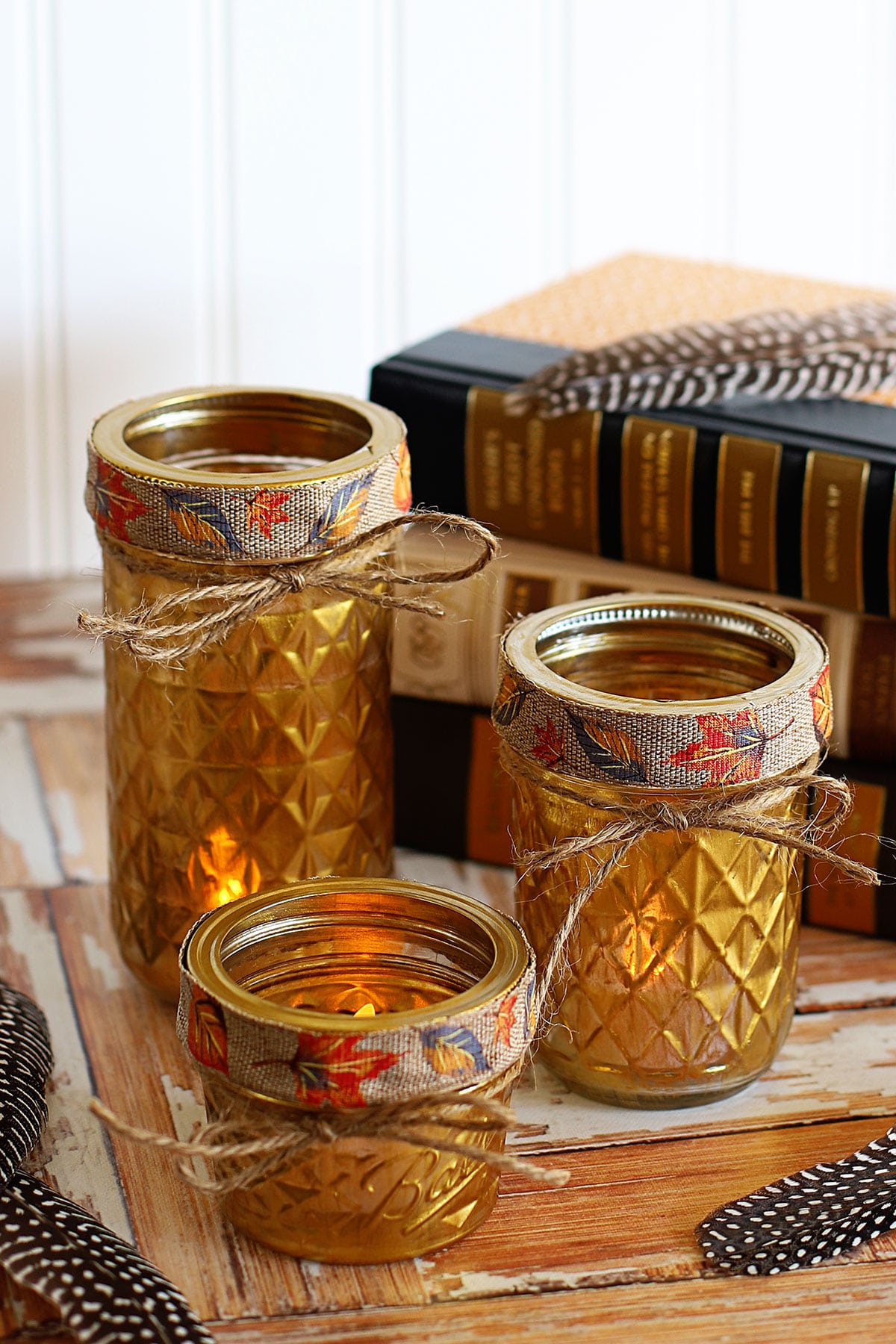 ✨ BTW, today is Thrift Store Decor Wednesday, so make sure your hang around to the end of the post to see the rest of the team's thrift store repurposes for the month!
(This post contains some affiliate links for your convenience. You can read my full disclosure policy here.)
Votive Holder Supplies
3-5 Ball Quilted Jelly Jars in Assorted Sizes
Metallic Gold Paint (Folk Art Gold Or - #5535)
⅝" wide Ribbon
Small Craft Paint Brush
Glue Gun with Glue Sticks
Scissors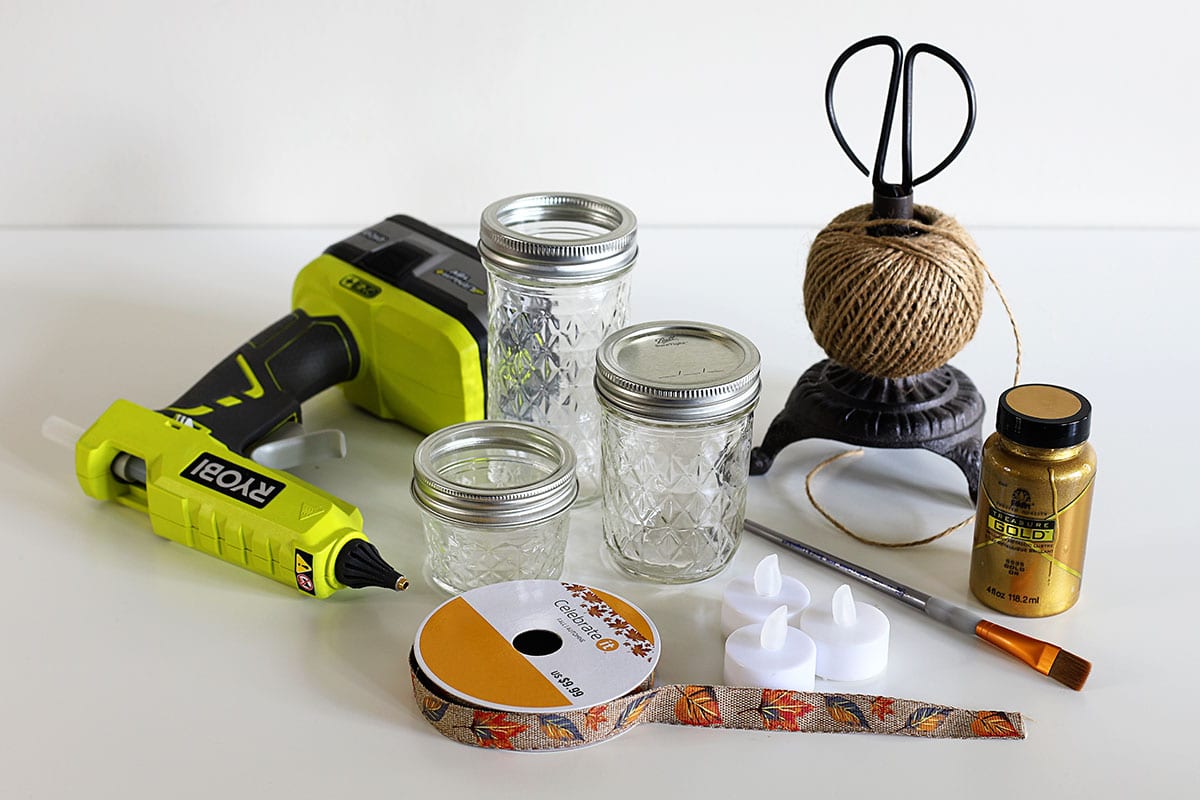 Votive Holder Instructions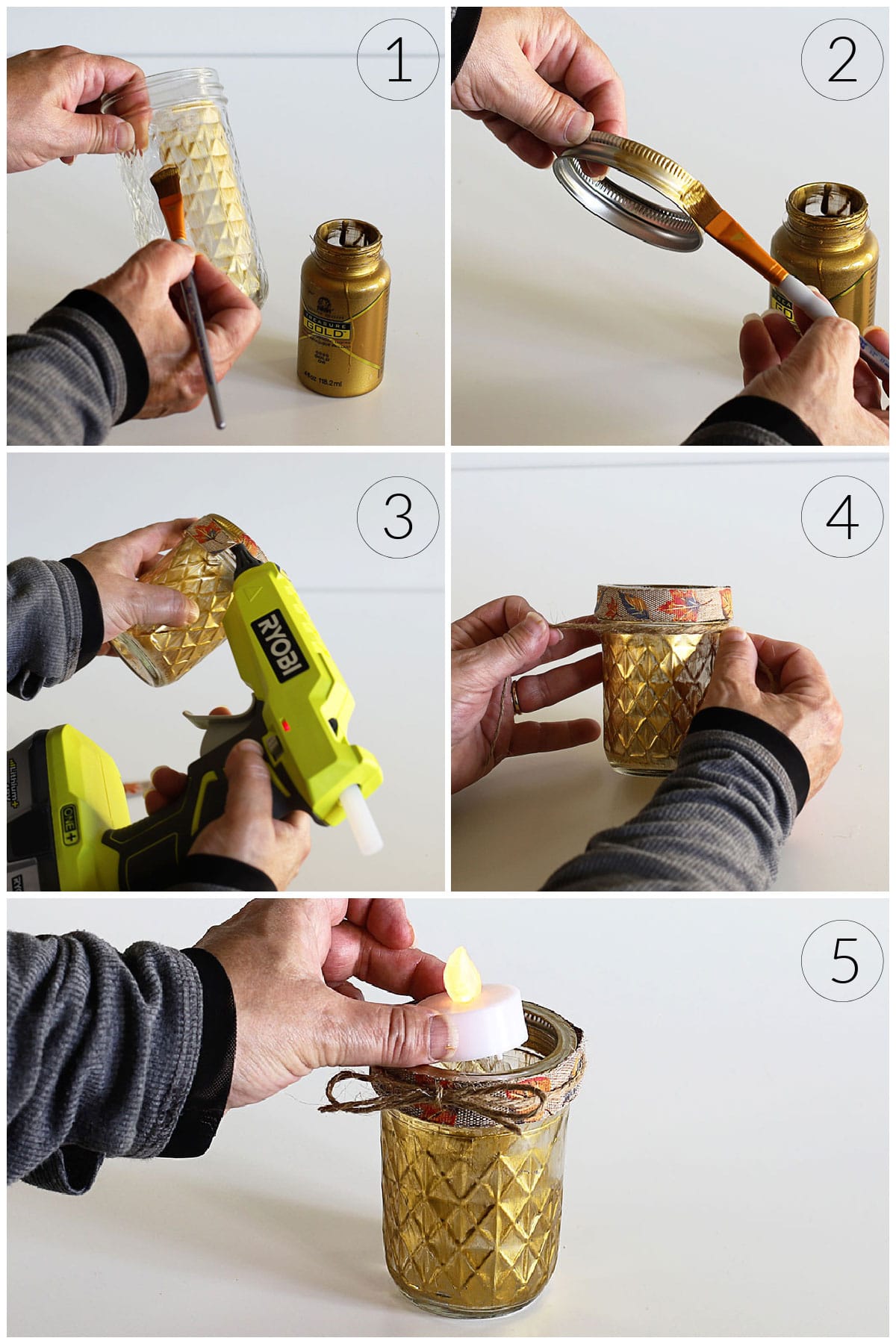 Time needed: 15 minutes.
Step By Step
Paint The Jar

Paint the exterior of the jelly jars with your paint color. I prefer the metallic colors, because they really add a nice sheen. I chose FolkArt's Gold Or paint for this project, but this paint comes in all different colors (I'm eyeing the dark blue quartz for another project I'm working on).

Just to clarify since the photo of Step 1 doesn't show all of it, I painted the quilted part and also the part where the lid screws on. So all of the outside of the jars, excluding the bottoms, were painted.

I used 3 coats per jar. This paint is made to be applied in multiple thin coats to achieve a bright finish. I could have stopped at 2, but went for 3 to make the color richer. With 3 coats it is still slightly transparent.

Paint The Metal Band

Paint the outside and top of the metal band (ring). Since I am putting candles in them, I did not use the solid metal part that sets in the middle if you are actually canning in these jars (the technical name is a lid, but I thought that sounded confusing).

You'll want to paint at least 2 coats on the bands.

Attach Ribbon

Using your glue gun, attach the ribbon to the band. I found it easier to do this after screwing the band on the jar.

Watch out for burnt fingertips, because believe it or not, hot glue on a metal surface feels like molten lava.

Attach Jute Roping

Tie your jute roping onto the jar. You can either tie it underneath the ribbon (shown in Step 4 photo) or on top of the ribbon (shown in Step 5 photo).

My ribbon was somewhat busy, so I ultimately decided it looked better to have the roping tied below the band of ribbon.

Insert Battery Powered Tea Light

Turn your battery operated tea lights on and slide them into the jars.

You may prefer the ones that come with a remote control, so its easier to turn them on and off without tipping the jars over.
And there you have probably one of the easiest DIY projects you'll ever find on my site!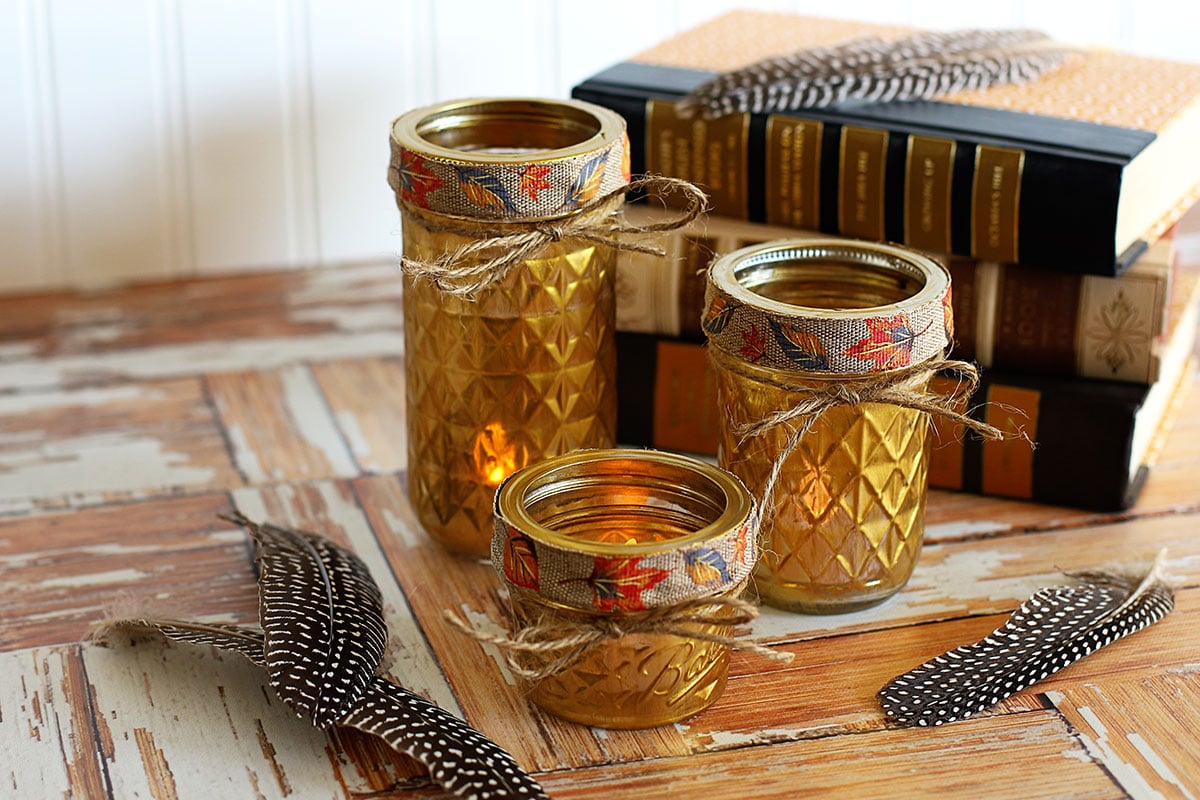 How To Make Votive Holders For Any Season
Since it's currently fall, I used the warm gold paint and a leaf ribbon, but you can make these for any season, holiday or even as wedding centerpieces.

You can easily change up the ribbon to make them more Christmas-like. Craft stores have tons of choices for ⅝" ribbon at Christmastime. And you might remember I did a similar project with chalk paint a few years ago in my Mason Jar Christmas Luminarias tutorial.

For Easter? Go with a pastel metallic paint and tulip ribbon.

For weddings? What about white or silver paint with a lace ribbon.
I could go on, but you get the idea.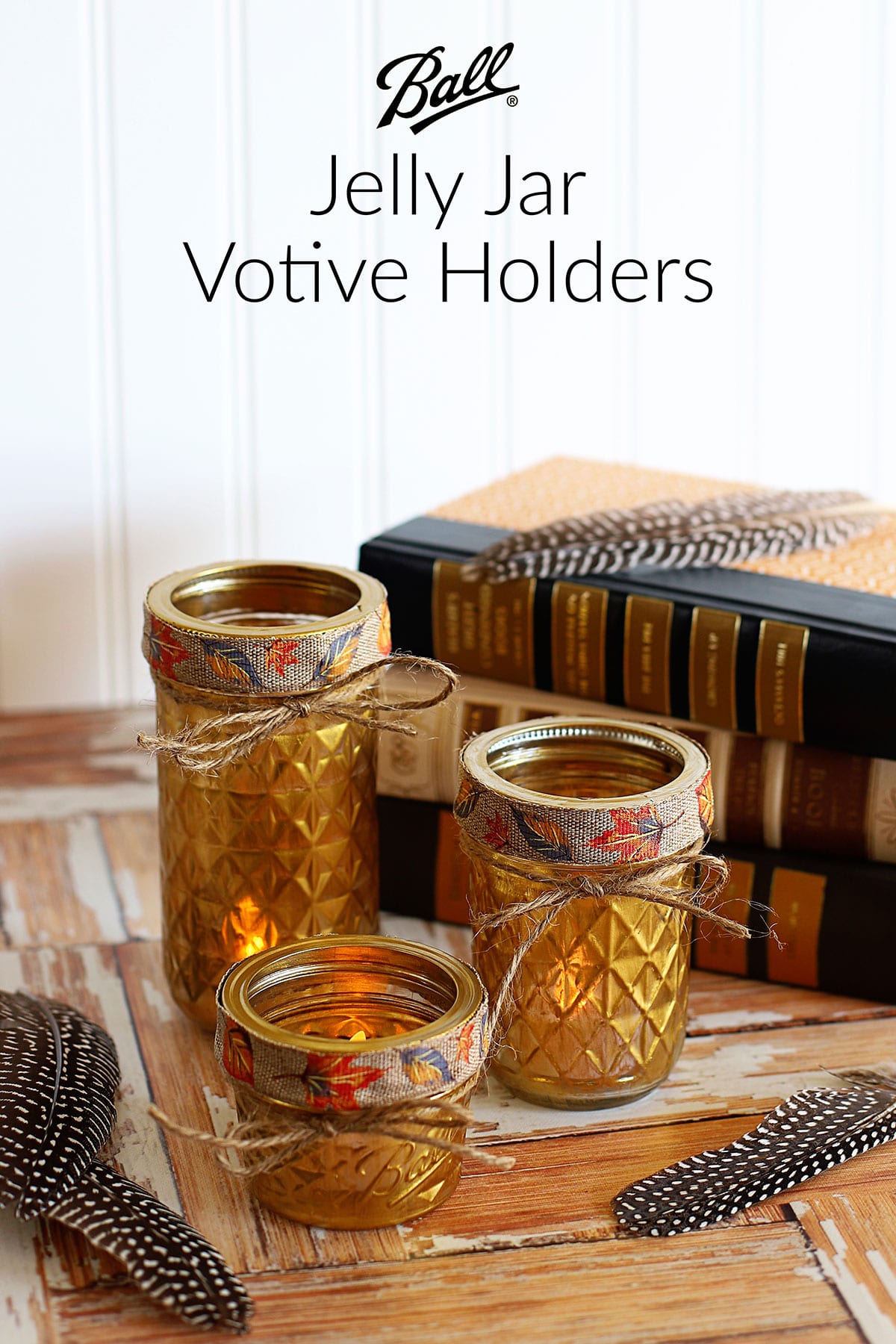 Now let's go see what the other Thrift Store Decor Team members are up to today!
Thrift Store Decor Team Projects:
Bar Stool Makeover/ - My Repurposed Life
Goodwill Shadowbox Fall Decor Makeover - Organized Clutter
Rustic Home Decor Wall Sign - Petticoat Junktion
How To Update Thrift Store Art - Our Southern Home
Boho Candle Holder (and Crazy Brass Cleaning Hack!) - Sadie Seasongoods
What To Do With Old Shutters - Reinvented Delaware
DIY Mini Succulent Garden In A Sugar Mold - My Uncommon Slice of Suburbia
Thrift Store Metal Pumpkin - Domestically Speaking
How to Make Pumpkins From Scrap Wood - Shop At Blu
Quilted Mason Jar Makeover - House of Hawthornes (that's me)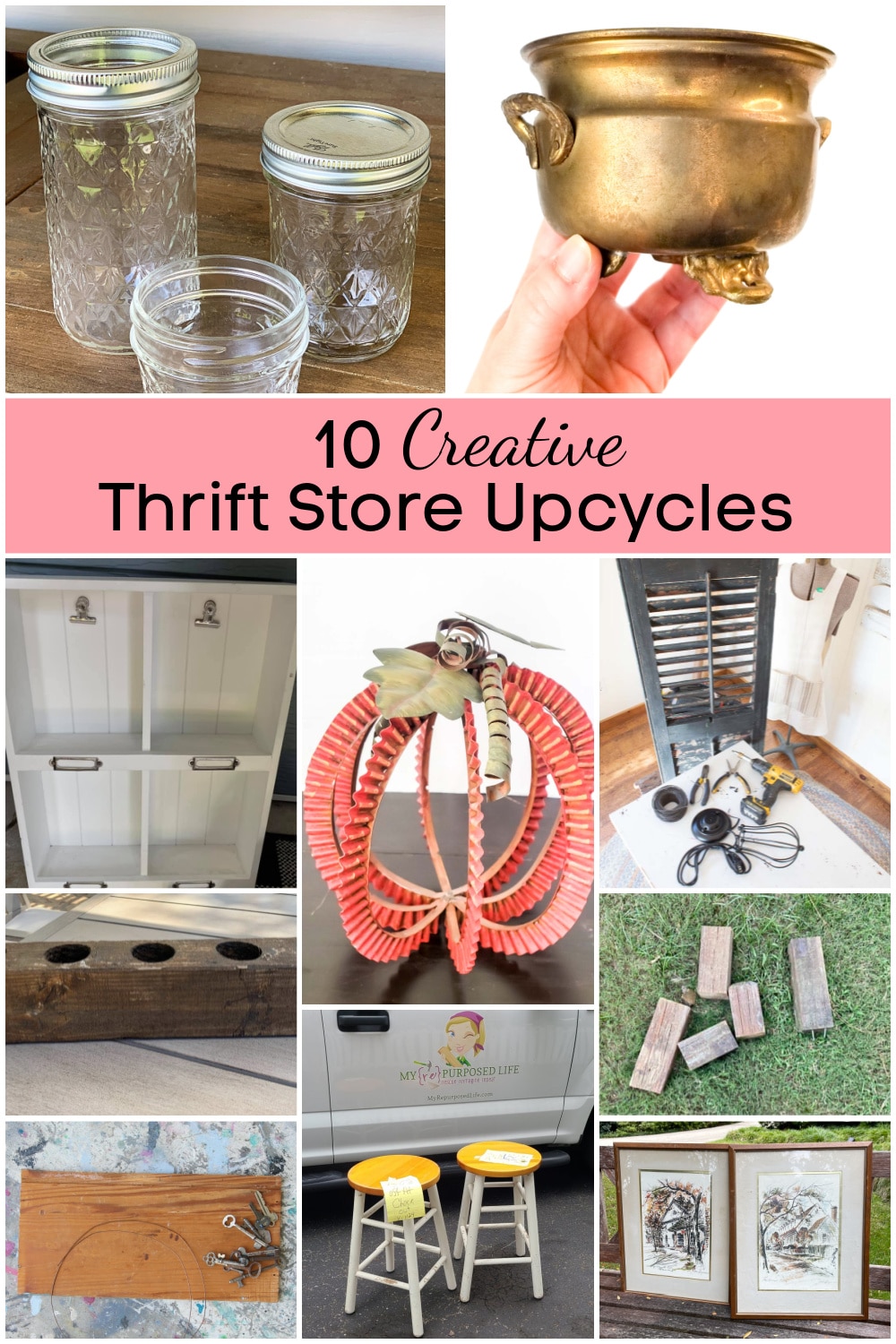 Check out the web story version of this article
HERE
.