This year I created a boho styled summer front porch using fun and funky thrift store finds.
It's an inexpensive way to decorate. And a great way NOT look like every other porch on the block!
Boho. Vintage. Eclectic.
Whatever you call it, it's F-U-N.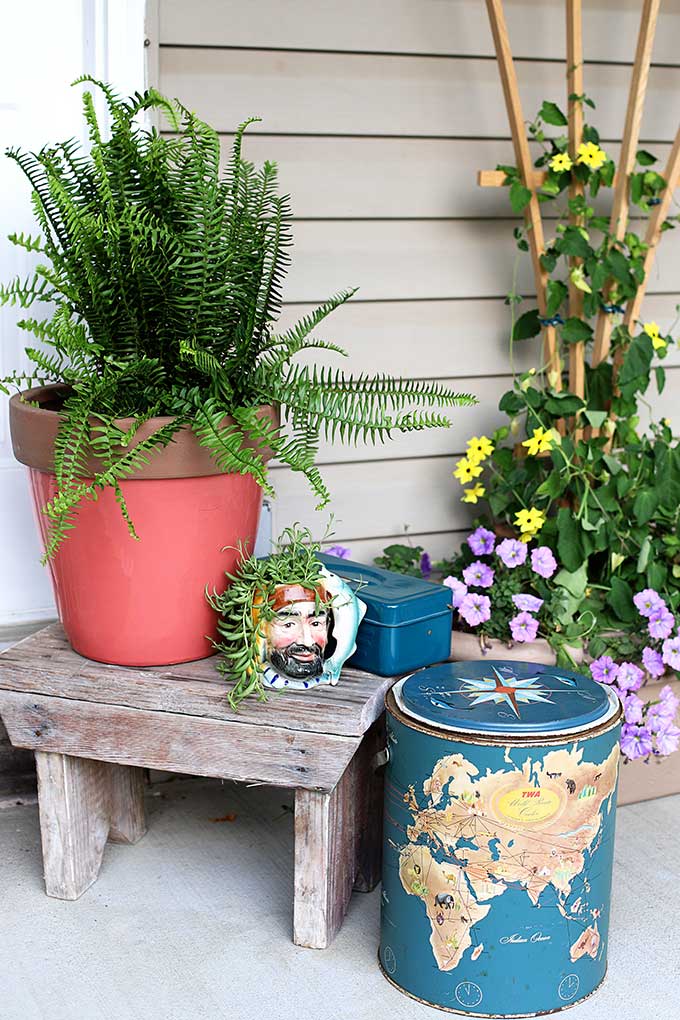 Let's throw on our bathing caps and dive right into the crazy, shall we?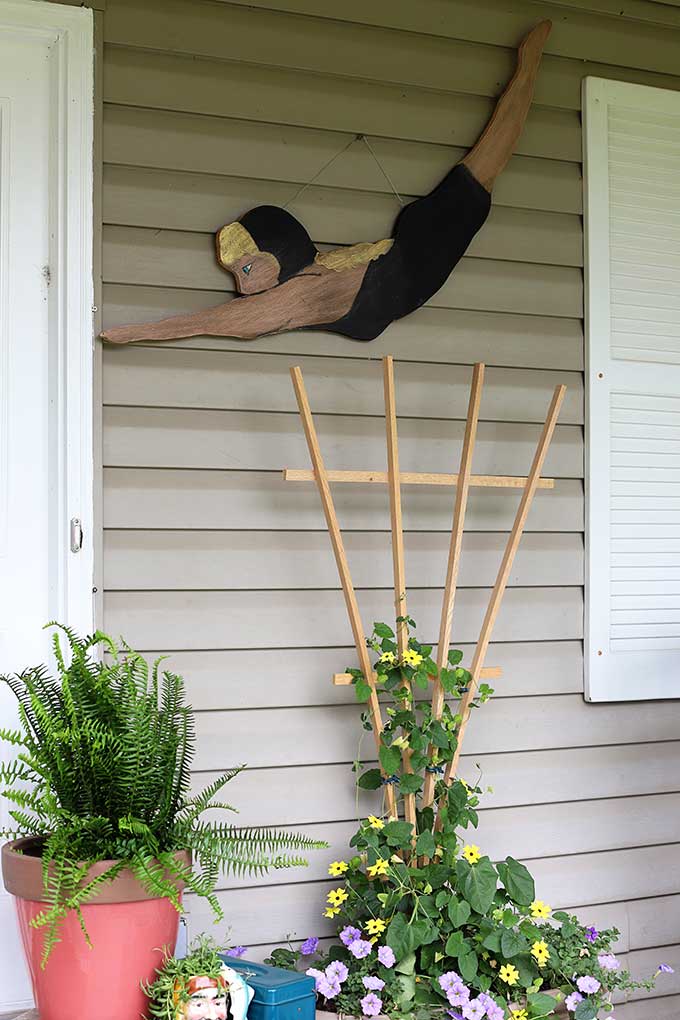 Last year I ran across this wooden cutout of an old fashioned swimming lady at a local antique store/boutique.
She's cut out of heavy plywood and hand painted and as soon as I laid eyes on her I just knew she needed to come home with me.
BTW, she's not vintage at all. One of the owners of the place had made a couple of them for sale in the shop and oddly enough there wasn't a huge demand for them. Which is NUTS!!!
She hung on the wall in my living room last year, but this year I decided I needed to share Esther (named after Esther Williams, of course) with the world.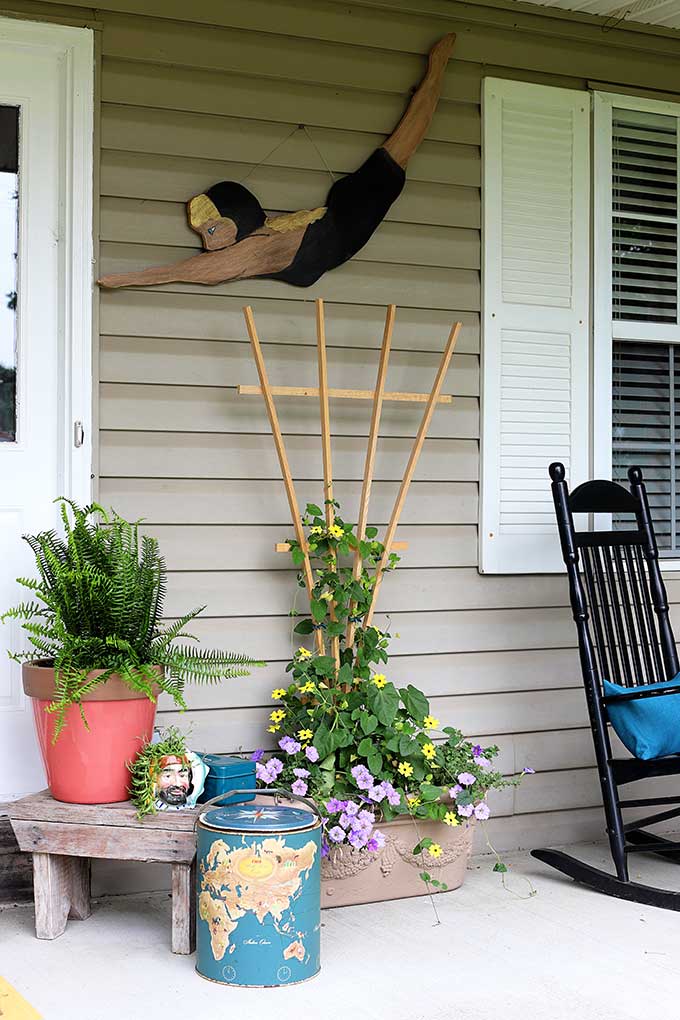 Speaking of the "world", when I ran across that vintage TWA World Route cooler I showed you in my last post, I was totally smitten. What's not to love about a map and all that gorgeous blue water.
I'm not sure if Esther ever swam in the ocean or if she was more of a pool girl, but I thought it sort of went with my theme.
BTW, I am so much a pool girl myself. There's fish and unseen THINGS in the ocean, so I tend to not venture out further than a few feet when at the beach.
Can anyone hear the Jaws theme playing in the background? Is that just me?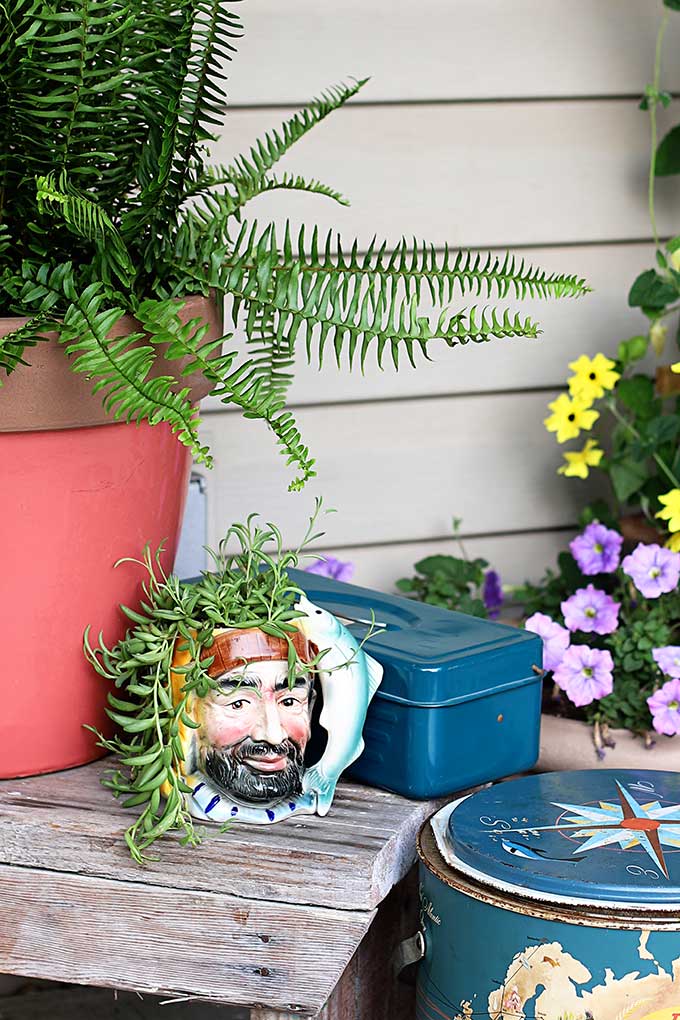 And then the fisherman head coffee mug just HAD to be added to the porch at that point!
That was pretty much of a no-brainer. But let's not make fun of the fisherman's head, or lack of, shall we?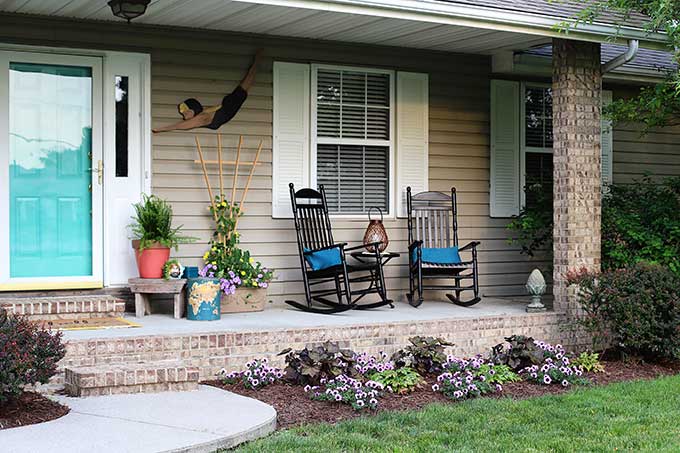 I actually sewed the blue pillow covers myself. I found the indoor outdoor fabric at JoAnn's and then spent three weeks getting up the nerve to use the sewing machine.
They weren't hard, but EVERY SINGLE TIME I pull out the sewing machine to sew something I have threading-the-machine issues. Or I run out of bobbin thread and have to make new ones. Or the machine eats my fabric.
Basically, my sewing machine is jinxed, so I put off sewing projects for as long as possible.
I have had the black rockers FOREVER. I bought them at Walmart probably 10 years ago. Maybe more.
They have held up remarkably well on the porch. It is covered, but it still gets rain blown onto it quite a bit.
I don't see these at Walmart anymore, but they have similar ones on Amazon.
I purchases the wicker type lantern at Lowe's. It comes in this size or a slightly larger size. It comes with a remote control for the candle, which is not vintage in the least, but it's sort of nice to be able to turn it on and off from my inside the house.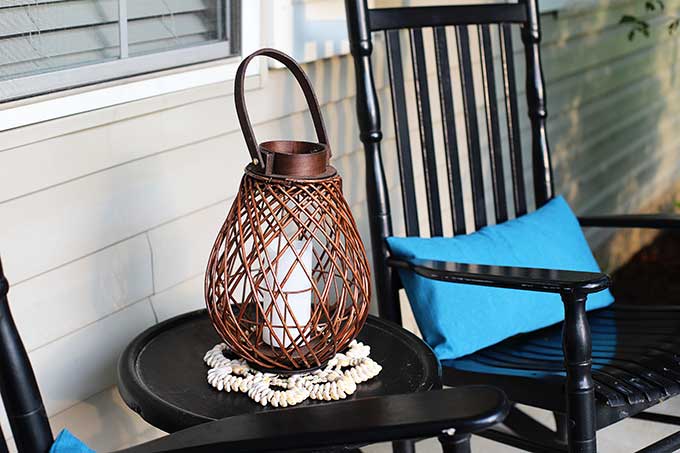 I know you're going to ask about the coral pink flower pot!!! It's cool, right?
Sadly, I can't tell you where you can buy your own. It's not vintage, I bought it new at a local garden center, but it was the last one they had.
The tag on it says it is made by Pennington and the color is Flamingo. I have seen Pennington pots at Home Depot and Menards although neither of the local Home Depot or Menards sell this particular style or color.
I have a feeling it might be last year's stock, mainly because I had to shoo a big old spider nest out of it, so I think it may have been sitting at the garden center for quite a while.
If I find it anywhere online (without spiders), I'll update you.
About The Flowers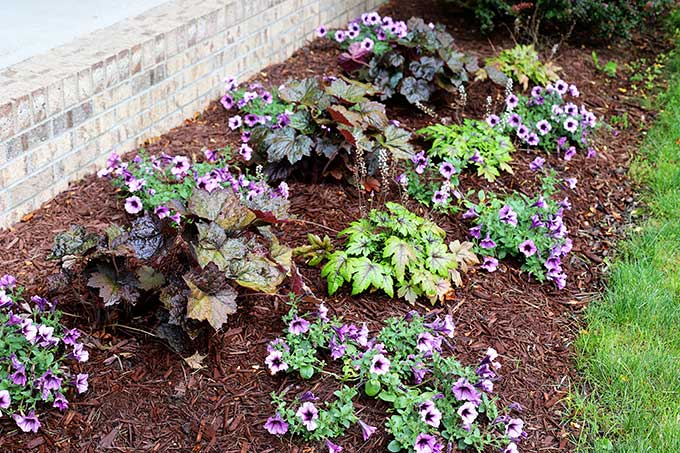 The purple petunias are an annual from Proven Winners and called Supertunia Bordeaux. They are full to part sun and grow like CRAZY! Just in the two weeks I have had them planted here they have doubled in size.
They are a mounding AND trailing petunia so they spread out quite a bit in your flower beds yet still have a mounded shape to them. And deadheading is not necessary since they sort of do that themselves, although they can use a little haircut later in the season if they get too leggy.
Sugar And Spice Foamflower is the pretty bicolored foliage plant with the little plumes coming off it. They are perennial and two of the foamflowers plants are actually from my fall foliage only planters I showed you how to make last September.
After fall was over and I was getting ready to make my Christmas porch planters, I transplanted the foamflowers into the flower bed. I often plant perennials in my porch planters and then move them to a more permanent home after the season is over.
It's almost like getting free plants. Almost.
The dark green plants with the purplish underside are also perennial and are called Heuchera (commonly called Coral Bells) and I have NO IDEA what variety they are. I divided some of my older Coral Bells this spring and I've long forgotten what variety these are. Maybe, possibly Harvest Burgundy or Purple Palace???
They will get flower spikes later in the season.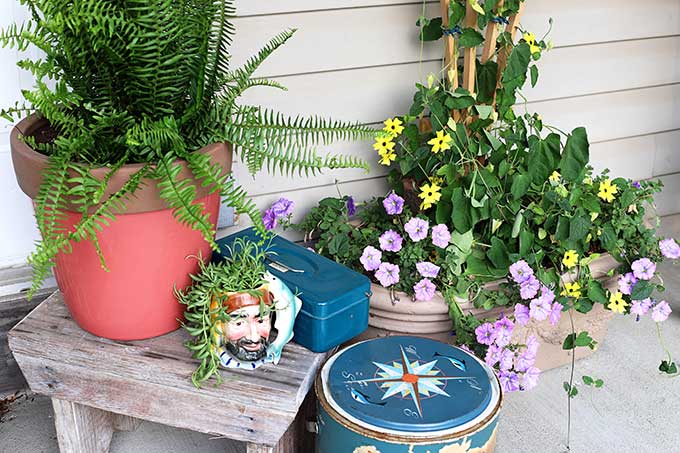 The flowers in the long planter are Supertunia Blue Skies by Proven Winners and Lemon Star black-eyed Susan vine.
For more on my beloved black-eyed Susan vines you can find out how to grow them on my post Black-Eyed Susan Vine aka Heaven On Earth. By the end of July the black-eyed Susan vine will have concurred the wooden trellis and may be working it's way up to twine around Esther.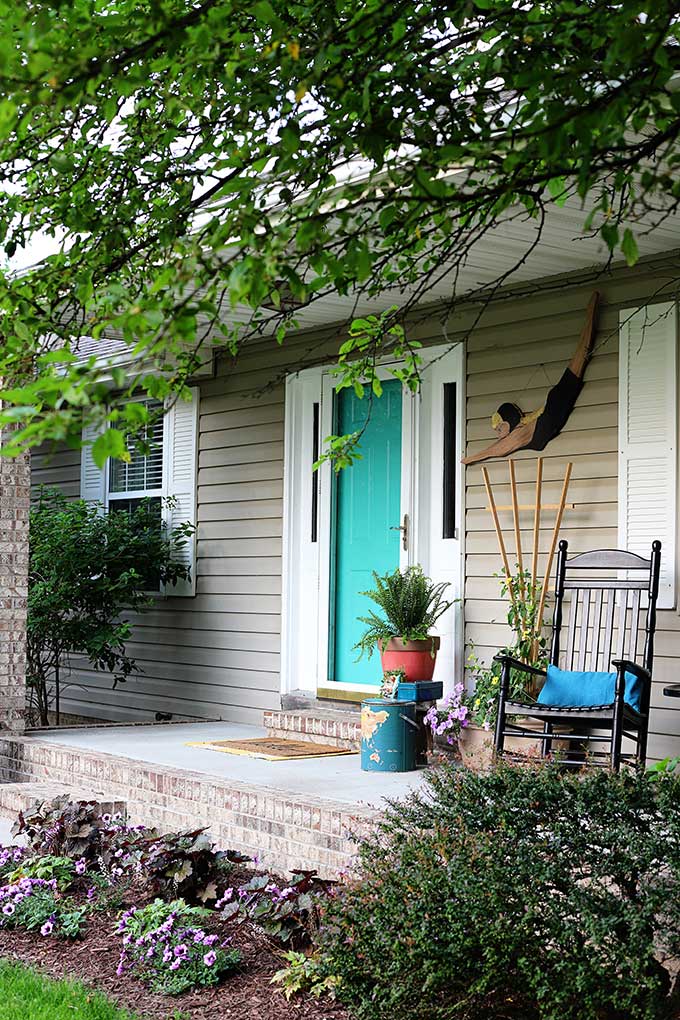 Where To Find Fun And Funky Decor For Your Porch
Thrift Stores
Yard Sales
Estate Sales
Amazon
Etsy
Grandma's Attic
And you can look for reproductions and vintage-inspired pieces at HomeGoods, Wayfair and Pottery Barn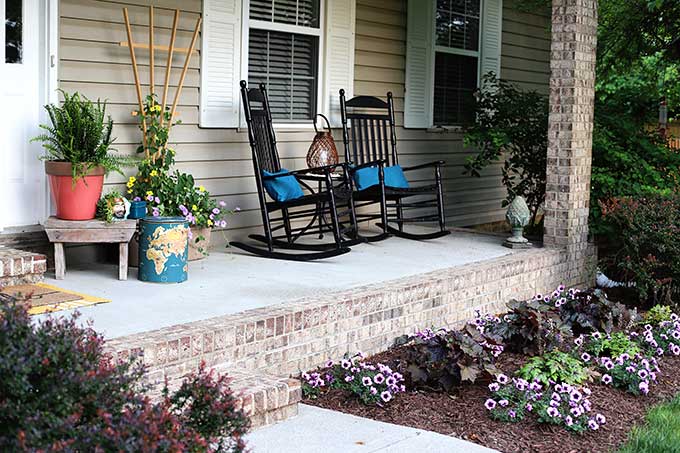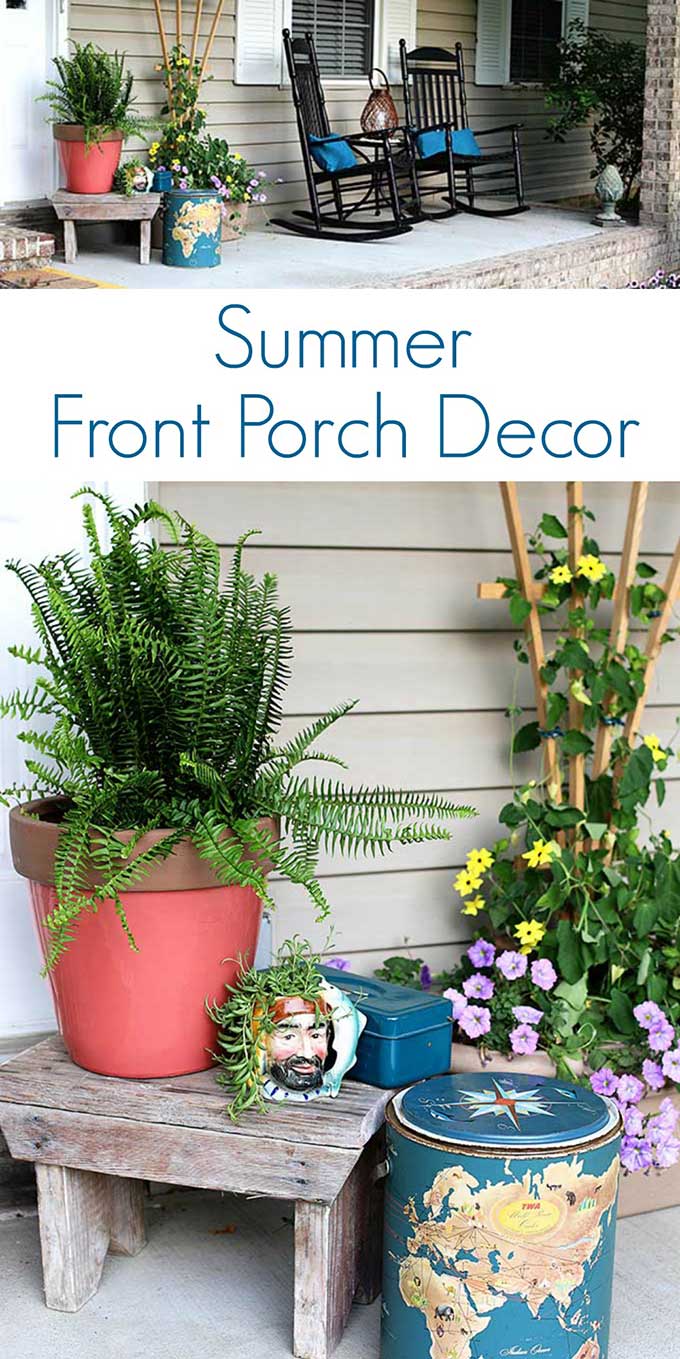 Other porch decor inspiration can be found on my Porch Decor And Inspiration Category Page HERE.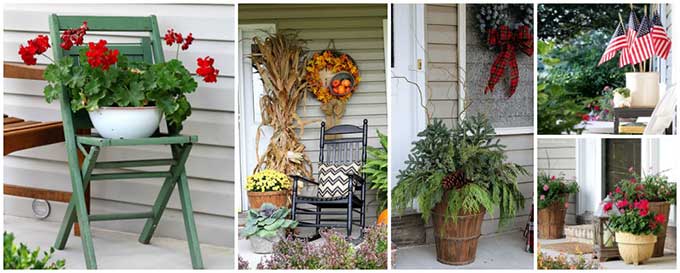 (This post contains some affiliate links for your convenience. You can read my full disclosure policy here.)