Summer is one of my favorite seasons of the year. OK, so there's only 4 to choose from, but summer not only has awesome weather it has lots of yard sales!
And with yard sales comes the opportunity to buy cool stuff to upcycle into even better cool stuff to decorate the garden.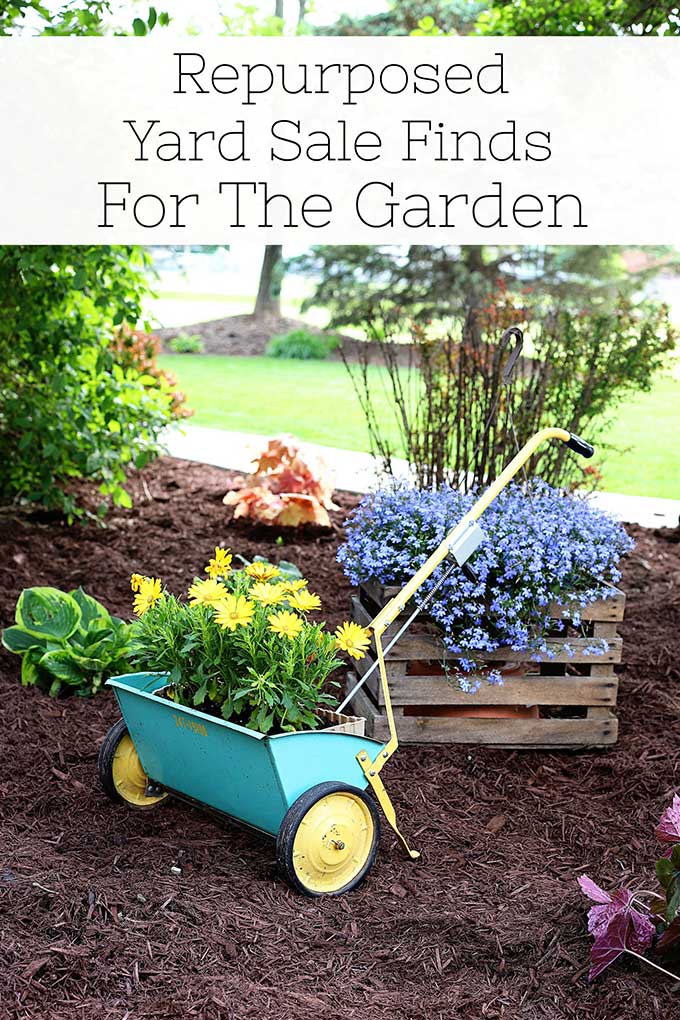 5 Super Common Yard Sale Finds You Can EASILY Repurpose Into Planters
Galvanized tubs and buckets
Wheelbarrows
Wooden Crates
Toolboxes
Toy Wagons (think metal Radio Flyer, not plastic Little Tykes)
Here are a couple of my latest finds and what I did with them.
Seed Spreader Garden Planter
I found this girl at a local down and dirty barn sale. When I first laid eyes on her from across the field I knew exactly what I wanted to do with her.
My cool aqua colored vintage Cross Country Seed And Fertilizer Spreader is a Sears Roebuck model. I have no idea of the actual age, but I would say somewhere from the 1960's - 1980's.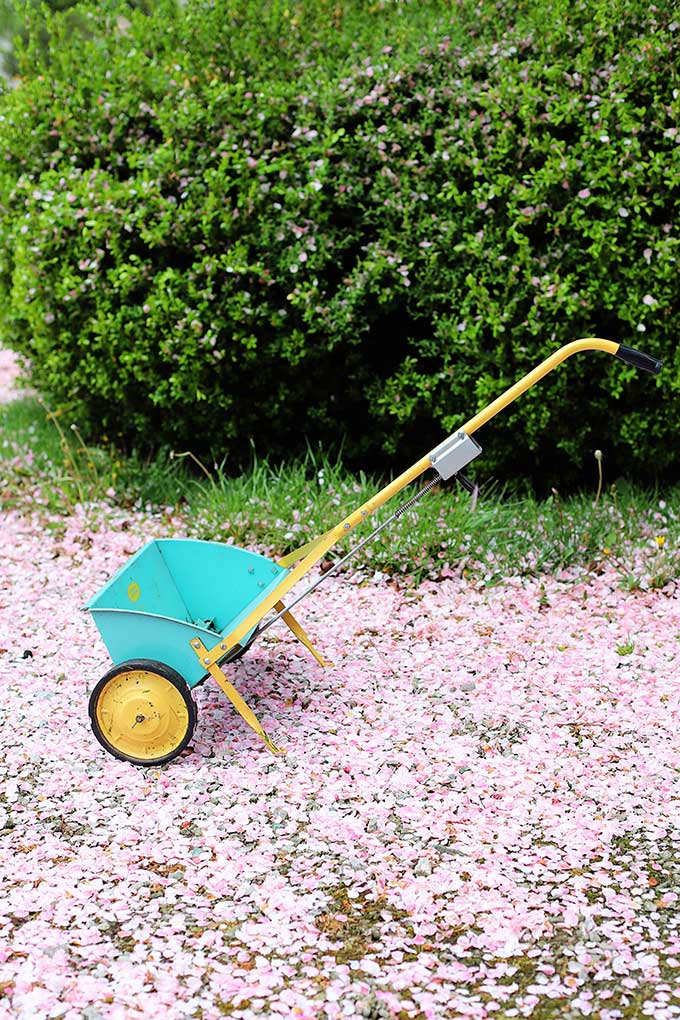 That's not snow in the photo, the day I brought it home the crabapple blossoms were falling all over the place.
My husband, who is normally a little leery of what's in the back of my van when I come home from my yard saling adventures, was actually excited when I pulled this out of the van. He thought I had FINALLY come to my senses and bought something useful.
Ha!
I had to break it to him that this baby was not going to do any actual work. This one was bought solely for her looks!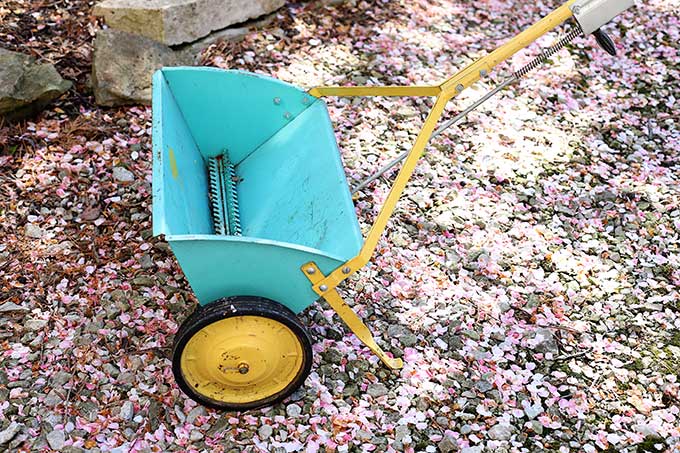 I simply found a planter box that would fit lengthwise in the spreader, cut off some of the excess that would stick out too far over the top and plopped it in the spreader.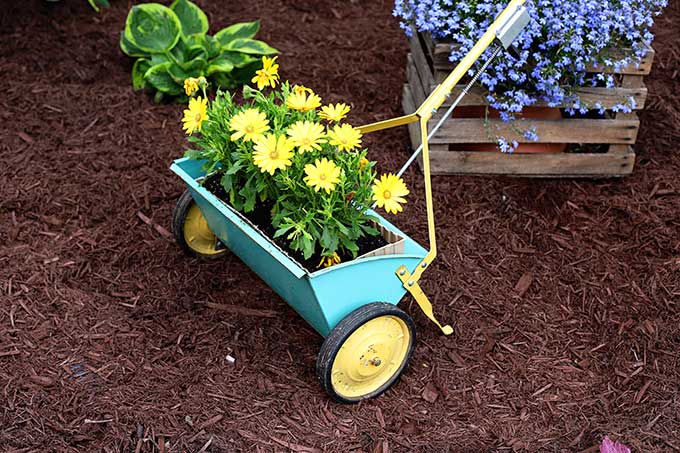 Of course, I could have planted directly in the spreader, but I thought it would rust too easily that way.
The yellow African daisies match the color of the wheels and the handle to perfection!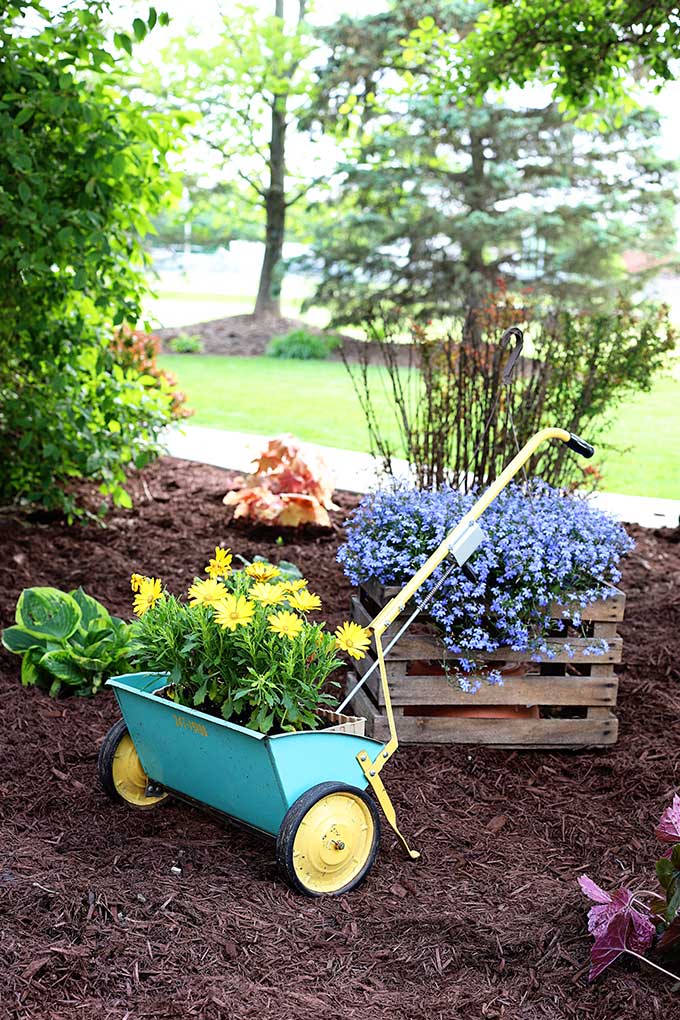 Psst - if you're wondering about that gorgeous blue flower in the crate in the background, I can hook you up with my Tips On How To Grow Lobelia.
Vintage Cooler Of Awesomeness Planter
If you've been around here for more than a few days you will have noticed I have a thing for vintage coolers and thermoses. Well, when I ran across this vintage TWA World Route Cooler I couldn't grab it fast enough.
I don't know what it was for or why it has TWA stuff on it, but the combination of the map graphics and the coolerness (I may have to trademark that word) of it is AMAZING!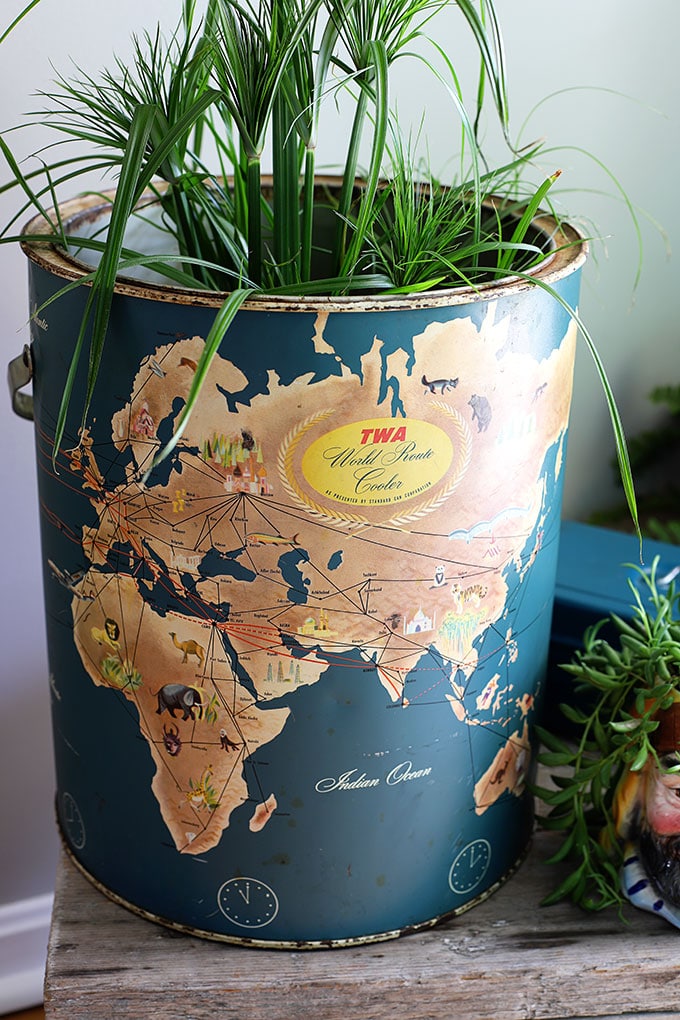 It says "As Presented By Standard Can Corporation" under the TWA logo. So thank you Standard Can Corporation, I am honored to accept this prestigious award and will gladly add it to my collection of cool and amazing oddities I didn't even know existed.
BTW, that plant is just setting in the cooler for right now. It's a Prince Tut grass plant and supposedly gets HUGE, so I will need to find another place to plant it. Preferably in dirt.
I'll pick up a faux plant for in there, so I don't have to drill drainage holes in my major award and all that stuff.
Besides my Thermos Lamp, I tend to not want to permanently hurt my vintage coolers and thermoses.
Coffee Mug Planter
And then we have my fisherman's head coffee mug that I planted a String Of Bananas in (the lesser known cousin to the ever-so-trendy String Of Pearls plant).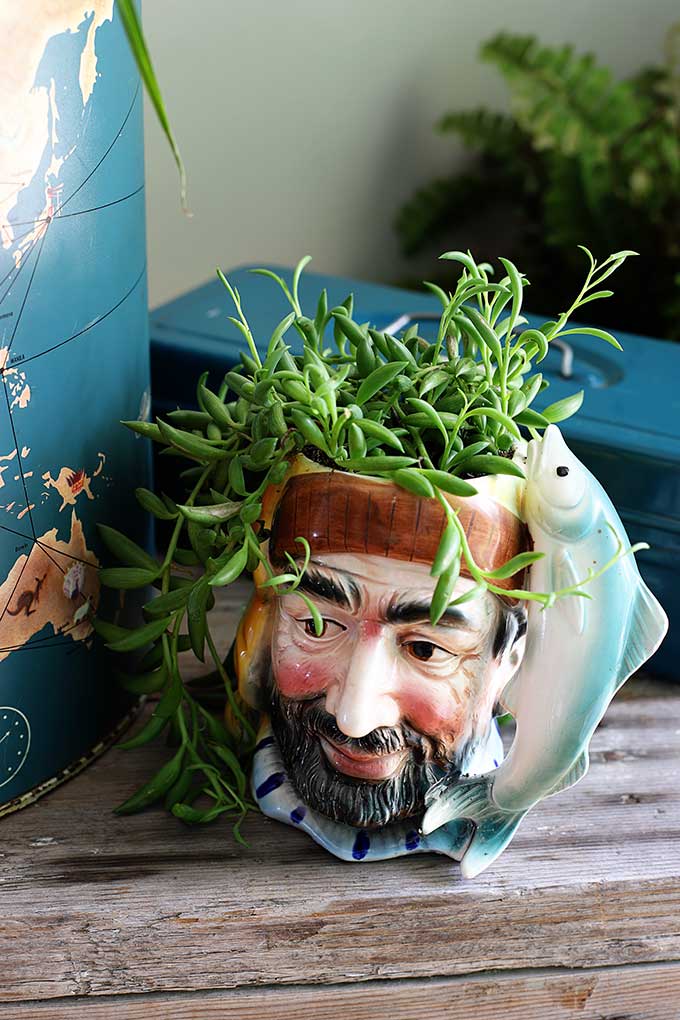 It's supposed to look like hair. Or maybe seaweed.
I picture him having had a hard day while out fishing on his boat, his boat gets capsized by a big wave and he ends up with seaweed in his hair and a fish trying to swim into his ear.
Oh, and I guess I should mention, this whole "setup" actually goes on the front porch. The day I took these photos it was VERY windy and the plants wouldn't quit flopping around, so I brought it into the foyer to photograph.
And would you look at that lid! I'm dying! In a good way.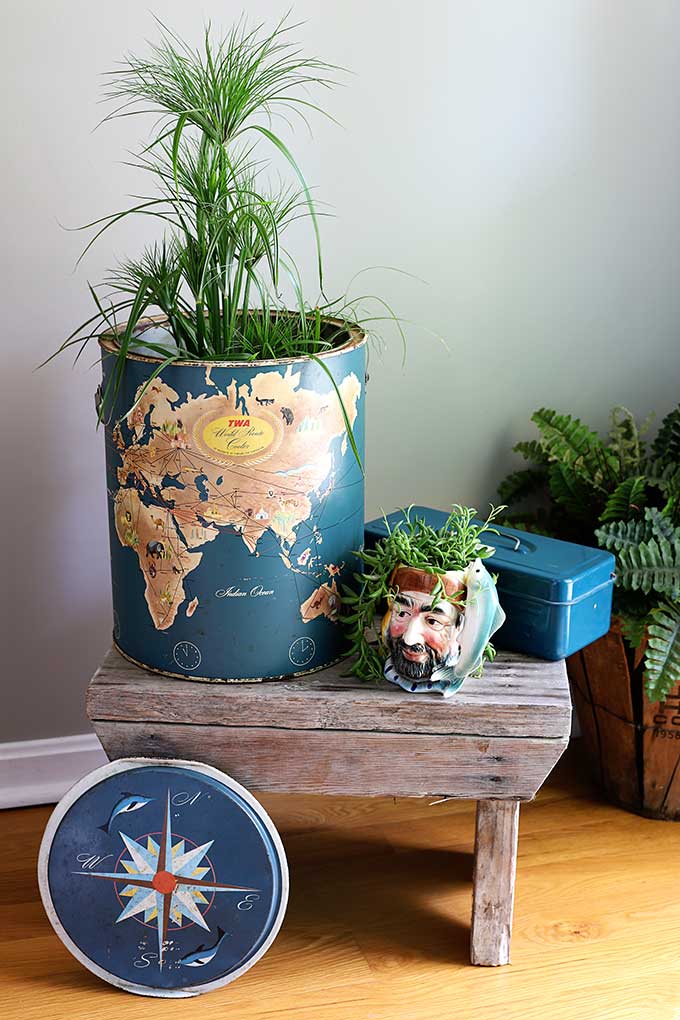 The "Repurposed" Whirligig
OK, so this one isn't actually a repurpose per se. You can't repurpose something into the same thing it was to begin with. Sheesh.
But when I ran across this cardinal whirligig I knew I wanted to keep it as a whirligig.
It just needed a little love if I was going to expose it to the elements out in my garden.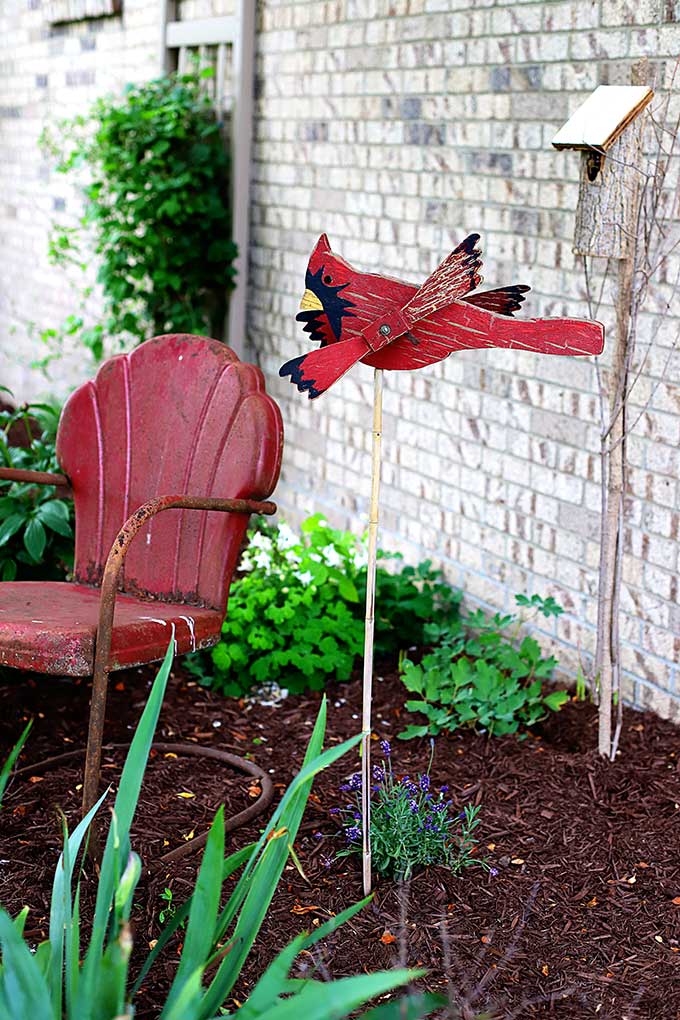 He's pretty old, discolored and a little chippy, but aren't we all?
I tightened up his screws and added black buttons for his eyes since he had no eyes to begin with.
But since I sort of liked the worn and chippy look, I just sprayed him with a little sealer and he's good to go for another 20 years. If birds live that long.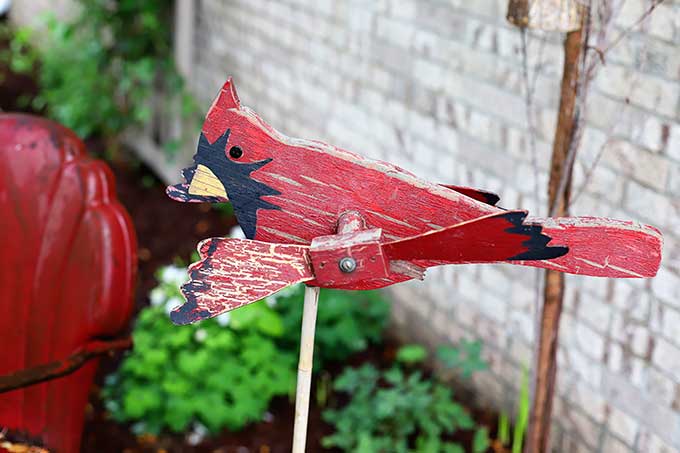 What have you found while out yard saling this year? Anything good for the garden?
Other Garden Upcycling Ideas:
DIY Rubber Boots Planter
How To Make A Birdcage Planter
How To Make A Succulent Planter Out Of A Firewood Log
Vintage Truck Toy Planter
Vintage Tin Dollhouse Turned Birdhouse
How To Make A Shutter Angel For The Garden