Have you seen some of the amazing holiday home decor people have been showing on their blogs this year? From Craftberry Bush's gorgeous wintery tree to The LilyPad Cottage's cozy ski lodge inspired decor to Savvy Southern Style's Christmas sunroom, I am truly in awe of what people are doing in their homes to get in the holiday spirit.
I'm. Just. Blown. Away.
Well, I hope you got your fill of THAT kind of stuff, because today is going to be a little different. We're on another track here. Making a stop it Tackyville on the way to Kitsch City. On a train called Ugly.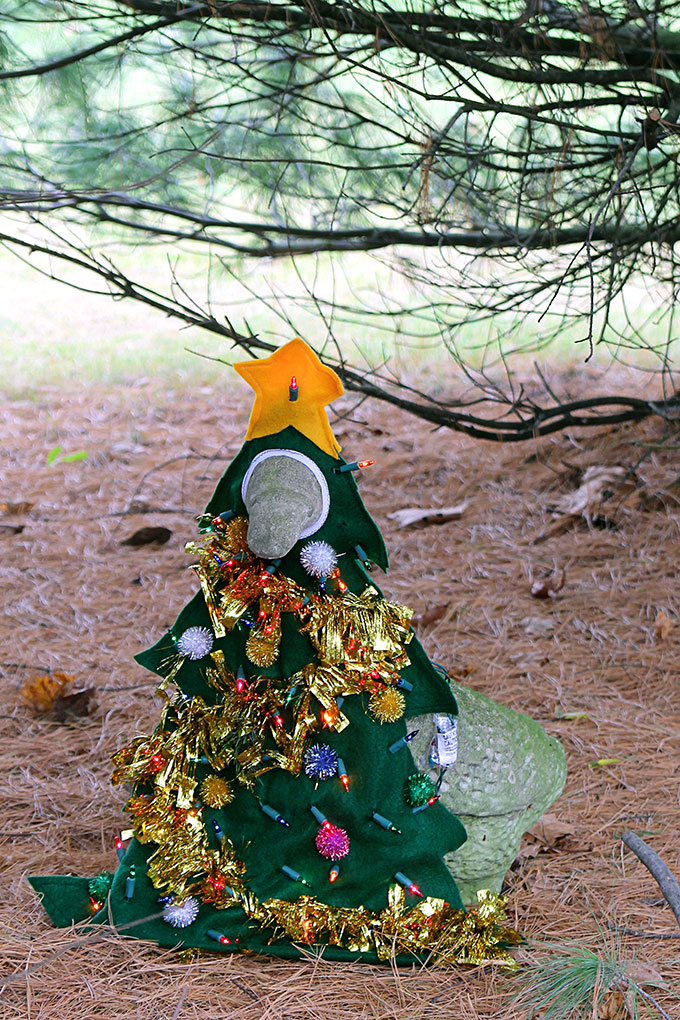 This is one of those concrete gooses that you would put on your front porch way back in the early 90's. With a lighted Christmas tree outfit on him. If only the lights were blinking we'd be all set.
Yep, that would be the icing on the cake.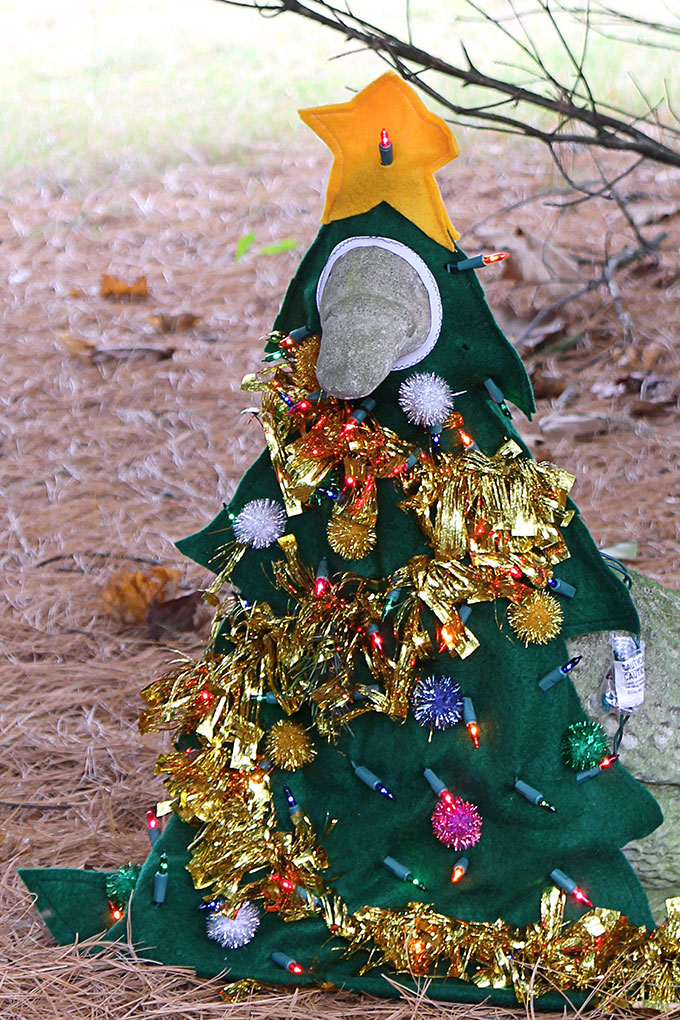 Hey, these concrete geese were all the rage back then.
People used to dress them up for the holidays. Little bunny ears and a basket for Easter . . . witch's outfit for Halloween . . . maybe a Pilgrim outfit for Thanksgiving.
Wow, did she find this nugget of goodness at the thrift store, you may be asking youself?
I actually bought this (not one of my proudest moments) years ago for the goose that was on my mom's porch.
Not sure why I've kept it all these years, but when I did my big Christmas decor purge this year (got rid of quite a few boxes of old 80's Christmas decor), I kept this one.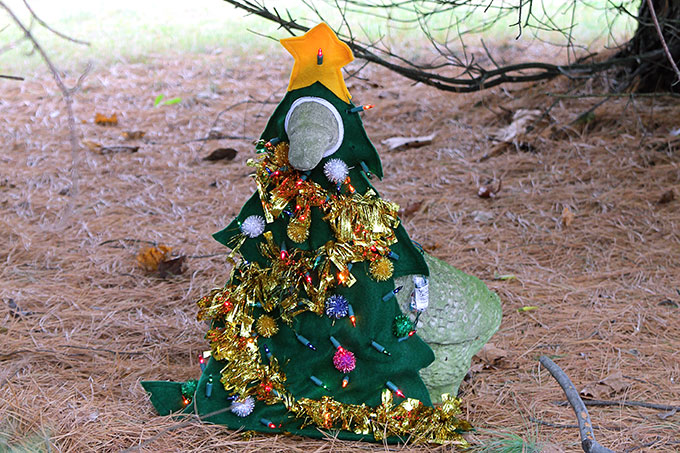 Disclaimer: I put it on the goose for these pictures and then quickly removed it and put it back in my "can't give away, but don't actually use" Christmas decor box.
I guess I keep it, because my mom loved it.
And that, my friends, is why I will never have a completely clean and organized house. If I can't get rid of THIS one, then I have a problem.
In other breaking news: Be careful what you wish for.
On the last post, I mentioned that I wish I were all caught up on holiday chores so I could relax and enjoy some sappy Hallmark Channel Christmas movies. Well, I have all the time in the world to watch Christmas movies now, my friends.
I spent the better part of the day yesterday at the ER getting my ankle checked out. I was certain I had broken it (judging by the loud crunch and accompanying pain) when I fell down the last two steps on the staircase in my house. But it appears I just have a severe sprain. I cannot put one ounce of weight on it, so there will be no more running all over town to pick up last minute gifts.
So if you need me, I'll be here watching all the wonderful Hallmark Channel movies and finishing up my holiday shopping online. And having the nice relaxing last few days before Christmas that I wished for. Damn wishes.