Ugh, Christmas is sneaking up on me and I SWORE this would be the year I would be all organized and have all my holiday shopping done by Thanksgiving and have all the presents wrapped, cards mailed and cookies made WAY before now.
And then I would have plenty of time to just relax and enjoy some sappy Hallmark Channel Christmas movies while sipping hot cocoa.
Next year. Next year is the year it's all going to happen!
So before the holiday smacks me upside the head, I thought I'd show you the rest of my holiday decor.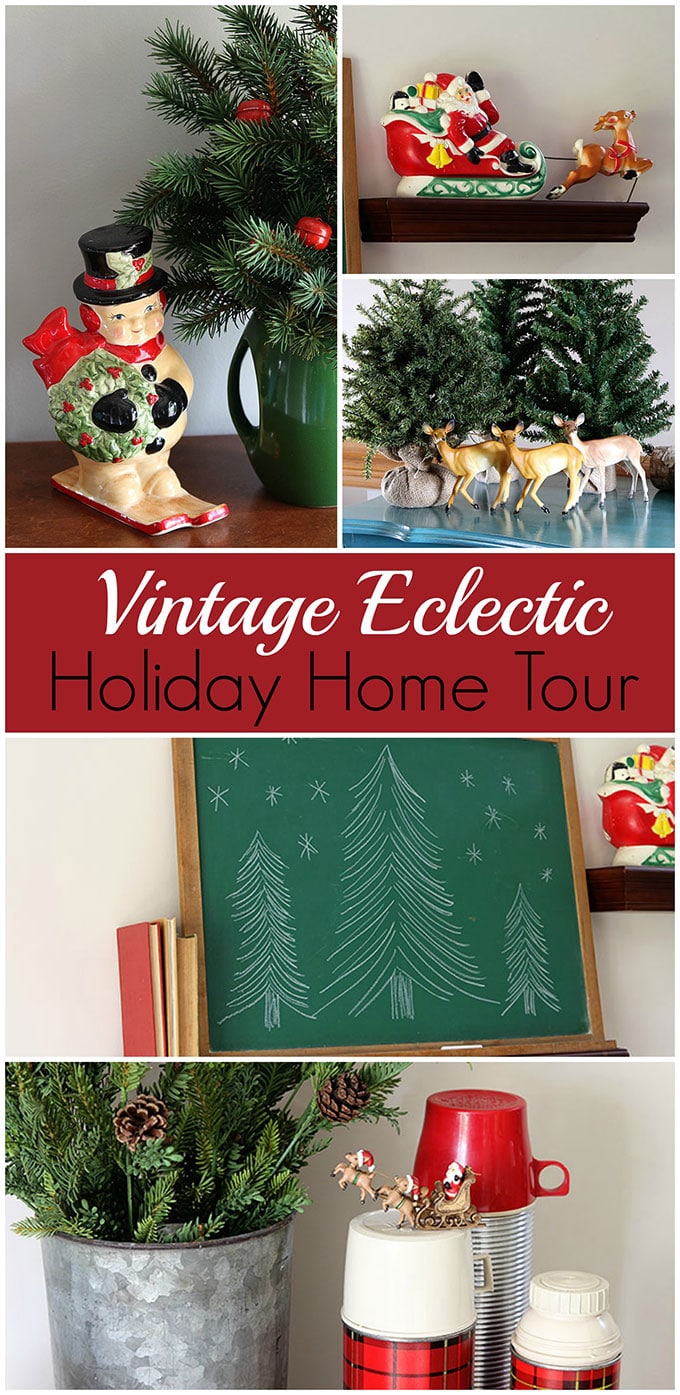 My Vintage Eclectic Holiday Home Tour:
I found this vintage deer planter at a local shop a few weeks ago.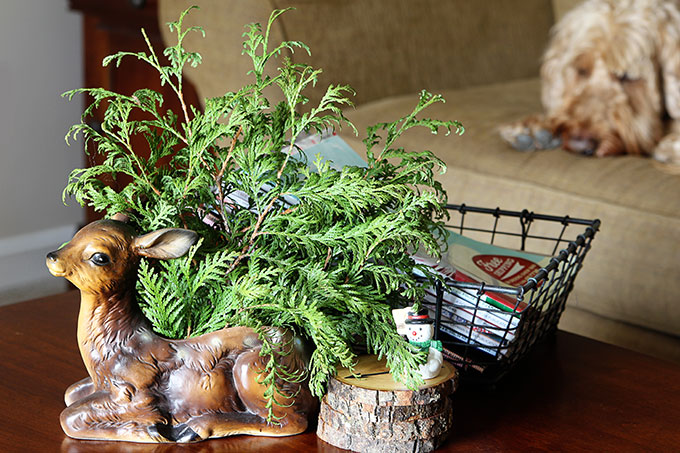 I was going to do something all funky with it (I use old planters for remote control holders, pencil holders for my desk, all sorts of things), but decided to actually use it as a planter. I just put some damp florist's foam in the bottom and stuck some clippings from my yard in it.
(Don't mind the dog's head in the background.)
Oh, look. Some plaid thermoses for the holidays.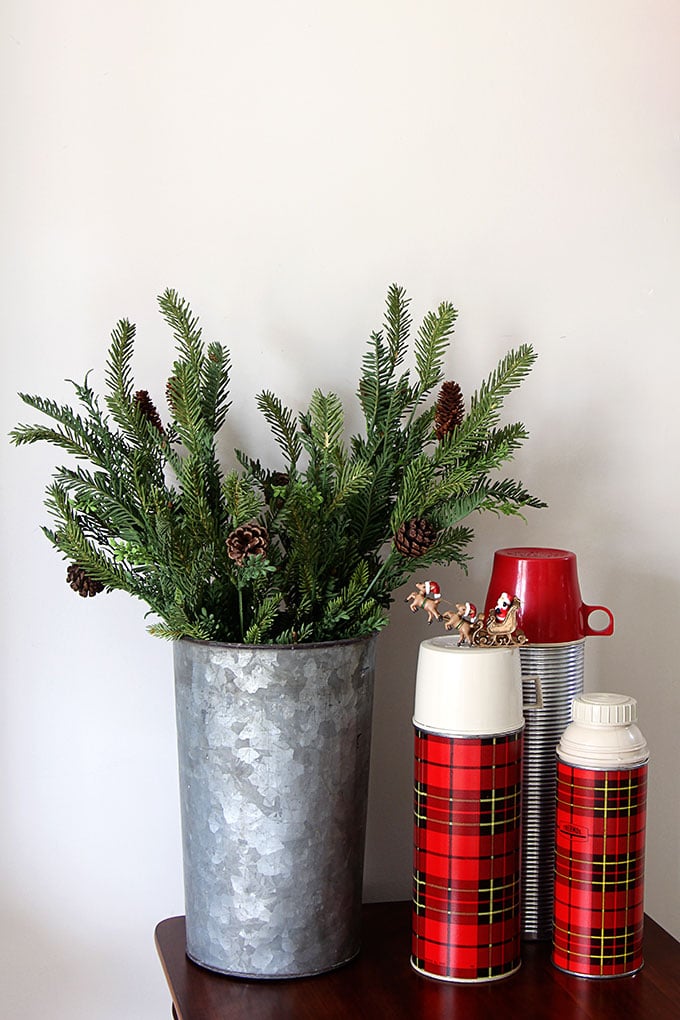 Now that Santa has had his jolt of caffeine, he'll be flying high the rest of the night.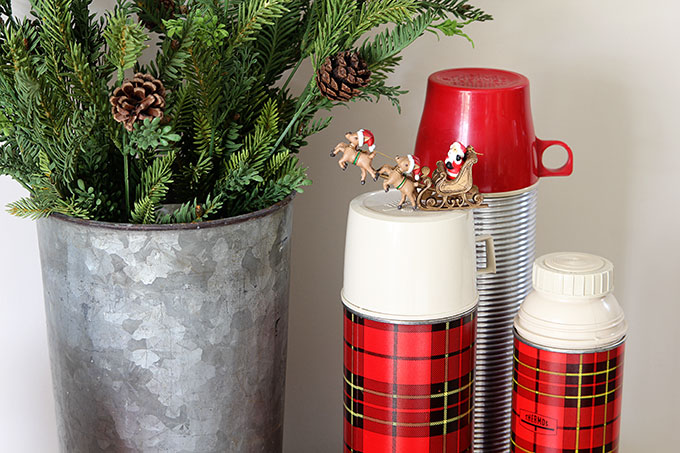 This blow mold Santa used to be outside, but he didn't go with my porch decor this year, so he's inside supporting the Buckeyes.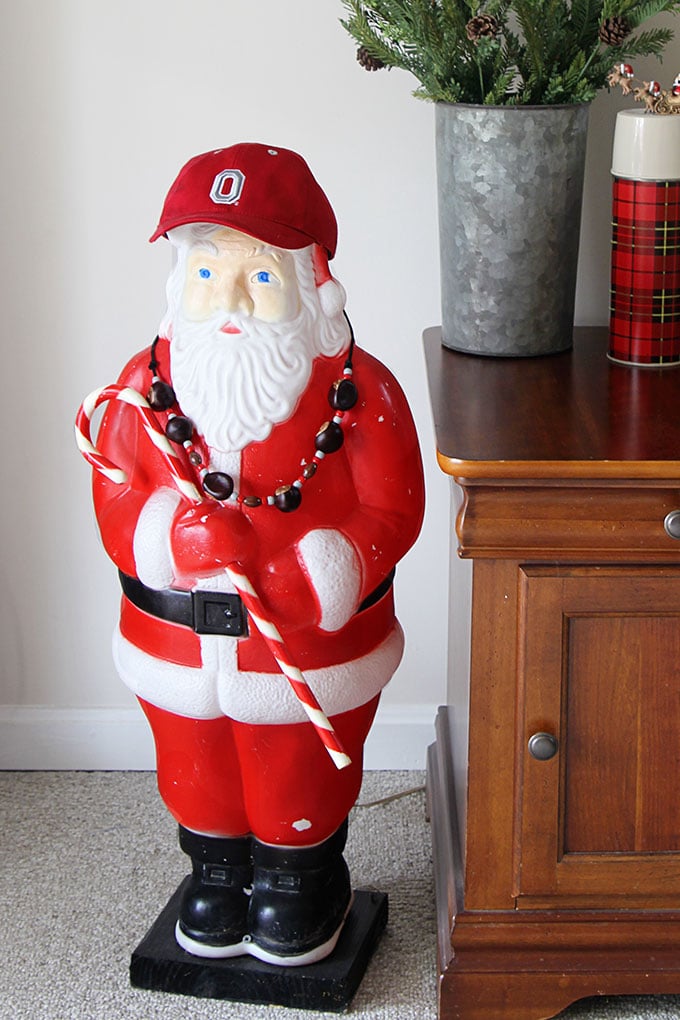 I'll chalk this one up to not being able to draw well.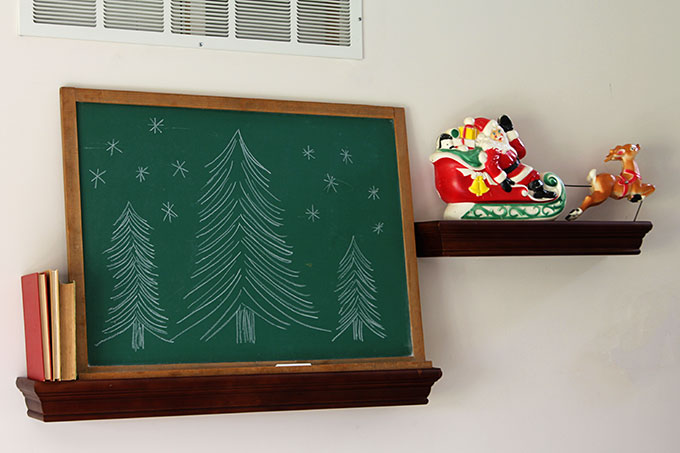 Stick trees and asterisk stars are so much easier to draw than a handwritten inspirational quote in a fancy font. Been there, done that, don't have the time this year.
Here's an inspirational quote for you "Do what you can to make Christmas a little easier to handle this year! Don't sweat the small stuff that will just get erased in a few weeks".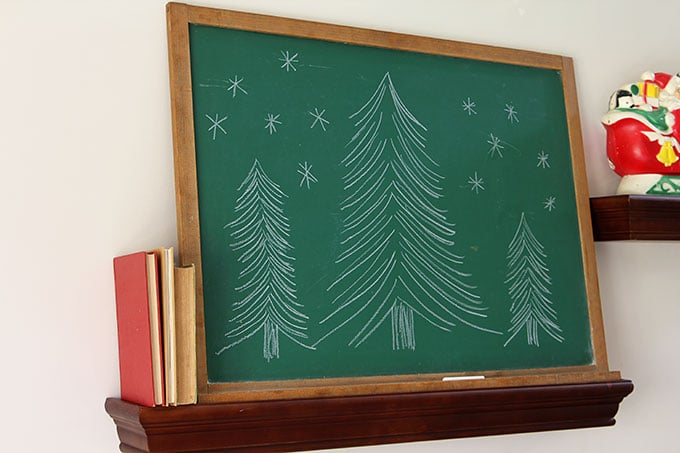 This is one of my favorite blow mold Santas.
He's jolly, he's friendly (he's waving after all) and he's colorful. What's not to love.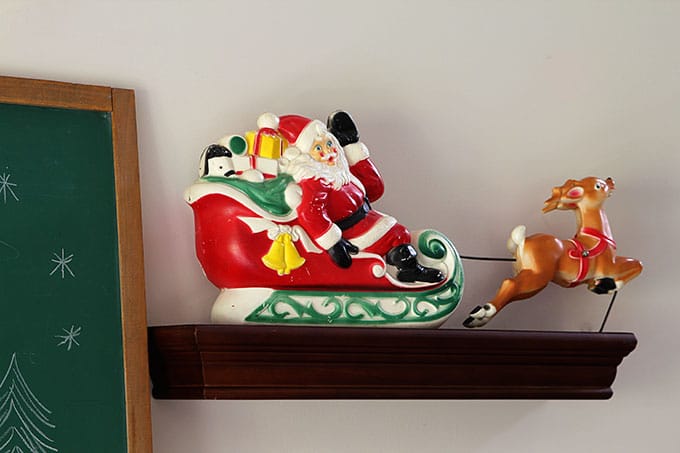 And this is my Skotch Kooler Christmas tree.
I was hoping to find one more to make the tree a little taller, but I'll wait until I find one out in the wild rather than buying one on ebay. It's the thrill of the hunt.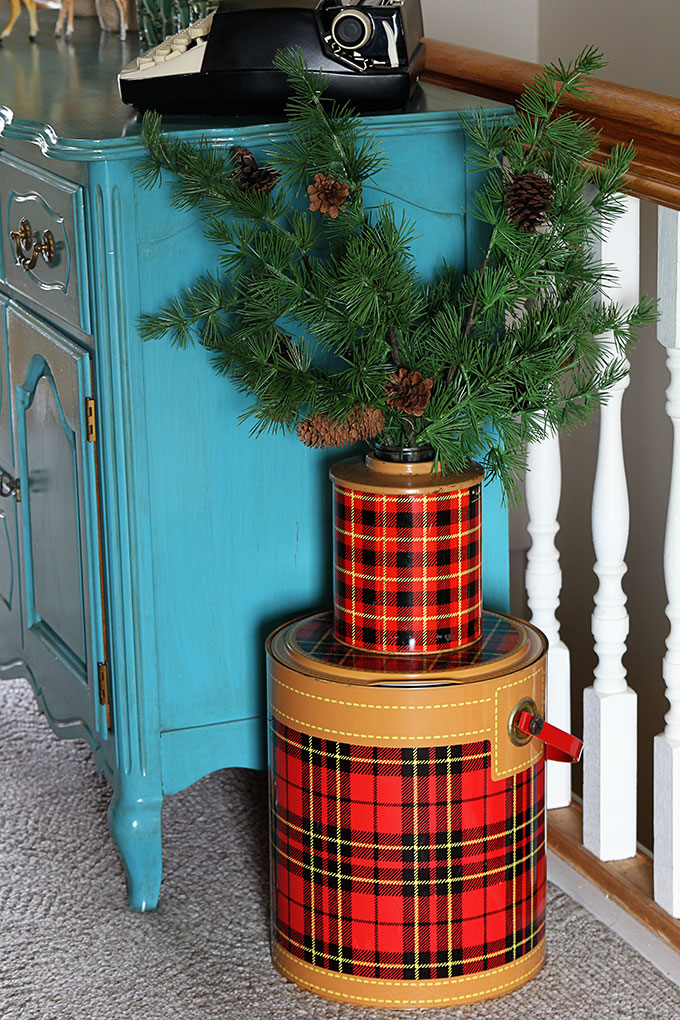 I've decided that plastic deer are the new black.
You can plop them down anywhere and all of a sudden you have a Christmas vignette. Instant holiday happiness by way of some old five and dime deer.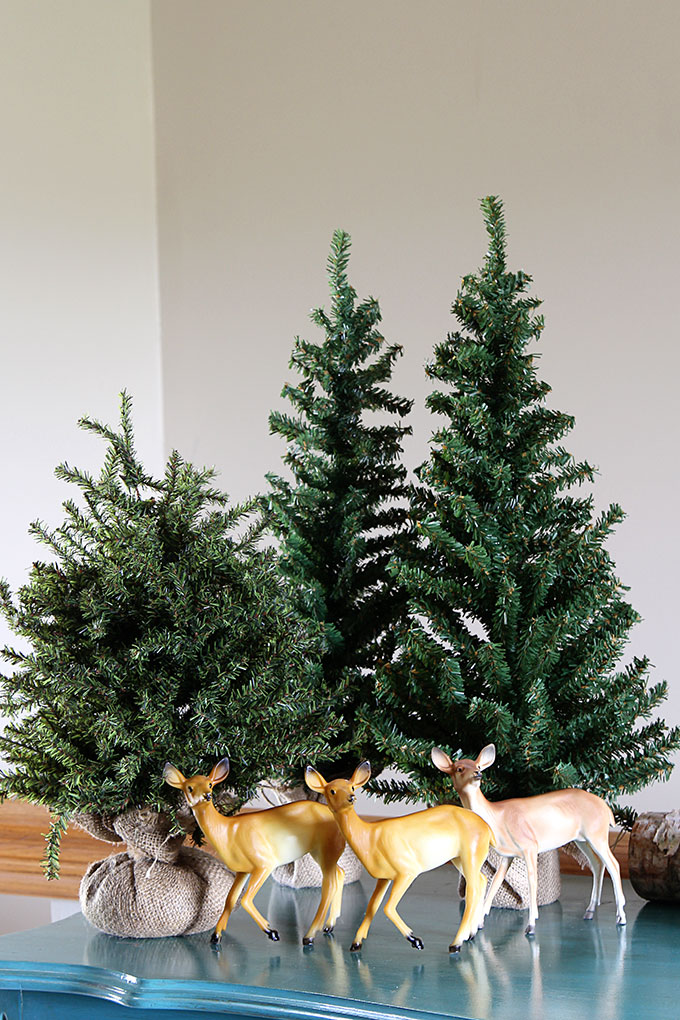 (A couple years ago I did a post on the different ways I used my deer, called Oh, Deer. )
And you'll notice that my main deer did not change his attire since last Christmas. Still the hunter who prefers to use a camera, not a gun.
If you're going to commit to a look, then by golly, commit!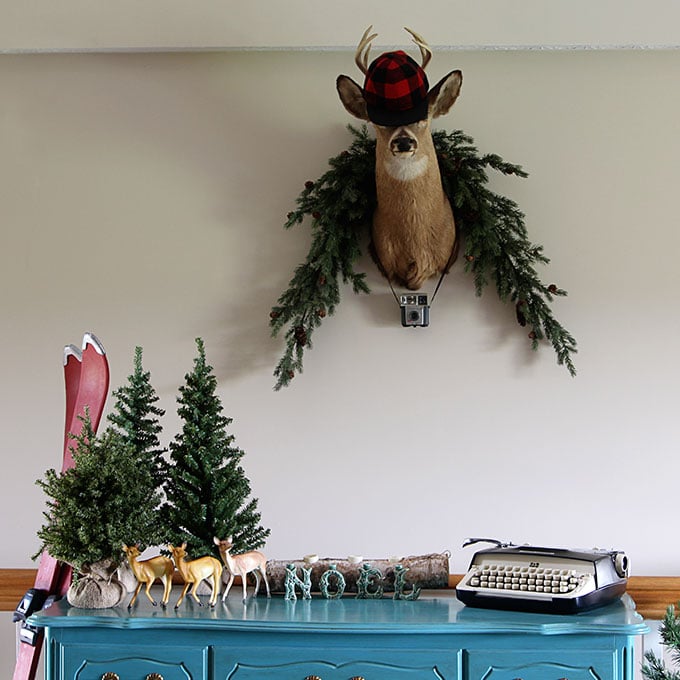 I made this simple yule log out of a piece of birch that I drilled holes in for the candles (battery operated ones, so I wouldn't light the house on fire).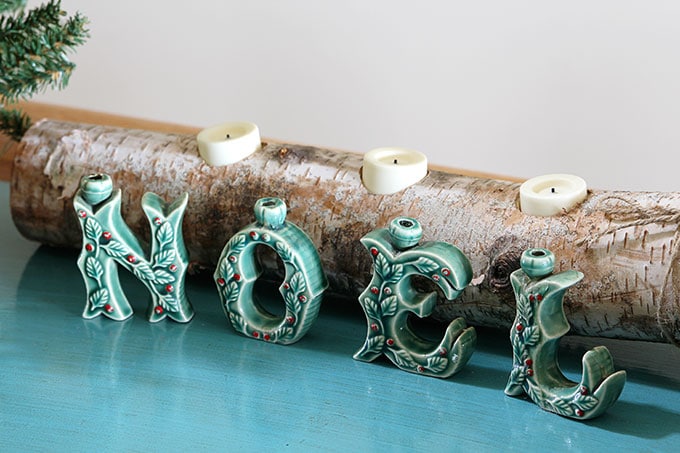 My chalk painted skis are inside the house this year instead of on the porch.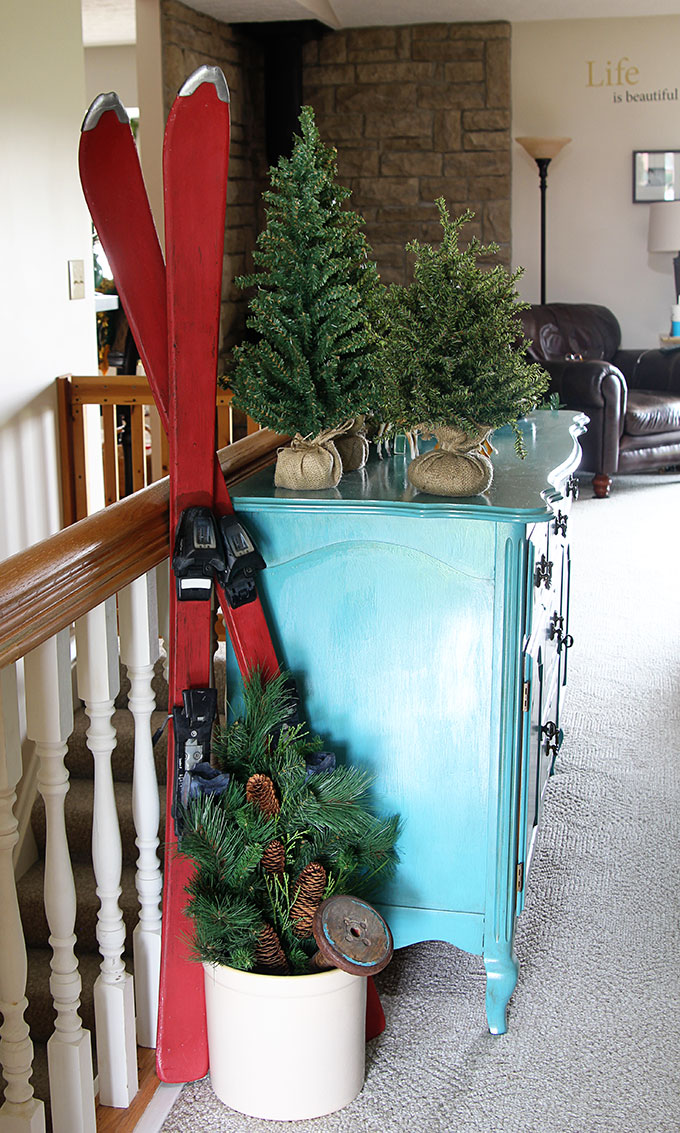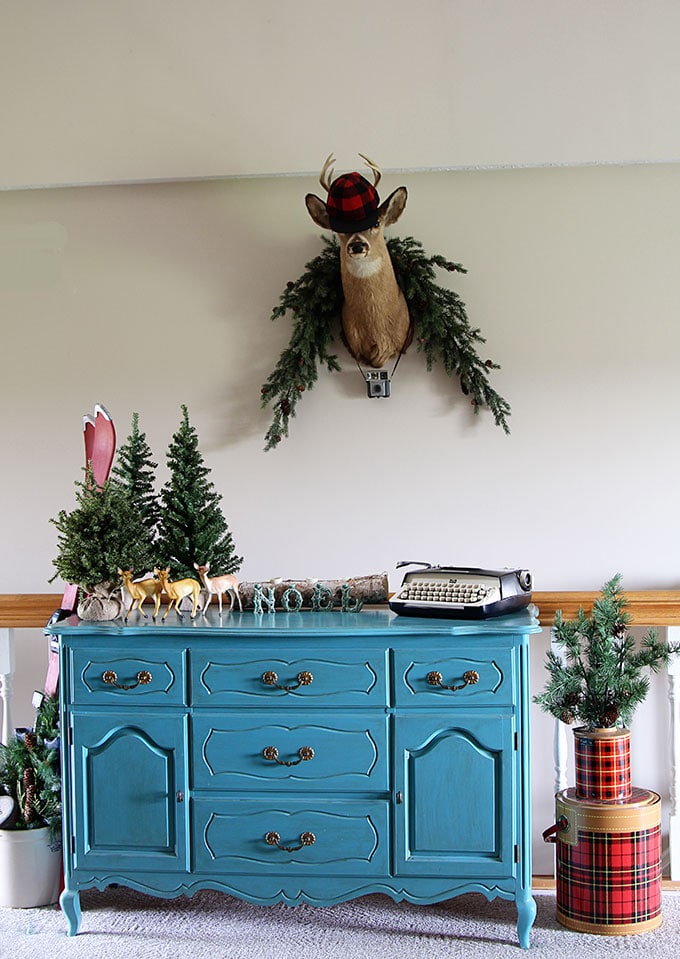 I kept it very very very SIMPLE this year in the entryway. Very simple.
I moved the metal rolling table that you had seen in the Vintage Eclectic Style - Kicking Traditional To The Curb post back up to my office and brought a little bit of the traditional back from the curb. Just a little.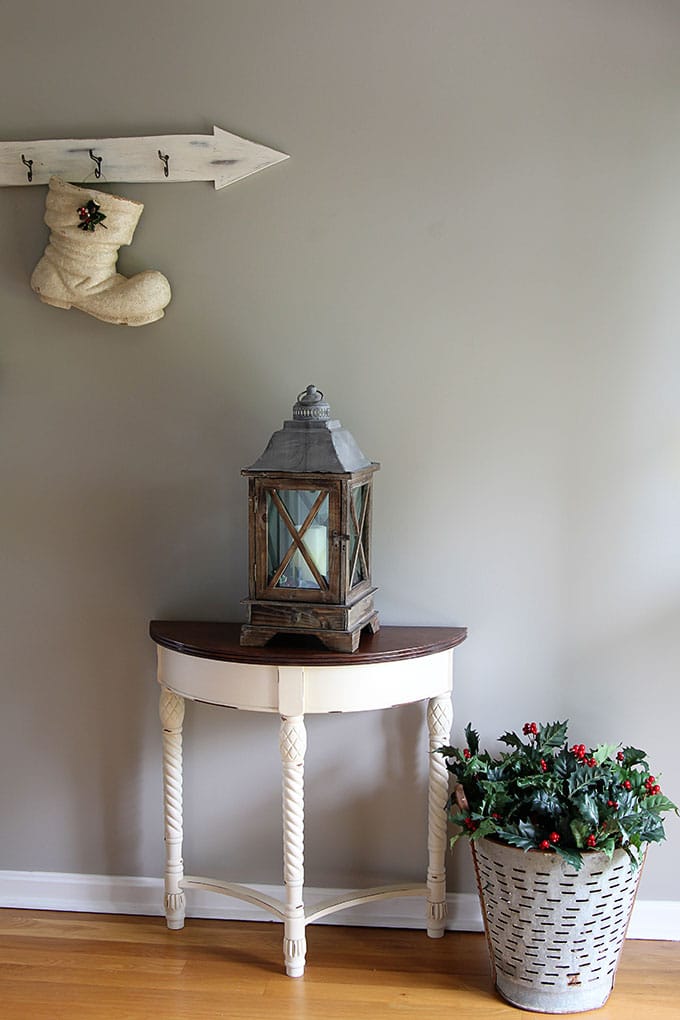 I found this cardboard boot with mica snow at an estate sale last year. It's pretty big, maybe 14" or so tall and I just love its 60's vibe.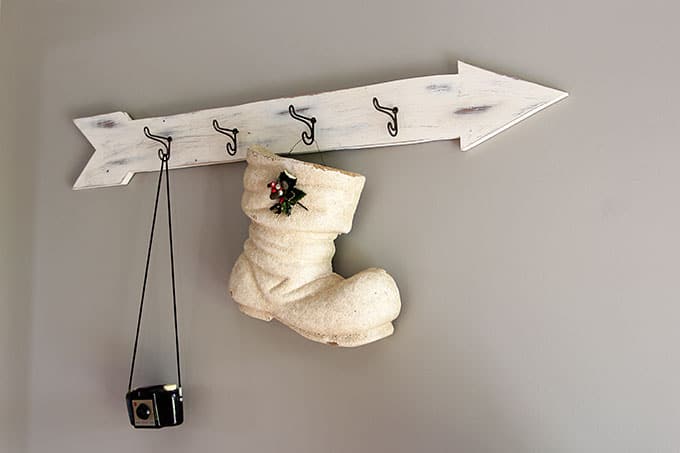 The holly on the boot matches the holly in the olive bucket and, not that you can see it from here, the holly in the wooden lantern. Just call me matchy matchy.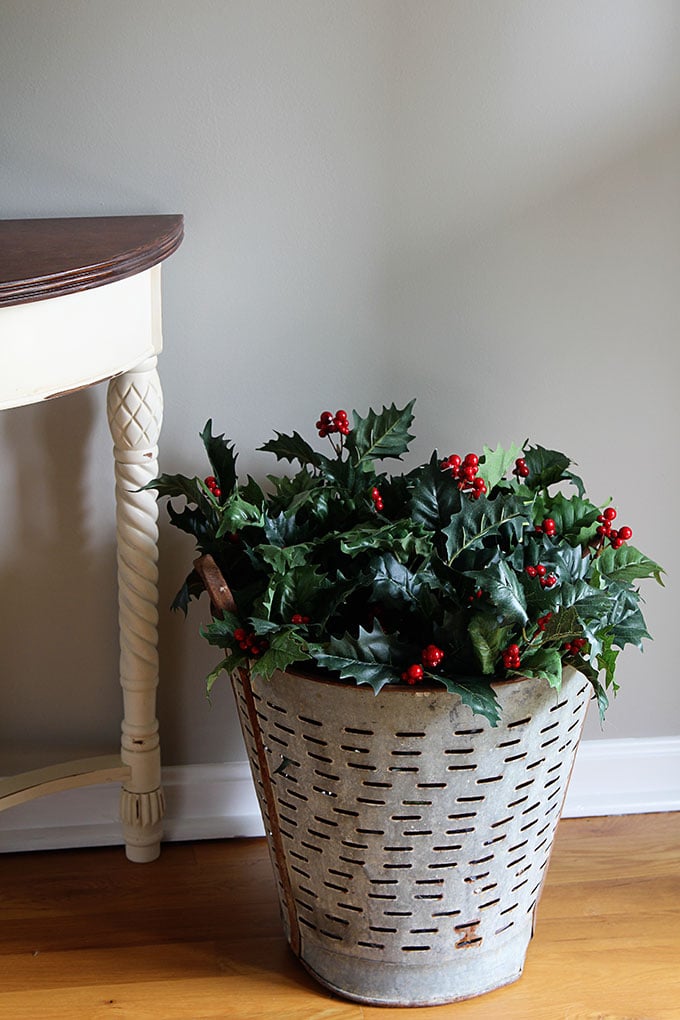 I have no idea where I bought this snowman on skis. He's not really vintage, he just looks a little vintage-esque.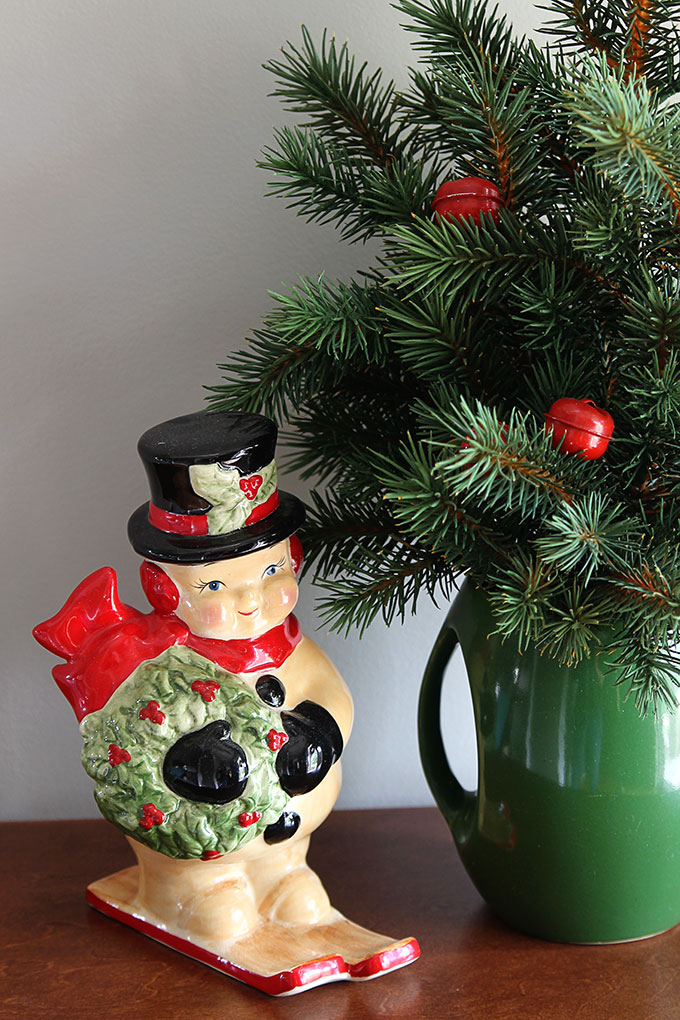 Well, I think that's all for the tour today. I have something extra special to show you next time.
Let's just say that sometimes a trend goes out of style for a reason and I'm going to show you why.
And here's some recent Christmas decor posts in case you missed them: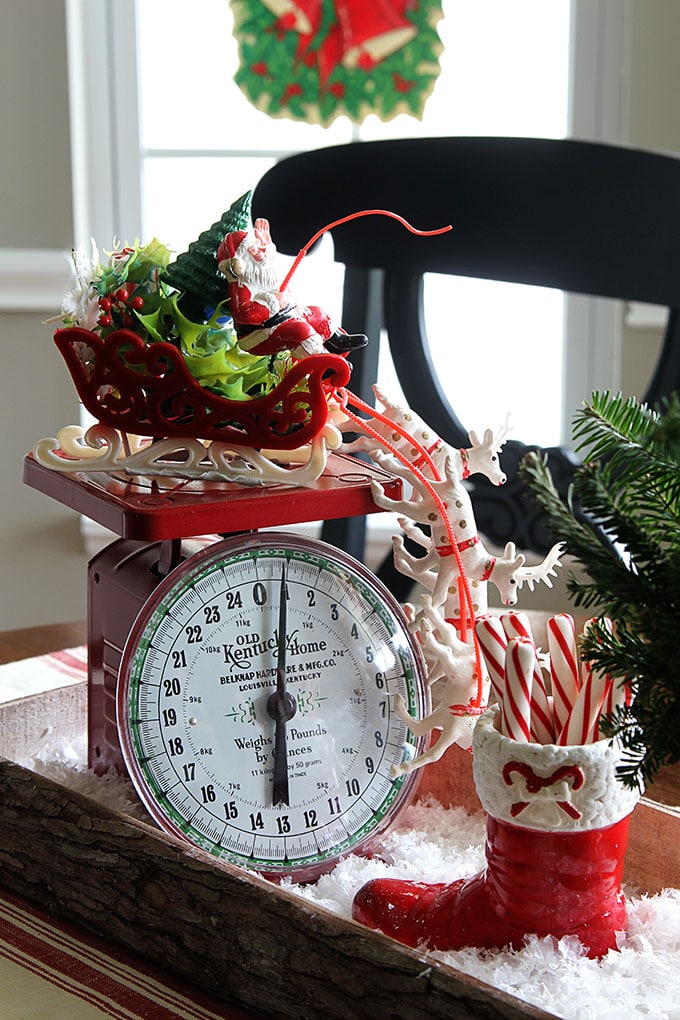 A Nostalgic Christmas Breakfast Room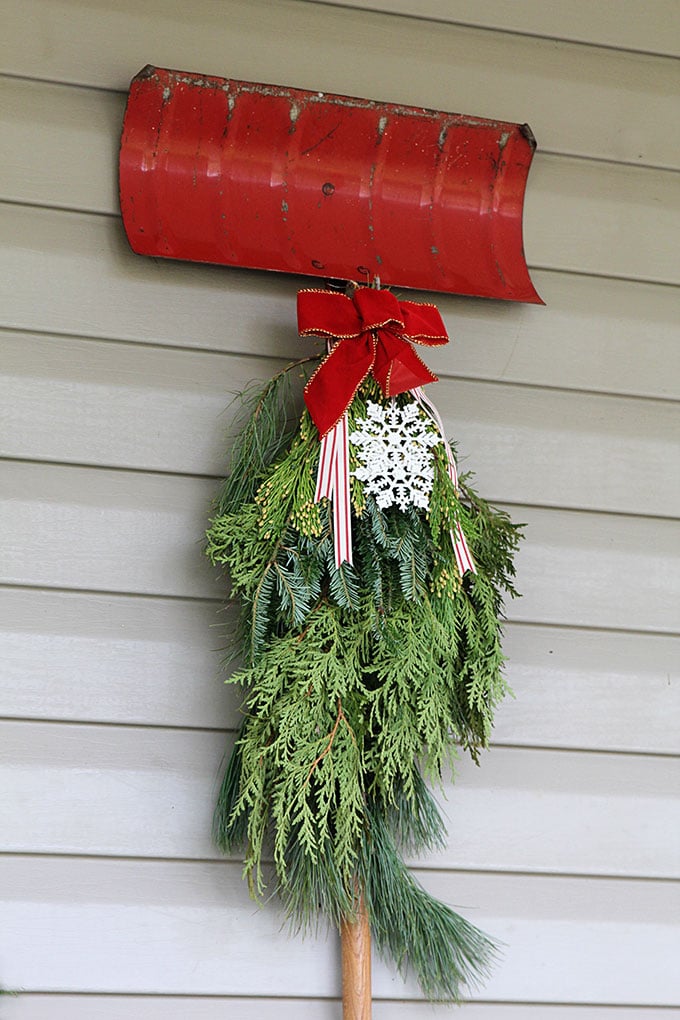 Traditional Christmas Porch Decor
How's your holiday to-do list going?
Do you have your feet propped up watching Christmas movies with B-list stars? Or are you still running all over town like I am?