You guys, I went to the World's Longest Yard Sale this weekend!!!
I'm so excited that I FINALLY got to go. Sort of.
I started off Saturday at 11:00am. Screech . . .
Yes, I not only was starting out a good two HOURS after the sales started, but also two DAYS after the sales started.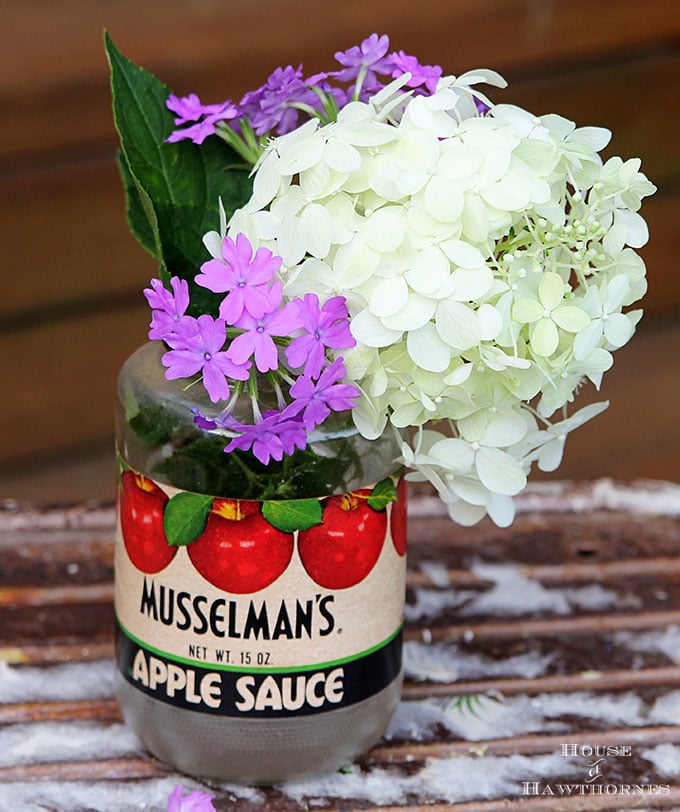 There just was no time to go on Thursday or Friday. I just couldn't fit it into real life. And then when Saturday came along I sort of got up late and then blah, blah, blah, next thing I know it's almost lunch time.
You know where I'm heading here.
Not only does the early bird get the worm, it gets the Pyrex, the cool farmhouse finds and the mid-century modern furniture. I could go on, but the thought of MY vintage cameras and MY Thermoses going home with someone else makes me a little queasy, so I'll stop now with what I DIDN'T get.
But what DID you buy at the yard sale, Pam?
I have to say that I kept thinking something better would show up around the next bend, plus like I said pickins were slim on Saturday, so I only came home with two items.
This sad old metal step stool that had been used to paint a few too many ceilings.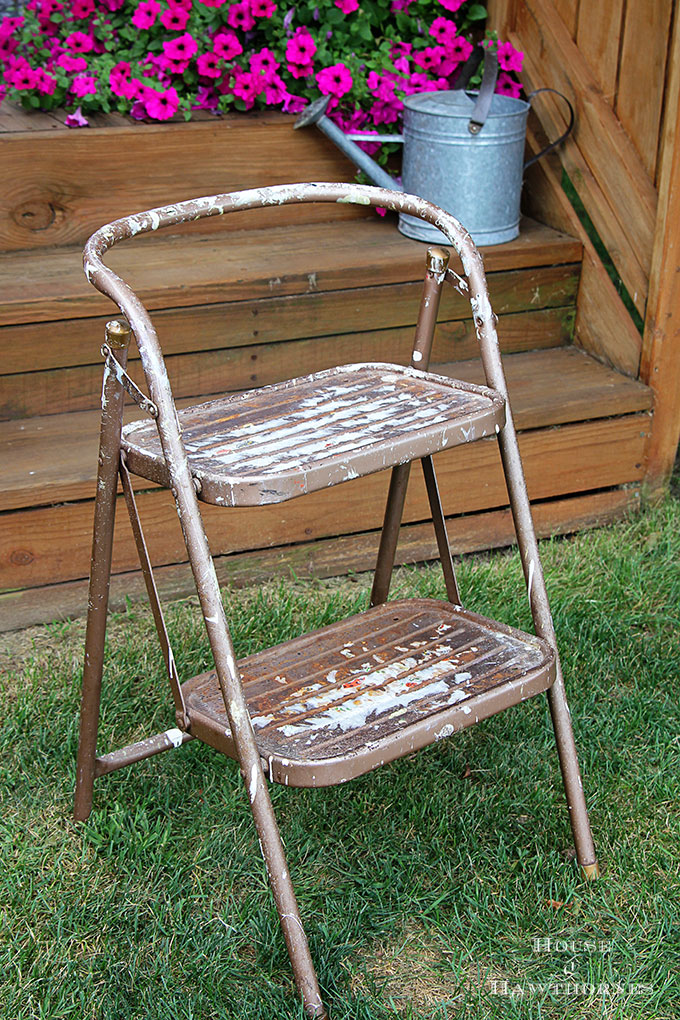 Seriously, you can use an old paper towel to wipe up your paint spills, people.
Plus someone had glued some ladybug paper on it at one point. Ladybug paper?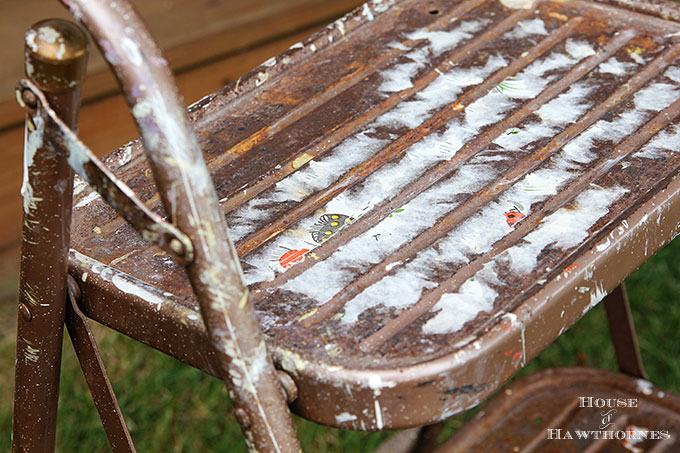 Since it is beyond my own personal "rusty and crusty" limit (and boy, do I set that limit high), I'm going to doll her up a bit.
Now let's get down to the nuts and bolts of the sale. The second thing I bought was an applesauce jar,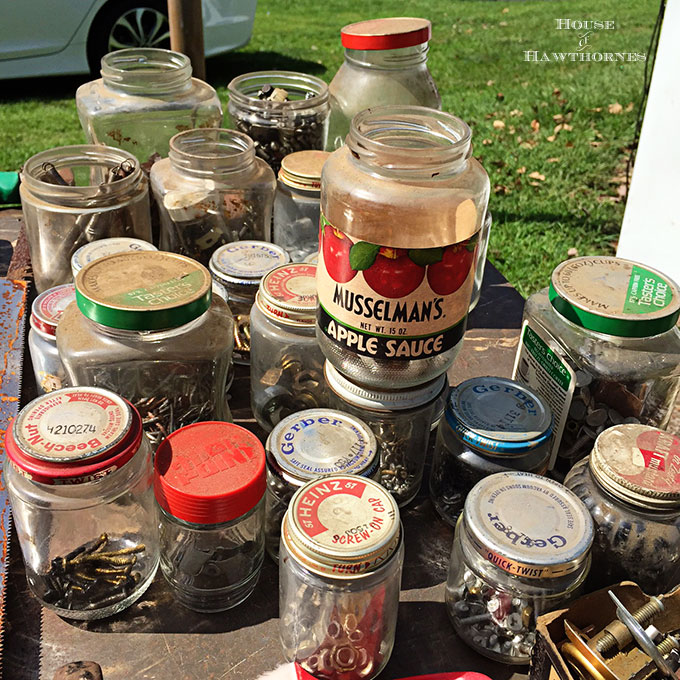 which now is a vase.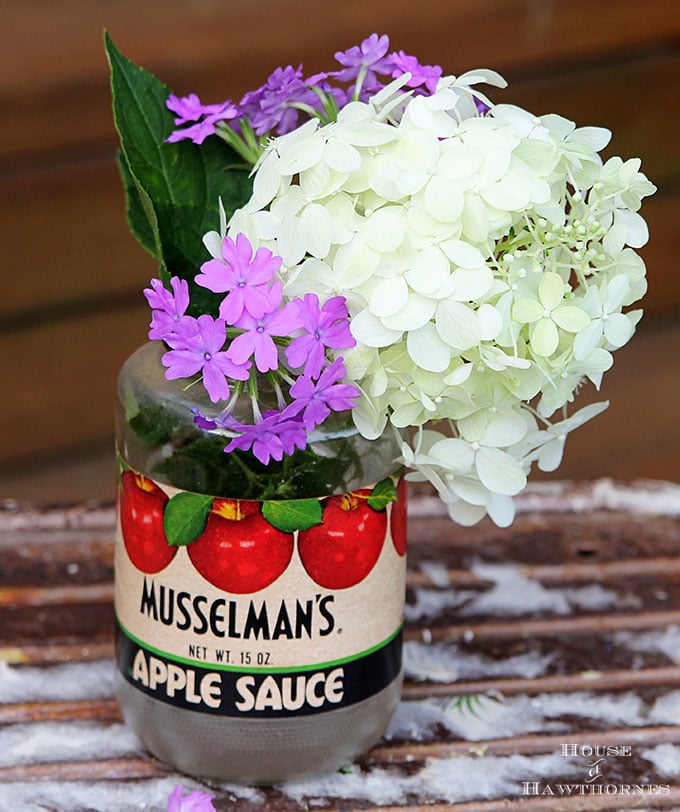 It started out for $5, but the old guy gave it to me for a quarter when I told him I didn't want the nuts and bolts and whatever that was in it.
An odd look was exchanged, like he had no idea why anyone would want an old jar. Probably about the same look I gave him, because I have no idea why someone would want to buy a bunch of mismatched fasteners.
Do you remember when I made a brand new pickled beets jar into a vase in my Vintage Style Garden Decor post earlier this year?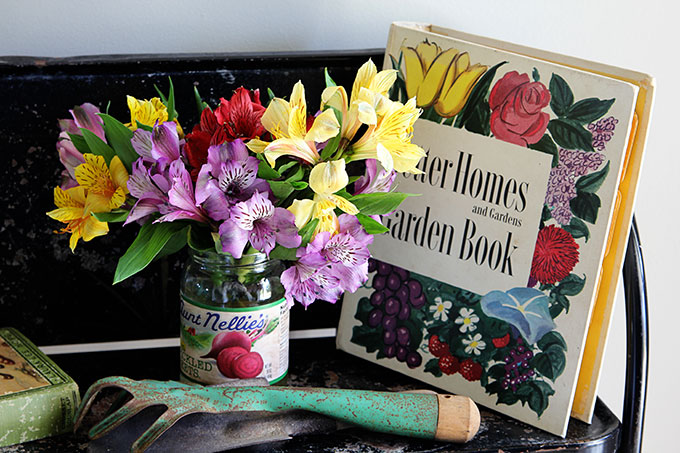 Same concept. Different vegetable/fruit.
Here are some photos of things I left for other people to snap up.
This guy had lots of great items, but at lots of great BIG prices. $240.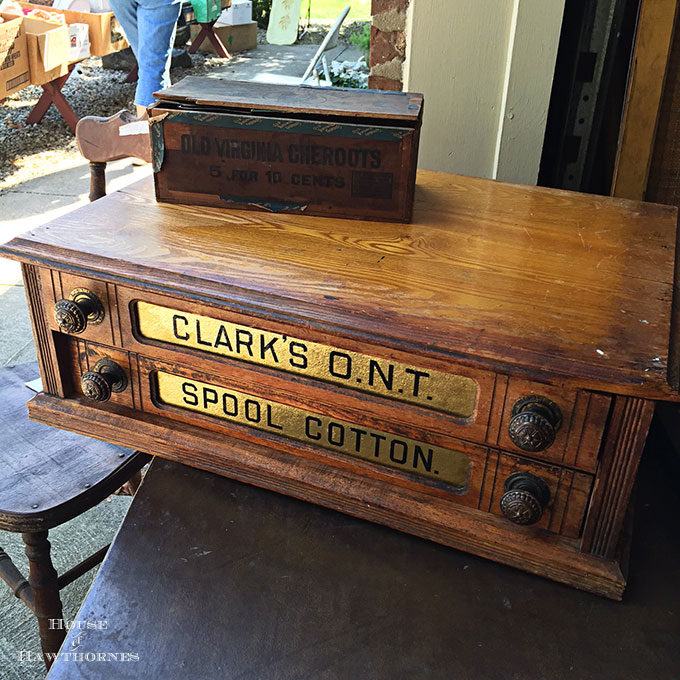 Uh, no. Not going to happen at a yard sale. May not happen at a fine antiques store either.
A chippy porch swing for $20. Beanie Babies in the background not included.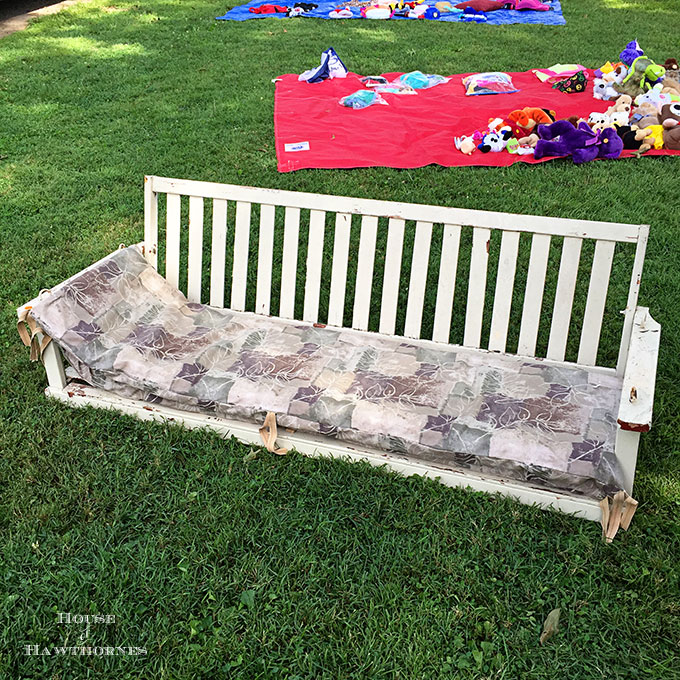 I thought long and hard about buying this and actually asked people's opinions on it on Periscope. But alas, I left it for someone else to find.
A $10 croquet set.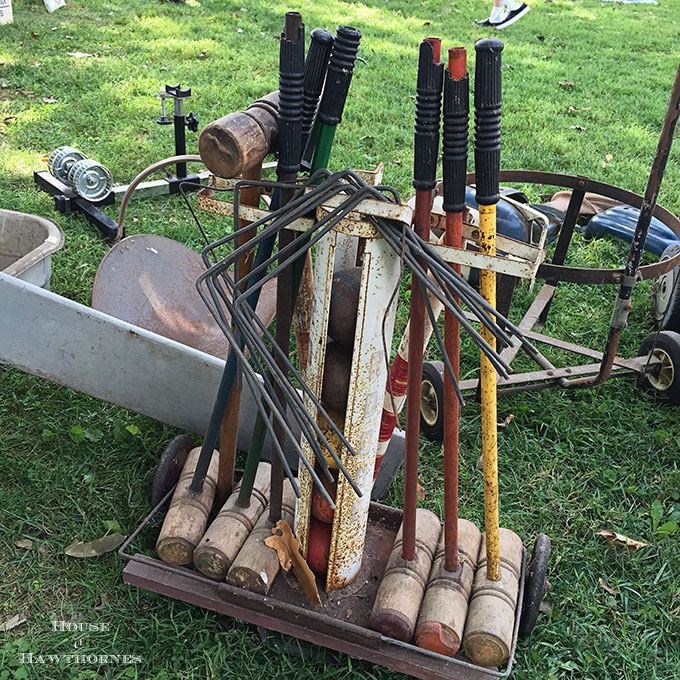 I already have four croquet sets, or else I would have grabbed this one up.
A chippy green chair.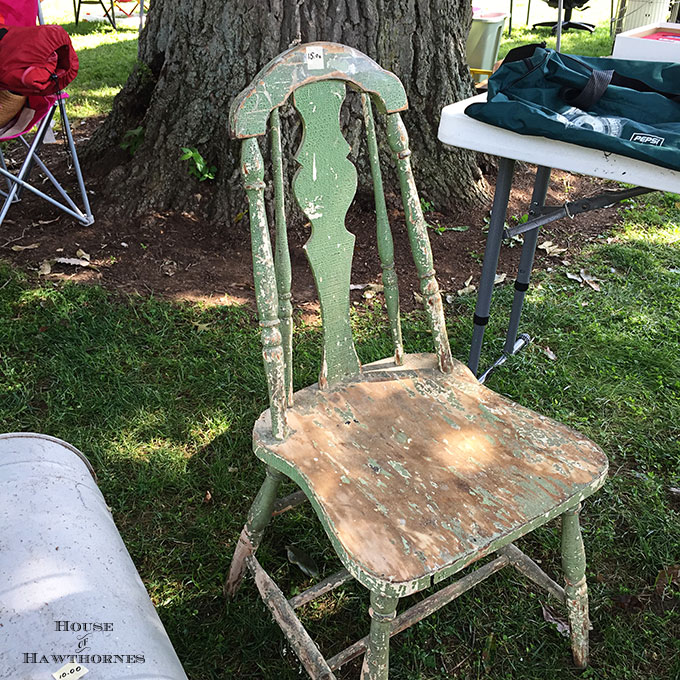 I didn't have my glasses on when I asked the old woman what the price was. She told me $25 and I declined it, but after I got home and looked at the photos I noticed it said $15 on it.
I guess maybe I looked extra high-end in my Walmart jeans and drugstore sunglasses?
A typewriter for $50.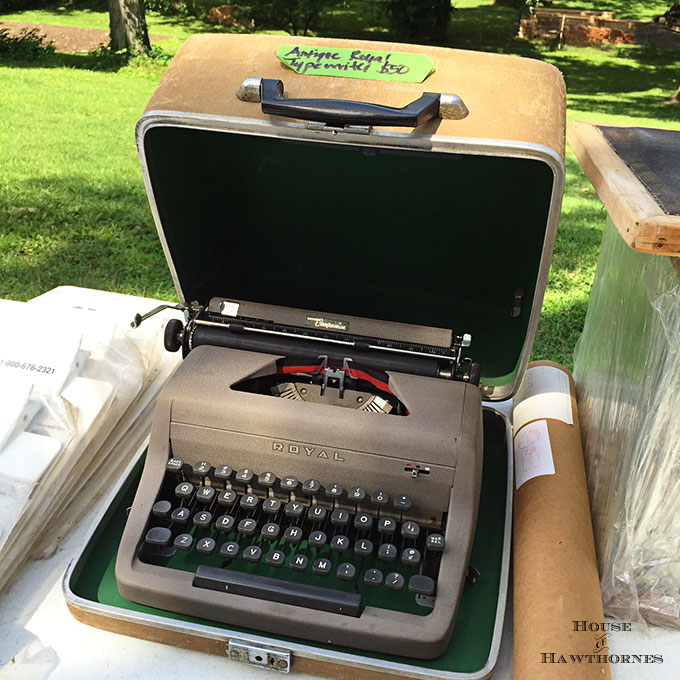 No, you cannot just slap a ridiculous price on something and think people will pay that for it! This is a yard sale.
Yard. Sale.
Have you ever been to The World's Longest Yard Sale? Or did you totally screw up and get there way too late?
Hungry for more 127 Yard Sale posts?
Melissa from Melissa's Antiques has a post up about her 127 Yard Sale experience and let's just say that it is a little more inspiring than my trip. She has tons of photos of the tons of stuff she bought. Let's just say starting out on Thursday seems to be the trick!
Linda from Coastal Charm shares her journey on the southern legs on the yard sale.