You know how I show you guys what I found when I get back from the thrift stores and yard sales?
Well, the younger peeps call that a "thrift haul" and I guess on YouTube it's all the rage to post what you bought. Yeah, it's a thing! Who knew I was all cutting edge?
Well, here's my latest thrift haul, although none was actually found in a thrift store this week.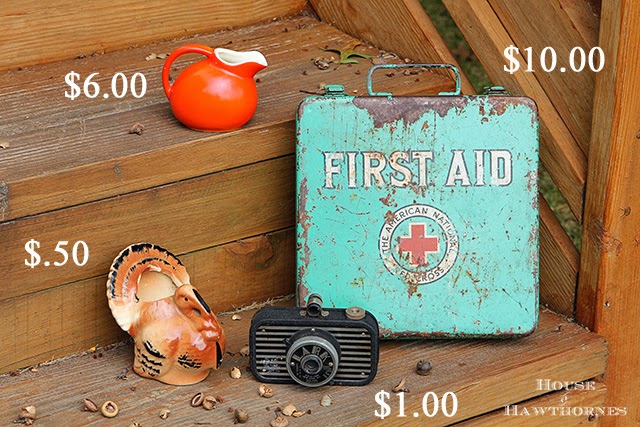 So let's start off with the elephant in the room. The big green elephant with cool graphics!
If you follow me on Pinterest or Facebook, you know I saw this at the antique mall on Friday and thought it was cool looking.
But the sanitary factor of buying a used first aid kit was giving me the heebee jeebees.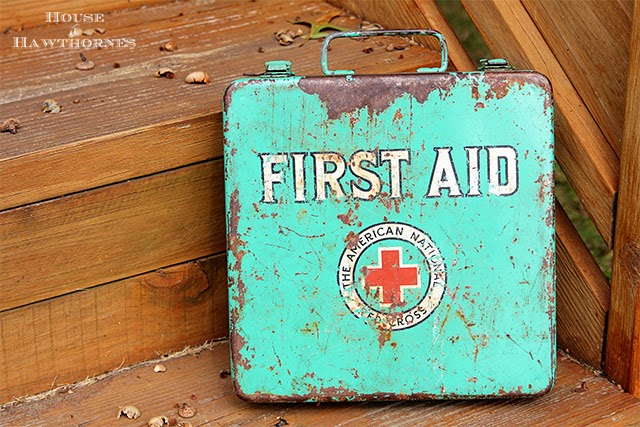 After staring longingly at the photos on Saturday and at the urging of some Facebook followers, I decided to high tail it back to the store and buy it. I'm glad I did.
I have not opened it yet though.
You can tell by shaking it that there's "stuff" in there. But I'm just afraid that it's used band-aids, a severed finger or maybe even something weird, so I will wait a few days until I get up the nerve to explore it.
(Could it be filled with $100 bills???)
I grabbed this tiny little ball pitcher when I went to rescue the first aid kit on Saturday.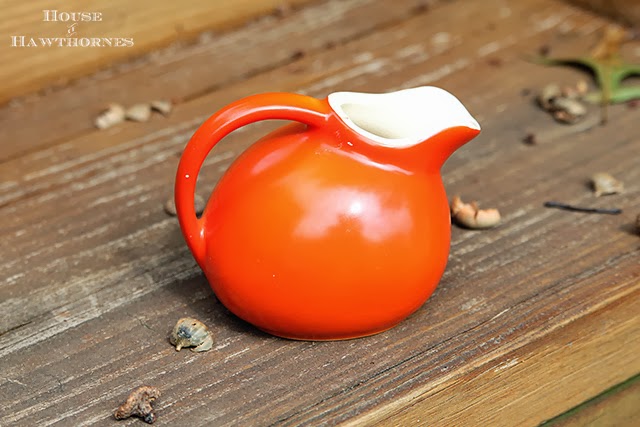 Because it's orange. And it's October.
For the 31 days of October I am in love with anything orange. After that, not so much.
I have no idea why it's so small. I guess it could be a creamer?
On a lark, I bought this camera a few weeks ago.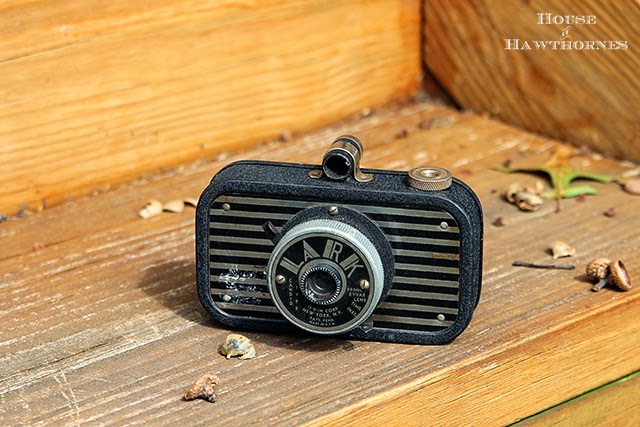 It is a Lark from Irwin Corp and I believe it's from the 40's. When I was looking online for more information about this little camera, I ran across a few people calling it a sardine can camera. Spot on description!
Last but not least, is Tom the turkey planter.
I found two of these at a yard sale that was 99.9% tools and then the two turkeys. They were not marked and when I asked the guy how much they were, he asked if I would pay a buck. For two of them. Uh, yeah!!!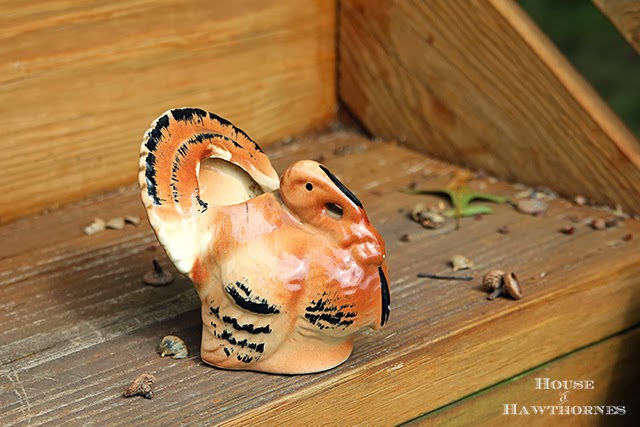 I sent one of them to roost at my niece's house and kept the other one here.
Besides my orange addiction in October, I have a little turkey addiction in November. I might as well start feeding that turkey addiction a little early.
Other than that, the only news around here is that I feel like poop. I woke up Sunday to a sore throat that's not going away with orange juice, so I think I may just put my jammies back on and crawl back into bed until my son gets off the school bus.
What did you score while out thrifting and yard saling this weekend?