It's Farmhouse Friday again and you know what that means!
Vintage Farmhouse Christmas Decor!
I do a lot of vintage Christmas decor in my home during the holidays. It's sort of my thang.
Vintage blowmolds . . . vintage Shiny Brites . . . vintage ceramic trees with little shiny lights in them.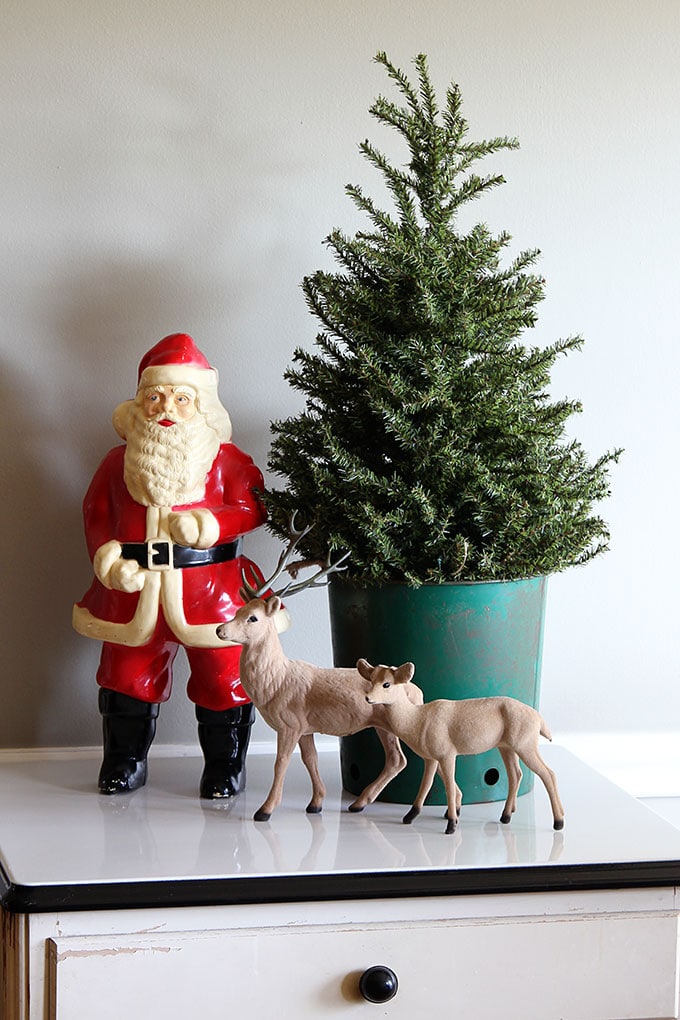 Vintage whatever, you can probably find it here (if you're new, you can see some examples in my The Ghost Of Christmas Decor Past Comes A-Callin' post where I recap some of my favorites).
But for Farmhouse Friday I wanted to show you something that sort of mixed farmhouse with vintage and rolled it all into one glorious shout out to Christmas.
It's a very simple vignette that incorporates just a few elements:
A vintage plastic Santa made by Union Products. I'm not 100% sure of his age, but I think it's from the 50's or 60's.
A green bucket like thing.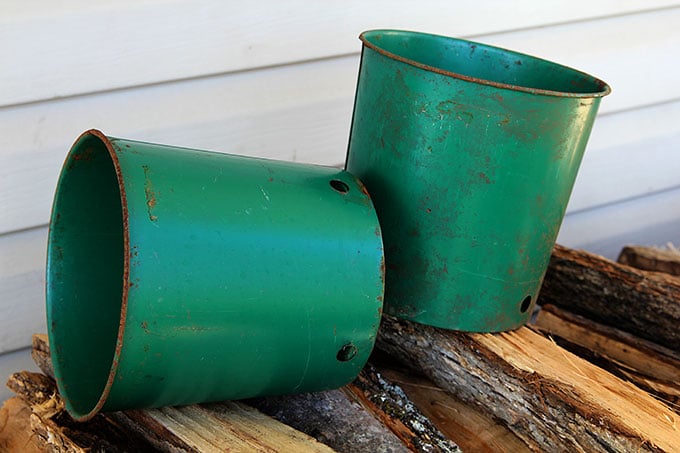 A fake green wirey tree. I tried to find a pretty live rosemary plant to put in there, but I couldn't find any this year, so fake is going to have to do.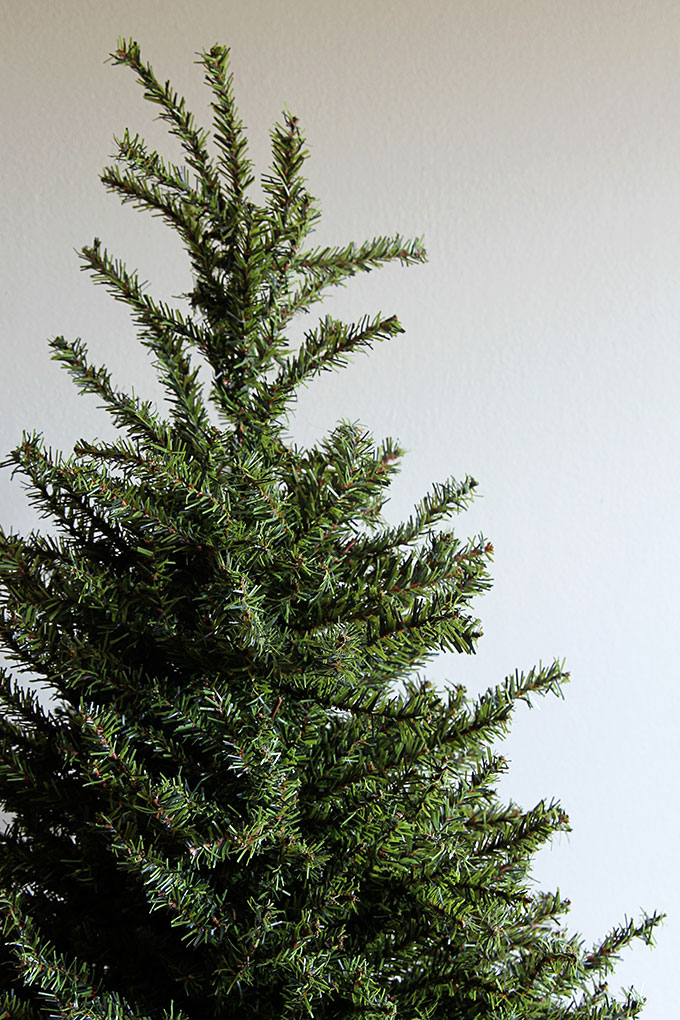 Also in the fake department are these two reindeer that I bought at a yard sale this summer.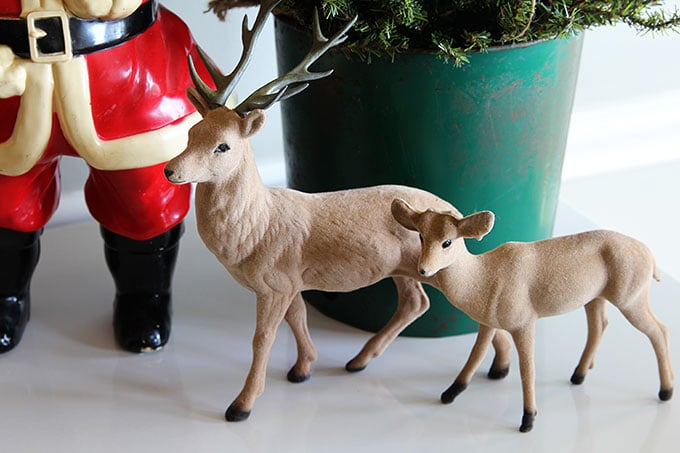 You can see them in action in my DIY Zinc Top Table post from this summer. Well, it's not like they're running around or anything. They're plastic, people.
That's it.
I find you don't have to have a lot of bells and whistles to "do" vintage farmhouse Christmas.
Vintage Farmhouse Christmas - it's simple and easy and just a little quirky.
Now, if anyone has any idea what these buckets were originally for, please let me know! They are about 8" high by 8" wide and have 4 holes near the bottom and I cannot for the life of me figure out what they are.
Some people have suggested sap buckets, but with the 4 holes close to the bottom I would think the sap would just run right on out of there???
Interested in more of my Farmhouse Friday posts?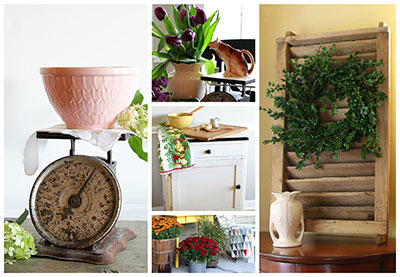 Farmhouse Friday Posts
Up for more Christmas shenanigans?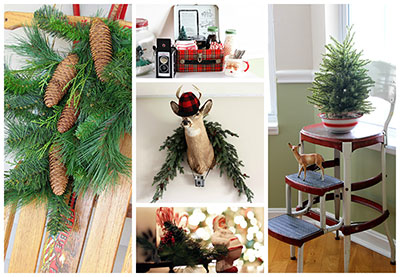 Christmas Projects And Home Decor
And as always, I would love it to death of you could pin me. Somewhere. Anywhere.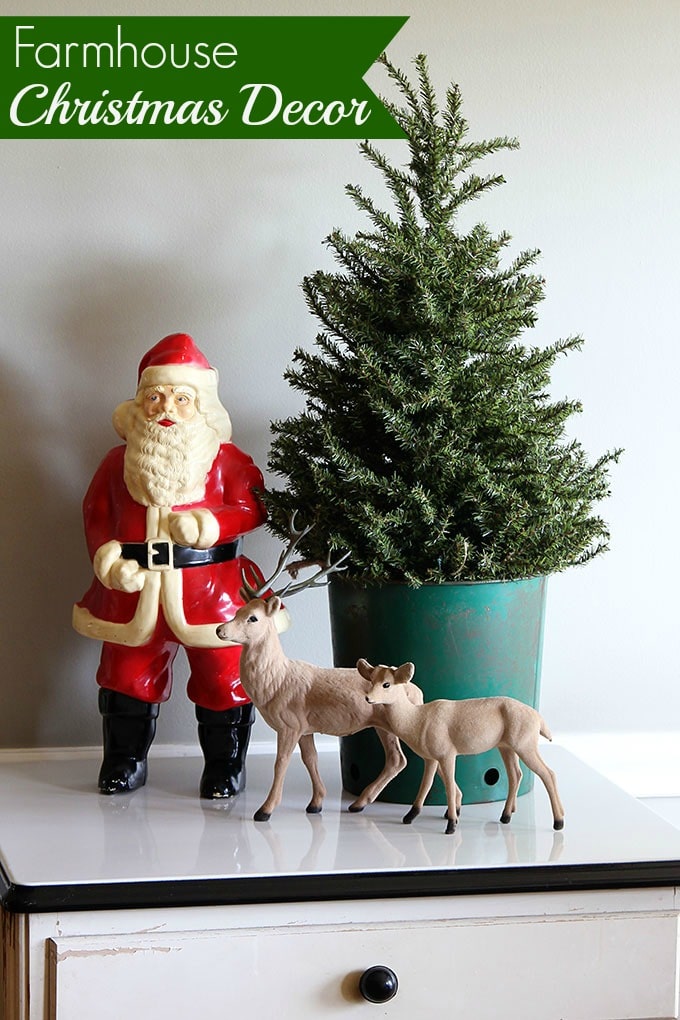 Now run on over an visit the other Farmhouse Friday crew:
TOWN AND COUNTRY LIVING
BUCKETS OF BURLAP
STONEGABLE