Did I say traditional Christmas porch decor?
I guess it is, in the red and green sense. In the Ho, Ho, Ho sense. In the I love Christmas more than anything else sense.
But I did try to add a few quirky things and of course a thermos, just to make it a bit more fun and interesting.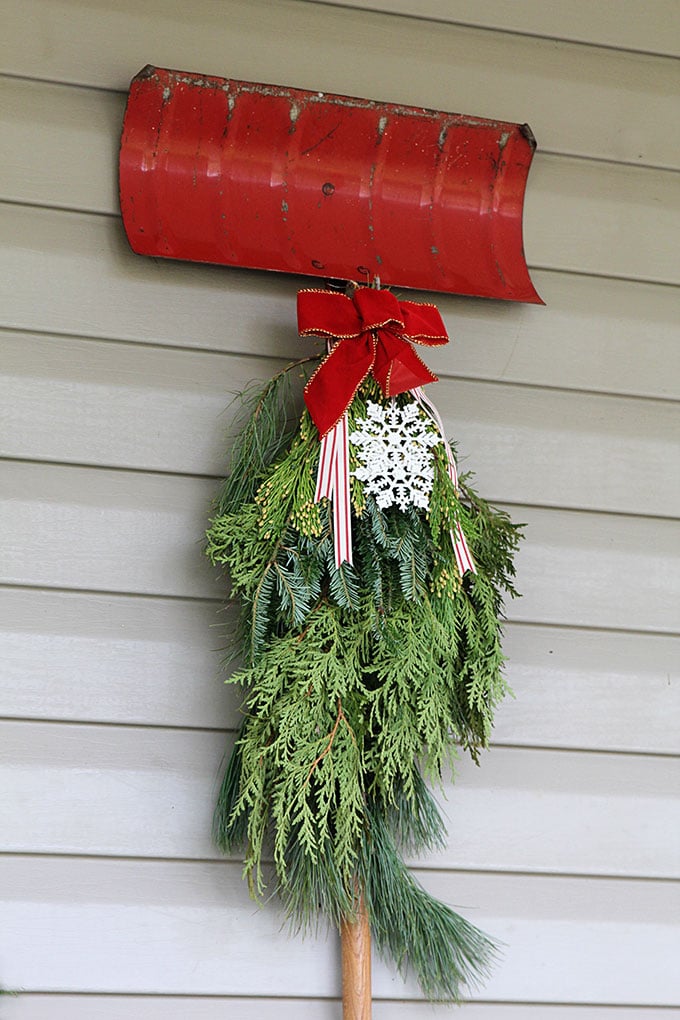 I just can't disappoint the neighbors by having a boring old porch, you know. They might think I'm normal or something.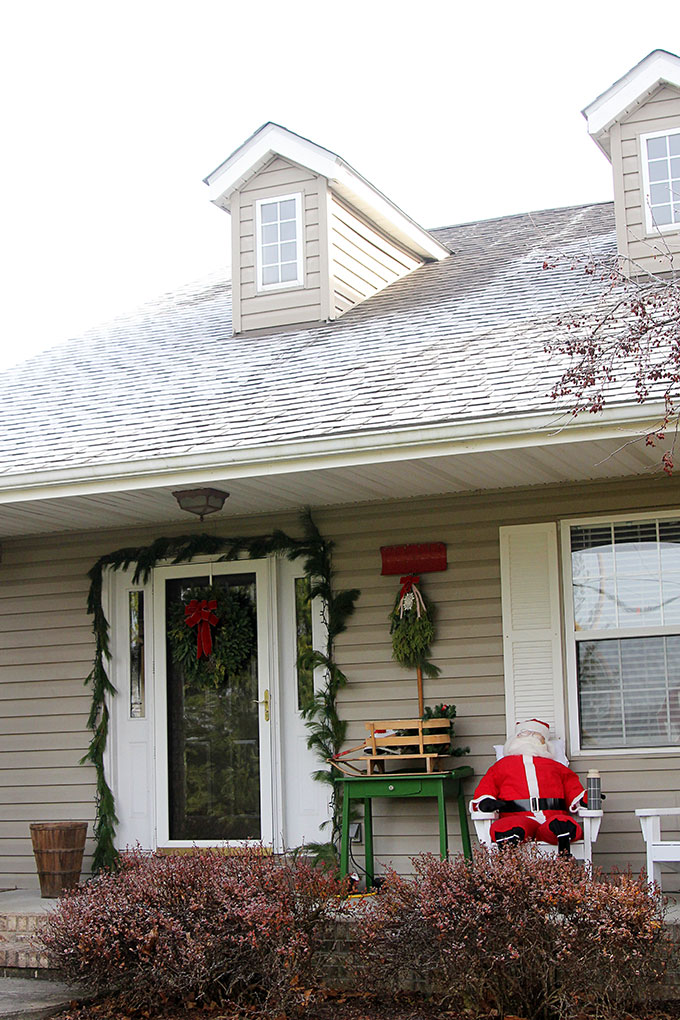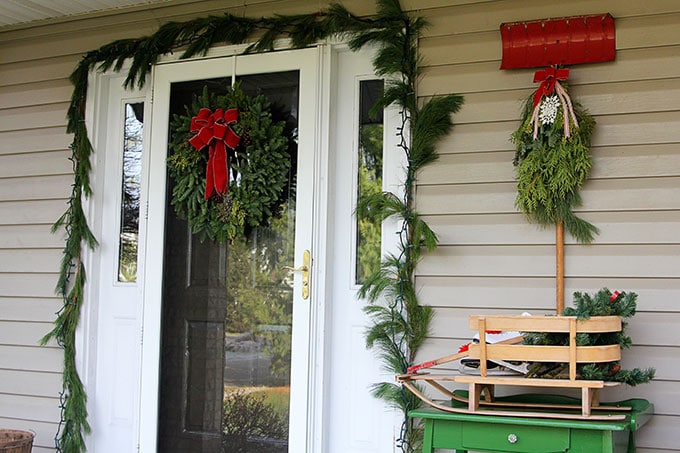 Before I go all Jingle Bells on you, this post is part of the Home For Christmas Tour hosted by Hometalk.com and CountryLiving.com.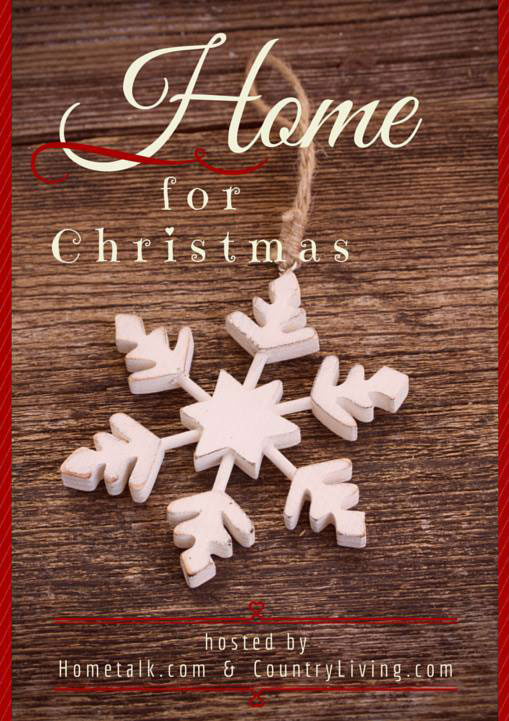 You can find other fun holiday themed articles down at the bottom of my post. Don't look now though, or Santa won't bring you what you want for Christmas.
See, I didn't even have to mention that pesky Elf On The Shelf dude looking over your shoulder to get you to behave!
So anyhow, I was going for somewhat traditional Christmas porch decor here so I started off with some traditional items.
A fresh evergreen wreath tied with a big red bow.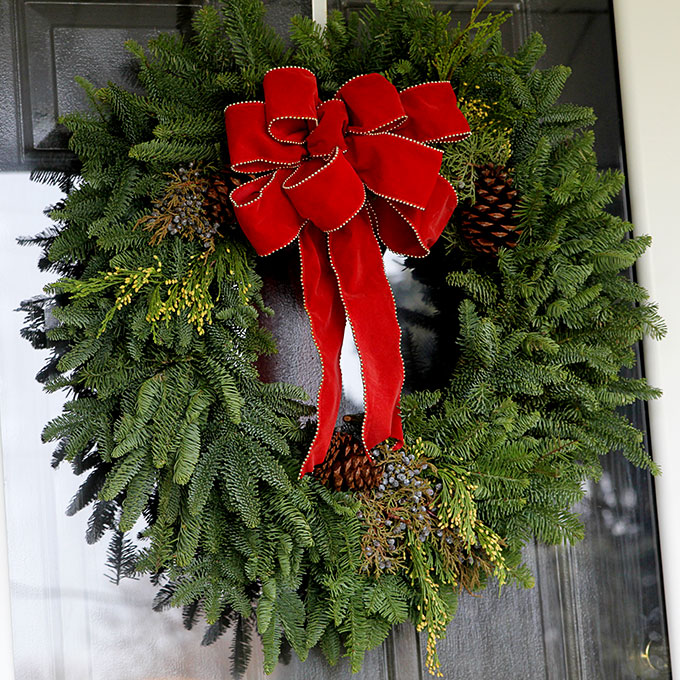 Garland draping the doorway.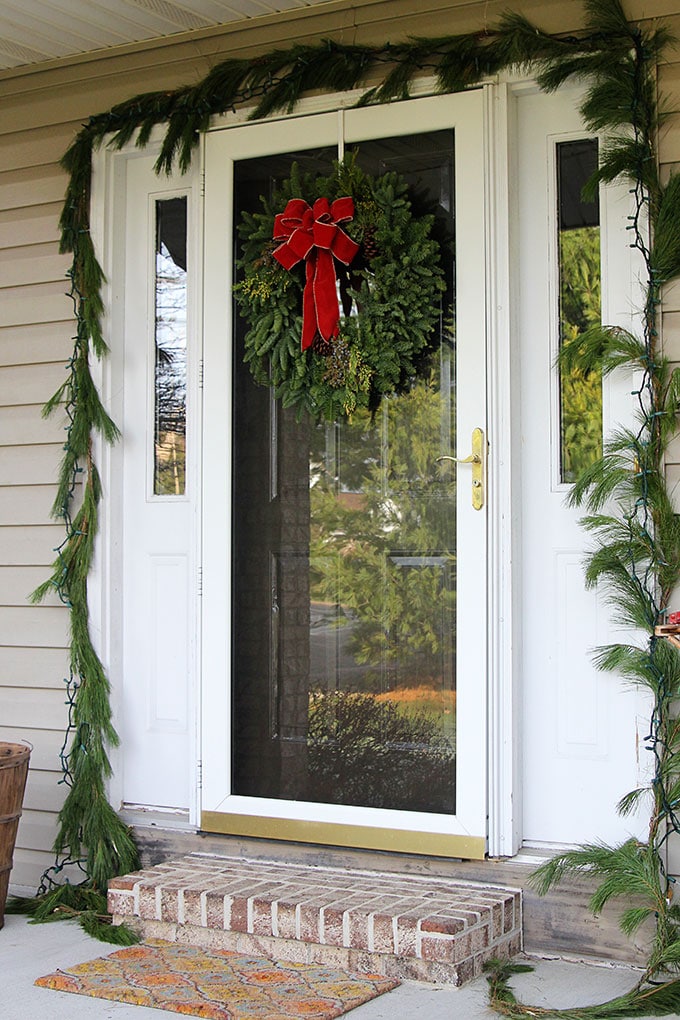 A snow shovel having on the wall.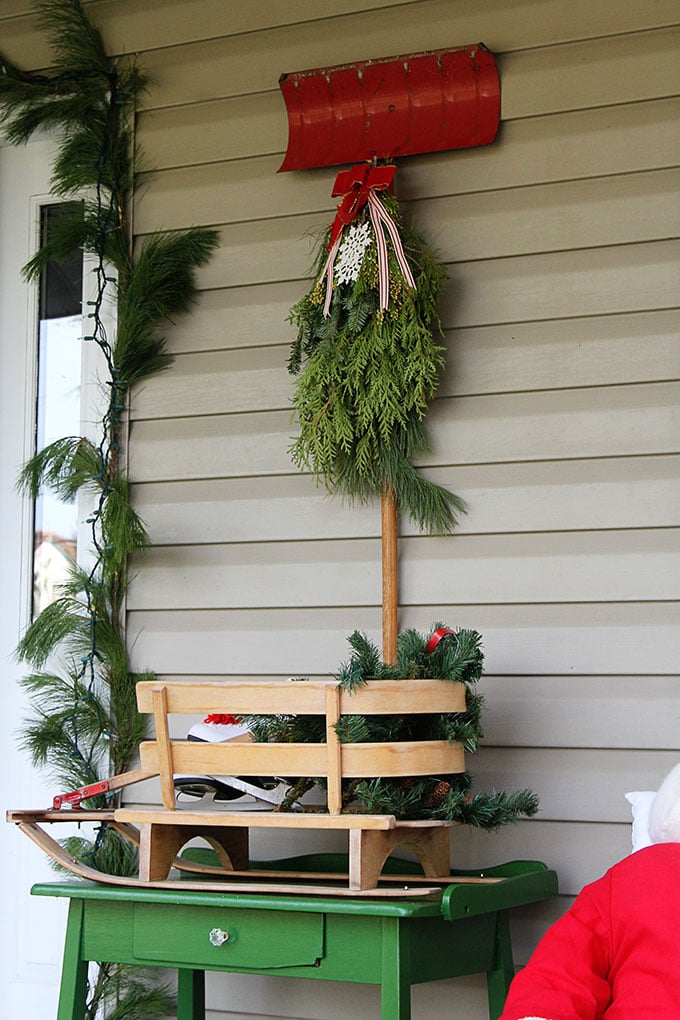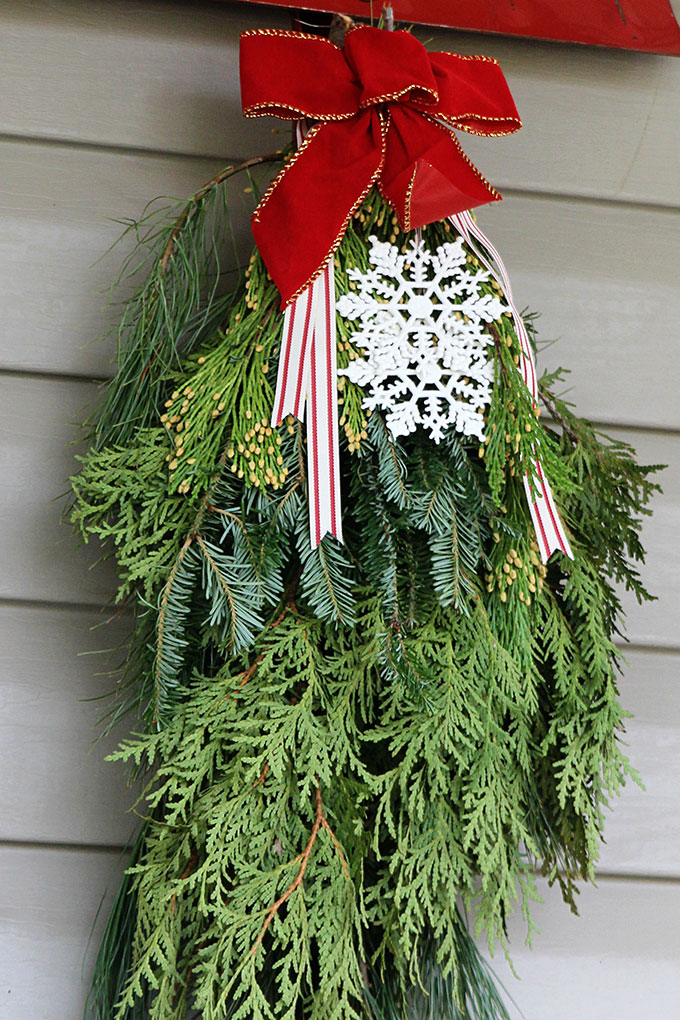 Just normal traditional stuff like that!
And of course I had to add my child sized sled filled with greens and ice skates. I've gotten a lot of use out of those $1.99 thrift store ice skates!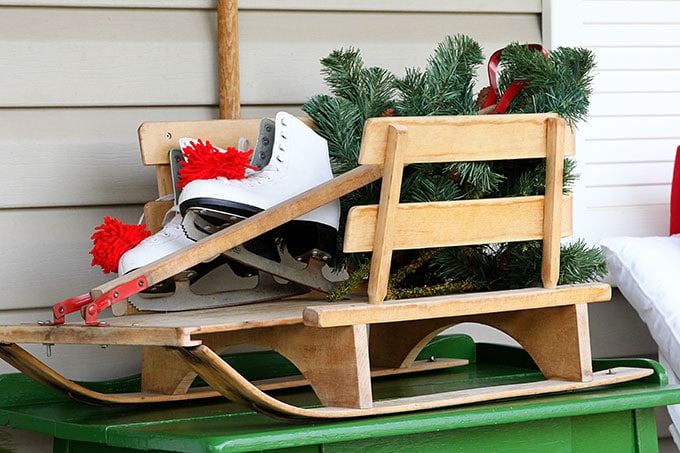 The green table is the one I had on my porch for both my fall and Halloween porches.
I've even used it on a spring porch a few years ago.
But I was growing tired of the yellow color, so for Christmas it got a coat of fresh green Christmasy paint.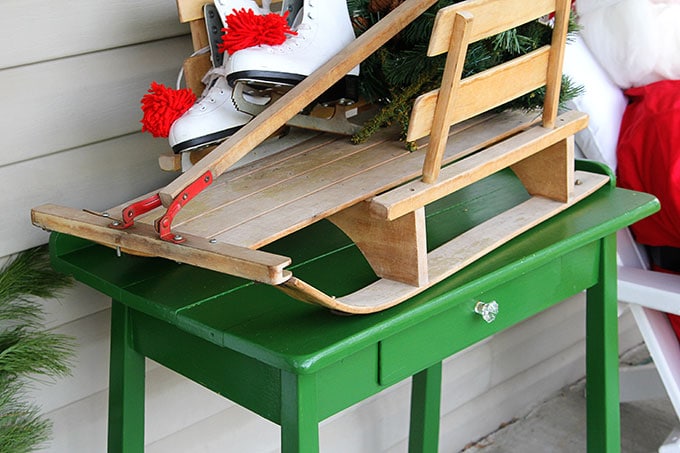 Oh, and there's Santa.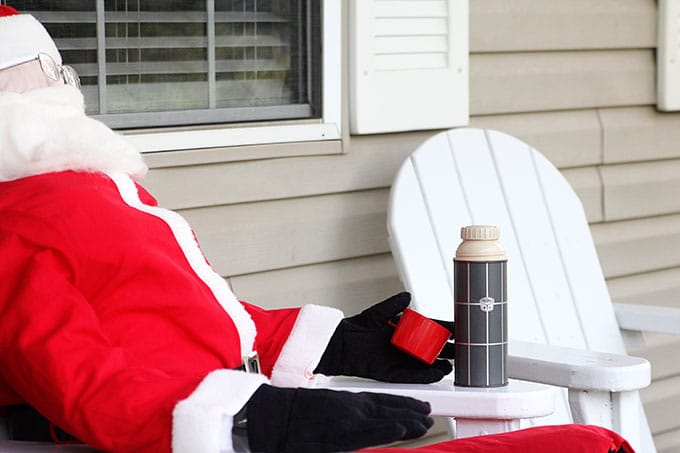 (Shh . . . Mrs. Claus told me that his boots are ladies polka dotted rain boots from Target that she found at the thrift store and spray painted black. Santa has no idea they are women's boots!)
He stopped by the other day, plopped down on the Adirondack chair and WILL NOT LEAVE!
I gave him some cocoa to warm him up, but he's going to have to get back to the North Pole before Rudolph sends out a search party for him.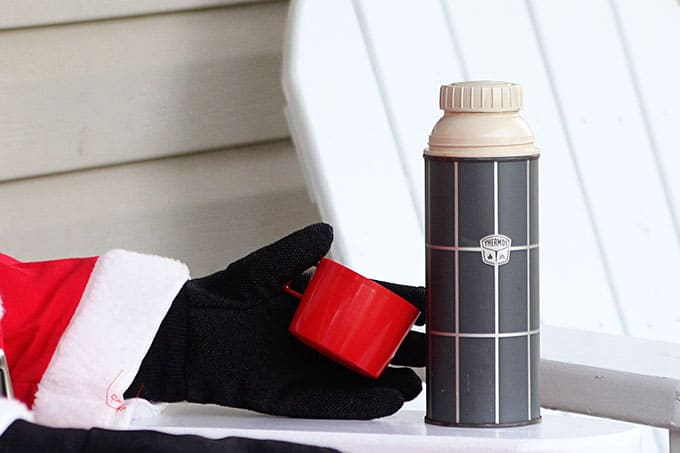 Or the neighbor's dog starts using him as a fire hydrant.
I already caught him sniffing Santa, so hopefully there will be no leg lifting incidents here.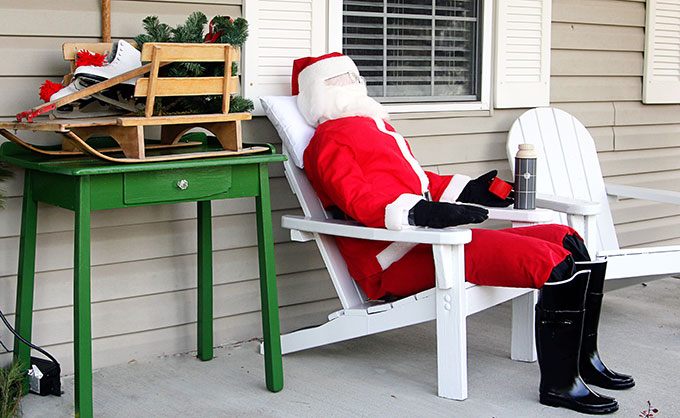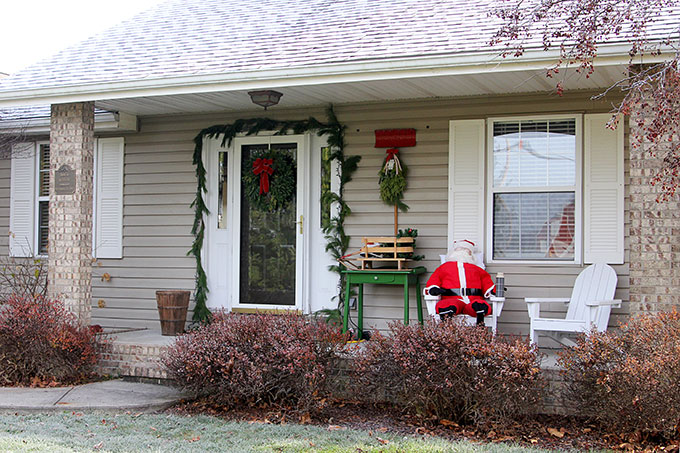 OK, enough talk about getting peed on, why don't you head over and check out some of the other posts in the tour: