I bought this galvanized toolbox at a yard sale a couple years ago. It makes a great little planter to just toss in the garden any place you need a pop of color. And it's small enough that I can just pick it up and move it somewhere else if I want to.
Once my calla lilies pop out in full bloom, I'll be moving this to another barren area of my landscape.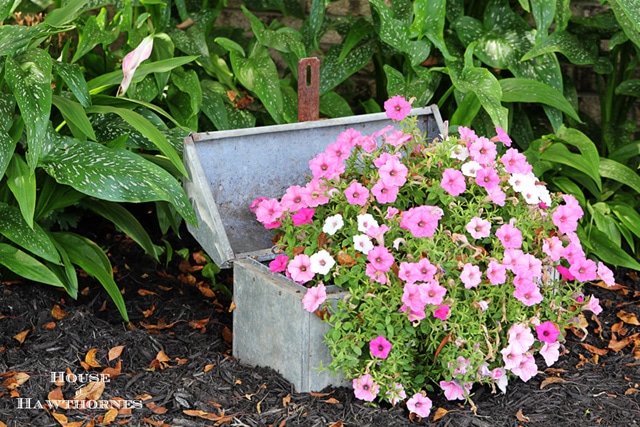 I did drill holes in the bottom and in the top of the toolbox, so it wouldn't hold ridiculous amounts of water. And the flowers are from a hanging basket that I took out of the basket and plopped in here (hanging baskets are on clearance around here and ridiculously cheap).
Instant color. Hardly any money. Happy girl.
So what are you up to this weekend? I have not been to one single itty-bitty yard sale. Not one.
Dying here, but I've been working on spring cleaning my house this last week and I can't bring one more thing into it until I organize what I have. And yes, I am fully aware that it is summer, not spring. I'm a little behind on my household chores that I love so much.
So get out there and buy some good stuff. I'm counting on you to take up the slack for me.