Like a lot of other places in the Midwest yesterday we had horrible, scary weather. They were tracking its approach on the local news stations all morning and were warning of possible tornadoes that could be associated with the storm.
It was quite windy in the morning, but you sort of become blase about this sort of thing in the Midwest. They always warn you that things are going to get bad, but then the tornado never hits you and you just sort of ignore the warning sirens after a while.
I won't be ignoring them anymore.
I noticed that the sky was getting darker and then it started to rain a little. Then I noticed the martin birdhouse in the backyard was blowing around quite a bit (and it's on a steel pole). I opened the front door so I could see what was happening out front (stay away from windows and doors!!!) and just about then a huge rush of wind swept by the house like I've never seen before. It was powerful and was bending the trees almost to the ground. I have been in storms before and seen wind blow severely before, but this was different.
Next thing I know, one of the gourds that I had in the iron basket by the front door flew past me and one of the rocking chairs jumped off the porch and landed in the bushes. And when I say jumped off, it's not like it scooted across the porch being blown by the wind, it literally was picked up and dropped in the bushes.
The super duper heavy wind lasted maybe 30 seconds to one minutes at the most. And then it went back to its normal windiness that had been happening all morning.
I was a little shocked that it was over so soon and started to see if we had any damage.
In the backyard a bench was blown over,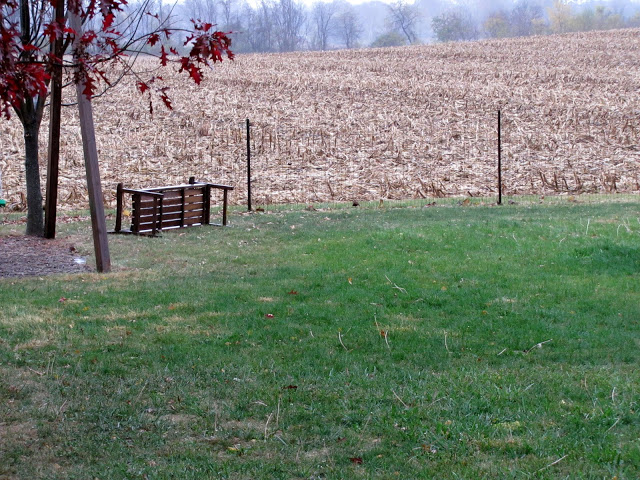 my Black-Eyed-Susan vine and pumpkin in an urn were blown over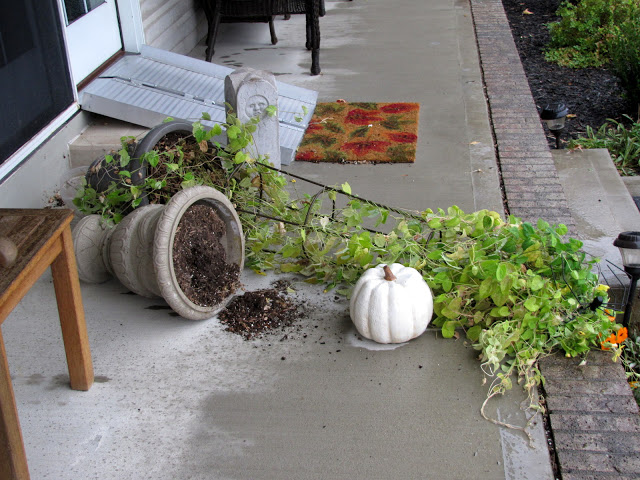 and one Hawthorn tree was split.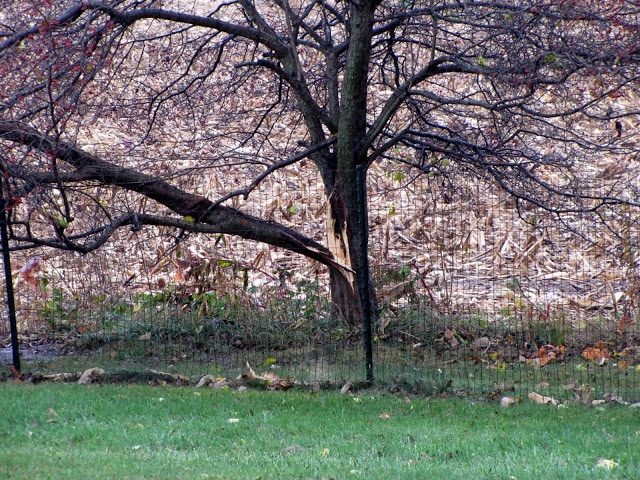 In the front yard the porch was blown around a little.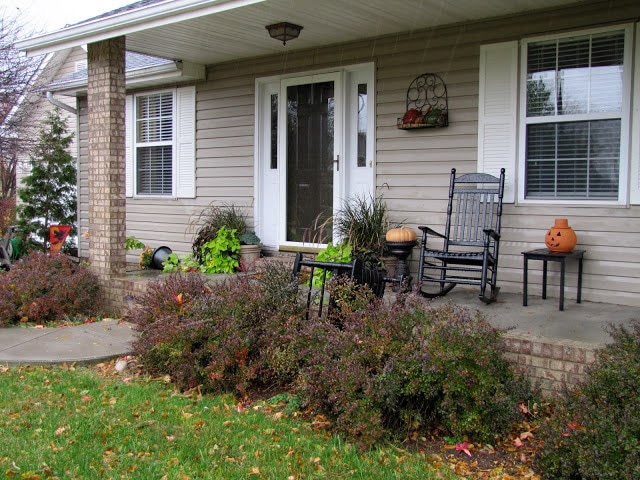 The rocker was in the bushes,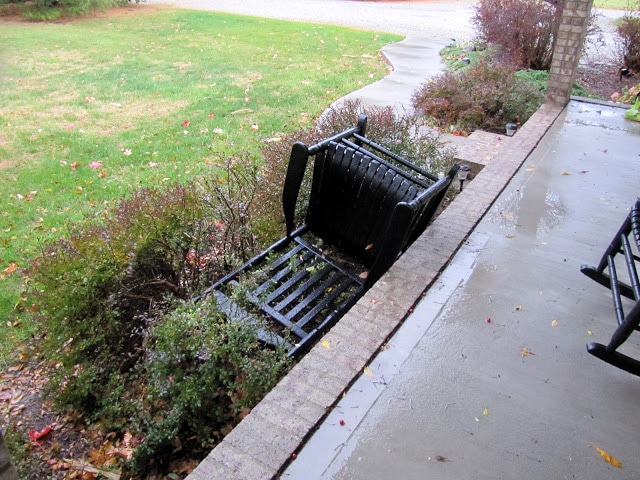 my mum was knocked over,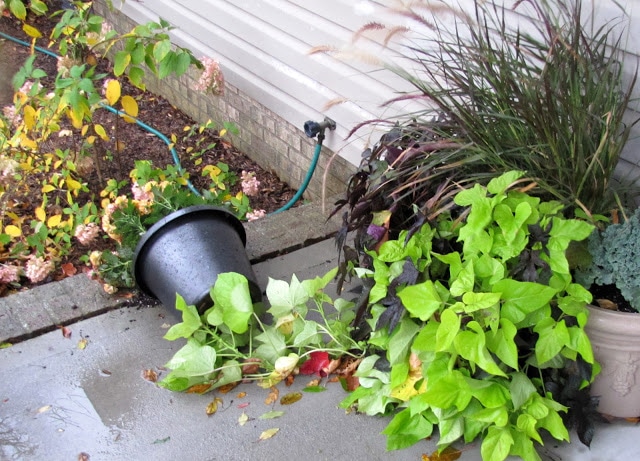 wreath knocked down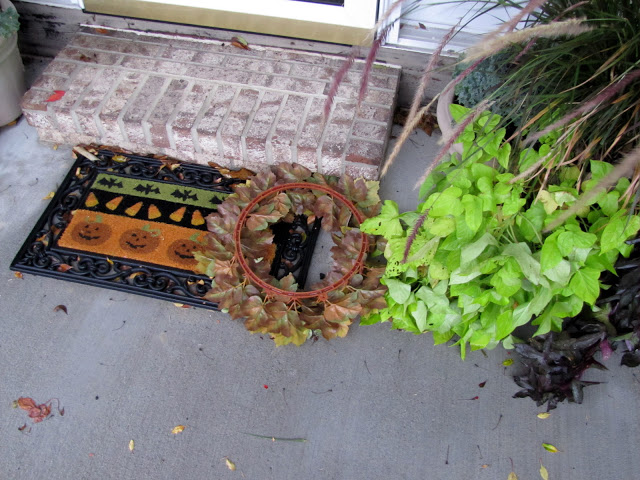 and generally just a lot of leaves and debris sitting around.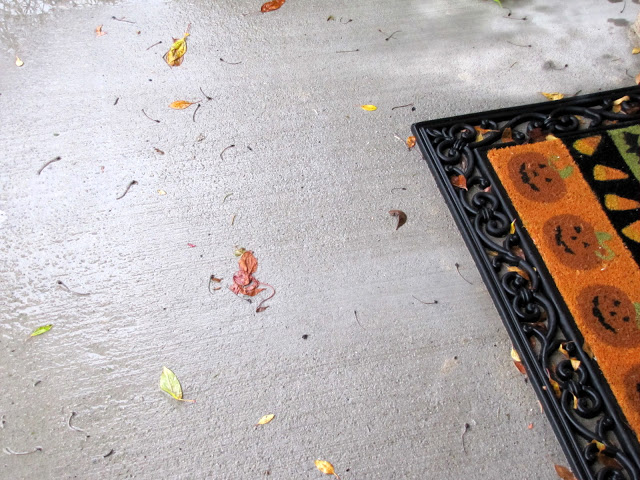 So I thought we had pretty much escaped the ordeal in good condition.
And then I walked around the garage and noticed this scene down the street. (I took this with magnification, so it's not quite as close at it looks).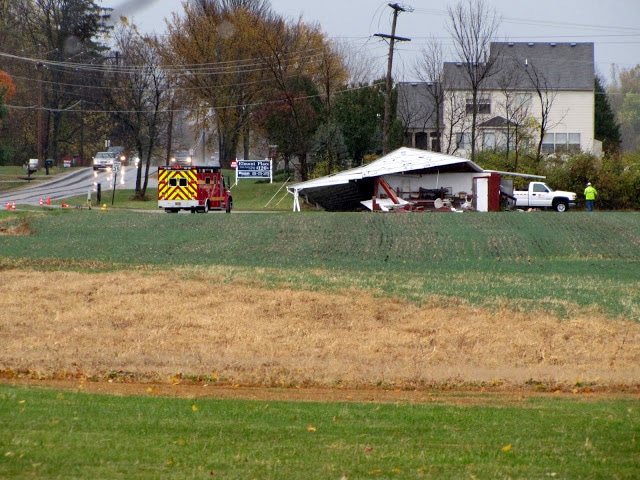 It's a cinderblock building that used to be used as a farm market.
¼ mile from our house a tornado may have touched down. Crap!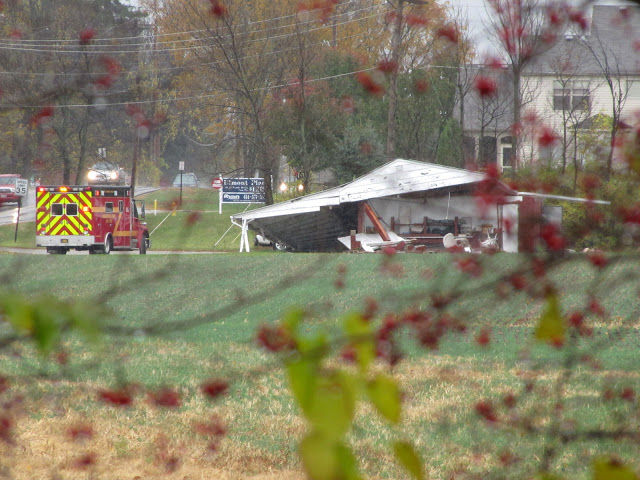 And then while watching the news they had stories of a horse farm ¼ mile on the other side of that farm market that had two barns demolished.
This morning the National Weather Service confirmed that it was a tornado. A small one, but still a tornado.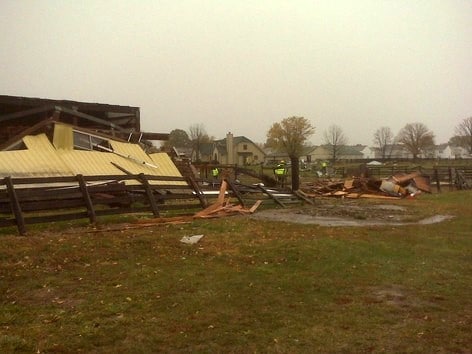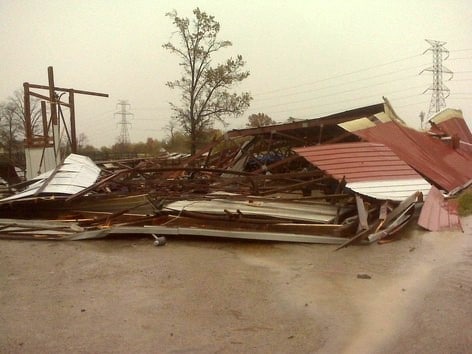 That's a little too close for comfort for me. The next time there's a tornado siren blowing you'll find me in the basement.
And I won't come out until the rainbow appears.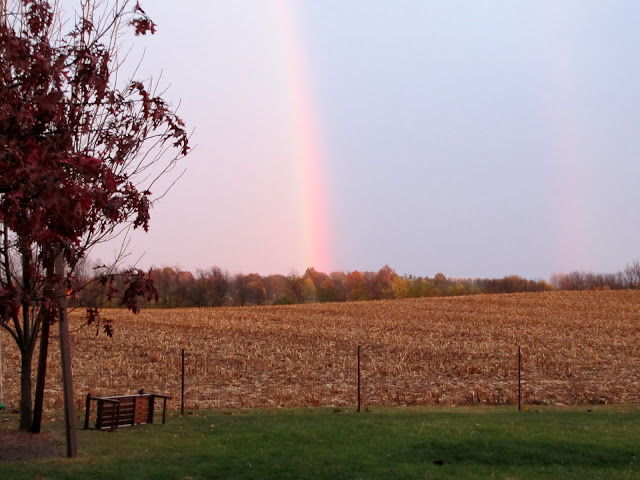 Linking to A Southern Daydreamer's Outdoor Wednesday.