Thought I'd give you an update on my World's Longest Yard Sale adventure this weekend. How to sum it up? How . . . would . . . I . . . sum . . . it . . . up . . .
Oh, I didn't go.
Yeah, it was one of the weeks at my house where nothing was lining up and try as hard as I could, I couldn't fit it in with all the other stuff we had going on.
Womp womp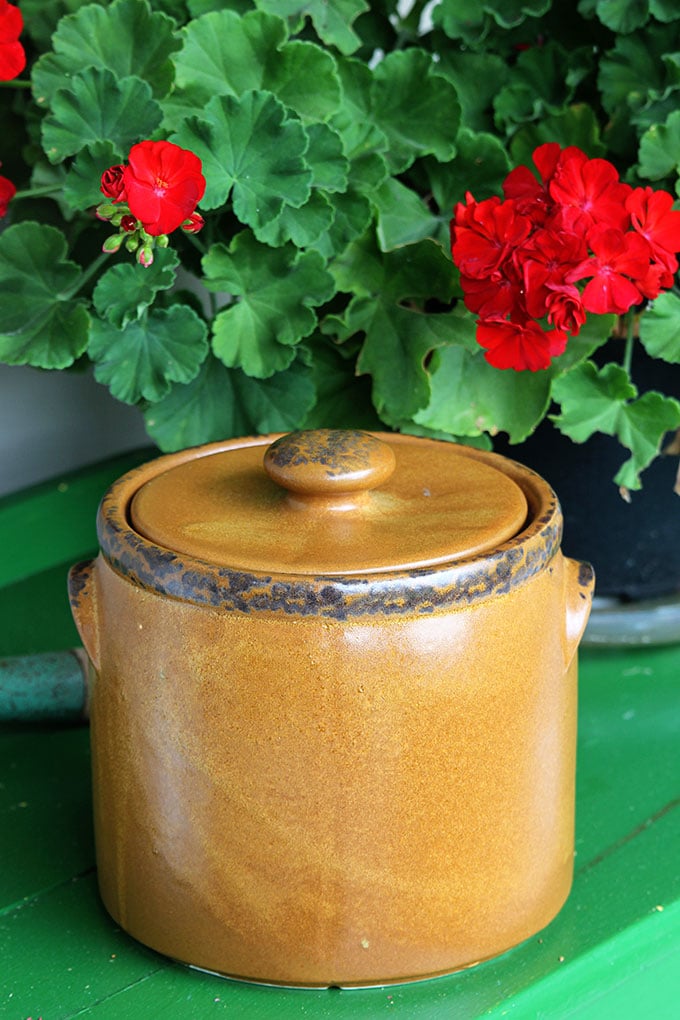 Is it ironic that I did a tongue-in-cheek post about 5 Reasons To Not Shop The World's Longest Yard Sale and then didn't shop it?
Melissa at Melissa's Antiques has her post about the sale on her blog today. Because she actually went. To the sale. Like she said she was going to do.
I did try to get out to some local sales here for a few minutes though.
On Friday morning, I found the bean pot in the first photo for a buck at a little church sale down the street from me. I thought I might use it as part of my fall decor??? Yes, I'm thinking fall decor already!
These vintage plastic paper plate holders were 8 for a $1.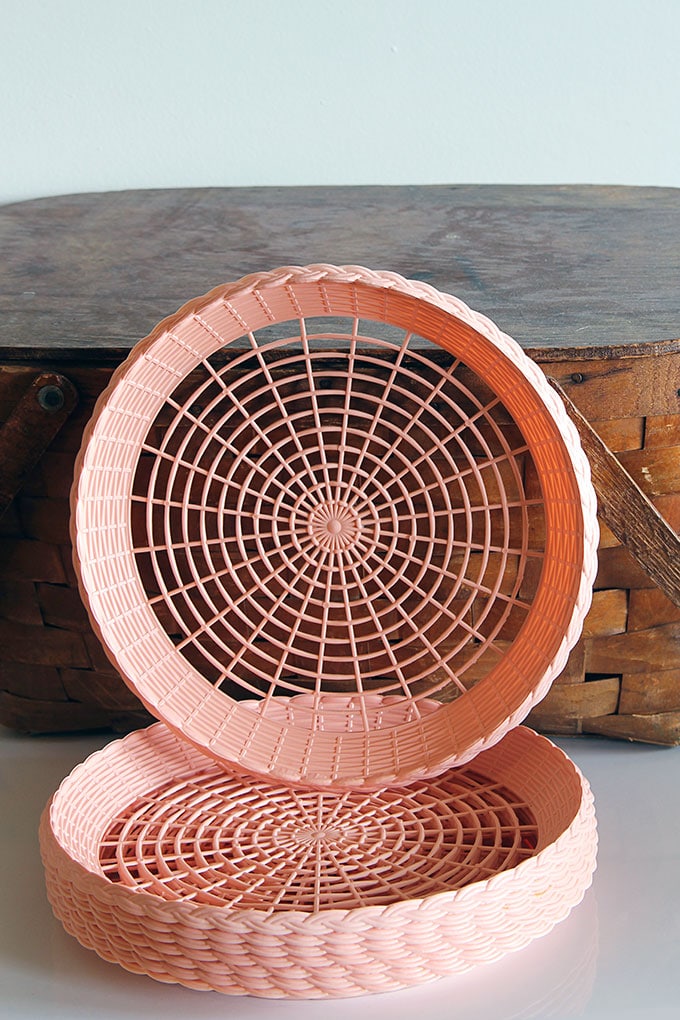 I found this farm type stuff at a little yard sale that I stumbled across on the way back home.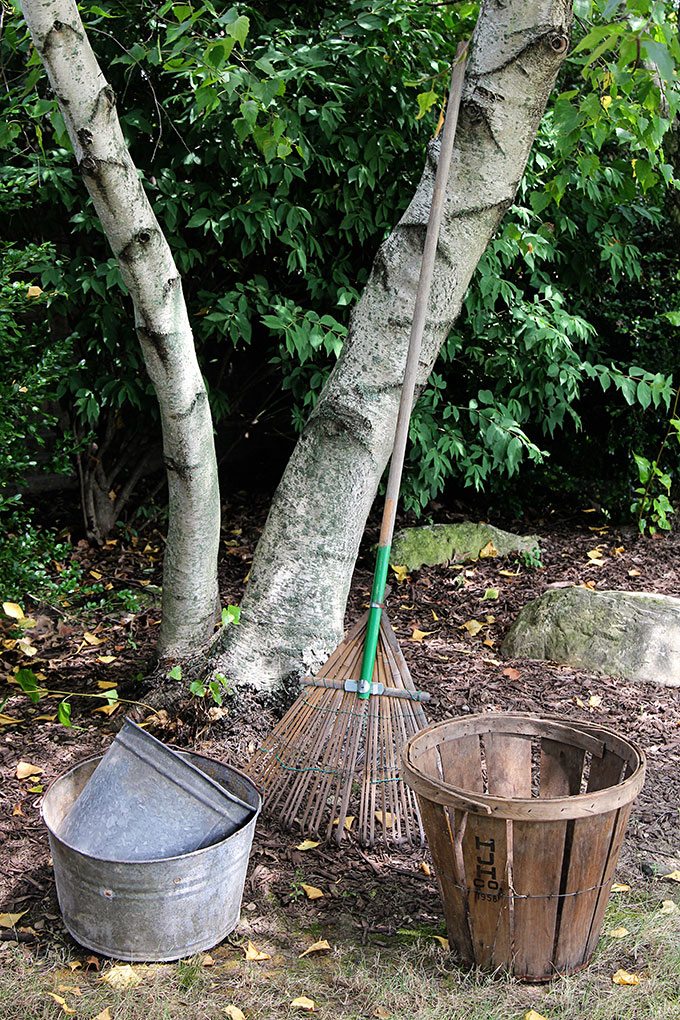 I'm pretty sure the rake will make an appearance on my front porch this fall.
I love the basket. I believe the initials stand for H. J. Heinz.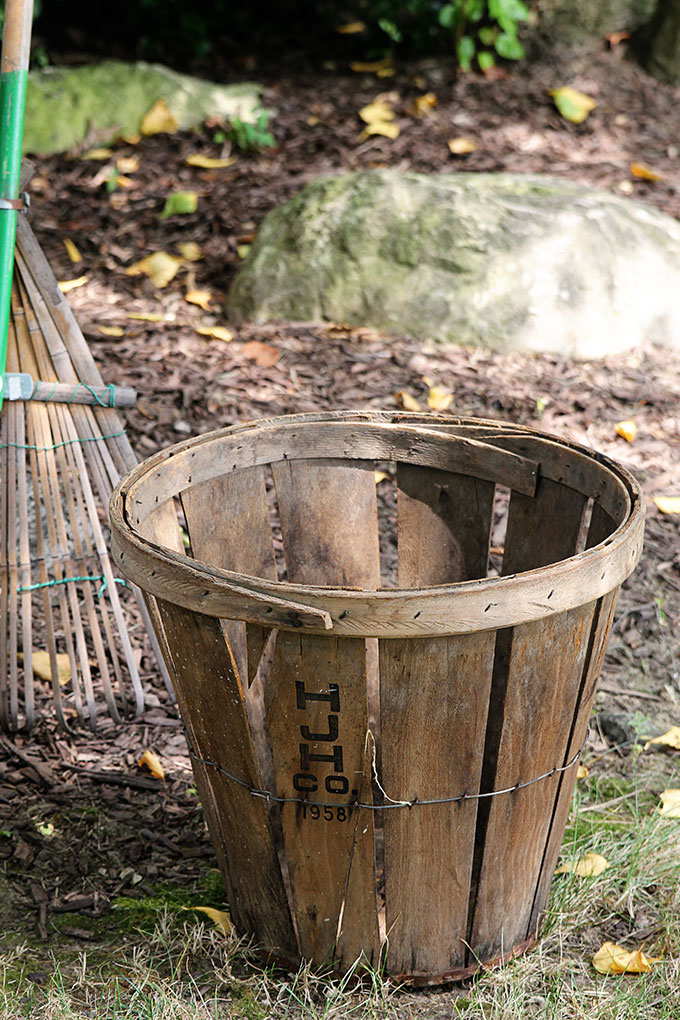 Maybe it's a tomato basket???
And then on Saturday morning, I had big plans to hit up a few sales. First stop was a church rummage sale followed by a promising looking barn sale and then a few thrift stores.
I only had about two hours to do all this in, because of the aforementioned stuff, but I was a woman on a mission.
I've always wanted one of these vintage wicker hampers so when I saw "25" on it at the church rummage sale, I was bummed. Until I realized it was 25 CENTS. What were they thinking?
I tell you, old ladies and their pricing strategies are what keep me coming back to the church sales (if you're new here, I wrote a post about Shopping Church Rummage Sales a few weeks ago and it totally explains my love affair with the old ladies).
This one had "rags" written in marker on the wooden lid and unbeknownst to me when I bought it, it came with a bunch of old dirty rags in the bottom.
Yuck.
Yuck.
And yuck!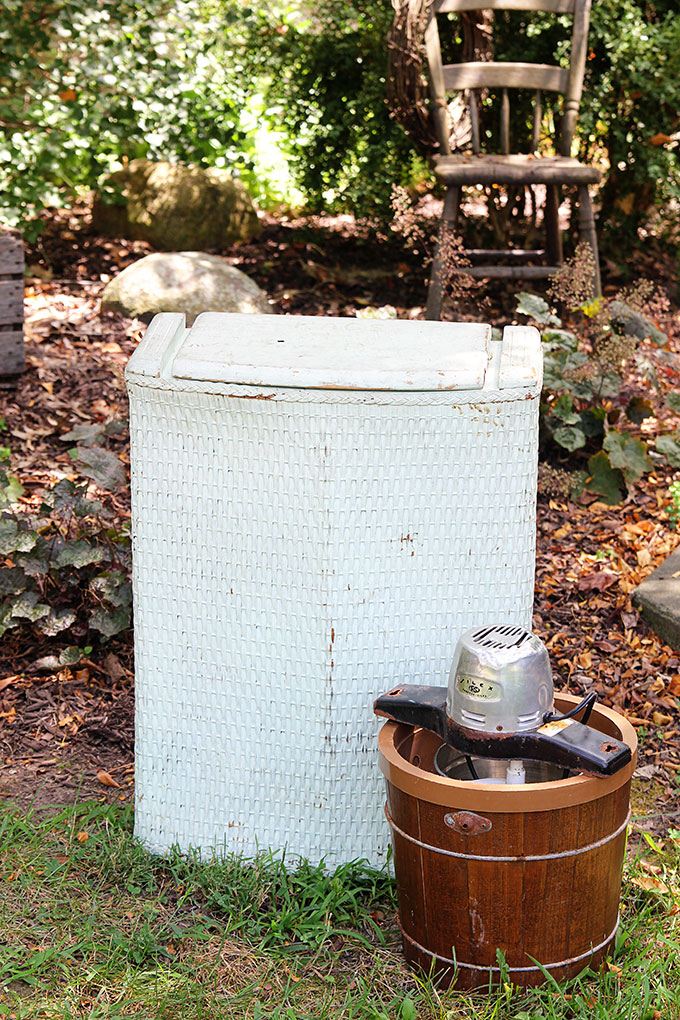 I'll be painting it. And Lysoling out the interior.
I also bought this wooden ice cream churn. It's electric so it can't be that old, but I thought it would look cute painted and used as a planter for fall mums. Maybe painted in a gold color???
It was much, much more expensive than the hamper. 50 cents.
I was sort of pumped with my church sale finds and excited about going to the next sale, so I jumped on the expressway and sped off to the barn sale.
Until my lights started flashing on my dashboard and my tire pressure on one of my front wheels went from 34 to 24 in a matter of seconds and kept going lower and lower. VERY QUICKLY.
Ugh! I had a flat!
End of the shopping day for me. I spent the rest of the day calling AAA (not AA, although I was in the mood for a drink right about then) and getting the tire patched.
I was all ready to have a pity party for myself because the weekend was NOTHING like I had planned, but you know what? At least I wasn't 300 miles away from home at the World's Longest Yard Sale when this happened!
So I'm going to go ahead and call this weekend in yard sale land a WIN.
Did you get to go to the World's Longest Yard Sale? Any great finds?