Don't go.
Whoa, wait a minute.
Pam's telling me to NOT go to a yard sale? Say it ain't so!
Yes, The World's Longest Yard Sale aka 127 Corridor Sale is coming up August 5th-8th, 2021 and it isn't all it's cracked up to be.
You may just want to skip this one.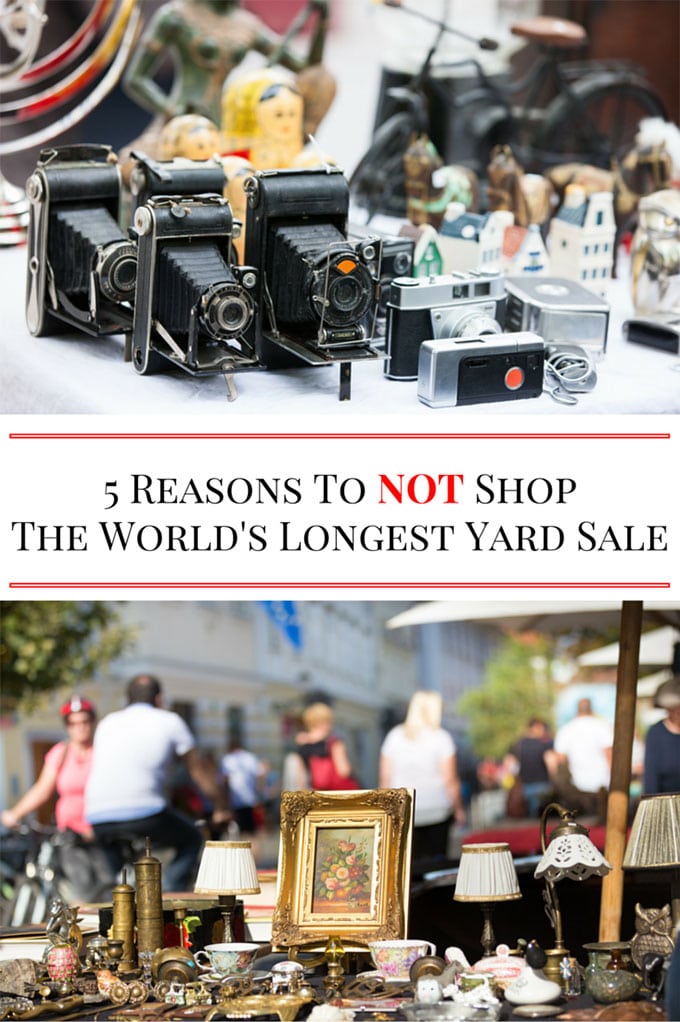 5 Reasons To NOT Shop The World's Longest Yard Sale
Your church holds an annual yard sale, so you're good on yard sales this year, thank you. The World's Longest Yard Sale, with its 14 bazillion yard sales every ten feet can't possibly hold a candle to THAT gem of a sale.
You would prefer to sit on your couch and watch reruns of Fixer Upper and admire her antique finds in her house and wonder "where does she find all that cool stuff?", than actually find any of your own. Why get all sweaty and sticky out in the real world anyway? Pass the remote.
You absolutely HATE to find amazing, prices-so-low-your-mama-won't-believe-you, deals on vintage, antique and farmhouse items. You'd much rather brag to your country club friends about how much you spent on it at a fancy schmancy antique store.
Why buy authentic farmhouse decor straight out of a dusty barn when you can walk into HomeGoods and buy a brand spanking new reproduction that has never so much as seen a cow's butt before (well, except for that cow-shaped vegetable brush two aisles over)? Viva la fake!
You don't care to bond with your besties on a once-in-a-lifetime road trip across rural America while drinking Slurpies, eating Amish hand pies and playing rock, paper, scissors to decide who gets to sit on who's lap on the ride home. No way is that Hooiser cabinet going to get tied to the roof, so something has to give.
So please stay home! All the more treasures for me to find!
But seriously, I have some fun info and useful tips about the sale for you.
All About the World's Longest Yard Sale
The 2021 World's Longest Yard Sale will be held Thursday, August 5th through Sunday, August 8th. Keep in mind LOTS of people along the route start selling a few days BEFORE the official start time, so some of the better deals and best items might be found the week leading up to the official sale.
It covers 690 miles, through multiple states - Alabama, Georgia, Kentucky, Michigan, Tennessee and Ohio too! This event is known as the "127 Yard Sale," because it runs straight through Highway 127.
The 127 Yard Sale people have an online site with an interactive map (127 Yard Sale Interactive Map) which will tell you exactly where it is, so you can easily plan your shopping and travels. Highway 127 is a fantastic place to hold this event, as it is considered to be one of America's loveliest scenic drives to take, according to Reader's Digest.
The event first began in 1987, started by Fentress County Executive Mike Walker in Jamestown, TN. His hope was that travelers would come through the small towns via Highway 127 and see how great they were, to enjoy the other attractions such as horseback riding, fishing and arts & crafts festivals. As you can see, Walker's efforts were hugely successful, with nearly 700 miles of yard sale stretching through 6 states in the U.S.A.!
One thing that truly makes the World's Largest Yard Sale unique is that you will see every type of vendor you can think of. People selling items in front of their homes or from their driveways. Items for sale at businesses and community sales. Even items available in beautiful pastures along the way!
As you can imagine, one of the challenges of visiting a sale like this shopping until you drop! There is so much for sale, and you just never know what treasure will be discovered around the corner. The World's Largest Yard Sale is quite savvy, offering shipping centers along the way. So whether you've bought an item that is just too big for your vehicle to handle for the ride home, or if you've found so much great stuff, you need to put together a package and mail it home - this is super easy to do. A USPS flat rate box is quite budget friendly and you can ship anything of any weight in that type of box.
A Few Helpful Tips When You Go To The World's Longest Yard Sale:
#1. Be patient with crowds. You're attending a very popular event. Expect to see a lot of people and there will be times there are going to be lines, whether vehicle traffic lines or simply standing in someone's driveway to look at items for sale. Smile and enjoy the experience.
#2. Prepare for the summer heat. It's August and quite likely, the sun will be quite constant and hot. Before you start the yard sale, bring your biggest cooler and pack bottles of water, juice and other hydrating drinks. Remember that beverages or foods with caffeine actually dehydrate you, so you will feel the heat more. Bring sunscreen with a high SPF, at least 30 and reapply it to you and the kids at least every 2 hours. Wear cotton, light-colored clothing that is comfortable, not too tight, so the sun will not feel as hot.
#3. The 127 Yard Sale is a marathon – not a sprint. If you've never been, it's easy to feel kind of like a kid in a candy store with birthday money. You just want to experience it all, right now! Do pace yourself. Plan out your trip. If your family loves to search for certain types of collectibles like dolls or vinyl records, make a small list of anything you'd be thrilled to pick up so you stay focused.
#4. Most of all, have fun! This is one of the biggest & most unique yard sales you'll ever go to. Talking to people along the way, seeing what they are selling or who buys what is a lot of the fun. If you are a huge yard sale fan – THIS is your Super Bowl!
Have you been to the 127 sales before? If so, what's your favorite area or state to shop in?
Other posts you may enjoy:
How To Clean And Restore Thrift Store Finds
Top 10 Thrift Store Shopping Tips