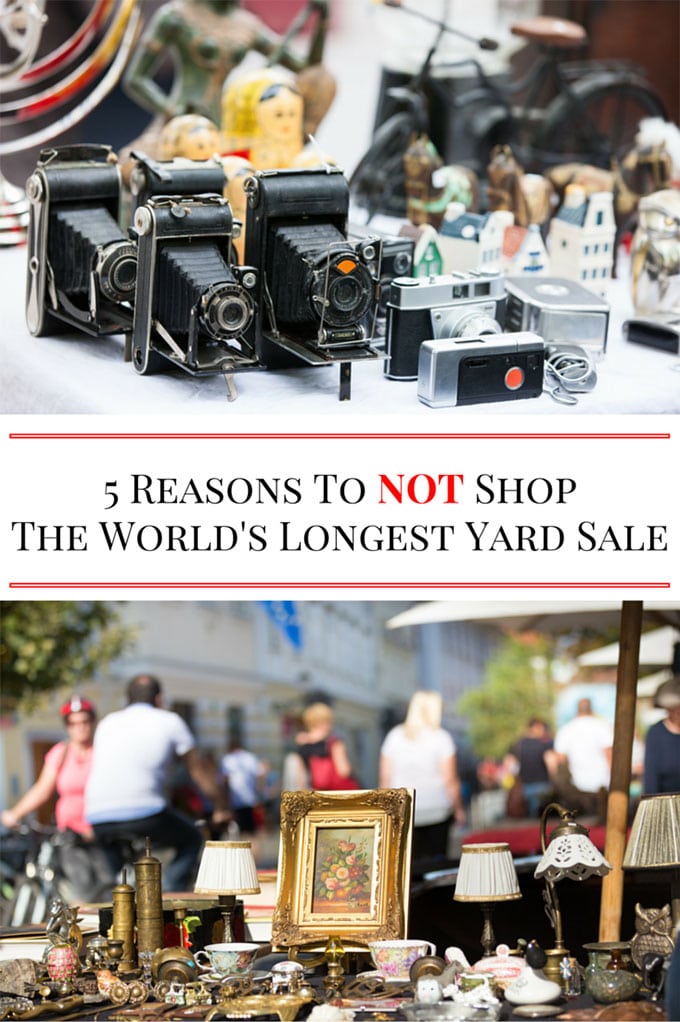 Whoa, wait a minute.
Pam's telling me to NOT go to a yard sale? Say it ain't so!
Yes, The World's Longest Yard Sale aka 127 Corridor Sale is coming up August 4th-7th and it isn't all it's cracked up to be.
You may just want to skip this one.

5 Reasons To NOT Shop The World's Longest Yard Sale
Your church holds an annual yard sale, so you're good on yard sales this year, thank you. The World's Longest Yard Sale, with its 14 bazillion yard sales every ten feet can't possibly hold a candle to THAT gem of a sale.
You would prefer to sit on your couch and watch reruns of Fixer Upper and admire her antique finds in her house and wonder "where does she find all that cool stuff?", than actually find any of your own. Why get all sweaty and sticky out in the real world anyway? Pass the remote.
You absolutely HATE to find killer, prices-so-low-your-mama-won't-believe-you, deals on vintage, antique and farmhouse items. You'd much rather brag to your country club friends about how much you spent on it at a fancy schmancy antique store.
Why buy authentic farmhouse decor straight out of a dusty barn when you can walk into HomeGoods and buy a brand spanking new reproduction that has never so much as seen a cow's butt before (well, except for that cow shaped vegetable brush two aisles over)? Viva la fake!
 You don't care to bond with your besties on a once-in-a-lifetime road trip across rural America while drinking Slurpies, eating Amish hand pies and playing rock, paper, scissors to decide who gets to sit on who's lap on the ride home. No way is that Hooiser cabinet going to get tied to the roof, so something has to give.
So please stay home! All the more treasures for me to find!
Have you been to the 127 sales before? If so, what's you favorite area or state to shop?
And one of my blogging peeps, Melissa from Melissa's Antiques, did a post on her experience at last year's sale if you want some Tips & Tricks!
Other posts you may enjoy:
How To Clean And Restore Thrift Store Finds
Top 10 Thrift Store Shopping Tips