If you can remember back to August, I found a yucky, paint splattered wreck of a vintage step stool at the 127 Yard Sale aka World's Longest Yard Sale.
I purposely bought it because it was in bad shape, was ugly and was cheap.
Normally I like my junk rusty, chippy and well loved, but this was on a whole different level.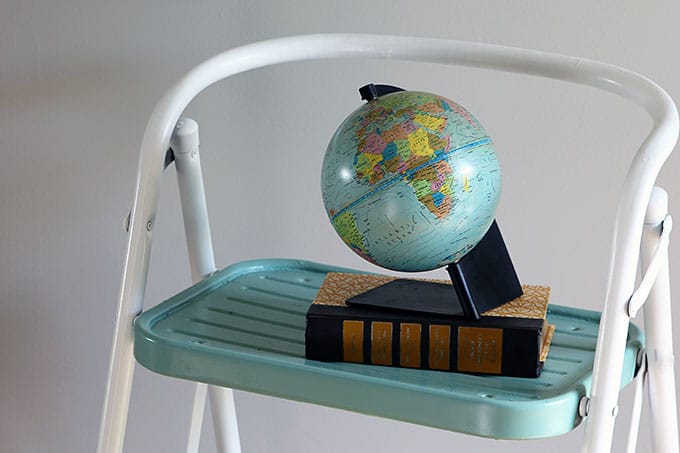 Someone had obviously used it as their painting ladder and never before heard of using paper towels to wipe up paint spills, so I decided to pretty her up a bit.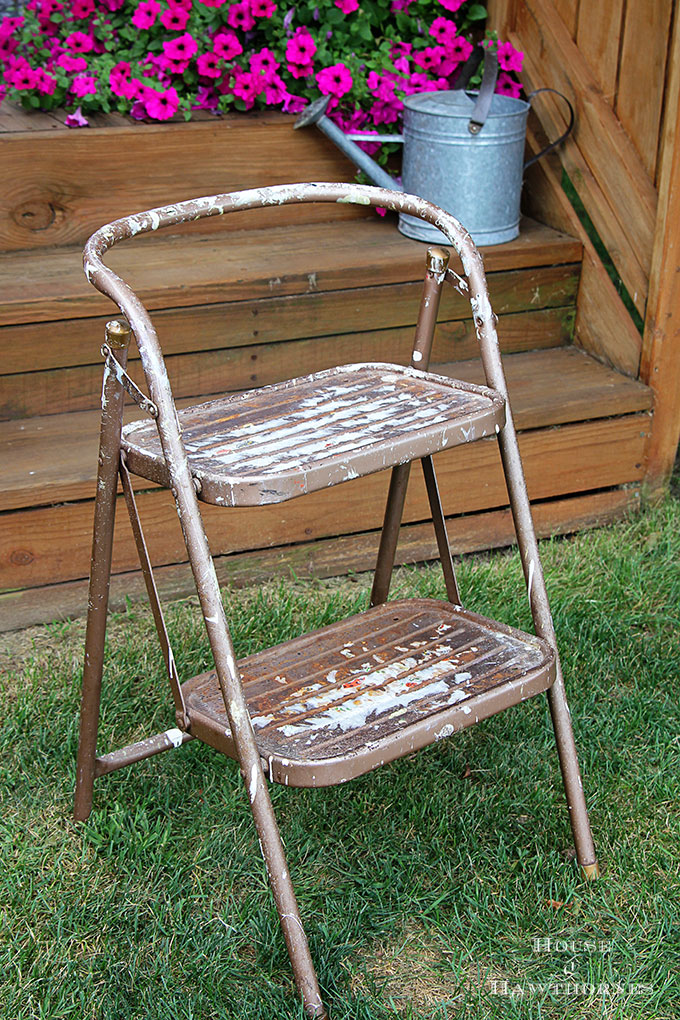 I took my hand sander to some of the paint splatters. I just knocked off the high spots so they wouldn't still show after I painted it.
That was the easy part.
The toughest part of this makeover was the ugly-butt wallpaper someone had stuck on it.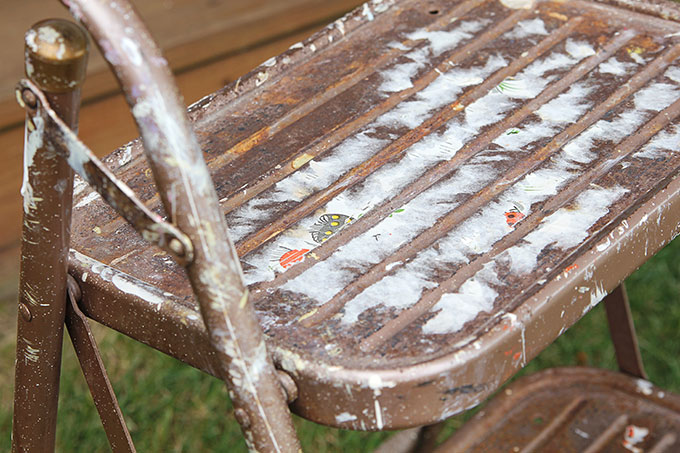 Now I love me some ladybugs, but just not on my furniture.
I ended up trying picking it off with my fingernails. Fail.
. . . sanding it off. Fail.
. . . using Goo Gone. Somewhat fail.
. . . using Goo Gone with my sander and fingernails. Almost a win.
. . . cussing at it and deciding that good enough was good enough. Win!!!
I used Krylon's Covermaxx spray paint in White (gloss) and Jade (satin). I originally chose this paint brand because of the COLORS to choose from, Krylon has a lot of pretty vintage-ish style colors this year, and I thought their Jade looked similar to Jadeite and I love me some Fire King Jadeite.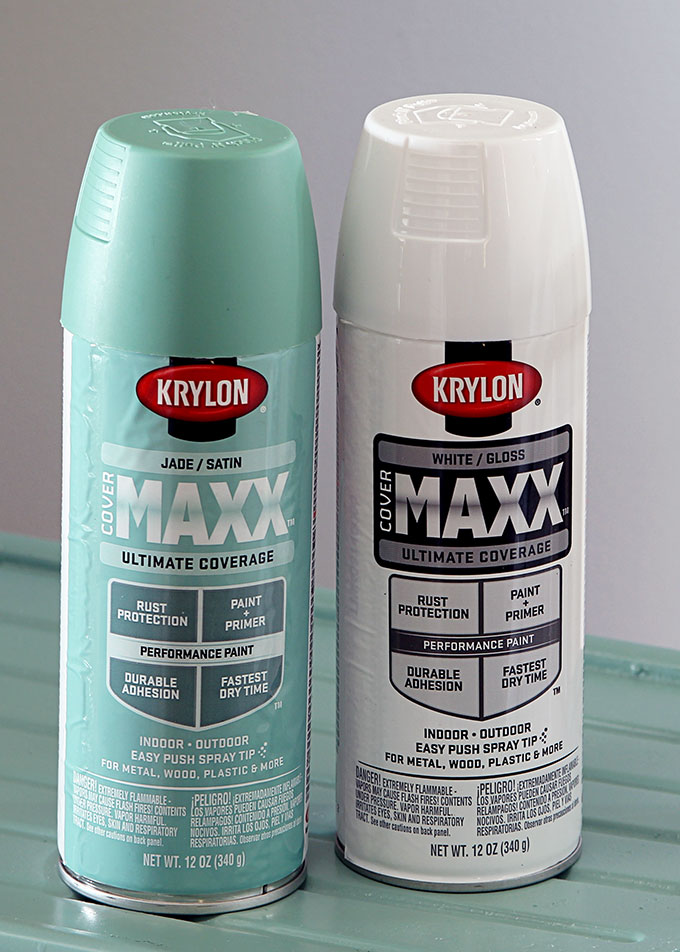 I would have used the Jade in gloss, but it didn't come in that finish/sheen.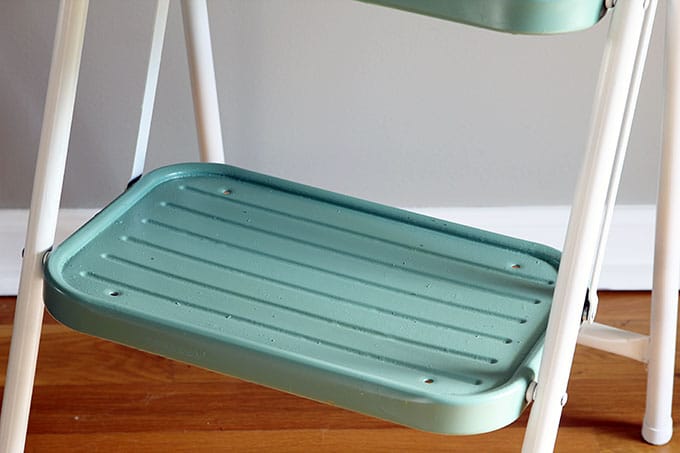 I used one can of white on the legs and roughly ½ can of Jade on the steps.
The coverage of this paint was AMAZING! Three light coats of the white covered up a multitude of paint splatter sins. There's just something about the mistiness (if I can be so technical) that I liked. It seemed like a finer spray mist than other paints I've use?
Anyhow, not to seem like an ad for Krylon or anything, but I was digging this stuff.
I was going to get all fancy and hand draw some arrows or something on the steps, but decided I was going for simple and straight-forward for this piece.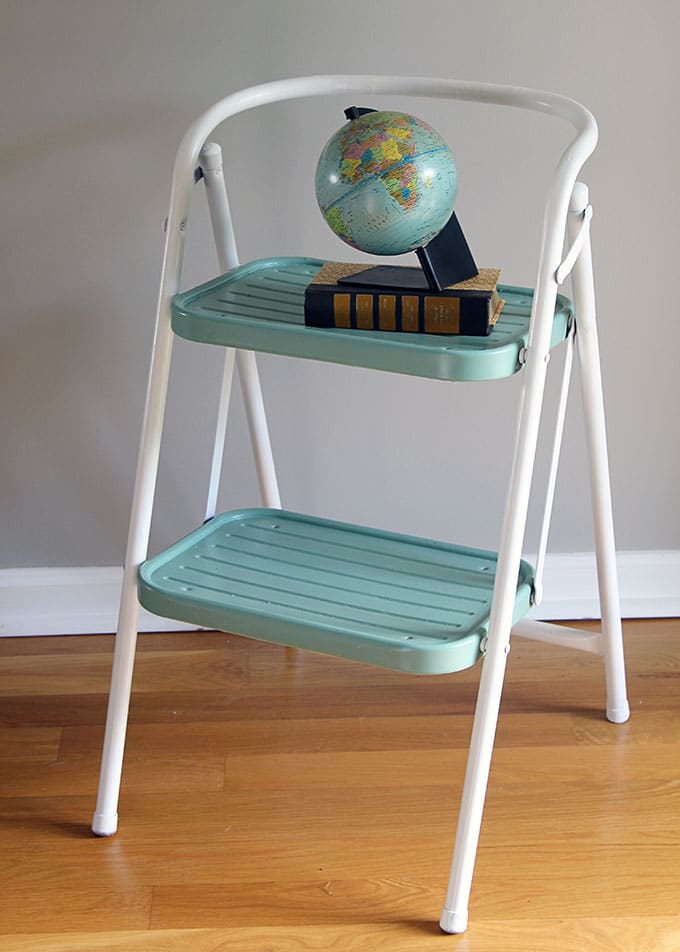 I mean, it's a step stool after all.
Edited to add: I've has some questions about how I painted the two colors without making a huge mess.
I painted the white not really caring if it got on the steps (because I knew I would paint them anyhow). When that dried I taped off the white closest to the steps and then wrapped some Saran Wrap a little farther up the legs in case I had any over spray (which I did).
Oh, and I used Frog Tape For Delicate Surfaces (yellow container), so it wouldn't pull up any of the paint. Pretty similar to what I did on my Painting A Vintage Motel Chair post last year.
To compare and contrast: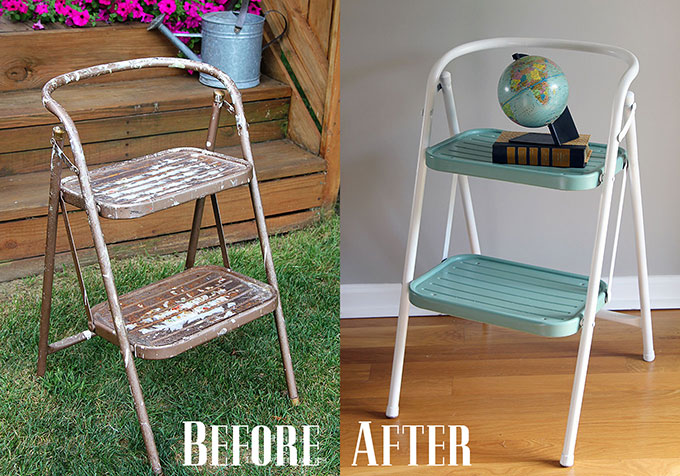 And in a Pinterest friendly version for you:

Some more yard sale makeovers can be found on my
Upcycling
page.
OK, off to the thrift stores to see what trouble I can get into!