A couple years ago I snagged this vintage metal motel chair at an estate sale for $10.
Still one of my favorite finds.
But it was looking a bit ratty and I can't have ratty looking stuff on my porch.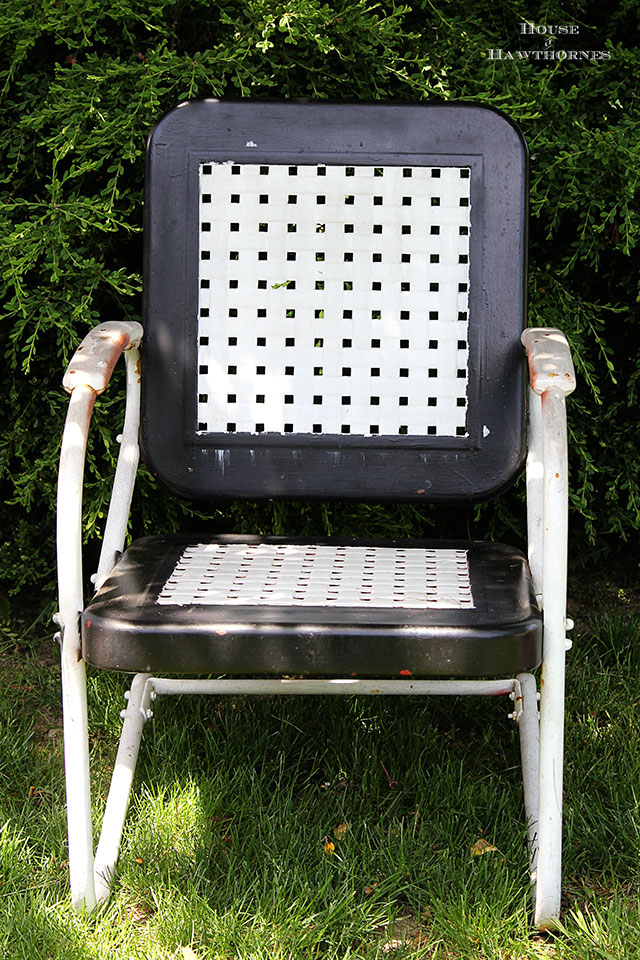 Hah! Had you going there for a second.
Actually, I normally love ratty and rusty and junky.
But this metal lawn chair was getting rusty and dirty looking to the point that you couldn't sit in it with white shorts on. So out of respect for my clothing, I decided to spruce it up a bit.
Now, it took me a good four weeks to decide on a color. My husband REALLY wanted me to just repaint it the same black and white. To me, that was just not shouting "Hey, I'm a cool mid-century motel chair" to me.
I thought about going turquoise or pink or maybe even orange. But I have been loving the look of vintage camping type gear this year. For example my Pleasure Chest, my thermoses, my picnic jug and my numerous picnic baskets.
So I decided on a dark green and ivory combination.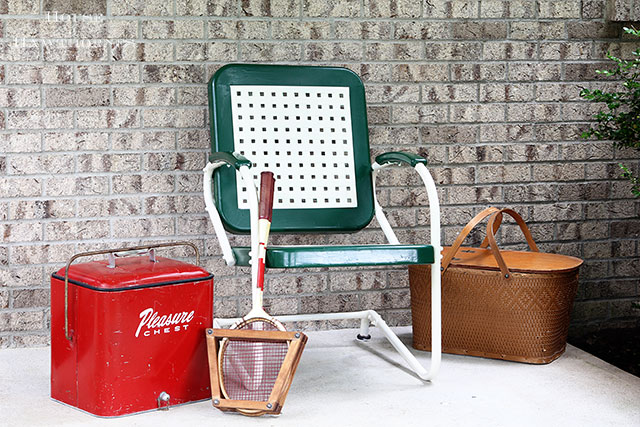 It's Hunter Green to be exact.
Before you all freak out on me and say that's so 1980's. I know! But I tried to disregard the name and the flashbacks and just go with the look.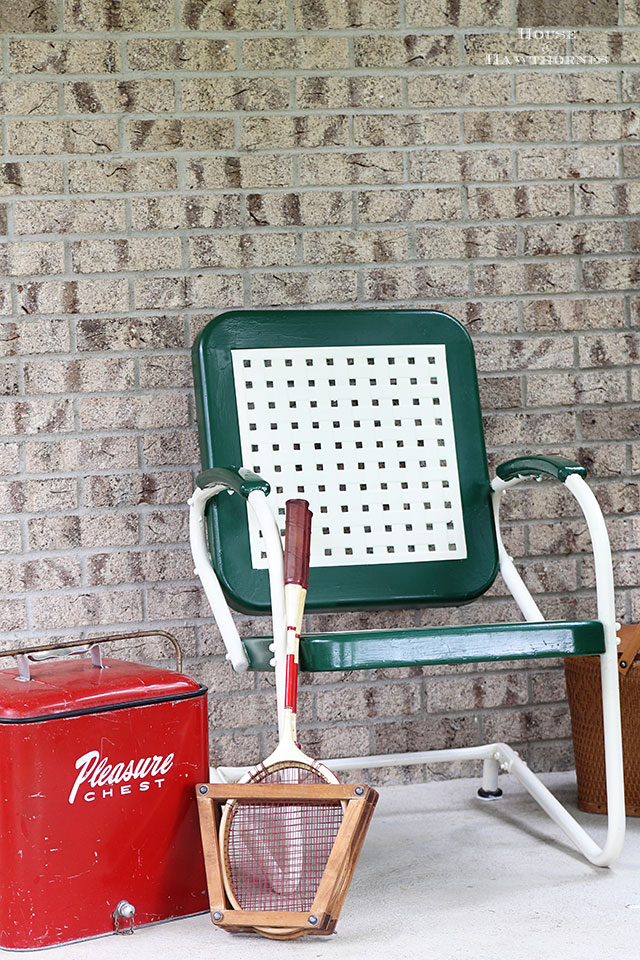 Painting A Vintage Metal Lawn Chair
Supplies needed:
Vintage metal motel chair in bad need of a facelift
Cling wrap (Saran, Glad or whatever brand you prefer)
Newspapers
Painters tape
Spray paint - a rusty metal primer
Spray paint - in colors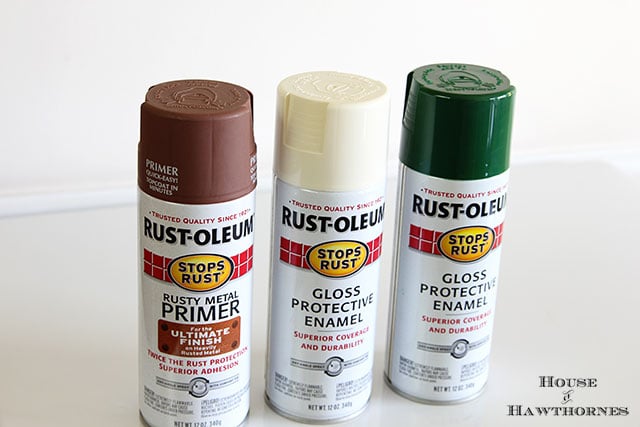 Colors I used:
Hunter Green - Rustoleum Gloss Protective Enamel #7738
Canvas White - Rustoleum Gloss Protective Enamel #7789
Primer- Rustoleum Rusty Metal Primer #7769
I used less than one can of primer, one full can of white and a little over one can of green
I started off by spraying the rusty metal primer on any obviously rusty areas.
This stuff is supposed to stop the existing rust from getting worse, provide two times the rust prevention as just using spray paint alone, and give a good surface for the spray paint to adhere to (I'm no expert on this stuff, I got all that info from their website).
After that dried, I painted two coats of the white-ish color on the legs, arms and insets. I didn't tape anything, just went all willy-nilly on it and sprayed away.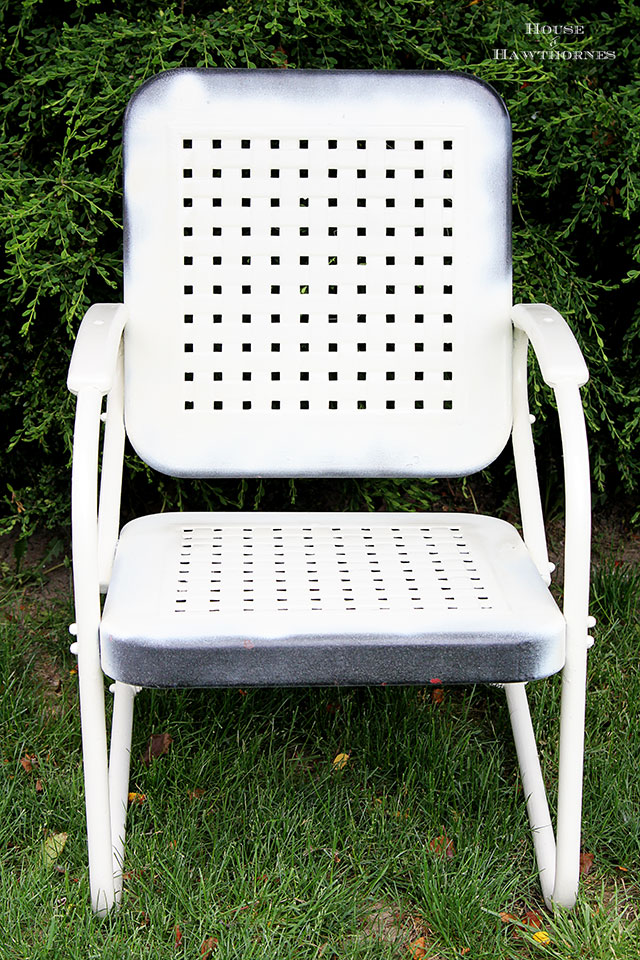 Even sprayed my shoes, but I'd advise skipping that part.
And allowed this to thoroughly dry. Since you will be using tape in the next step, you really want to make sure the paint is dried and set, so I let it set for a full 24 hours.
Then I taped off everything that I wanted to stay white.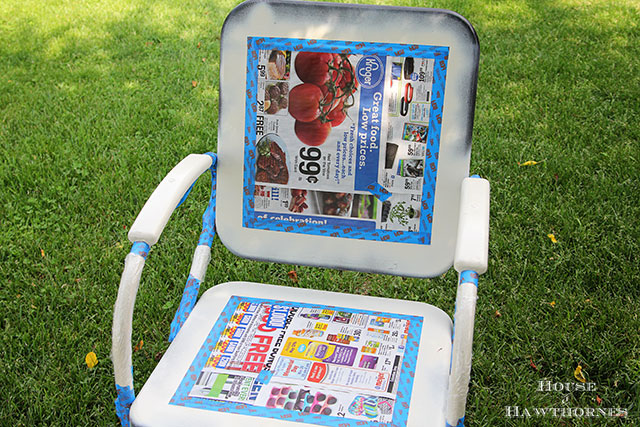 I used newspaper and tape for the insets.
Make sure you make a super crisp edge with the tape because this will be a very visible part of the chair. Except when your butt is in it, of course.
For the arms and legs I wrapped the cling wrap around most of them and then just taped around the edges.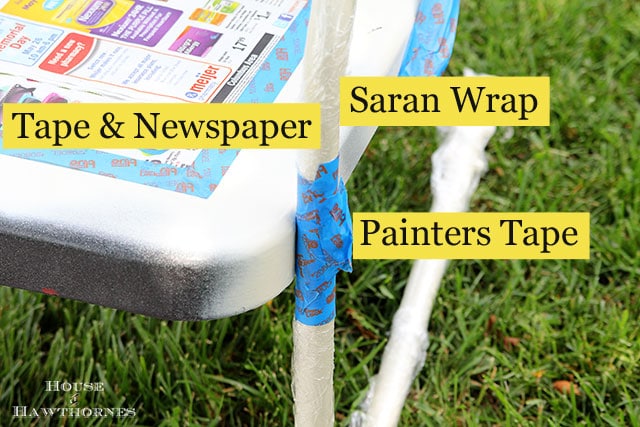 You could use tape for the entire legs and arms, but get ready to buy stock in a painters tape company, because that's a lot of tape.
As long as you have taped, wrapped and papered off EVERYTHING that you want to stay white, you can now just willy-nilly paint everything else with two coats of green.
Things to note. I didn't show you the back, but the back and bottom are just solid green. I was not going to tape off the back and bottom also, and I don't believe it was ever painted that way originally. I was also lazy at that point.
Now, is it just easier to paint the whole darn thing one color and forget about the two-tone look? Sure. But where is the fun in that?
And I think the two tone look is so much more authentic.
BTW, you have no idea how long it took me to take the final photos. I had a visitor who kept photobombing me.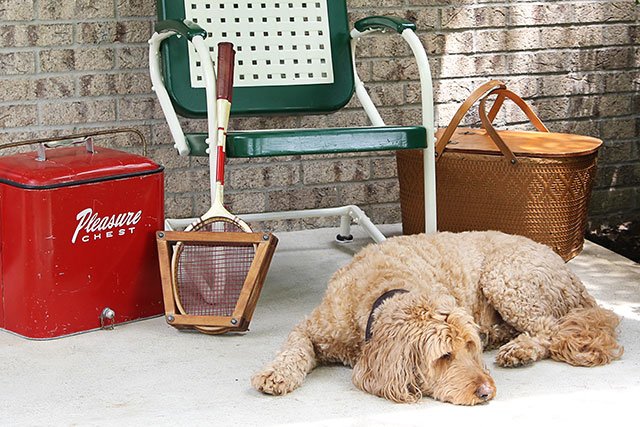 Every time I'd get ready to take the shot, she'd walk through the shot or start sniffing the picnic basket. Or decide to take a nap.
So get out there and paint those chairs! Your dog will love you for it!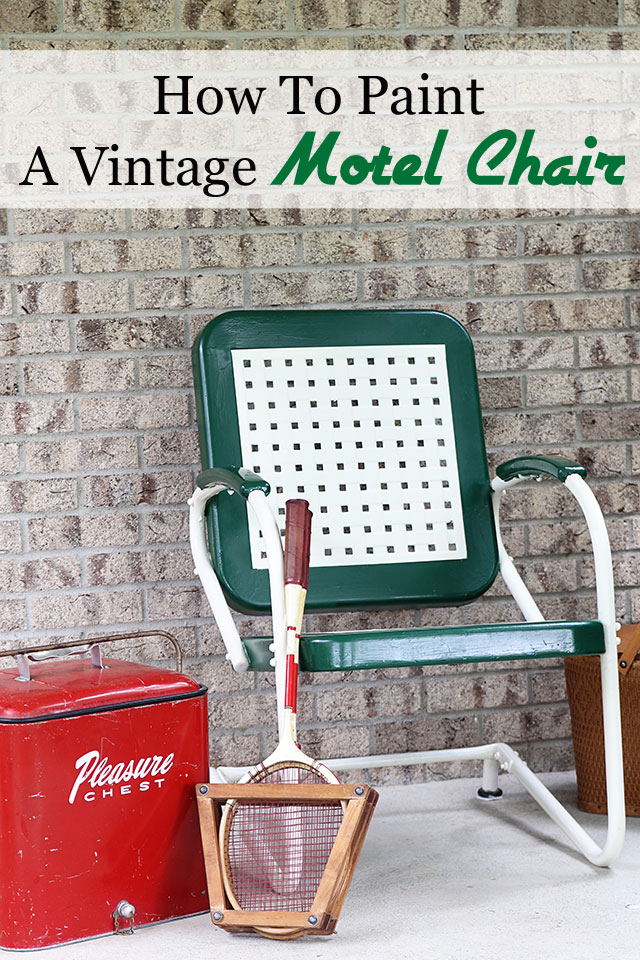 Badminton anyone?