It's not even September yet and I've went out an bought a mum.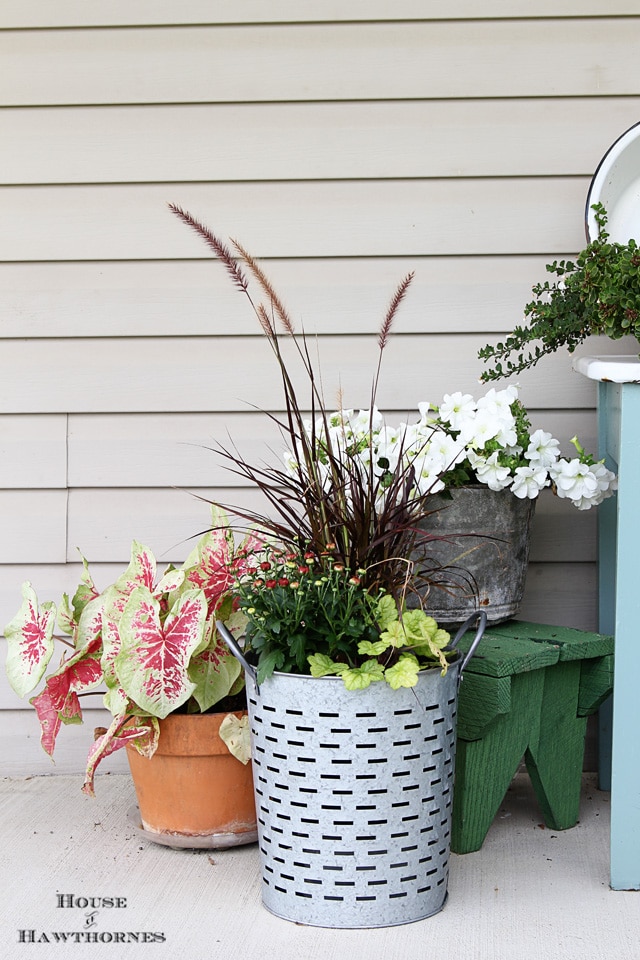 (It's that little thing in the middle of the Walmart olive bucket)
With school starting so early this year, it just felt like time to jump on the fall decorating bandwagon. Or would that be hay wagon?
Adding a fall mum, kale or cabbage to an existing planter is a great way to extend the life of your summer planters.
So I normally go ahead and remove the duds from my planters in late summer. You know, those petunias that are super leggy or the geraniums that never really took off. And just replace them with the more festive (and fresh) fall plants to keep the summer planters interesting for a few more months.
Normally it's not until November when I finally admit that winter is in fact coming and I give up on gardening for the rest of the year.
I got a little bonus this year too. Last week when I was at Lowes, I noticed that they had these planters on clearance for $5.00. Normal price earlier in the summer was $24.98.
Now there was no way I was going to spring for $24.98 earlier in the year, but $5 clearance flowers are always a good deal when they have perennials in the mix (the perennials will come back in the spring).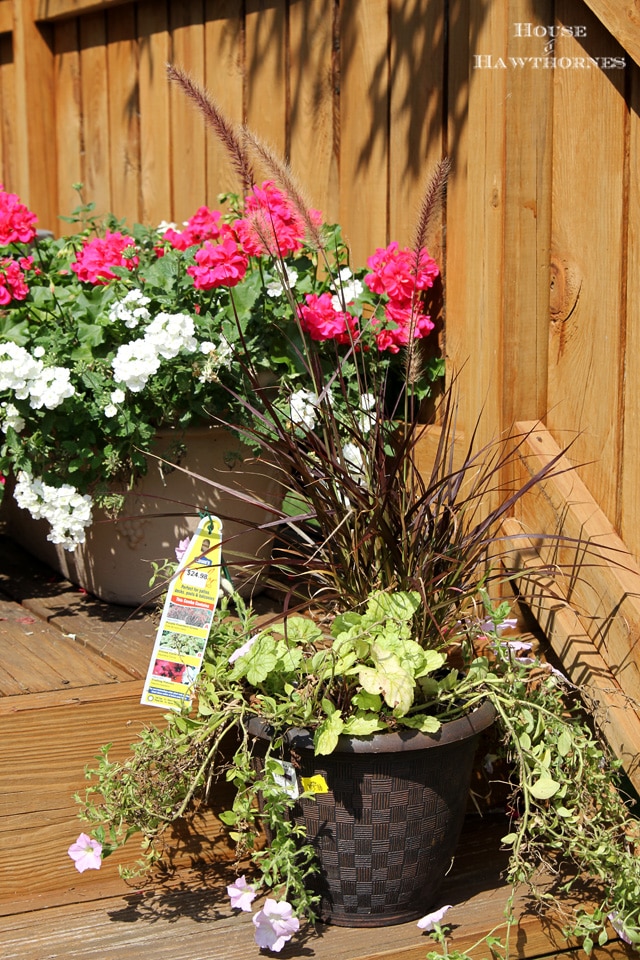 So I went ahead and skipped buying Wendy's for lunch and bought this instead. My thighs will thank me.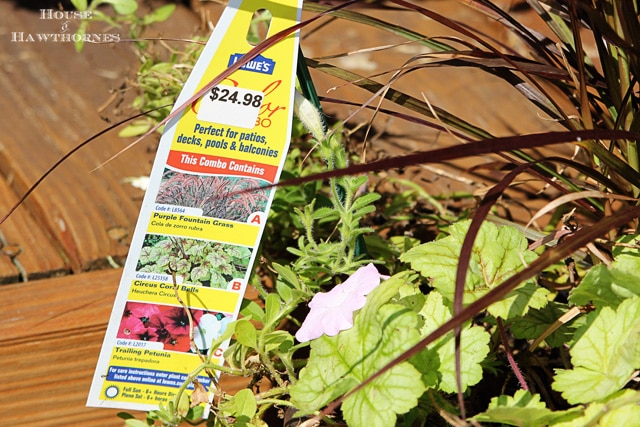 This one contained a Purple Fountain Grass (Pennisetum setaceum 'Rebrum', which always reminds me of the movie The Shining), Circus Coral Bells (Heuchera 'Circus' PPAF) and an ugly, stringy, past its prime, light purple Trailing Petunia (Petunia x hybrida).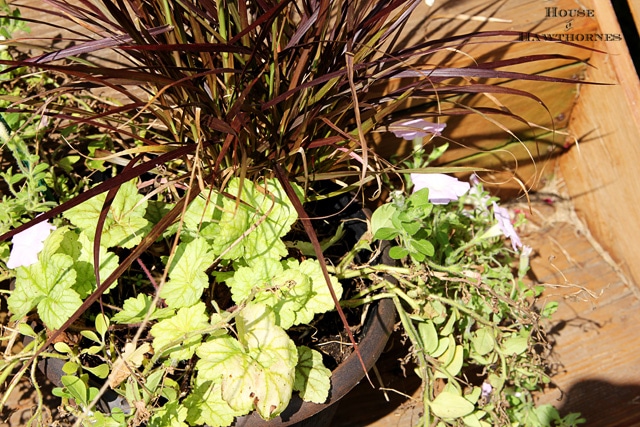 No sooner had I gotten it home and out of the car, I was digging the ugly butt petunia out of the planter.
And put an inexpensive mum in its place.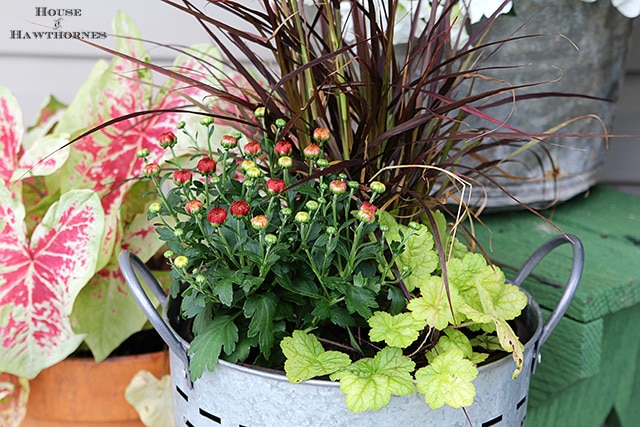 So for $5 and the price of the mum (I think they were around a buck or two), I have a brand new fall planter that will last until the Christmas porch decor comes out.
And further.
The Purple Fountain Grass is grown as an annual around here and I always love the airy plumes in the fall, but both the the Coral Bells and the mum will be transplanted into the ground after fall is over and should come up bigger and better next year.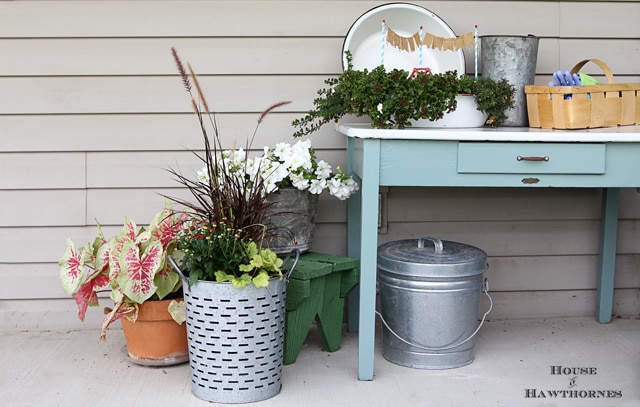 If you've never grown Coral Bells, you must get one. Or two. Or three.
This is a Purple Palace Coral Bells (Heuchera Micrantha 'Purple Palace') that I planted 4 years ago and it's absolutely huge now.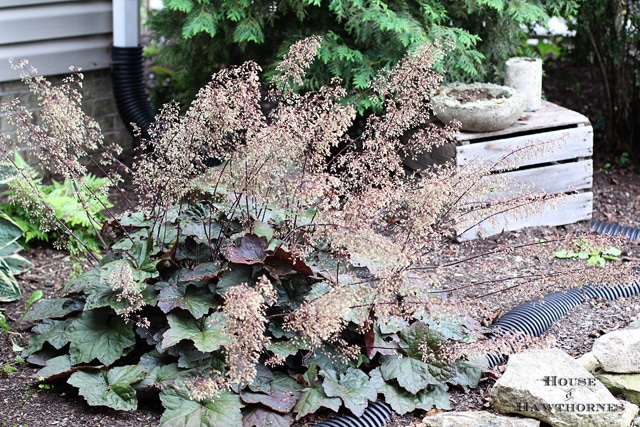 Sorry for the drainage pipes in the photo, but there's only so much "sprucing up" I can do when taking photos. I love you, but I'm not relocating gutters for you.
Have you gotten the fall mum bug yet?


Other posts you may enjoy:
How To Grow Peonies Your Neighbors Will Envy
How To Grow Limelight Hydrangea