Normally, I would say that my favorite plant is my Black-eyed Susan vine, but lately I've been having an affair with my Limelight hydrangea.

Officially, they say the blooms are a chartreuse color, but around here they become this very pretty creamy white color with just tinge of lime green poking through.
They start blooming in late July and if you can bear to leave the yummy blooms on the plants until fall . . . BOOM . . they turn a deep pink color that looks wonderful in fall arrangements.
And they dry beautifully!
Any questions???
OK, you in the first row. Yes, you with the yoga pants on, eating a pint of Ben & Jerry's.
What can I do to make them happy?
They like part-sun to full-sun. I have two of these and the one that gets more sun during the day gets twice as many blooms.
How do I find these guys?
Their name is Hydrangea paniculata 'Limelight' (common name Panicle hydrangea)- just check with your local nursery person to see if they sell them in your area.
How big do they get?
6-8 foot tall, so just a little shorter than Bigfoot.
Will they grow where I live?
Golly, that all depends where you live. They are hardy in zones – 3a- 9b and you can go to the USDA Plant Hardiness Zone Map to figure out your zone.
Old wood or new wood?
Glad you asked. They bloom on new wood, which is another way of saying new growth.
Pam, I have four hydrangea already, do I really needs another hydrangea?
You betcha! They are footloose and fancy free. I water them if we're having an extended drought, but generally these guys are on their own!
And you can NEVER have enough hydrangeas in your outdoor lineup. Never. Ever. Ever.
So to recap,
How To Grow Limelight Hydrangea:
Part-Sun to Full-Sun
6-8 foot tall
Hardy in zones 3a – 9b
Blooms on new wood (new growth)
Flowers from mid-July through fall
Buy as many as will fit in the back seat of your car
What plants are you crushing on this year?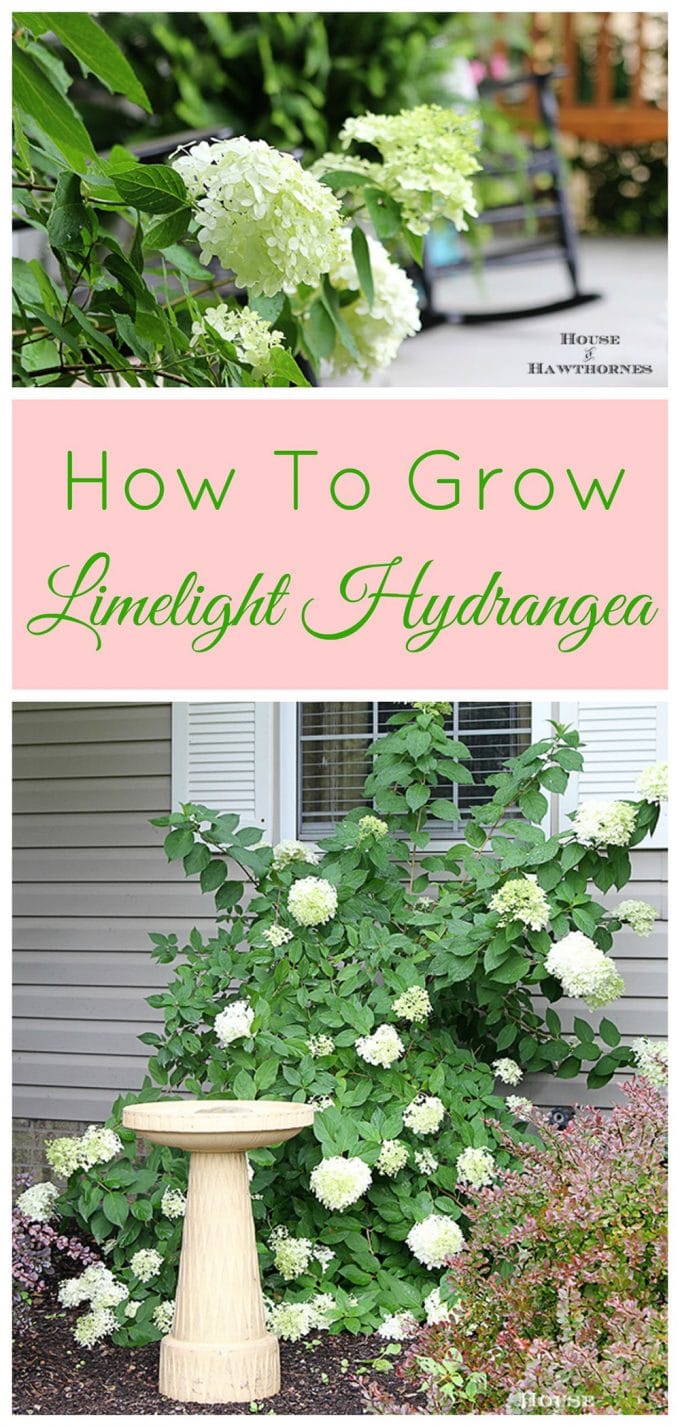 UPDATE: For information on drying hydrangea you can go here – Lazy Girl's Guide To Drying Hydrangea
(This post contains some affiliate links for your convenience. You can read my full disclosure policy here.)