I am on a one woman quest to make the Black-eyed Susan vine (botamical name - Thunbergia alata) as popular as the super-needy impatiens or the mundane marigolds.
Are you with me?
They. Are. Gorgeous. Period.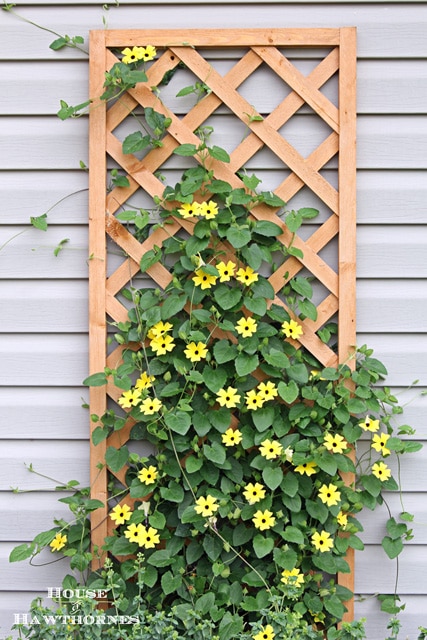 This old-fashioned beauty grows extremely quickly and is very easy to care for, making it a favorite in my garden every year. It is just as much at home climbing up a trellis as it is cascading down a hanging basket.
As a bonus, the vines attract all sorts of pollinators including bees, butterflies and hummingbirds.
Seriously, if you've never tried growing one of these you are missing out.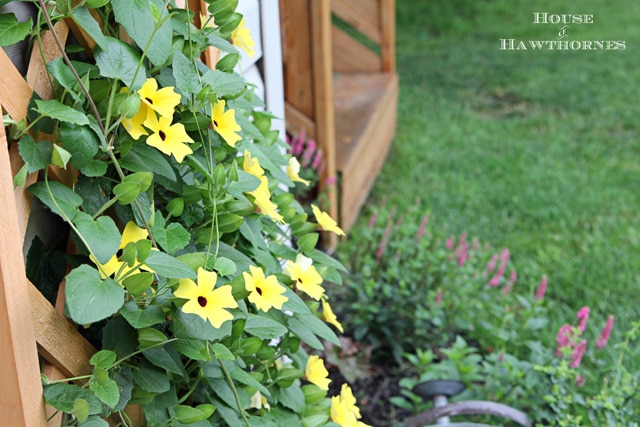 How To Grow Black-Eyed Susan Vine
Hardy in USDA Hardiness Zones 10-12 (grown as a perennial in southern Florida, Hawaii, etc)
Grown as a annual in cooler hardiness zones (I grow mine as an annual in Ohio)
Prefers full sun with light afternoon shade
Water regularly (if grown in a hanging basket do not let the pot dry out)
A trellis or stake will be needed, because they sort of go nuts
You can either purchased vines from the store already growing in pots or grow your own plants from seeds.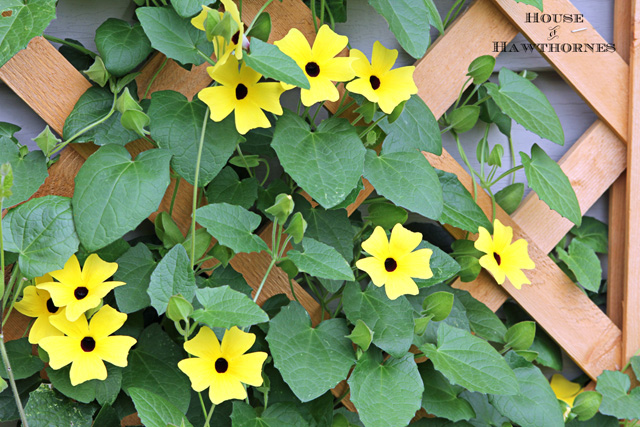 Growing From Seed
Although you can find the vines in containers and hanging baskets at most big box hardware stores and garden centers, they tend to come in basic yellow or orange. For some of the more non-traditional varieties you will need to grow them from seed.
But good news, these vines are VERY EASY to grow from seeds!
You can start indoors in biodegradable (paper or peat) pots 6-8 weeks prior to your last frost date. Or simply sow outside when soil temps rise above 60 degrees.
Plants normally emerge 10-14 days after planting.
(An affiliate link is included below for your convenience. You can read my full disclosure policy here.)
Varieties Available
There are MANY varieties of Black-eyed Susan Vines, but some of my favorites are:
Sunrise Yellow - the traditional bright yellow color
Arizona Rose - GORGEOUS rich rose pink
Tangerine Slice A-Peel - red and orange bicolor (the petals are striped looking)
Bright Eyes - white blooms with dark centers
Superstar Orange - very traditional orange with dark eye
Susie Mix - mixture of orange, yellow and white flowers on one plant
Arizona Glow - fiery orange/red with dark brown eye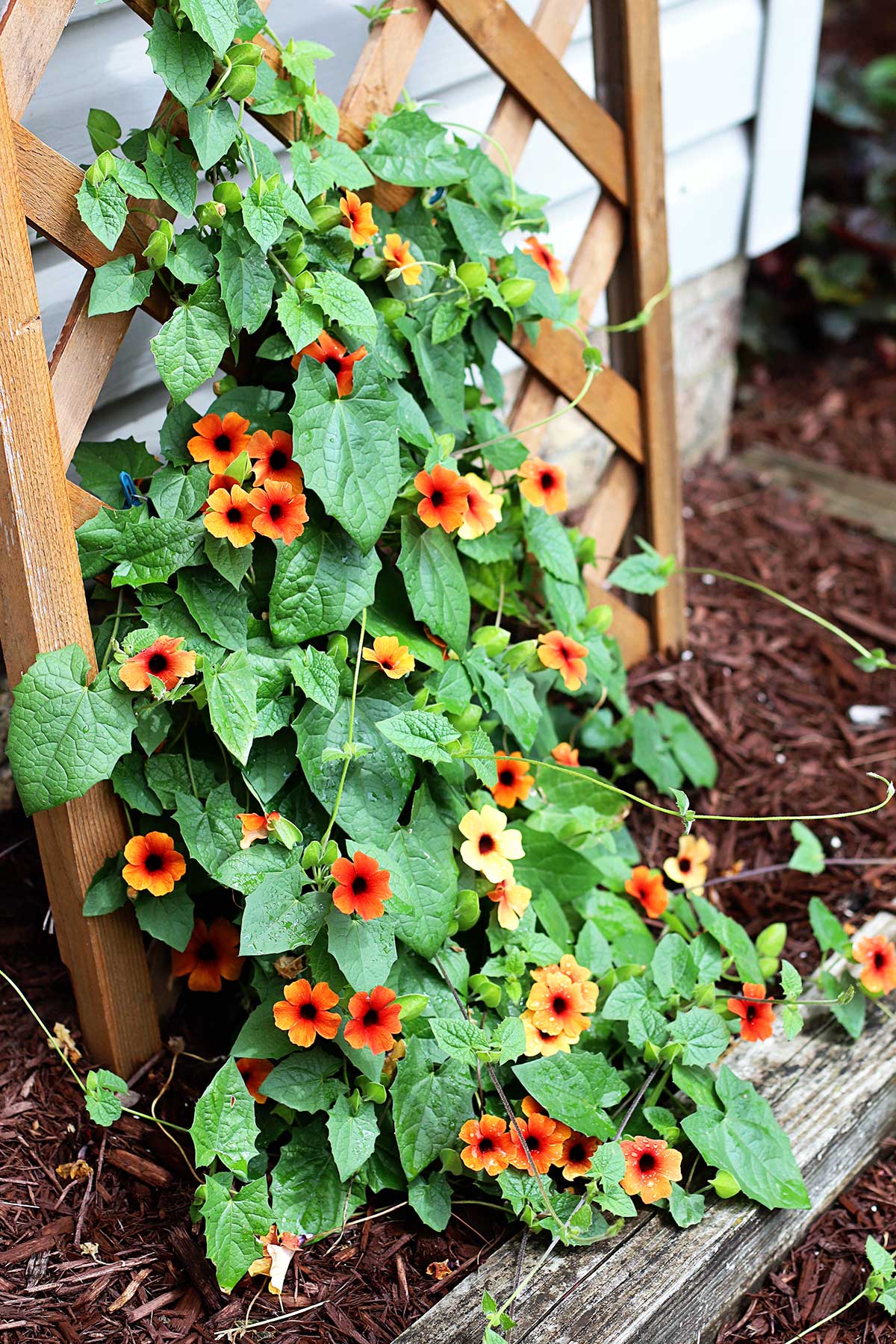 Where To Buy Black-Eyed Susan Vine Seeds:
I get quite a few people emailing me about where they can buy Black-eyed Susan vines. I buy mine locally, but considering you all don't live right around the block from me, I did find Black-eyed Susan vine seeds for sale online HERE.
And if you are need a trellis, I located a similar wooden trellis HERE or a white PVC coated trellis HERE.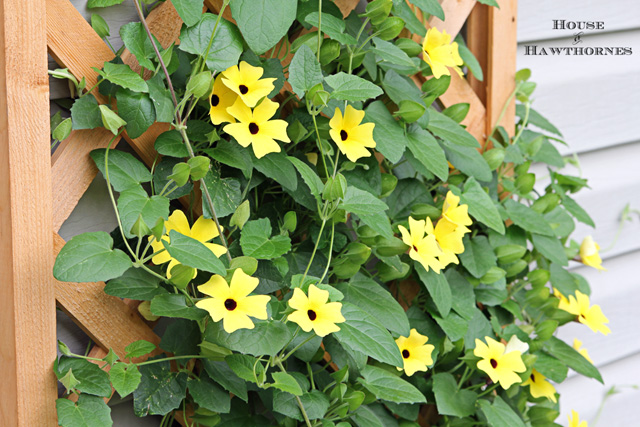 Black-Eyed Susan Vine not blooming?
Black-eyed Susan vine does go through a period in the dead of summer heat (late-July and August) when it tends to slow down on producing blooms. As soon as cooler weather starts back up again in September it should start to bloom again in force.
Other than that, make sure your plant is in full sun, you are watering it sufficiently and you are not over-fertilizing it. Too much nitrogen can cause plants to produce more foliage and less blooms.
Common Pests And Diseases
Occasionally spider mites or whiteflies may infest your vines, but that is rare. If you do get an infestation it can be easily controlled with an insecticidal soap. In 10 years of growing Black-eyed Susan Vines I have not had this problem yet (knock on wood).
How many Black-eyed Susan vines do you put in a planter?
In your average sized hanging basket (10-12") you would plant 2-3 single plants.
In larger urns you would plant 4-5 depending on the size of your container.
I always err on the side of the more the merrier, but when you have trouble finding the urn under all those gorgeous yellow blooms come July . . .
Companion Plants For Black Eyed Susan Vine
Any low growing purple or dark blue plant looks AMAZING with the yellow Black-eyed Susan vines, such as Salvia, a purple Veronica (Speedwell) variety such as Royal Candles Speedwell or a purple African Daisy (Osteospermum).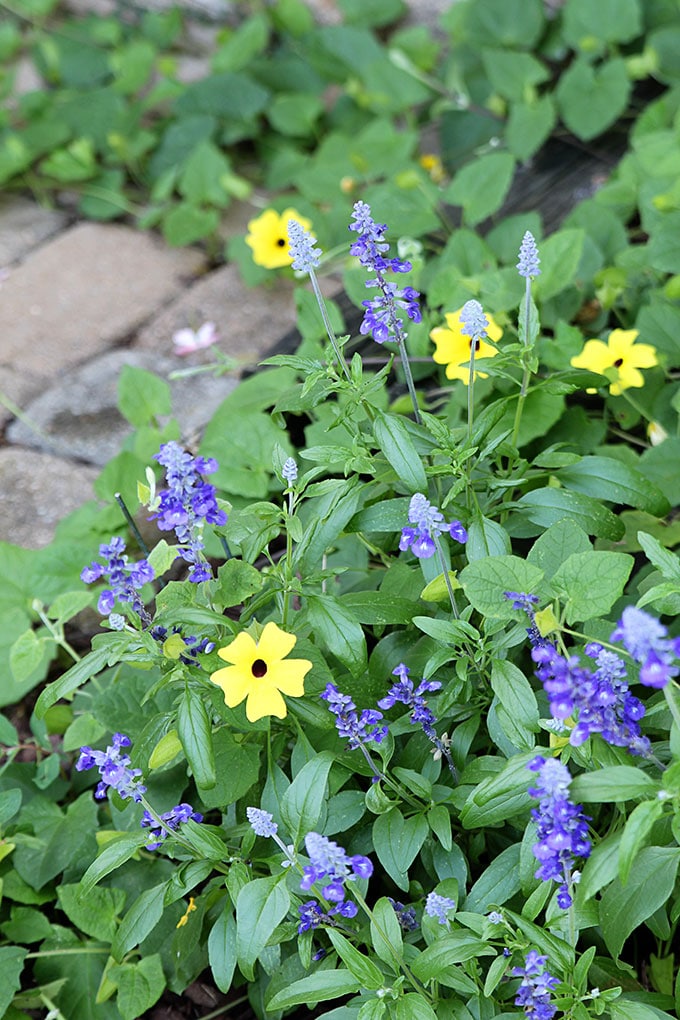 This year I planted Victoria Blue salvia (an annual in these parts) at the bottom on the trellis.
You can also grow another vine along with it such as purple hyacinth bean vine or morning glories if you'd like the color to intertwine all the way up the trellis (or down the hanging basket if you go that way).


View the web story version of this article
HERE
.
Other Gardening Ideas you might enjoy:
How To Grow Peonies Your Neighbor Will Envy
5 Simple Tips For Growing Clematis