Last year I bought an oak banker's chair at a yard sale $5.00. If I find a piece of furniture for the price of a Happy Meal, I normally pick it up just in case.
I brought it home, stared at it for a few weeks trying to figure out what to do with it and then I lost interest (bad banking joke intended).
Seriously though, it just sat here for weeks until I finally hauled it off to the basement. The Land Of Misfit Yard Sale Finds.
Except Santa never stops by to load them up in his sleigh and deliver them to good boys and girls.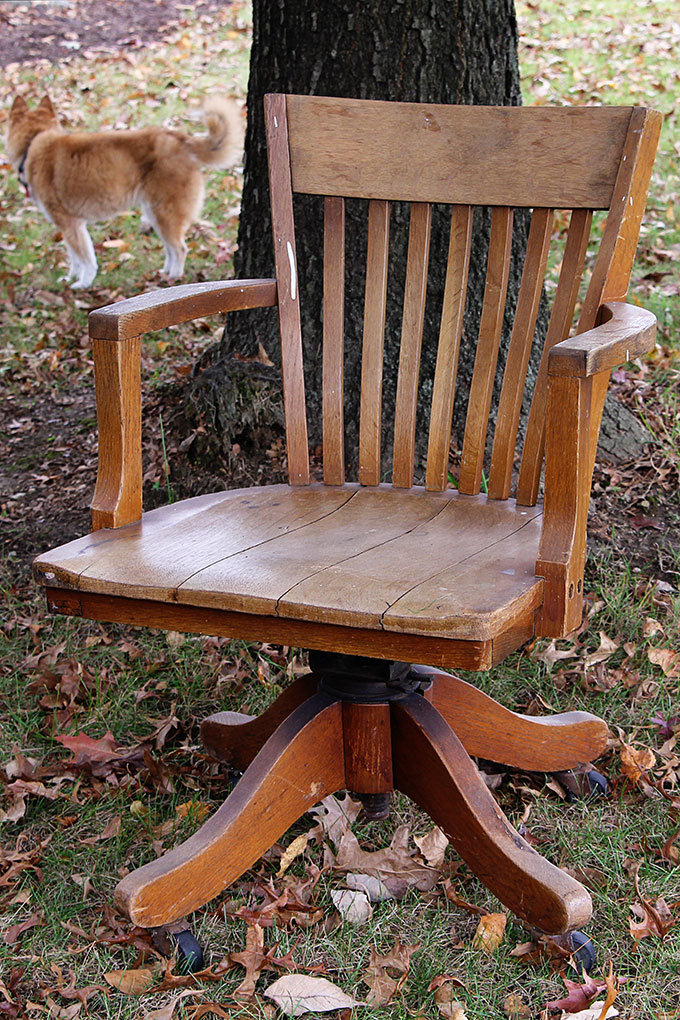 (This post contains some affiliate links for your convenience. You can read my full disclosure policy here.)
Last week, about the time I was thinking of loading it up in my sleigh and hauling it off to Goodwill, WallMasque Stencil Company contacted me and generously offered to let me try one of their stencils. All of a sudden the long forgotten and neglected banker's chair came to mind. A stencil is just what I needed.
Now, normally I'm a let's-try-and-refurbish-it-before-painting-it kind of girl. I've done my fair share of stripping and re-staining furniture in my lifetime.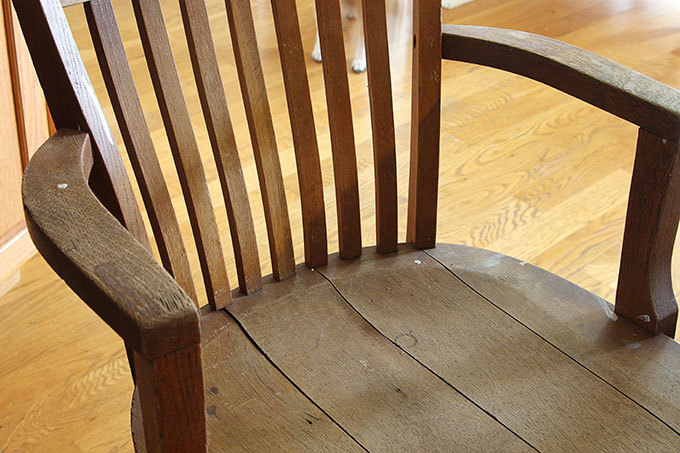 But this one had paint splatters on it, the wood was cracking in places and either someone had tried to strip it at some point or it sat out in a cornfield for ten years, because part of the wood was very very dry and worn out. Painting was the way to go.
I started with two coats of black chalk paint. The brand isn't important, because in my world chalk paint is chalk paint is chalk paint. I don't squabble about who's brand is better.
Not my circus, not my monkey.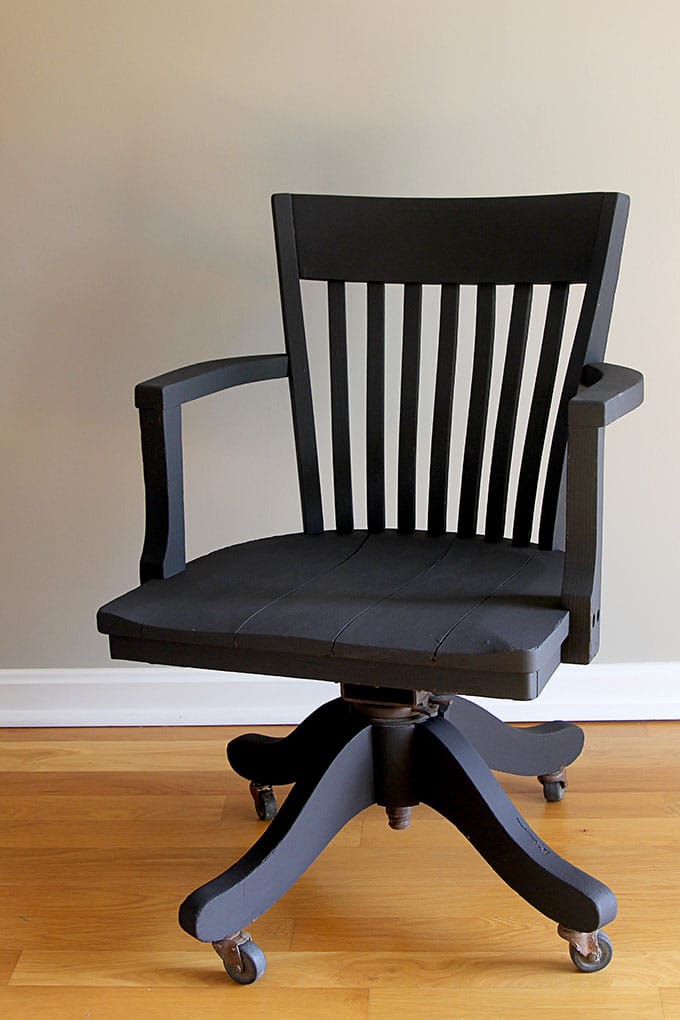 It took me a while to pick out which stencil I wanted to use, because there were so many vintage looking stencils to choose from. Laurel wreaths, bees, birds, dragonflies, etc.
I ended up picking the New York Stamp stencil in the 12" version.
I centered it on the chair right where your butt would go and used painter's tape to stick it down.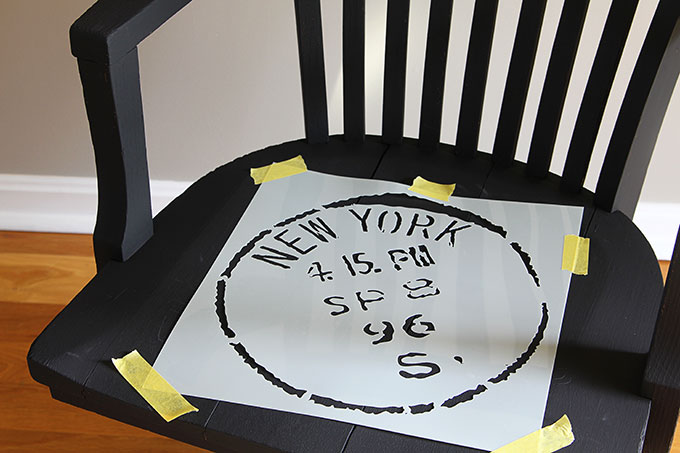 I used a stencil brush and dipped it into a light gray chalk paint, removed the excess on a paper towel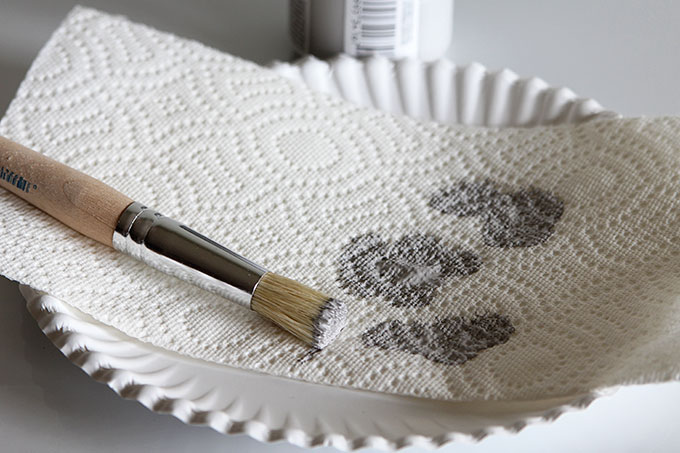 and then pounced my brush onto the stencil.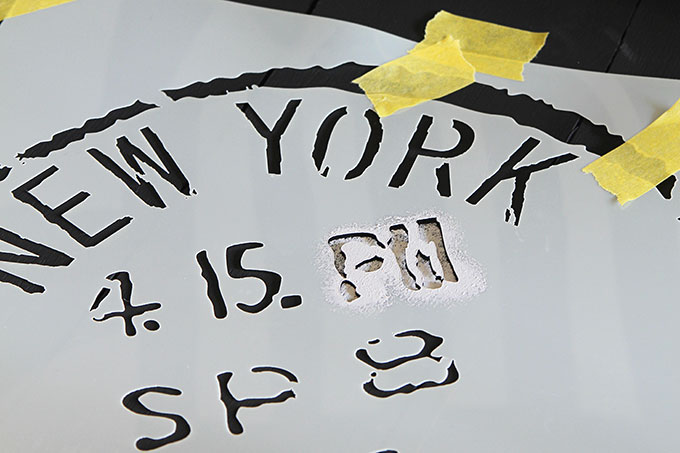 It went super fast and couldn't be easier. And it was sort of cathartic to pounce away my frustrations of the day.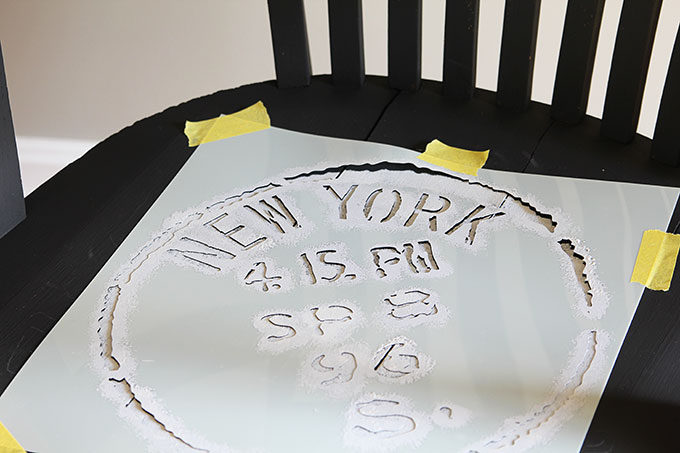 I was paranoid when I took the stencil off that I would see bleed through or I would have smudged letters or something, but it looks perfect, in a vintage looking way!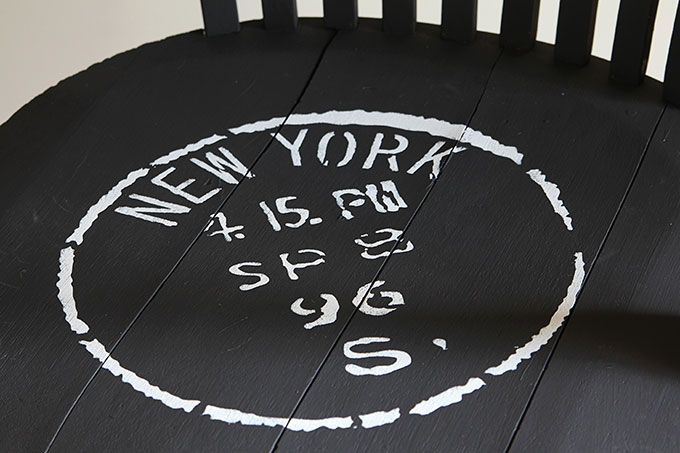 If you can make it there, you can make it anywhere . . .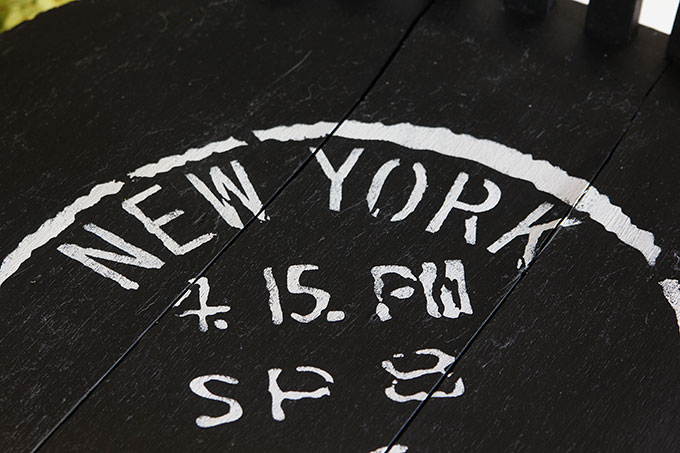 OK, I do have to say that this inexpensive chalk paint from the craft store wasn't as easy to distress as others I've used. Normally you can dip a rag in water and rub it over the chalk paint and it distressed fairly easily. To me, that is the huge benefit of chalk paint.
With this paint, not so much.
I didn't plan on distressing it heavily, just a touch here and there. But it was sort of a pain to get out my palm sander for just a few places.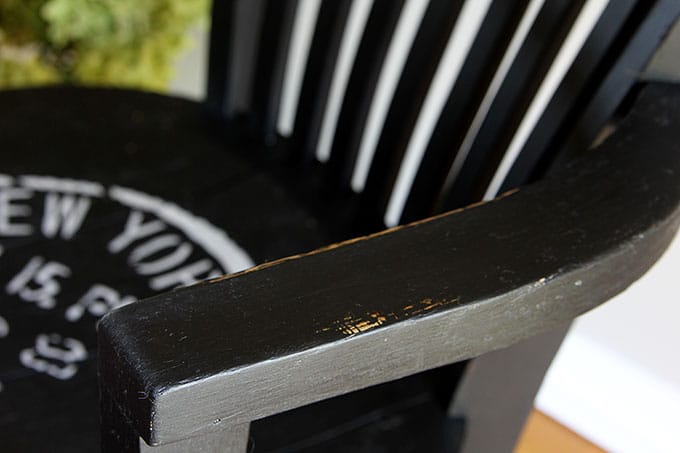 I tried to do the distressing on the areas that would normally get wear.
A tad on the arms, where your legs would rest on the chair seat and a couple areas on the legs where you might kick it with your loafers. In my mind a banker wears loafers.
Once the paint and stenciling was done, I followed it up with a bit of wax.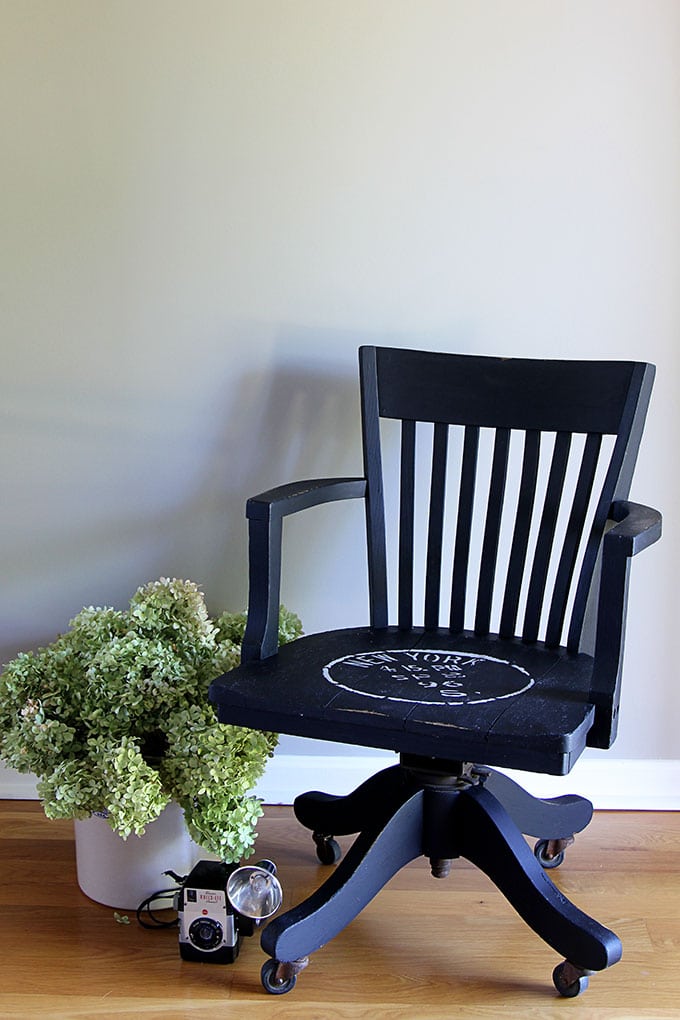 And of course, you can't have a photo shoot at my house these days without a vintage camera making an appearance.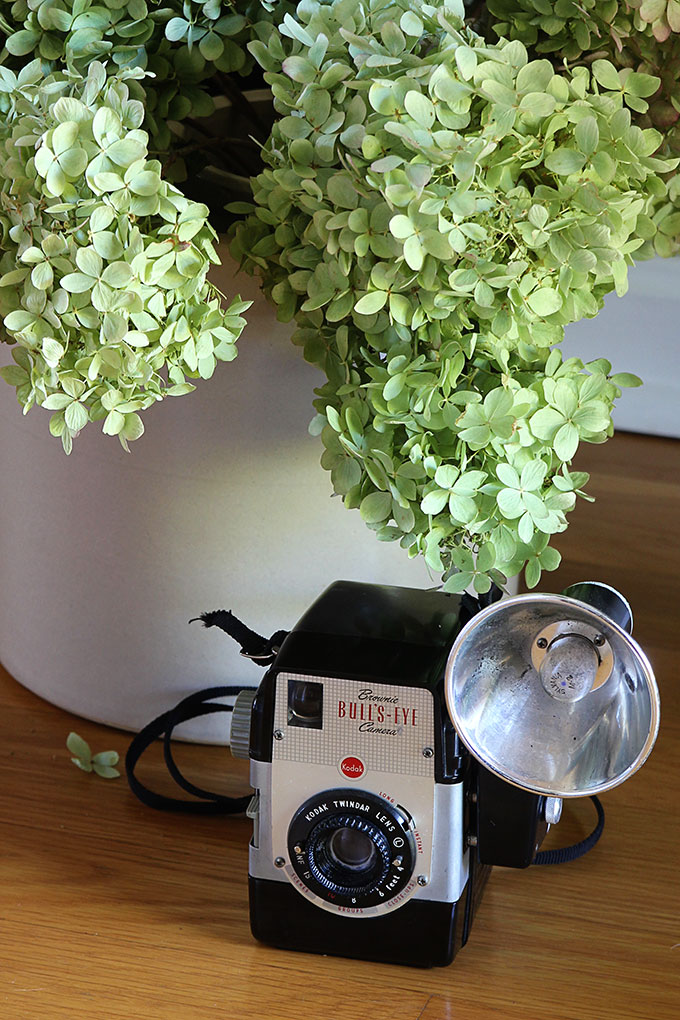 So what do you think, would your banker be proud?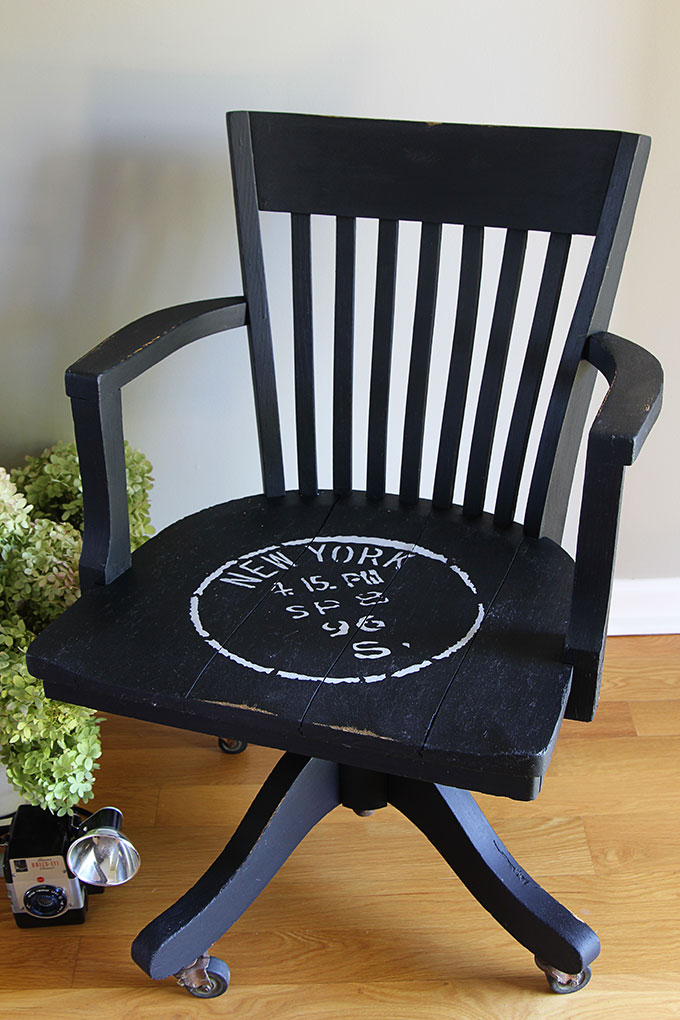 Do you even have a banker?
Or is the ATM your banker?