Since today is supposed to be a snowy day here in Ohio, I put together a cozy little hot cocoa station to help keep me warm. Or hot chocolate station. Not sure what the difference is?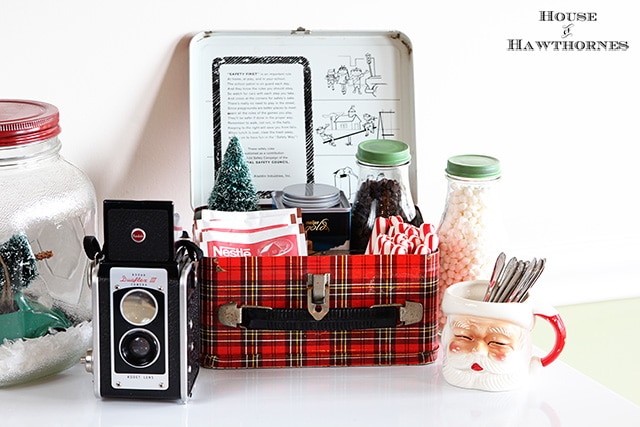 I set it up on my enamel topped cabinet in my new 1960's Aladdin plaid lunch box.

Yes, this could have been my lunch box when I was in elementary school. If not for the fact that my mom packed my lunch in brown paper bags.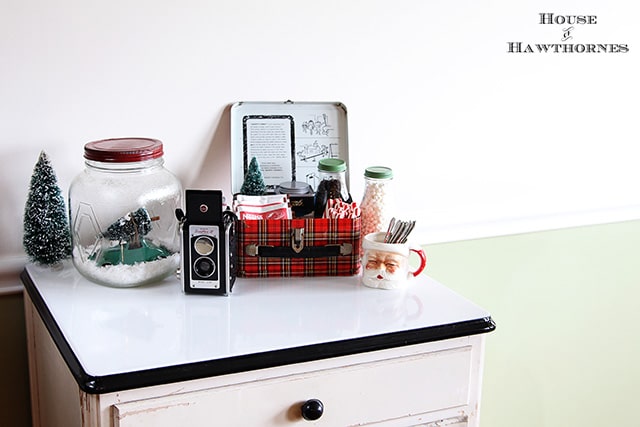 I so wanted to be one of the cool kids with a lunch box though. And now I am!
I've got your typical Nestle hot cocoa in packets (just add water) and in the little can next to the bottle brush tree is salted caramel hot cocoa.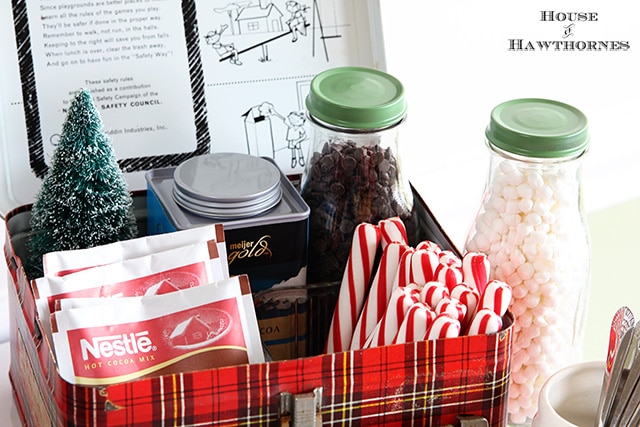 Who knew you could throw salt onto sticky caramel and create a little slice of Heaven? That stuff is to die for!
I've got candy cane sticks to stir the cocoa with. Along with tiny chocolate chips and tiny marshmallow bits to sprinkle on top.
The marshmallows are called Jet-Puffed Mallow Bits and are even tinier than typical mini marshmallows. And they're hard.
Think of Lucky Charms minus the nasty Cheerios type things.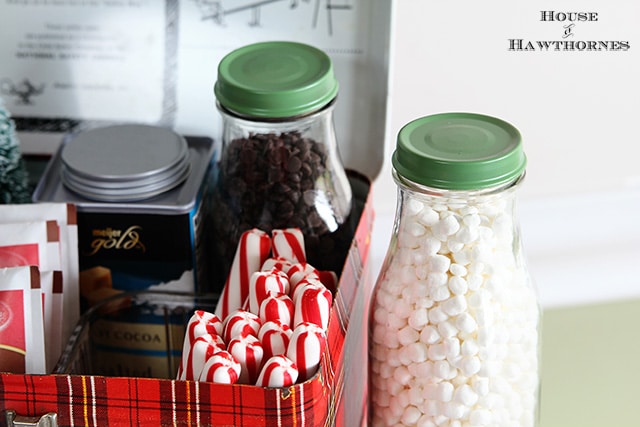 The little milk bottle looking things are actually the 9.5 oz bottles of Starbucks' chilled Mocha Frappuccino that you can buy at the grocery or convenience store. I just peeled the plastic Starbucks labels off them and spray painted the caps green.
I purchased two of these Santa mugs at the thrift store for $1 last week (you can find very authentic looking reproductions HERE, if you can't find the originals).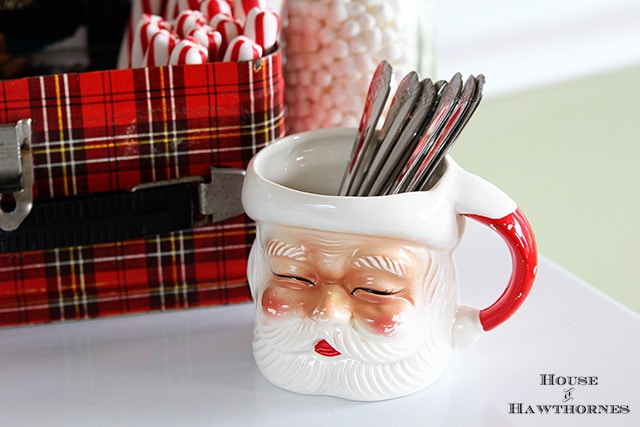 The only worthwhile Christmas stuff I have found at the thrifts this year!!!
I added my newest vintage camera to the vignette. The Kodak Duaflex III camera, manufactured from 1954-1957. It's not a super thrifty find, since I bought it at an antique mall, but I thought it was in pretty good shape for the $15 price tag.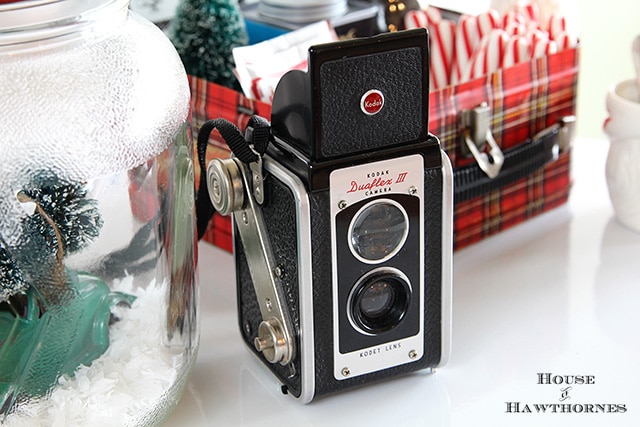 Normally I don't like to spend more than $5 on a camera.
It's one of those cameras that you hold at your waist and look down in to. The viewfinder is folded back into the down position in this photo.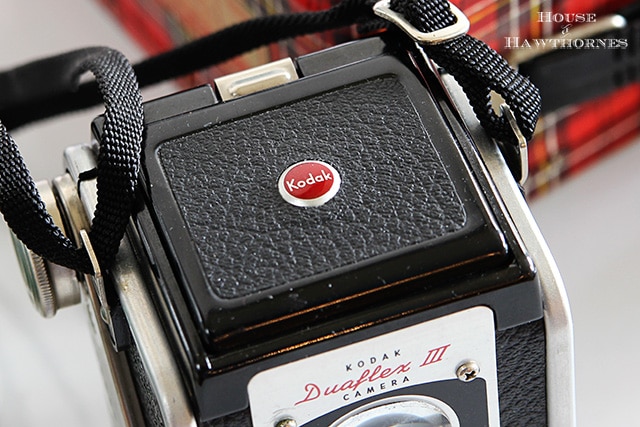 I also added my car in a jar.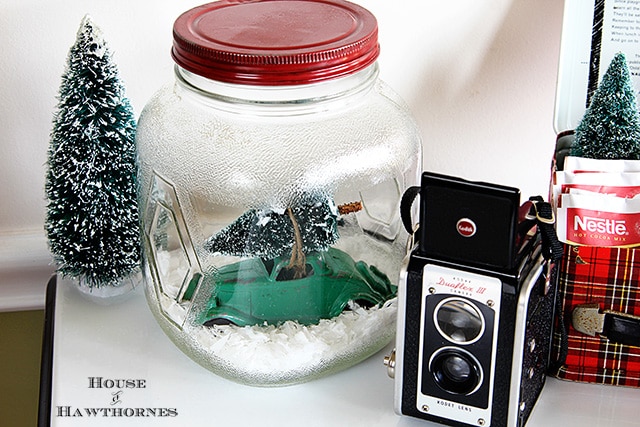 Same car, same tree, but different jar from last year's Christmas Kitchen Tour.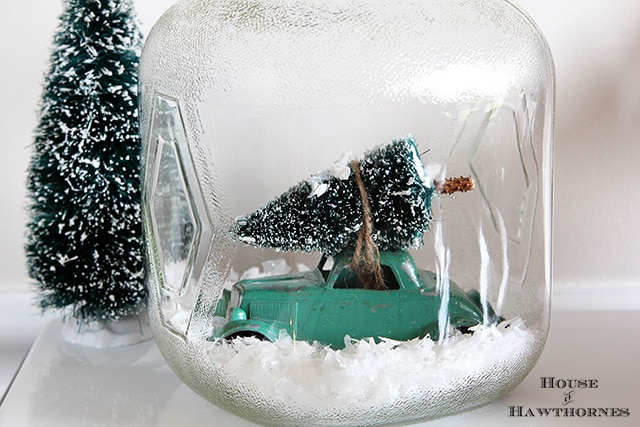 They were expecting so much snow here today that they called off school. Problem is that, as of right now, there is NO snow on the ground and I'm beginning to think they were reading the wrong forecast.
And not to be nit-picky or anything, but I had two barn sales and one new thrift store to check out today and now I'm just sitting here getting fat on hot cocoa.
Oops, my chocolate chips have all melted, can you pass me the bottle?
Have a wonderful, snow free, hot cocoa filled weekend!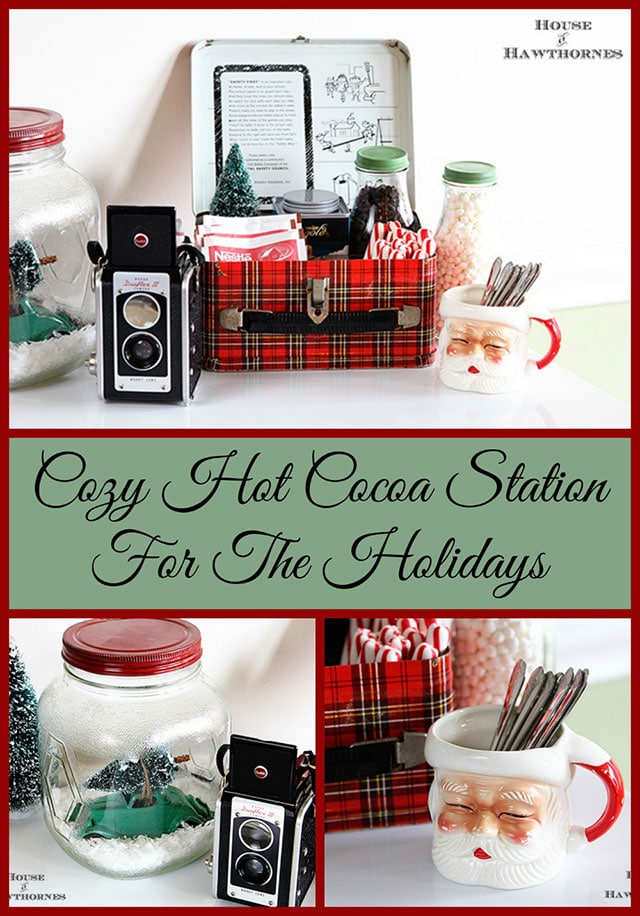 (This post contains some affiliate links for your convenience. You can read my full disclosure policy here.)