Over the next few days, I'm going to take you on a magical mystery tour of the holiday decor in some of the rooms in my house.
Today is the kitchen.
Or as I like to call it - the thrifty, vintage Christmas fun-o-rama!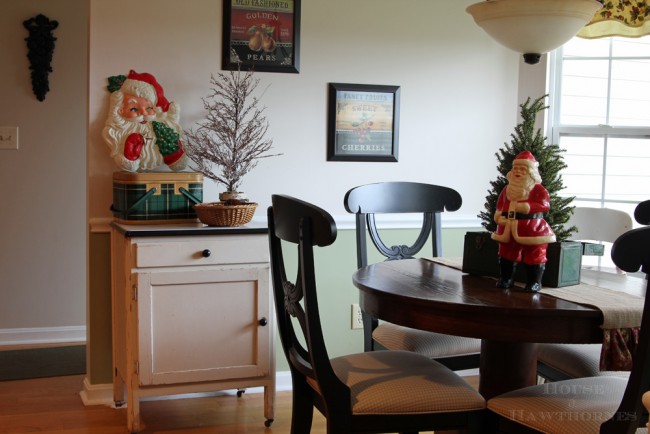 I kept the table rather simple this year.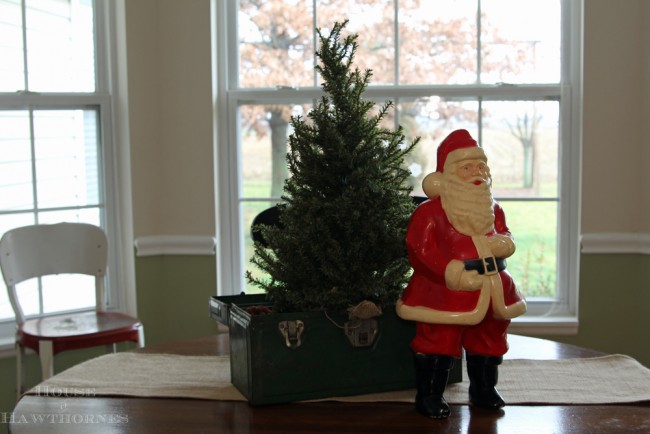 Santa was an item that I had thrifted years ago. I don't think he is technically a blow mold because the plastic is very hard, but he would light up if I'd put the bulb in his back hole. Sounds painful though.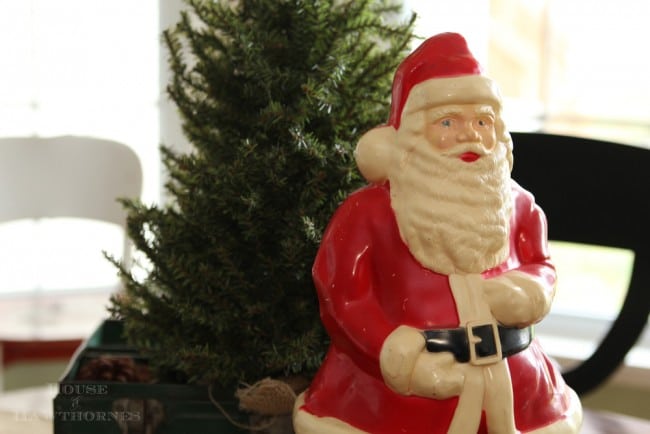 He brought his toolbox with him, so he could help assemble all those toys, except I filled it with pine cones and a tree.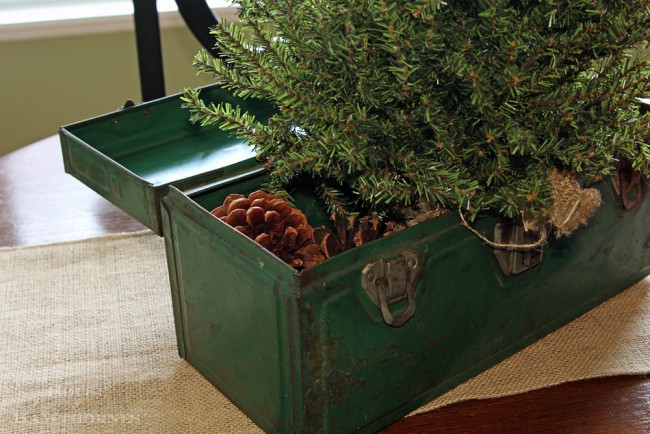 More pine cones on the porcelain topped cabinet.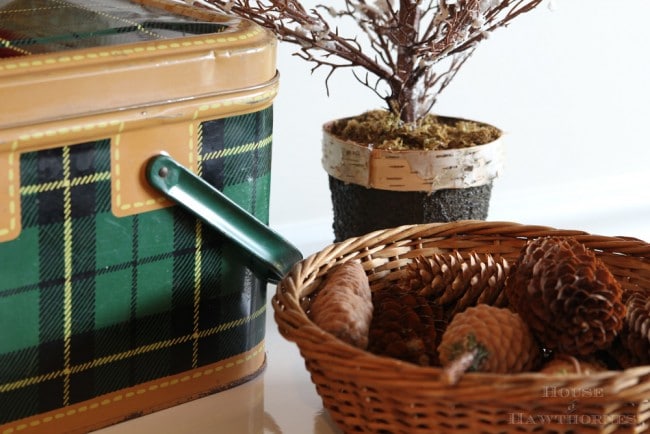 Along with this great vintage Santa head that I found at an antique store for only $4. One of my favorite finds this season.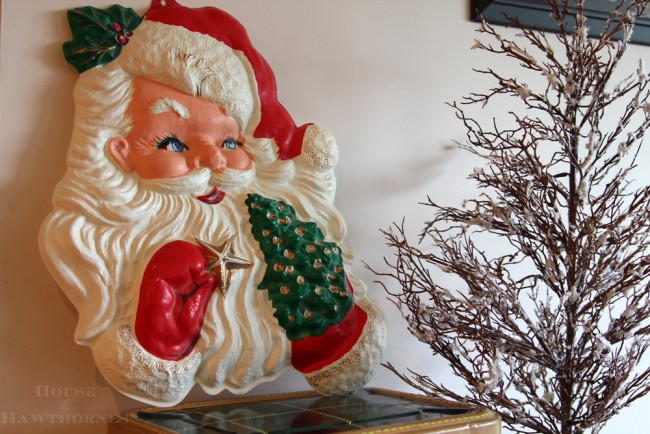 Does it look like he has a tree growing out of his left hand. Sort of like Captain Hook, but with a tree?
Every time I pass this jar on the counter I think of Ralphie and his Dad changing the tire in The Christmas Story.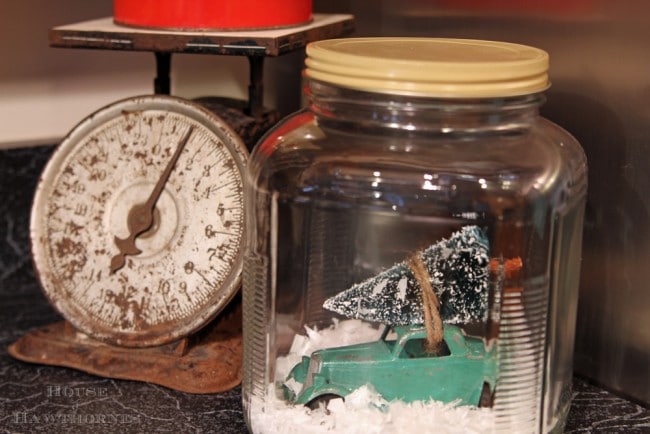 I made the snow jar by simply putting fake snow in the bottom and adding a vintage toy car with a bottle brush tree tied to the top. You can buy these jars at Hobby Lobby or Walmart and spray paint the lids any color you want. Doesn't get simpler than that.
Oh, and a tip for you. I took the tacky white plastic base off the tree and "screwed" a tiny little piece of tree branch onto the wire stem. Makes the tree look that much more realistic.
I use a lot of the fake holly and pine boughs, placed here and there throughout the house, for quick and easy decorating.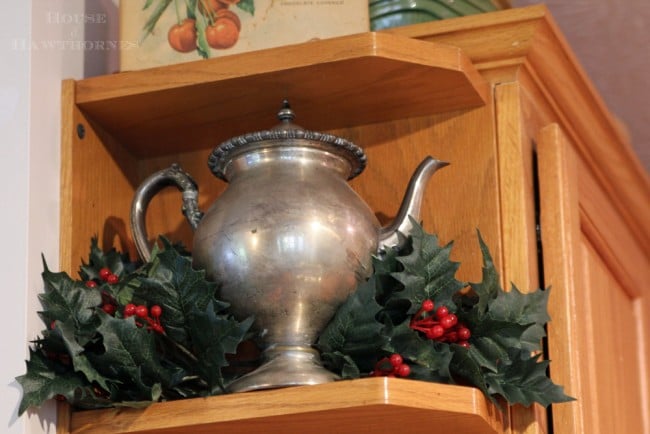 My snowman blow mold that I found in the summer made his way to the top of the fridge.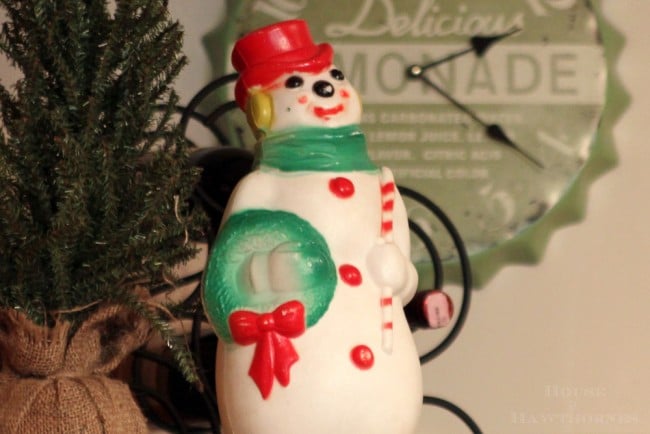 Walnuts are being used to prop up my reproduction holiday post card.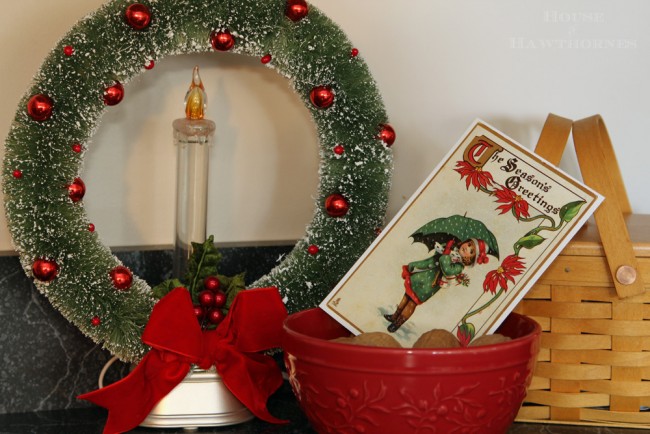 And Mr. Claus and the team are hanging out on the breakfast bar with some Gurley candles behind his head. I think that is the last of the blow molds at the house. Maybe.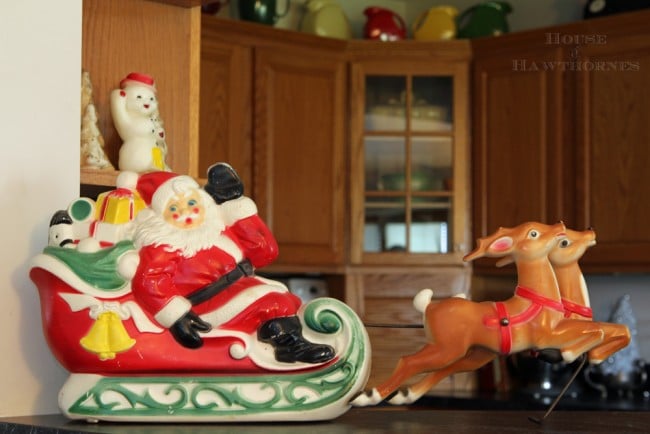 I'll be showing you the dining room and the living room soon, but may not be doing a compelling narrative with them. It all depends if things settle down around these parts. Christmas is such a busy time around here, like I'm sure it is at your house, and I'm starting to freak out about what's left to do. Less than two weeks, people!!!
If you want to see more of my 2012 holiday decor you can check out:
Home Tour Part 2 - The Dining Room
Home Tour Part 3 - The Living Room
My Holiday Front Porch