Get inspiration for fun, festive or scary scarecrows with over 20 DIY scarecrow ideas for your fall home decor. They're not just for the garden anymore.
I'm a scarecrow lover. There, I've said it. It's out in the open!
I can't get enough of the scratchy, poorly dressed, scruffy looking fellas. I guess I'm not even limiting it to the boys in the fields, I sort of like the girls too.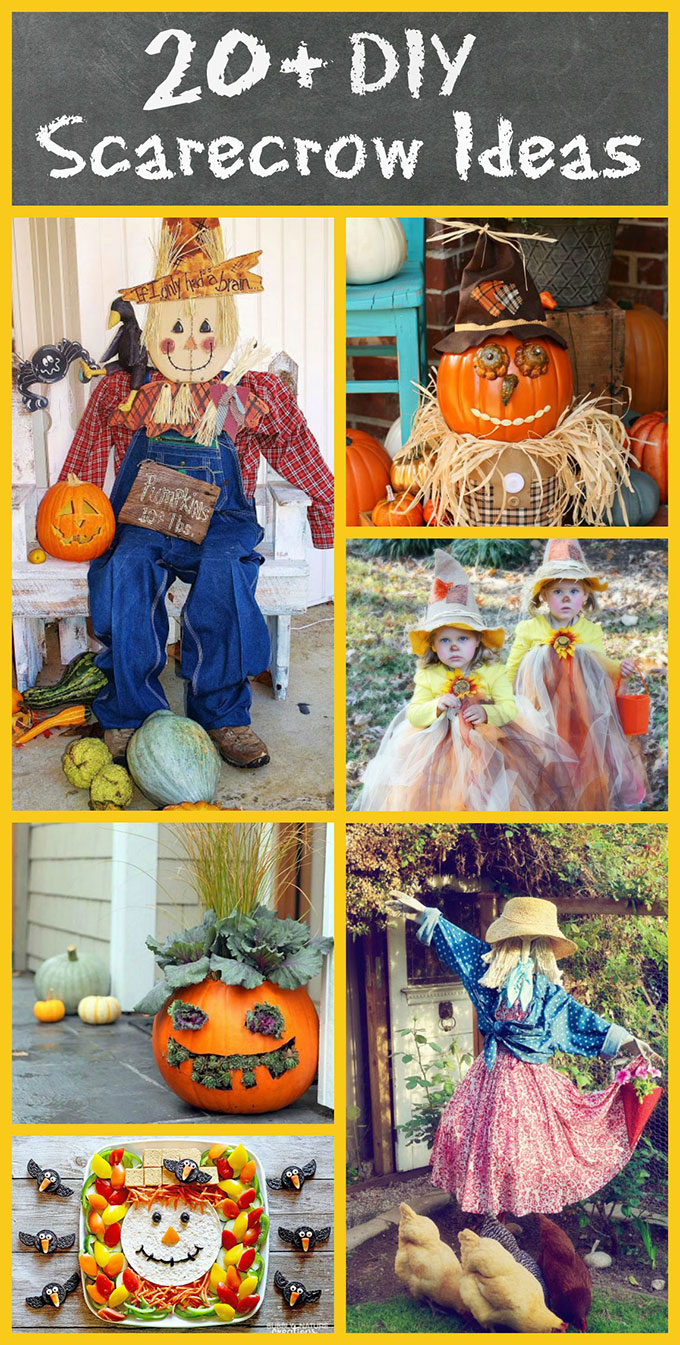 Basically if you have straw coming out of your shirt, I love you!
So I thought if I was a such a scarecrow lover then maybe some of you may be too?
Last year I took an inexpensive craft store scarecrow and turned it into a fancy schmancy scarecrow.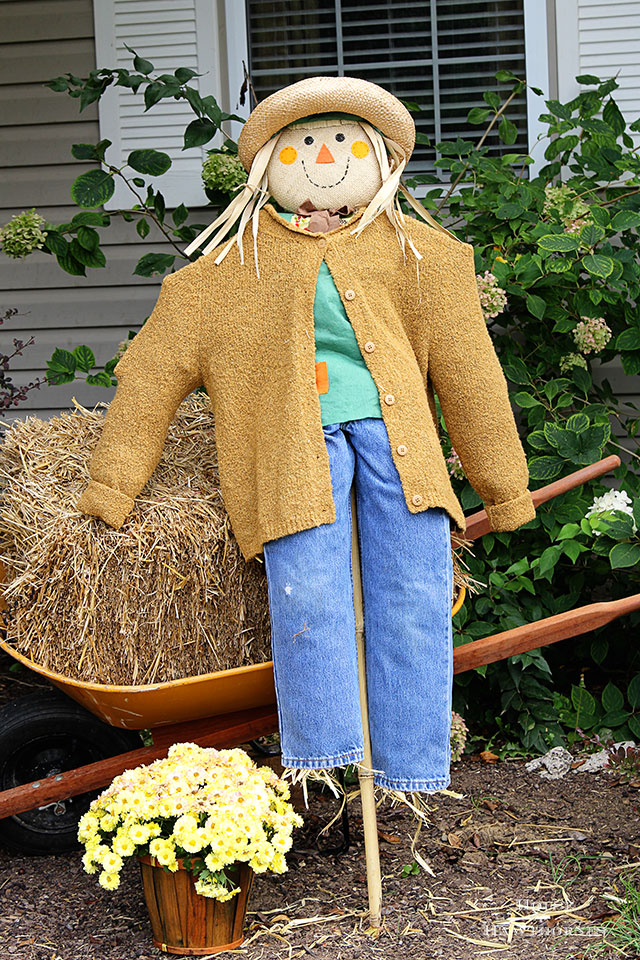 This year I wanted to give you some more creative scarecrow ideas. Some for the garden, some for the house and some to eat.
Cover your ears Sally S. Crow (do you even have ears?), but yes, some scarecrows are meant to be eaten.
BTW, are scarecrows just a hop, skip, and a jump away from clowns? I hear some people are afraid of them, just like they are of clowns??? Hopefully I'm not giving anyone nightmares here.
Kate from Farm & Foundry made this adorable scarecrow from a mop.
Yes, that's a mop for her hair!!! Kate's blog is new to me, but I immediately fell in love with her photography and style.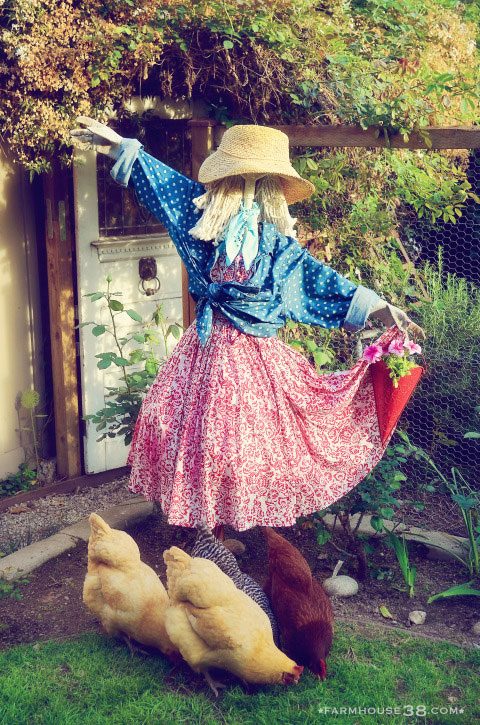 Source: Farm & Foundry
The Little Veggie Patch Co via The Design Files shows us, step by step, how to make a scarecrow for the garden. With adorable little kids helping.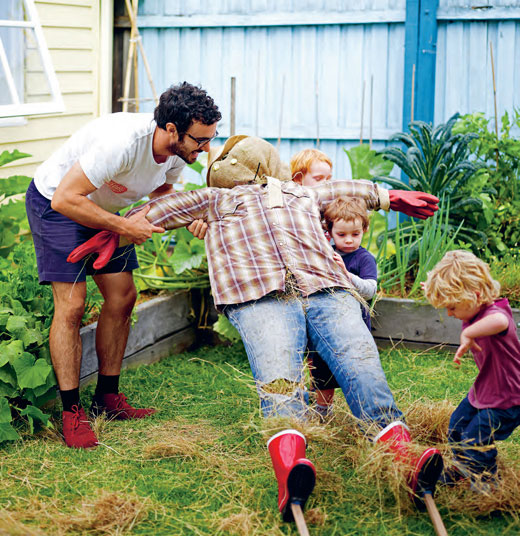 Source: The Design Files
I recently made a scarecrow out of a shutter I found at the thrift store. It started out as an angel for the garden and with a few accessories become a scarecrow!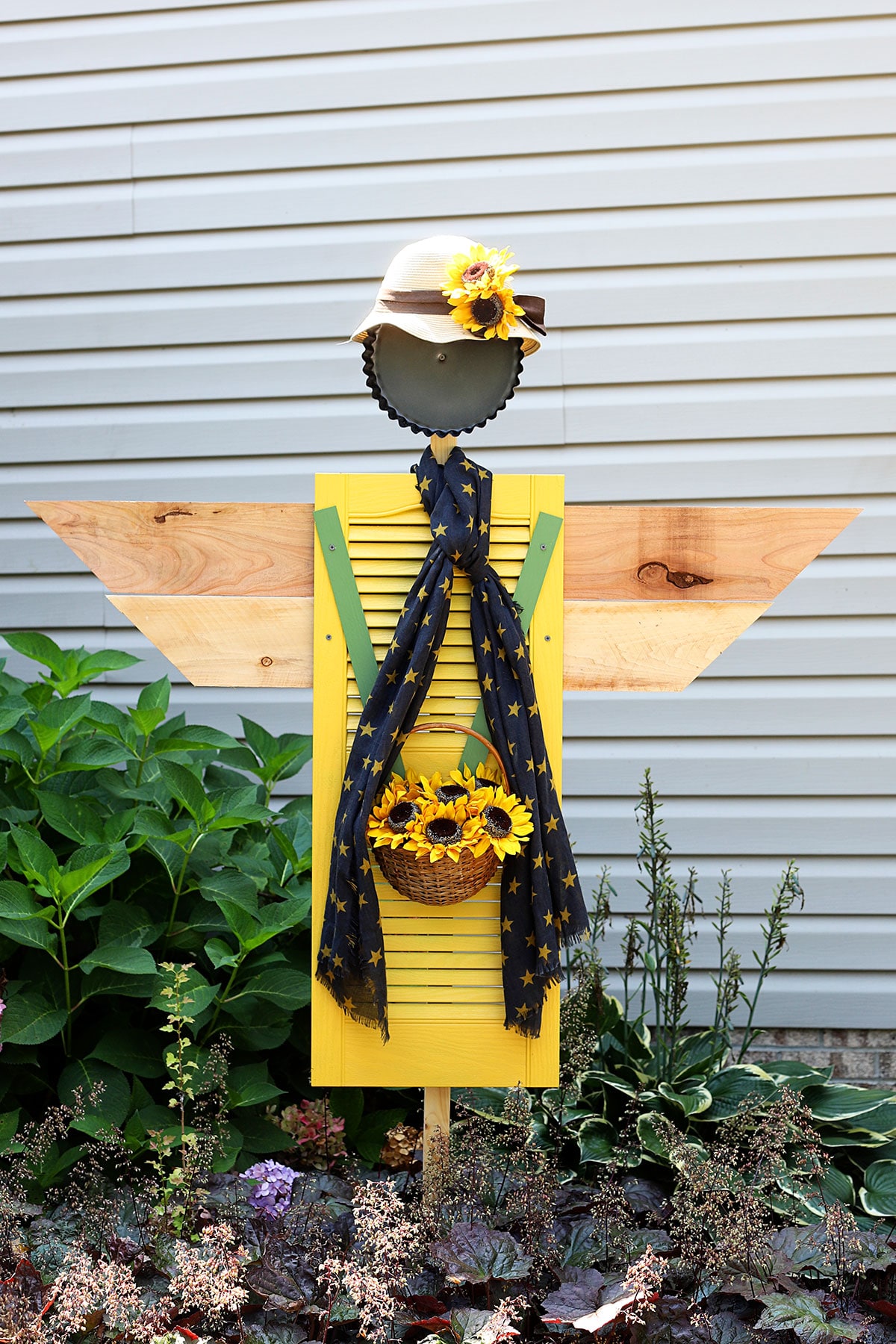 Source: House Of Hawthornes
On Empress Of Dirt she shows how to make a scarecrow out of an ironing board. How creative is THAT!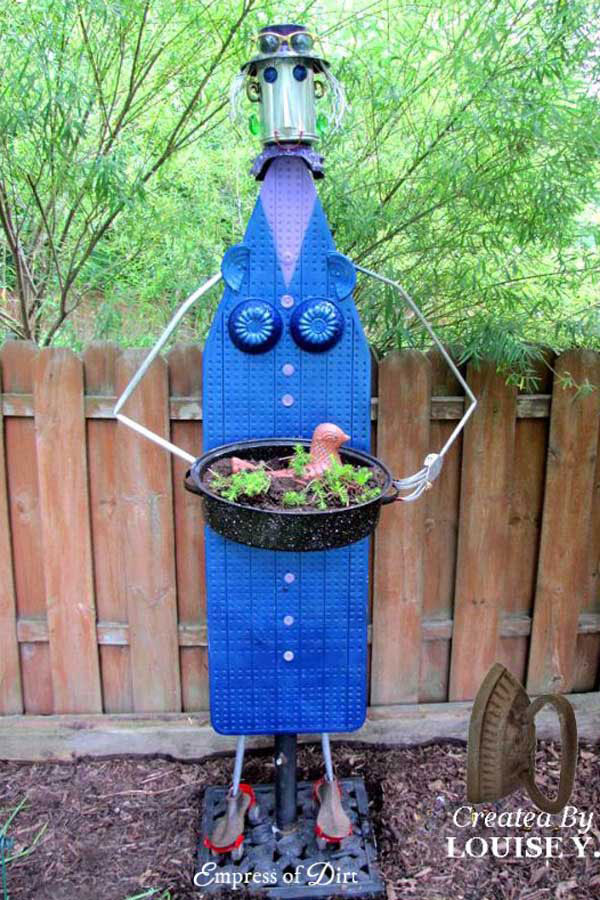 Source: Empress Of Dirt
Amanda from Crafts By Amanda has a cute coffee can scarecrow craft even the kiddos can participate in.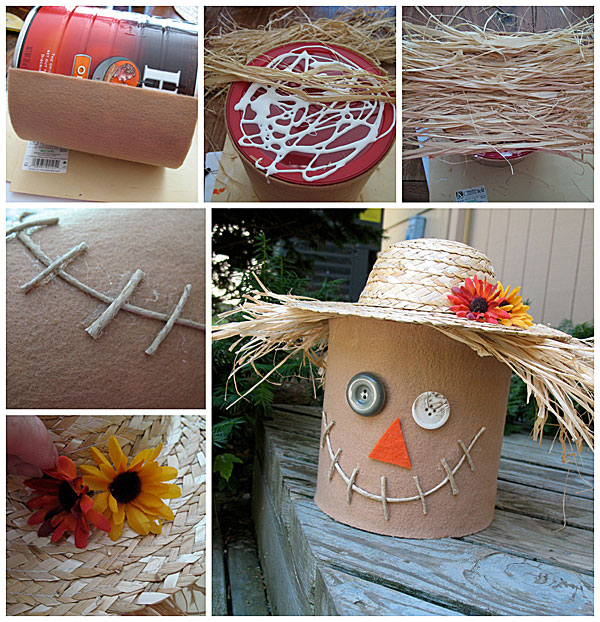 Source: Crafts By Amanda
Tasha from Designer Trapped In A Lawyer's Body makes me want to run over to the neighbor's house and borrow one of their little girls for the day, so I can parade her around in one of these cute scarecrow tutu costumes on Halloween. I'm pretty sure my son would NOT be interested in wearing it.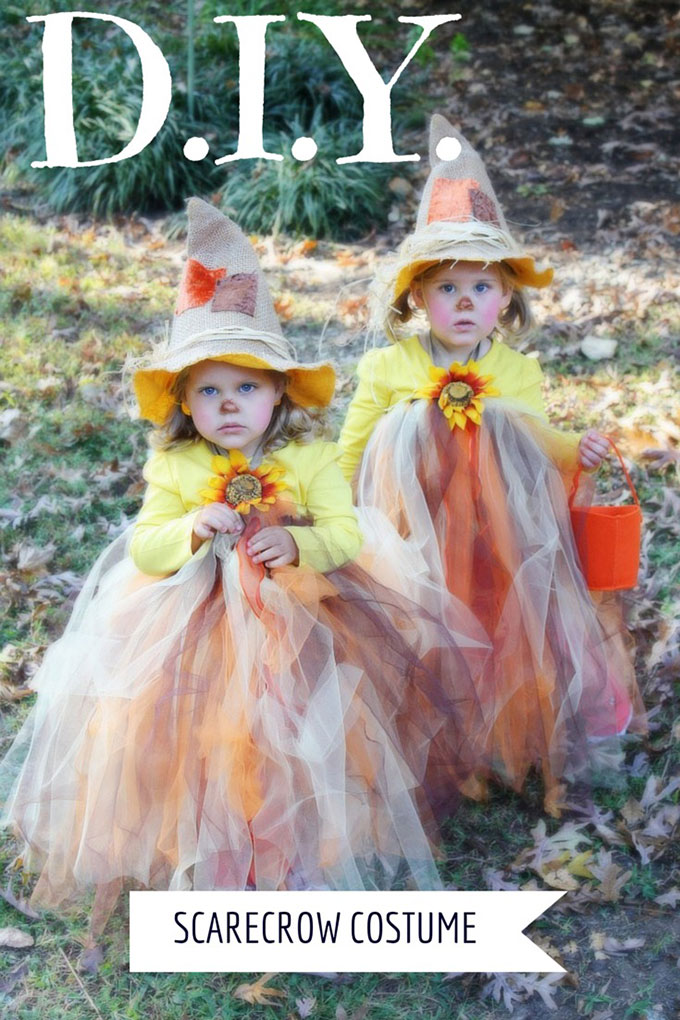 Source: Designer Trapped In A Lawyer's Body
Wonder if I could somehow rework it into a dog tutu?
Are you getting hungry yet? How about biting into a big old hunk of scarecrow head?
Bubbly Nature Creations show us how to make a scarecrow dip platter along with some super cute Oreo bats!!!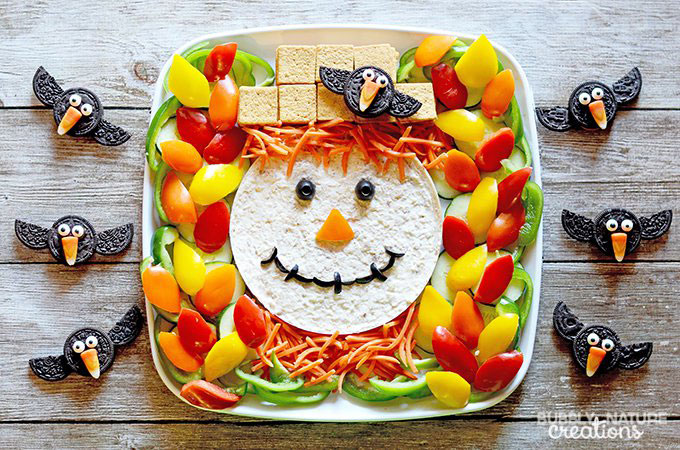 Source: Bubbly Nature Creations
Elizabeth at Ohio Thoughts (bet she's a fellow Buckeye) shows a few different ways to make a scarecrow, one of which involves a milk jug.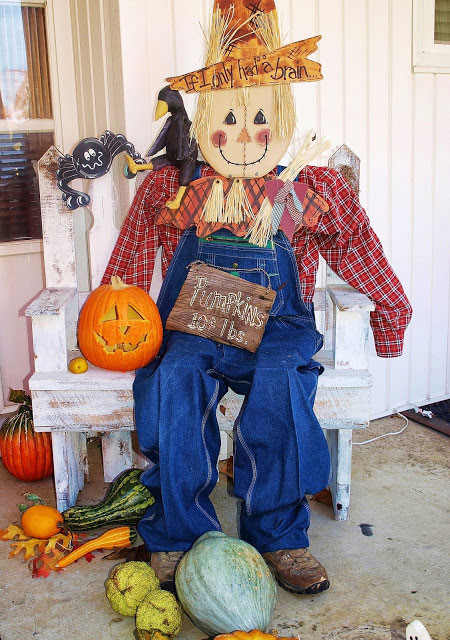 Source: Ohio Thoughts
Stephanie from Garden Therapy is the Queen of Jack-o-Planterns. True, they are not actually a scarecrow per se, but close enough in my book!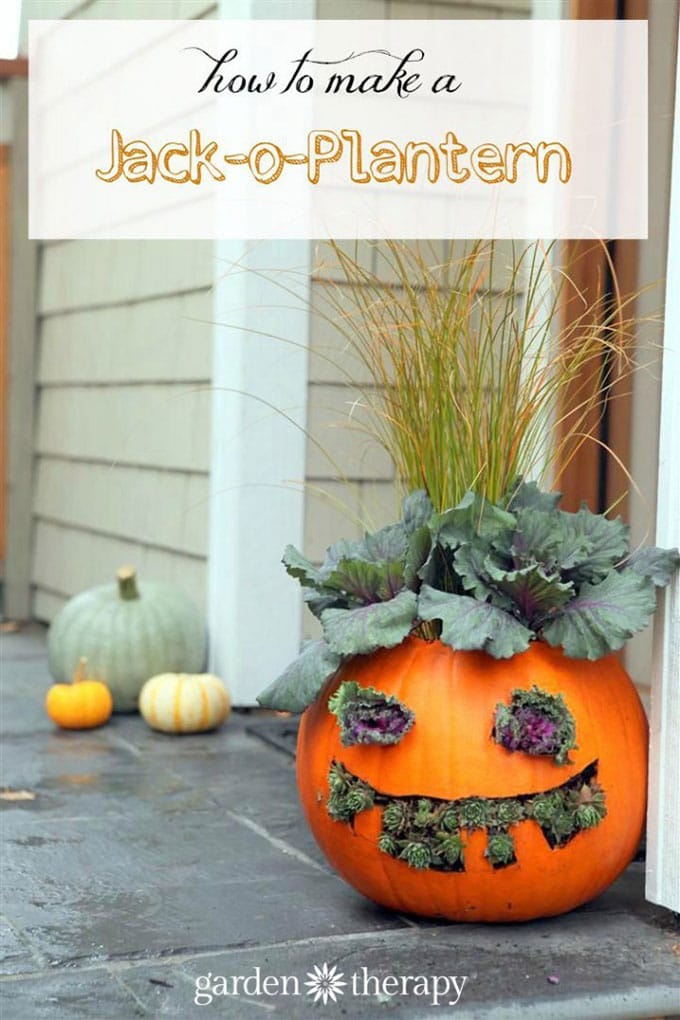 Source: Garden Therapy
How festive is this scarecrow pumpkin craft from Giggles Galore! What a happy name for a website!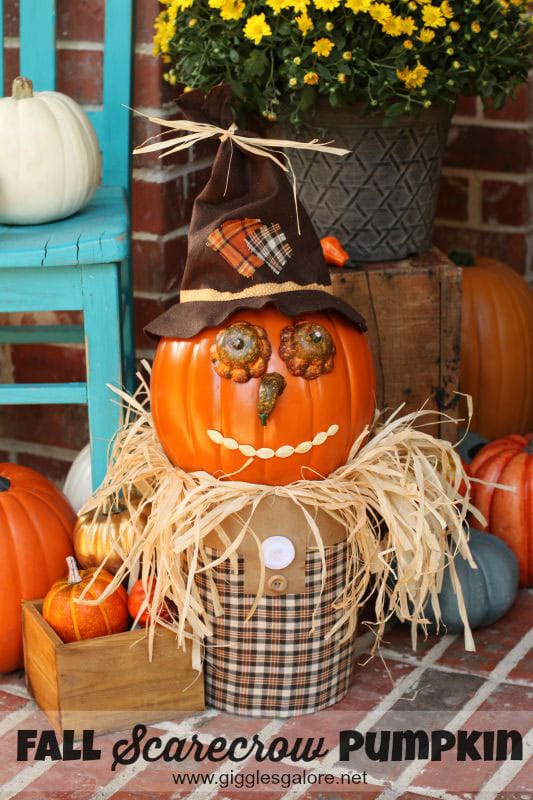 Source: Giggles Galore
Barb at Our Fairfield Home & Garden used old scrap wood (and a flower pot) to make an elegant lady for the garden.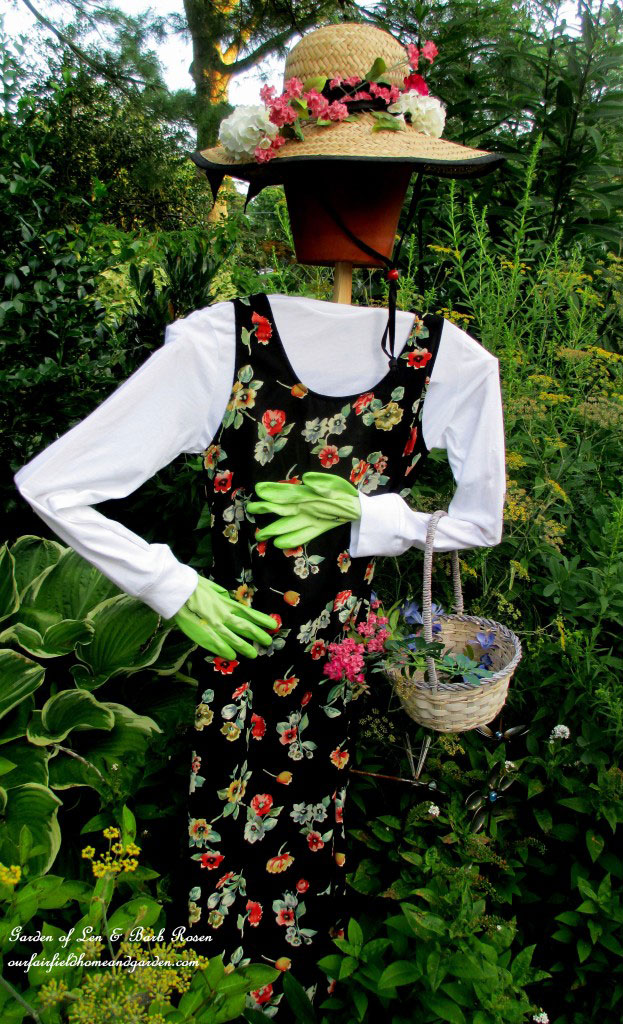 Source: Our Fairfield Home & Garden
I'm going to cool it on the photos, since this is going to get very long here soon,but here are some more scarecrow ideas for you:
Popsicle Stick Scarecrow Magnet
Some Tips For Building Your Own DIY Scarecrow:
If you use plastic bags and plastic water bottles to stuff the scarecrow, as opposed to the traditional straw method, they will hold up better in wet weather.
Pool noodles make excellent arms and legs.
Clothing for your scarecrow can be found at the thrift stores or even your closet.
You can easily make a head by placing burlap over a ball or an upside down flower pot and drawing the face on it.
Go with a theme for your scarecrow - player on a sports team, gardening lady with watering can and hoe, girly-girl wearing a skirt, high heels and a purse, construction man with a shovel.
View the web story version of this article HERE.
If you liked this fall post, you may enjoy these also: