Learn how to make a shutter angel for your garden. And as an added bonus, you can easily turn it into a DIY scarecrow also!
While out shopping my local thrift store I ran across this lovely green shutter just setting there all alone. I wasn't feeling the green color and I wasn't in need of a shutter, but it did remind me I wanted to try my hand at building a shutter angel for my garden.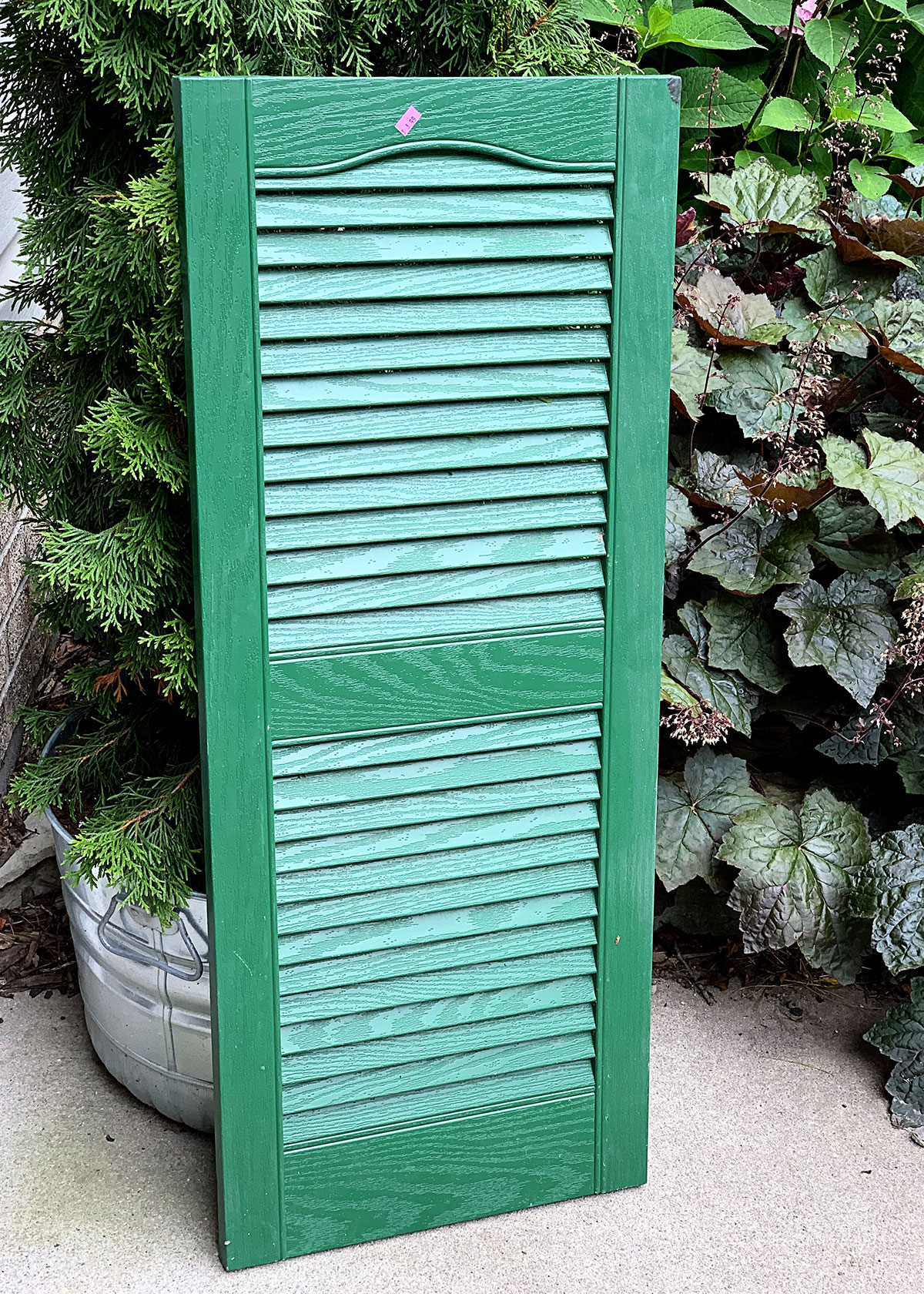 So into my cart it went.
This is where it gets weird. Not only did I want to make a garden angel, but I thought since summer is coming to a close it would be fun to be able to easily turn it into a scarecrow also.
I'm not new to scarecrows, I have a roundup of all sorts of DIY scarecrows and have also showed you how I upgraded an inexpensive craft store scarecrow, so the scarecrow idea was a fun one for me.
Not sure if there's something sacrilegious about mixing an angel with a scarecrow, but I wanted to give it a shot.
✨ BTW, today is Thrift Store Decor Wednesday, so make sure your hang around to the end of the post to see the rest of the team's thrift store repurposes for the month!
How To Make A Shutter Angel For The Garden
Supplies:
Shutter (mine is standard 36" tall x 14.5" wide)
2 - 6 ft Cedar Fence Pickets
2 - 1 x 2 x 8 ft furring strips
Large paint stir sticks (5 gallon size)
12 - 1 ⅝th" Exterior Screws (Deck Screws)
1 Fender Washer (wide, thin washer)
Drill with drill bits and screwdriver bits
Glue gun and glue sticks
Pie pan, tart pan or platter
Small grapevine wreath (6-8")
Basket with flowers (optional)
Additional Supplies If Making A Scarecrow:
Fun and funky scarf
Cheap sun hat (thrift stores are full of them)
Board Cuts:
Cut one fence picket to 48" long
Cut one fence picket to 37" long
Cut each fence picket above at a 45 degree angle on the ends (making the 1st picket 48" long on top and 37" long at the bottom & the 2nd picket 37" long on top and 26" long at the bottom)
Cut one of the 8' furring strips to 78" long
Cut the remainder of that 8' furring strip into 3rds ( 3 - 6" long pieces)
Cut 2nd furring strip into 2 16" long pieces
Using the scraps from the fence pickets, cut 3 pieces 1 ½" wide x 5 ½" (the picket width is 5 ½")
Instructions:
Time needed: 2 hours
Steps:
Paint Shutter

If you want to change the color of the shutter you can easily spray paint it. I prefer to use a spray paint with primer in it and is able to be used on plastics, like Rustoleum's Painter's Touch 2X.


Paint Arms

You can either paint or stain the arms (aka paint stir sticks).



Cut Your Wings

If you haven't made all your cuts yet, use a miter saw or table saw to cut both fence boards to length and then cut at 45 degree angles on each end.


Wing Diagram

After cutting your 45 degree angles on each end of your board, your 48" long board will be 48" long on top and 37" long on the bottom. Your 37" board will be 37" long on top and 26" long on the bottom.

Yay, algebra paid off! Drawing is not to scale, I sort of "winged" it.


Attach Bracing

Take the 2 16" pieces of furring strips that you previously cut and hot glue them to the sides of the back of the shutter (your wings will be attached to this, so put them close to the top of the shutter).

To the back of the shutter, attach your 6" pieces to the top, bottom and the middle. Then glue your slightly smaller cedar strips on top of those 3 strips.

The reason you need the extra cedar strips is so everything on the back will be at the same level after you attach the wings.



Drill Pilot Holes

Drill pilot holes through paint stir sticks and through to the back of the shutter.



Attach Arms And Wings

Using deck screws, attach arms from the front side starting with the paint stir sticks, going through the shutter and into the wing.

Use two screws per side and place the screws so they are roughly mid way down on the wings.



Attach Stake

Use the long furring strip as a stake, screwing it into the back of the angel/scarecrow. Use the 3 block sections you made above to attach it. You can also use more screws to attach the stake to the wings (I used a total of 5 to attach the stake).

Your stake will want to extend roughly 12-14" above the shutter, to accommodate for the angel's neck, her head and the halo (or hat if making a scarecrow).

You will need to eyeball this as my tart pan may not the same dimension as your platter or whatever you choose to use as a head.


Attach Head

Screw your pie plate or tart pan onto the top of the stake, leaving a little bit above the pan and a little bit below the pan (for a neck).



Add Halo (Or Hat Holder If Making A Scarecrow)

Regardless of whether you want to make an angel or a scarecrow angel you will want to attach the grapevine wreath above the pie plate. I used a screw with a washer attached to screw it in.



Finish Dressing Up The Angel

You can add a basket of flowers, a watering can or just about anything to the angel's "hands" by hot gluing them on.
Shutter Angel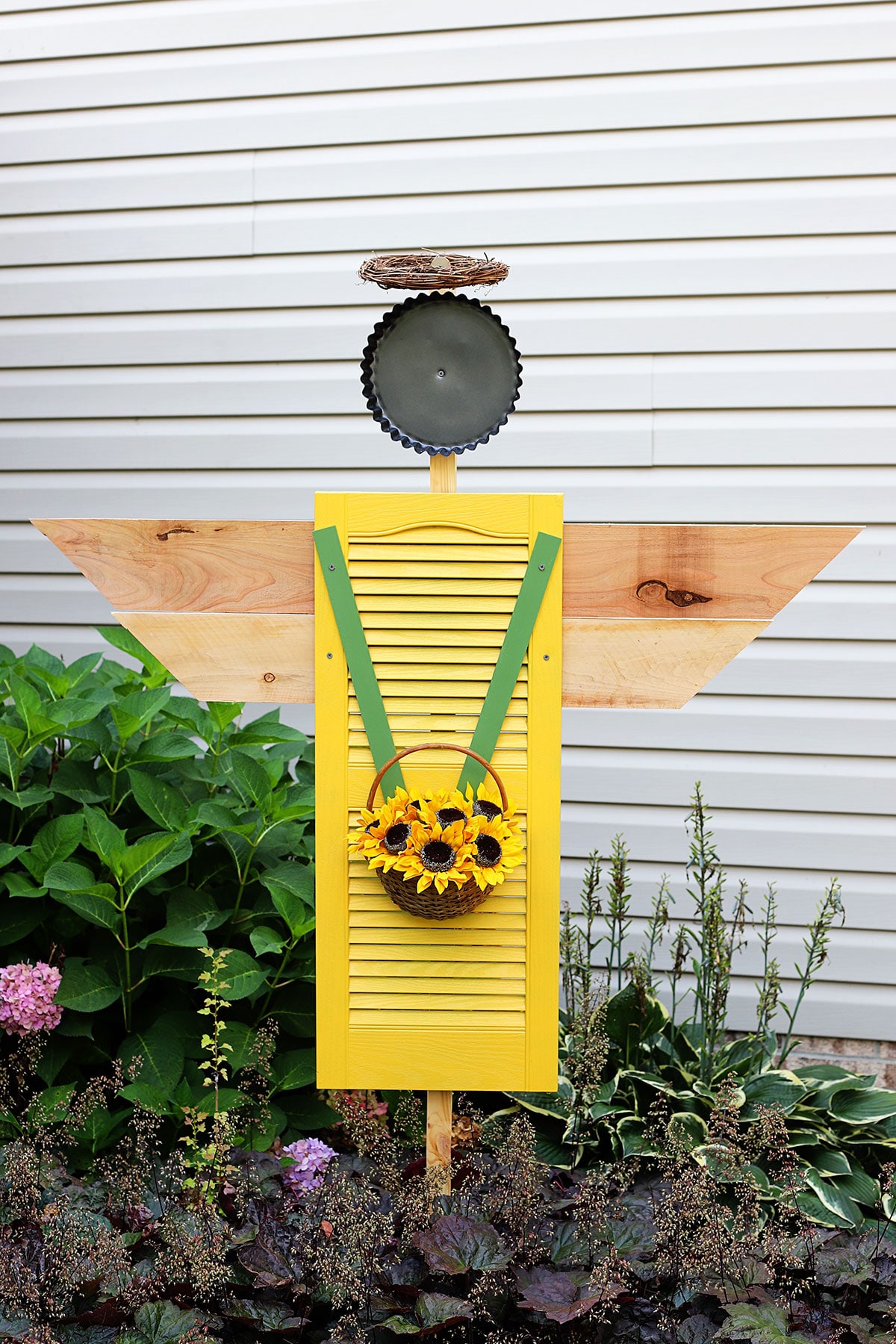 Shutter Scarecrow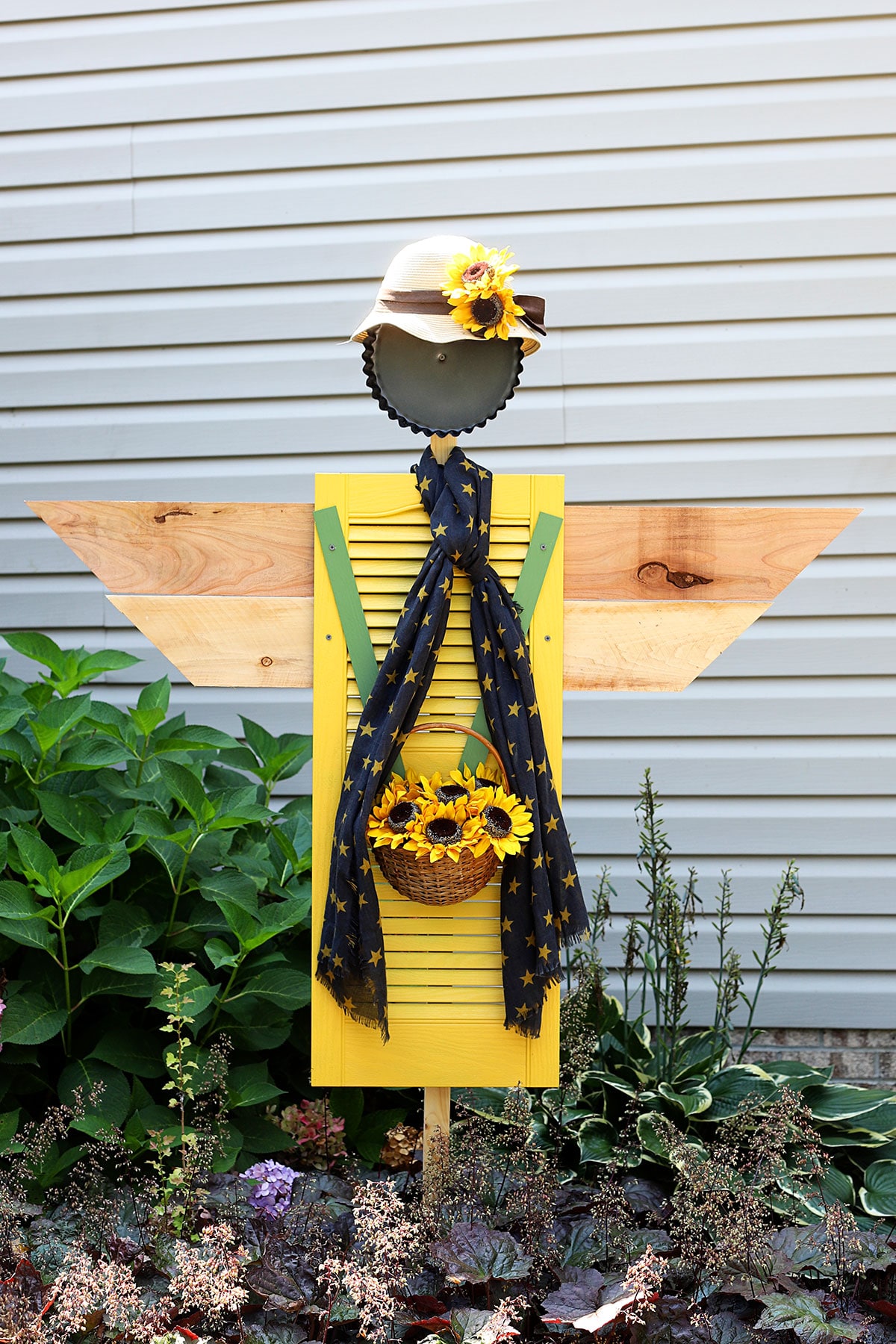 Turn Your Shutter Angel Into A Shutter Scarecrow
Simply add a scarf and a funky hat to convert your angel into a non-scary scarecrow. I found the hat at the thrift store and glued some of the sunflowers to it.

The hat can either be hot glued onto the halo (the small wreath should be small enough to fit inside the hat) or nailed into the top of the stake to keep it from blowing off.
So Angel or Scarecrow, either one will dress up your garden! Or your porch. Or your flower bed.

You may also like how I upcycled dinner plates into a fun winter snowman. Different season, but equally as cute!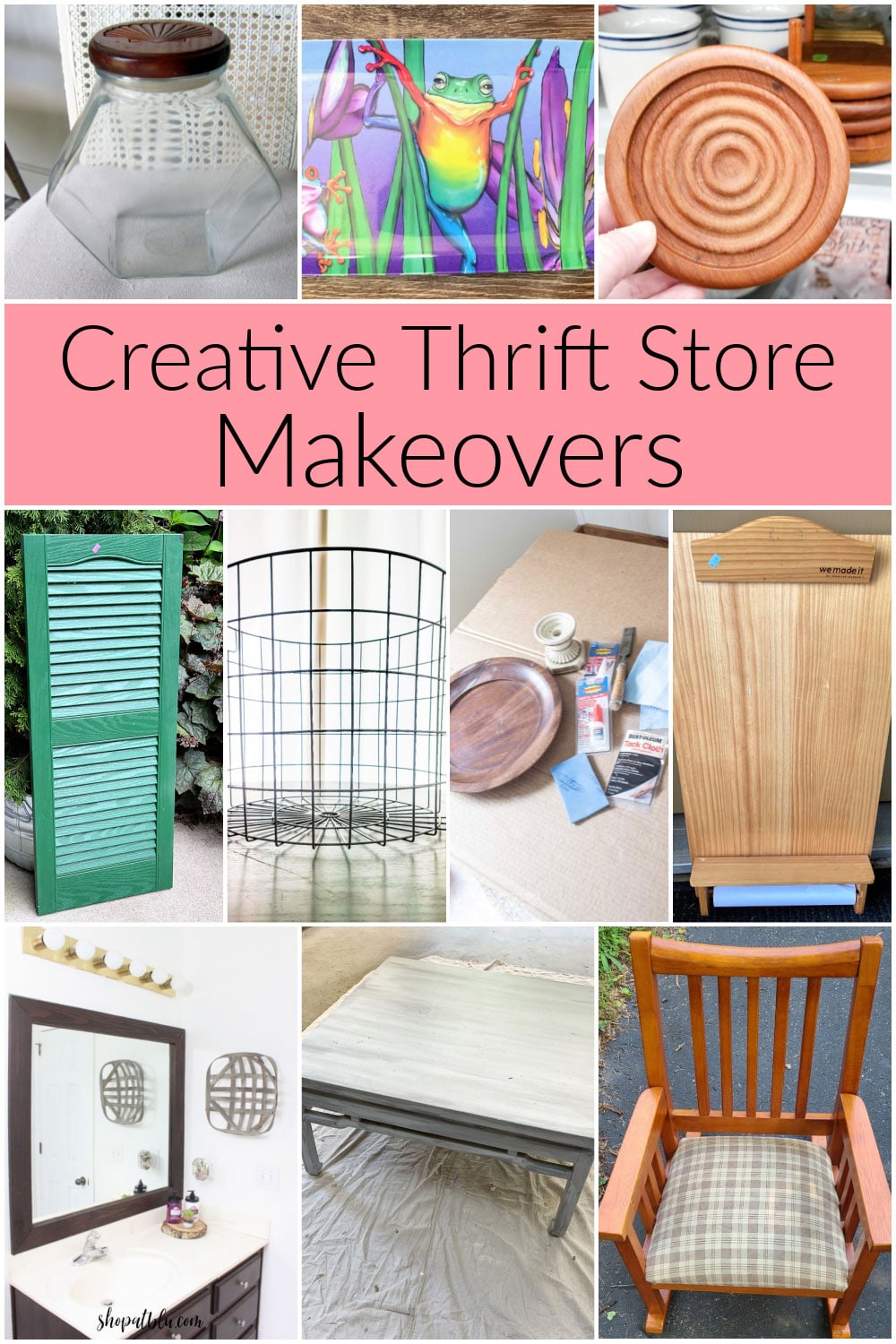 Other Posts You May Enjoy:
Bleaching Wooden Bowls For A Farmhouse Look