A super cute repurposed Jack-o'-Lantern for Halloween made from a galvanized funnel. A quick and easy DIY project for fall!
Last year at the Country Living Fair I saw a cool jack-o'-lantern made out of an oil funnel. OK, I had to actually use good old Mr. Google to figure out what kind of funnel this was, because it's HUGE.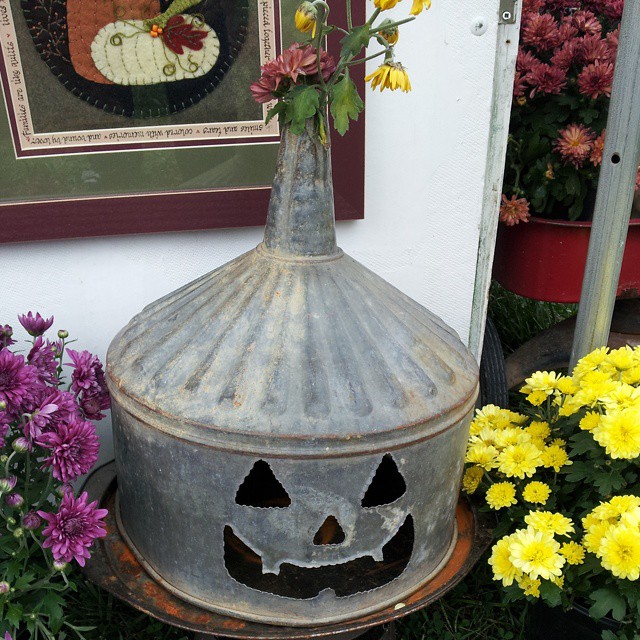 (from some random vendor at last year's Country Living Fair*)
Turns out farmers use them with their tractors.
When I went back to the Country Living Fair this year I was a woman on a mission. Come heck or high water, I was going to score a funnel.
But not one that someone had already made into a jack-o'-lantern. Oh no, that would be too easy. I wanted to try my hand at this myself.
And I found one.
I didn't necessarily want to cut the funnel like in my inspiration piece (I have no idea what they used to cut that with), so I decided to use magnets to make the face.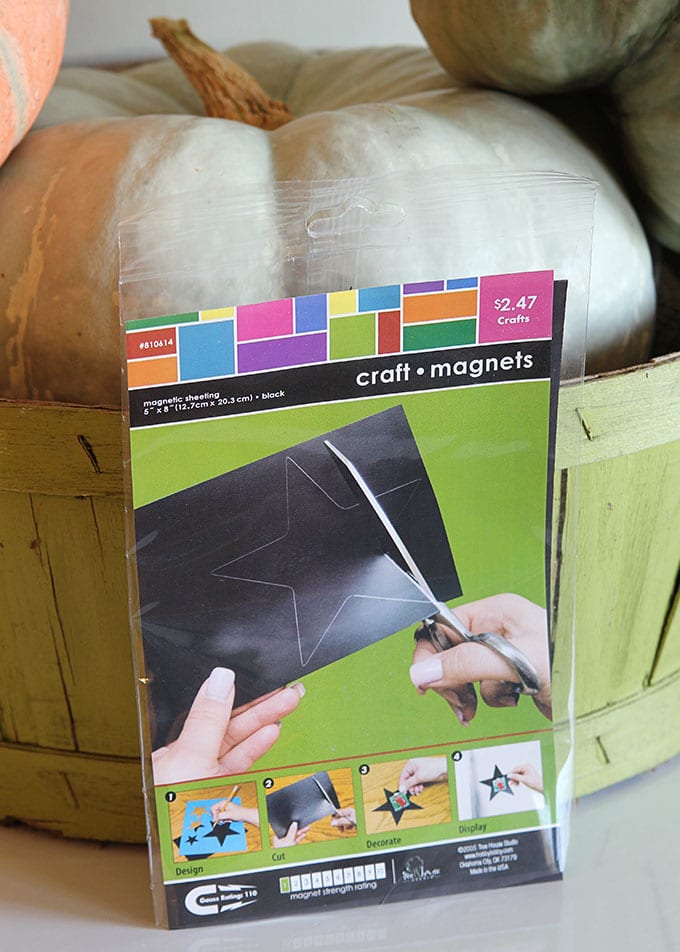 They are the sheet magnets that you can buy at any craft supply store or Amazon.
I just cut out my face freehand (ouch) and slapped it on the funnel and he was ready for his five minutes of fame.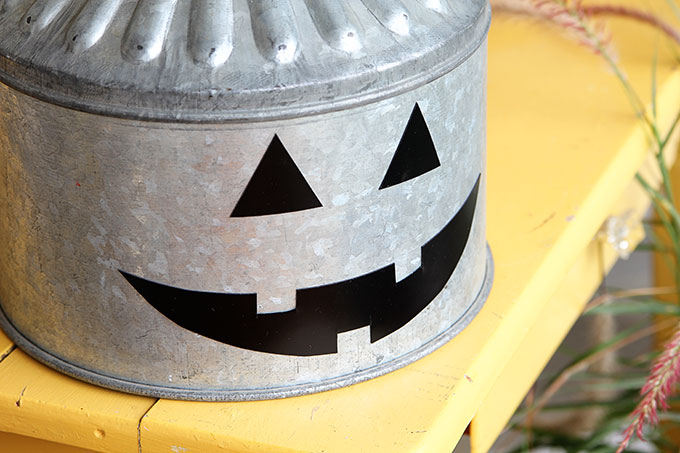 The clock's ticking here, Mr. Funnel Man.
If you want to make your own and don't already have a funnel hanging around the house, you may be able to find one on Amazon or etsy or at your local Habitat Restore.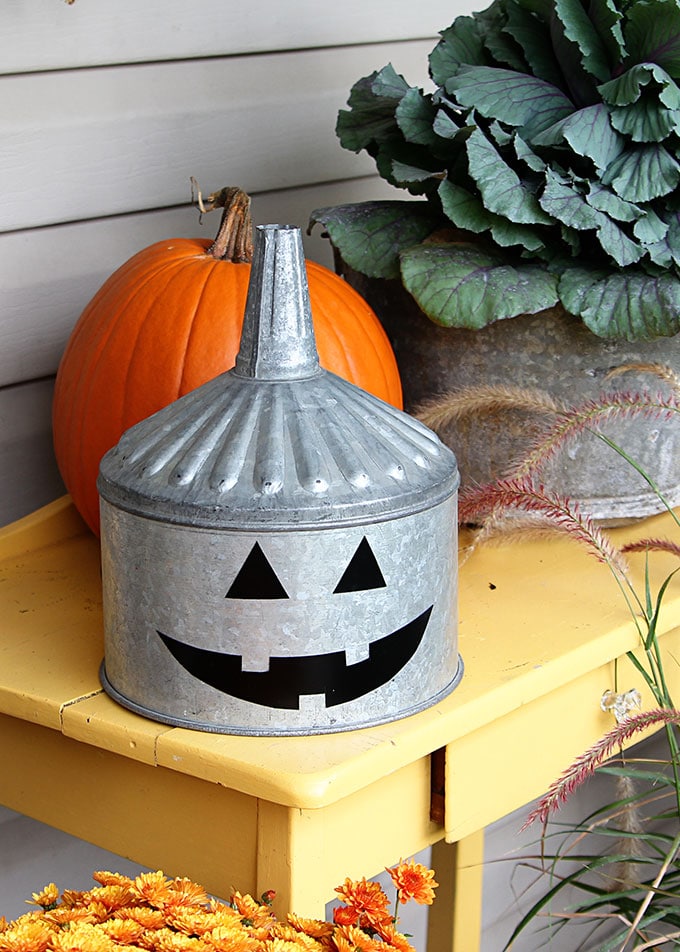 I put him on my front porch where he can greet visitors with his toothy grin.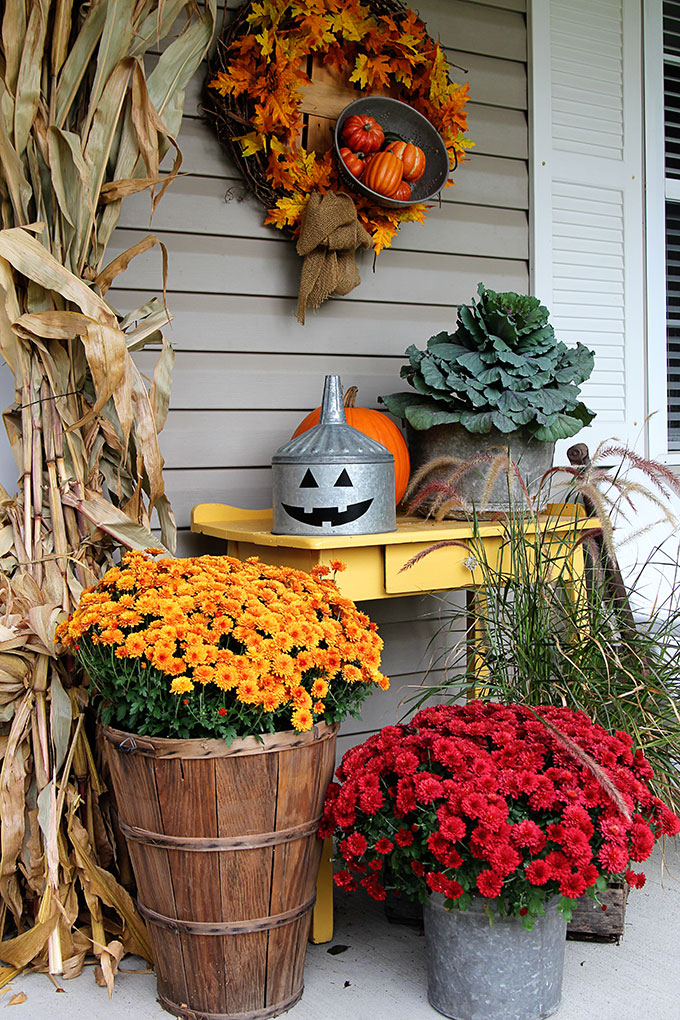 (If you're looking for more fun Halloween junk upcycles, I repurposed a vintage scale recently for fall decor.)
There is really no limit to what you can make jack-o'-lanterns out of these days.
Oil funnels, enamelware tubs,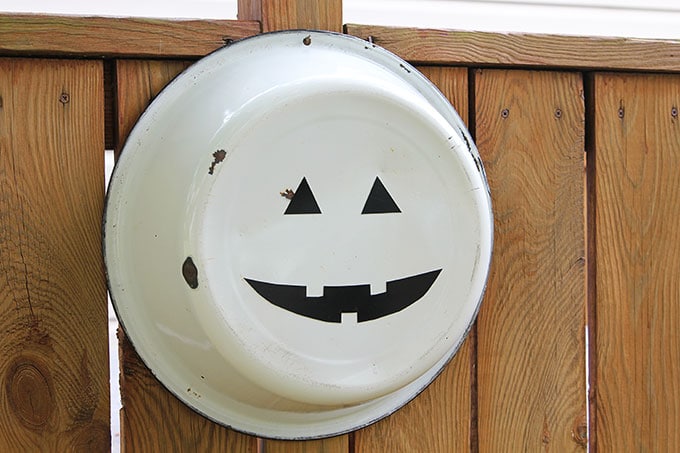 (I probably should have made the mouth and eyes more ghost-like on this guy)
even a chippy old watering can.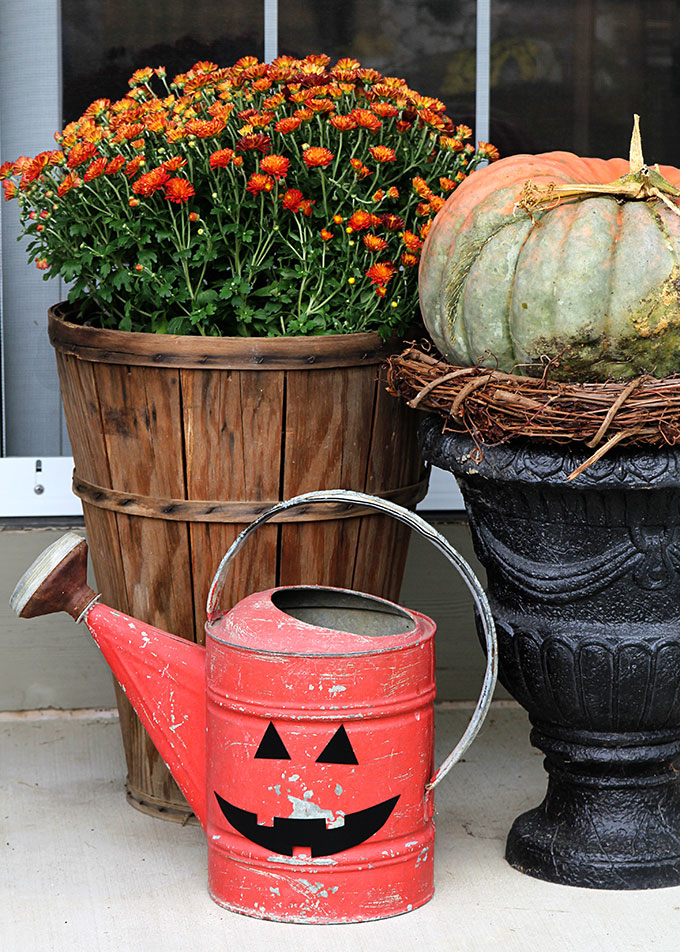 Oh, and there's pumpkins if you want to go old school. I hear they're not magnetic, so you might have to get out a knife to carve a face on them.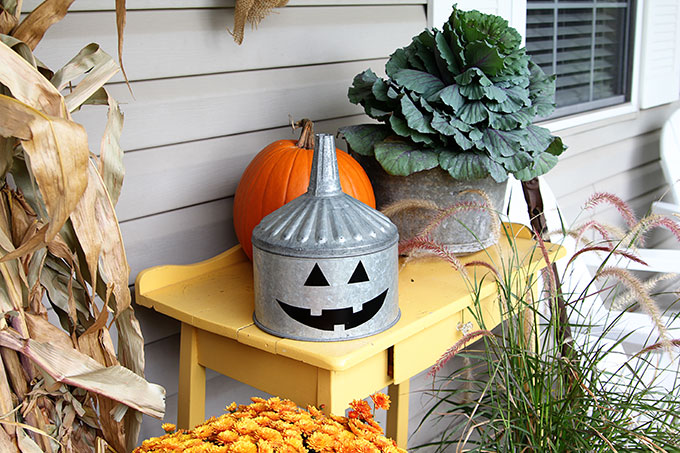 Have you made any Jack-o-Lanterns out of odd objects this year?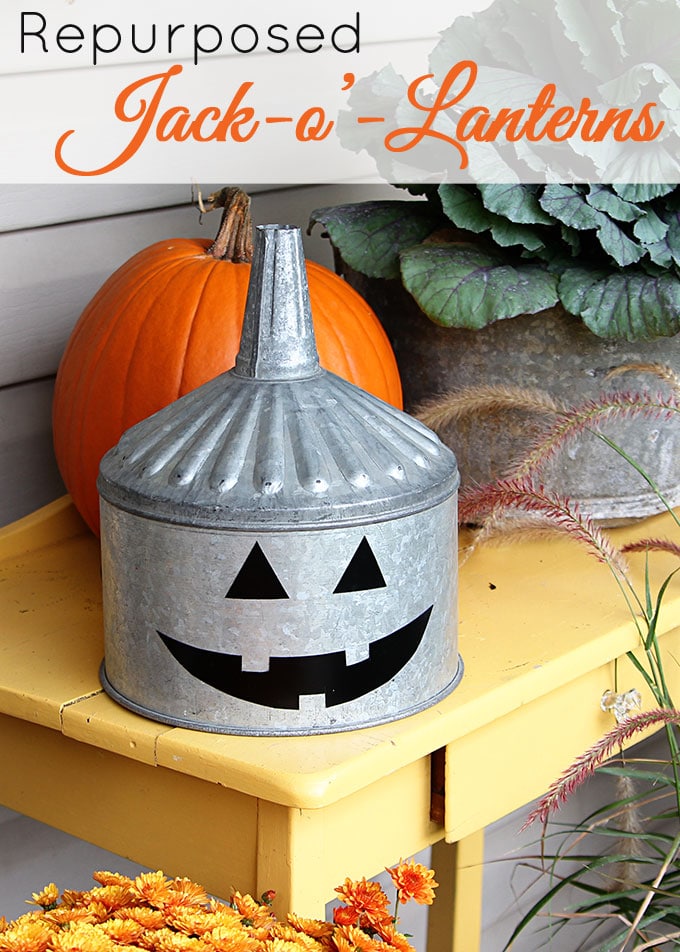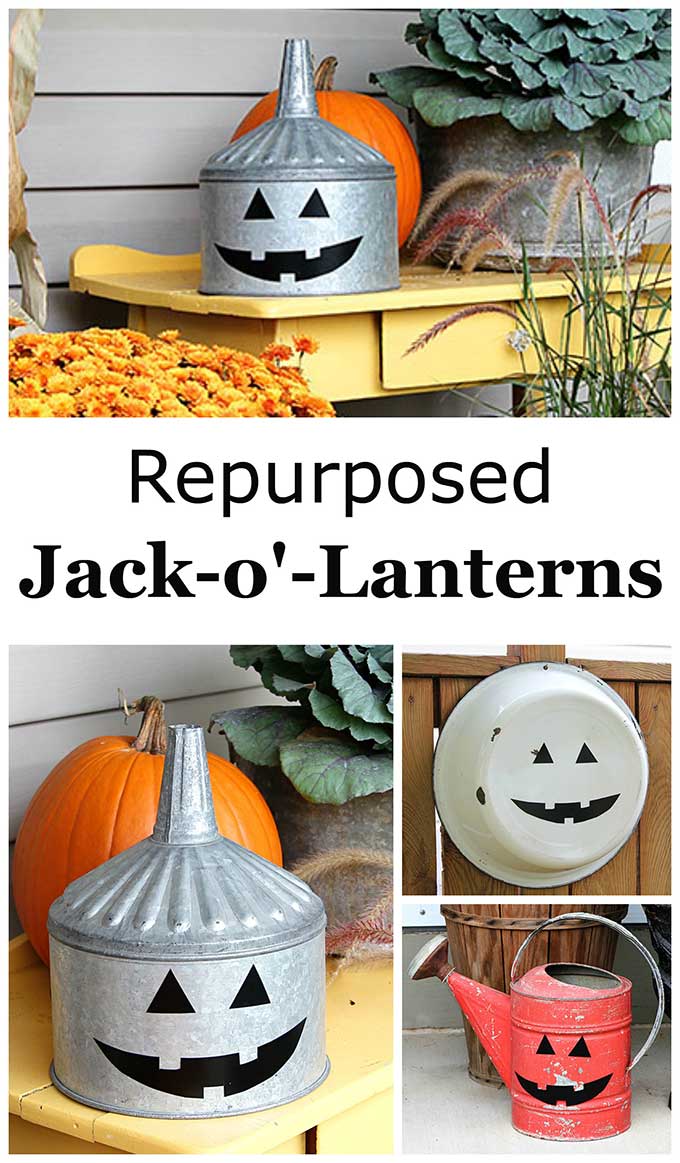 *BTW, I ran across an etsy shop, The Mustard Seed 205, who makes some amazing jack-o'lanterns from gas cans using the original cutting method! You HAVE to check them out.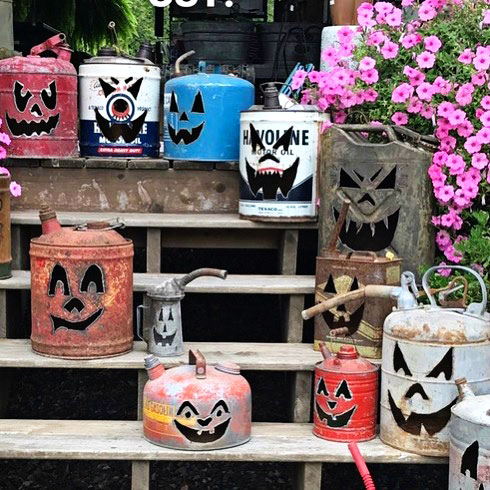 A list of all my Halloween projects can be found here - Featured Halloween.
Check out the web story version of this article HERE.
Other Fall Projects You May Enjoy:
Transitioning The Porch From Fall To Halloween
(This post contains some affiliate links for your convenience. You can read my full disclosure policy here.)