It used to be when you bought a poster and wanted to hang it in your room you scotch taped it to the wall. Maybe used thumbtacks if you wanted to get fancy.
And that was fine when you were 13, madly in love with Donny Osmond and decorating your bedroom all by yourself for the first time.
But posters have come a long way from your Teen Beat crush-of-the-week days. They come in great prints and are more like actual art than years ago. And there's better and prettier ways to display posters in your home decor nowadays other than tape or thumbtacks.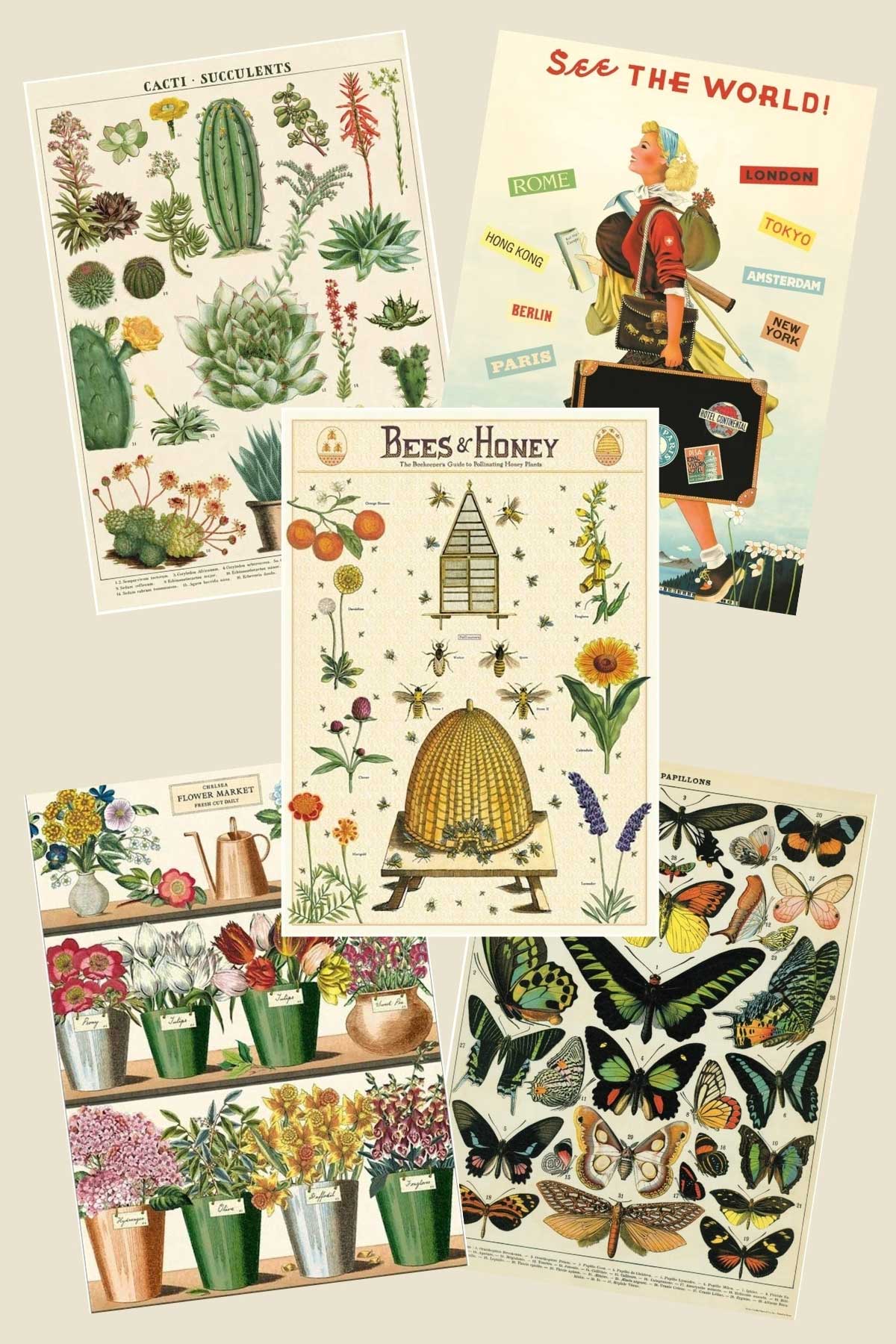 I've been a fan of Cavallini & Co's posters for a few years now. They have a great vintage vibe to them and have the best graphics and typography. They fit right in with my eclectically decorated home.
(This post contains some affiliate links for your convenience. You can read my full disclosure policy here.)
Last year I bought a New York themed one for my husband's office and used one of their vintage poster hanging kits to display it.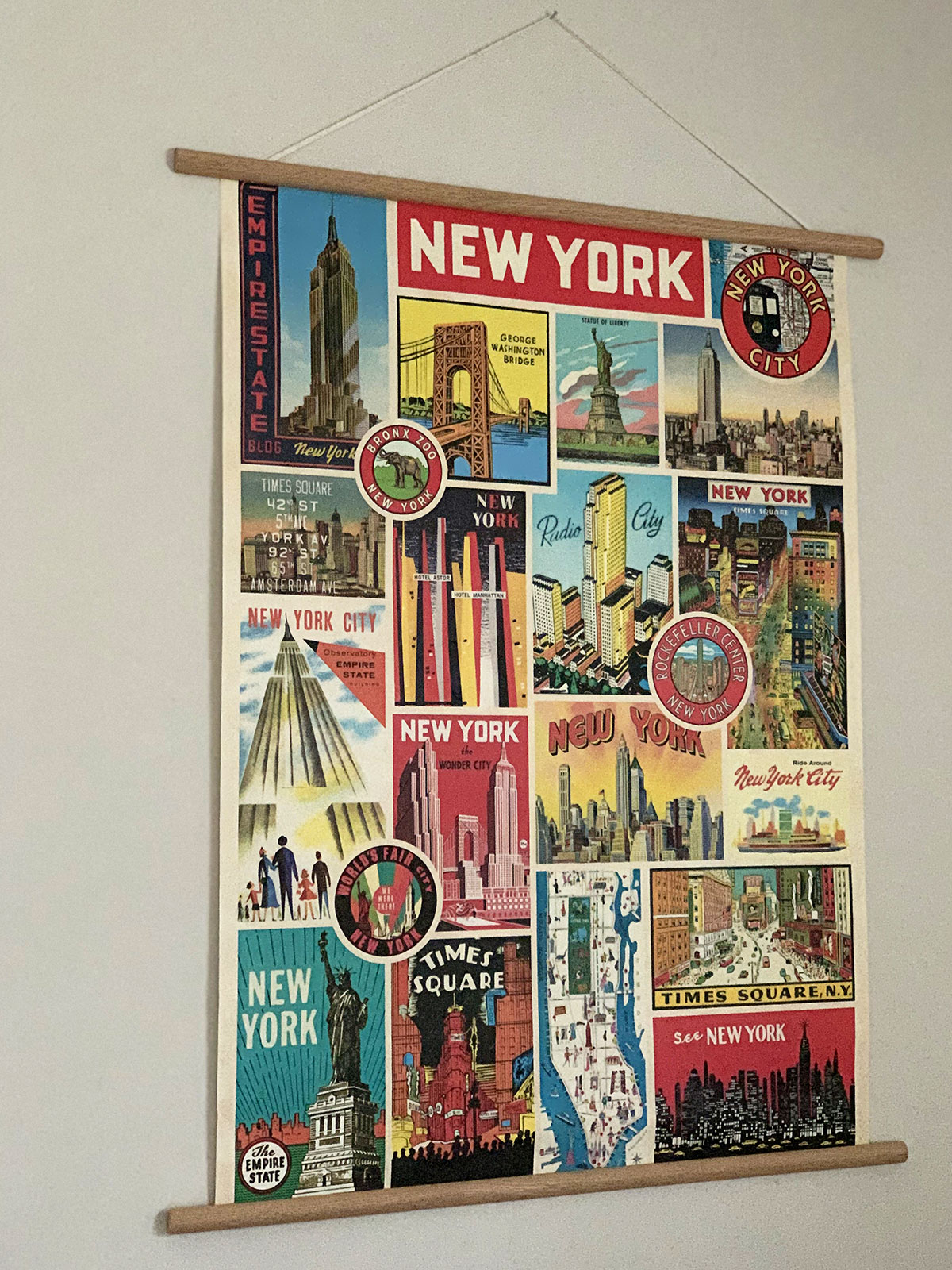 It looks OK.
I mean it has a definite vintage feel to it, but it just seemed a little skimpy to me.
I wanted something more substantial to really make the artwork POP.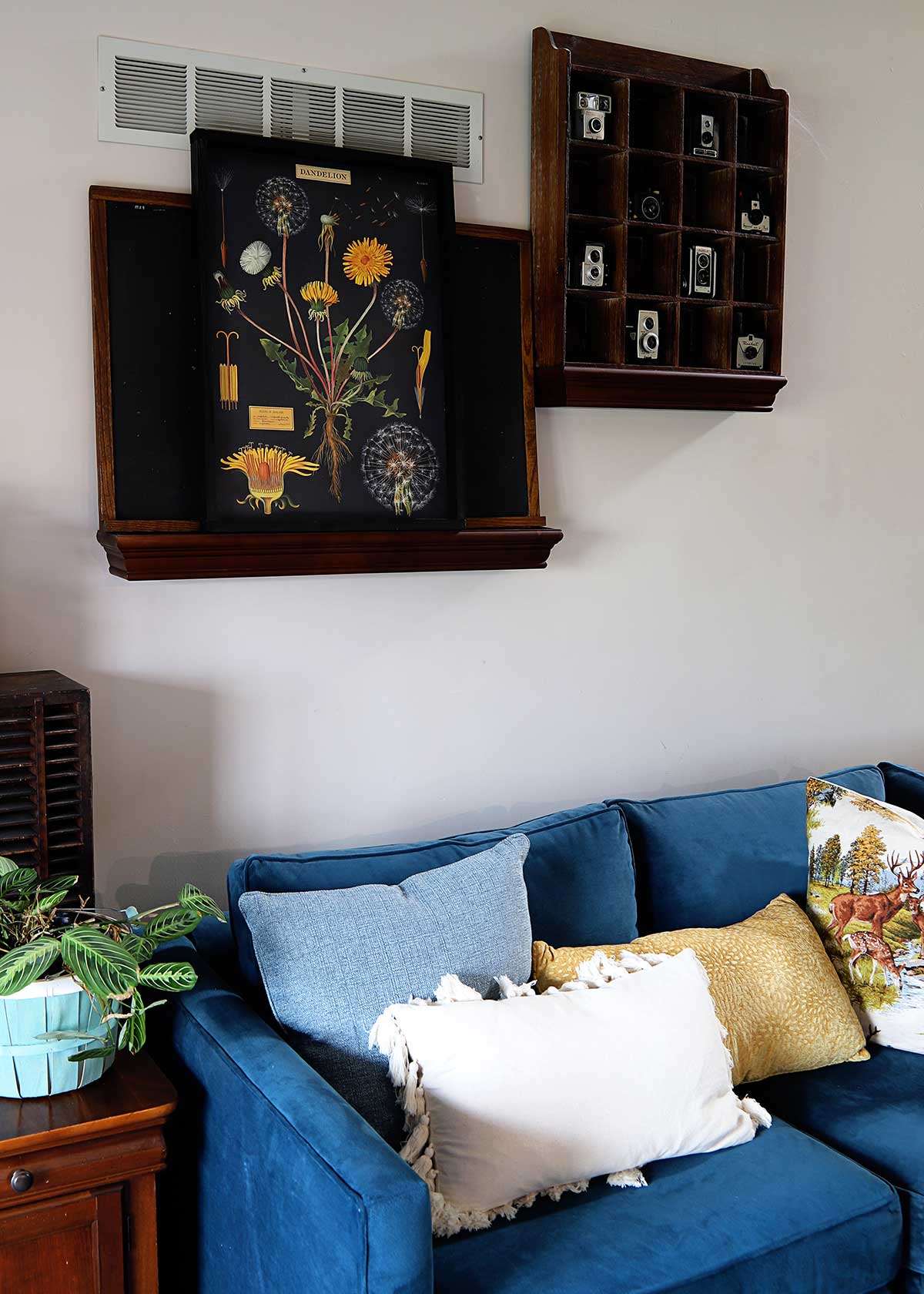 So when I decided to buy a poster for my spring/summer living room decor, I decided to beef up the poster by making a wooden frame for it. Somewhat like the reverse canvas frames which are so popular on Pinterest these days.
Without using a canvas or exacto knife. Or reversing anything for that matter.
How To Make A Poster Frame from Wood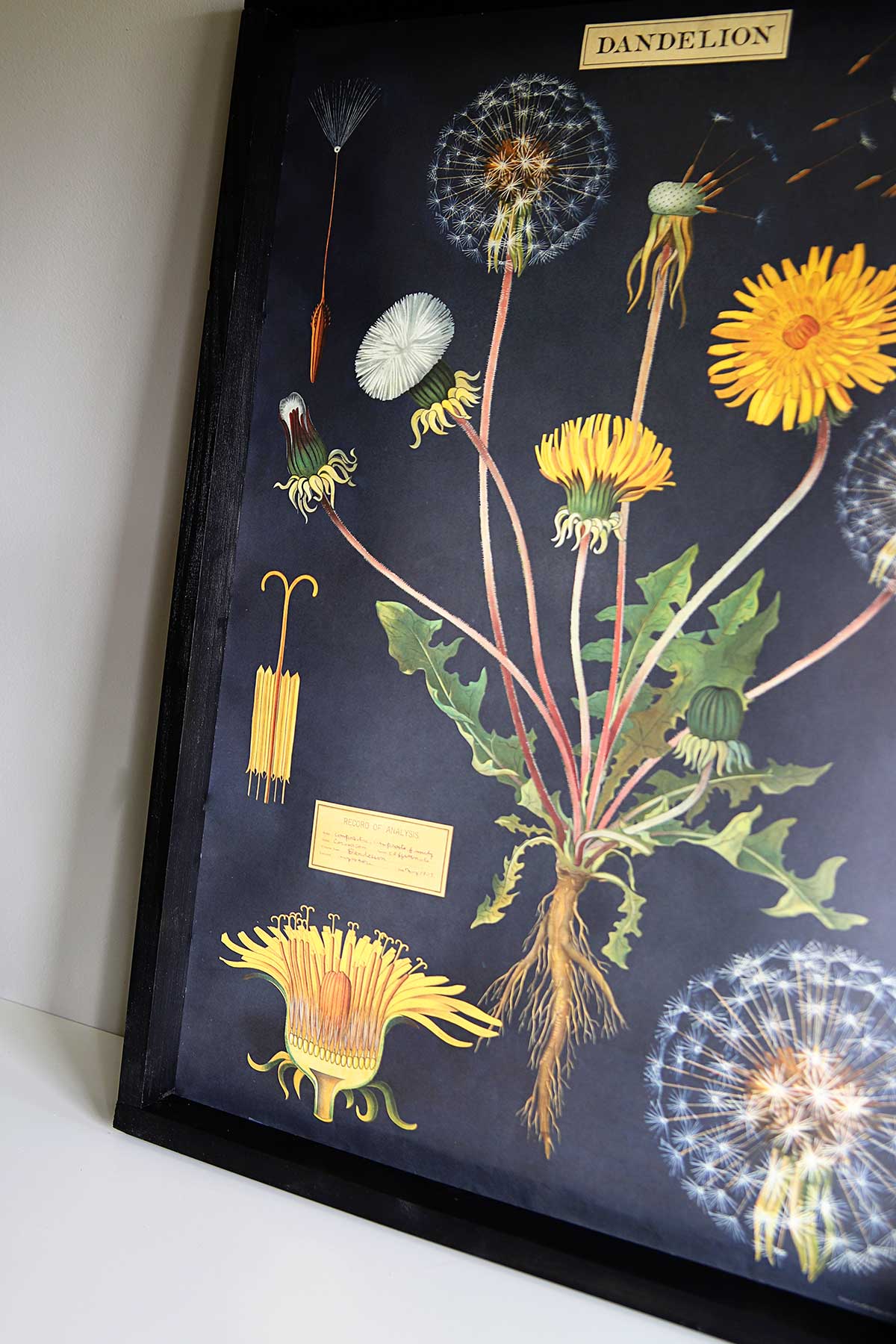 Poster Frame Supplies
A poster obviously
1 Pine Common Board - 1"x 2"x 8' (actual measurements will be .70" x 1.45" x 8' just because boards at the hardware store aren't actually the same width as they are commonly called). Of course if your poster is larger you may need more than 1 of these boards.
A piece of very thin board to be used as a backer for the poster. I used a left-over piece of chalkboard board I had from another project which was less than ¼" thick. You could also use thick cardboard if you have that handy.
Saws
Brad nail gun and nails
Picture frame hanger
Paint or stain (optional)
Paintbrush (optional)
Instructions For Making A Quick And Easy Frame
Pick out your poster. I used the Dandelion poster from Cavallini & Co., but there are MANY to choose from on Amazon and I've put quite a few of my favorites in my Amazon Shop.
I particularly like the Cavallini ones because they're printed on a thicker, richer looking paper. Plus they have all those cool retro looking designs.
Although their posters say they measure 20x28", don't take their word for it, they may actually be ever so slightly smaller. It's the old measure twice, cut once woodworking theory.
For instance, my poster actually measured 19 ¾" by 27.5 inches, not the advertised 20" by 28". It's not like the good people at Cavallini were trying to short me a smidge of poster paper, it's probably just easier for them to round up to 20x28.
Time needed: 30 minutes
STEPS
Cutting Your Wood

Take your poster width and add 1 inch. In my case my poster was 19 ¾" wide, so I cut 2 boards to 20 ¾".

Take your poster height and subtract ½". In my case my poster was 27 ½" high, so I cut 2 boards to 27".

Cut your backer board to be the exact same width and height as your poster - in my case 19 ¾" wide by 27.5".

TIP: If you don't want to drag your saws out of the garage you can always have Home Depot or Lowes cut the boards for you. Just be careful they are cutting to exact measurements.



Painting Your Wood

If you want to paint or stain your wooden frame, now is the time to do so. I used a flat black paint on mine to enhance the darkness of the dandelion poster. You could also leave the wood totally natural if you prefer a more farmhouse look.



Assembling Your Frame

Line up your boards as shown in the photo. This is a basic rustic frame, so you are just butting one board up against the other - no fancy mitered corners going on here.

The thinner sides of the boards (1" side) will be standing straight up facing you (the photo on step 4 might explain that better).



Nailing Your Frame

Using your brad nailer or nail gun, attach the sides together. Again, notice how it is deeper than it is wide. (Don't mind the bare wood showing in the photo, I touched up the cut ends after I was done nailing).

I'm using my Ryobi 18-volt Cordless Brad Nailer from Home Depot to make the nailing much quicker and easier.



Attaching Your Poster

Once your rectangle is complete, lay the poster over the backside of the frame facing forward, lay the backer board on top of them and nail the backer board onto the frame. I did not want to use glue to attach the poster to the backer board for fear of it puckering the paper. It's going to be like a sandwich with frame, poster and backer board.

Originally I didn't plan to use any backer board at all, just use the frame with the poster attached and call it a super quick and easy day. But I found the frame to be a little less stable than I would like, so by adding the backer board it really firmed it up.



Hanging The Poster Frame

Attach a picture hanger on the back of the frame and hang your fancy new poster on the wall.

I neglected to get a photo of me nailing in the picture hanger, but it's just one of those sawtooth ones I used in my Galvanized Funnel Repurpose Project I showed you last week.

And let's not mention I didn't actually end up "hanging" my wood poster frame at all. I have it leaning against a chalkboard on my picture ledge (with my lovely return air vent showing).


BTW, you can see what I had on the shelf for the winter season in my Nostalgic Christmas Decorations for 2020 post. I ended up leaving the winter scene up until I made this to replace it, since it was more "winter" than "Christmas"!
What's your favorite way to use posters in your home decor?