Learn how to make a skeleton key necklace using thrift store finds! A fun piece of upcycled jewelry and a great present for new grads or a 21st birthday.
I've always been a big fan of skeleton key necklaces. There's something romantic and timeless about them.

Although I've seen plenty of antique skeleton key necklaces at antique fairs and shows, not to mention for sale in Etsy shops and on Ebay, I thought I'd try my hand at DIYing one myself instead.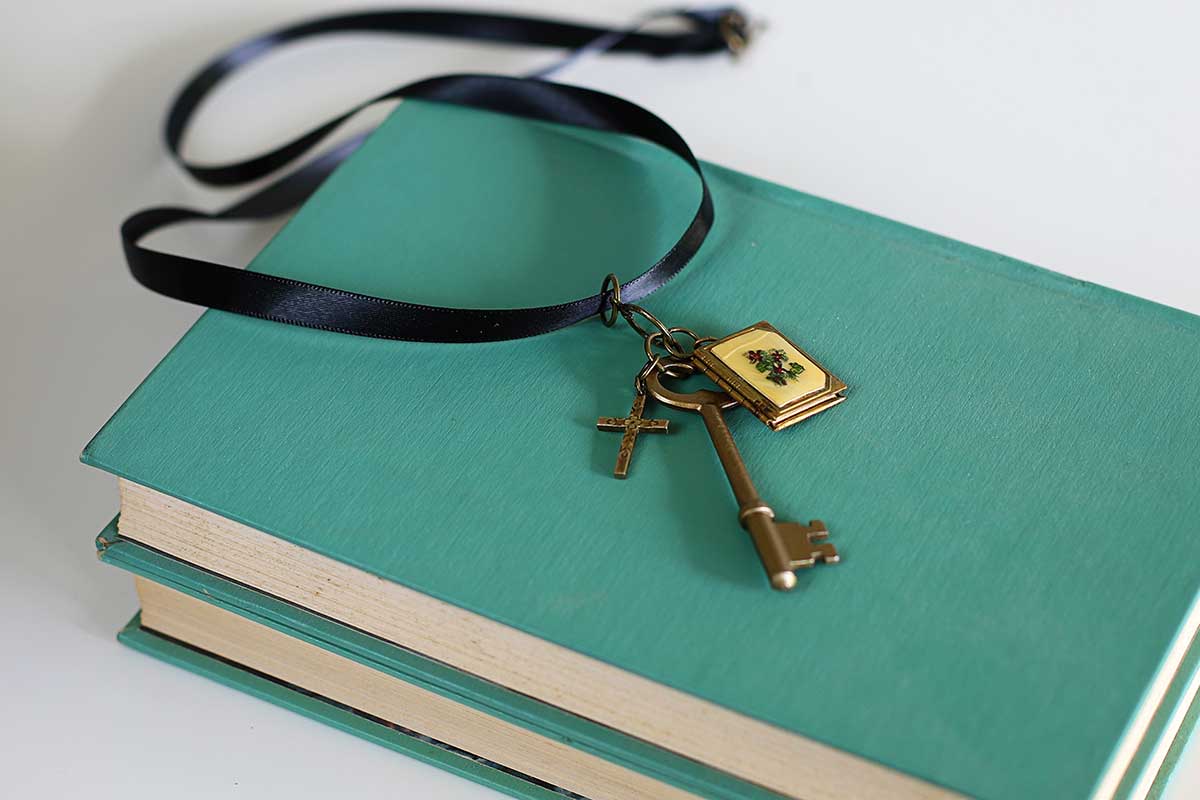 You may be asking why a skeleton key necklace??? They are great to make as gifts for upcoming graduations, 21st birthdays and any big life changes.
Because a key opens a door to a whole new world of possibilities!
✨ BTW, today is Thrift Store Decor Wednesday, so make sure your hang around to the end of the post to see the rest of the team's thrift store repurposes for the month!
(This post contains some affiliate links for your convenience. You can read my full disclosure policy here.)
How To Make A Skeleton Key Necklace
Gather Your Supplies
Skeleton Key - I found mine at an antique mall, you can also find them on Etsy or Ebay or the craft stores sell new ones made to look old
Jump Rings - circles used to add items to your necklace (I used 6)
Toggle Clasps (aka T-Bar Closures) - to add to the ends so you can get your necklace on and off (2 sets as you will use 1 circle in a different way)
Small Needle Nose Plyers
⅜" Thin Satin Ribbon
Additional Charms you may want to add (optional)
Satin Bronze Spray Paint (optional - not pictured)
Sewing Machine and thread (optional - not pictured)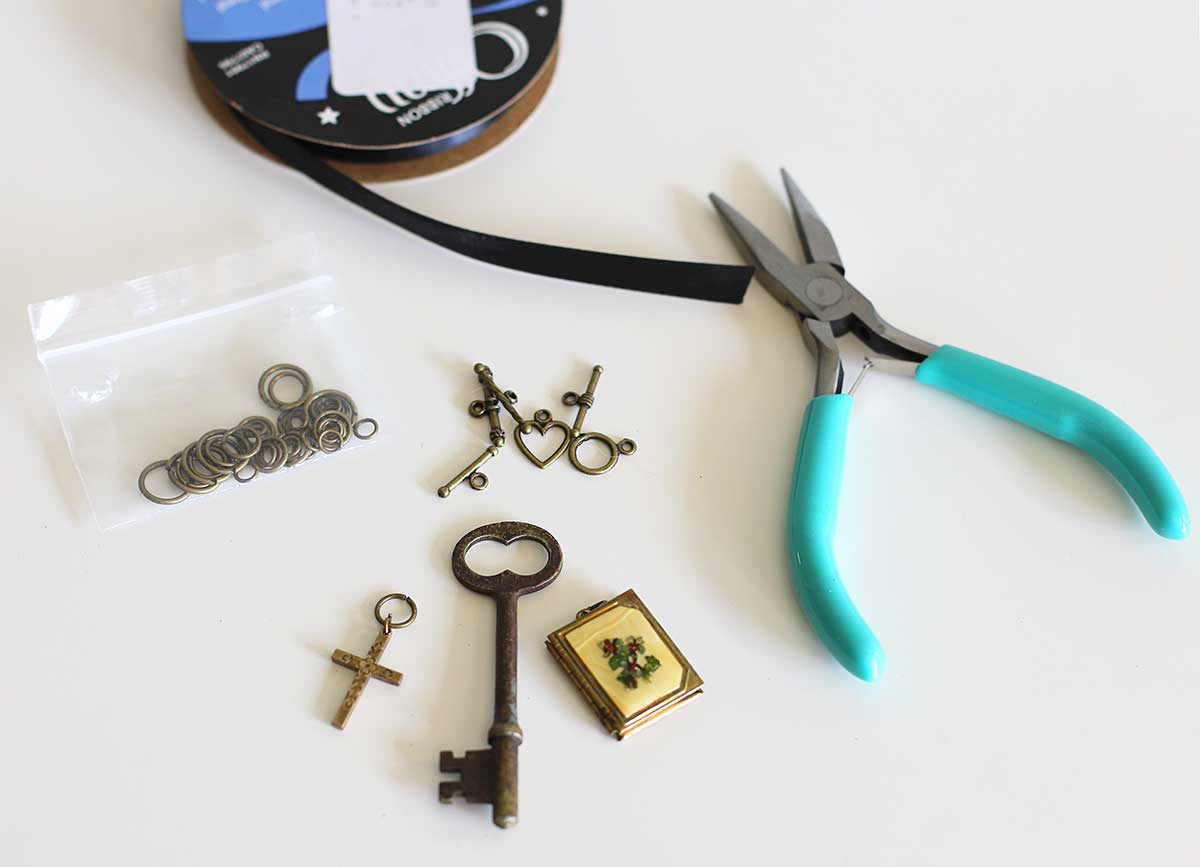 Instructions
I gathered some items that I thought would fit well together on my necklace. A skeleton key, a vintage gold locket with a mother of pearl inlay and a cross I've had since I was a little girl.
Three seemed to be the magic number. Four items looked too busy and two items just looked like I combined two necklaces into one and called it a day.
You can also use charms from craft stores or mix in bits and pieces of jewelry from thrift stores for an eclectic look.
Time needed: 30 minutes
Steps
Attaching Jump Ring To Toggle Clasp.

Use your needle nose plyers to open up a jump ring slightly. Thread it through the tiny hole on the circular half of the toggle clasp. Squeeze the ends of the jump ring closed.

This piece will be used to connect the key and other items to the ribbon. I'm going to call it a pendant holder, just so you'll know what I'm talking about a little later.



Attach Jump Ring To Ribbon

Cut your ribbon to the length of necklace you prefer. Since I wanted mine to be on the longer side I cut the ribbon at 30", but you could make it shorter if you wanted.

Slide the jump ring onto the ribbon.



Attach Toggle Clasp To Ends

Cut the ends of the ribbon at an angle and insert the ends through the tiny holes of the toggle clasp pieces.



Securing The Toggle Clasps

On each end, fold over the ribbon 1-2" and sew together. Cut excess ribbon and thread.

If you prefer not to sew it, you can tie knots in the end of the ribbon to keep the clasps secure. Or there are clasps that will crimp down on the ribbon (they are normally used for necklaces made with cording or leather, but would work in this situation also).



Add Skelton Key

Use your needle nose plyers again to open up a jump ring slightly, run it through the key and onto your pendant holder.



Finishing Up The Necklace

Attach your other pieces using jump rings. You can see in the photo how I used jump rings for mine.

I felt the cross was getting lost behind the key when I attached it directly to the main jump ring like I had done with the locket. So I ended up moving it down to be on the same jump ring as the key. .

Basically, if something gets "buried" on the necklace, just play around with the jump rings to see where it's going to look best.


And you are done!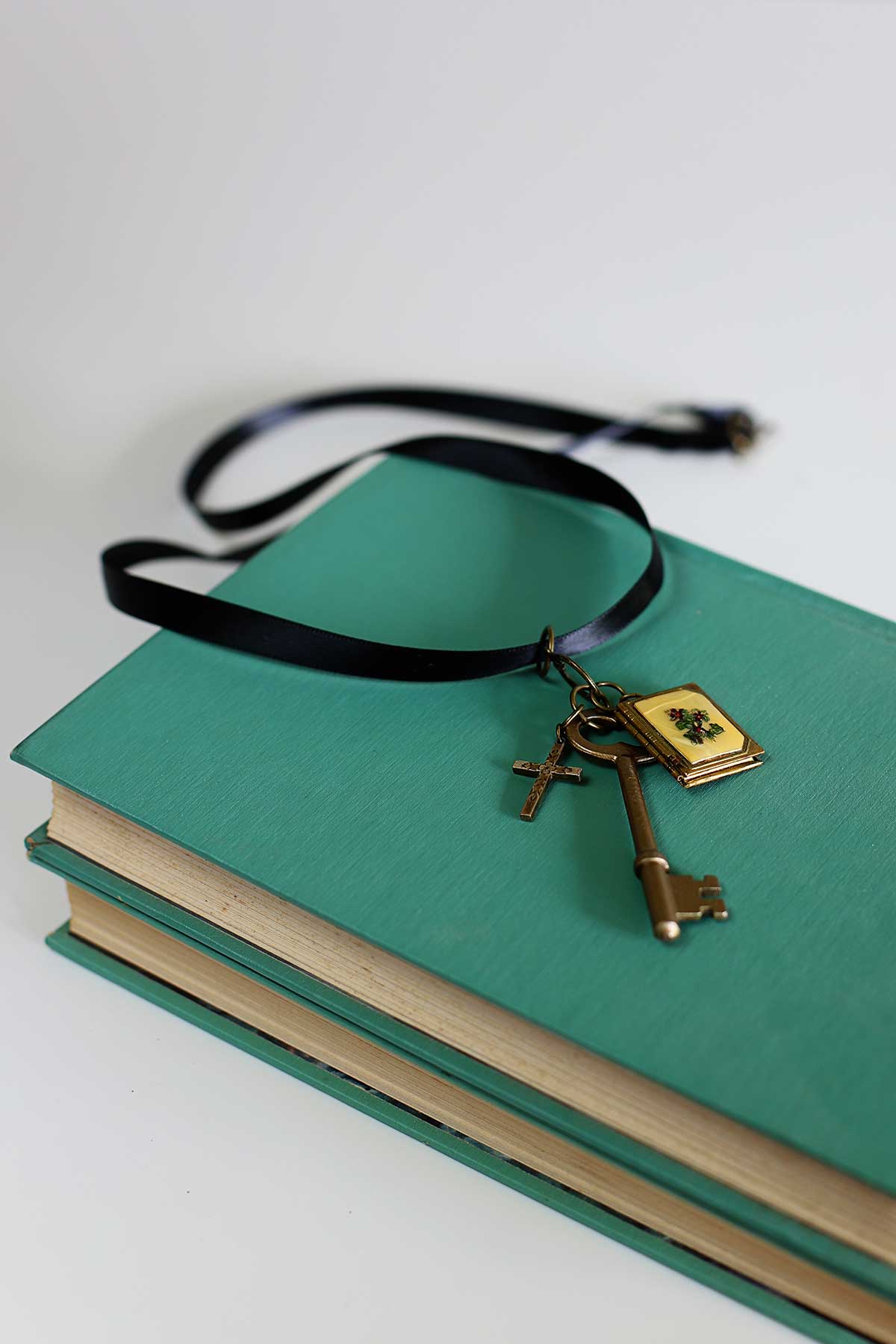 To wear your necklace, just put the bar part of the clasp through the circular part and start showing off your necklace.

That is unless you are giving as a gift. In that case take it off your neck and put it away for safekeeping. Or better yet, make another one for yourself!
Frequently Asked Questions:
Where to buy skeleton keys?
You can pick up antique skeleton keys at yard sales, thrift stores and antique malls. If you prefer newer skeleton keys, the craft stores sell skeleton keys specifically for jewelry making - Hobby Lobby for instance . And skeleton keys can also be found at some hardware stores, online vintage reproduction hardware dealers like House Of Antique Hardware (my latest obsession) and of course, Amazon.
How to clean antique skeleton keys?
Depending how rusted and corroded your key may be, you can try a few things to clean it up:

1. Fill the bottom of a saucepan with distilled white vinegar, drop in your keys and heat on low on your stovetop. You can see this vinegar cleaning process in action on YouTube.

2. If they are just heavily tarnished (and not rusted) you can use the method I showed you recently in my How To Clean Silverware With Baking Soda And Aluminum Foil article.

3. You can also rub the keys with ketchup, let sit for 5 minutes, rinse and buff them with a clean cloth.

If none of those methods work well enough for you, you can always spray a light coat of bronze spray paint on the key to brighten it up. My key was a combination of tarnish, rust and years of wear and tear, so I opted for the light coat of spray paint.
What does a skeleton necklace mean?
Key necklaces are popular gifts for both 21st birthdays and graduations. A key is seen as opening new doors of possibility, unlocking your potential and starting new beginnings.

Of course, they can also be used in the romantic sense as giving someone the key to your heart.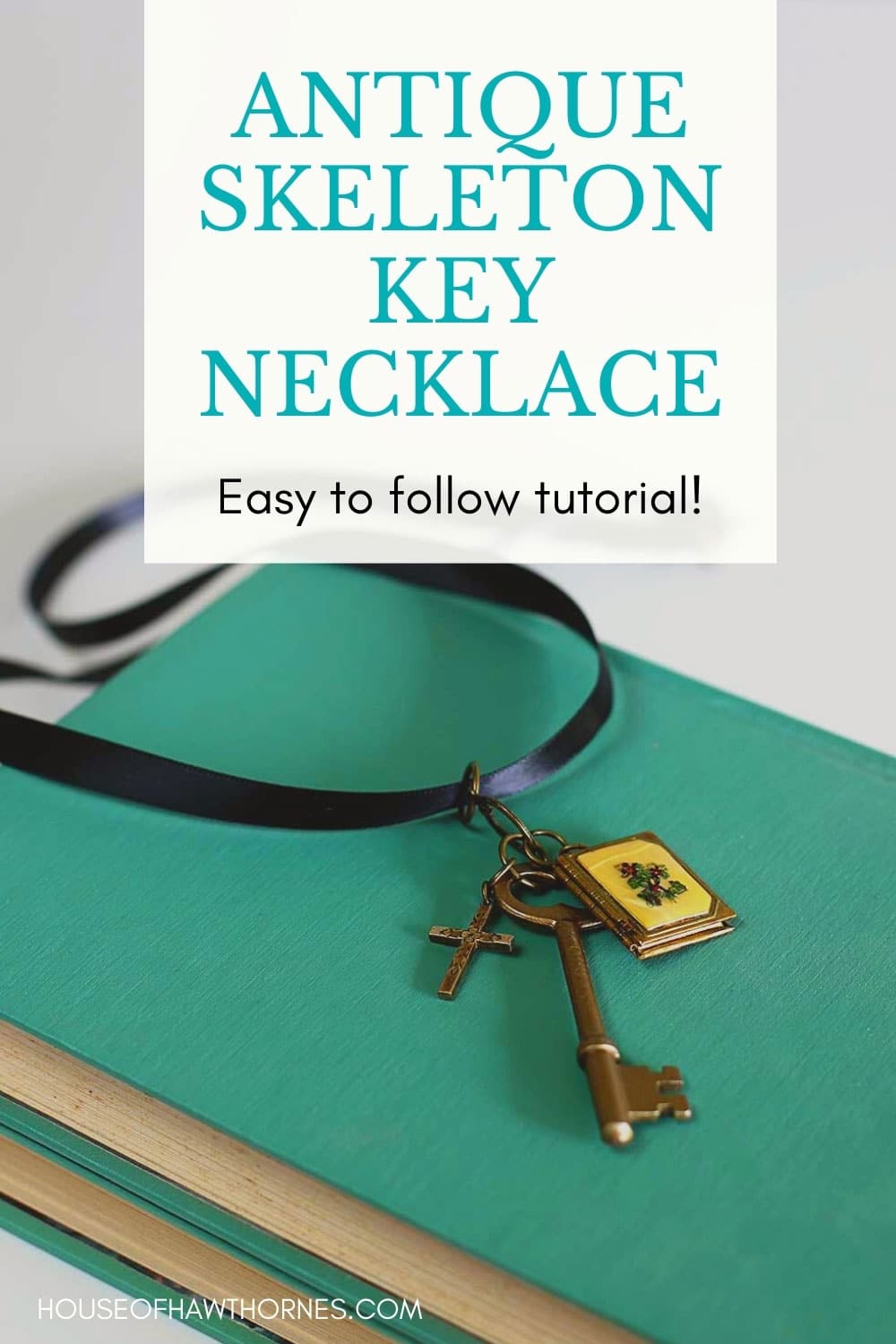 Thrift Store Decor Team Projects
Now let's see what the Thrift Store Decor Team has been up to this month!
Repurposed Tool Box Jewelry Box - Petticoat Junktion
Clam Shell Bowl with Baking Soda Paint - Sadie Seasongoods
Wooden Rocking Chair Makeover - My Repurposed Life
Cutting Glass - Domestically Speaking
DIY Lake Sign - Our Southern Home
Antique Skeleton Key Makeover - House of Hawthornes (that's me)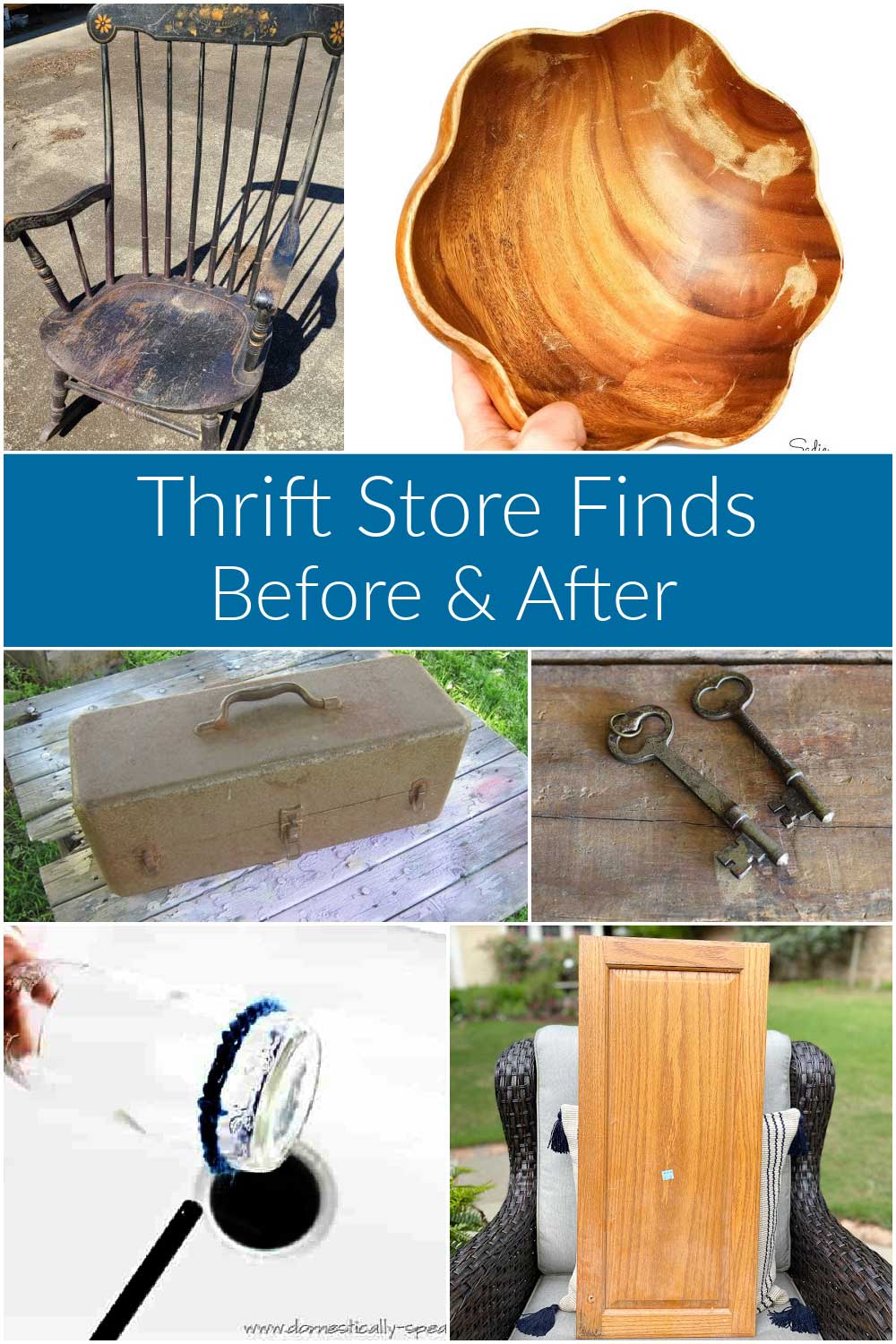 Other posts you may enjoy:
Painting A Vintage Metal Lawn Chair
How To Make A Little Red Wagon Patio Table
How To Make A Birdcage Planter