How to repurpose an old galvanized funnel into a cute modern farmhouse styled wall hanging planter. Real or faux plants, it's your choice!
I recently went to a warehouse sale a couple of local shops put together. They all rented an empty warehouse space and were selling off all their inventory and props they wanted to get rid.
Best of all, it was at garage sale prices.
Did I mention it was mostly antique, vintage and quirky items?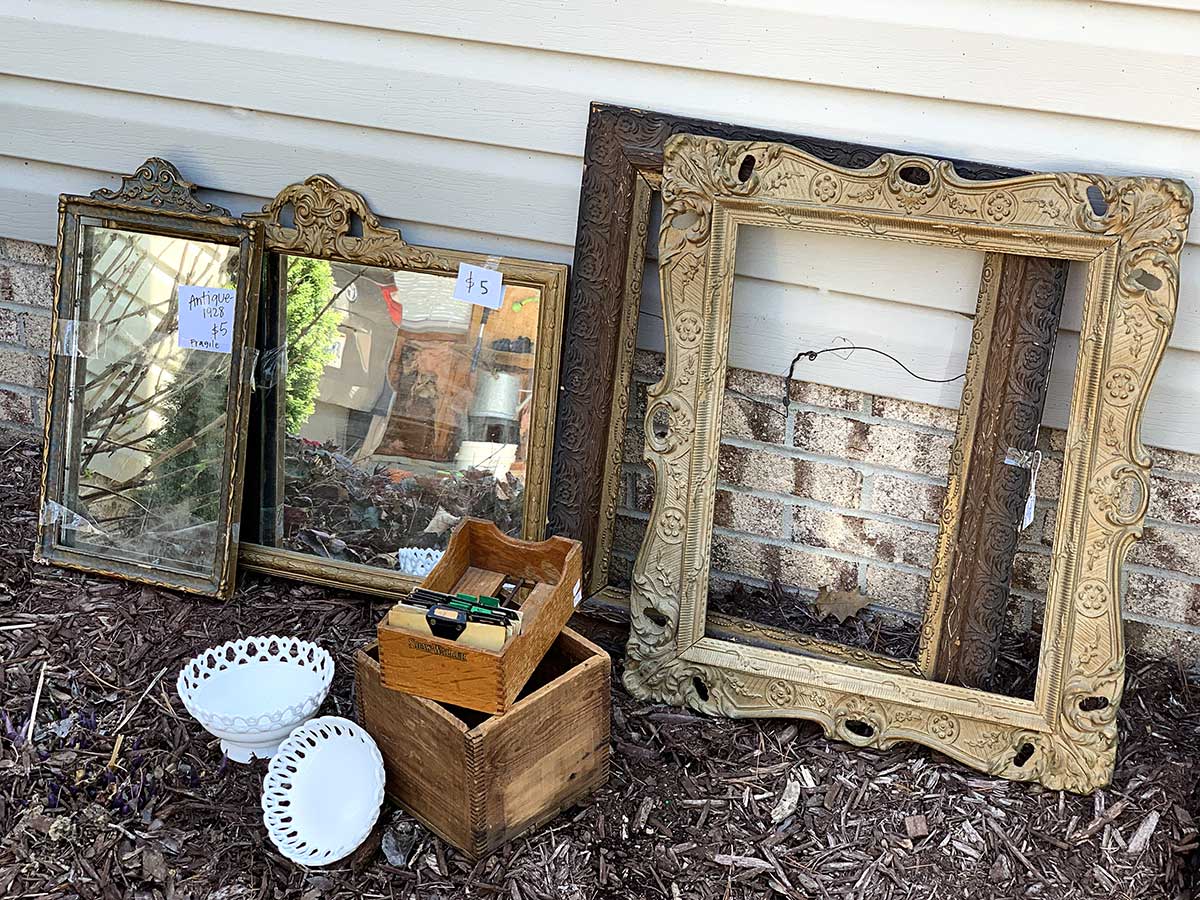 It turned out to be a good sale. And a nice way to ease back into garage sale-ing this year!
But alas, this post is actually about repurposing the one item from the sale that didn't make the loot shoot photo.
A galvanized funnel I paid $1 for.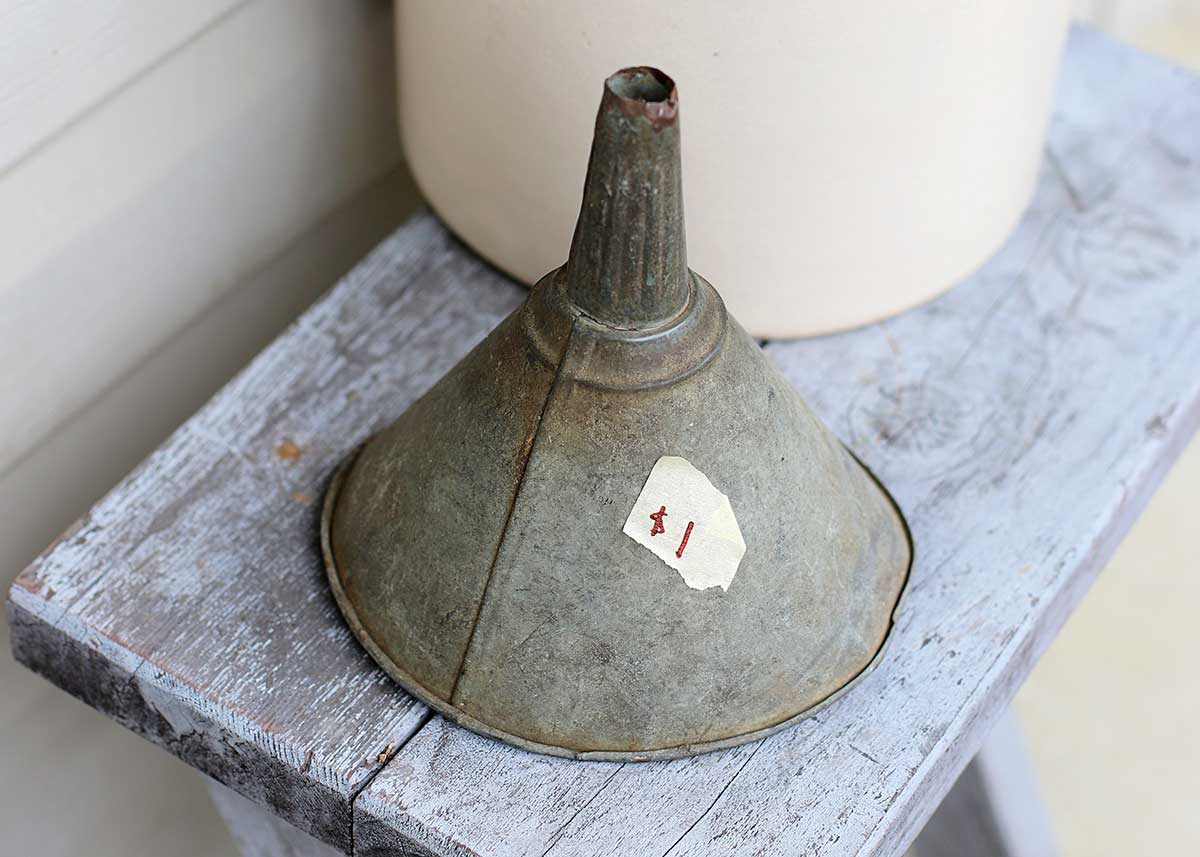 You may remember I repurposed a similar, although larger sized, funnel in my Repurposed Funnel Jack O'Lantern project a few years ago.
I decided to make a quirky modern farmhouse styled wall hanging planter out of this one (I'm still working on an official, less clunky name for it).
But before I forget, today is Thrift Store Decor Team Wednesday so stick around to the end to see what else the team repurposed this month!
(This post contains some affiliate links for your convenience. You can read my full disclosure policy here.)
How To Upcycled A Funnel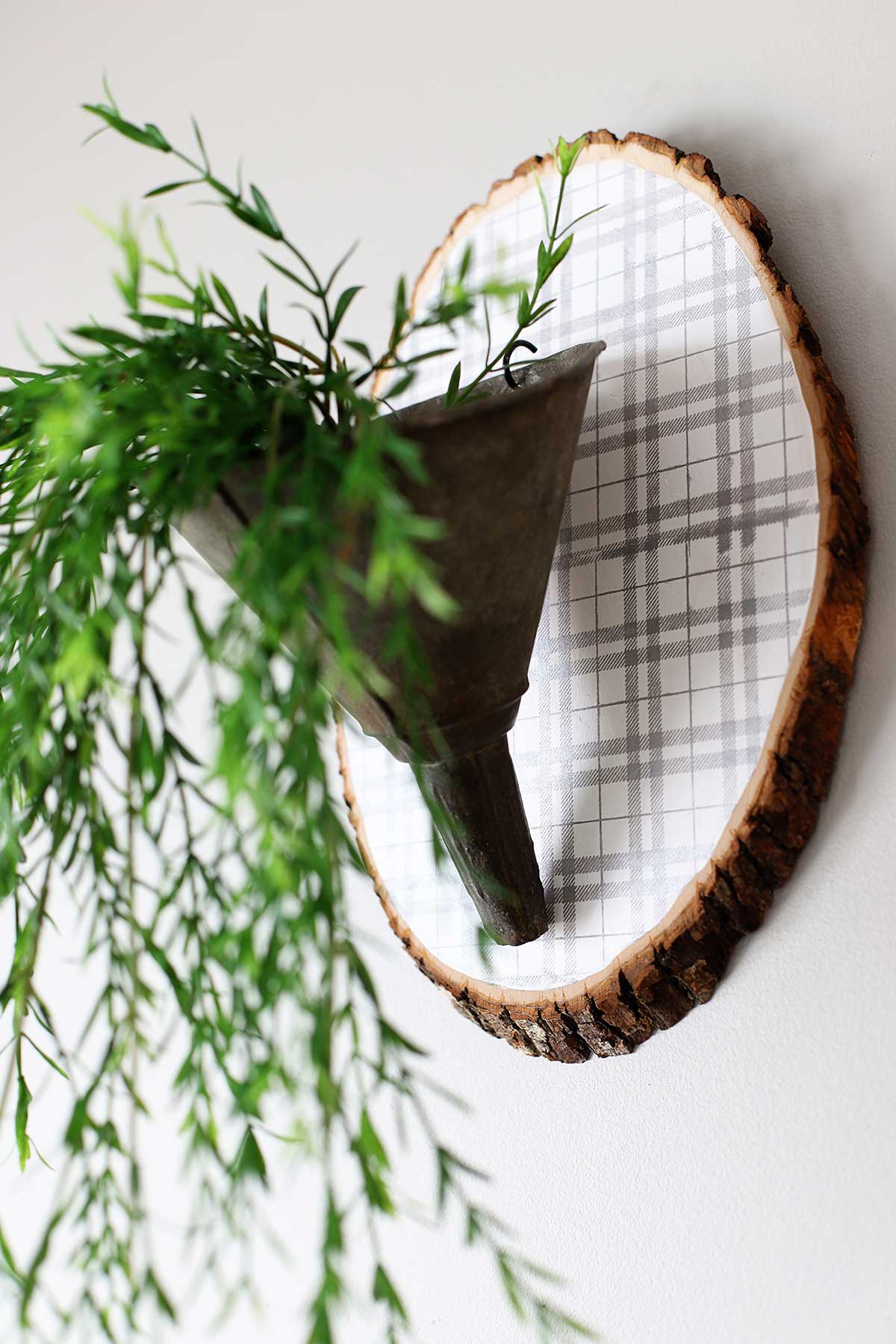 Gather Your Supplies:
Galvanized Funnel
Wood Slice
Stencils
Stencil Paste or Acrylic Craft Paint
Paint Squeegee or Silicone Brush
White or Cream Craft Paint (for background)
Cup Hook
Sawtooth Picture Hanger w/ nails
Greenery - real or faux
Potting Soil
Something to fill the hole at the bottom of the funnel (I used a bit of steel wool)
Paint Brushes
Hammer
Painters Tape (optional)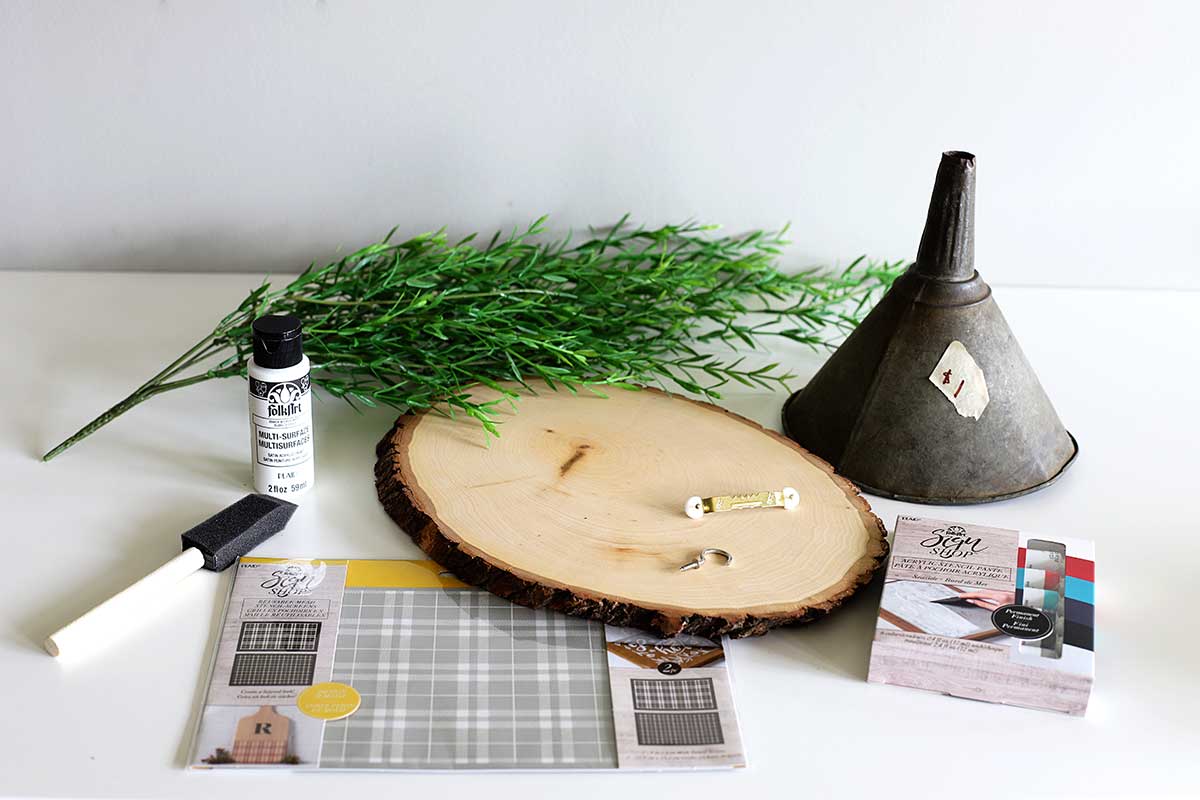 Instructions:
Here's a closeup on the Plaid Folk Art stencil and stencil paste I used. It's a fairly new product line for them (or at least I just noticed them at Michael's). They are the mesh kind of stencils that make stenciling pretty easy.
And once I saw they had a plaid stencil available, it sealed the deal.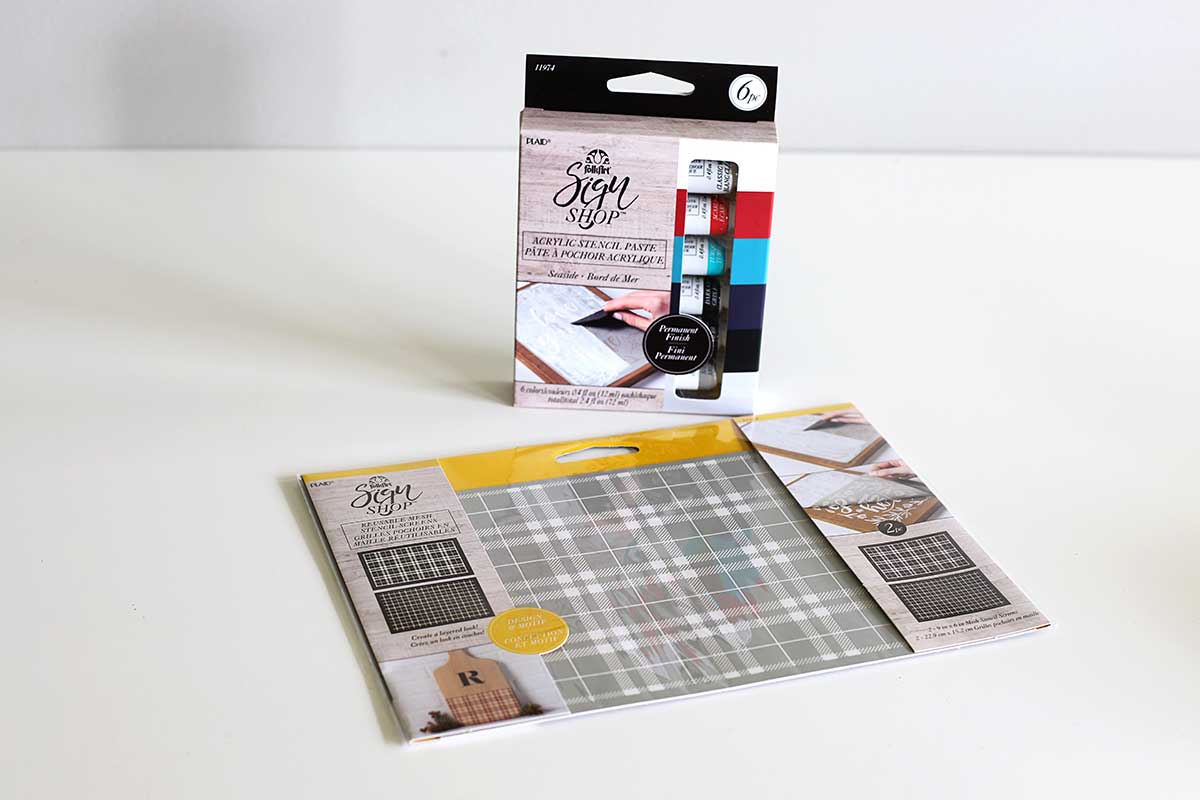 First things first, attach the sawtooth hanger to the back of the wood slice so you can hang it up later. Do it now, so you don't scuff up the front after it's been all painted.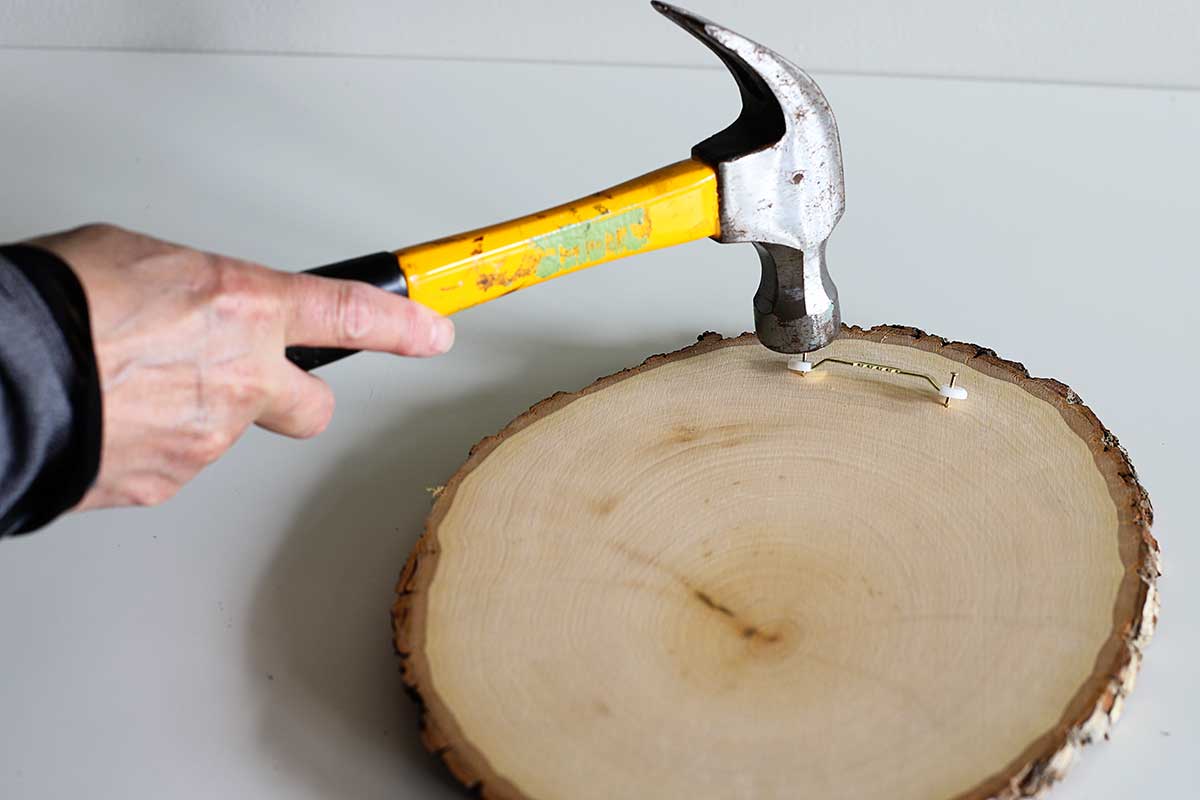 Paint the inside of the wood slice with white or off-white crafting paint. I left the ring around the outside unpainted, because I wanted it to still be a little bit rustic.
As if the old funnel I'll be attaching to it wouldn't shout RUSTIC enough.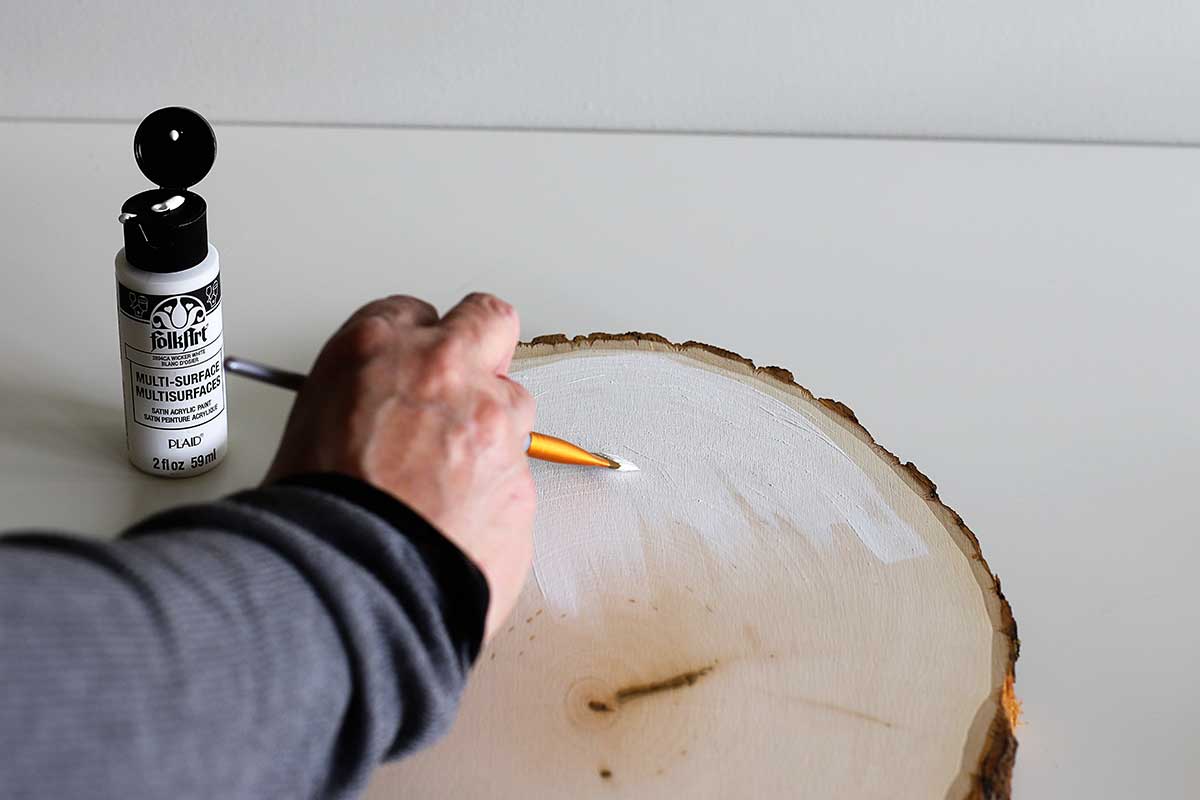 While you're waiting for that to dry, you can plant in your funnel.
You could use real plants if you wanted to, but I chose to use this faux trailing greenery I found at Michael's. On sale it was around $6 and as far as fake plants go I thought it looked fairly life-like.
If you do want to use real, I would suggest a cascading succulents like string of pearls that doesn't need water often. Or air plants that need neither dirt or water.
I added about ⅓ of a steel wool pad to the bottom of the funnel to keep the dirt inside the funnel, added the potting soil and then inserted the plant.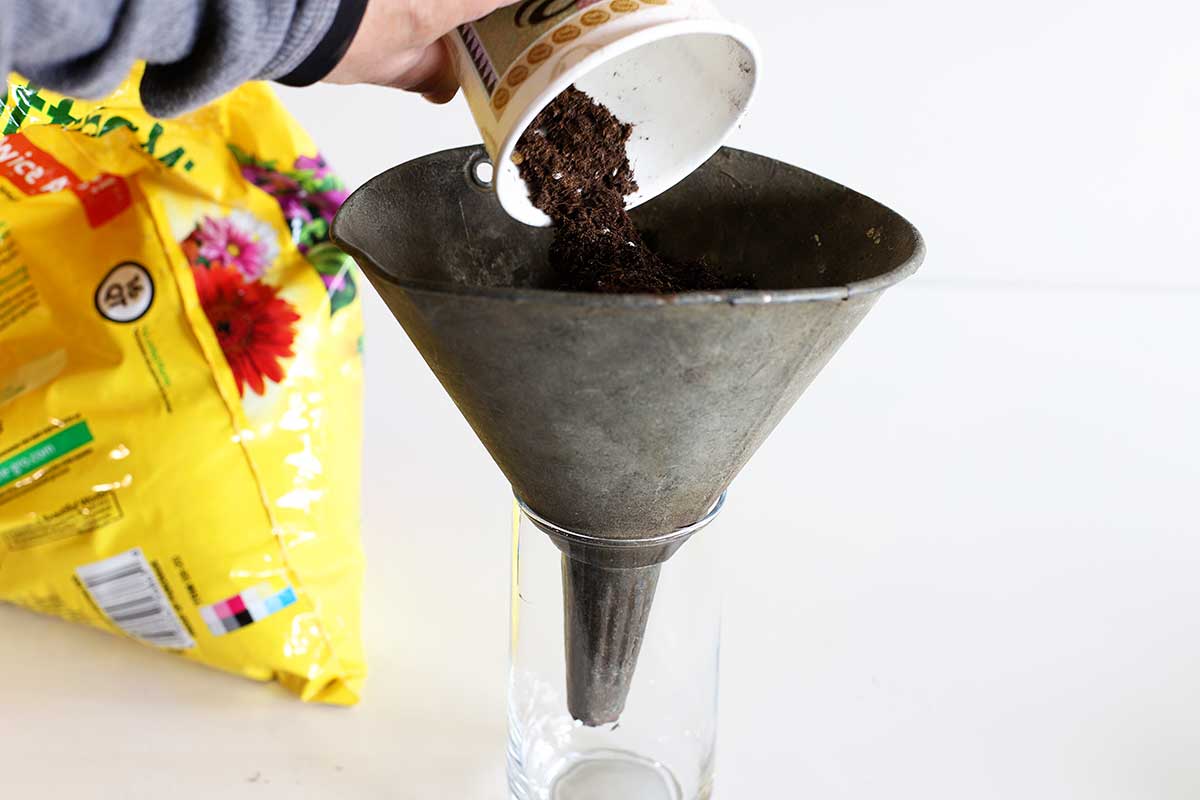 If you want something even more permanent for your faux plants, you could use styrofoam and cover it with moss or sand like I did in my milk glass succulent planter.
OK, your wood slice should be dry by now, so back to the stenciling tutorial.
Since I wanted to keep that tiny outline of wood around the edge, I taped it off with painter's tape.
Does this look like an Easter egg to anyone else?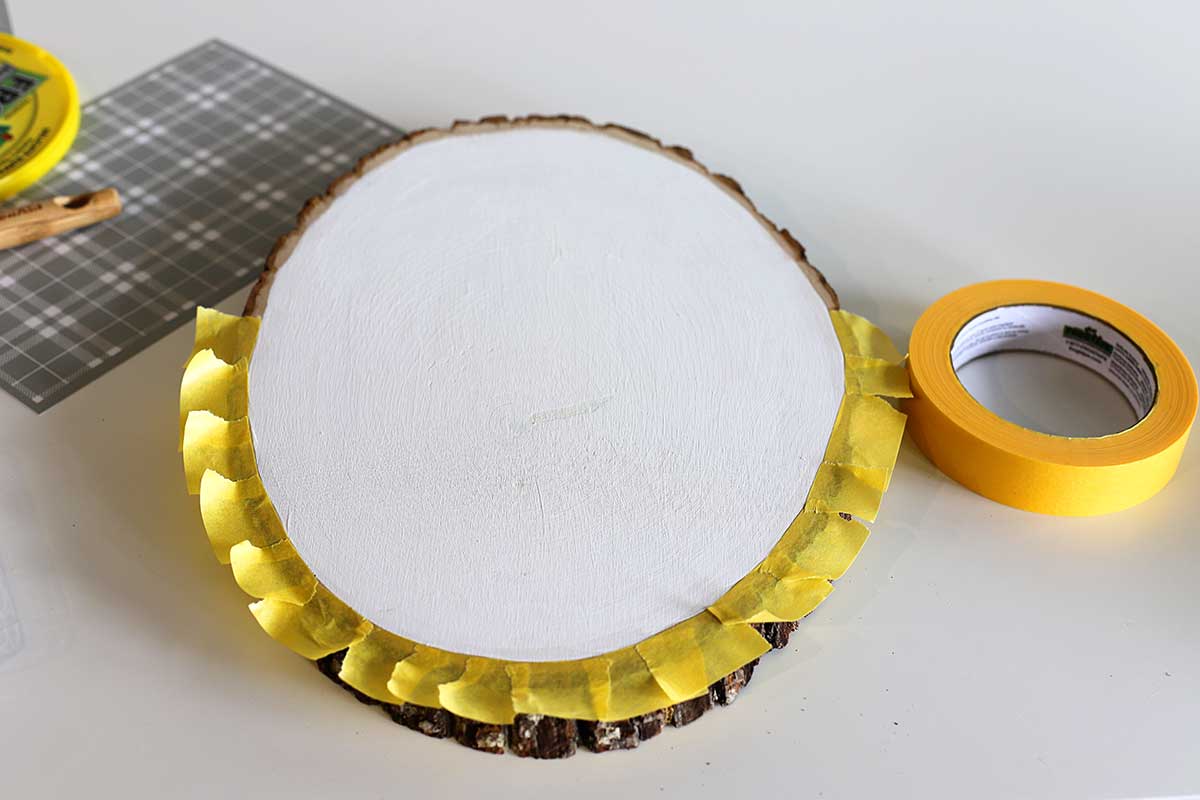 Remove your stencil from the backing paper and lay it on the wood slice.
It will not be long enough to cover the whole slice in one go, so you will have to paint it section by section. But it's easy enough to match up the pattern.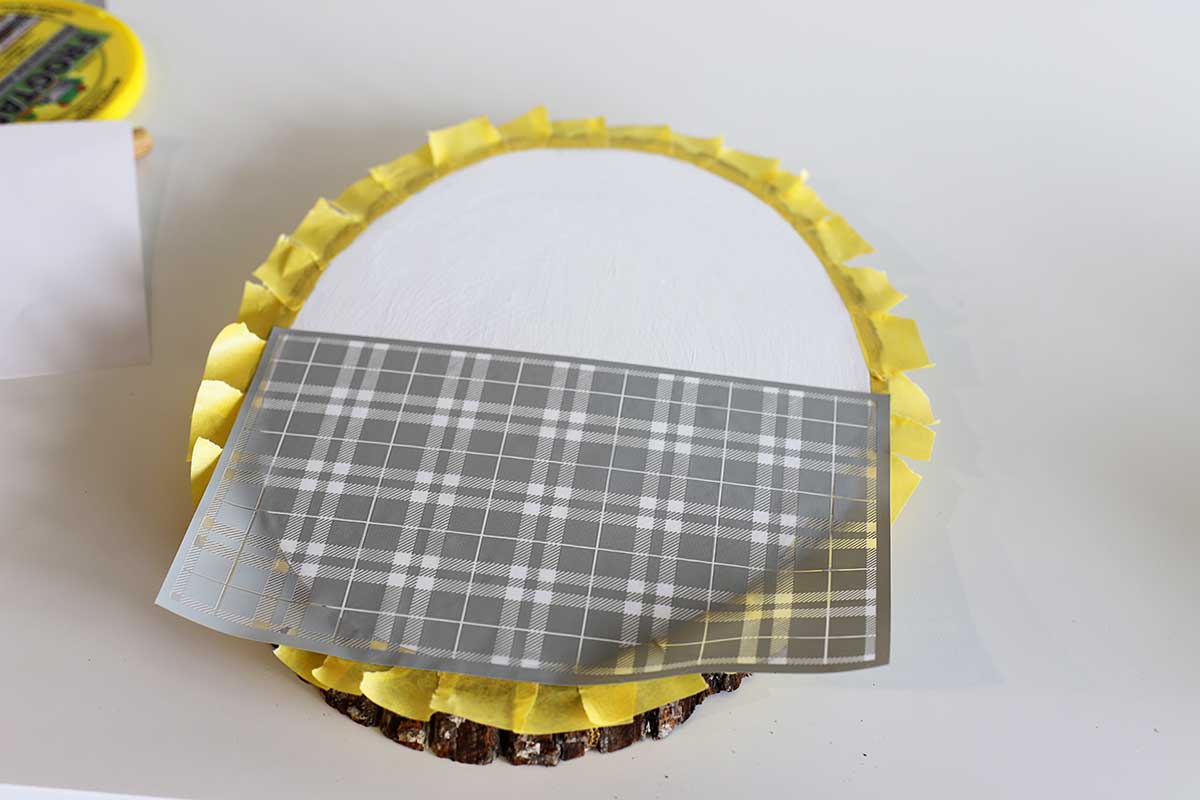 The GREAT part about this type of stencil is they are adhesive and repositionable. So when you put it in place you don't have to worry about it scooting all over.
Apply the paste. You are basically scraping the paste over the stencil making sure it is thoroughly covered.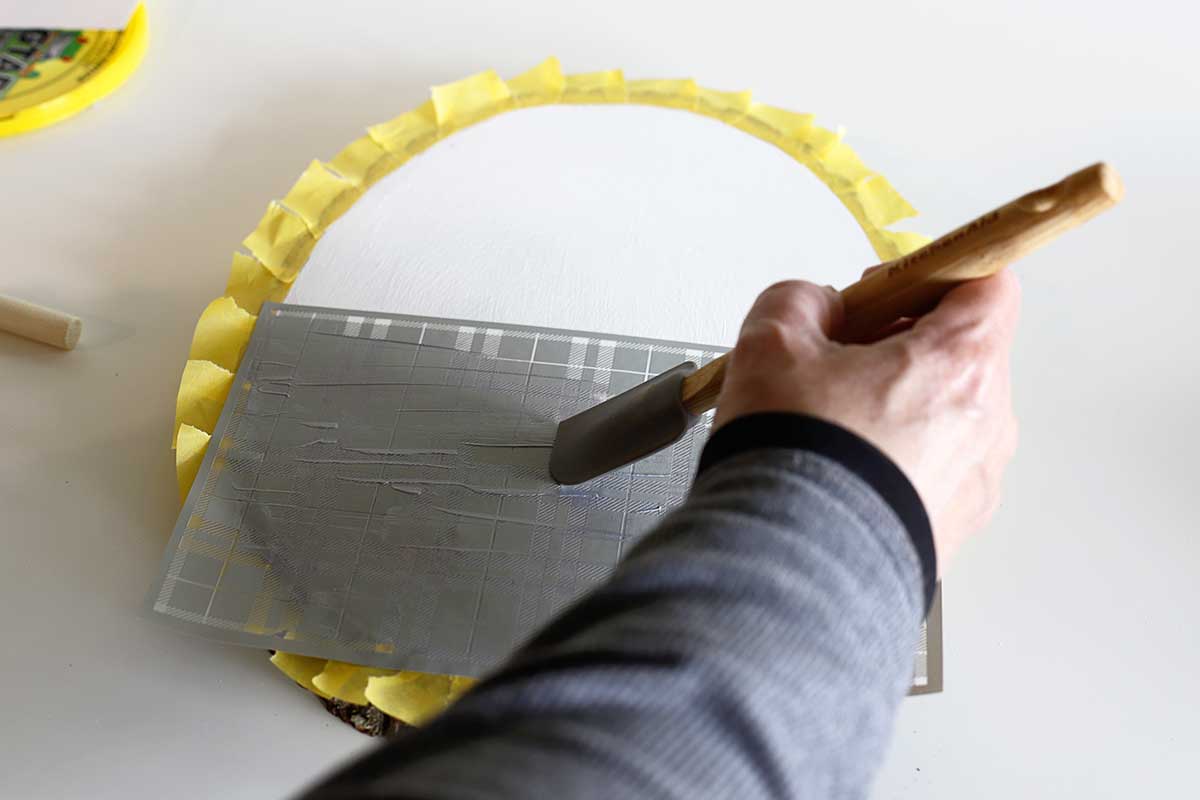 I used a spatula for this, because I'm cheap, but they do make squeegee things to apply the paste.
Sidenote: Do you remember Goofus And Gallant from the Highlights For Children magazines in the dentist office? Well, this would be one of those where "Goofus uses his kitchen spatula to spread paint and Gallant uses the proper tool". I am Goofus.
I'll probably end up plunking down a five dollar bill and buying a darn paint squeegee thingie next time! Just to save my kitchen spatulas for actual, I don't know . . . kitchen-like duties.
Remove the stencil while the paint/paste is still wet. Between sections, you can wash the stencil in the sink with dish soap and water and pat dry.
When the paint on one section has dried, you can start painting the next section.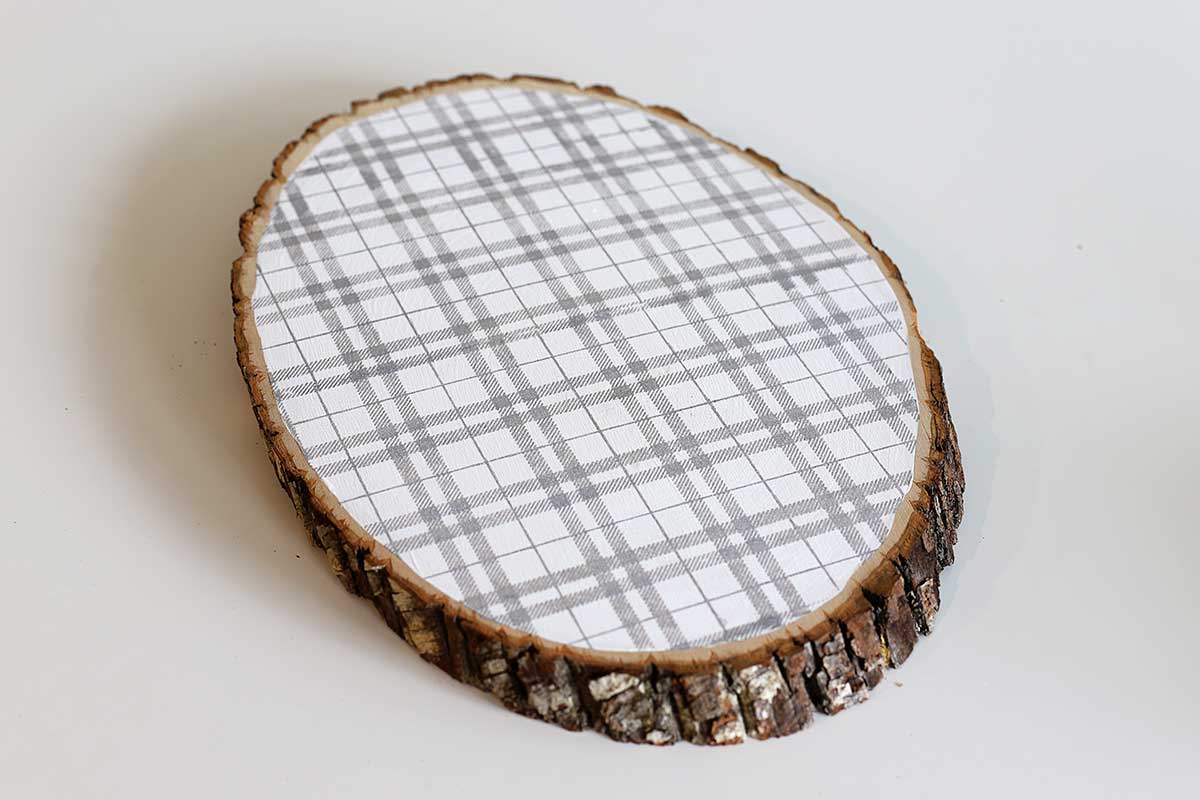 All you need to do now is attach your cup hook (it has a screw on one end, so it's super easy to attach), hook up your funnel with the plant "growing" out of it and hang the whole thing on the wall.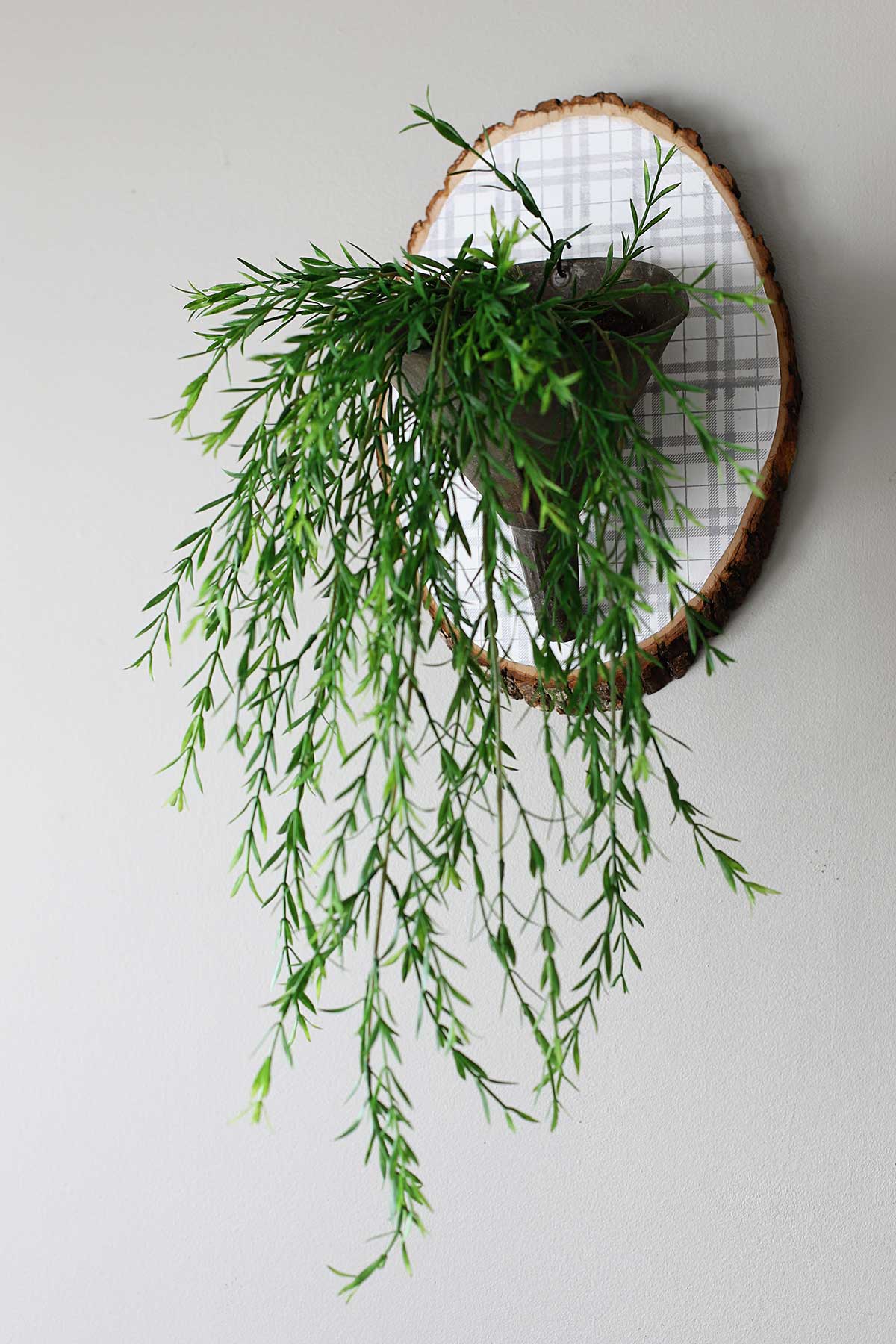 Other than waiting for the paint to dry, this was a quick and easy repurposing project!
Thrift Store Decor Team Projects
Now let's see what my Thrift Store Decor Teammates have up their sleeves this month: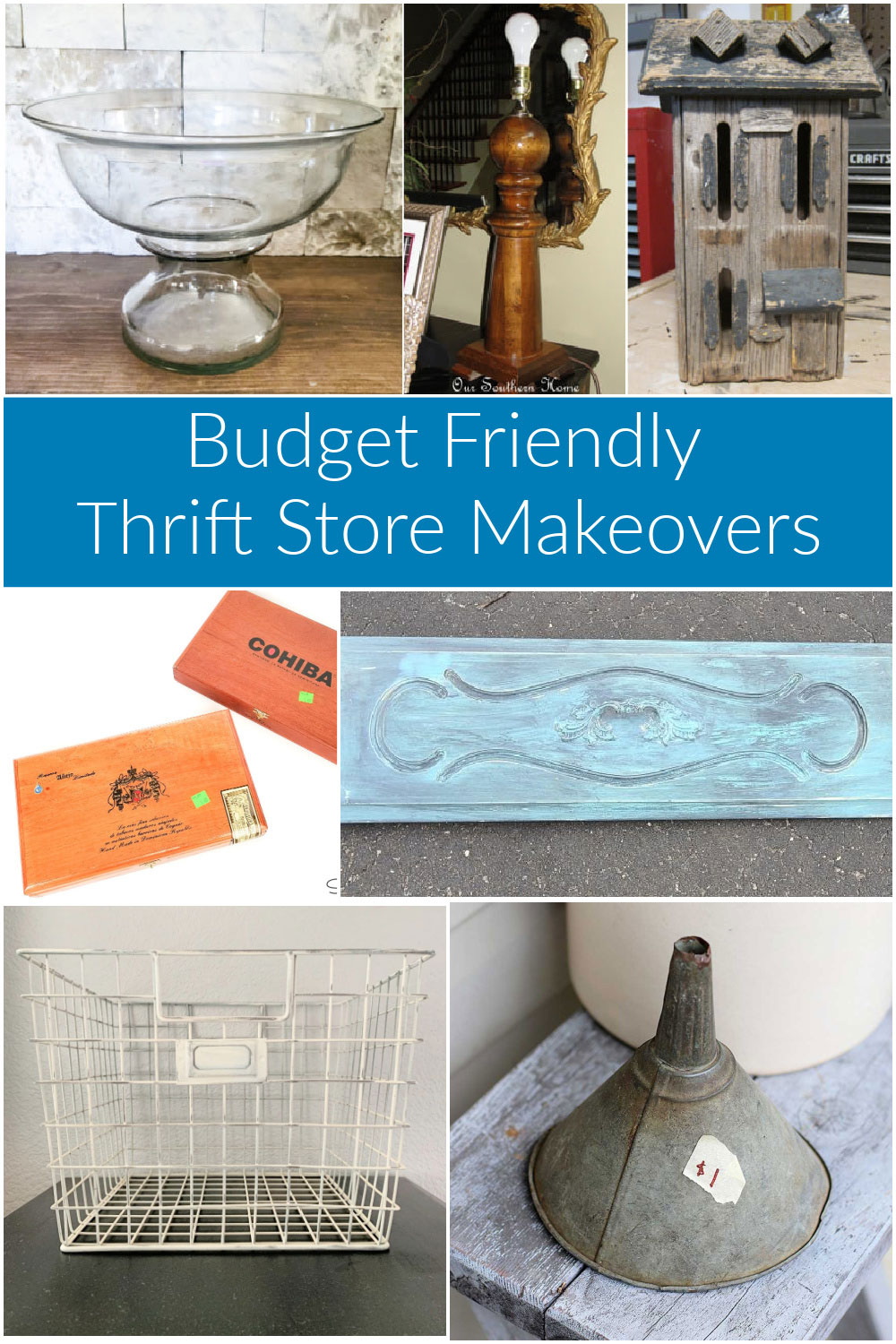 Painted Butterfly House - Petticoat Junktion
Mid Century Makeover On Wooden Cigar Boxes - Sadie Seasongoods
Hanging Necklace Organizer - My Repurposed Life
DIY Stoneware Bowl - Domestically Speaking
Balustrade Lamp Makeover - Our Southern Home
Repurposed Wire Basket Planter - My Uncommon Slice of Suburbia
Repurposed Galvanized Funnel - House of Hawthornes (that's me)
Other Projects You May Enjoy:
150+ DIY Garden Projects On The Cheap
How To Make Silverware Wind Chimes
How To Make A Penny Bowling Ball