Quick and easy instructions for how to make fall outdoor planters for your porch or garden. Along with tips for the 10 best fall flowers for pots.
Fall is in full swing around here.
It's apple picking, boot wearing, pull the comfy sweaters out of storage time. And I can't be happier.
Besides, the Country Living Fair is coming to town this weekend, so I'm in an extra good mood to see all that vintage/farmhouse/crafty goodness all in one place.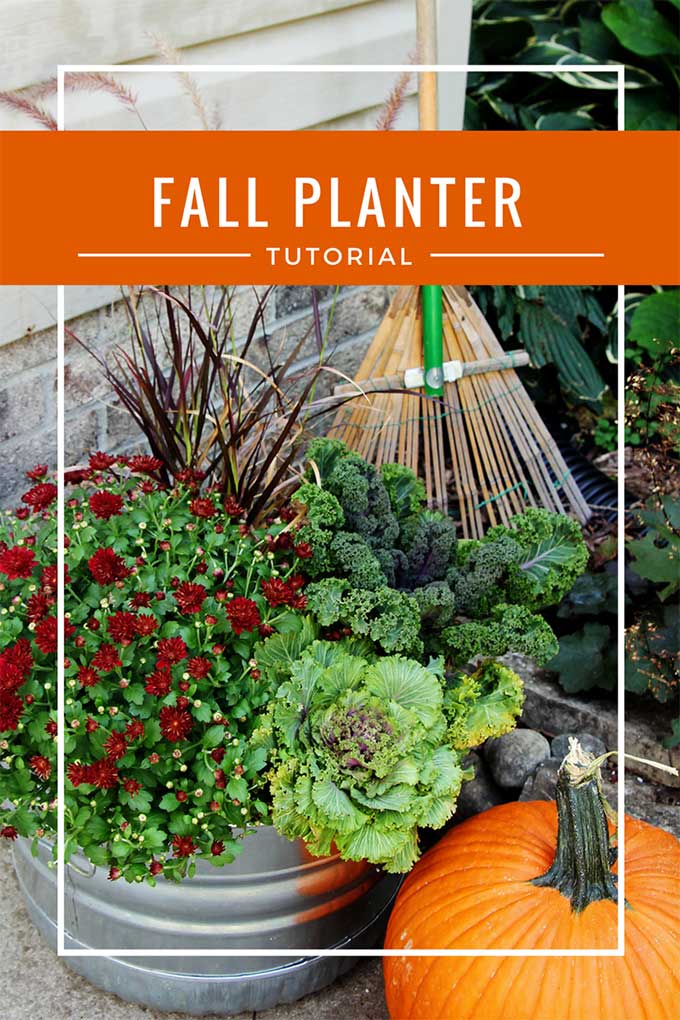 There is always one thing that I am hesitant about in September though. When is the right time is to trade out my summer plants for fall ones?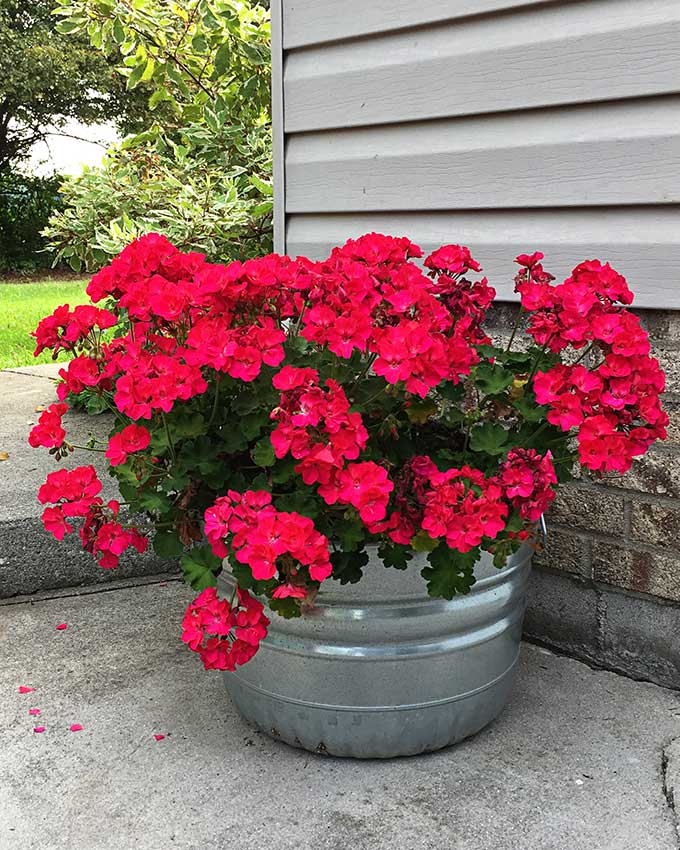 (I posted this photo on Instagram when the geraniums were in their heyday.)
Some years I let my summer plants hang around until the first frost, but these planters beside the garage door have gone downhill fast.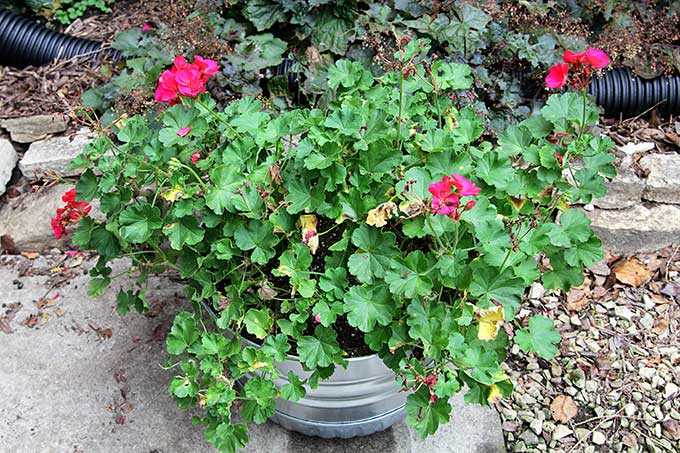 OK, I'll admit I haven't been caring for them as much as I should have, because . . . FALL and all.
So this weekend I decided to spare them from dying a slow death and changed them over to fall outdoor planters instead of the scraggly looking summer ones.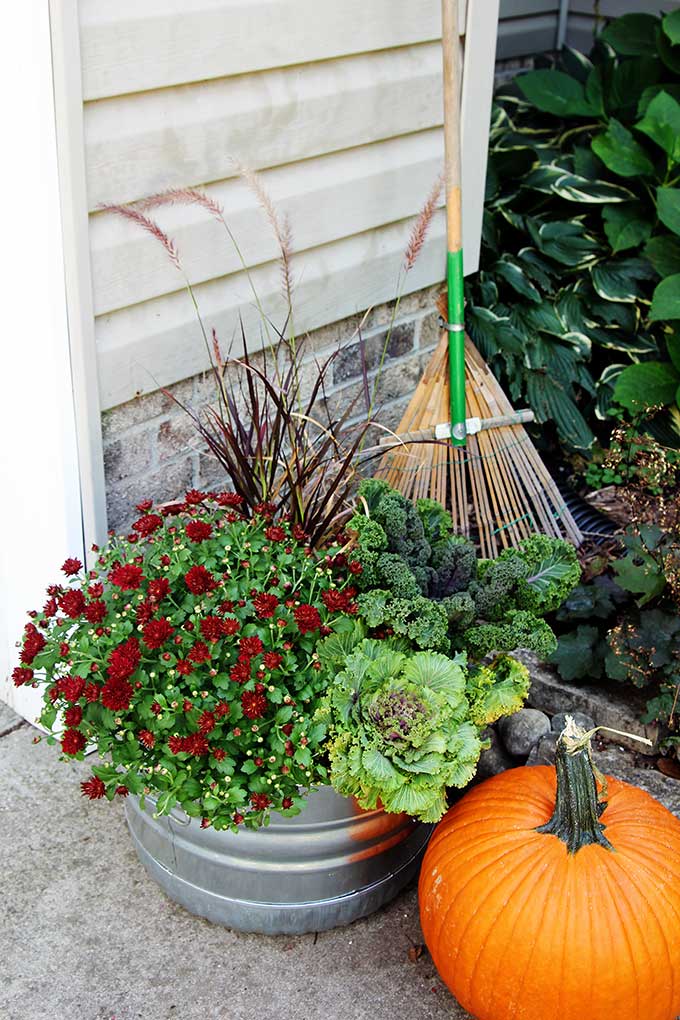 How To Make Fall Outdoor Planters:
I start out by yanking out the summer plants and topping the planters off with some fresh dirt.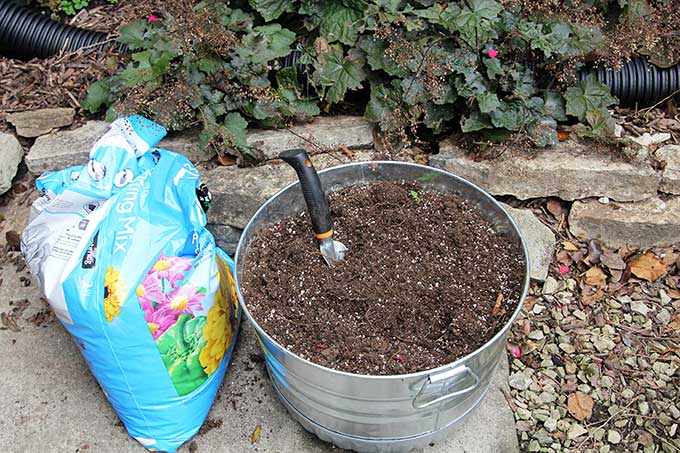 Then deciding exactly what I want to plant in the tubs.
Sure, you can go with a big old honking container of mums. But you can also get a little creative and mix up your fall plants a bit.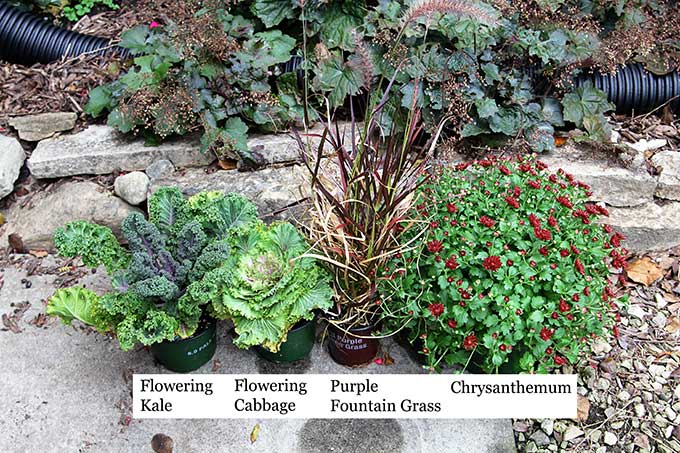 I chose mums, purple fountain grass, flowering cabbage and flowering kale.
I start by planting my grass toward the back of the container and slightly off center.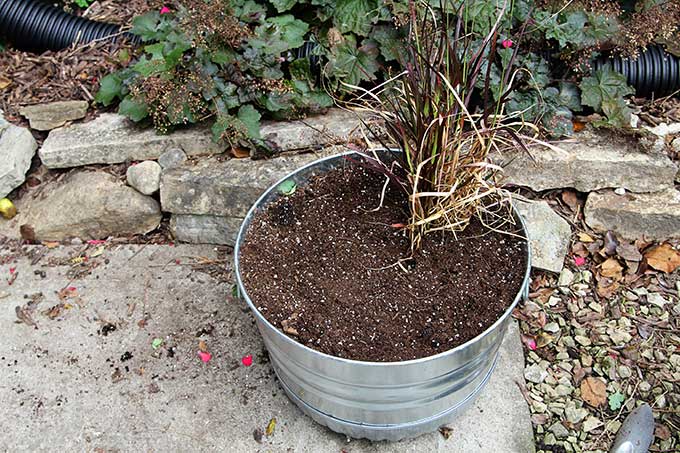 And add my mum beside it.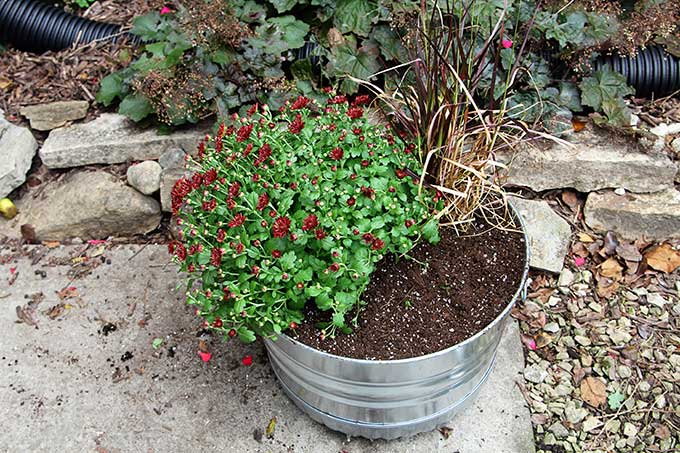 I add the kale in front of the grass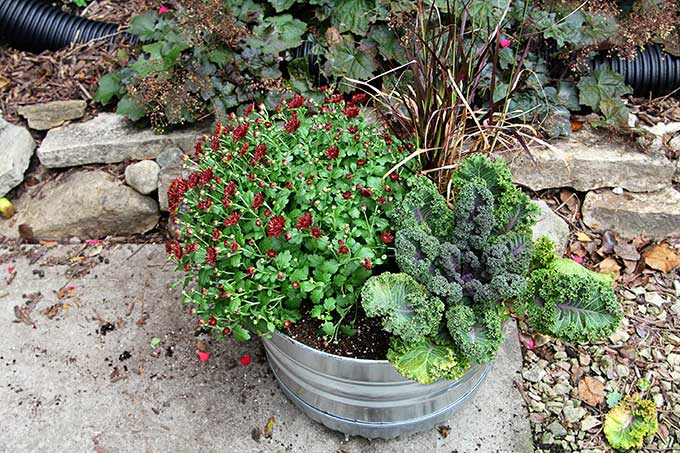 and squeeze the cabbage in between the mum and the kale.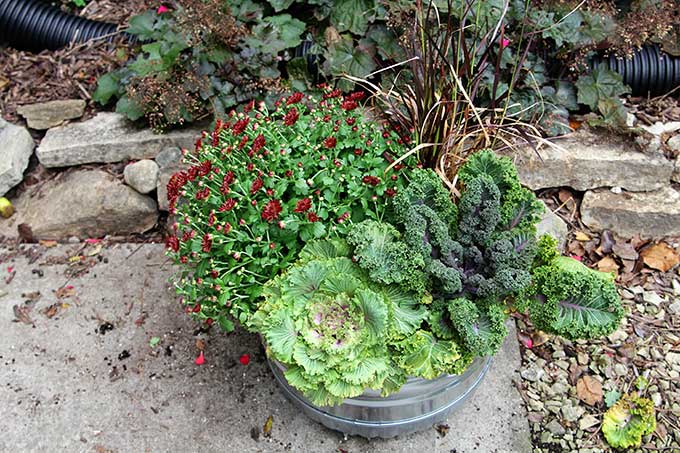 In roughly ten minutes time and for less than $15 I have a fancy new fall planter that will take me through Thanksgiving.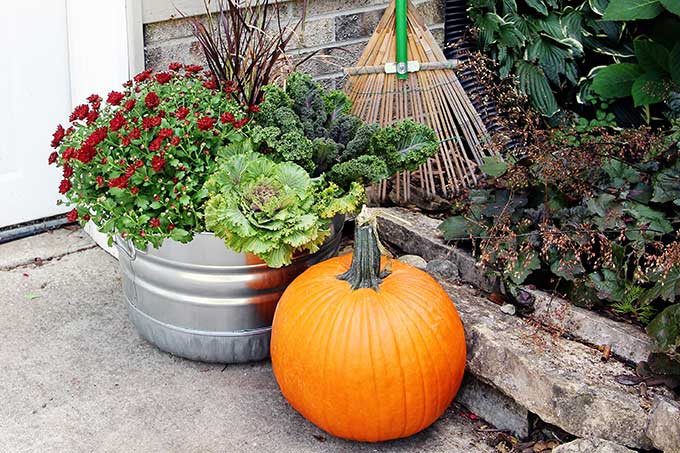 Probably beyond Thanksgiving, but when I do my Christmas decorating I'll probably change them up to look something like my Winter Porch Pots from last year.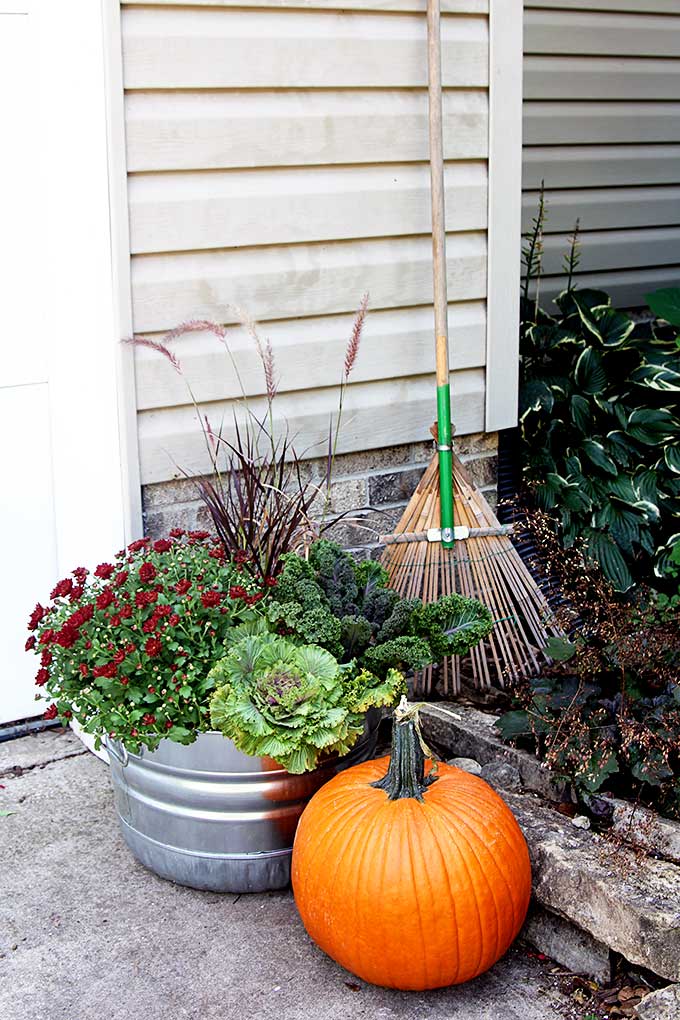 Tired of the same old same old mums? There's a lot of plants you can plant in your fall outdoor planters!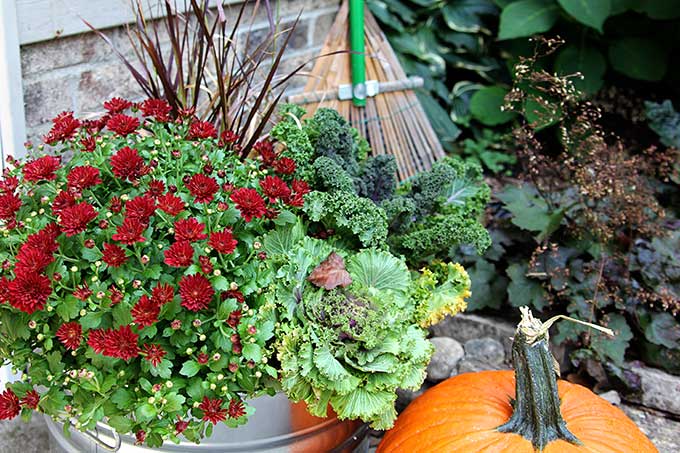 Looking for a fall planter idea with more gold and orange?
I have a tutorial on how to make a Beginner Friendly Fall Porch Planter for you that uses more of those colors (actually planting them in a container, not leaving them in the red wagon, of course).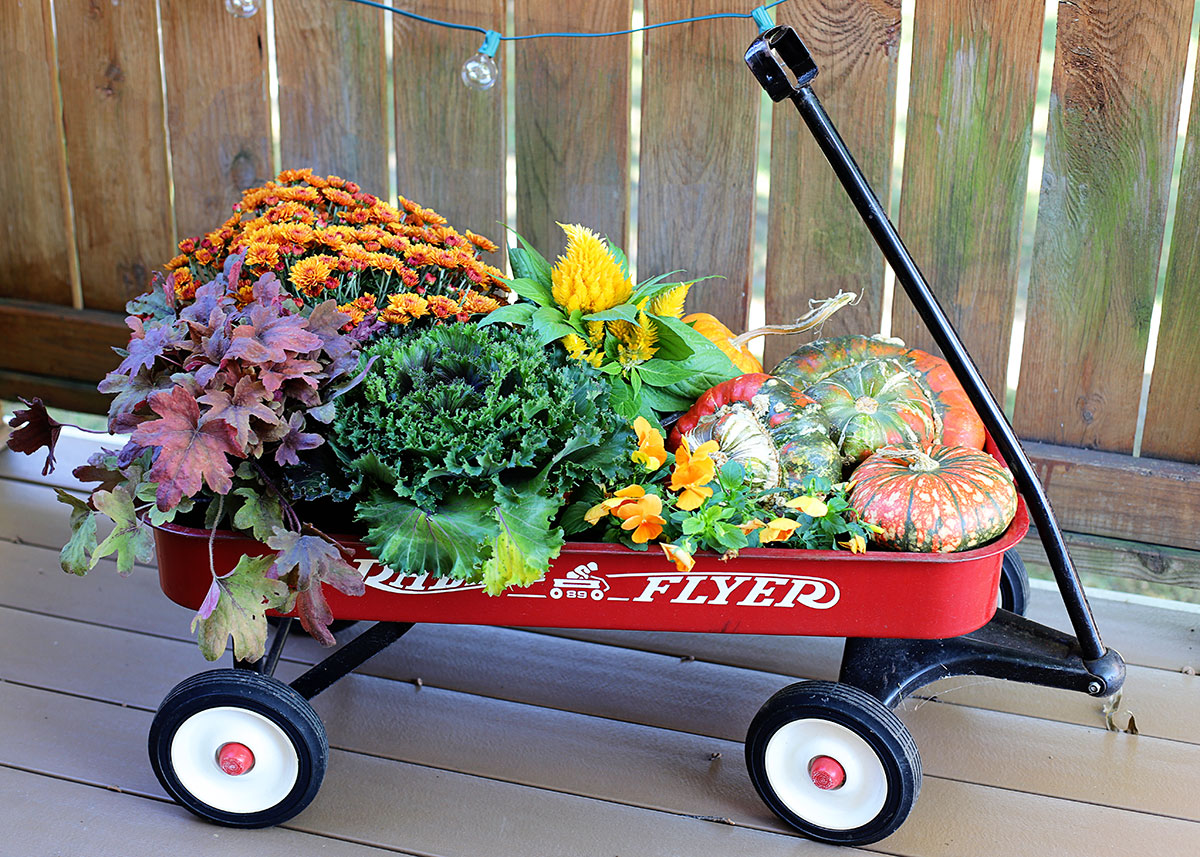 10 Fall Flowers For Pots:
Mums
Cabbages/Kales
Grasses
Pansies
Coral Bells
Ornamental Peppers
Coleus
Aster
Stonecrop
Calibrachoa (Million Bells)
Now, you're in luck! Today is Thrifty Style Team's day to show off some of our projects we've been working on, so run over and visit some of my friends and see what they have up their sleeves.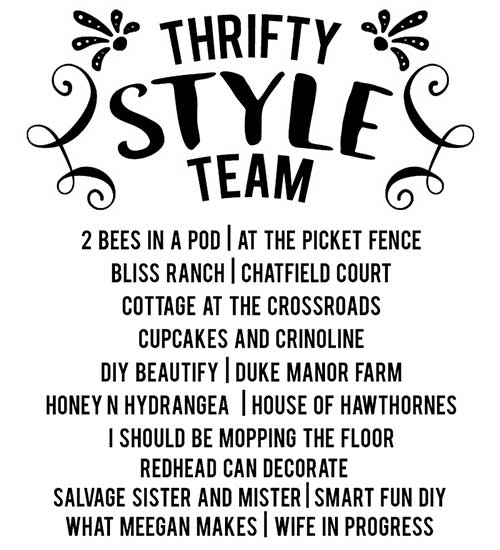 More Posts You May Enjoy: