Make this quick and easy fall grapevine wreath for your front door. An inexpensive DIY project that can be done in less than 10 minutes.
Earlier this month I showed you some fall wreath inspiration in my 10 DIY Fall Wreaths For Your Front Door post.
So it got me thinking that I'd better come up with a fantastically original, mind-blowing fall wreath of wonder that would really knock your socks off this year.
You know, since I was all about obsessing over other people's door wreaths and all that.
But you know what? I decided to go in another direction.
A throwback to a simpler wreath that you can actually make in about 10 minutes time. And have the rest of your day left over to go pick some pumpkins or traipse around in a corn maze.
So this wreath is all about SIMPLE . . . QUICK . . . INEXPENSIVE. While still being festive as heck.
And the best part is you can pick up all the supplies at your local craft store (I went to Michael's, but you can go wherever your little pumpkin shaped heart desires).
You know the drill, click below to watch the step-by-step tutorial.
If you prefer, you can watch an
ad-free version of this tutorial on my YouTube Channel HERE
.
Or you can read about the process and get the supply list below.
Easy To Make Fall Grapevine Wreath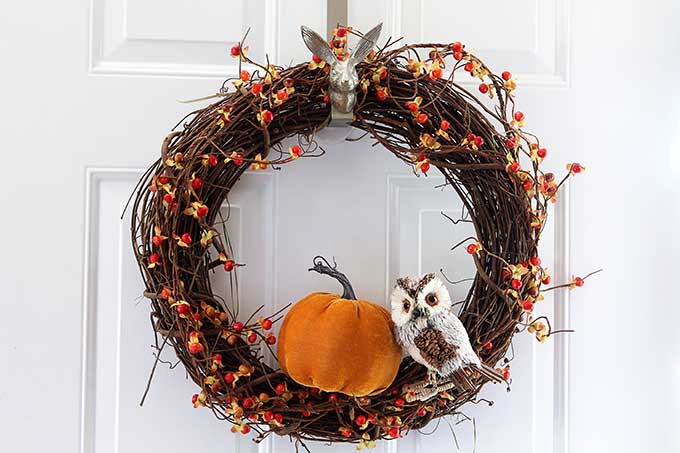 Supplies
18" Grapevine Wreath
Two 5' Berry Garlands
Small Faux Pumkpin
Sisal Owl, Squirrel or Fox
Crafting Glue Gun
Florist Wire
Optional - Silk Fall Leaves (I bought, but ended up not using)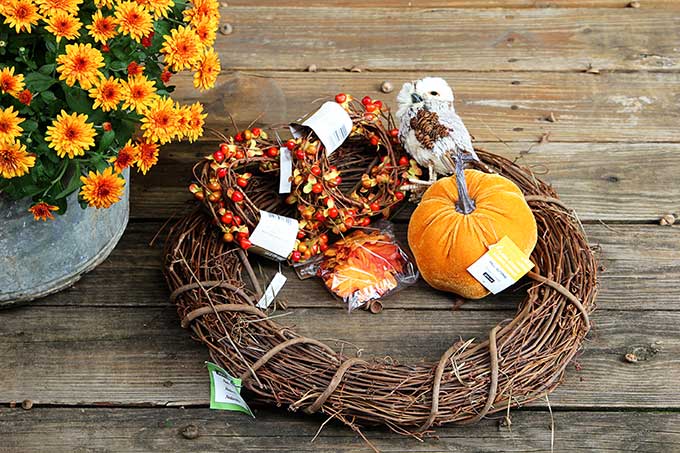 Instructions
Start with your 18" grapevine wreath.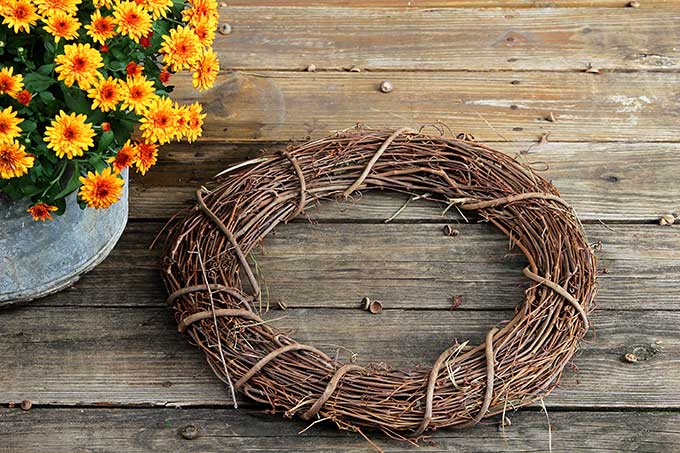 Make sure you work close to a pumpkin colored mum in a galvanized bucket to get you in a fall mood!
BTW, do you spend way too much time picking out a grapevine wreath. I search through the stacks of wreaths to find the perfect shape which also has the optimum ratio of curly thin vine to thick vine. I currently go with a 42:58 ratio.
Place one of the berry garlands over the top of the wreath.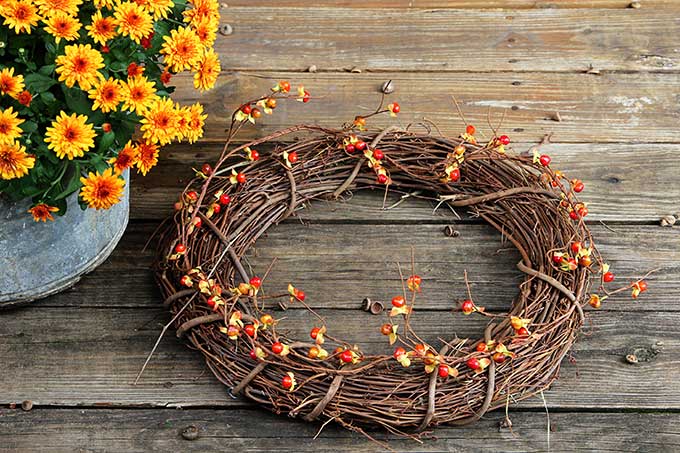 Followed by the 2nd berry garland.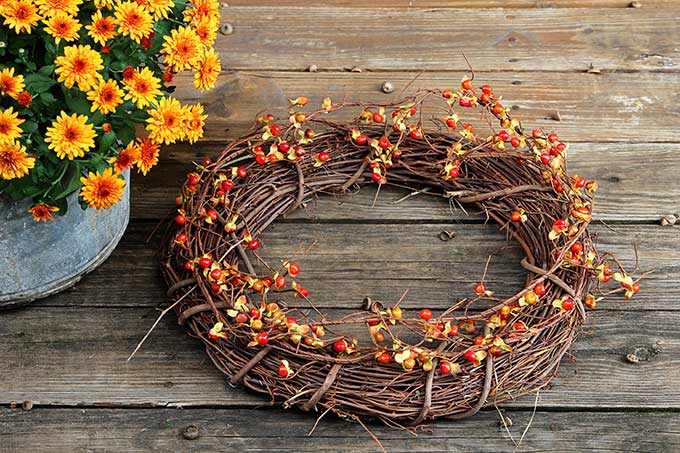 I find that two of these 5' garlands make for a nice bit of color without being over the top in your face about it.
Once you have played around with the berries, use florist wire to wrap around the wreath and keep the garland in place.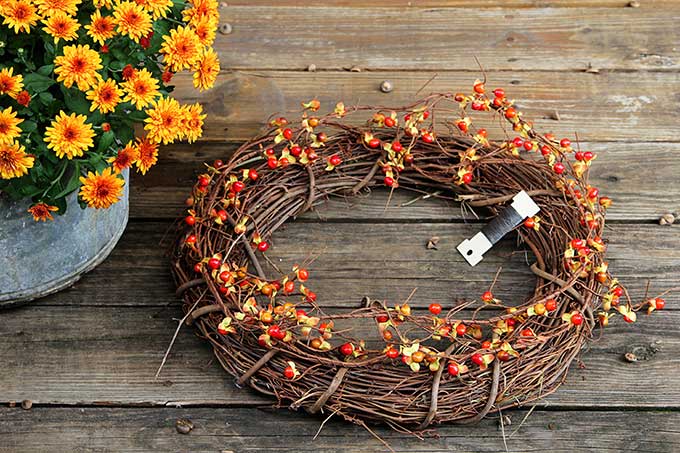 I probably should have done a close up shot of it, but you will just cut a 12" piece of wire, wrap it all the way around the wreath and garland, twist the ends together and tuck the end into the grapevine. Do this in four spots on the wreath to keep the garland secure.
Hot glue the pumpkin to the wreath.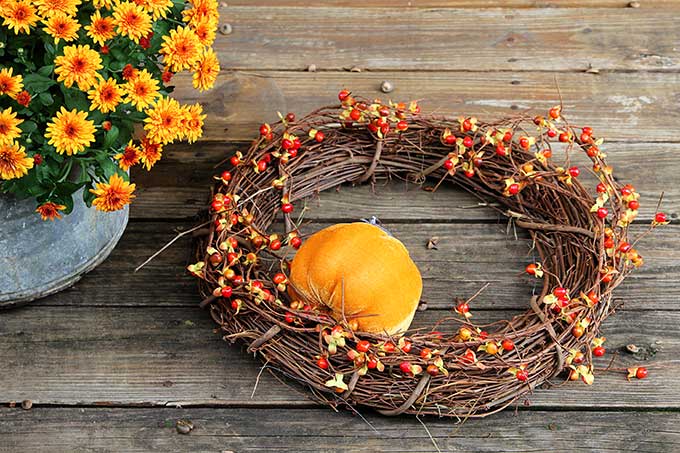 If you set it on the rim of the grapevine wreath, there should be plenty of space on the bottom of the pumpkin for a few good dollops of glue to hold it down.
Wrap florist wire around the owl's legs and attach him next to the pumpkin.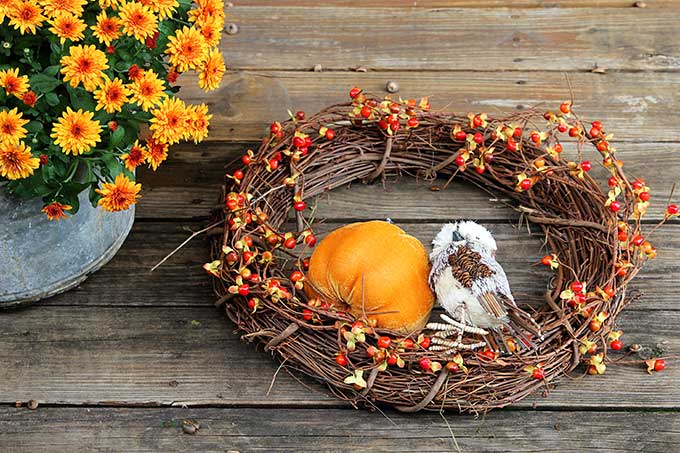 And your fall grapevine wreath is DONE.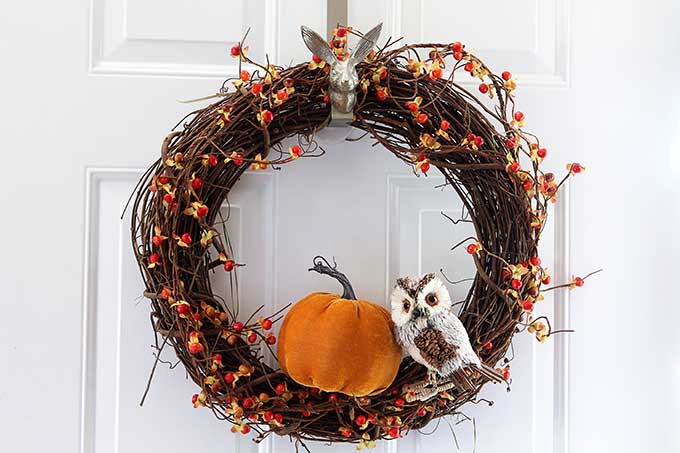 I really like the pumpkin I found at Micheals because, although it looks like one of those fancy handmade velvet pumpkins, it really is just hard plastic with some cheapo velour type fabric glued to it. I think it should hold up well outside.
And of course the owl is sisal, so he can handle a little cold weather or rain.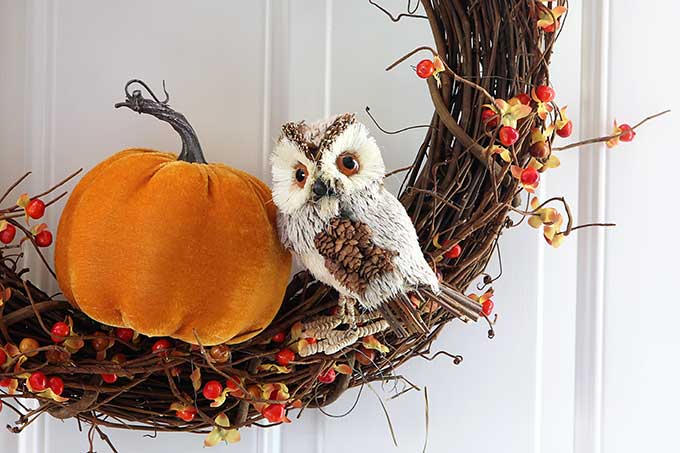 Did you notice my other friend on this wreath?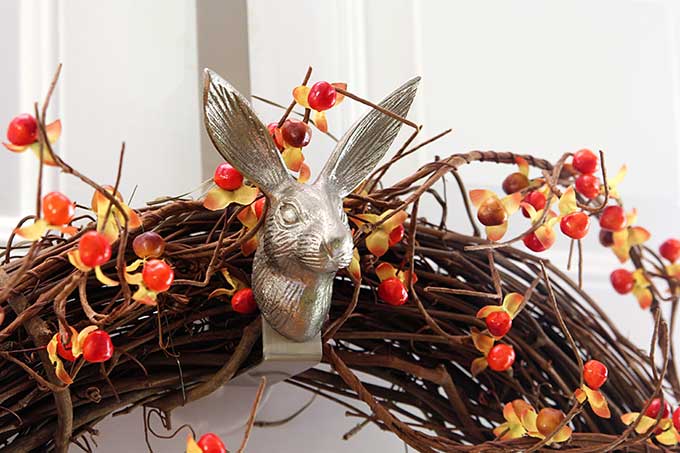 Yep, the Easter Bunny decided to stick around a few extra months this year.
I actually just took my spring forsythia wreath down when I put this fall one up.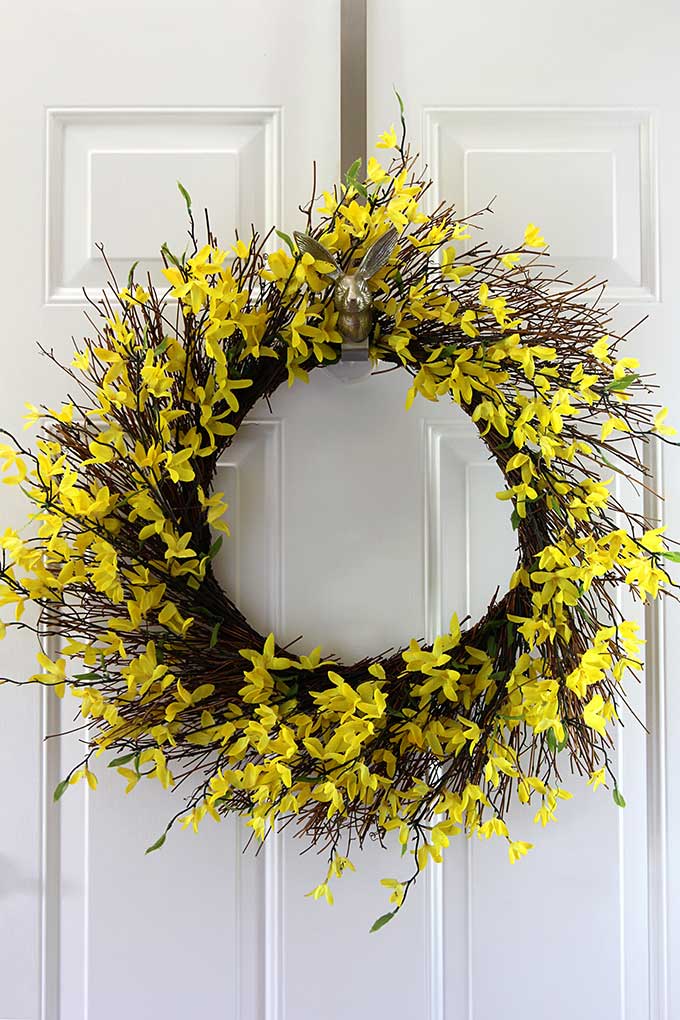 Summer decor? What's that?
How is your fall decorating going? Are you all set or are you still working on it?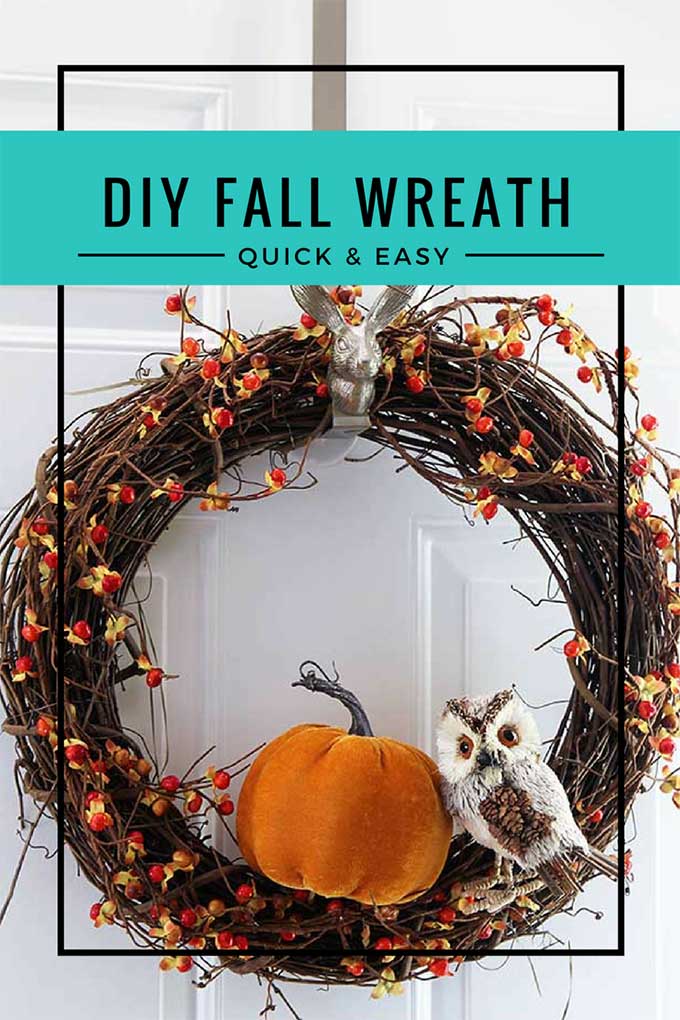 More Projects You May Enjoy:
Easy Rag Wreath Tutorial
5 Festive Porch Ideas To Copy
Easy DIY Fall Wreath
DIY Wood Slice Owl