Some of the best fall porch decor can be found at flea markets, festivals and estate sales. They are a great place to pick up inexpensive rustic farmhouse decor for the porch.
Flea markets, festivals, fairs, barn sales.
Whatever you call them, they're great places to score some cool fall porch decor.
Really, for just about any season.

The thing I love about buying some of this stuff at the flea market is it is dirt cheap. If I spend only a buck or two on something, I don't care if it gets dirty or weathered by setting outside on the porch.
Now if I spent $69.99 for something for the porch then I may care a little bit more! Or commit myself for spending so much.
10 Fall Porch Decor Ideas To Score At The Flea Market:
Bushel Baskets
A tisket a tasket, a chippy bushel basket. Or something like that.
WHENEVER I run across a bushel basket or something similar at a yard sale or estate sale I grab it. Especially the taller peach baskets which are harder to come by up here in Ohio.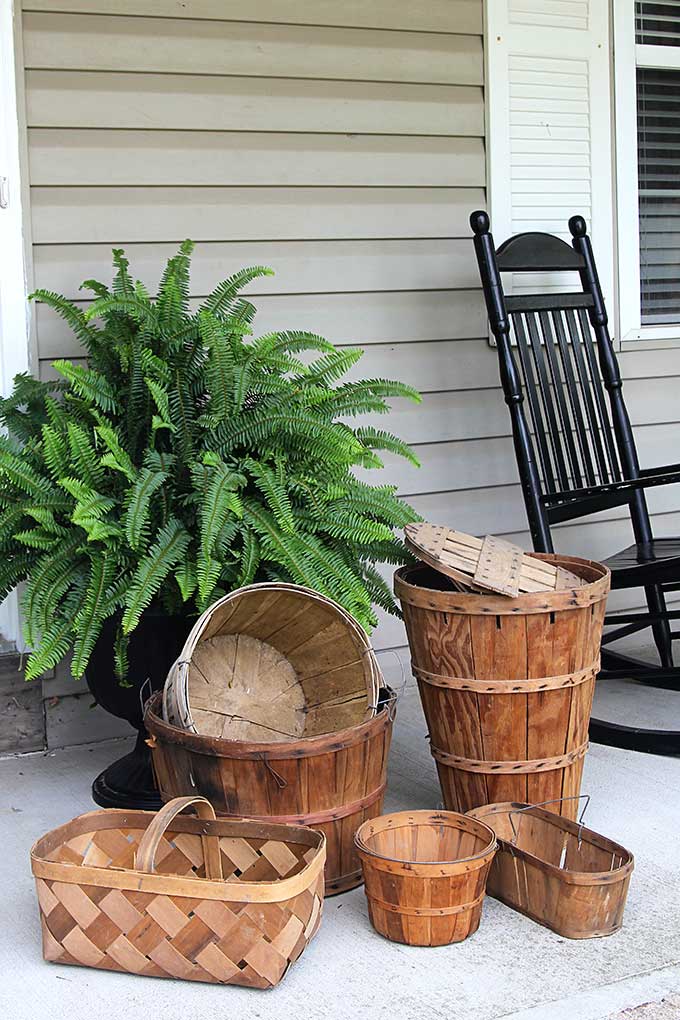 All these baskets are prime real estate for planting mums and other fall foliage in (see down at the bottom for my tips for "planting" in bushel baskets).
Crocks
Crocks are also great for putting mums in. There's nothing like a bunch of crocks filled with mums lining the steps going up to your porch.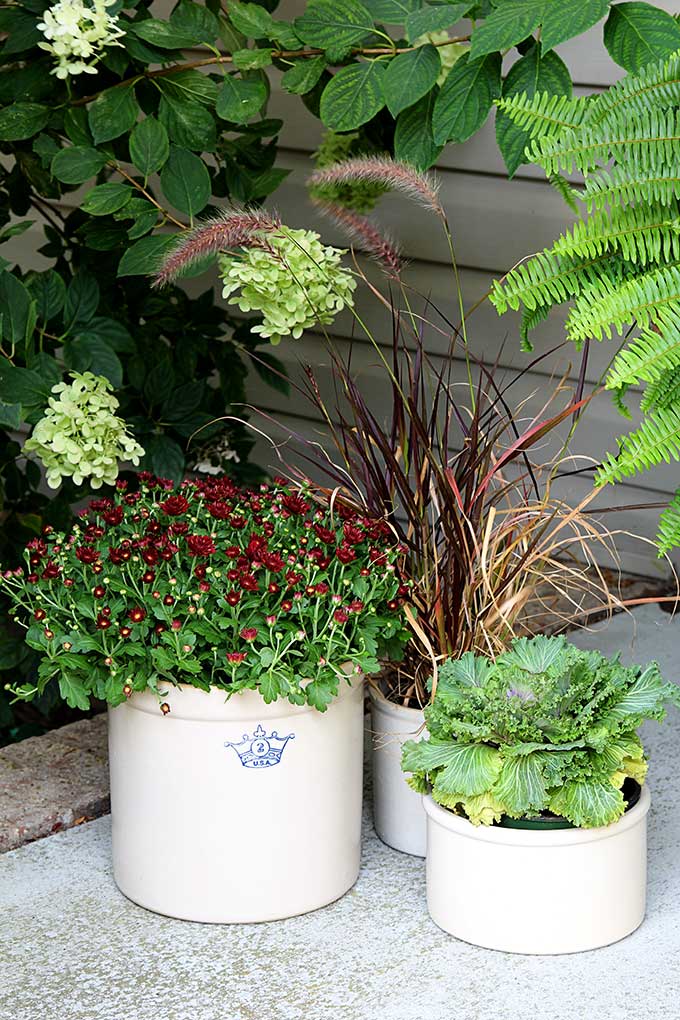 Funny side story - I have a couple 5 gallon crocks in the basement, but only three of the smaller crocks made it out of the basement for their photo shoot, because well , I forgot how heavy a large crock can be.
I just may sell the big ones with the house if we ever move.
Wooden Boxes And Crates
Pretty much anything wooden, whether square or rectangular, looks good on a fall porch.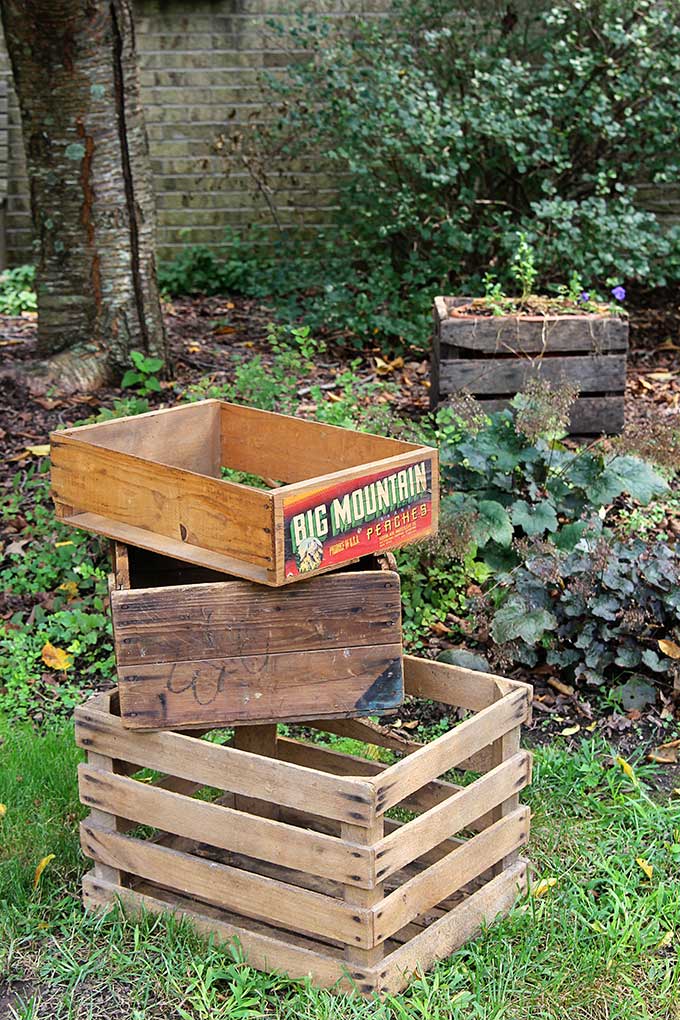 Fill them with mums, Indian corn or pumpkins and you have an instant farmhouse look.
Galvanized Pails And Tubs
I've been running across more and more galvanized pails, maple syrup buckets and tubs at sales lately.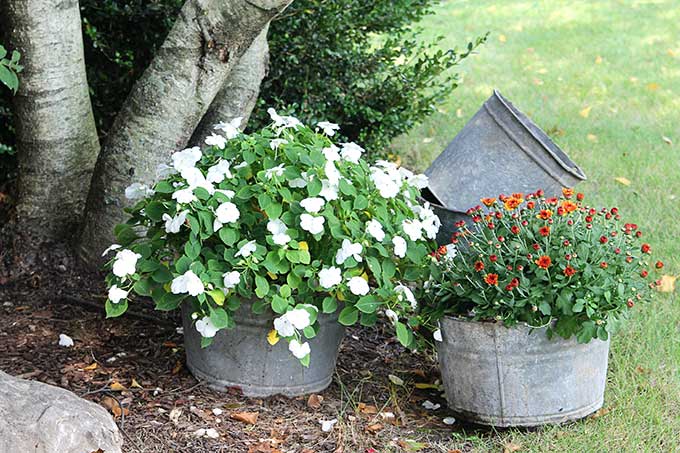 I usually don't pay more than a few bucks for anything galvanized, even the tubs. And it doesn't bother me if they have holes in the bottom, because I rarely plant directly in the tubs.
Farm Or Garden Tools
I love finding an old rusty rake, hoe or pitchfork and putting it on the porch.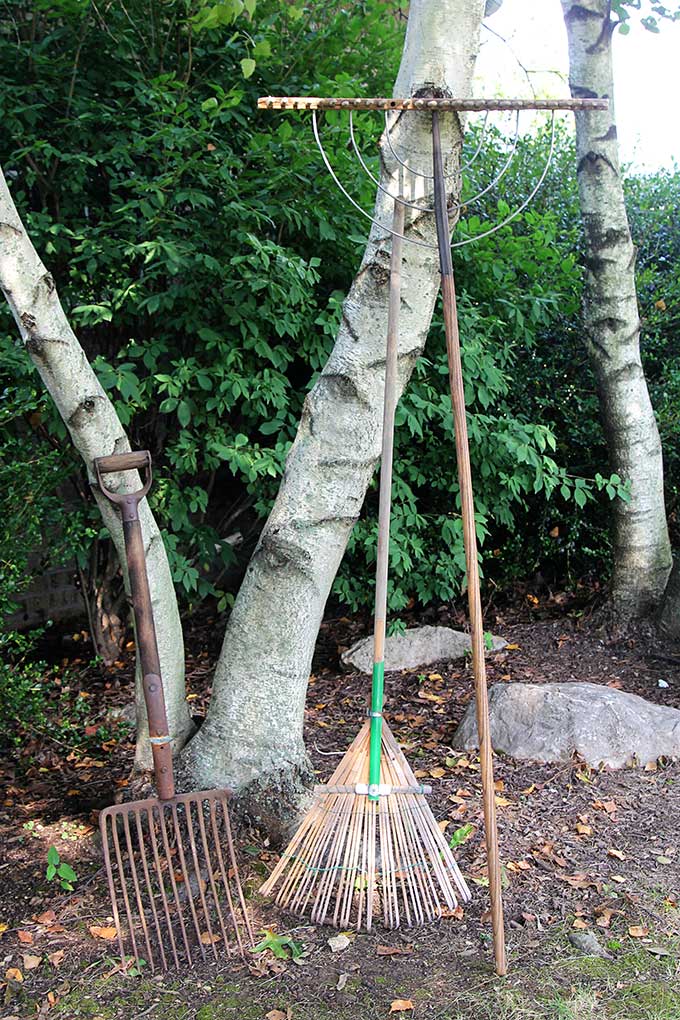 This is a photo of my front porch from 2015 where I used bushel baskets, galvanized pails, wooden crates and a pitchfork to create a warm welcoming front porch.
Colorful too!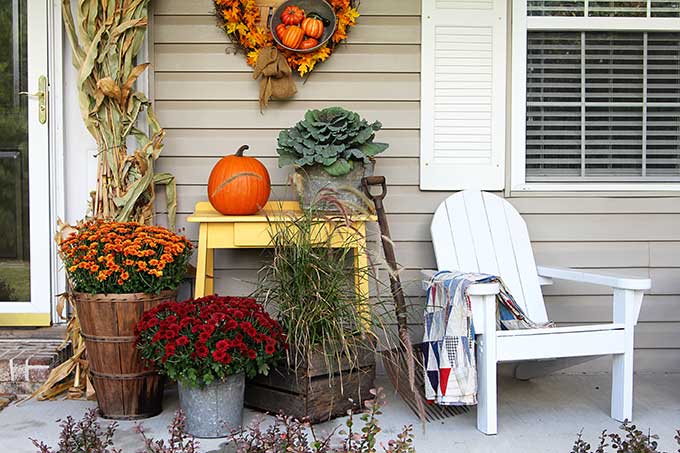 Orange Things
Now I know not everyone likes "color" in their fall decor, but I am orange, rust and black all the way, so just about anything that incorporates those colors are fair game for porch decor.
Plaid Things
Tossing a vintage plaid throw across the arm of a chair is an instant winner on the porch. Plaid pillows also work for me. Keep in mind, you don't actually have to USE these items, but they sure do cozy up the joint.
Thermoses (duh)
OK, I may be beating a dead horse on this one, but thermoses = drinking cocoa = Pam's happy place. So anything thermos or tailgating related works on a fall porch.
Wagons, Wheelbarrows, Carts
A wheelbarrow, wagon or cart on the porch or in the yard is just begging for some flowers or bales of hay. Maybe even a scarecrow to lean up against it.
Something Quirky
I always try to add something a little different to my fall porch decor.
It may be a 1970's statue of an owl I found at an antique mall.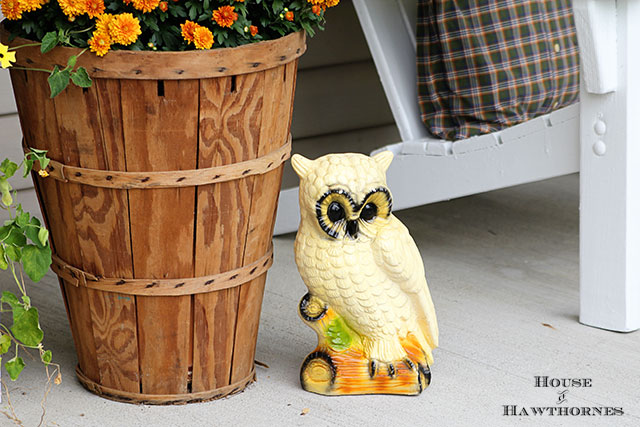 Or it may be an old toy truck hauling pumpkins from the nuclear power plant.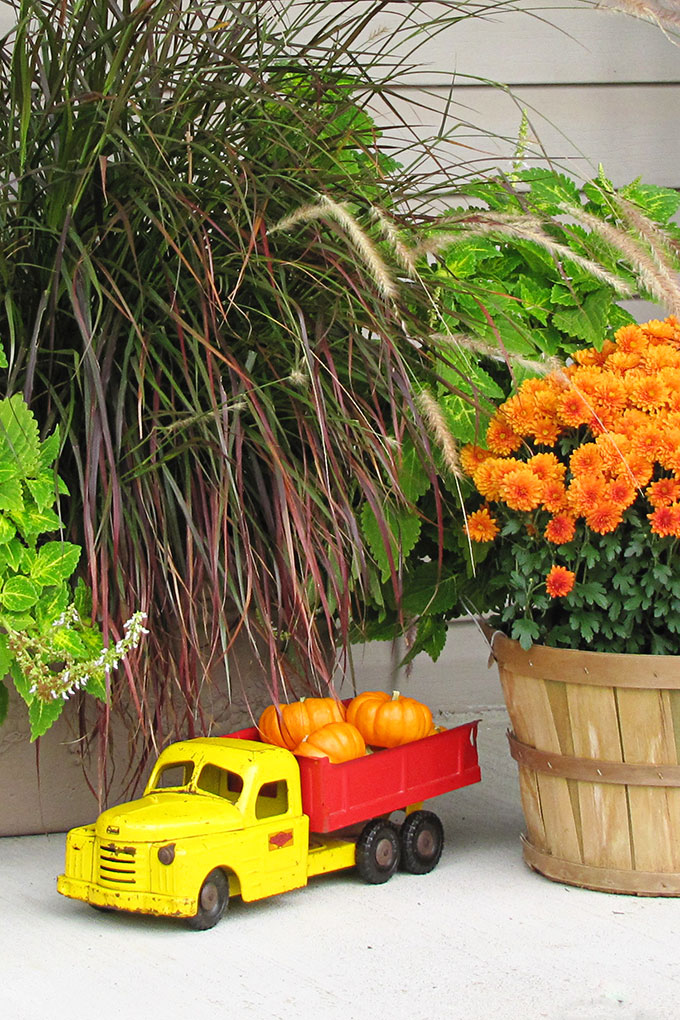 But quirky is pretty much synonymous with a fun fall porch in my mind.
Tips for "planting" in a bushel basket:
Don't. But seriously, I don't plant directly in my baskets. If you do, your basket will not last more than one season, plus it's going to cause a huge mess on your porch when you water your mums. Bushel baskets really do not hold water, or dirt for that matter, very well, so always plant in a pot and then place the pot in the basket.
Technically you can just leave them in the pots straight from the garden center and plop them down in the basket, but I prefer to re-pot them in a slightly larger pot with fresh soil so they don't need as much constant fuss and watering as the pot bound ones do.
Before placing my pots in the baskets, I always put a plastic pot saucer underneath the pot so it can drain without constantly getting your basket wet. A wet basket can get moldy and fragile.
If you are planting in a tall peach basket I put a couple bricks or large stones in the bottom of the basket, followed by an empty pot placed upside down (used as a shelf), set a plastic pot saucer on top of it and then finally set my pot of mums in the planter.
After fall is over and it's time for the pine boughs and Christmas lights, you can plant your mum in the ground to come back next year.
Newsflash: Jolene is the winner of the 2 Early Bird Passes to the Country Living Fair in Columbus! Congratulations!!!
Other fall posts you may enjoy:
Festive Fall Porch Decor Tips And Tricks
Fall Porch Decor Farmhouse Style