Last weekend I bought this chair at a
garage sale
. It was really banged up, but was only $3.00 and since it had good bones I felt it could be a good rehab candidate.
Sort of the Lindsay Lohan of chairs.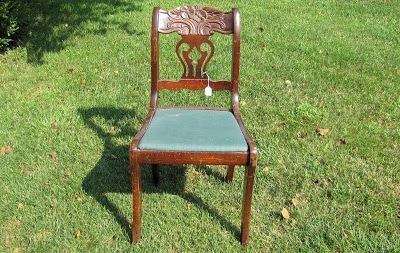 It had a cute flower detail on the top.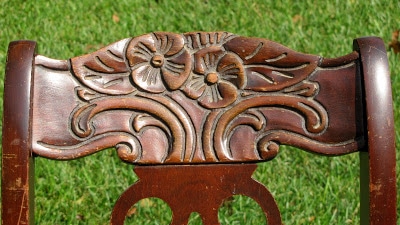 And some really cruddy, really dusty and sort of disgusting fabric on the seat.
We don't even want to think of how many derrieres have sat on this.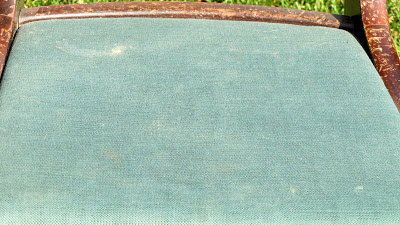 I originally was conflicted as to whether I should refinish the wood-stained finish or just paint it, but when I attempted to refinish a small portion of it I realized that this was not a real antique and was made of three different types of wood.I didn't think it would refinish well, so I went ahead and brought out my paint.After removing the seat (unscrewed 4 little screws on the bottom), I applied
Klean Strip Liquid Sander Deglosser
to the finish. It's easier and faster to work with than sandpaper when you have a lot of intricate details. You just pour some on a rag, wipe it on and wait for it to dry.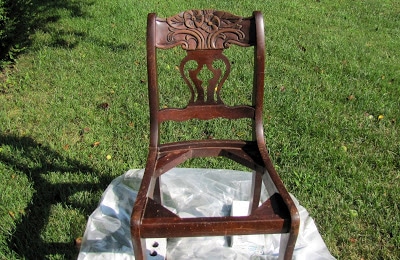 Once the deglosser was dried, I applied one coat of Rust-Oleum's Painter's Touch Ultra Coverage Primer in white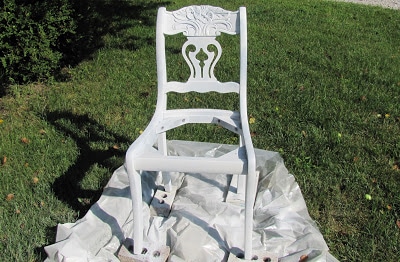 and followed that up with two coats of Rust-Oleum's Ultra Coverage Heirloom White satin paint.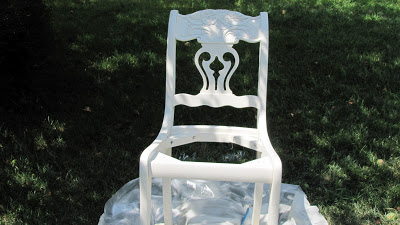 I decided to use the Heirloom White again because I wanted to match another piece in my living room. Besides, you can't go wrong with off-white.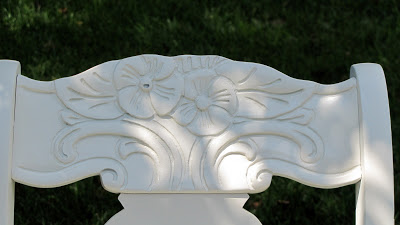 I then distressed it and applied Minwax's Golden Oak stain over the paint to warm up the off-white a little and highlight the flowers.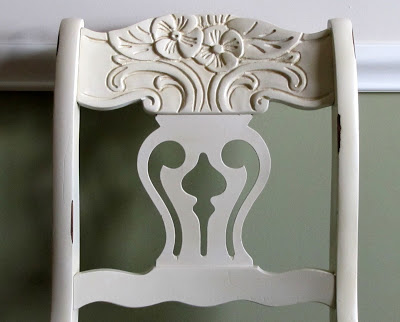 The original seat was a little hard so I added a little more padding to it and then recovered it with a new fabric (after I got rid of all that old nasty fabric that was on there - three different layers of somewhat questionable fabric choices).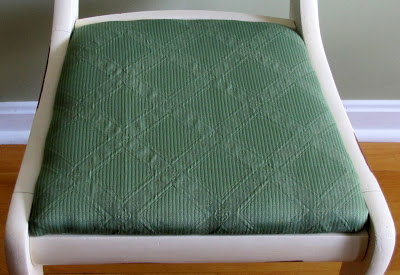 And here is the finished product.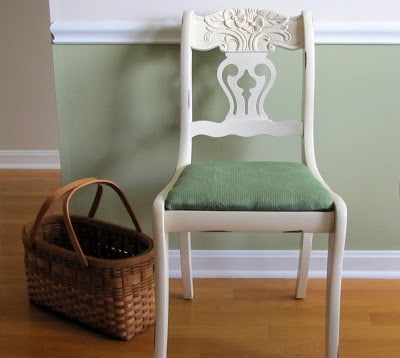 It now matches my table that I re-did a few weeks ago.