I was cleaning out my son's closet this week to see what new clothes he'll need for school and I ran across these old cars that I had brought home from my Mom's house a few years ago. Most of them were my older brothers' toys.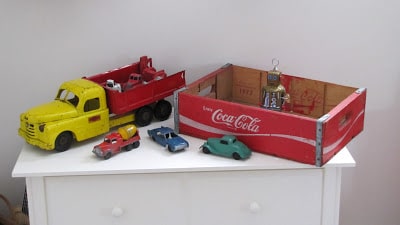 I had just thrown them in the back of my son's closet previously, but I pulled them out and dusted them off and decided to display them in his room.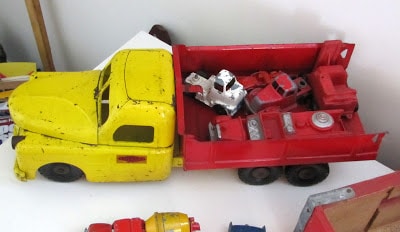 I like the chippy paint on them and the vintage styling.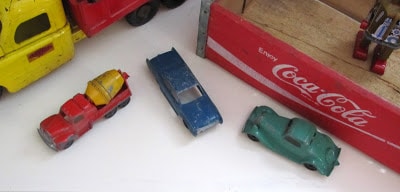 This larger truck is a Structo dump truck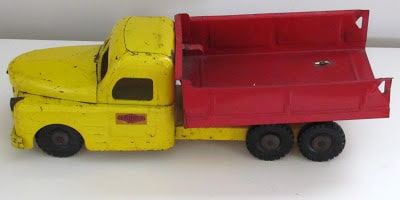 with a working bed.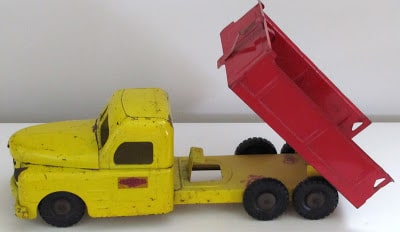 Only one headlight though.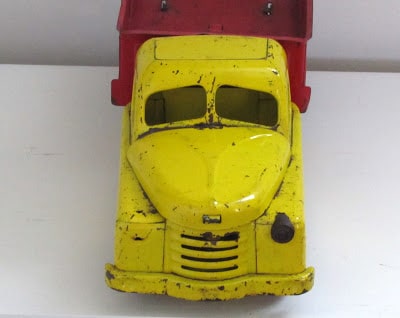 I would guess it is from the 1950's because that would match with my older brothers' ages (not mine, I'm from the younger wing of the family).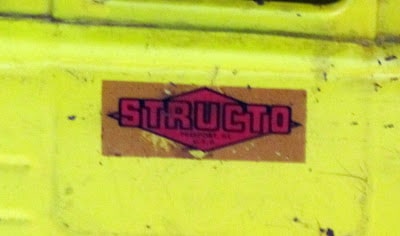 Look at this cute vintage catalogue I found at Structotucks.com.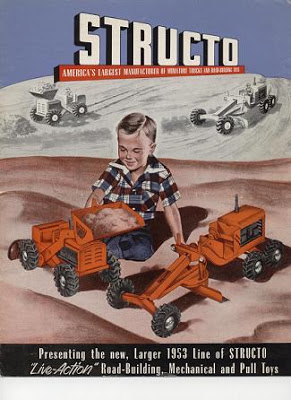 This red fire engine is made of a rubber-like material and just says Made In USA on the bottom, so I'm not sure of the manufacturer.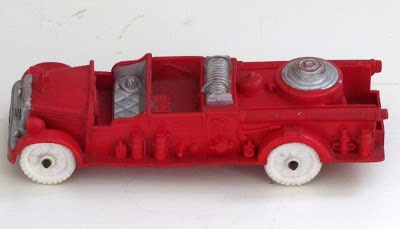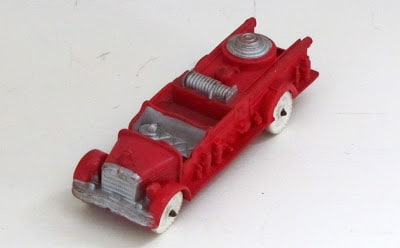 This forklift also has no manufacturer, but it is made of the same type of rubber.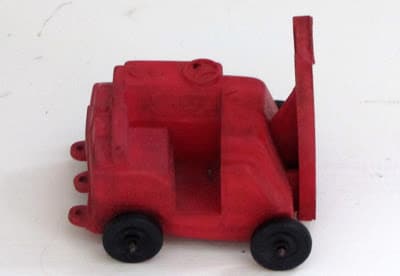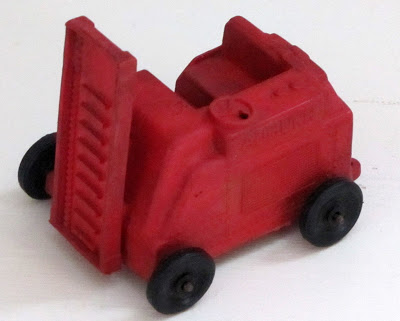 Both of these truck cabs say Tootsie Toy Chicago 24 USA on the bottom. They have long ago lost their trailers.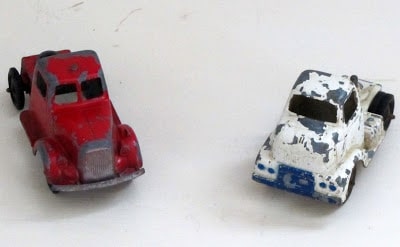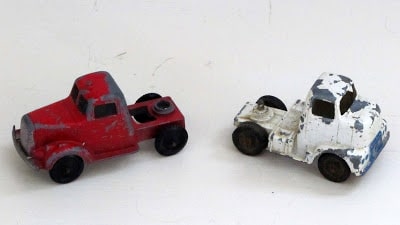 This cement mixer also says Tootsie Toy Chicago 24 USA and has the number P-10290 on it also.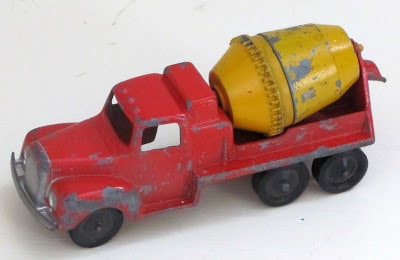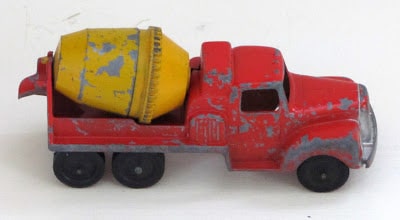 Another Tootsie Toy and this one says Model B on the bottom. This one is much, much smaller than the other ones - approximately 3" long.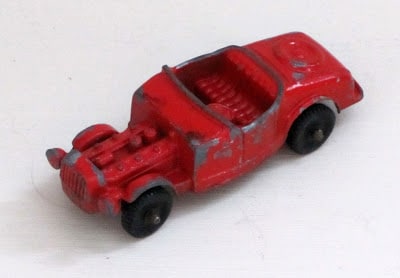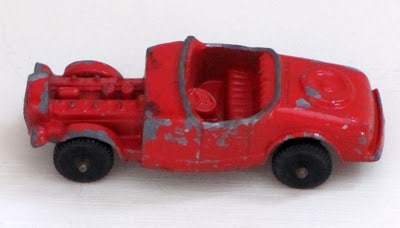 This cute green car says Hubley, Lancaster, PA, Made in USA, 404 on the bottom. From research I believe it is a model of 1933-1934 Ford Coupe, but would have been made in the 1950's.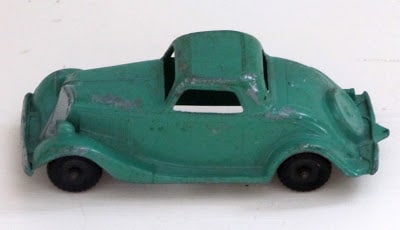 This blue car also says Hubley, Lancaster, PA, Made in USA, 401 on the bottom. My best guess would be a Lincoln sedan. OK, my husband's best guess was a Lincoln sedan, my best guess would have been "a blue car".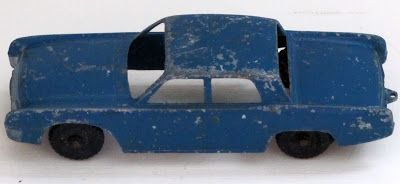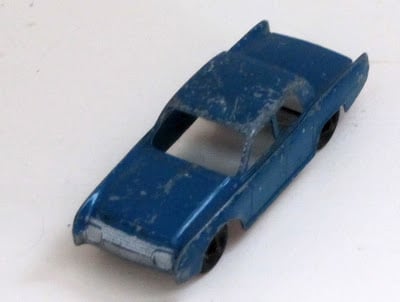 And last, but not least - drum roll please . . .
This is my very own Pink Tonka Jeep Surrey from my childhood!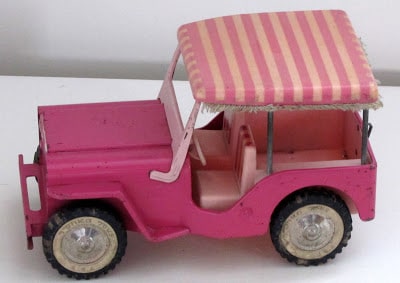 The windshield folds down just like a real Jeep.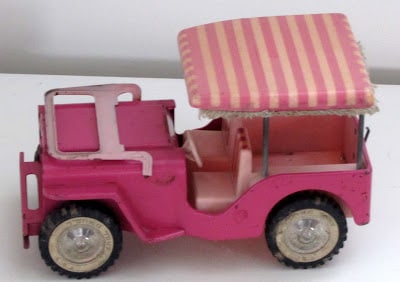 Tonka manufactured this in 1962. Now considering girls in my hometown were not allowed to wear pants to school until 1968, I'm sure it was sort of radical that Tonka was producing a traditional boy toy marketed toward girls at that time.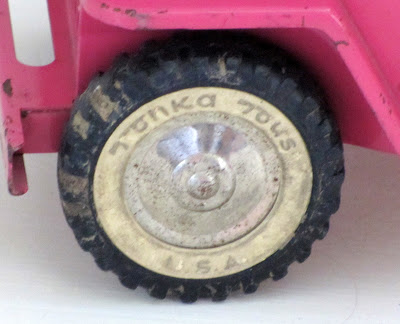 It has cute fringe on the top.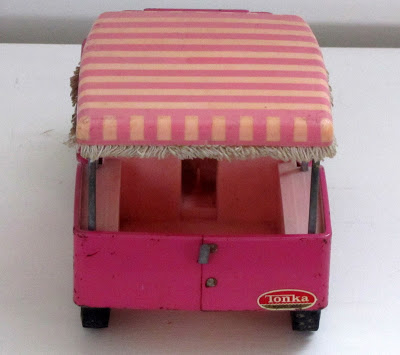 I used to call this my Barbie Jeep, but as you can see it's not really the correct size for a Barbie. Well, I couldn't find any Barbies in the house, so I had to use a G.I. Joe look alike to show you the scale.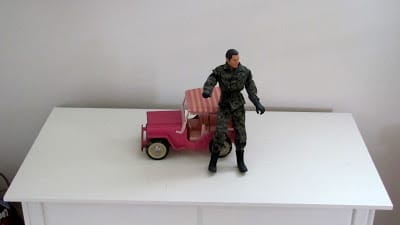 "There's no way you're going to cram me in that little pink Jeep."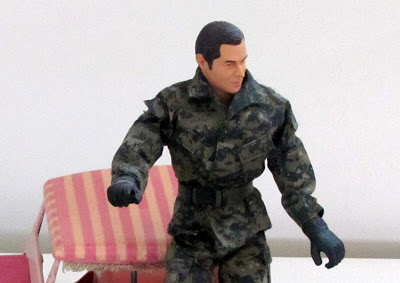 Now, I started out saying I had decided to display these in my son's room and I loved the chippy paint on them. But when I was handling these and flipping them over to see what they said on the bottom just now, I looked down into my lap and there were little flakes of different colored paint on me.
I've since started twitching and foaming at the mouth (kidding), so now I'm going to box them back up until I can research if they have lead paint on them and if so, what I need to do to keep the paint where it is. This isn't something that my son would ever play with anyhow, but we still have to be careful don't we?