Last weekend I found this console table at this garage sale. It was only $5.00 so I had to buy it. It's almost like they were giving it away!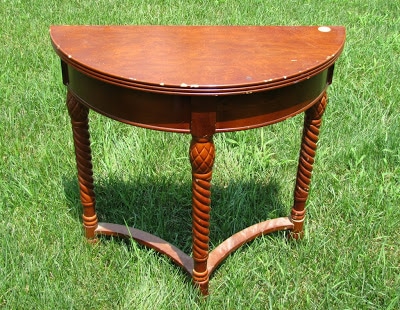 I liked the pineapple detail on the legs
So I taped off the top and painted just the legs.
Now, I don't think I have ever spray painted furniture before, but after painting my black chair with the spindles and thin legs by hand I wasn't looking forward to the crippling hand cramps that would come with painting this by hand, so I opted for the spray paint.
I sanded the top with my Black & Decker Mouse Sander.
So I decided to go ahead and rub some English Chestnut stain over the Heirloom White paint to give it the aged look I had originally planned on. I don't have a photo of that step because it looked like heck. Seriously U.G.L.Y.! The stain adhered way too much to the piece even though I only left it on for a few seconds and was way too dark and splotchy for me.
So I contacted Cassie at Primitive & Proper and she so very graciously helped me with the problem. She suggested using a lighter Golden Oak Minwax to get the look I was trying to achieve.
Genius! Although these photos don't do it justice, the stain did make a huge difference.
Here is the final, final, final product.
But in reality this is where the table has landed. It's in our dinosaur area of the living room. Yep, I spent hours painting, staining, distressing and staining some more so it would like nice paired with the dino.
At least the train can clear the legs of the table!