I am a firm believer you need to pick up at least one, if not one hundred and fifty, mums for fall decor. Whether you plant them in your flower beds or put them on your porch you just can't do autumn correctly without a few good chrysanthemums.
There, I said it.
The questions most people have are 1) when to buy them, 2) how to know which ones to buy, and 3) how to keep them alive once you get them home.
Because the last thing you want to do is spend money on beautiful fall plants in September only to have them turn into masses of brown crunchy shriveled twigs before sweater weather truly starts.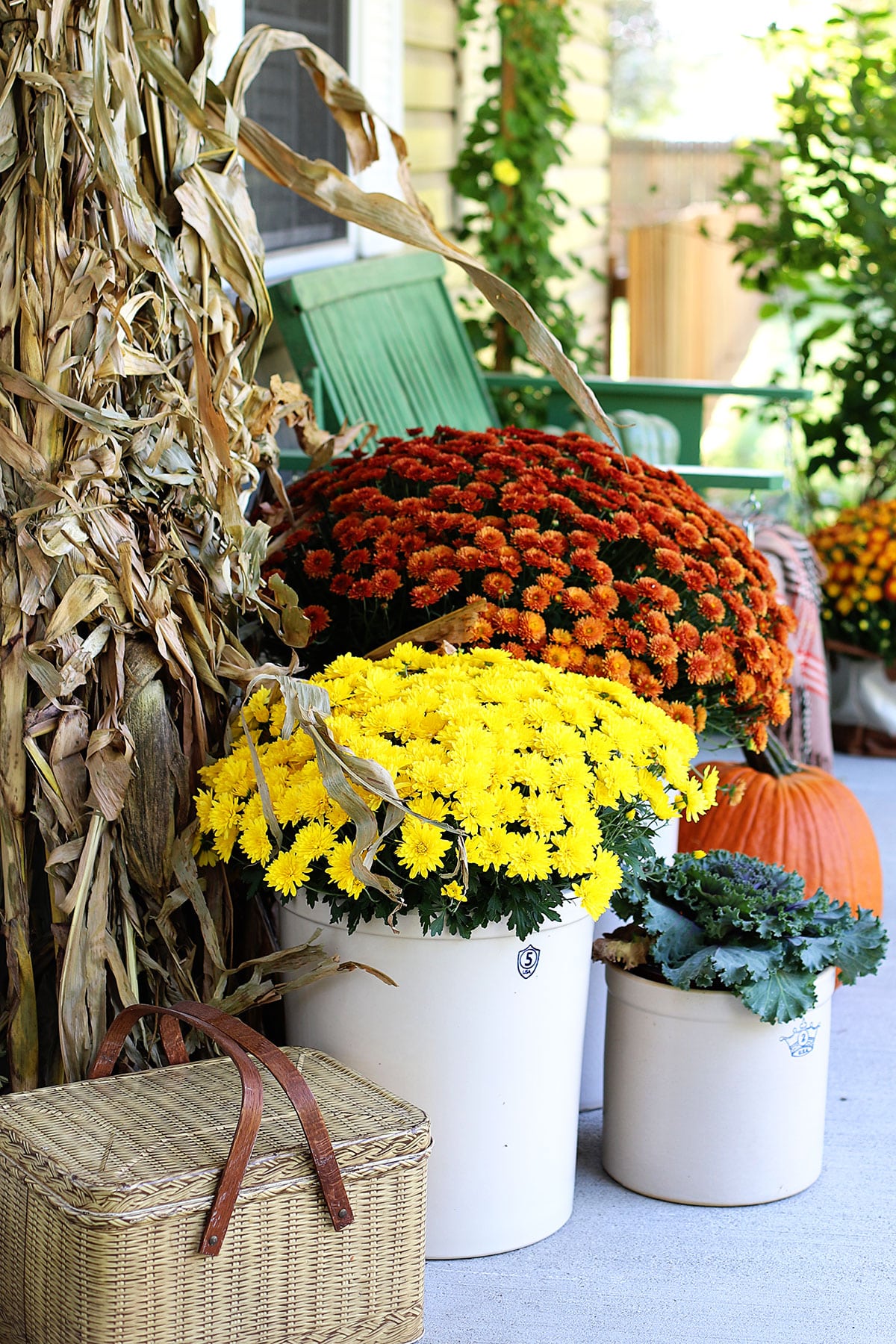 Garden Mums vs. Florist Mums
The first thing you need to understand is there are different types of mums. The ones wrapped in pretty foil and displayed in the floral department of your local grocery store are florist mums.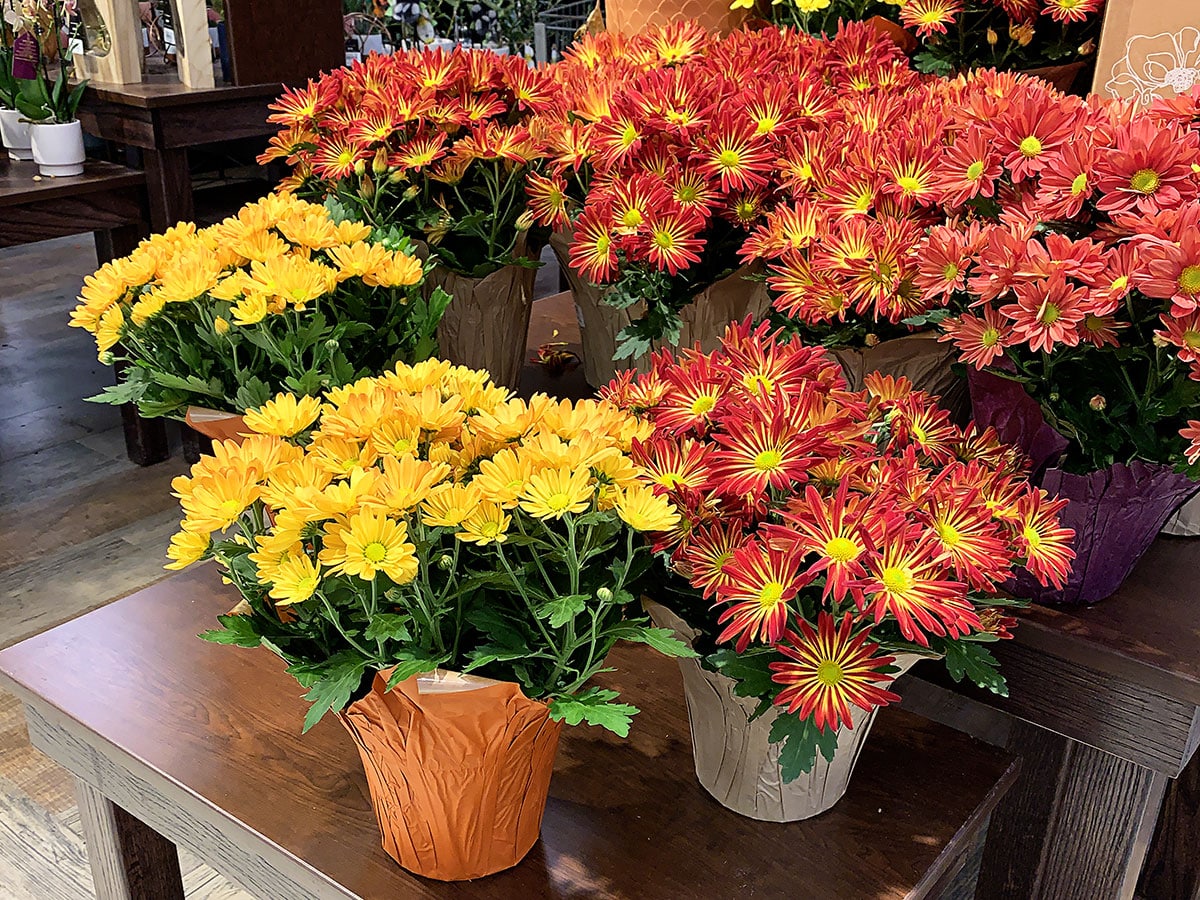 Florist mums are grown to be given as gifts or used as a centerpiece on your dining table. They are generally annuals with shallow root systems, have not been hardened off for outside weather, and will not come back next year. They are meant to be enjoyed inside the house. We are not talking about florist mums in this article.
On the other hand, garden mums are grown to live and thrive outside. They are the kind of mums you can plant in flower beds and containers. If the plant tag found in your mum's pot says they are hardy in your area they will overwinter nicely in the ground. We are specifically talking about garden mums in this article.
How To Choose Your Mums
For longevity choose mums with lots of tight buds and very few fully opened blooms. These mums may not give you a wow factor right this minute, but they will be in bloom for a longer time at your home.
You should be able to find mums at all the big box stores, hardware stores, and local nurseries. You may also find them sold at your local grocery stores, but outside the store (remember, just say no to foil).
The color is up to you.
I am very much a traditionalist when buying fall mums. Yummy oranges, deep rusts, dark reds, and cheerful yellows are my favorites.
But if you are a neutral-loving gal there are still mums for you - white, cream, and even light lavender.
When To Buy Mums
Decorating For A Party At Your House Next Tuesday?
If you want instant curb appeal to wow your guests, pick a plant with a lot of blooms already fully open on it. This plant will only be in bloom for another week or two, but if you want maximum impact for a special occasion go for fully open blooms.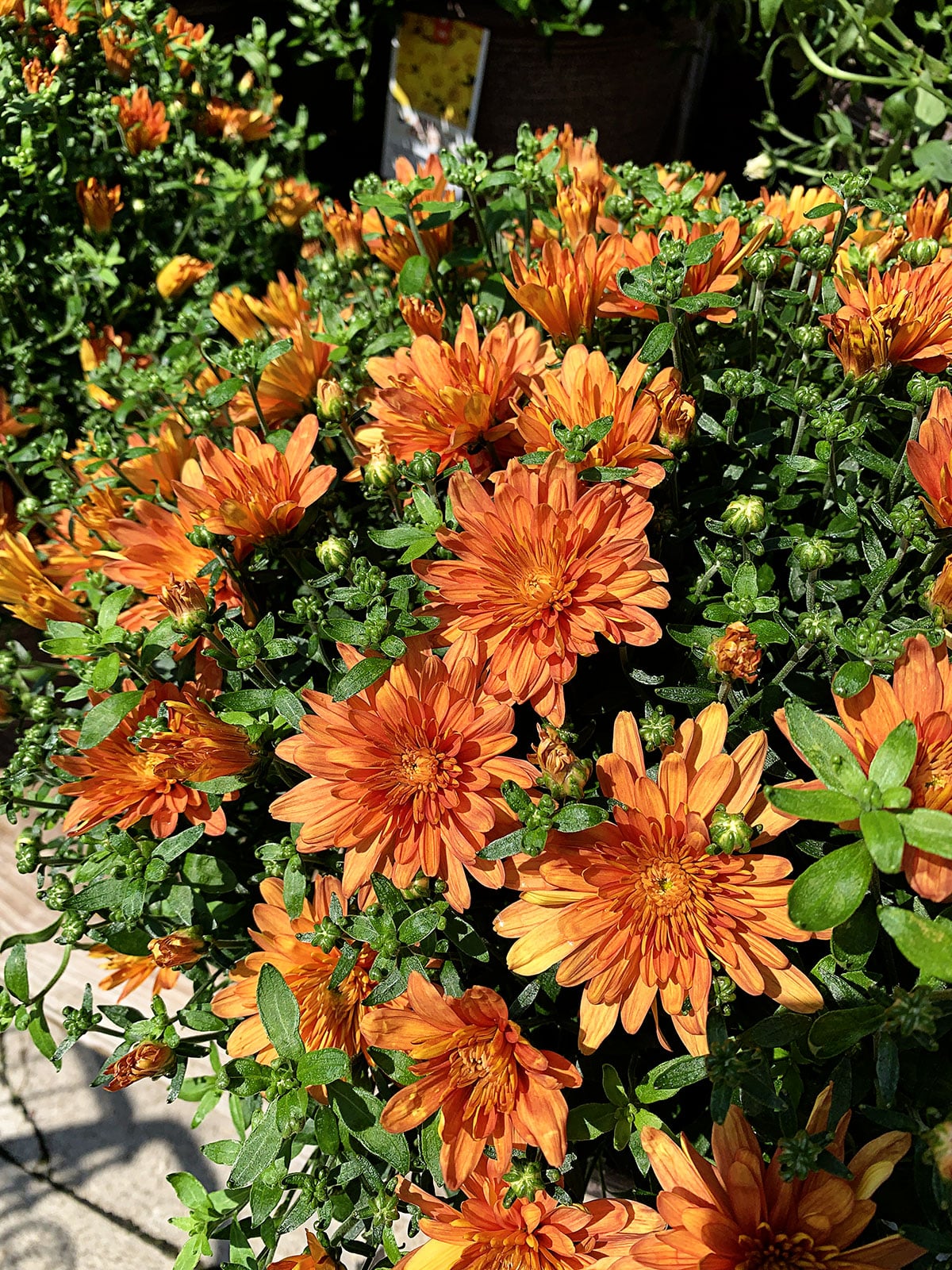 Want Them To Last All Season?
Well, I hate to tell you that you may be disappointed. Basically, no mums are going to last from Labor Day through Thanksgiving. Unless you buy faux ones from the craft store.
But the next best thing is to buy them in late September or early October and buy ones with lots of tight buds that have not opened yet. These have a good 3-4 weeks in them. Maybe a little more.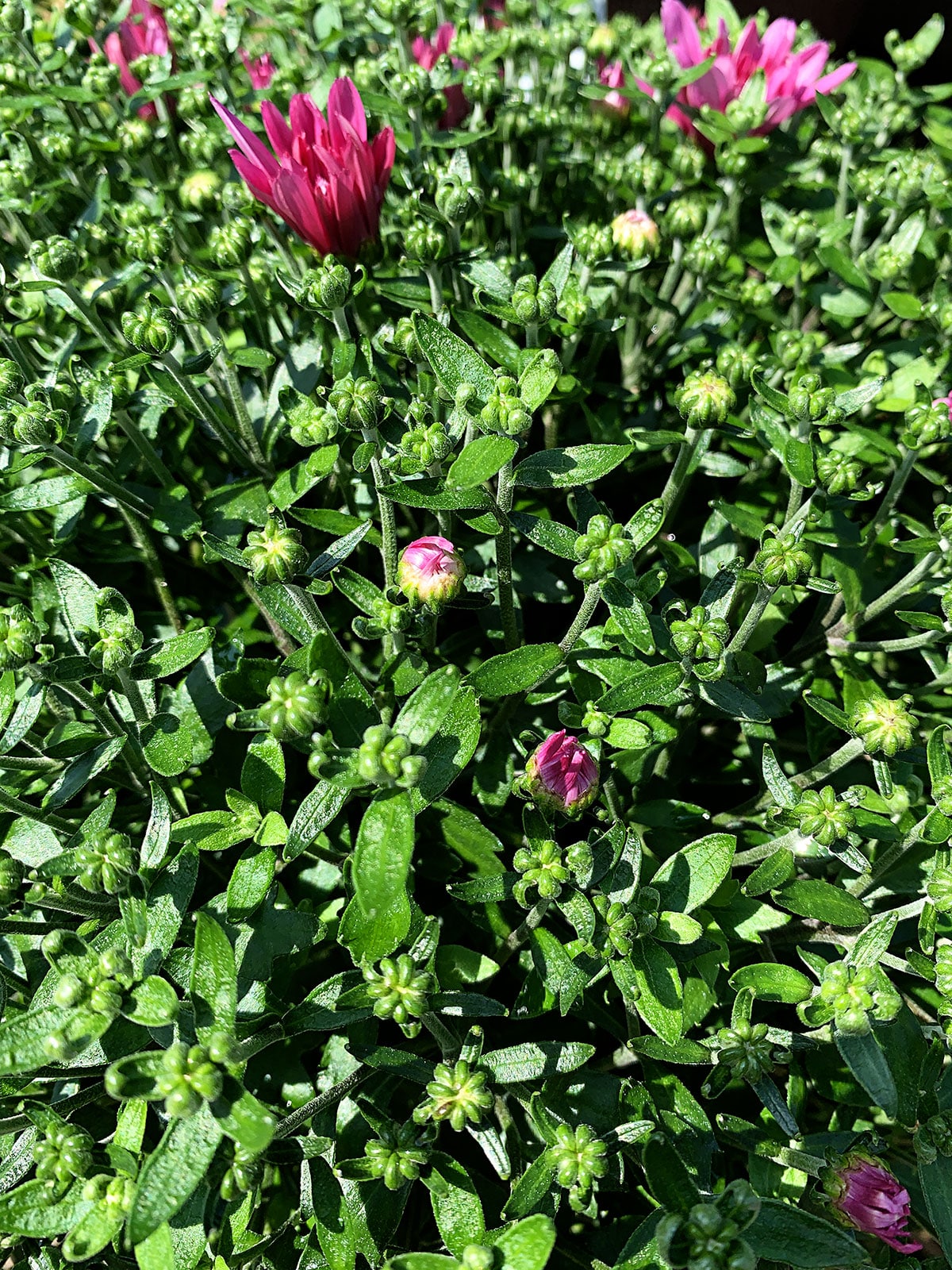 Or, stay with me here, if you can't resist your mum buying urge in August, buy them then and enjoy them as super-early fall decor. Knowing you'll have to buy replacement mums later on when the first ones peter out.
I'll admit I have done the buy twice thing when I had to shoot photos for a fall porch decorating post in late August. It gets expensive though!
What To Avoid When Buying Mums
You want to avoid buying mums that might be diseased or in distress. Unfortunately, a lot of big box stores and grocery stores tend to have your normal everyday employees taking care of the plants and they may not know how often to water and what to look out for. Not any fault of their own, it's just taking care of live plants is much different than stocking the frozen food section.
The stems on mums can be easily broken, especially if they're crowded tightly together in displays. So pull the mum out away from its neighbors and check for broken stems. Keep in mind if a stem is broken the blooms on that stem will not fully open, so if you want to get full value for your money it's best to get a plant without broken stems.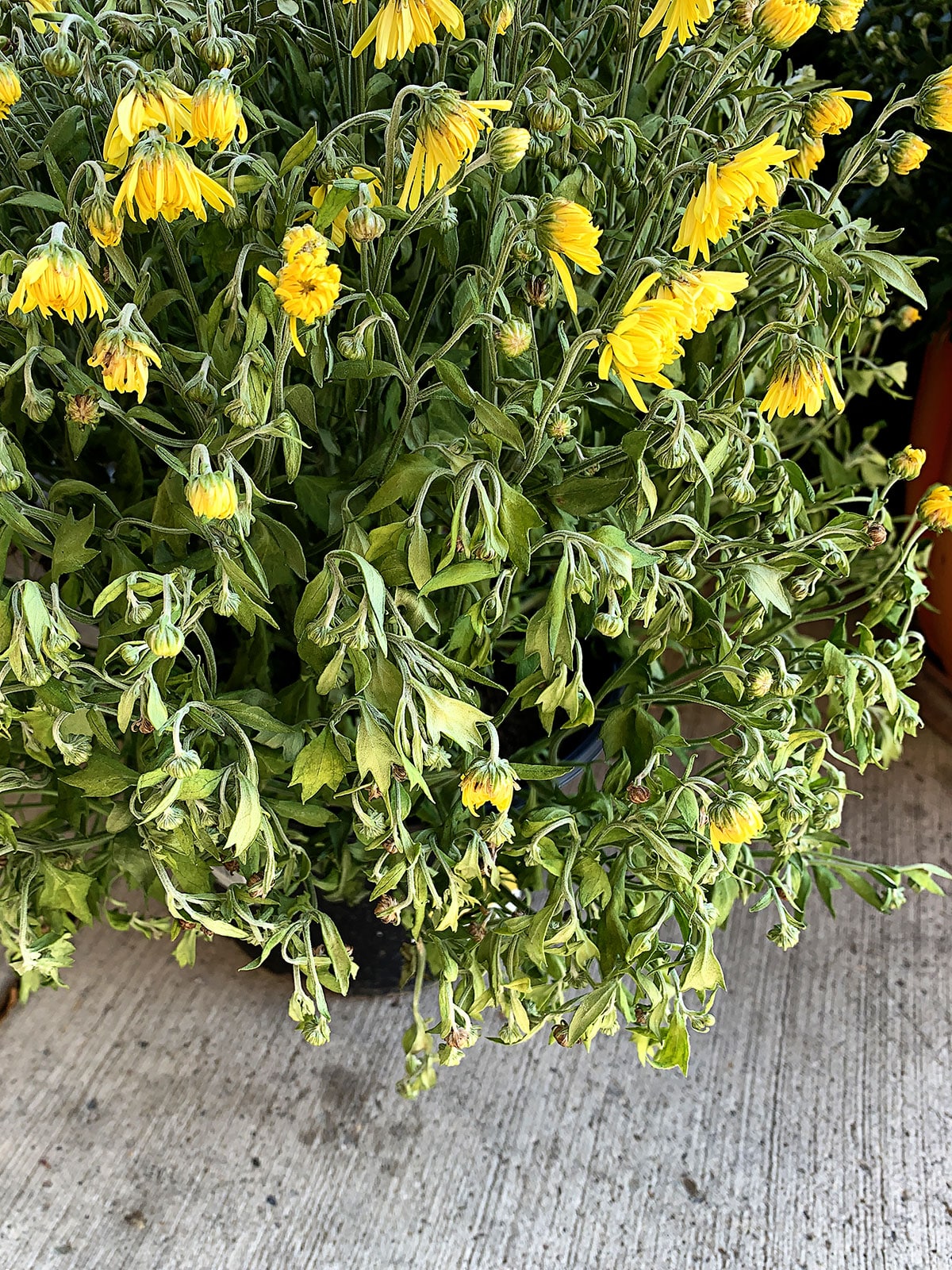 Avoid plants with wilted and droopy-looking areas in the plant. This can mean the plant has not been watered enough and technically you might be able to fix this with aggressive watering for a few days. But there is something called Chrysanthemum Verticillium Wilt which is a fungus that causes mums to suddenly wilt and start losing foliage.
Do not buy these plants as the fungus can overwinter in soil and contaminate other plants next year.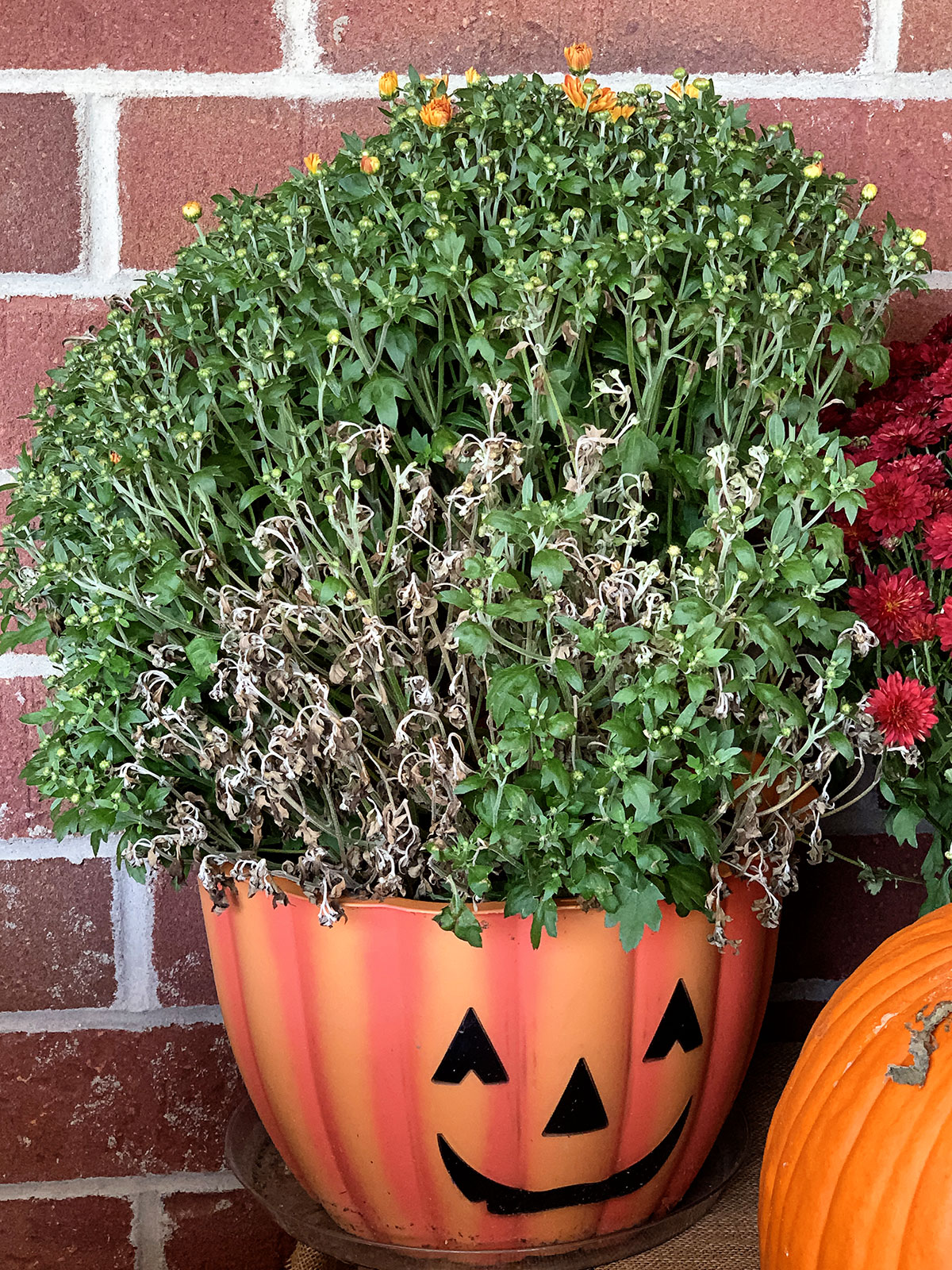 In short, just buy a healthy-looking one in the first place. Mums are abundantly available this time of year, no sense in buying trouble.
Repotting Your Mums
Do I have to replant mums, can't I leave them in the store's containers?
If you are buying the mums in nursery containers, those very flimsy brown or black pots, you will need to repot them or plant them in the ground. Your mum will be VERY rootbound in those pots and will require nearly constant watering. The nursery pots are not meant to hold your plants for any length of time.
Never just leave your poor plants in these pots.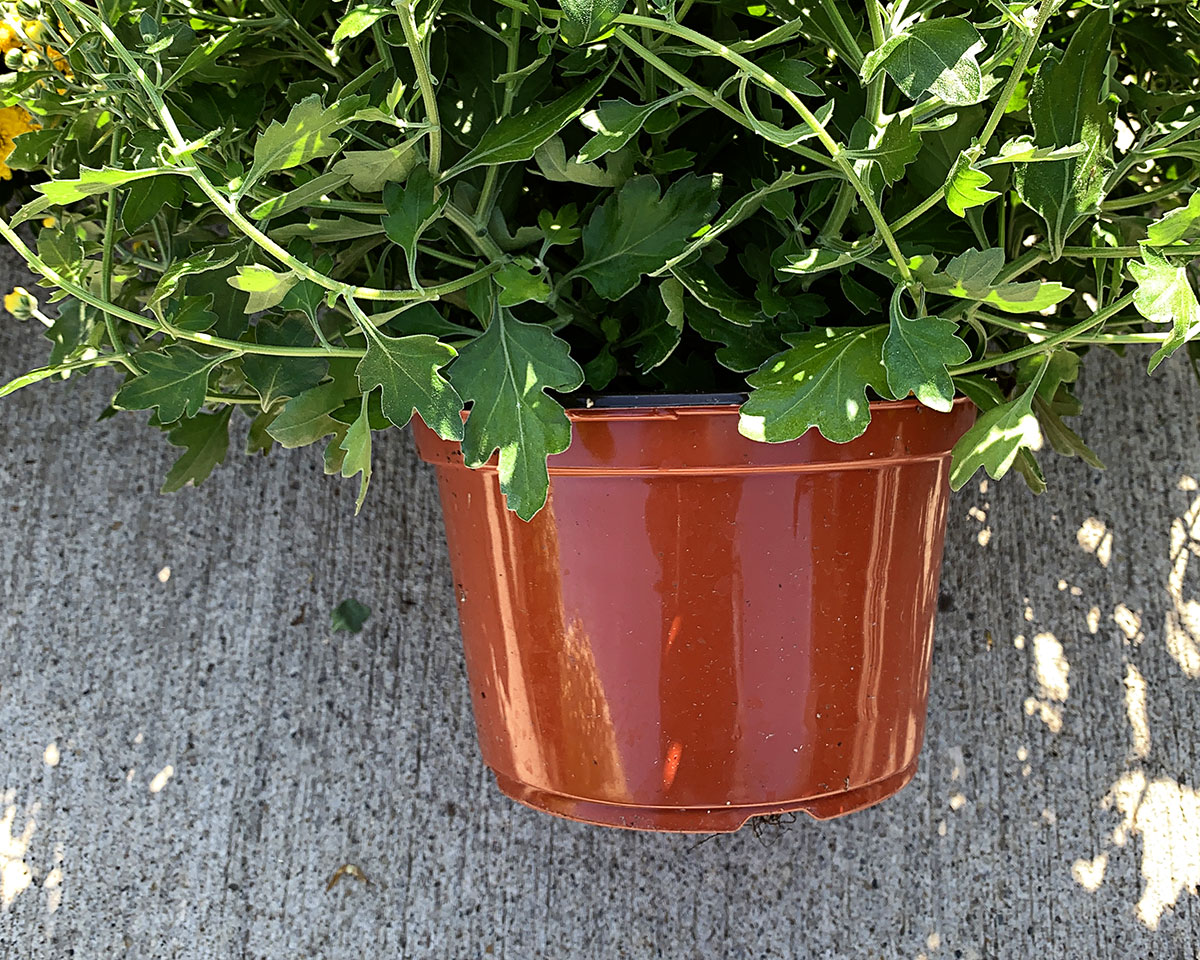 I'm seeing these upgraded pots shown below more often at the big box stores this year. This 10" pot is slightly better than the typical flimsy nursery pot and technically you could just leave it in this pot.
If you were just a casual mum lover.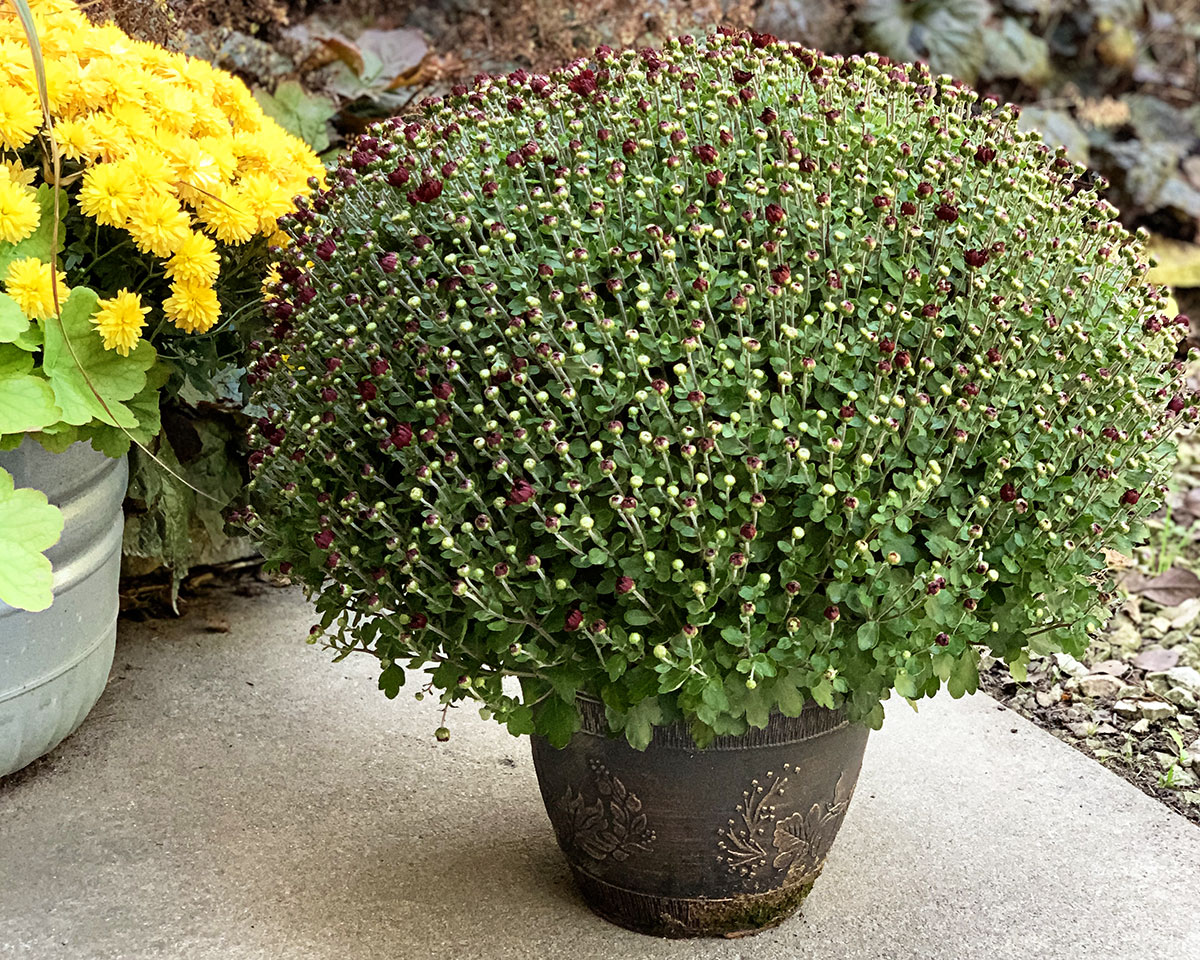 But as you can see from the size of the mum which is practically spilling out of the planter, it would benefit from being repotted into a larger pot or simply planted in the ground. The additional soil would allow the root system room to spread out and will also hold moisture longer.
Yes, it can live in this pot and work for holiday decor, but it would be happier in another pot.
Frequently Asked Mum Care Questions
How Much Water Do Mums Need?
LOTS. Thank you for coming to my TED talk.

Seriously though, it's hard to overwater a mum. Especially when planted in a container.

Water your mums at least every other day if not every single day. My mums that sit on my front porch get watered daily because the sun beats down on them most of the day and the soil dries out quickly.

Try to water your mums at the soil level rather than dumping water over the top of the blooms and foliage. I place the spout of my watering can about 2 inches above the soil.
What About This TikTok "Tip" Going Around Telling Me To Submerge My Mums In A Bucket Of Water For 30 Minutes?
In all my 94 years of having mums (OK, maybe not that many years) I have never ever taken a mum and submerged its pot in a bucket of water. Not for 30 minutes. Not for 2 minutes.

I don't buy it. It's nothing more than watering your mum??? Just water the darn thing like a normal person.

And by the way, these TikTok "experts" suggesting this generally do not produce gardening content and may not have your real interest at heart.
Can You Plant Hardy Mums In The Ground After Having Them In Your Porch Containers?
Yes, you can. Or I should say yes, you can TRY.

Ideally, you would want to replant your mums in the ground 6 weeks before your first frost. And that probably means before they are done blooming in your container planters and probably before you are ready to move them off your porch.

By planting them in the ground 6 weeks before the first frost you give the plants a chance to get established in their new home by getting their roots set firmly in the ground before the big freeze.

You can still try to plant them later in the fall, but just be aware it's iffy. I've had some that do just fine when I try to plant them in late November, popping right back in the spring. And some that just look like dead clumps of twigs come spring.

If I'm trying to replant them from my containers to the ground late in the season, I just make sure to:
1 - Give them a thorough soaking with water once in the ground.
2 - Make them extra cozy in their new home by piling mulch or compost up around their base.
3 - Cut off any remaining blooms so the plant doesn't waste any energy on blooms, saving its energy for the roots and making it through the winter.
What's your favorite color of mum?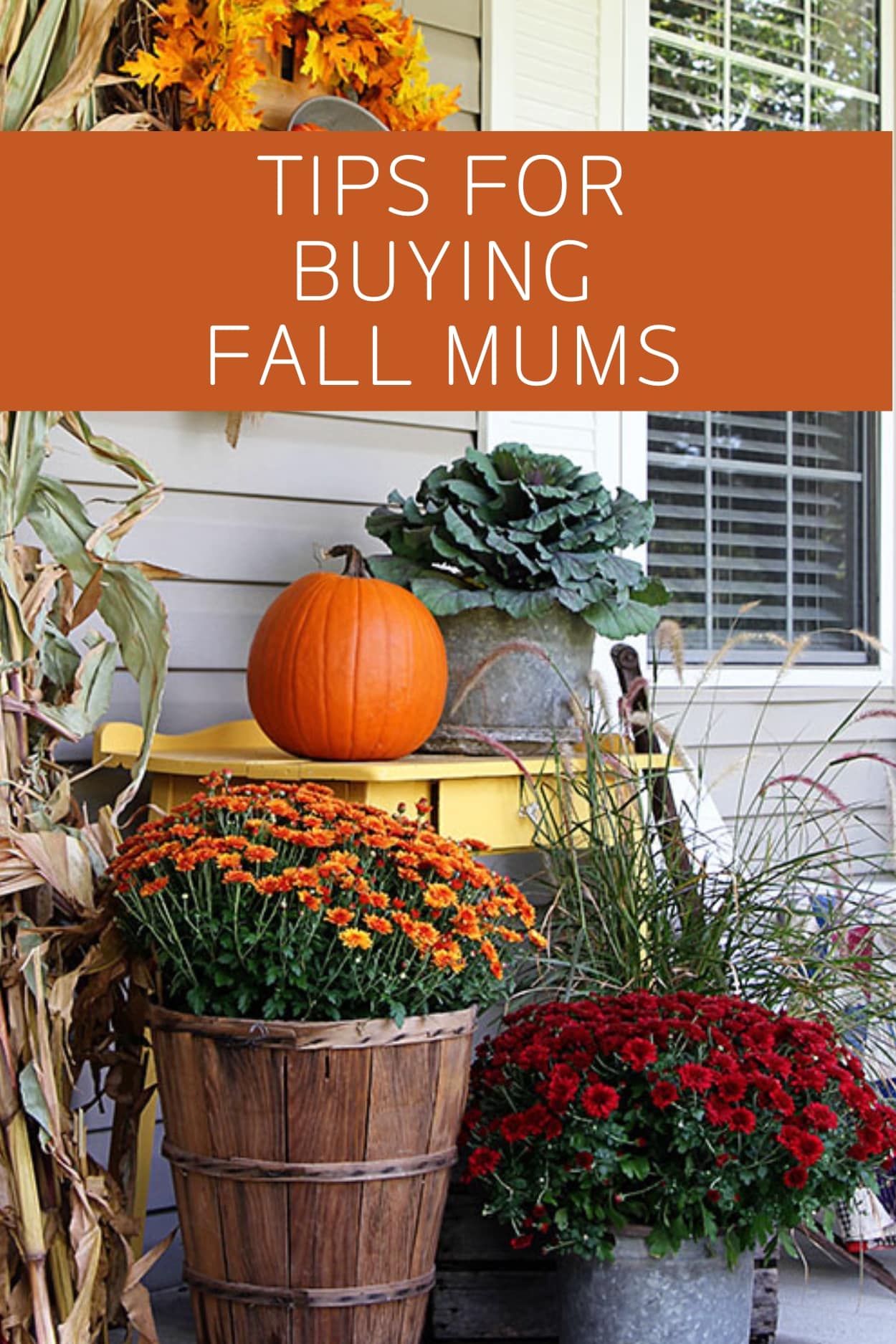 Other Posts You May Enjoy